I confess. I like vodka. One could say it's my favorite drink of choice. We do enjoy wine and beer but my go-to alcoholic beverage is vodka. If you follow our Food Travelist Facebook, Twitter or Instagram accounts you would be impressed with the number of different vodka cocktails we have been able to feature.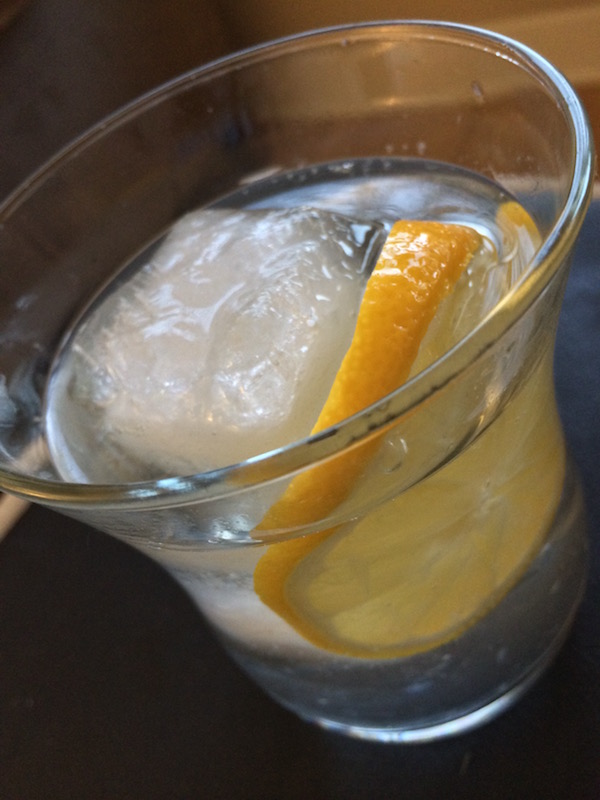 Of course, I have a favorite brand. It's Tito's Vodka. I've tried many types of vodka, both domestic and imported. No matter how many I sample, I always return to my brand of choice – Tito's. My signature cocktail is Tito's Vodka with club soda (freshly made with sparkling water from my Soda Stream is the best), a large slice of fresh lemon, and one giant ice cube. Period. Simple, easy, refreshing, and tasty.
There are so many reasons that I enjoy Tito's Handmade Vodka.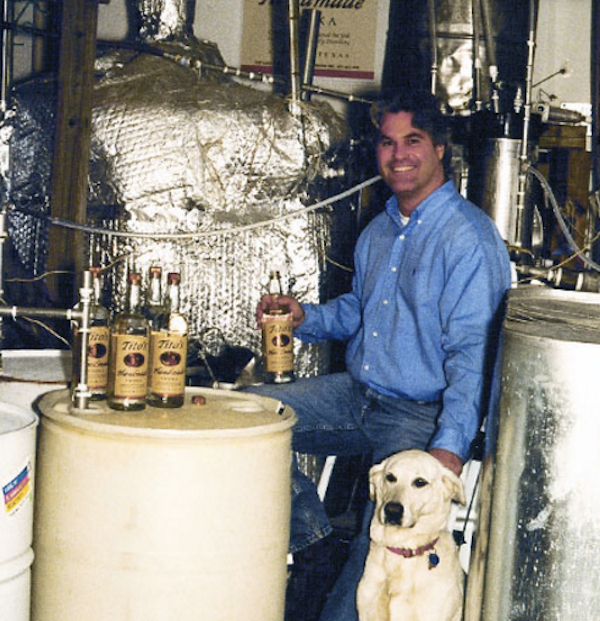 3 Top Reasons I Like Tito's Vodka
1. It's American Made in Austin, Texas – yes! We love to support American products when we can. Tito's is made in Texas' oldest distillery. It's made from corn – so it's gluten-free. They still taste-test every batch. Whether you're a connoisseur or a casual vodka drinker you'll appreciate their hand-crafted style.
2. Started by entrepreneur Tito Beveridge. We're entrepreneurs. We love to support other entrepreneurs whenever we can. Tito had been a geologist, worked in the mortgage business, and started making his own flavored vodkas for friends. They loved it! He did his research, did the work, and created the brand we love today.
3. It Tastes Great! All this wouldn't mean a darn thing if the vodka didn't taste great.
Bonus Points: They Support Animals!  Their program Vodka for Dog Lovers brings their fans together with many pet shelters and pet-helping organizations.  Selling branded pet products and donating the proceeds to their charity pet-friendly partners is just one of the ways Tito's helps.
Vodka Recipes from Tito's: Drinks and More!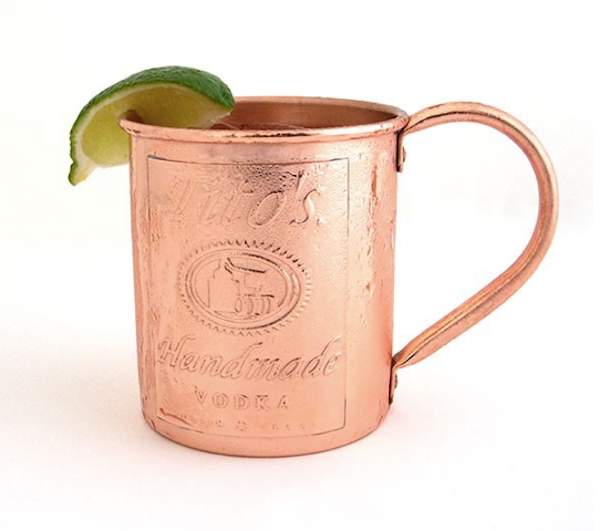 Tito's American Mule
Ingredients:
1.5 oz Tito's Handmade Vodka
0.5 oz fresh squeezed lime juice
3 oz ginger beer
Method:
Combine all ingredients into chilled copper mug filled with crushed ice and serve.
Garnish: Lime wedge
Best served in a Tito's copper mug!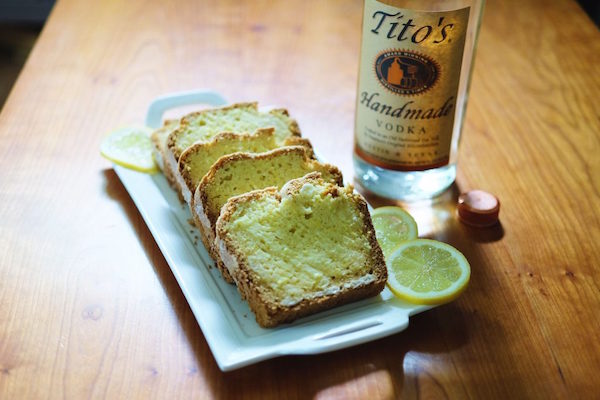 Tito's Long Weekend Lemon Pound Cake
Although Tito's Vodka is delicious to drink it's also fun to add to other recipes. Check out this delicious cake recipe.
Tito's Long Weekend Lemon Pound Cake
Ingredients:
Cake
• 1/2 cup Tito's Handmade Vodka
• 1 3/4 cup sugar
• 1/4 cup butter
• 8 oz cream cheese
• 2 eggs
• 1 tbsp lemon peel
• 2 tsp vanilla extract
• 2 3/4 cup flour
• 1 tbsp baking powder
• 1 tbsp baking soda
• 1/2 tsp salt
• 1/4 cup milk
• 1 tbsp lemon juice
Glaze
• 1/4 cup Tito's Handmade Vodka
• 1 cup powdered sugar
• 2 tbsp lemon juice
• 1 tsp grated lemon peel
Instructions:
• Heat oven to 325 degrees. Grease and flour a bread loaf pan.
• In a large bowl, mix sugar, butter, and cream cheese until very light and fluffy.
• Add eggs, lemon peel, and vanilla; mix well.
• Combine all dry ingredients in a bowl, mix well, and add half of the flour ingredients to the butter/egg mixture. Mix. Add all of the wet ingredients (milk and Tito's Handmade Vodka). Mix. Add all remaining dry flour ingredients. Mix well. Spoon into prepared pan.
• Bake at 325 degrees for 50 to 55 minutes, or until a toothpick inserted in the center of the cake comes out clean. Cool for 10 minutes. Remove from pan; invert onto a serving plate. Slice into 1-inch slices.
• Glaze: In a small bowl, mix sugar and Tito's Handmade Vodka. Gradually add lemon juice until desired consistency; mix until smooth. Stir in lemon peel; drizzle over warm cake. Garnish with lemon slices or lemon peel if desired.
Recipe from Jenny Grayson, Owner, Baker & Dessert Maker at Casa de Glaze Bakeshop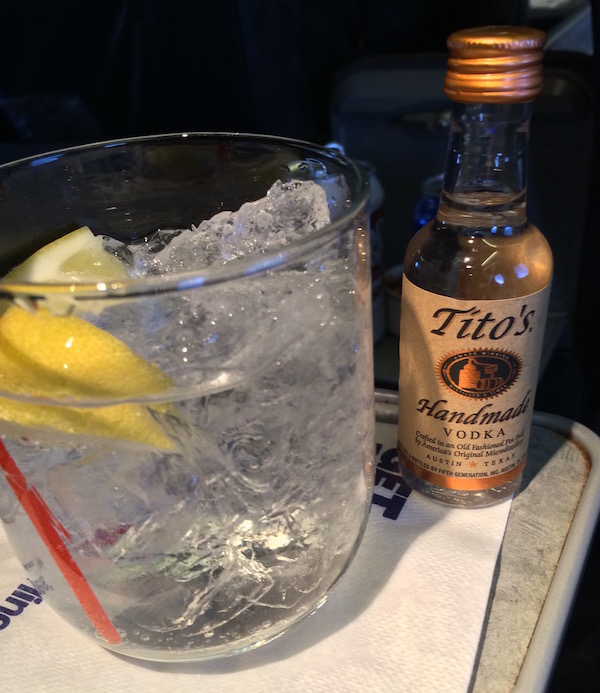 A Travelers Friend
I've traveled many, many miles on American Airlines. It was a very happy day when they added Tito's as a liquor partner. No more nasty vodka. Many a flight has been made better with my favorite cocktail served at 30,000 feet.
No matter what vodka cocktail you prefer – Martini, Cosmopolitan, Bloody Mary, or something else, try it with Tito's. I think you'll be surprised and pleased with this carefully crafted product.
To learn more about Tito's Handmade Vodka and where you can find it near you check out their website at titosvodka.com.
Thanks, Tito's Vodka for sending us a sample of our favorite vodka. As always all opinions are our own and reflect our experiences.
THE QUICK BITE: When you're looking for a tasty, smooth American-made vodka try Tito's Handmade Vodka. It's delicious and great for cocktails and recipes.