When you think of Virginia Beach you probably think sun, fun and fresh seafood. And you'd be right. It's the vacation trifecta. But did you know that Virginia Beach actually has three beaches all with a totally different vibe? Each beach area is tastier than the next so be sure to plan ahead and not miss a thing.
Virginia Beach is lucky to be located on the Chesapeake Bay and Atlantic Ocean coasts and surrounded by over 8,000 acres of farmland. This combination guarantees fresh seafood and abundant produce which makes this one tasty destination.
3 Beaches One Great Destination
Virginia Beach features three different beaches. One is sure to be a match for what you're looking for in a vacation spot.
Resort Beach is probably the most familiar beach. The three-mile boardwalk has it all with many choices of restaurants, entertainment, nightlife, events, shopping and all the nostalgia for which it's famous. Take a selfie with King Neptune, build a sandcastle on the beach, grab an ice cream and hit the shops. You are guaranteed a full day of fun at Resort Beach.
Sandbridge Beach is between the Atlantic Ocean and Back Bay Wildlife Refuge, just minutes from the Resort Beach area. There are plenty of houses available to rent for families that love the adventure of exploring the beaches, paddle boarding and enjoying nature. You can even kayak through beautiful Back Bay National Refuge. If you're a fan of farm fresh produce, head off to nearby Pungo. There you'll have 16 You-Pick Farms to explore and enjoy.
Be sure to check out Chesapeake Bay Beach if you're looking for peace and tranquility. Just north of Resort Beach it's a water lovers paradise. Simply watching the sunrise and sunset gives you spectacular entertainment. You'll also find those wonderful off-the-beaten-track spots for a cold drink and some freshly caught seafood. Visit craft breweries, dockside restaurants and bars and hang with the locals in this fun and tasty paradise.
Seafood
Don't miss the oyster-farm boat tour on Lynnhaven River at Pleasure House Oysters. Found only in Virginia Beach, these world famous oysters are being revived by local Chris Ludford and his family. You will not only taste these wonderfully delicious oysters but you'll also learn about their business model, which is "based on a three-legged stool of conservation, restoration and aqua culture." There's a tasting tour and a working tour for a real hands-on oyster farming experience. Along with the oysters, Virginia Beach is known for its sumptuous soft shell crab. They're serving it up in unique and delicious ways including the ridiculously indulgent one-of-a-kind Bloody Blue Mary.  Check out this short video on how Bay Local Eatery works with food vendors to create its tasty and memorable local menu.

If you really like fresh seafood and you love to fish, you'll flip for the "Catch & Cook" program that lets you spend a day on one of the many charter boats then bring back your catch and have it prepared as you like at one of the participating restaurants. Virginia Beach is known for the rockfish, but you'll also find other delicious fish like tuna, cobia and many more.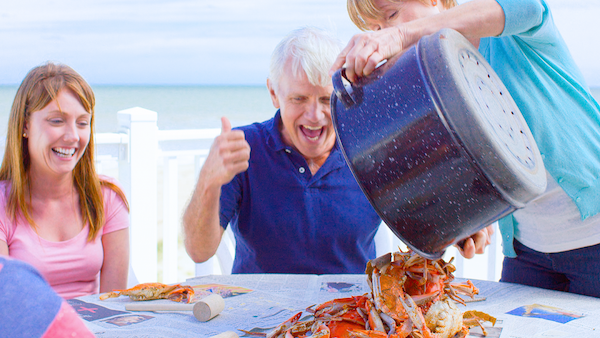 Another well-loved seafood treat is the crab boil. Simple yet delicious, the Virginia Beach version features delicious local blue crabs that you really shouldn't miss. Get your hammer out, start cracking and get eating at this fun and stress-relieving experience.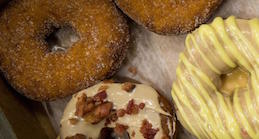 Sweets & Treats 
If you have a sweet tooth you're in luck!  There are plenty of sweet treats you'll want to try in Virginia Beach. Ice cream, doughnuts and homemade chocolates have to be stops on your tour through town. Crazy Good Donuts and Ice Cream, with specialities like strawberry cheesecake donut sundaes might just rush to the top of the list. Dough Joes has all the classic favorites plus house favorites like apple pie filling, black forest, peanut butter cup, snickers and even a Twinkie style donut.
Schakolad Chocolate Factory offers handmade European-style chocolate all freshly made on the premises. And if you're really in the mode for chocolate decadence, The Royal Chocolate shop has a chocolate fondue served with your choice of dipping treats – fresh fruits, pretzels and pound cake. Sounds like a chocolate lover's heaven, doesn't it?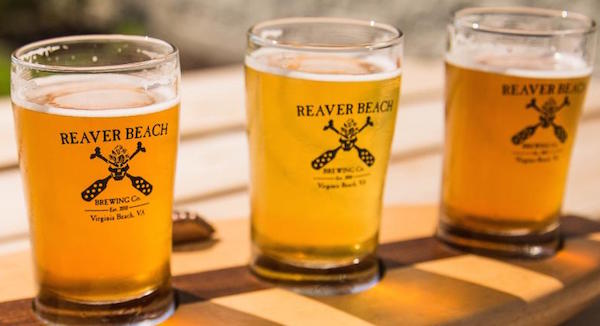 Craft beer is found everywhere these days and Virginia Beach is no exception. They have 10 amazing local craft breweries to explore and Virginia Beach even offers brewery tours of the area. If you like chill with brews and chews, you can spend a weekend tasting all the different brewers. Many have live music, food or food trucks so you can sit back, relax and try them all.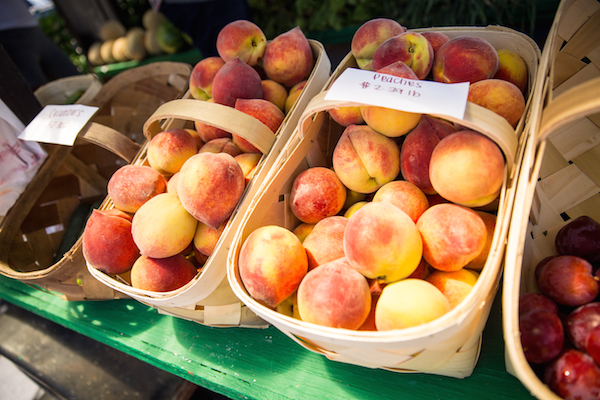 If you love markets you won't want to miss the Old Beach Farmers Market. There's simply no better place to see all the fresh local fruits, vegetables, seafood, flowers, eggs, coffee and handmade products. You won't get any more authentic local dish than talking with the vendors and learning all about Virginia Beach through them.
Virginia Beach Is For Food Travelers
Perfectly suited for food travelers, Virginia Beach is a desirable destination with deliciously fresh seafood, juicy produce, tasty craft beer and lots of local dining options. Whether you crave a simple picnic on the beach or an elegant white tablecloth restaurant you'll find what you're looking for and much, much more. Add Virginia Beach to the top of your list for beautiful beaches, savory seafood, awesome activities and a fun and vibrant local dining scene.
https://tag.yieldoptimizer.com/ps/analytics?pxid=1892
For more information on Virginia Beach check out their website VisitVirginiaBeach.com.
QUICK BITE: Visit Virginia Beach a waterfront destination for fresh local seafood, locally grown produce, and a vibrant food scene.
This post was sponsored by Visit Virginia Beach.