Fall In Love With Milwaukee
If you live in the Midwest you more than likely grew up taking road trips. There are so many lovely places to visit all within a couple hours' drive. One of my favorite places for a road trip is Milwaukee, Wisconsin. Sometimes I just want to get out of my sweet home Chicago. Milwaukee is a perfect getaway with only a 90-minute drive.
We were invited by Visit Milwaukee to come and experience all that Milwaukee has to offer the Food Travelist.
Milwaukee's Tasty Food 
It never fails that every time we visit Milwaukee we find more terrific places to eat. Here are just a few spots we think you've got to try when you visit.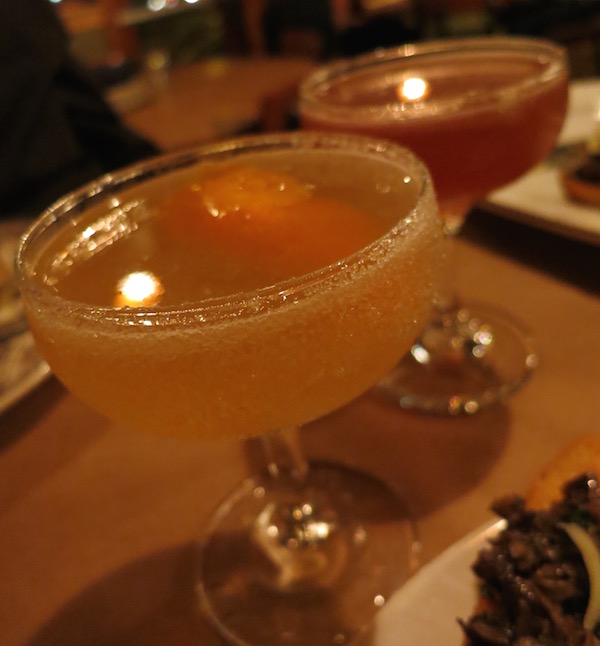 Wolf Peach
We absolutely loved this restaurant! The name Wolf Peach comes from European folklore. People used to believe that tomatoes were poisonous. Long story short, many considered tomatoes to be "peasant food" because the country folk ate them on wooden plates to their hearts' content without a worry. The aristocracy, however, ate them on their fine pewter dishes and, unbeknownst to them, suffered from lead poisoning because of the reaction between the tomatoes and the pewter. The stories grew from there, and soon tomatoes were known as the "Wolf Peach" used by witches to create werewolves. The restaurant's name may be funky, but their food is spectacular. And, don't forget to start with one of their classic cocktails!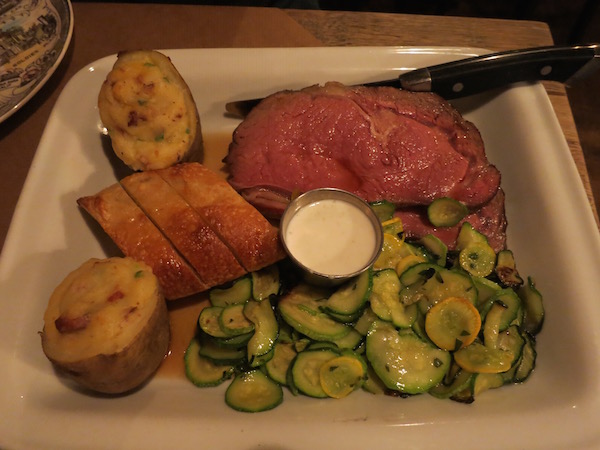 Wolf Peach uses local ingredients whenever possible and lists all the local vendors with a map of where they're at on the menu. The open kitchen design includes a 6,000 pound wood-fired oven where they create tasty pizza. Every dish we had was better than the one before. We were lucky to be there when they were serving prime rib with twice-baked potato, Brussels sprouts, wedge salad and buttered French baguette. We still dream about that meal!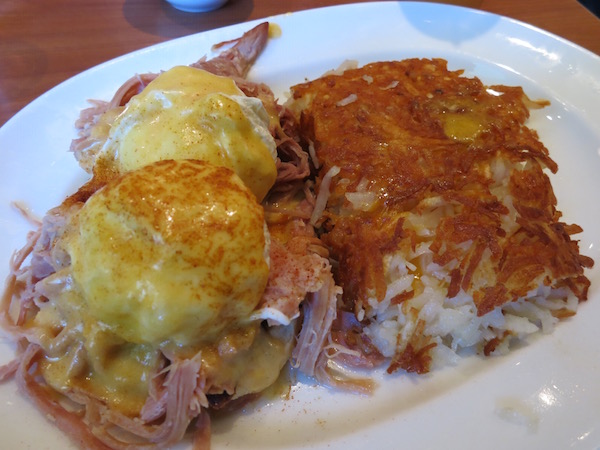 Blue's Egg
We love a good breakfast and Milwaukee has a lot of great spots to try. Blue's Egg is known for a lot of specialities. Their hash browns are some of the best we've ever had. Thinly shredded and cooked with a crispy brown crust, they're a memorable treat for your tastebuds. Add the cheese for their Browns N Cheddar and you won't regret it.  Blue's Classic Benedict with pulled ham off the bone is another winner. Their rich, dense and sweetly satisfying monkey bread is small but dangerous. Get one to share with caramel sauce. Just don't fight over who gets the last bite.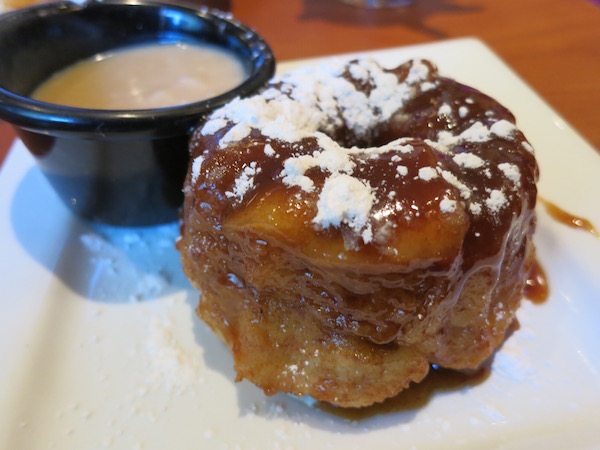 If you go on the weekend leave plenty of time. The lines are long. It's the perfect time to indulge in a Bloody Mary with Miller High Life back or any other of the breakfast cocktails they serve.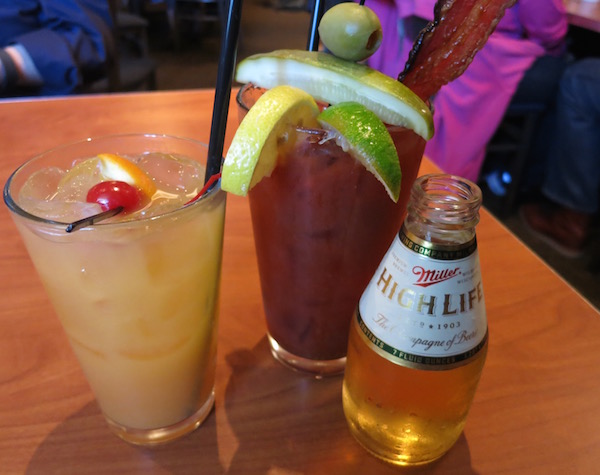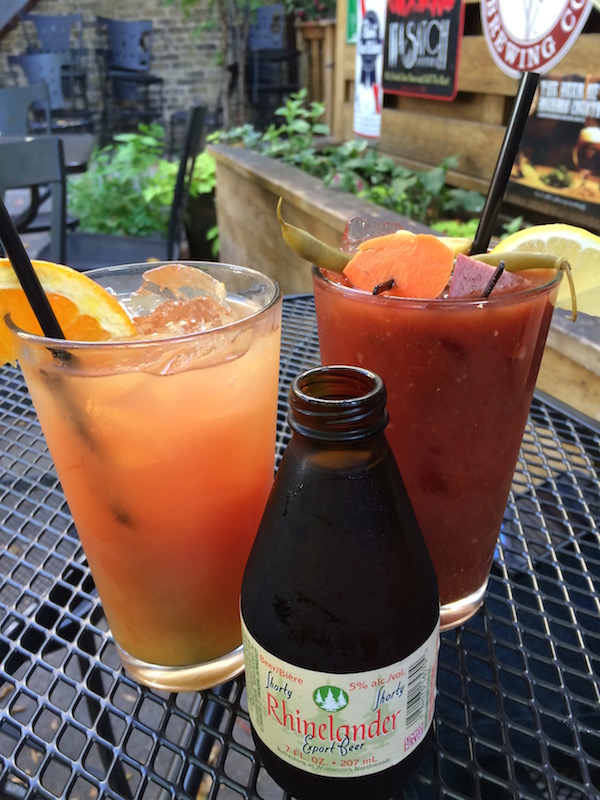 Honeypie Cafe
Another breakfast spot is Honeypie Cafe. Known for their pies and pastries, this restaurant serves up a terrific brunch too. Everything is made from scratch so don't be in a hurry. Relax enjoy a drink and prepare to be well-fed. We sampled their breakfast pork fries – roasted magic potatoes, shredded BBQ pork, cheese sauce, sunny side up egg, green onions, pickled jalapeños and, of course, bacon. We don't know what "magic" lurks in the potatoes but this sure makes for a great hangover or brunch dish.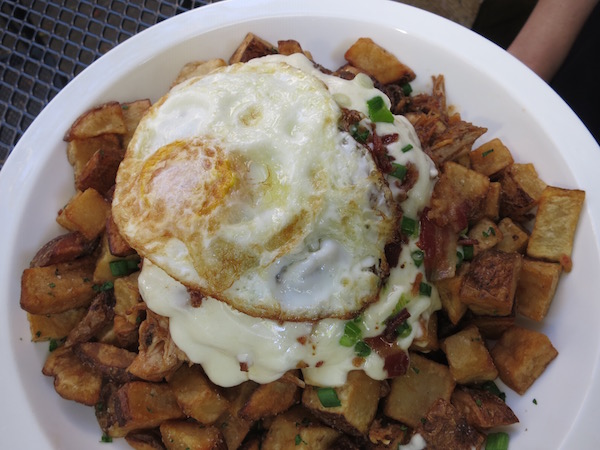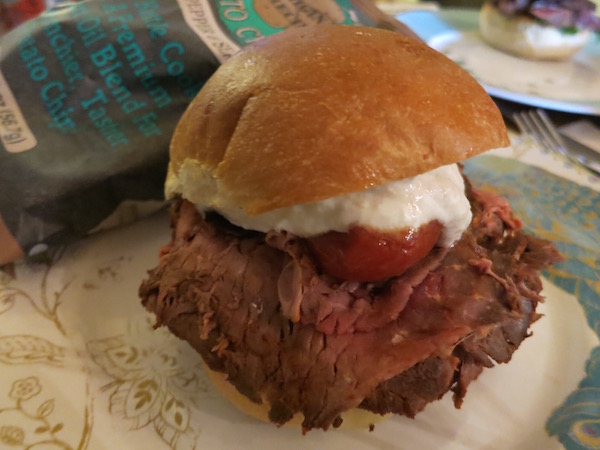 Bavette
If you're looking for high quality charcuterie and cheeses Bavette is your place. We stopped in for a quick lunch and had the roast beef with fresh horseradish and cherry tomatoes. It was the best we've had in a long time. Owner Karen Bell's care shines through as she serves responsibly-sourced meats and uses whole carcasses to reduce waste.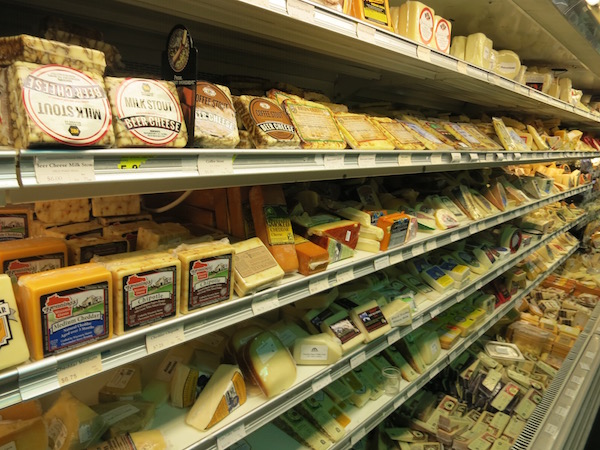 Wisconsin Cheese Market
It wouldn't be right to visit Milwaukee and not try some of Wisconsin's finest cheeses. For the best selection in town try the Wisconsin Cheese Market. They say they have the world's largest selection of Wisconsin cheese and we won't disagree. From cheese in the shape of the state of Wisconsin to 18-year aged cheddar they really do have it all.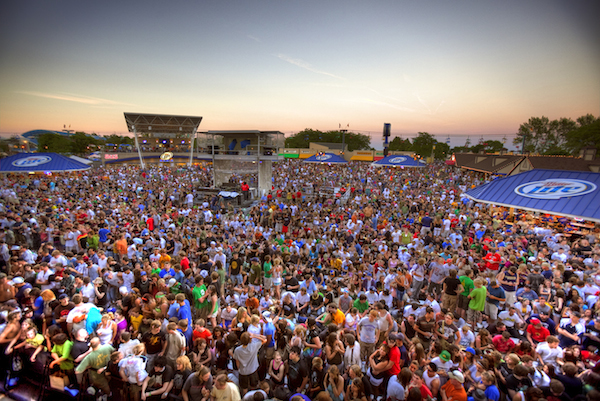 Milwaukee's A City of Festivals
If you're familiar with Milwaukee you've probably heard of Summerfest the 11-day celebration of musical that is held on Milwaukee's beautiful lakefront. You might not know that Milwaukee has festivals all year long!
Some of the largest fests include German Fest,  Festa Italiano, Irish Fest, Polish Fest, Pride Fest, Indian Summer Fest, Holiday Lights Festival and Oktoberfest. They have just about every ethnicity, holiday and season covered. If you want to learn more the great festivals in Milwaukee visit VisitMilwaukee.com for all the details.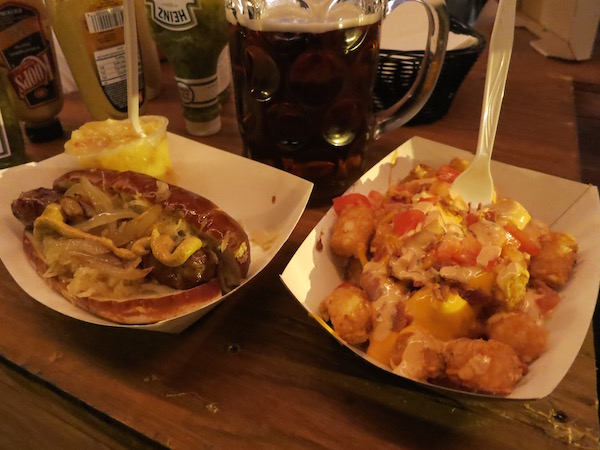 We  had the pleasure of attending Oktoberfest last year. In an effort to work off the beer and brats we signed up for the Dunkel Dash. It's a 5k fun run/walk that goes along the Lake Michigan lakefront and benefits the Hunger Task Force. After the "dash" participants meet up at the lively Oktoberfest for beers, brats, music and fun. Perfect for us Food Travelists!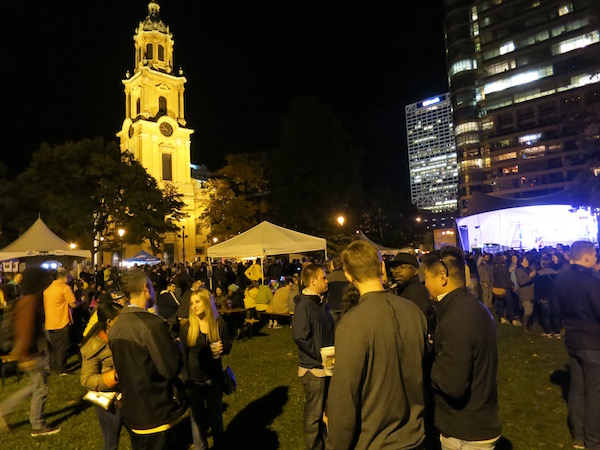 This year's Dunkel Dash takes place on October 13th check the website for more information.
Stay At A Brewery
Wait did you read that correctly? Yep, The Brewhouse Inn & Suites is formerly the Pabst Brewery. Think we're kidding? The copper containers that remain in the open atrium will easily convince you. The suites have full kitchens and a work space. They are comfortable and spacious with wonderful oversized showers. Most importantly we love the fact that the shower fixtures are simple to use. They're modern and logical and won't take you an hour to figure out. Complimentary wi-fi runs throughout the property. And, as if that were'nt already enough, continental breakfast is included with the room!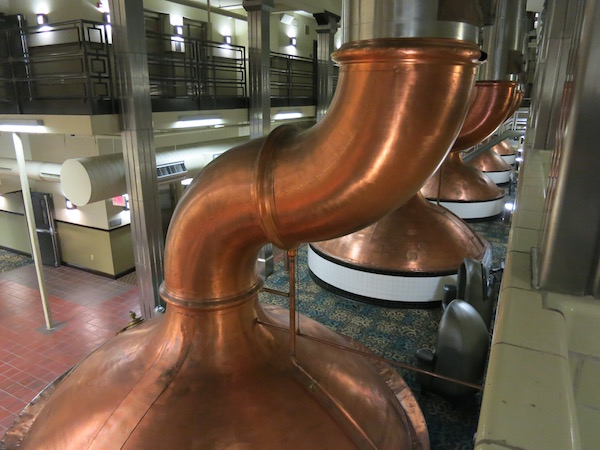 The Brewhouse is conveniently located near many Milwaukee attractions. And, for those who want a bit more brewery history, the fantastic Pabst Mansion is right across the street. If you're in Milwaukee for the beer this is definitely the place for you.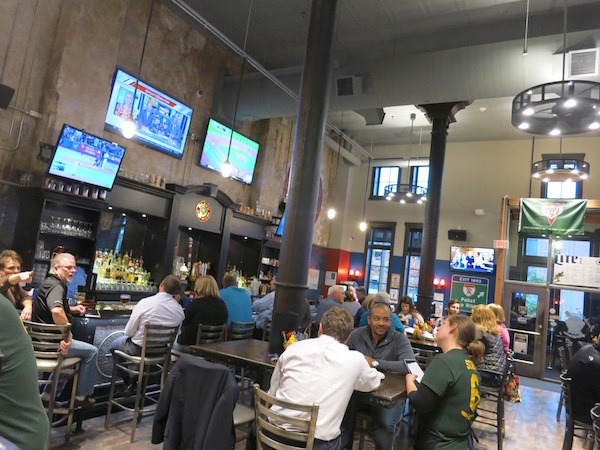 The fun and funky Jack's Blue Ribbon Pub is right next to The Brewhouse. It has terrific pub food and super cheap happy hour specials. We stopped in for a quick Pabst Blue Ribbon on tap and the place was jumping. It makes it easy to enjoy the specials when you just have to walk next door to go to bed!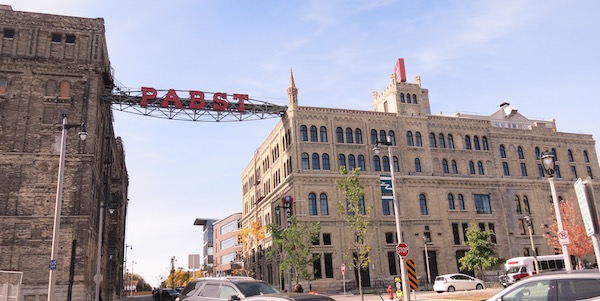 Of Course There's Beer!
You simply can't escape it and why would you? If you want to learn how beer arrived in Milwaukee visit the Pabst Mansion and get a chance to hear the story in person. Sample a Pabst Blue Ribbon beer, tour the mansion and don't miss the gift shop. It will take you on an amazing tour of beer history and tradition. It's full of a lot of great beer memorabilia, some of which will surprise and delight you in unexpected ways.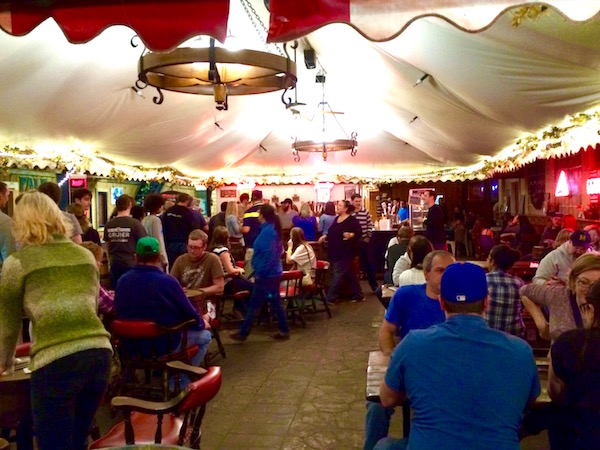 Sprecher Brewery
Another hometown favorite that brews beer is Sprecher Brewery. Sprecher also makes a very full line of gourmet sodas (or pop as we call it in the Midwest) including its beloved root beer and cream soda. Go for the tour and enjoy plenty of samples afterward in their indoor beer garden.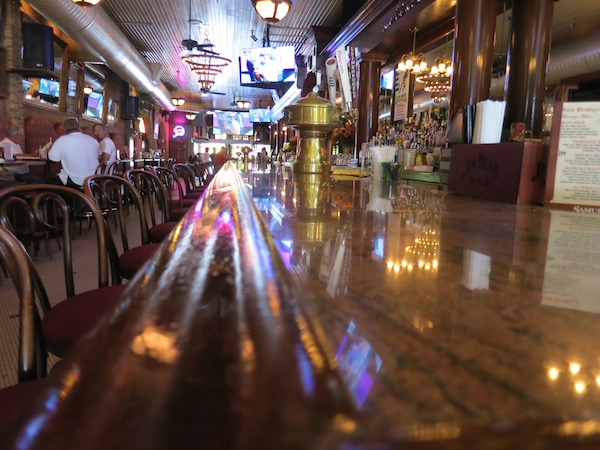 Curious as to where the longest bar east of the Mississippi is located? Then you won't want to miss Buck Bradley's in downtown Milwaukee. It's on a very happening block that also has Usinger's Sausage, the Wisconsin Cheese Market, the incredibly authentic German restaurant Mader's, and many other noteworthy local spots.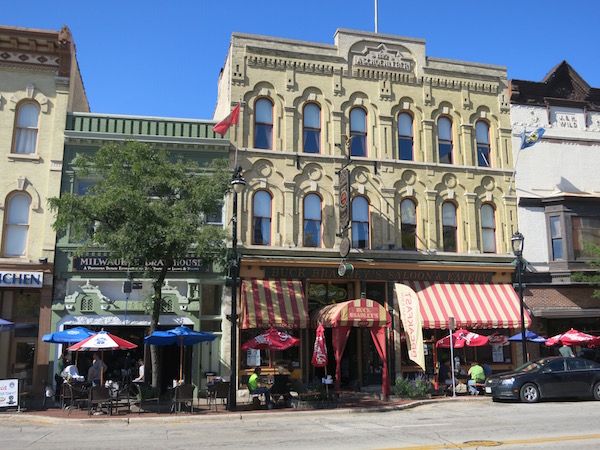 One of our other favorite local hotspots is Lakefront Brewery, which you can learn more about here. They give an awesome tour thats fun and informative. Of course, comes with plenty of samples too. Lakefront Brewery is also known for their award-winning gluten-free pilsner style New Grist beer.  And, if you're looking for a large brewery experience, the Miller-Coors tour is for you.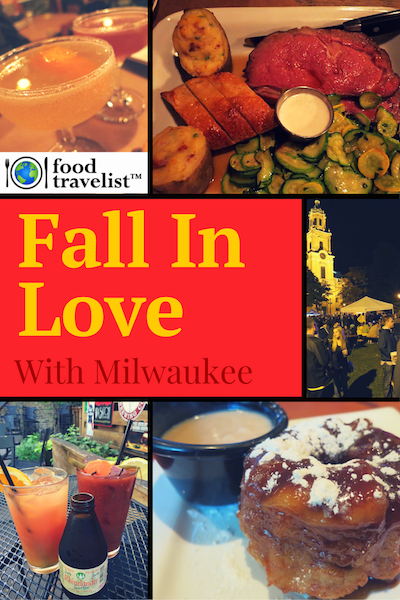 Year Round Fun
Fall is a beautiful time to drive to Milwaukee and enjoy the changing season in all its glory. But don't worry. Any time of year you head to Milwaukee you'll find great attractions, lots of festivals, terrific food and friendly people.
THE QUICK BITE: If you're looking for good midwestern hospitality, tasty food and lots to do, look no further than Milwaukee, Wisconsin. It's got it all!
Read more Food Travelist stories about Milwaukee: 
Exploring The Tastes of Milwaukee