One of the biggest challenges that face most people when they move to another country is what to bring with them, what to ship, and what to buy or replace when they do arrive. We were certainly no exception and have made all these decisions. We'll be the first to tell you that we totally miscalculated and should have brought or shipped more of our household items (and yes my favorite comfy chair) when we moved to Portugal.
We wished that we had really taken the time to think about what we would be doing in Portugal that we weren't doing in Wisconsin. But as the old saying goes we certainly aren't crying over spilt milk. We made a decision to really downsize and we'll live with it. What that meant is that we needed to buy many things to set up our new unfurnished apartment. Where to start? It can be a little daunting, especially for someone like me who hates shopping.
Don't get me wrong. I know that when I need something, I need to go look at things. I just have no patience for spending hours upon hours walking through malls or big department stores. I'm a "have list get what I need and get out" kinda person. My hope is to save you all a little bit of time and effort with these 9 tips for expat shopping.
 1. Buy From Local Stores, Shops, and Markets
One of the reasons that we moved here is that we really liked the Portuguese people. They are typically friendly, hospitable, and eager to help everyone they meet. We absolutely love meeting local shop people, introducing ourselves, and getting to know them and their wares. Our first apartment was in the vibrant Castelhana neighborhood in Cascais. We had a butcher, fruit market, grocery, hardware, hairdressers, cafes, restaurants, and more just steps from our door.
Every one of them welcomed us and had extreme patience with our awkward Portuguese language skills. They all had a smile for us, a sample, and many ideas on what we could cook and try (especially the butcher!).  Although we no longer live in that neighborhood we often go back to shop and get our hair cut. These friendships we have built will last certainly last a long time.
We continue to support the local shops here in Monte Estoril. The flower shop lady knows our names and the churrasqueria welcomes us happily whenever we stop by. We even have a new veterinarian just a block away who has been super attentive with our two furry family members.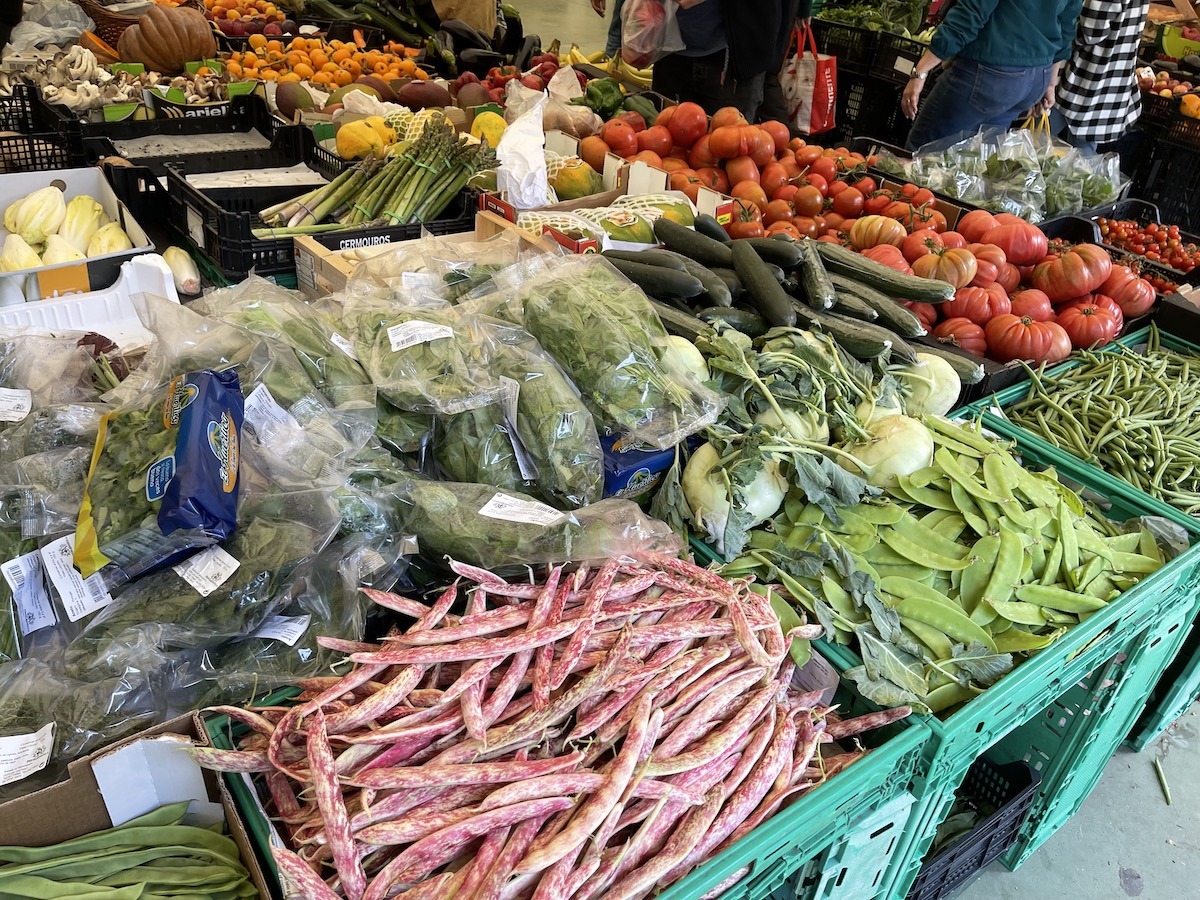 2. Check Out All The Local Grocery Stores And Local Markets
Fresh Local Markets
It's no secret that we love to eat and entertain. Finding the freshest produce is easy to do here in Portugal. We are fortunate to still live close enough to Cascais and can easily get to the Mercado da Vila for the local market on Wednesdays, Saturdays, and Sundays. Here we can find the best seasonal produce, veggies, and fish. There are many vendors but you soon find the ones that quickly become your favorites and they too start to recognize that you are a regular customer.
We just went through strawberry season and you simply can't believe how big and delicious they are here. We're in apricot season now and I'm in heaven. We think that the fresh produce we get here is some of the best in the world. But of course, we're a little biased.
There are also small markets in the neighborhoods that may not have the large selection but they do get local goods and are super convenient. Don't miss the local bakeries and coffee shops. Every neighborhood has them. You'll find your favorites by trying them all.
Supermarkets
If you prefer a more "supermarket" store not to worry they are here, too. We live across the street from a new Pingo Doce. It's a supermarket that has just about everything. They also have pre-made and fresh food to eat in a cafeteria-like setting or takeaway. You will definitely walk out of there singing their theme song, Doce, Doce, Pingo Doce if you're shopping for more than 15 minutes. You will find these stores throughout Portugal.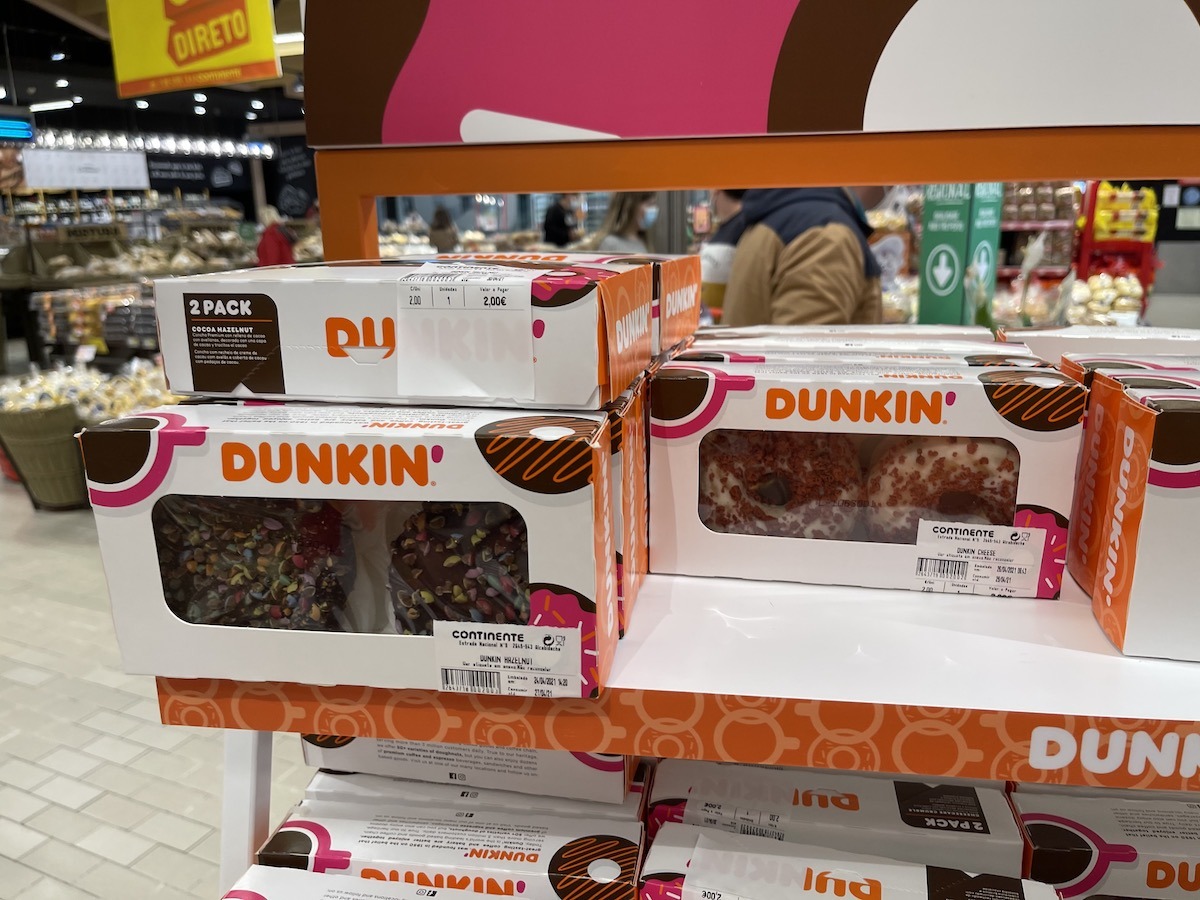 Continente and Auchan are two other large supermarket-type grocery stores. They both remind us of a Super Target. There is a large grocery section and they also have clothing, gardening, sports, housewares – just about everything. There's a newly remodeled Auchan along the sea in Cascais that has an upstairs food court where you can sit outside have something to eat and drink and enjoy the view.
The Continente is in CascaisShopping that's a short drive from downtown Cascais or Estoril (about 15 minutes). You can also take the bus or a ride-share car. Both of these stores are also throughout Portugal and even have small versions of Continente Bom Dia and My Auchan in some larger neighborhoods.
Gourmet and Specialty Stores
Because Diana enjoys cooking so much finding the right ingredients, spices, and herbs sometimes requires a little hunting around. Fortunately, we have several local shops that cater to folks just like her. One of our absolute favorites is Quinta do Saloio. We're lucky because their original location is within walking distance of us in Estoril. The first time we entered the store our mouths dropped and we knew we had found a special place. They have an outstanding butcher counter with meats from all over the world, even from the U.S.! We usually stick to the Portuguese choices and have always been pleased.
The spice rack they have had Diana spending way too much time exclaiming "I can't believe they have chili powder" or "I can't believe they have dried dill." We even found fresh cranberries there for our Thanksgiving dinner last year. Hard-to-find wines and liquors can be found there as well. We recently had the opportunity to meet the owners Melissa and Mauro and they just couldn't have been nicer. They recently opened a second location at the Cascais Marina that is even larger and has a cafe and restaurant, too.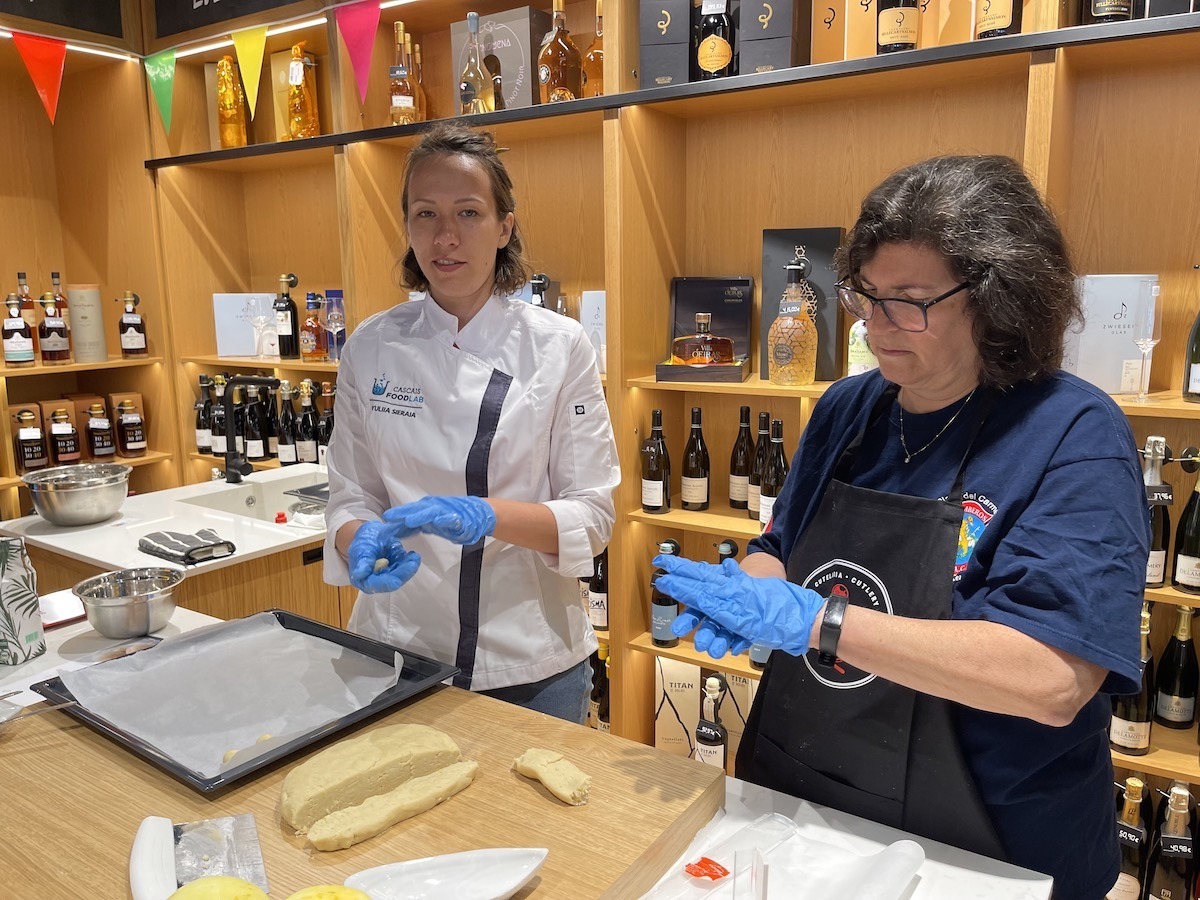 Another shop that we learned about from a friend is in São João and a short share car ride for us, Supermercado Tradicional. They have many hard-to-find American and British items and also an excellent cheese counter. They bring in bread from all over Portugal and you'll always find something you didn't know you missed.
Most of the grocery stores offer delivery services so even if one is a bit further away or you just don't feel like going shopping yourself that is an option.
Pro Tip: Many of them don't have websites. They do have Facebook pages. Follow them and like them to find out about the latest events, sales and new products they are promoting.
Familiar Grocery Stores
Sometimes expats in Portugal like to have a taste of home or products they may already be familiar with. You'll find Aldi in Portugal. If you're like me you can't wait to see what's in the "power" aisle. I let Diana do the grocery shopping while I peruse the household items, clothing, shoes, and more. We found a cute plant stand for the veranda, very reasonably priced. They have a fresh bakery section, a large produce department, a huge international cheese selection, wine, and more. You always leave Aldi with a special find or two you didn't expect to purchase.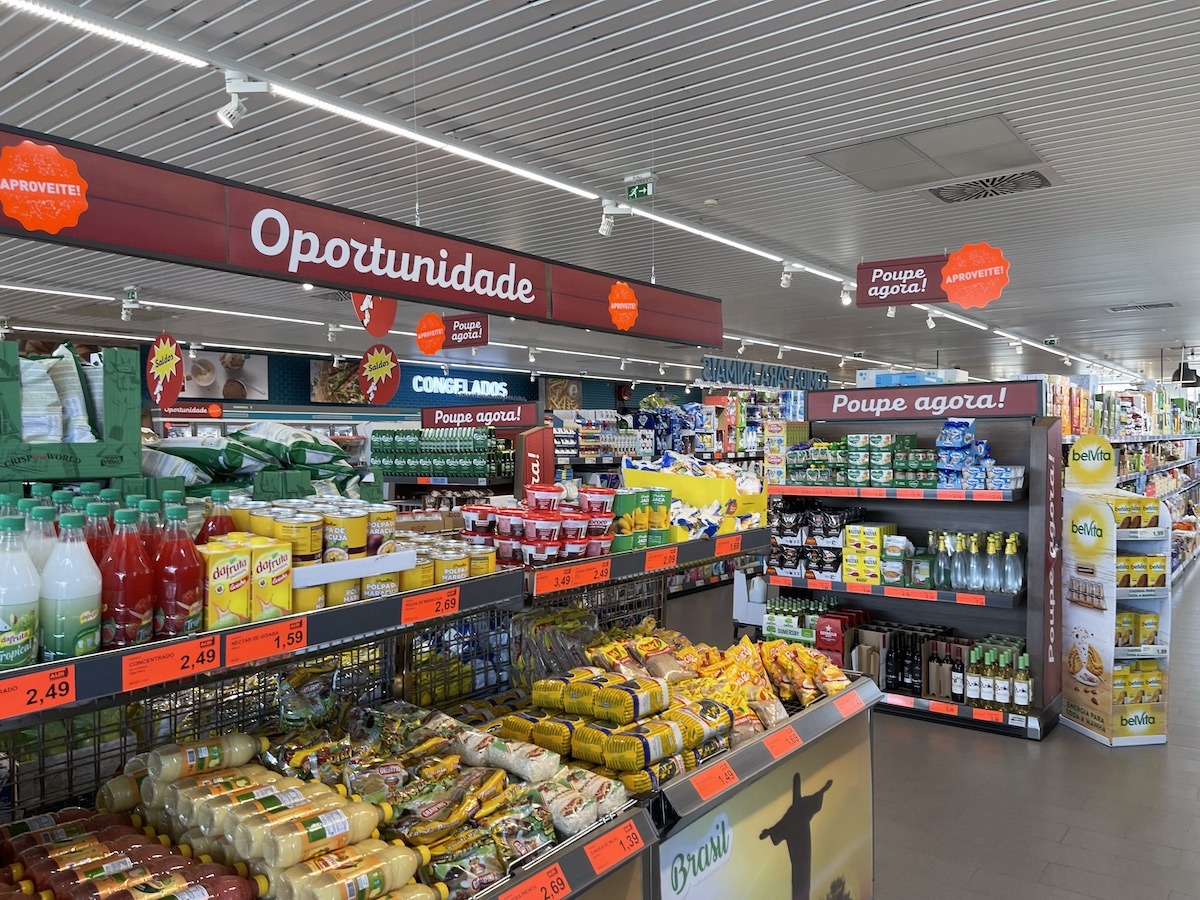 Lidl is another German-based store similar to Aldi (their "power" aisles are full of terrific deals). There aren't as many of these in the U.S. but they are everywhere in Europe. Their stores are similar to Aldi but they both have a different selection. Diana likes to explore the weekly circulars online and plan her shopping. She typically goes to 4 to 5 different places, including local shops, to get everything we need to eat deliciously and healthfully at home.
Neither of these stores is exactly like their U.S. versions but they do offer a great selection of reasonably priced groceries and other items. We love when they have "Greek" or "German" or "Italian" weeks to stock up on items that may be a bit tougher to find.
Pro Tip: In Portugal, if you're not happy with the service or products you receive from any provider you can register a complaint in the official "Complaint Book." It used to be kept in a paper book in every store (it still is in some smaller shops) but now you can access it online. If you're unhappy you simply ask for the Complaint Book. By law they are not allowed to ask you what the problem is (there is a hefty fine). But if you do mention your trouble they typically will try to fix it on the spot to avoid you filing a complaint.
There are also specialty stores like a Japanese store in Estoril, a British Store in Cascais, and American and Mexican stores in Lisbon for those who really need a food fix of something not typically stocked elsewhere.
3. Made in Portugal
Beyond the local shop and specialty shops be sure to look for products made in Portugal. For shopping in Cascais, we bring everyone to Cais 16. It's located in downtown Cascais and everything in the store is made in Portugal. We've bought lots of things like Portus Cale room fresheners, tile coasters, Portuguese cherry tea, and beautiful placemats. They always greet you with a smile, a Bom Dia, and a sample of ginjinha (cherry liqueur) too. Our friend Liz bought a super comfortable pair of sustainably produced flip-flops there and another friend bought jewelry for her family. You're bound to find something you'll love every time you visit.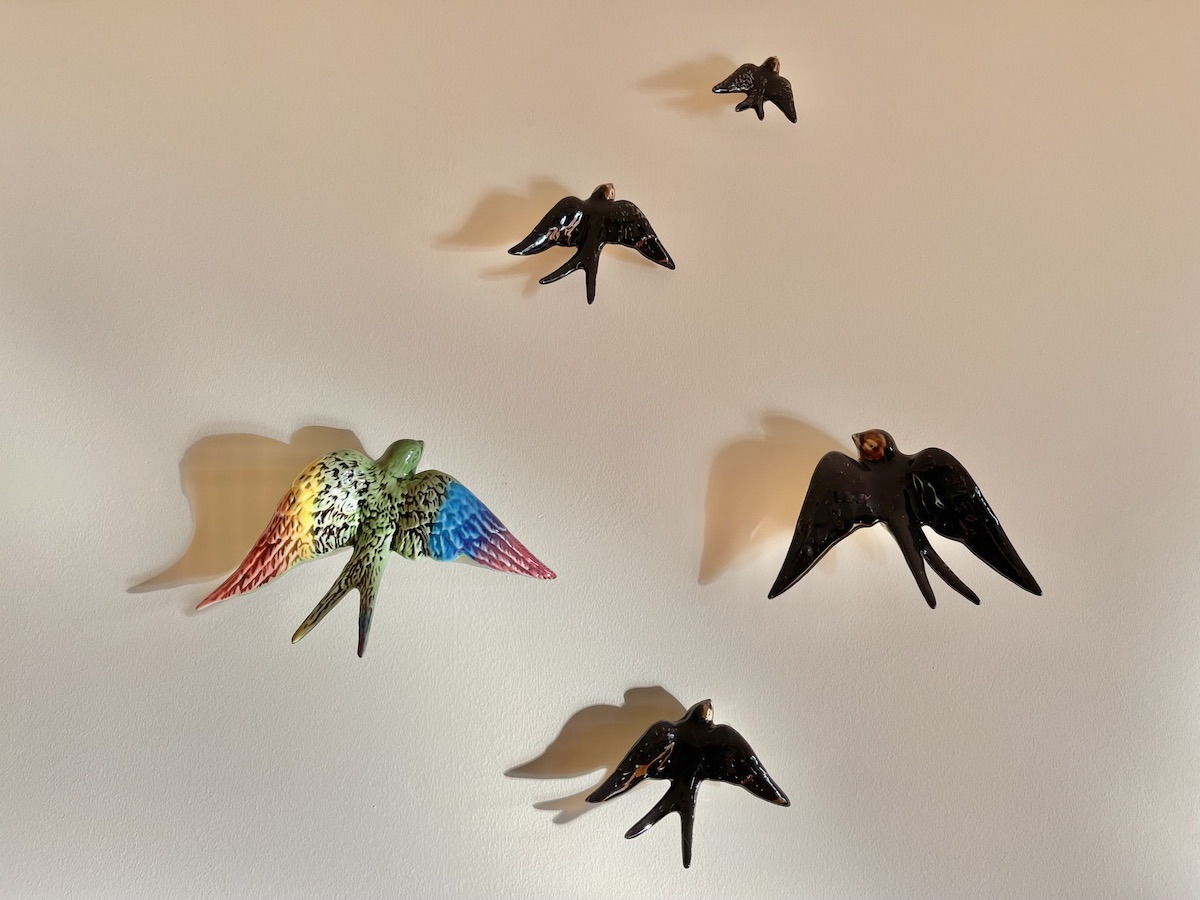 Bordallo Pinheiro Swallows
Another shop we adore is the Allarts Gallery located in the Citadel of Cascais (a must-see). They are one of the few shops in the region that sell authentic Portuguese Bordallo Pinheiro ceramics. The iconic Portuguese work is lovely to add to your home decor. His work reflects a love of nature frequently through animals, vegetables, fruits, and plants. You will see many of his iconic swallows in Portuguese homes that represent family, love, and fidelity. We have several of these famous swallows in our home including the special edition "diversity" swallow that represents all the differences that make up the Portuguese culture. They make me smile every time I see them. Be sure to say hello to our friend Claudia when you visit Allarts Gallery.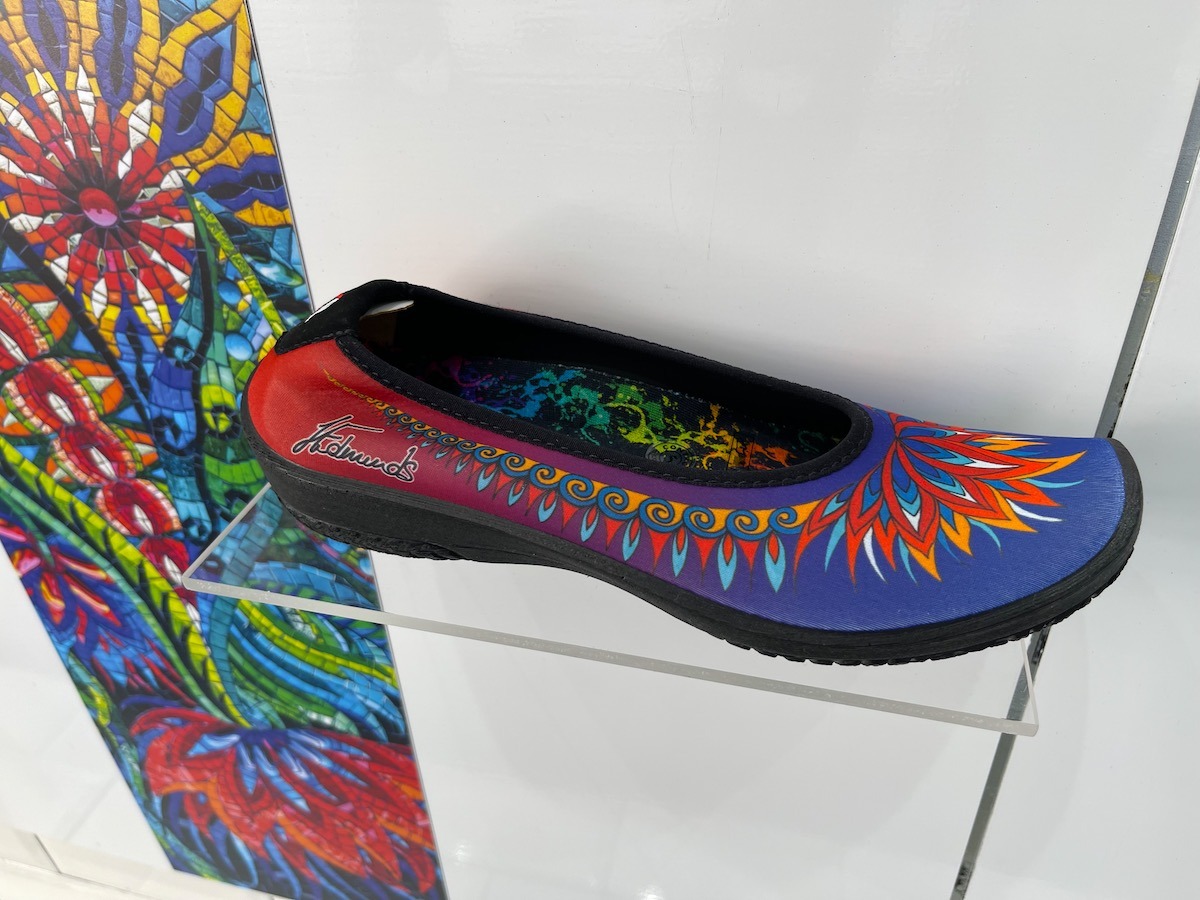 Another Portuguese brand I have adored for years is Arcopedico shoes. I started buying them years ago when I was sent a pair to try out. I've been buying them ever since. I was over the moon when I found their flagship store in Lisbon. Their shoes are super light, comfortable, and have great support. They also hold up well on the tiled sidewalks that are everywhere in Portugal.
More on Shoe Shopping
Many people say they can't find their shoe sizes in Portugal. In my experience that has not been the case. I went to find a pair for summer and they were sold out of most sizes of the shoe I liked. They simply ordered my size from the factory (in Portugal) and I had them a few weeks later. Now that's service!
Pro Tip: Bring all your comfortable shoes that will do well on the uneven tiled sidewalks and streets of Portugal. Be prepared to replace them too. I've bought several new pairs of shoes since arriving in Portugal. We walk a lot. Soles of shoes wear out quickly here. Much faster than I was used to.
Everyone has their own favorites. Some people prefer sneakers or athletic shoes and others like walking shoes. Try several out to see what works best for you. We will tell you to be careful out there. The tiles are slippery even in dry weather. The same tactic we used in the icy midwestern winters applies to tile walking. Walk like a penguin side to side balancing your weight. Pay attention to leaves and blossoms (like the jacarandas – beautiful but slippy when they fall off). They seem harmless but they all can be slippery and cause you to fall if you're not careful.
4. There Are Shopping Malls
Near Cascais, there is only one "mall" in the sense of what we're used to in the U.S. Be warned that the CascaiShopping mall doesn't have the typical anchor department stores you may be looking for. They have many small specialty stores and even chain retail stores like H&M, Foot Locker, Claire's, and brands like Levi's, Adidas, and Calvin Klein. They have a rather large food court that has Portuguese food and if you're craving McDonald's, Burger King, Pizza Hut, and KFC you will find them all there. There's also a multi-screen cinema there, too.
There are many shopping malls in Lisbon including Colombo Shopping Centre, Centro Vasco de Gama, Amoreiras Shopping Center, and Picoas Plaza. We went to Colombo one day and I will tell you it rivals the malls in Dubai in size. There are 340 stores and 60 restaurants, 8 movie theaters, and even an IMAX. It's easy to get twisted around and lost. Best to be patient get to the stores you're looking for then find a spot to have a drink and a snack to unwind. There's a Toys R Us in there (yep, they still exist in Portugal) and a Merrill store (another one of my fave shoes). You'll find that the Lisbon shopping malls are bigger and will likely have everything you're looking for.
5. Need Some Electronics?
The bad news is that there isn't an Apple store in Portugal. Us Mac users can find authorized dealers just about anywhere so no need to worry. We had one of our laptops bite the floor last year and took it to FNAC in CascaiShopping. They accepted our Apple Care, sent it off (that was a little worrisome) and we got it back a few weeks later, good as new.
There are two big electronic stores near us FNAC (it's in CascaiShopping but there are others throughout the area) and Worten's (also in CascaiShopping). We purchased our large-screen LG TV there after doing a competitive search for the type of TV we were looking for they had the best selection and price.
Both stores have household electronics like vacuums, blenders, mixers, coffee makers, and all the latest gadgets as well as washers, dryers, and refrigerators, too. These stores are especially handy for expat shopping as most of your electronics will need to be replaced when you move.
6. Furniture and Household Items
If you're like us and didn't bring any furniture at all furniture shopping can be daunting. Many people will tell you to just buy everything at IKEA. It's reasonably priced, they deliver, and you can typically get what you want fairly quickly (results may vary on this one).
IKEA The Good and The Bad
The bad news about IKEA is that it has to be assembled. That's cool, if you're up to it and can follow fairly cryptic directions. We ordered our fair share of IKEA items when we first moved so we could set up house pretty quickly. I'll admit I was overzealous and thought I could handle putting it all together myself with a little help from Diana. I'm not embarrassed to say, I was wrong.
After putting together our TV cabinet, a couch, three tables, bed platform with drawers underneath, and two-bed stands. I was done. We started to put together the dining room table and one of the legs cracked just a little when we tried to get it lined up just right. That was it. Thankfully, IKEA replaces broken parts FOR FREE, who knew? But we did have to go back to the store (another long UBER ride as these stores are typically far away from anything convenient). They were pleasant and didn't even laugh at us, at least not while we were there. Just be sure to bring your receipt and the broken part.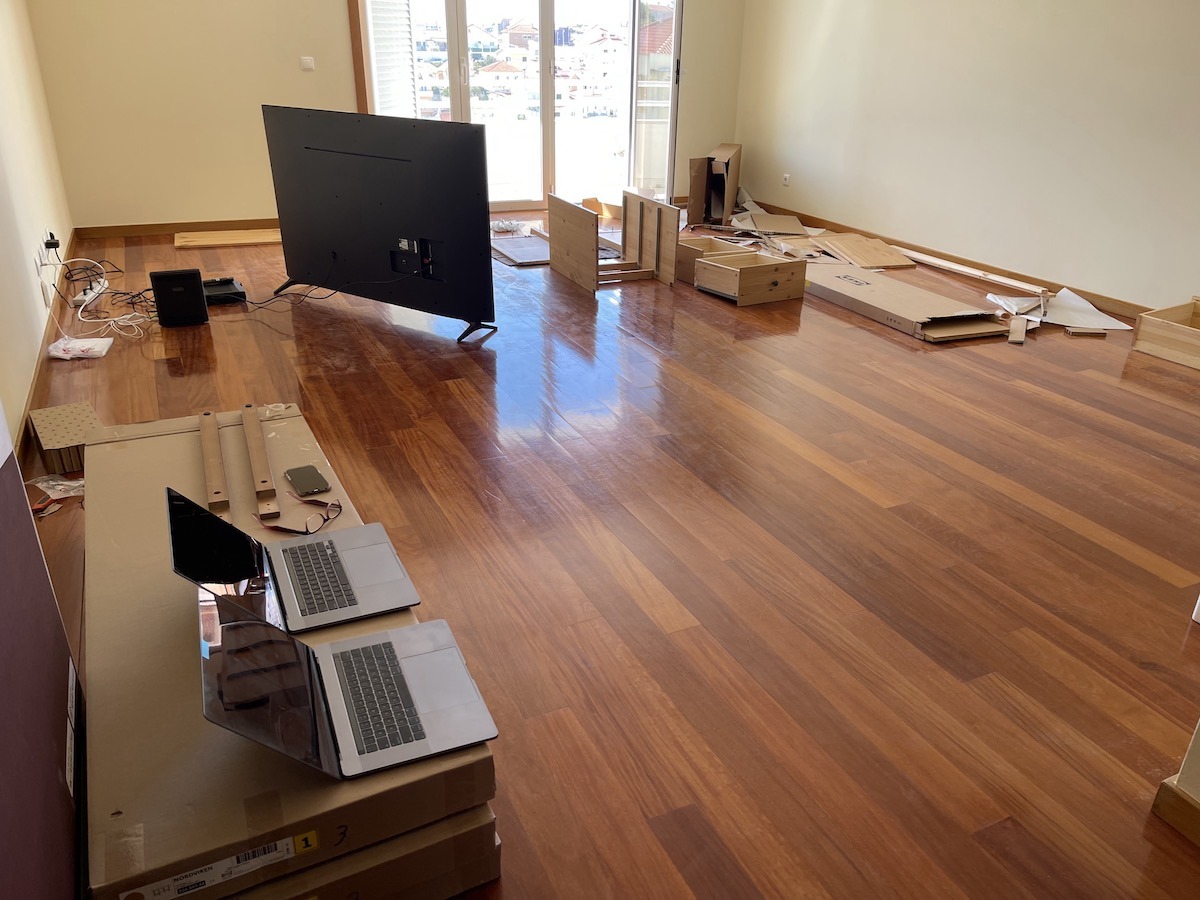 After that, we used Task Rabbit, which conveniently has an association with IKEA. It is super quick and affordable. It cost less than 20 euros per piece for cabinets we had built by them, plus a small tip. In retrospect, we should have just had them do it all.
Unless you already have familiarity with their products you're really going to need to go to the store. For me, this was extremely painful and really wracked my patience. We spent many hours there going back and forth and back and forth. The size of the store just outside Lisbon is really ginormous. My only experience at IKEA was the one in Schaumburg, IL. That felt like a Target compared to the IKEA here. The only bright side is that you can stop midway through and stop at their fully stocked cafe for their famous Swedish meatballs. They do have local specialties too including pastel de nata. You can also get a beer or wine to help make the visit a tad more bearable.
IKEA Pro Tip: Order each item you want in the department you find it. You can't just order everything at one time. They will add everything that you order together for a delivery date if the items are in stock. They charged 39 euros for delivery no matter how many pieces. So get as much in as you can. You cannot call them the next day and add to your order. They will charge you another delivery fee. Also, do NOT go on the weekend. Thank me later.
There are also other furniture stores like IKEA to choose from like Conforama. They feature low-cost furniture and a rather large selection. There are also higher-end stores like AREA (we got an ottoman there).
We are also fans of Gato Preto but they do not have a large selection. We bought some pillows and accent pieces there.
Home Improvement Stores
Here you'll find large stores similar to Home Depot in stores like Leroy Merlin and Aki. They are now the same company and are gradually making the transition to all become Leroy Merlin shops. You'll find paint, tools, and all the things you would expect. They also have Christmas decorations during the holidays, seasonal gardening items, and outdoor furniture too.
7. Thrift Shops and Flea Markets
If you like to find a real bargain then you'll want to check out the many thrift shops and flea markets in the area. The Mercado da Vila in Cascais is host to trunk shows, art shows, and hand-crafted Portuguese products on a rolling basis.
Every Wednesday there is also a "flea market" type gathering at the market where vendors hawk shoes, clothes, household items, and more. If you know your prices and your brands you can find some interesting items for sale.
We particularly like the market Feira da Adroana Market in Alcabideche on the first and third Sunday of the month. It's up past CascaiShopping but worth the 15-minute drive. Here you'll find all the typical flea market vendors but also fruit and vegetable vendors as well as Portuguese pottery (at great prices). One of our favorite plant vendors that our friend Sônia introduced us to is right at the entrance to the market. We've bought everything from an orange tree to orchids and a kumquat bush. Great stuff. Don't leave without having the Pão com chouriço straight from the ovens!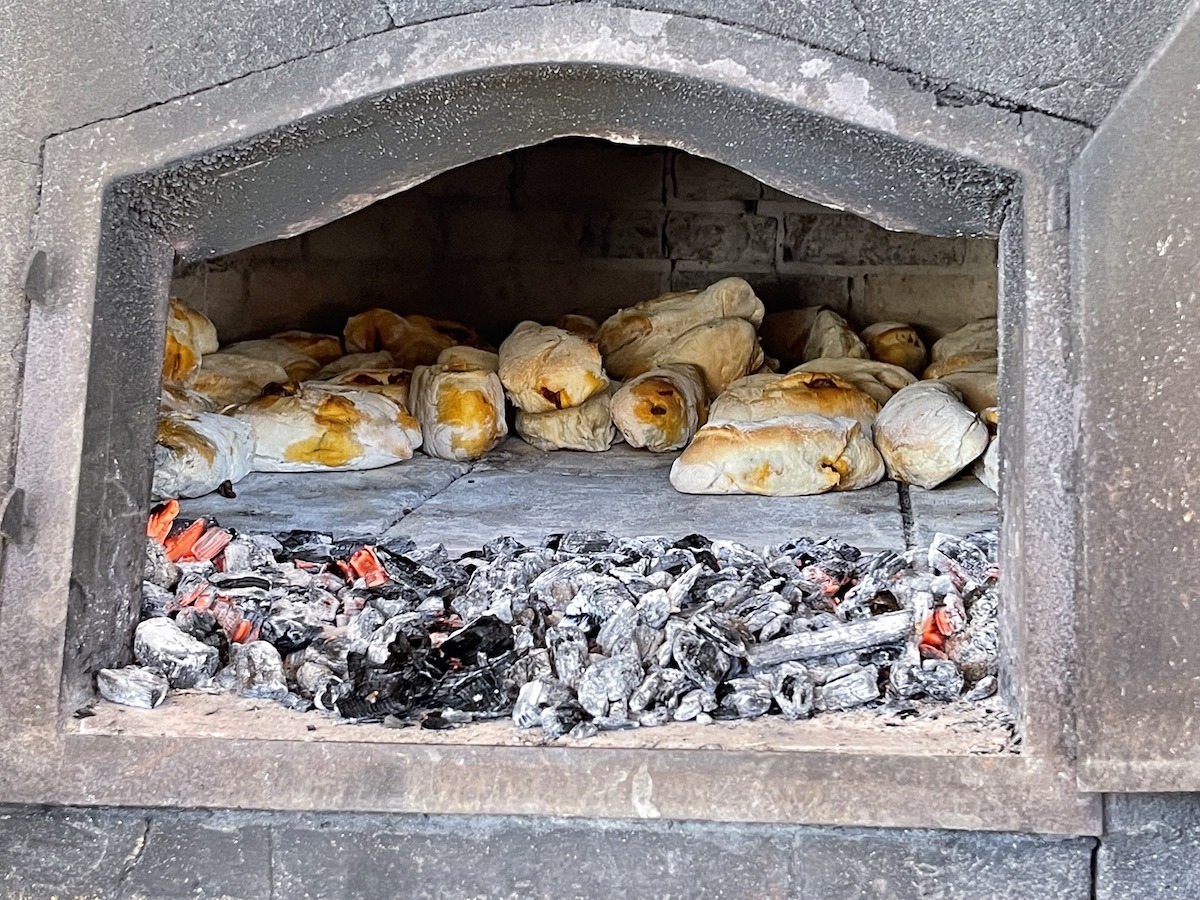 Lisbon also has many, many markets throughout the city. Mercado da Riberia, Mercado Baixa, Mercado da Arroios (check out the Middle Eastern market and snack shop Zaytouna there, it's one of our favorites).
There are also many markets like this around Portugal. Be sure to check out your local town's web pages to find these hidden gems.
Another type of store that has really low prices on a lot of basic household items is the "Chinese Store" or Loja Chinêsa. These are stores run by Chinese immigrants. They are very much like the Dollar or General Stores in the United States. They are everywhere some are small and there is a Hyper Chinese Market near CascaiShopping that is three floors of merchandise and loaded with savings. In most of these stores, you'll find hardware items, household items, party goods, and some stores even have clothes. They are fun to explore for some unique gadgets too.
Pro Tip: You can find lots of furniture and household goods on Facebook Marketplace and in Facebook Groups just like you can in the U.S.
8. Department Stores Worth Exploring
El Corte Inglés
You can also find the large old-school department stores in Cascais. El Corte Inglés a Spanish store is well worth a visit. We had previously visited the one in Barcelona so we knew what to expect. But..it's still a pretty fantastic store. They have EVERYTHING. It's a really nice shopping experience with exquisite customer service. I'd recommend going there for what you're looking for and then cruise up to the top floor where they have a very impressive gourmet shop and a tasty food court like no shopping center food court I've ever seen.
We like the Italian spot up there for thin-crust pizza and a glass of Prosecco. Then a stop at the Neuhaus chocolate shop for a nice finishing sweet.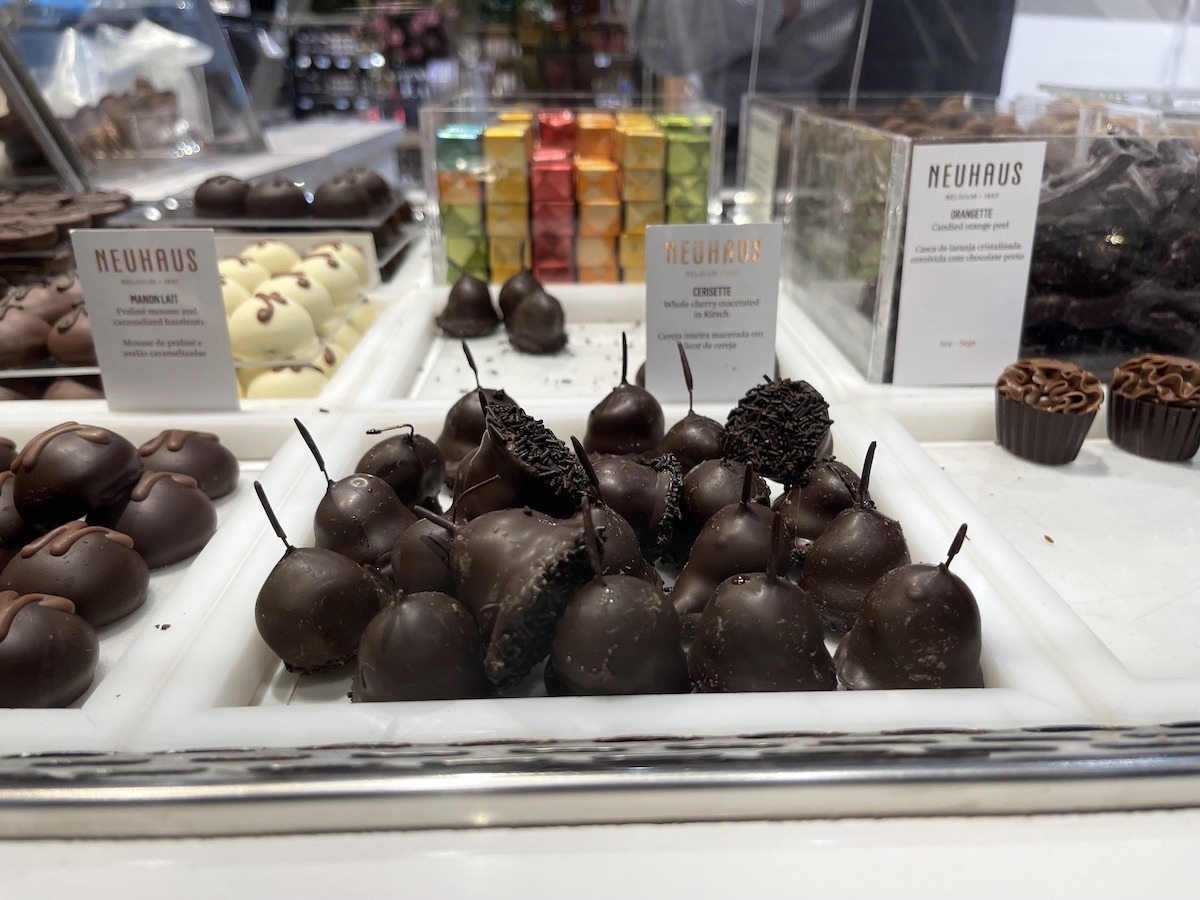 We have purchased furniture, high-quality bedding, and Diana's coveted KitchenAid stand mixer at El Corte Inglés "the English Court" among other things. Her Dad found a pair of comfortable new walking shoes (they have a HUGE shoe department). Of course, there are clothes and household items galore. They even have a very large pet department too. If you love grocery stores be sure to check the one out on the lower level. Lots of grab-and-go pastry shops from all the Portuguese vendors you don't want to miss. If you only have a few hours to spend shopping this is the place to go.
Pollux
Another terrific department store Pollux features homewares for the home cook. They have several floors of gadgets that will keep your cook or baker there for hours. The super friendly and knowledgeable staff will help you navigate all the things they have with ease. Don't forget to check out the rooftop terrace restaurant for a lunch or quick snack.
Avenida da Liberdade
While not a department store this swanky urban shopping street in Lisbon has all the high-end stores you'll find in just about every other cosmopolitan city. Join the ladies who lunch and stroll down Avenida da Liberdade for some stylish shopping in Lisbon. If you're lucky enough to be there in the springtime you can also enjoy the jacarandas in bloom. It's just one of the fun shopping centers in Lisbon.
9. Online Shopping
If all else fails you can always rely on online shopping. You won't be able to access the goods through the U.S. Amazon portal but you can use Amazon Spain, Amazon Germany, and all the other EU Amazon-based websites with ease. To date, there is no Amazon Portugal, but Amazon.es has integrated Portugal into its site so you will be able to get free two-day shipping on some items with a minimum purchase. The Spanish Amazon portal can be accessed in Portuguese. And, the German portal, for example, can be translated into English so you can easily order as you please.
Deliveries are a bit tricky in Portugal. If you have a different kind of address (hard to find) you may need to get your order at the nearest Amazon pick-up point. If you're not home (do everything you can to BE HOME) they will NOT leave the package. Unless you have a neighbor who will let them in and accept it. This leads to rescheduling pick-ups and sometimes even sending it back undelivered. Everyone gripes about this. You get used to it. Just be sure to think about when you'll be home before you order and you'll be just fine.
Pro Tip: Do NOT under any circumstances unless it's an emergency have someone ship you something from the United States. Everything gets stuck in customs and they will charge you, the recipient, a duty to receive it. Even small packages with little or no value are assessed a duty tax. Do not give your address to anyone and that will avoid the problem.
This Is Just The Tip Of The Shopping Choices for Expat Shopping
As long as this list may seem there are plenty of other shops and selections for shopping in Portugal. It all depends on your tastes and your budget. If you are an expat or immigrant shopping our advice is to take your time and fill your new home slowly. Curate your choices and don't just fill the space with more "stuff." After all, you're moving to another place with a simpler and relaxed lifestyle so there's no need to clutter it up right from the start.
Determine what you need before you hit the "add to cart" button and try and enjoy the process. Let us know if you have any other suggestions for shopping in Portugal. There are still a few more things we'll probably need down the line.
Pin It For Later!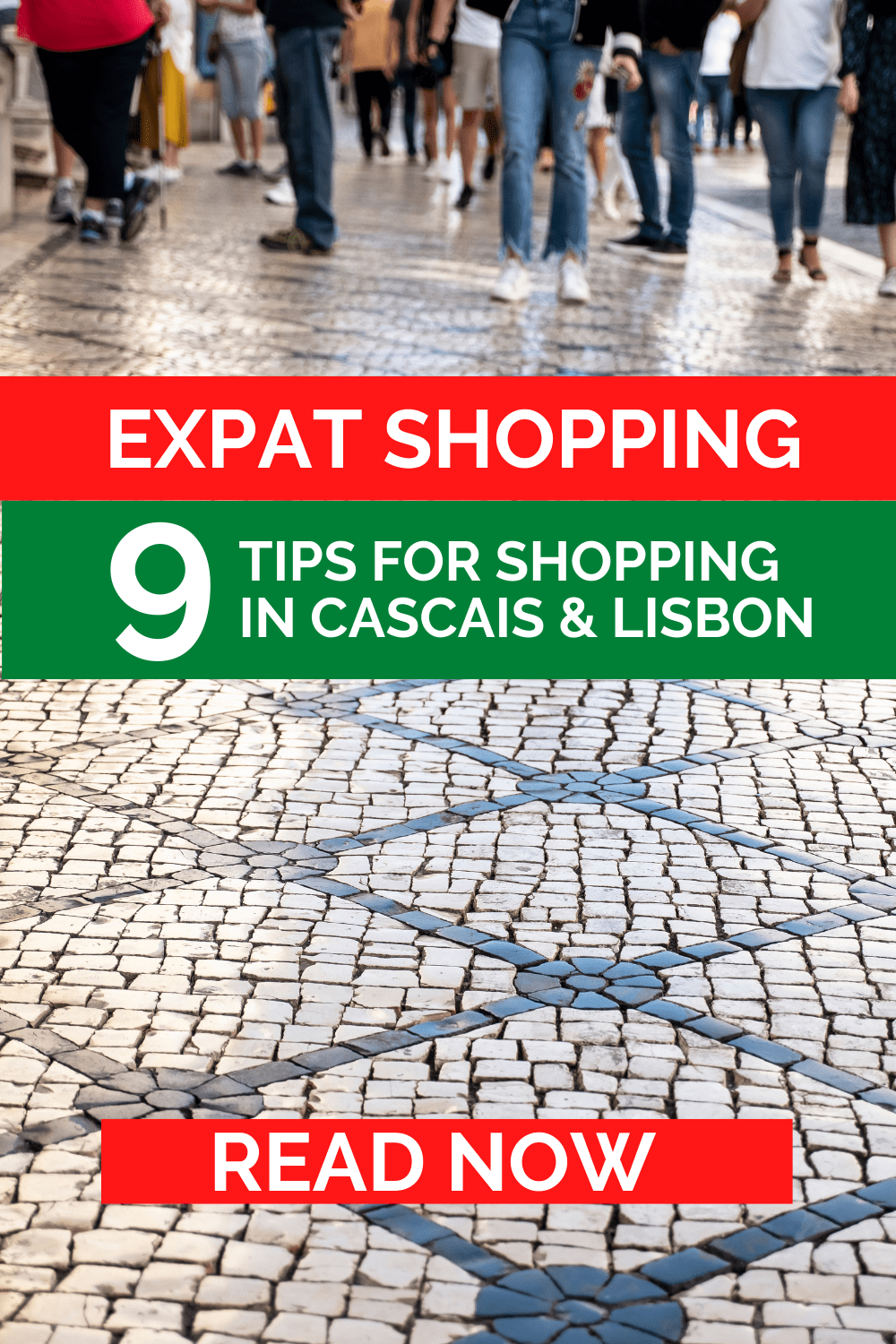 .