Visitors Love Venice
Venice, Italy. Glittering canals. Moonlit gondola rides. Romantic bridges. Historical architecture. These draw visitors from around the world to the city on the water. And if you arrive during the busy summer months, you just might get a glimpse of them. However, you will need to share them with many other people seeking out the same great things. Venice receives some nine million visitors a year, even though only 50,000 people live there. And, as to be expected, a great many of those visitors come during the warm summer months. It's great if you enjoy the thrill of a crowd. You'll certainly be in good company.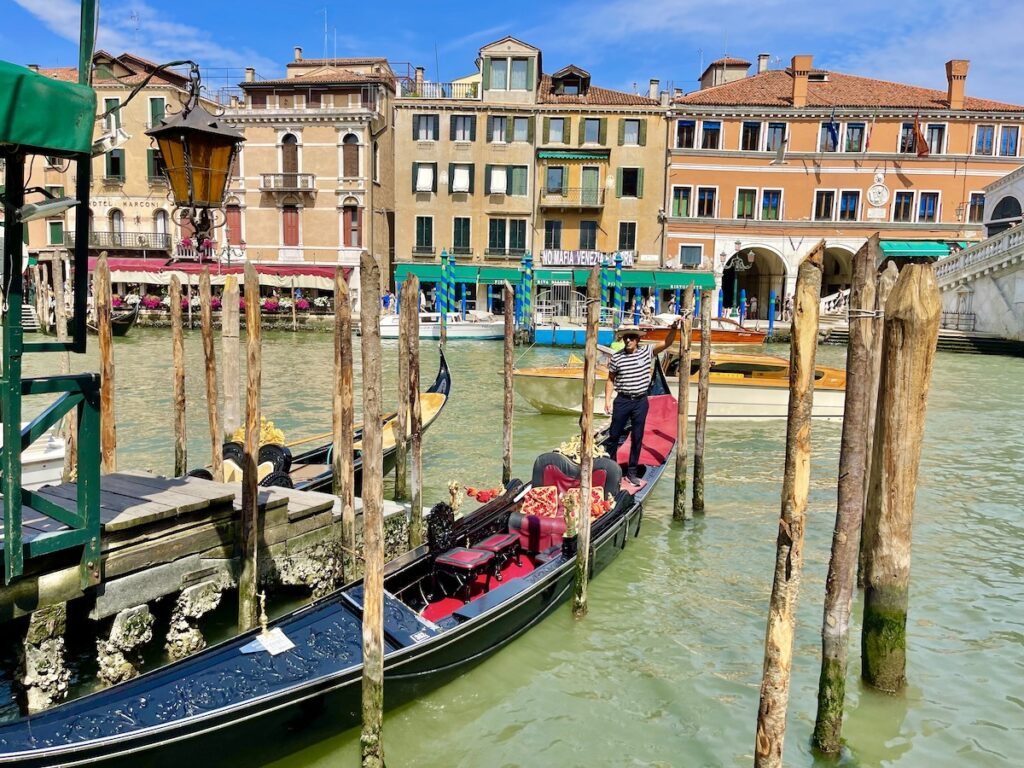 As you might know about us though, we tend to be the off-season, off-the-beaten-path type of travelers. We love seeing the important sites and then going more along the roads less traveled. But we tagged this day in Venice onto the end of a Mediterranean cruise (more on that later!) so we figured when in Rome, er, Venice… Since this was Sue's first visit to Venice and we had just one day, I thought it was important to be near the main draws but not necessarily among the throngs bustling to see them when we got back to our hotel.
One thing that was clear was that Venice is back on the tourist track with a vengeance. After hibernating from visitors during the COVID-19 pandemic, the city is full of visitors who can't wait to explore every nook and cranny of the major attractions, especially around Saint Mark's Square, the hub of hyperactivity.
Venice Hotel Prices In Summer
During the summer months, you will notice that the already pricey ultra-luxe hotels become even pricier, to the tune of a couple of thousand dollars a night. That's great if you want to spend the money on Venice Italy 5 star hotels such as the Gritti Palace or the Danieli. They are sure to offer a magnificent stay. But for this trip, we were a little more creative in finding class, and comfort, and suited to a more moderate budget.
And what we discovered was a beautiful and welcoming hidden gem at a very reasonable, breakfast-included price. The service was so gracious we felt like we were greeted by friends. We escaped the intense summer heat and crowds just a few streets away into our own lovely oasis and slept soundly in our large, extremely comfortable, well-air-conditioned room (this really is important when the summer heat comes around). So, have I piqued your curiosity yet? Here's the place we stayed and felt like princesses.
Drumroll please for this Hidden Gem in Italy
Hotel Palazzo Paruta & Wellness Suites Venezia
The secret is now revealed. We absolutely adored our stay at the Hotel Palazzo Paruta Venezia. This former residence of Venetian nobility has been transformed into 4-star accommodations that we would rate as a 5-star stay. We want to provide you with helpful and honest information based on our own personal experience. Understanding that every person has unique desires and expectations, we'll continue sharing our insights with you and let you decide whether you would like what we liked. So now, I'll tell you a lot more about this best-hidden gem hotel in Venice, Italy.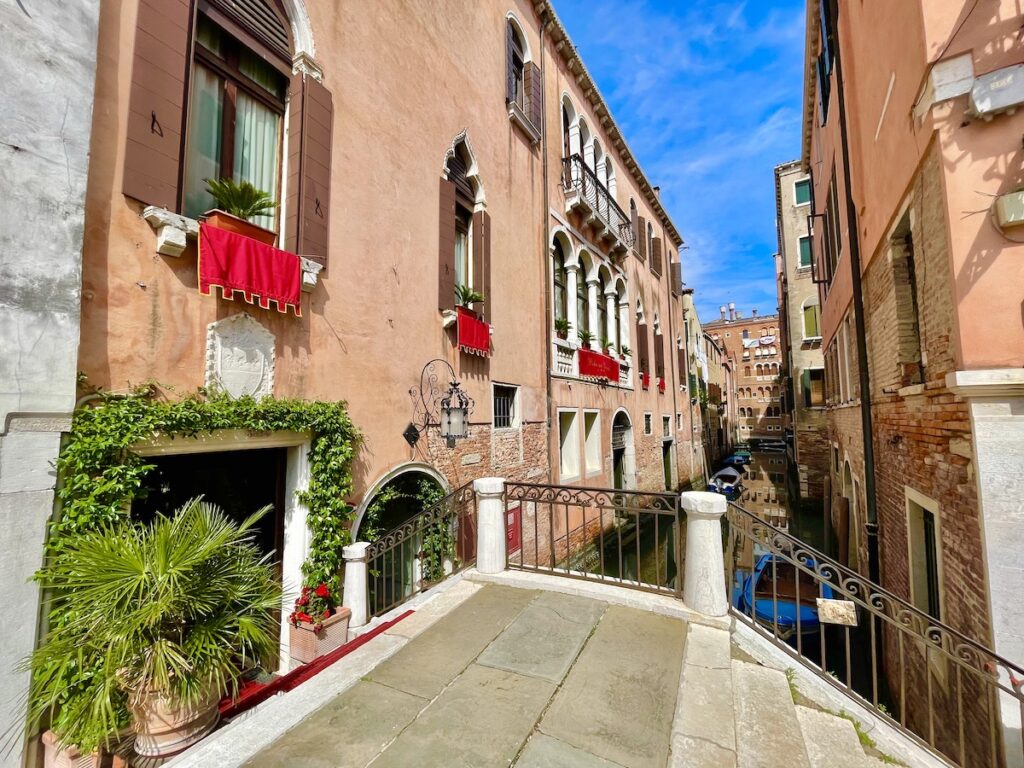 Best Area To Stay In Venice
The first thing to note about the Hotel Palazzo Paruta Venezia is its location. While anywhere out on or near the Grand Canal, the heartbeat of Venice is going to be busy, busy, busy especially during summer, being too far away means that while you may have peace and quiet, you will need to do a lot of trekking (or water buses) if you want to get back to the action. If you've been to Venice before and are up for exploring more of the backroads (or back canals) then that's awesome. But if you're a first-timer like Sue, or haven't been for decades (like me) you will probably be interested in seeing St. Mark's Basilica, the Doge's Palace, the Bridge of Sighs, Rialto Market, gondolas on the Grand Canal, and other celebrated spots.
Just a 10-minute walk to St. Mark's Square and less than 5 minutes to the Sant'Angelo water taxi stop, the Palazzo Paruta Venice Italy is surprisingly and ideally situated on a quiet side canal. In fact, it's actually one of the Venice hotels with canal views from some of the rooms. When walking back from the busy Grand Canal area, you pass over some small bridges and through a couple of shopping streets with bakeries, candy stores, restaurants, and clothing shops. Once past those you find open squares that are generally quiet and blissfully devoid of large crowds. It almost feels as though you have stepped outside some invisible boundary leading you to the beautiful accommodations that await you.
A Warm Welcome
When you walk over the tiny bridge to the hotel entry you'll see a few little red and gold banners on the building and be greeted in a small but attractive lobby. The staff is ready to help you even if, like us, you are many hours earlier than check-in. They took care of our bags and brought them up to the room while we went out exploring. The staff speak great English, so if Italian isn't in your linguistic library yet, there's nothing to worry about.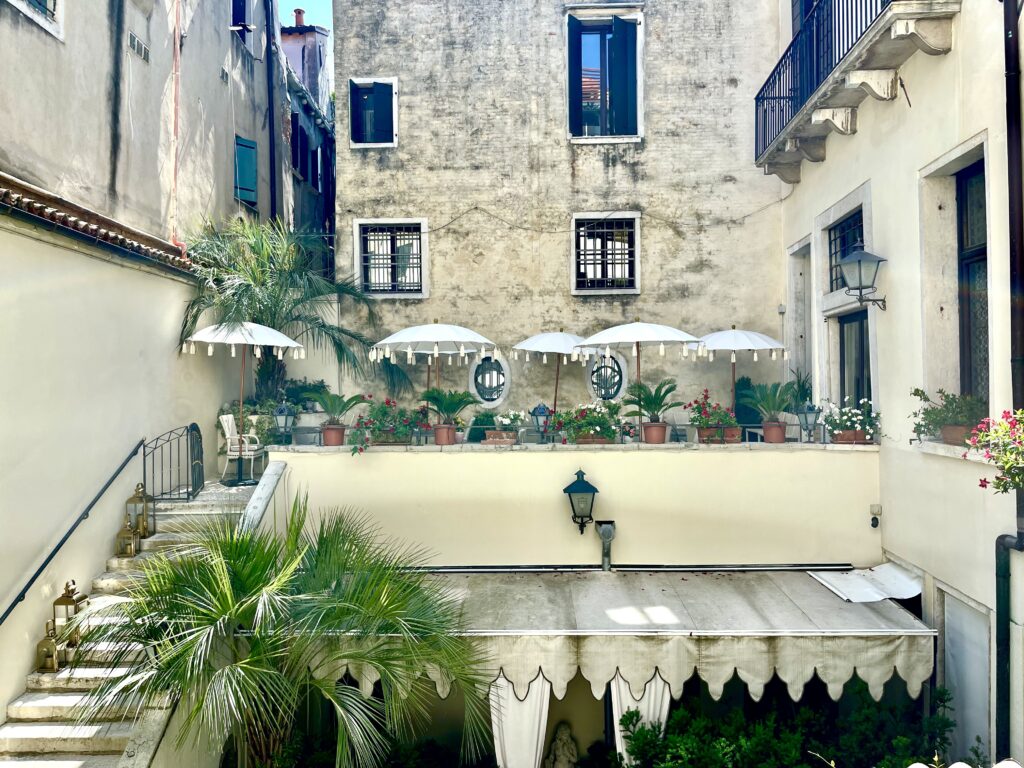 Gorgeous Gardens and Venetian Decor
When you're ready to explore the hotel, you will be delighted by the many beautiful and quiet garden settings the outside has to offer. There's a sitting area surrounded by plants and flowers just outside the lobby. And there's another up the stairs (or elevator) on the next floor that is a terrace for the bar. Flowers on the tables and a serene background had us feeling like we were the only people visiting Venice. Imagine how rare that is in summer!
As befitting the former home of Venetian nobility, the décor meets every expectation of opulence with Venetian style. Luxurious fabrics, bright colors, original artworks, grand light fixtures, and, of course, lots of gold leaf play well amid the modern conveniences that make the hotel also feel new and comfy. Not one bit of "grandma's basement smell" here and in a place surrounded by water, that's quite an accomplishment. This is one of the boutique hotels of Venice with a distinctly personal grandeur of its own. It's a taste of hotels in Venice Italy 5 star opulence with a more intimate scale and affordable price.
The Rooms And Accommodations
The Palazzo Paruta has 13 luxuriously appointed guest rooms, giving you a taste of what Palazzo Venice life may have been like in the noble owners' time. Rooms range from cozy standard rooms overlooking the peaceful courtyard to the roomy premier junior double suite canal view room. All the rooms are carefully decorated with Carrara Italian marble in the bathrooms. Additional touches such as damask fabrics on the walls, Murano glass chandeliers, and exclusive bath products adorn the larger rooms.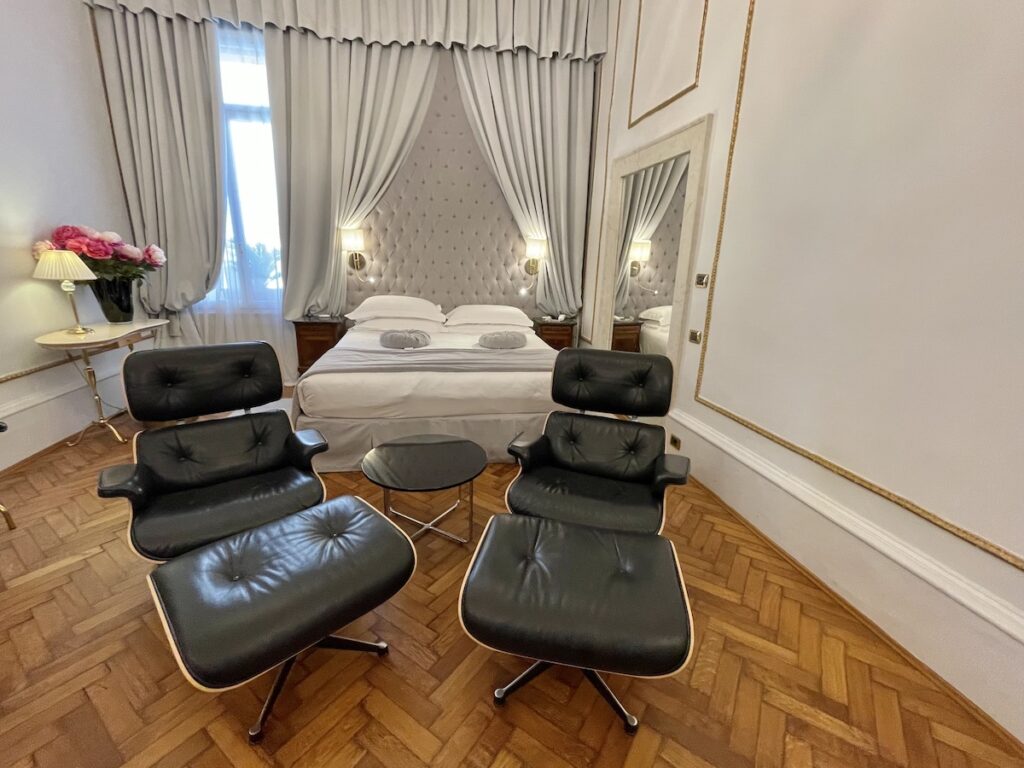 Though all rooms have gorgeous Venetian décor, the premier junior double canal suite (in which we admittedly indulged ourselves) has recently been reimagined. It now incorporates soft colors and ridiculously comfortable Eams chairs into its elegant classic design. The king bed was comfortable, with reading lamps on each side. There was a large 65-inch LCD TV on the wall above the marble fireplace. Our room also had a walk-in wardrobe with a Nespresso coffee machine, an electric kettle, and plenty of complimentary coffees and teas. The Carrara marble bathroom was ample, with a double sink and waterfall shower surrounded by glass that prevented the usual leaky mess.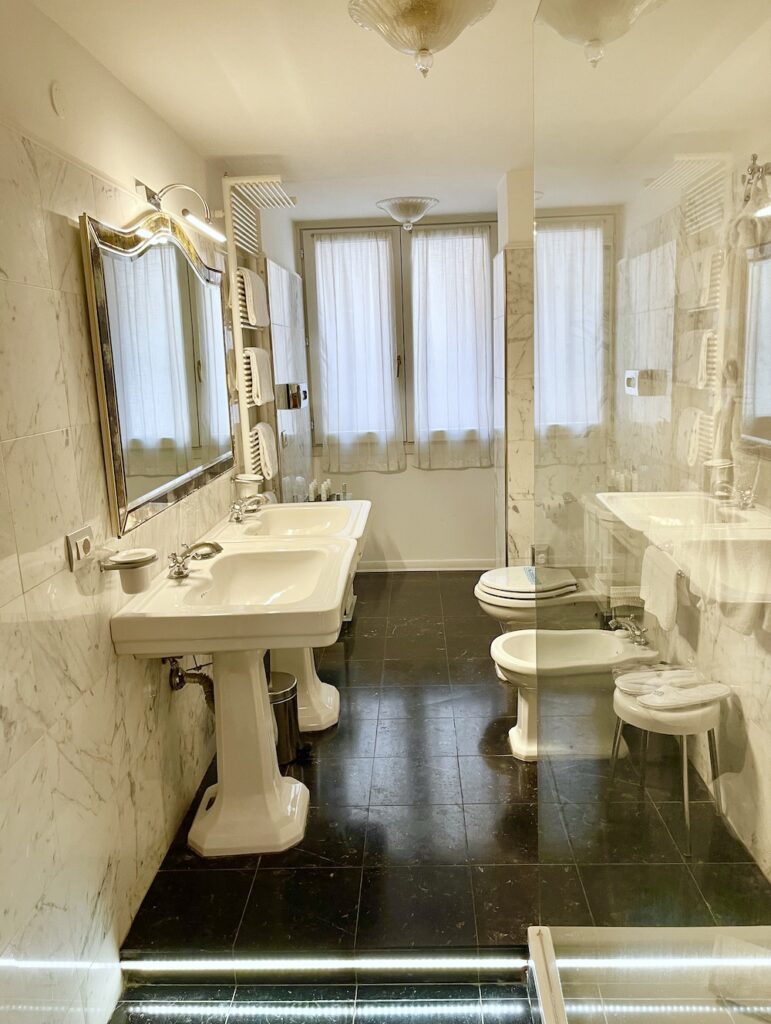 The room was great for us travel writers, equipped with free WiFi (available throughout the whole hotel as well), USB plugs, a desk, and a safe. We could look out at the view of the peaceful canal and pretend that we had Venice all to ourselves, at least for a few moments.
Food And Drinks
Of course, you wouldn't be reading this if you weren't interested in food and drinks. While the hotel does not have its own restaurant (there are lots of those nearby, we'll share some ideas in a future article) it does have a fabulous bar with an outdoor terrace and a glorious breakfast room. We tried both and were wowed.
Palazzo Paruta Bar
The bar area is striking. Red velvet, gold-framed mirrors, Murano glass chandeliers, and period paintings surround you. The mixologist was friendly and anxious to help us choose the appropriate cocktail for relishing a little relaxation time alone. Being a fan of the famous Aperol Spritz, I decided to try a unique twist she called  "Mezzo-Mezzo" (or half-half). It consists of half Aperol and half Campari instead of all of one or the other in the spritz. To make your own spritz, check out our recipes). The color was amazing.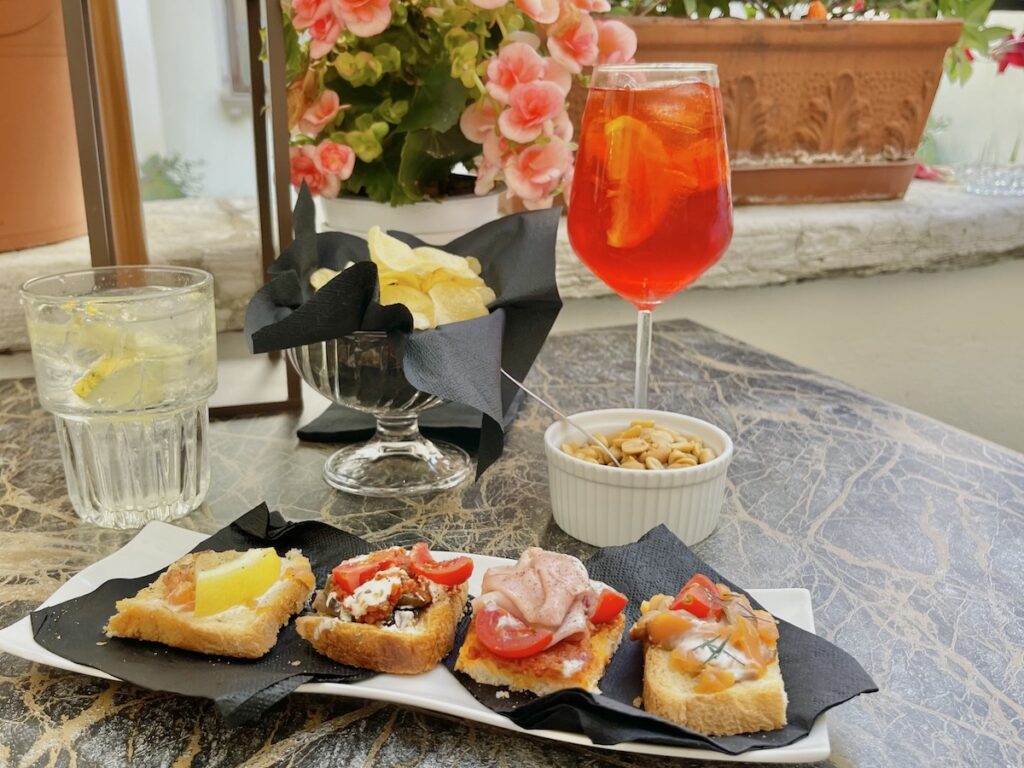 We were finally cooling off a little, so we took our drinks out to the terrace connected to the bar. There we found cute little tables adorned with flowers and overlooking the courtyard garden below. After we settled in and had a few sips, a tray of bites along with little bowls of peanuts and potato chips landed before us. This Italian custom of "aperitivo" became our own personal happy hour before we headed out for dinner a while later. It was the perfect transition and really gave our evening a lovely start.
Homemade Breakfast
If there's one thing we've come to appreciate it's a good hotel breakfast. We don't typically eat a big breakfast at home, so we're not much inclined to chase after one when we travel either. Nice tea and toast or pastry and coffee are usually good for us. But when we have the chance to get a "breakfast included" price at a hotel, we like to give it a go. And the breakfast here rewarded us with hospitality and deliciousness.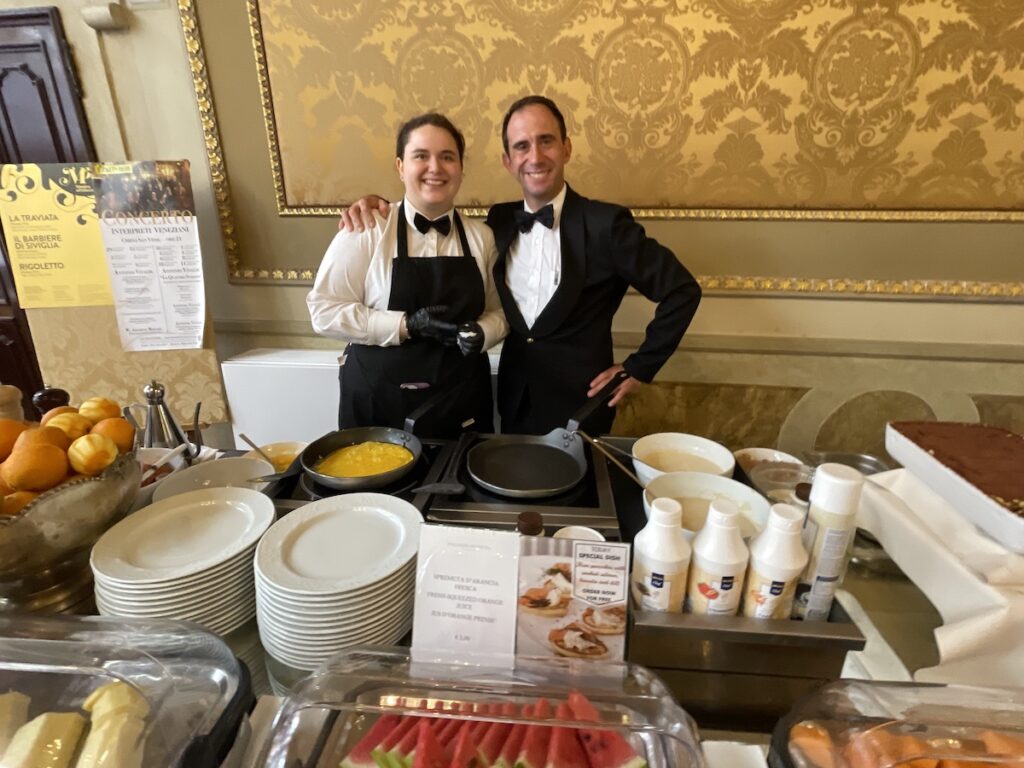 We were greeted by a jolly Giancarlo, who set us down at a little table and immediately asked us what we wanted to drink. In addition to the usual tea, coffee, and juices, the hotel featured the Bellini, peach puree with sparkling wine. He then guided us toward the prepared food and showed us a pizza made with gorgonzola and pickled onions, a pastry filled with ham, porcini mushrooms, scamorza cheese, and dried tomatoes, a variety of meats, sausages, cheeses, Caprese salad, croissants, pastries, and more.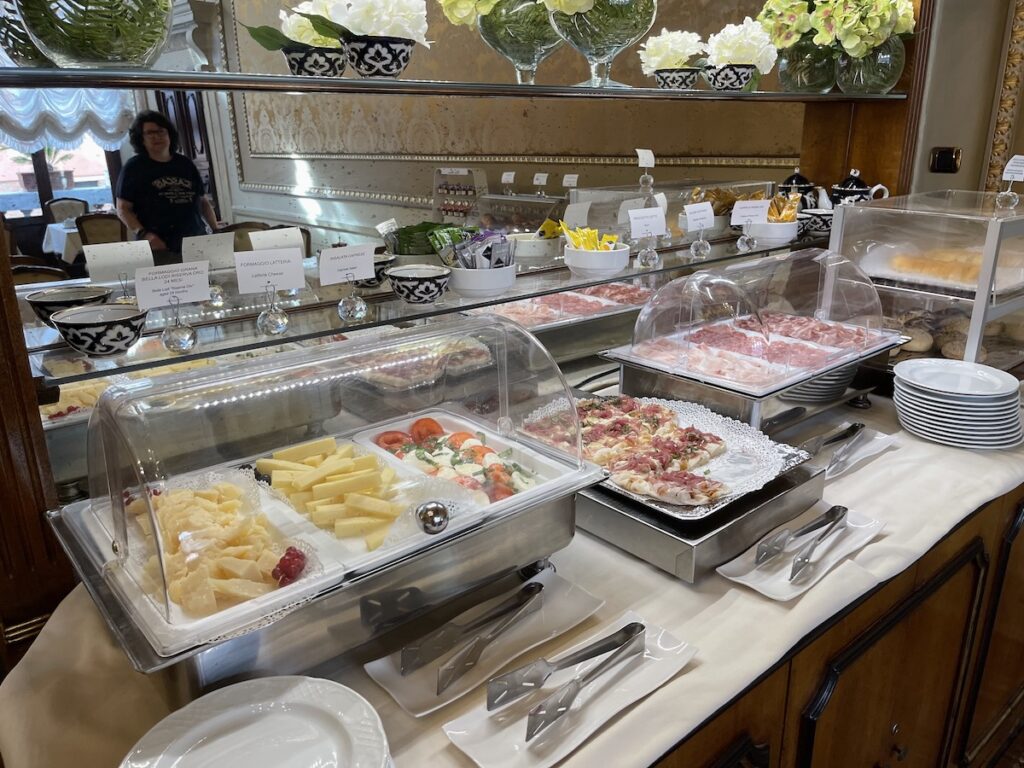 As we explored the numerous options, Giancarlo smiled and said, "All of these are homemade. Even the sausages. Violeta made them all." And he pointed over to the woman smiling from behind the pans where she was preparing eggs to order. Violeta also offered a special dish of the day consisting of mini pancakes with smoked salmon, burrata, and dill. We tried as much as our bellies would handle and everything was out of this world delicious. Giancarlo and Violeta were so gracious, despite the eventual filling of the entire breakfast room with hungry guests, that we just had to take a picture of them. They were delighted with our interest and wished us well for the rest of our time in Venice.
Porter and Water Taxi Service
In our typical travels, we pack light and generally can wheel our own bags wherever need to without much trouble. However, for this trip, we packed especially large bags, which now were full of treasures from our Mediterranean visits, and we were just plain tuckered out. Palazzo Paruta to the rescue! Although the hotel is very close to the Sant'Angelo stop for water buses and taxis (a 5-minute walk), there are two bridges with steps up and down to navigate. We told the hotel we wanted some help with our bags and for €25 for our two humongous suitcases a hale and hardy gentleman picked them up, hoisted them onto a large dolly, and whisked them over the bridges and to the water stop.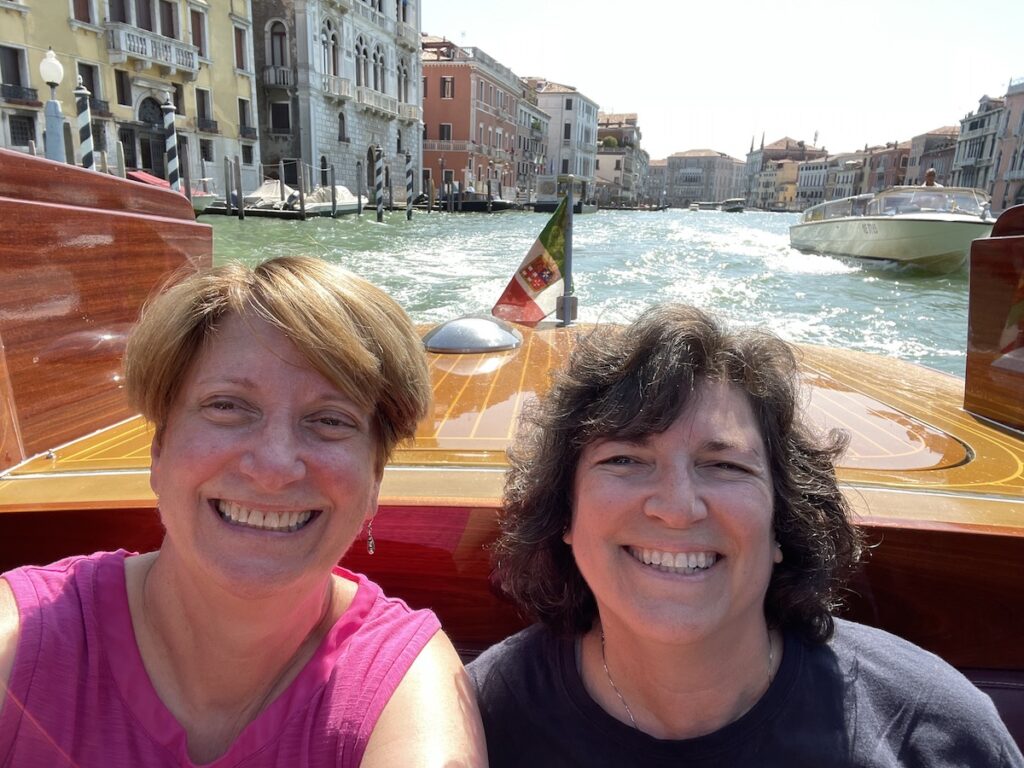 We were headed to the Marco Polo airport and decided to take a private water taxi. While the cost is more than the Alilaguna boats, which carry a large number of people and take about an hour and a half, the water taxi was just for us and took about a third of the time.  The captain pulled up directly to a dock at the airport, put our bags on the ground, and off we went to get our plane. It was the perfect ending to a quick but memorable stay.
Venice Italy has many options for accommodations to suit all tastes. We think the Palazzo Paruta is a hidden gem hotel and we recommend it if you want a quiet, special place to stay during your visit.