Brussels Belgium is known for many things. It is the capital of Belgium and the de facto capital of the European Union for starters. But two of its best-known and beloved hallmarks are much more earthy. A little statue of a peeing boy – yes, we did say peeing – and the most delicious waffles you've ever had in your life. For Food Travelists, this makes the world-class city of Brussels a destination worthy of experiencing.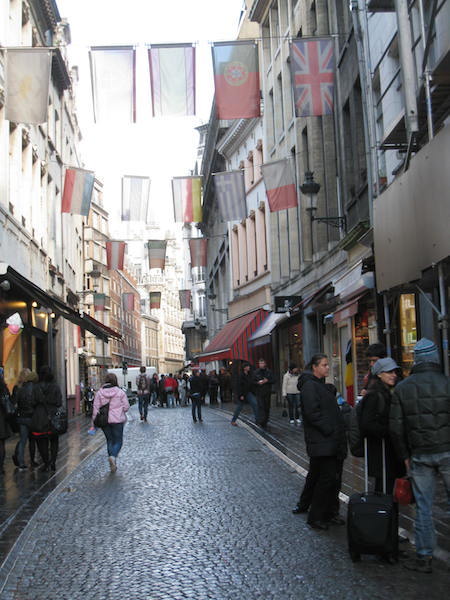 Let's start with the peeing boy. He is a small statue, much smaller than his world renown would suggest. Officially called Manneken-Pis (which literally means Little Man Pee in a Dutch dialect), this statue which is only about 2 feet (61 cm) tall, is a bronze fountain of a naked little boy peeing in the fountain's pool. Yep, it really is. And you can't believe the number of people who flock to see it.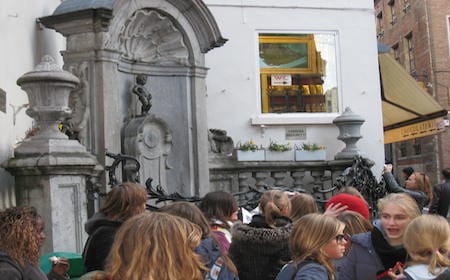 Beyond the oddity of this little fountain is the fact that Mannekin Pis is a Brussels hobby. The people of Brussels love to dress him up. So much so in fact that there are more than 800 costumes for him at the City Museum.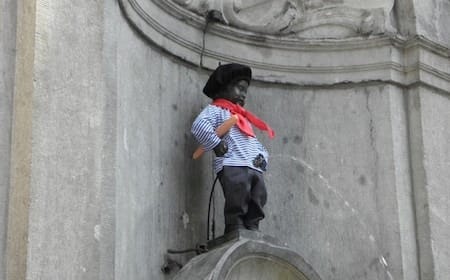 The unofficial mascot has been recreated in just about every form, fashion, and manner you can imagine. He's even been reproduced in candy and chocolate!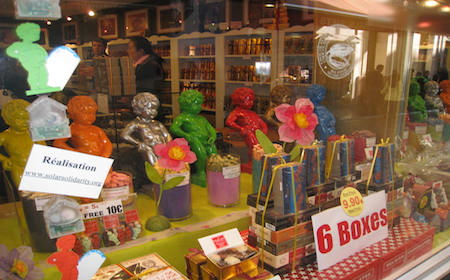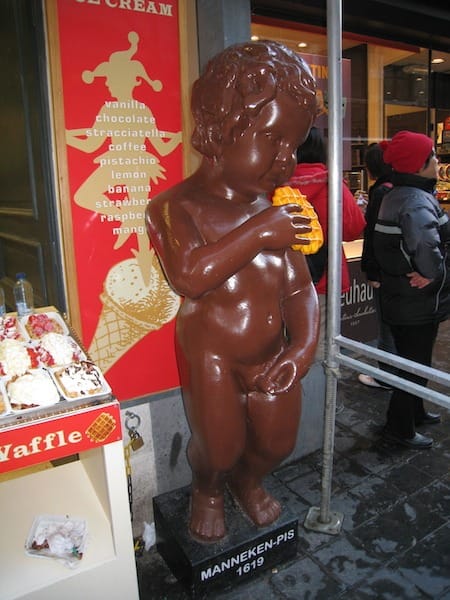 Speaking of tasty treats, let's move on to the next thing Brussels is known for, waffles. We're not talking just any waffles. These are Liège waffles, named after the city in which they were conceived.  Made with a thick, yeast-risen batter and a special sugar called pearl sugar that is added to the batter just before cooking the waffle, these thick chewy snacks are actually eaten throughout the day rather than at breakfast. The special pearl sugar consists of tiny little polished sugar balls that melt when the batter is baking on the iron and give the waffle its distinctive caramelized crustiness, similar to a crème brûlée. They are delicious when fresh off the specialized waffle iron that creates them served plain or with butter.
But they are seen most often with a dizzying array of choice toppings including fruit, chocolate, whipped cream, and more. You can choose what you want and build your own unforgettable treat.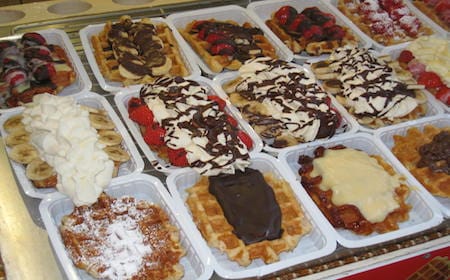 So are you surprised by what you'll find in Brussels? These are just two of the many delights of this world-class city. We just wanted to
"wet your appetite" (boo, hiss, pun intended) to get a taste of Brussels Belgium, and all it has to offer.
THE QUICK BITE:  Brussels Belgium has much to offer to visitors including the statue of a little boy peeing over which the residents are obsessed and insanely good waffles over which Food Travelists can obsess.