Mac N Cheese Three Different Ways
There's comfort food and then there's COMFORT FOOD. Mac N Cheese is definitely one of the big CFs. But, because we love to go beyond the average, here are three different recipes, from the ridiculous to the sublime. Seriously, lobster, bacon, and four cheese versions? Yes, your wish is our command.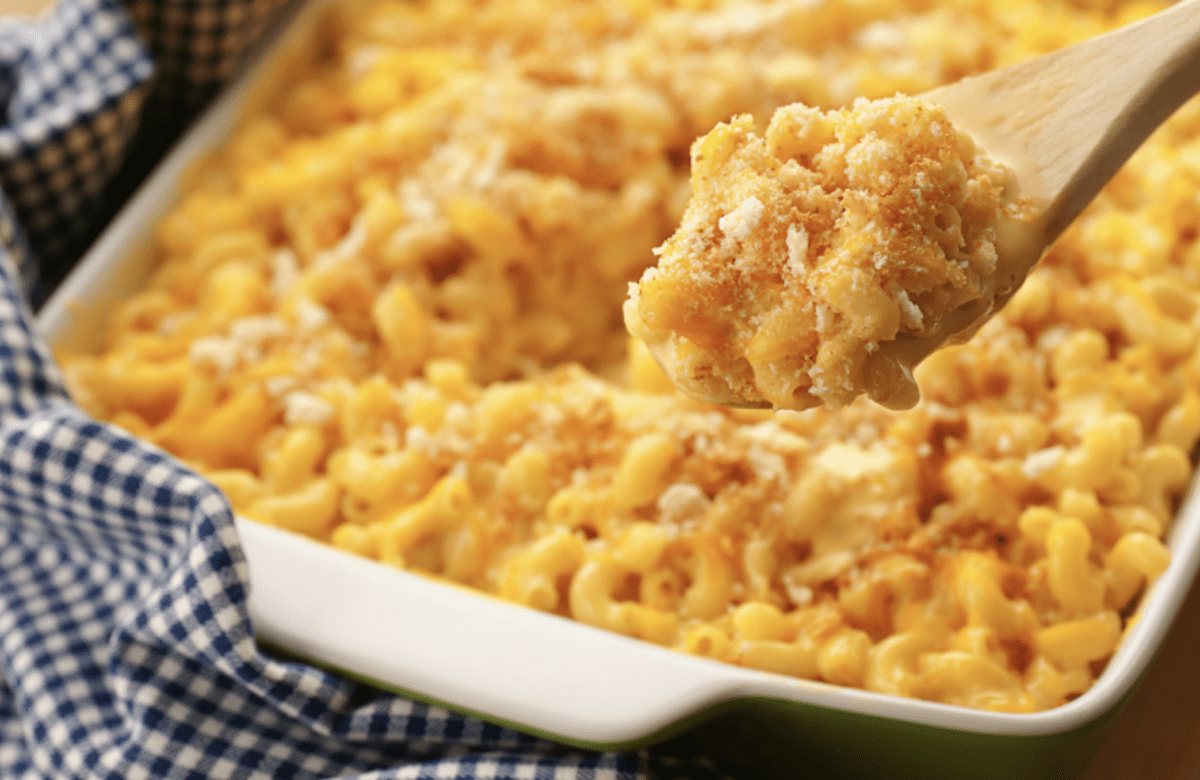 Each one of these classic macaroni and cheese recipes has its own delicious twist. Easy mac and cheese make a great treat in general, but once you take it up a notch with extra special ingredients like lobster, crispy bacon, and complimentary cheeses, your taste buds will never be the same. We've chosen some of our favorite gooey, melty cheeses but feel free to add your own favorites.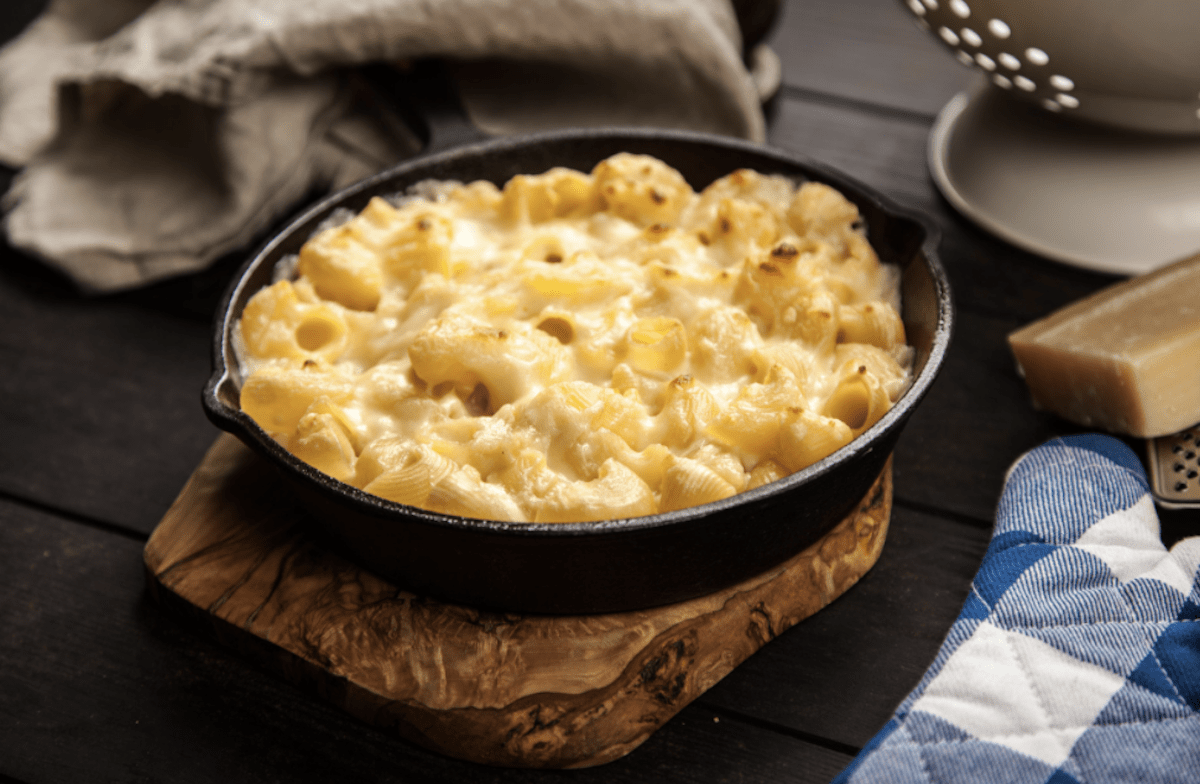 Whenever we feel like we just want to put on our jammies and take it easy with an old movie and a bowl of comfort, any of these fabulous mac n cheese recipes will do. What makes them so great is that they're also amazing if you want to dress up and drink champagne (or your beverage of choice). Either way, you'll have a fantastic meal that will warm you to your soul. We've provided some suggested toppings and garnishes, but use your imagination and add whatever delights you.
1. Luxe Lobster Mac and Cheese
If you want to splurge and get the ultimate luxury out of mac n cheese, this creamy lobster mac and cheese is the way to go. The sweet buttery lobster adds a beautiful complement to the cheesy macaroni. You could also try using sweet crab meat like from giant king crab legs or stone crab claws. A crisp spicy Riesling, fruity Chardonnay, or hearty French white burgundy will go smashingly with this dish.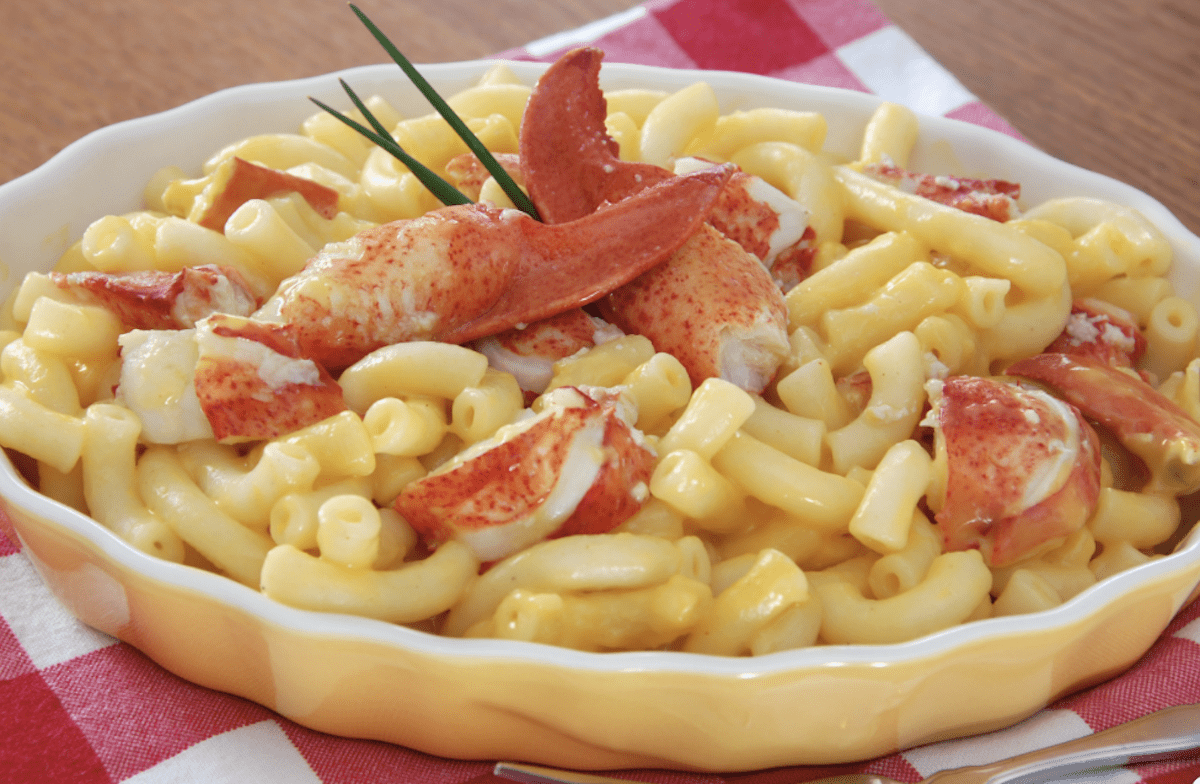 Ingredients
1 pound macaroni
About 2 pounds of lobster tails
1 small onion, diced
2 tablespoons butter
2 cups milk
1 clove fresh garlic, minced
1 shallot, chopped
10 black peppercorns
Freshly ground black pepper and kosher salt to taste
5 Tablespoons flour, plus 5 tablespoons butter, or 2 tablespoons cornstarch mixed with water
2 pounds grated cheese, a mixture of Gruyere, extra sharp cheddar, and Parmigiano Reggiano
3 Tablespoons Panko bread crumbs (Japanese crispy crumbs)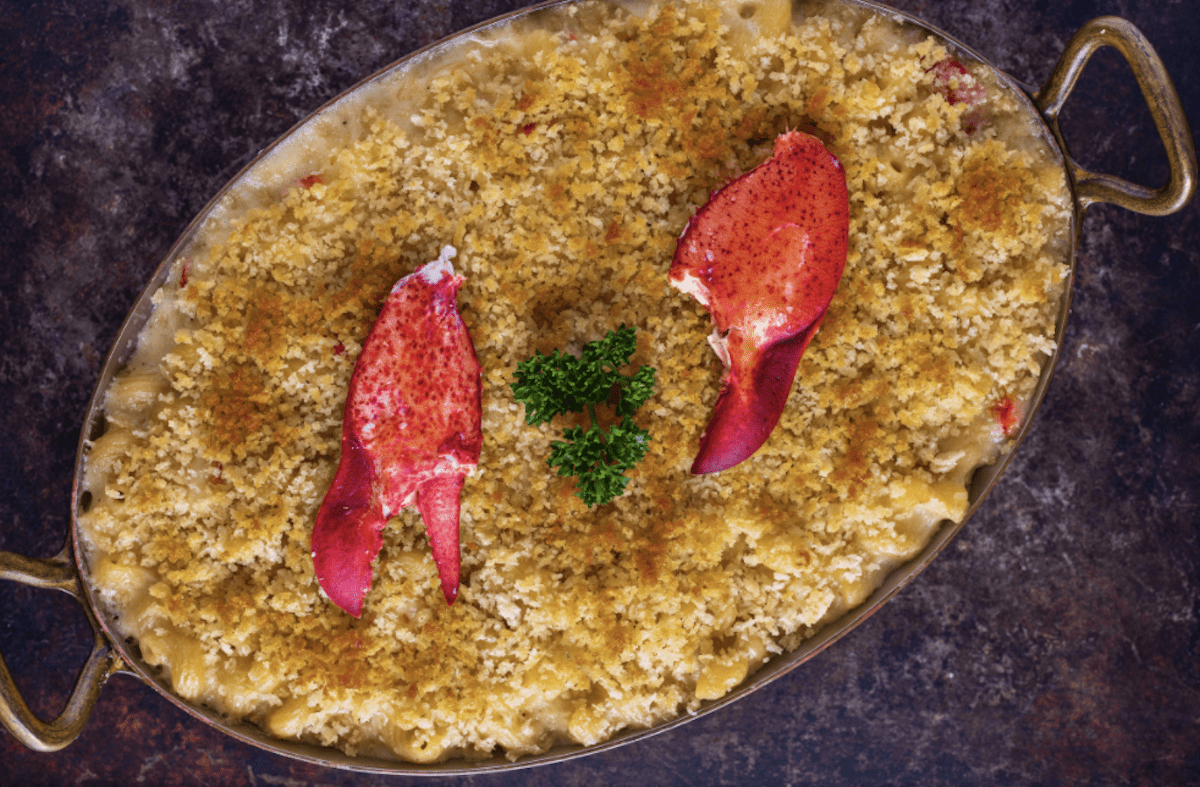 Directions
Preheat oven to 350℉.
1. In a large pot, cook the macaroni according to the directions on the package for al dente.
2. Drain the macaroni and reserve, also reserve the water in a separate pot.
3. Steam the lobster tails over the reserved hot water for 3 minutes, then cool.
4. Remove the meat, and reserve both the meat and the shell. In a medium saucepot, cook the onions in 2 Tablespoons butter just until translucent, and remove.
5. In the same pot, scald the milk and add the garlic, shallots, and peppercorns.
6. Add the lobster tail shells to create a seafood stock.
7. Bring the "stock" to a boil, then reduce the heat to a simmer, season with pepper and, if desired, kosher salt to taste, and cook for 20 minutes.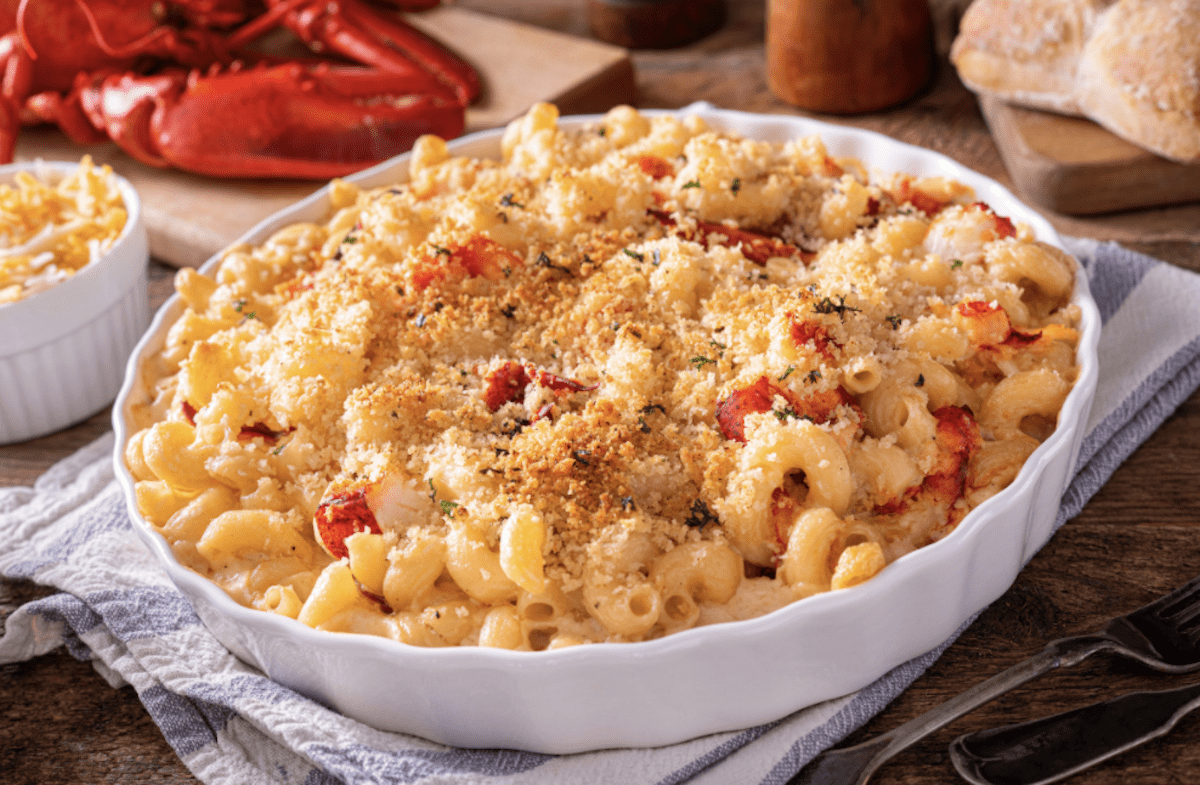 8. Meanwhile, make a roux by combining 5 Tablespoons of flour with 5 Tablespoons of butter in a small saucepot over medium-high heat.
9. Cook until the mixture thickens and develops a golden yellow color.
10. Set aside roux.
11. Strain the stock and return it to the pan.
12. Once the stock begins to simmer again, slowly add in the cheeses and whisk until fully incorporated, making the sauce start to thicken.
13. Add the roux to thicken a little more.
14. Then add the reserved onions and lobster meat.
15. Toss the sauce with the macaroni, and transfer the mixture to a small baking dish.
16. Top with Panko bread crumbs, and bake for 8 to 12 minutes, or until bubbly and browned.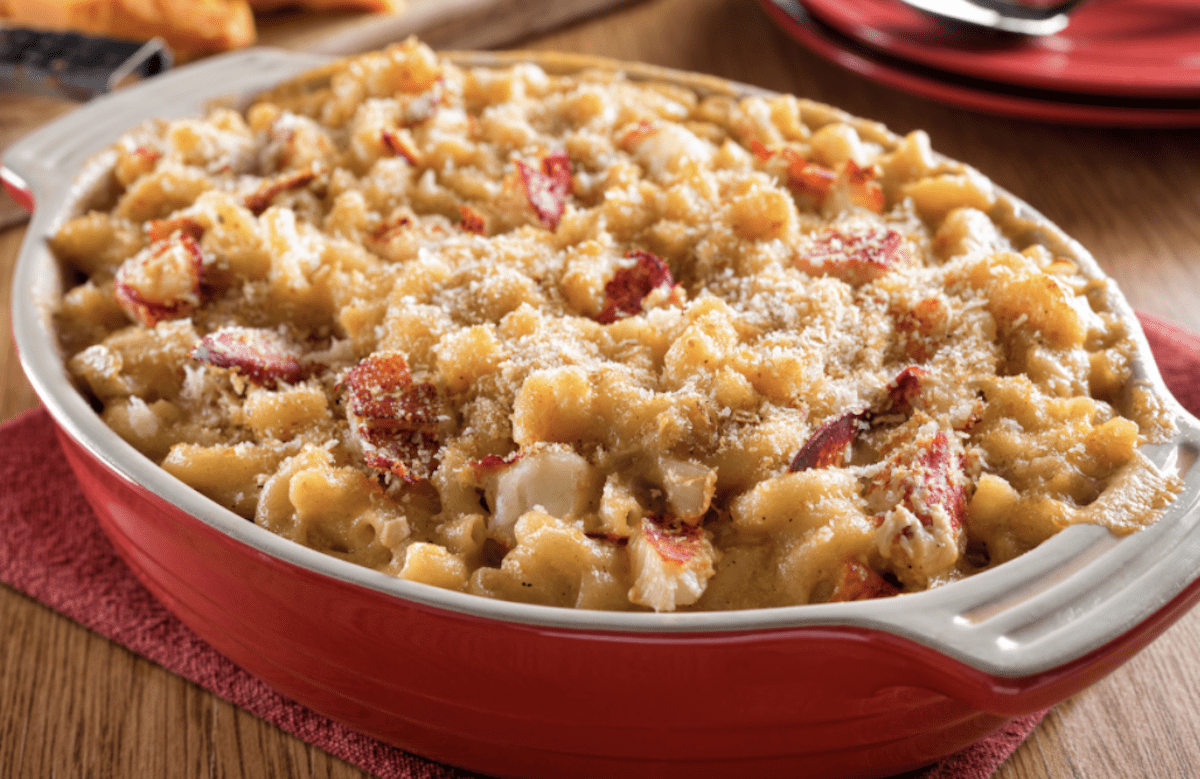 2. Crispy Bacon Mac And Cheese
Mac n cheese is classic comfort food so why not pair it with another comfort favorite – crispy bacon! The smoky-sweet crispiness of the bacon combines with the creamy mac n cheese to make a perfect combination. This is one for the ages that pairs well with an ice-cold beer or hard cider. But honestly, you can have anything you like with it because it's hard to go wrong with this incredible dish.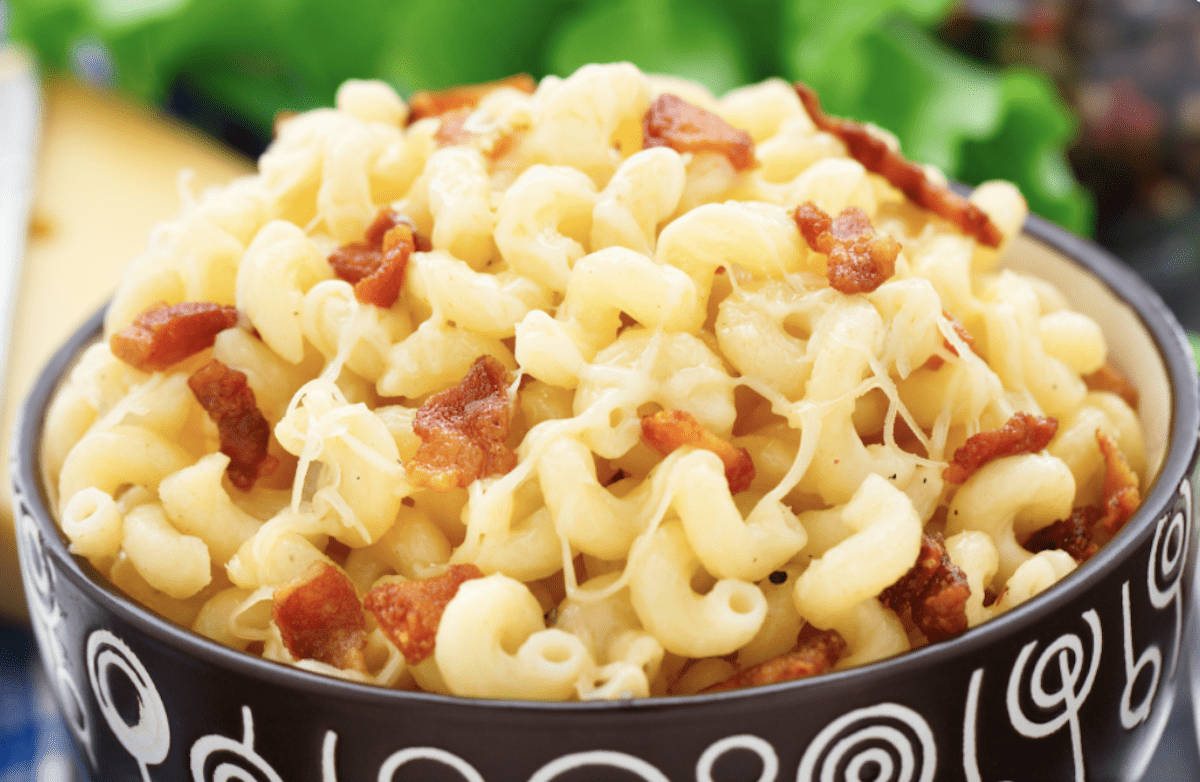 Ingredients
16 ounces elbow macaroni
1 cup Panko bread crumbs (you could also use smashed butter-flavored crackers here)
8 slices bacon (thick cut is truly decadent)
1 teaspoon fresh ground pepper
4 Tablespoons unsalted butter
1 cup all-purpose flour
4 cups milk
16 ounces shredded cheese – sharp cheddar and white cheddar work well together

Directions
1. Preheat oven to 375℉.
2. Cook macaroni according to package directions for al dente.
3. Meanwhile, chop raw bacon into small pieces.
4. Drain macaroni and set aside.
5. Return pot to medium heat and cook bacon until crisp, about 5 minutes.
6. Pour crispy bacon pieces and grease into a medium bowl; stir in bread crumbs and pepper.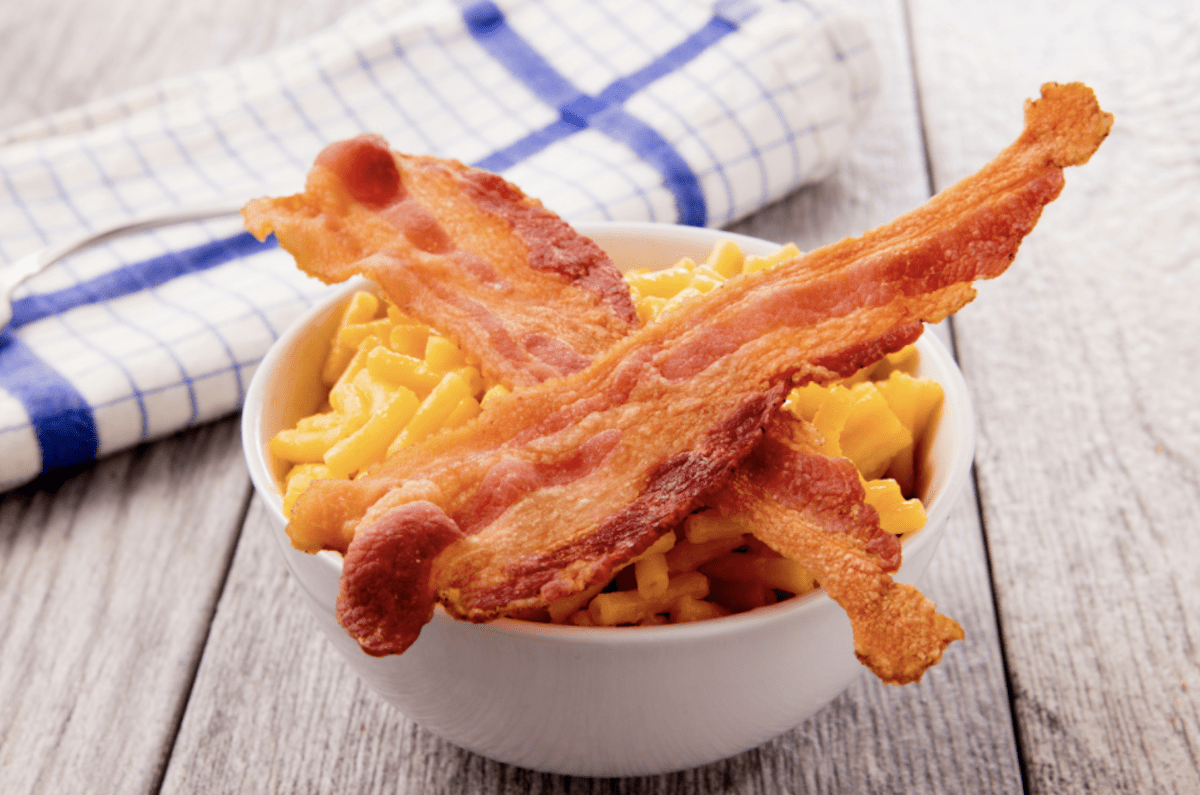 7. Melt butter in a pot, still over medium heat.
8. Take 1 teaspoon melted butter and grease an 8 x 8-inch square baking dish.
9. Add flour slowly to butter in a pot; cook 1 to 2 minutes, stirring continuously.
10. Slowly whisk in milk, stirring to prevent scalding, and cook until sauce is thick and smooth, about 3 minutes.
11. Turn off heat and add cheese and stir until smooth.
12. Stir in macaroni and coat with sauce.
13. Spread mixture into greased pan.
14. Sprinkle top with bacon and Panko bread crumb mixture.
15. Bake 30 minutes and serve warm.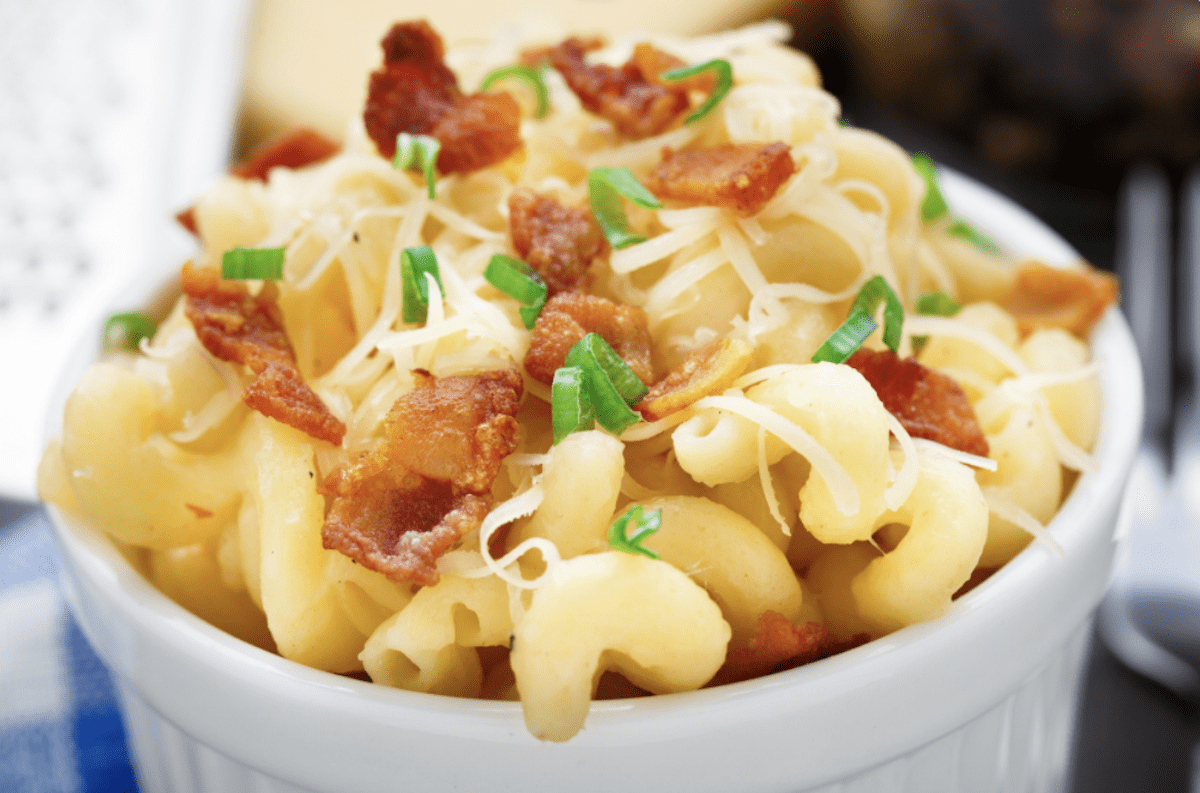 This version is so versatile! You could skip the topping altogether and add some shredded cheese and green onions on top for a colorful "loaded" version. Or, for a super easy approach, just make your favorite mac and cheese and top it with whole slices of crispy bacon and bite the bacon as you go!
3. Creamy  4 Cheese Mac And Cheese
If you think one cheese mac n cheese is good, then you're going to go crazy for this four-cheese mac and cheese, which we think is insanely good. To pair this one you can choose as you like because this mac n cheese dish goes well with just about any beverage. For red wine, you might choose a pinot noir, chianti classico, or gentle Zinfandel. Or opt for a hearty IPA or your favorite craft beer. We also love cider and hard root beer with this one. If you're feeling crazy indulgent, add a piece of fried chicken and top it all off with a glass of champagne!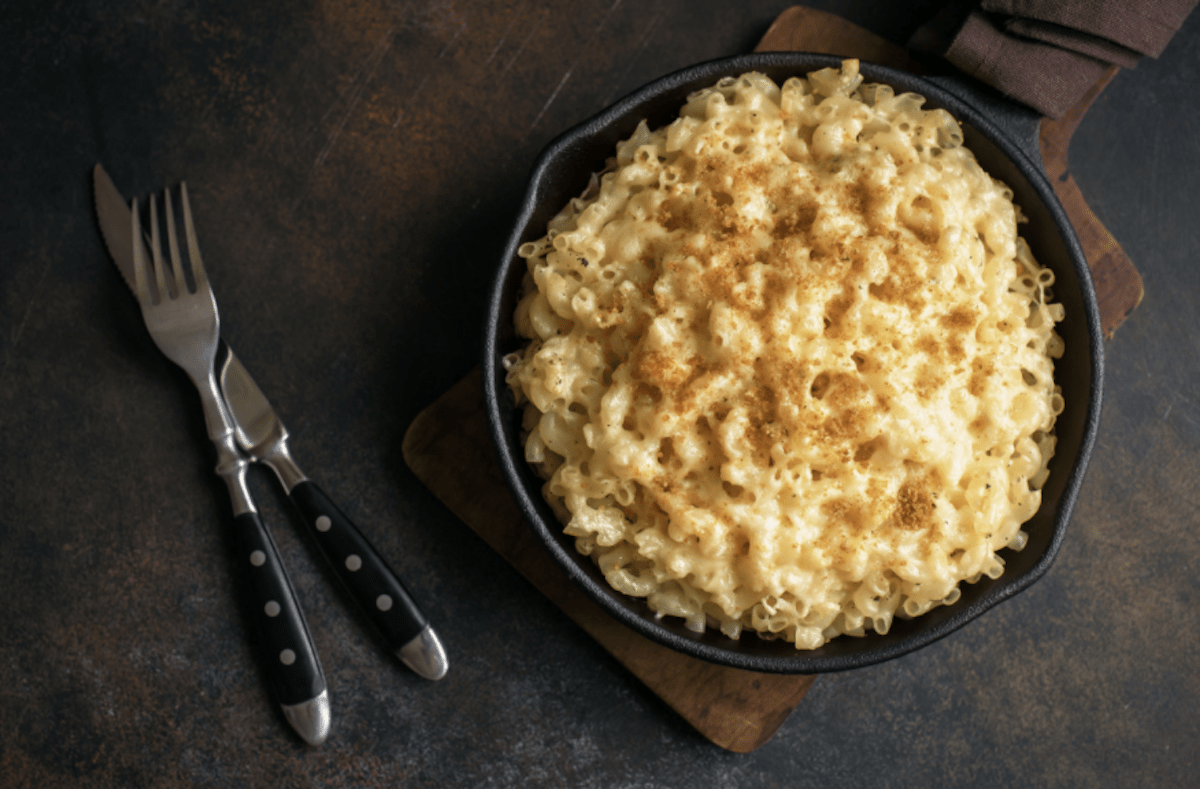 Ingredients
1 package (16 ounces) macaroni pasta
3 Tablespoons plus 1 teaspoon butter
3 Tablespoons all-purpose flour
2 1/2 cups milk
1 teaspoon onion powder
Kosher salt (if desired) and fresh ground pepper to taste
8 ounces Gouda cheese, grated
4 ounces sharp Cheddar cheese, grated
4 ounces Swiss cheese, grated
1/2 cup fresh grated Parmigiano Reggiano cheese
2/3 cup Panko (Japanese) bread crumbs
Chopped fresh Italian flat-leaf parsley (optional garnish)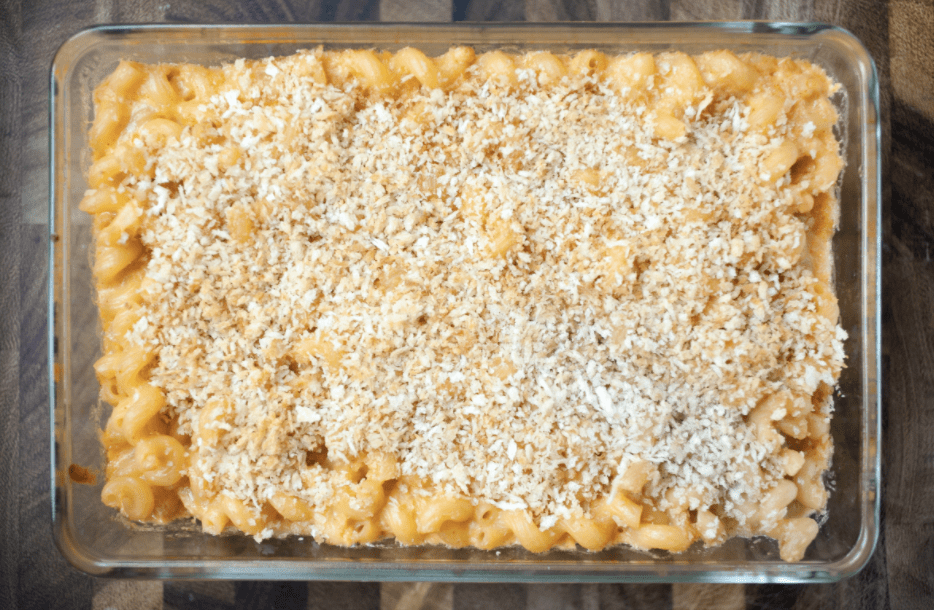 Directions
1. Heat broiler.
2. Coat a 9 x 9-inch broiler-safe baking dish or six 8-ounce ramekins with nonstick cooking
spray.
3. Bring a large pot of water to a boil.
4. Add macaroni and cook to al dente, following package directions.
5. Drain macaroni and transfer to a bowl.
6. Heat 3 Tablespoons of butter in a medium-size saucepan over medium heat until melted.
7. Add flour, whisking to blend.
8. Gradually add milk; whisk until smooth.
9. Bring to a simmer over medium to medium-high heat, stirring continuously, to prevent
scalding.
10. Add onion powder. Add salt, if desired, and pepper to taste.
11. Simmer 3 minutes, then remove from heat.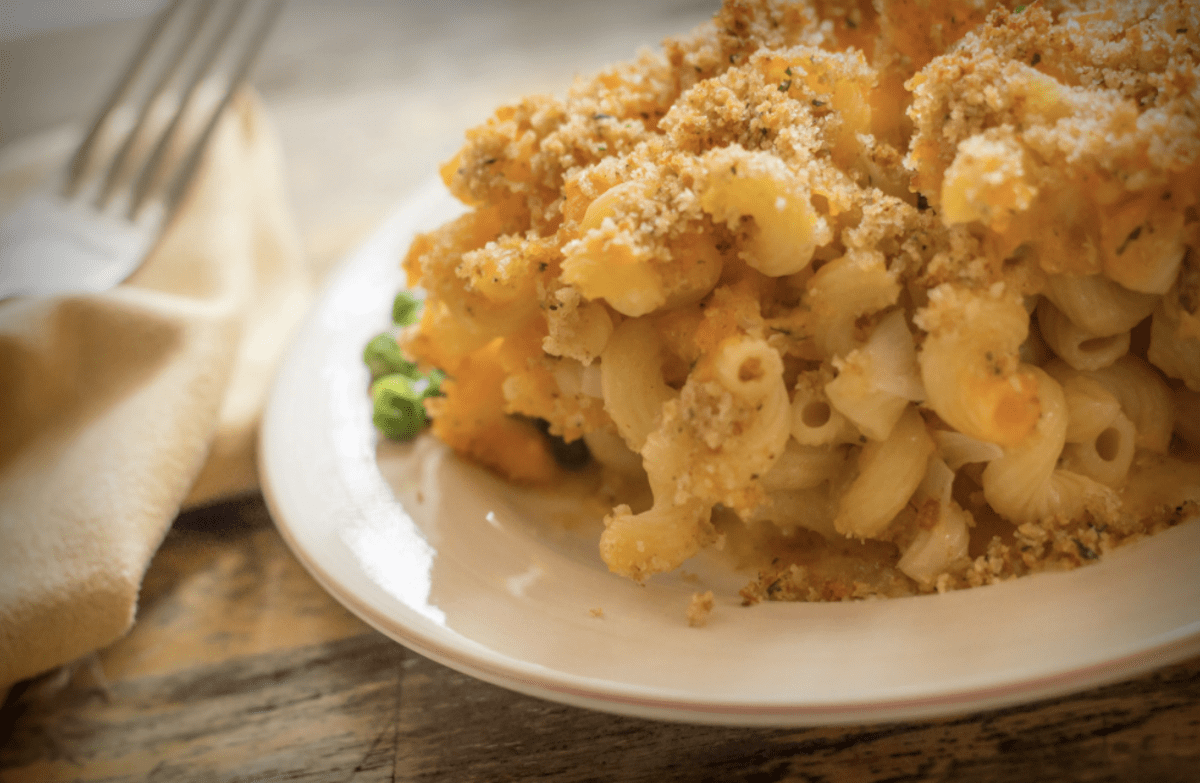 12. Stir in Gouda, Cheddar, Swiss, and 1/4 cup of the Parmigiano Reggiano until the cheeses
are melted together and the sauce is smooth.
13. Mix cheese sauce into cooked macaroni and pour the mixture into a prepared baking dish or ramekins.
14. In a medium-size microwave-safe bowl, melt the remaining 1 teaspoon butter. Stir in Panko bread crumbs and remaining 1/4 cup Parmigiano Reggiano.
15. Spread Panko/Parmigiano mixture evenly over the macaroni.
16. Broil 3 minutes or until bubbly and golden brown.
17. Garnish with Italian flat-leaf parsley, if desired.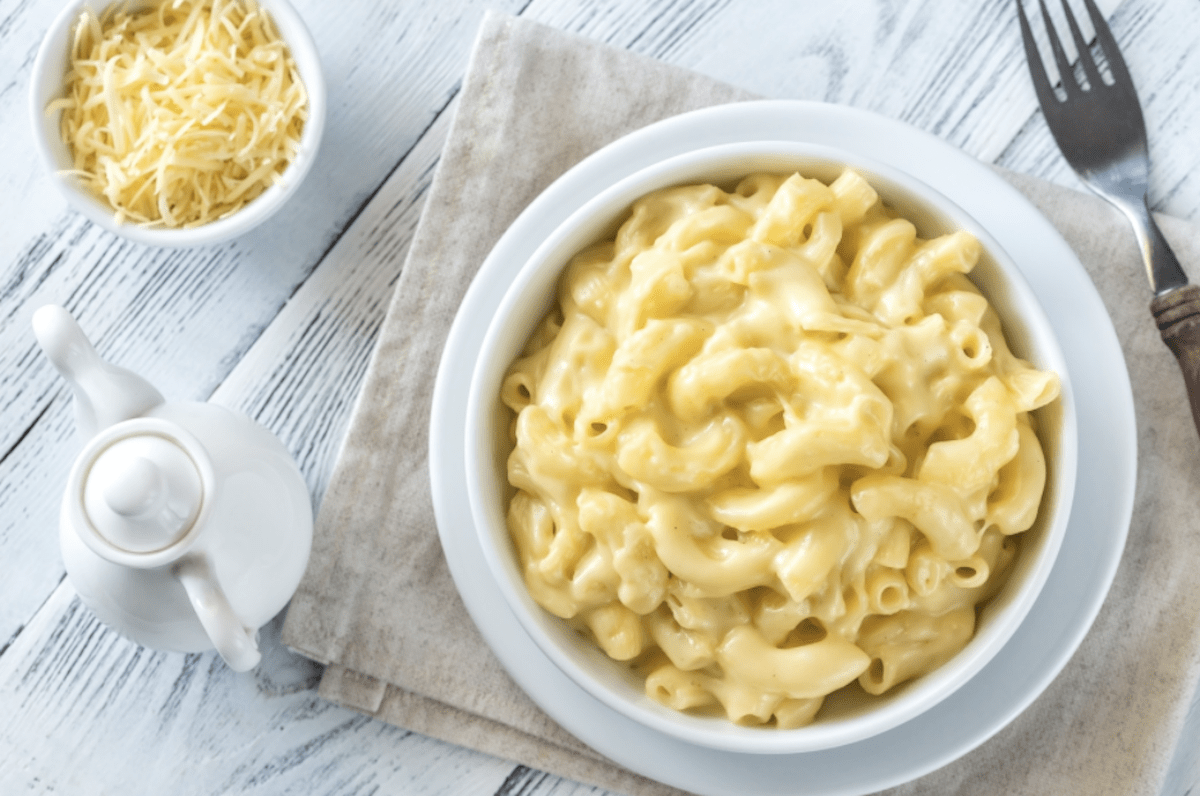 You can also skip the crispy topping and just add freshly grated cheese when serving. We also love to mix in veggies with this version like cauliflower and broccoli florets. It makes for healthy and hearty comfort food.
If you want to try some different cheeses, read more about some of our favorites like Parmigiano Reggiano and Asiago. And check out our take on Comfort Food Around The World for some other yummy ideas. Happy eating!
Pin It For Later!