Vienna Beef Hot Dog University
UPDATE: Due to the pandemic, Vienna Beef now offers Hot Dog University virtually! Check out their website for all the latest details. 
If you're anywhere in the midwest, you probably know the name Vienna Beef. It's synonymous with the best-tasting hot dogs you'll find in restaurants, shacks, food trucks, and carts all over. That's especially true in hot dog crazy Chicago, the city that Vienna Beef franks call home.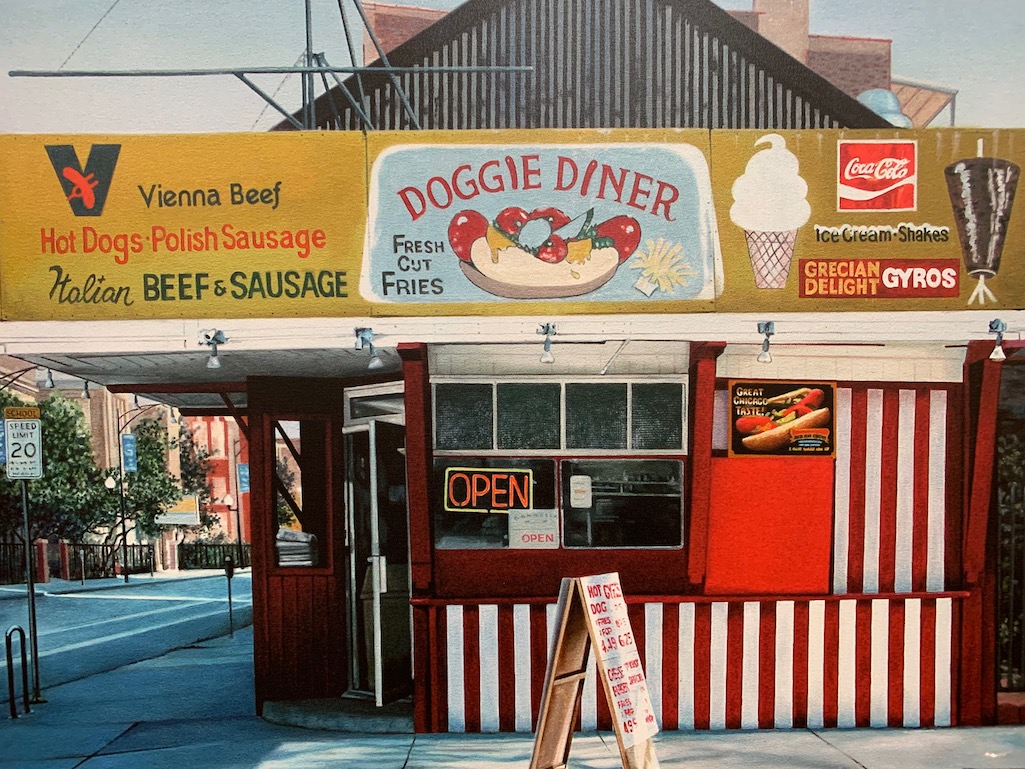 Beyond just eating hot dogs though have you ever seen one of those carts where people stand lined up waiting to buy their delicious street meat? Have you ever thought you would have fun selling hot dogs from your own hot dog cart with a breeze in your hair instead of sitting at your desk staring at a computer all day? Well, if you've got an entrepreneurial itch, but are not sure about the risk, listen up. Vienna Beef has something super special that might just interest you.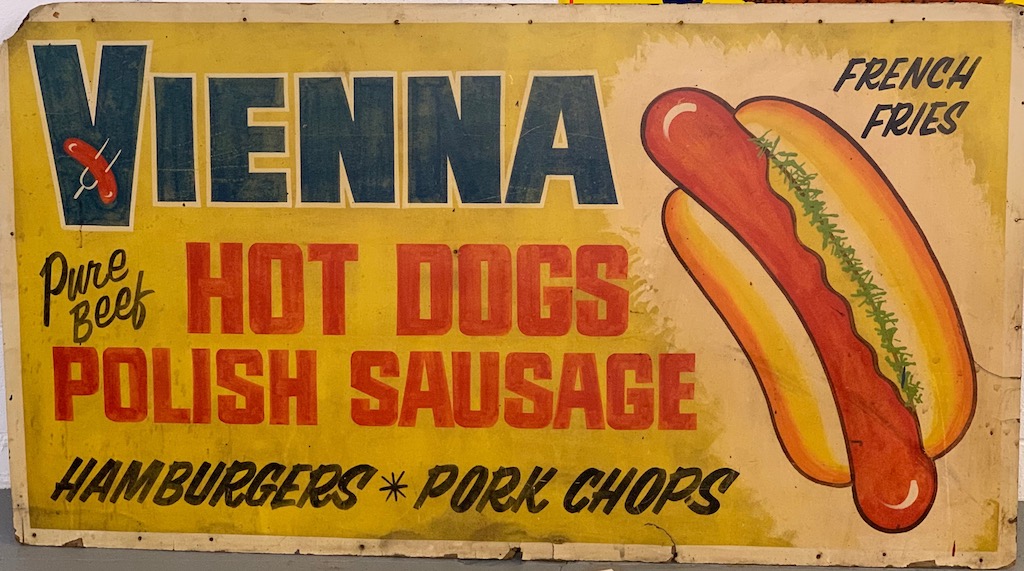 Vienna Beef Presents Hot Dog University
That's right. You can attend a course that will teach you everything you need to know to start your own entrepreneurial hot dog venture. We were invited to take the day and a half course as their guest at Hot Dog University and let us tell you, we learned more than we could have imagined!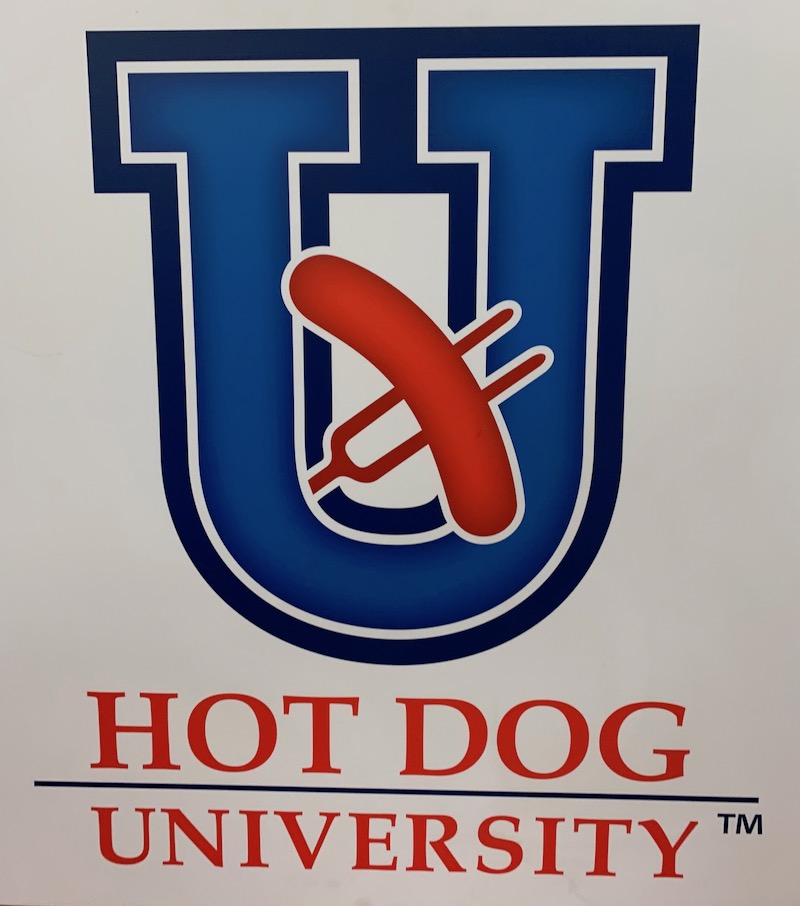 Professor Mark Reitman
We originally met our instructor at the National Restaurant Association trade show by the Vienna Beef booth. He informed us that they proudly served over 16,000 hot dogs to attendees of the show that weekend. That amazed us and we got to talking about the popularity of hot dogs in Chicago and elsewhere. He then explained that he is a PhD (Professor of Hot Dogs), having combined forces of his course in hot dog entrepreneurship with Vienna Beef to create the winning combination that is Hot Dog University. Over 1400 students have graduated from the program.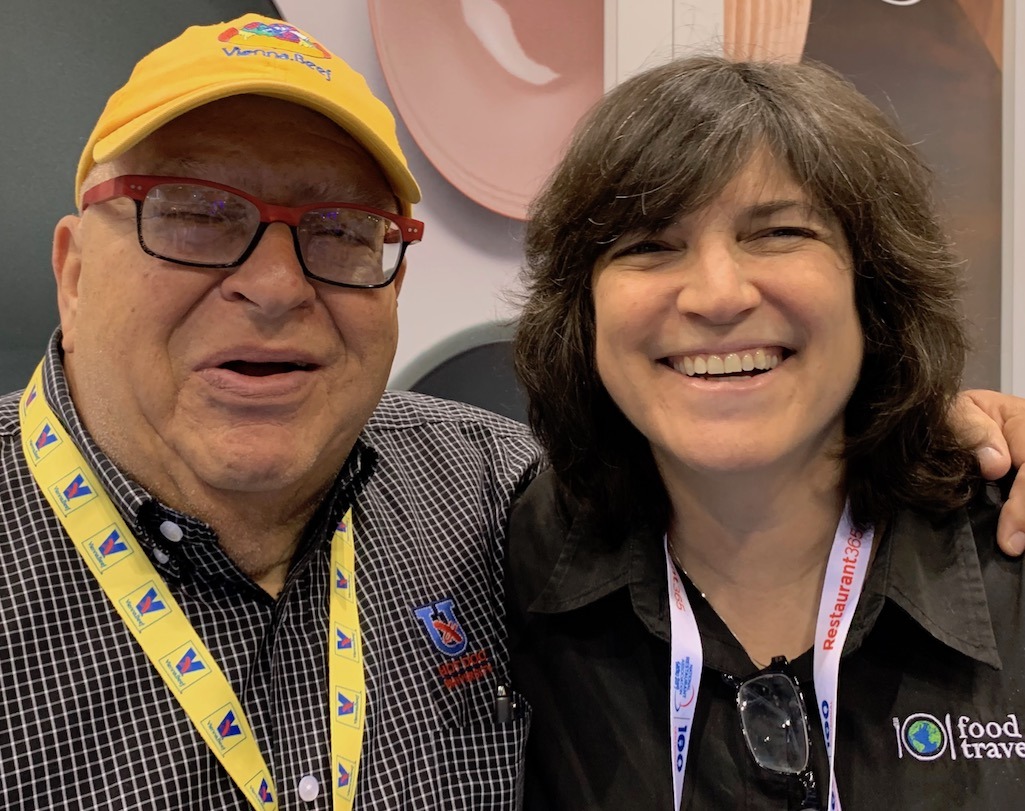 Hot Dog Entrepreneurs Welcome
With dreams of running everything from a small hot dog cart to multi-venue hot dog restaurants, students come to the course with varying degrees of experience and knowledge in both hot dogs and business. The best thing about the curriculum is that it begins at the beginning and provides the fundamental information you need to run an entrepreneurial venture. After getting the basics down, we learned specific details relevant to success in the world of hot dog vending. Our professor shared many inside secrets he has learned from decades of experience with his own successful hot dog businesses.
Day 1 – The Hot Dog Business
Hot Dog 101
On the first day of the course, students receive a course manual with all the information you'll need to start your hot dog business. No stone is left unturned. He covered economics, permits and licenses, food safety and handling requirements, how to select a cart, pricing strategies, and much, much more. We even got to ask the question, what is a traditional Chicago Hot Dog?
We got to have breakfast, and by breakfast, we mean a fully loaded sausage handmade by our Professor, in the Vienna Beef Factory Store & Cafe and watching him in action was so much fun. He even taught us an insider tip. To caramelize onions quickly, pour a little Coca-Cola on them.
It was great to see that Vienna Beef offers a lot more than hot dogs too. Pastrami, corned beef, Italian beef, turkey breast pastrami, salami, soups, chili, condiments, and more. They even have a huge pickle business!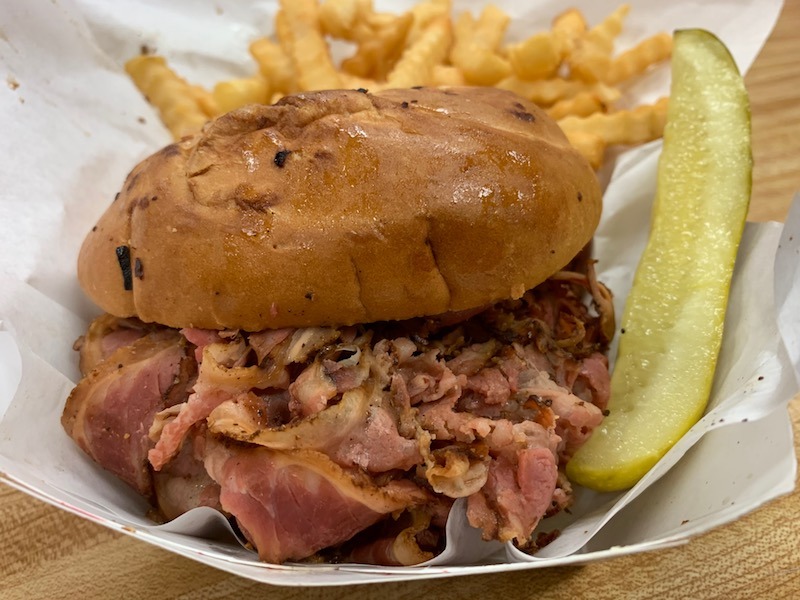 The Proof Is In The Product
We learned about the different styles, sizes, and properties of the products we would be in business to sell. Did you know that a Polish Sausage is a hot dog that has different spicing and a larger grind meat? We didn't! Different types of casings and even skinless dogs of different widths and lengths provide more options. We had no idea. We learned about condiments, packaging, marketing, and how to run a tight ship, er, cart. And, if we decided to start a hot dog business, Vienna Beef and Hot Dog University would help us succeed. Students can get help with product selection, buying a cart, and anything else. Vienna Beef wants to give students every chance of success.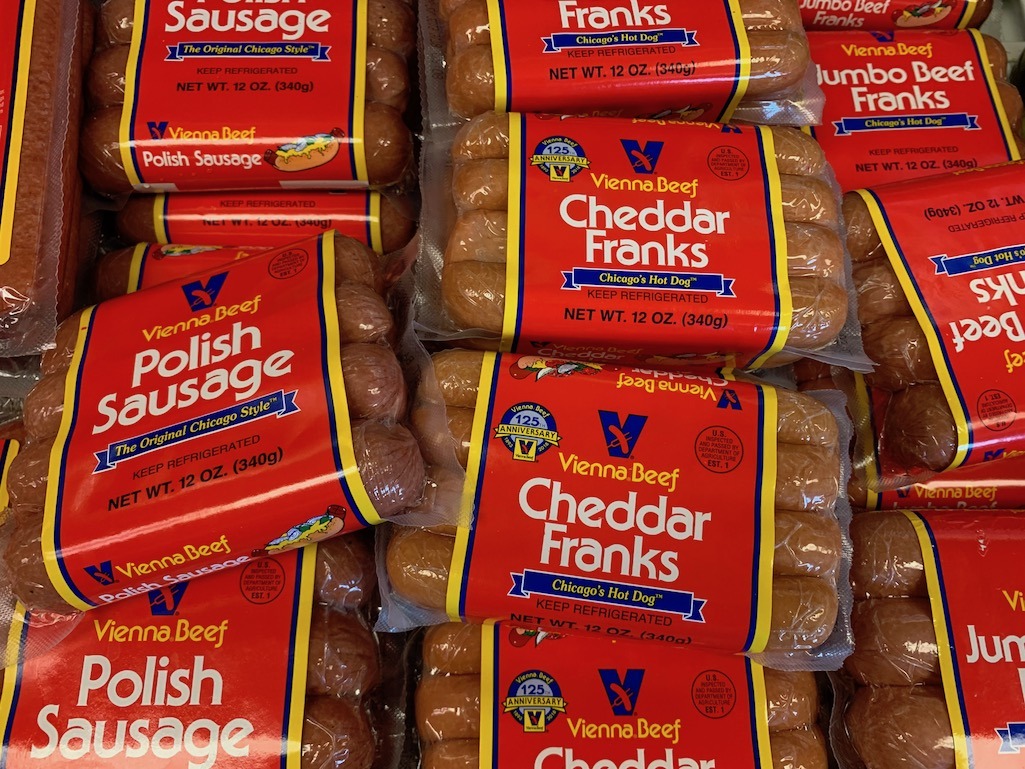 Meet The Pros
Part of the fun in learning about any new venture is meeting successful people in the business. We had the opportunity to meet some of the top executives in marketing and management at Vienna Beef. We also got to meet with people who had run successful hot dog businesses. Of course, our PhD Mark Reitman had huge success with his hot dog cart, so much so that we even got to use it for our training on Day 2! We also met Bill Murphy, proprietor of the much loved Murphy's Red Hots, which was a Chicago institution for over 30 years.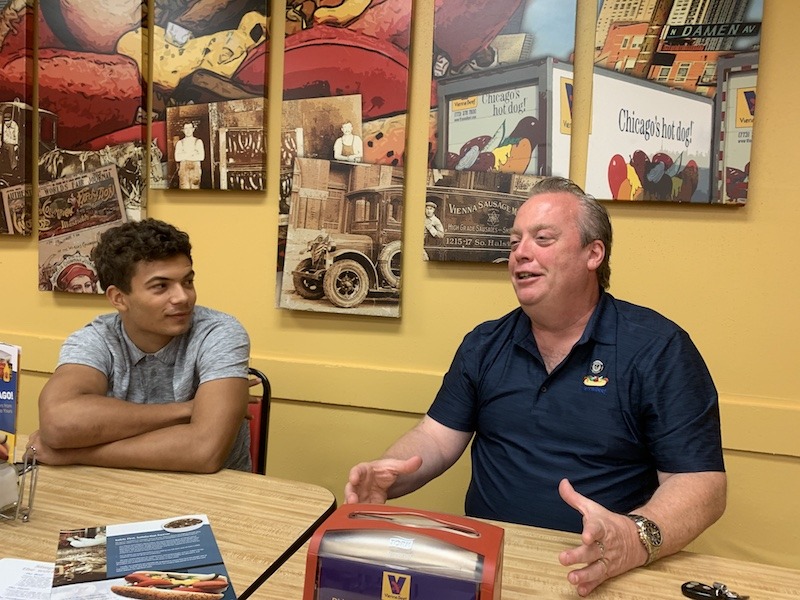 Day 2 – Practical Application
Smart Shopping
What we learned about building a successful hot dog stand business on the first day became real on the second. We visited a restaurant supply warehouse that carries just about everything we would need to stock our supplies. We learned which napkin dispenser is best (one that only allows one napkin out at a time to prevent waste). Our intrepid professor showed us everything from which condiment dispensers are best to which soft drinks to sell where. He taught us that saving a few pennies here and there would add up to the difference between making a profit or going under.
If You Build Them, They Will Come
The ultimate test came when we got practical experience in building the famous Chicago Dog from scratch. We got our condiments in order and learned how to steam the buns just right. After that, we had to get the water temperature correct for the dogs and learned how to prevent them from getting dried out or overcooked. Importantly, Vienna Beef has perfected Chicago's Hot Dog, so we needed to be perfect in our execution. The challenge is that if you can imagine making them quickly for an imaginary crowd without getting anything messed up! We did our best and, as they say, to the winner go the spoils.
What Does It Mean To Order Your Hot Dog Chicago Style?
So what's on a Chicago Hot Dog? You have to start with a Vienna all-beef hot dog and a Rosen poppy seed bun then top with mustard, bright green relish, chopped onions, tomato wedges, pickle spear, and two-sport peppers, then shake on a dash of celery salt. If you're from the south side of Chicago you might want to add a few slices of fresh cucumber too.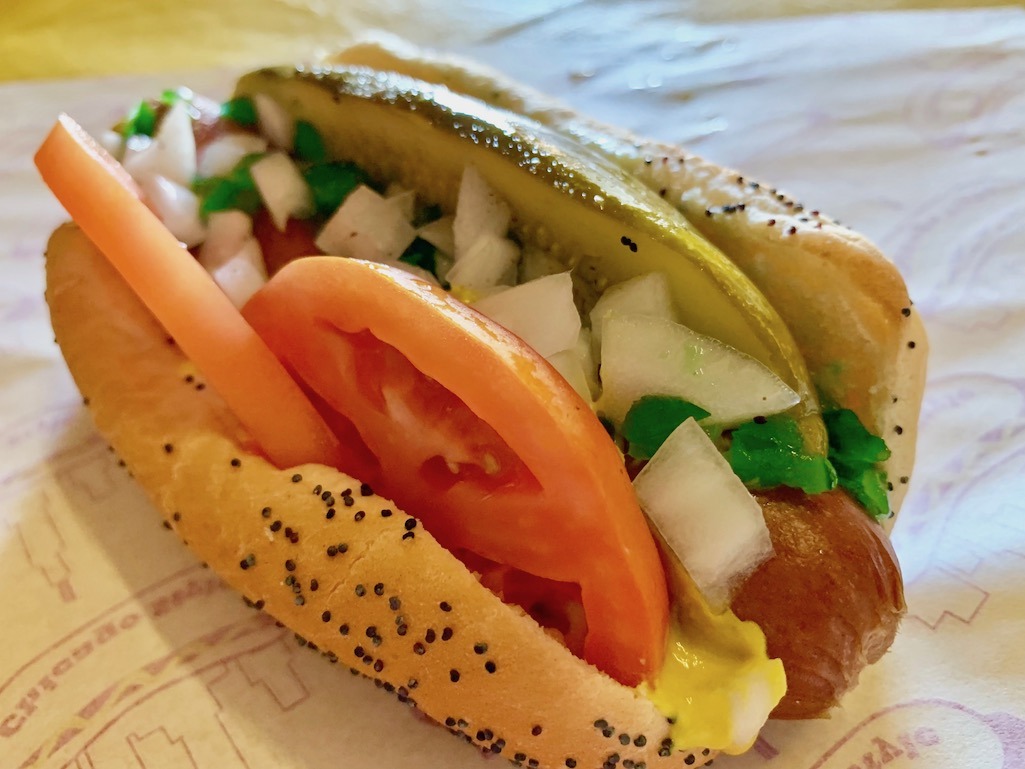 Graduation Ceremony
Our proud accomplishments and full bellies led us to one place – graduation! We were honored to receive Vienna Beef t-shirts and other swag. But most important were the diplomas we received. They put us among the elite few who have been certified worthy graduates of Hot Dog University. When we hear the call of entrepreneurship, you can bet we'll get back in touch with our PhD friend to get the latest tips on creating the best darn hot dog cart you've ever seen!
Host A Hot Dog Party Of Your Own
Although we live within shouting range of Vienna Beef's home base, we know that there are people all over who would love to have a true Chicago Dog. Fortunately, Vienna Beef has a robust online shop, where you can order their authentic products. Whether you want to set up a tailgate, host a big backyard grilling party, send some tasty treats to a friend or just get some "weenie wear," they've got you covered. They have complete kits as well as individual products. And we know several people who simply will not eat their Chicago Dog unless it has the real deal bright green relish. No substitutes accepted!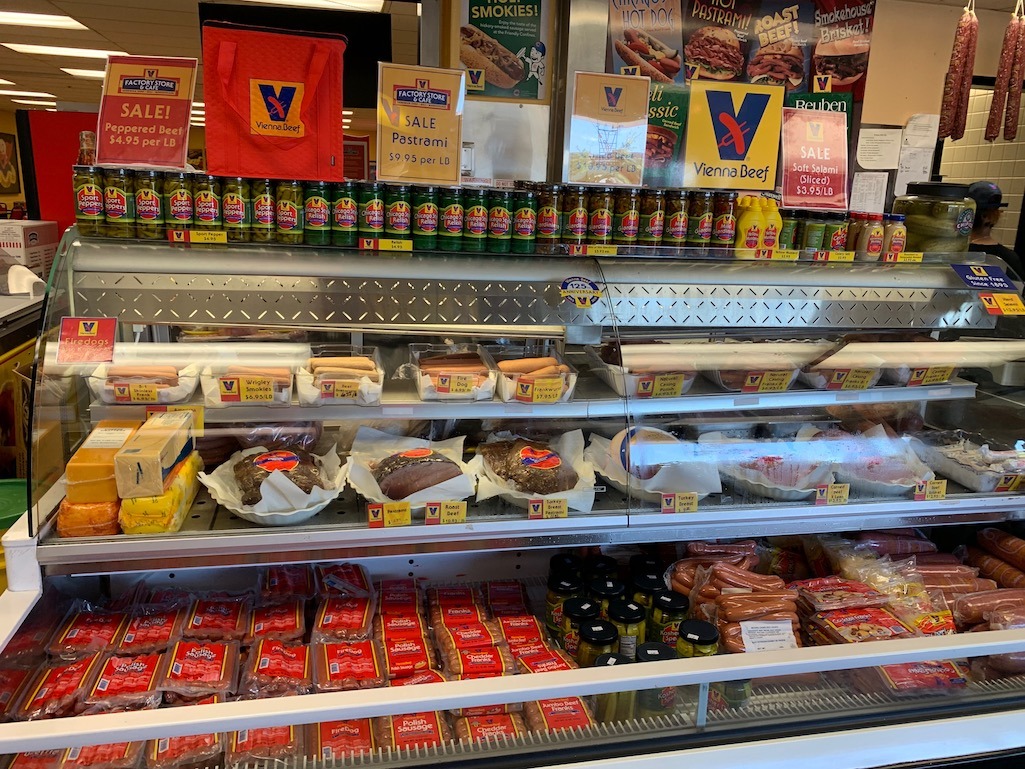 Recipes And Ideas
Whether you want to learn the art of the cart to start a new business or just want to learn how to make the best darn dog in the world, Vienna Beef has lots to share. After 125 years of business, it's fair to say they know what they're doing. Have some fun checking out who the latest additions are to their Hot Dog Hall of Fame. Or get some new ideas on how to make new hot dog creations to surprise and delight your guests.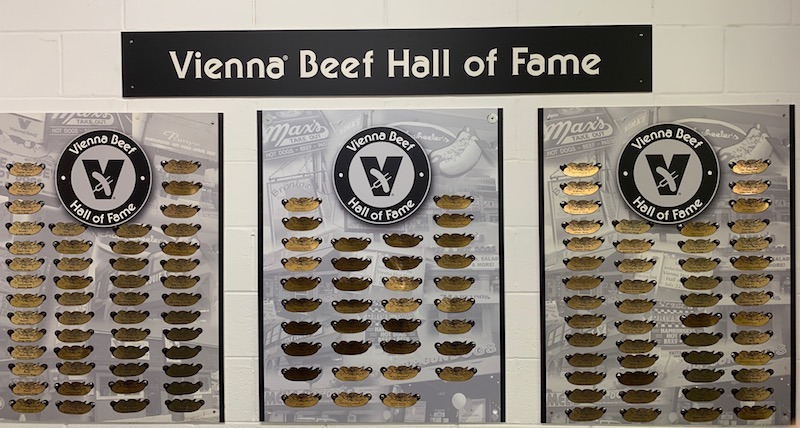 Fun And Tradition
We really did have fun at our Hot Dog University training course. Professor Reitman not only entertained us but also provided a lot of practical information about how to actually run a successful hot dog business. Vienna Beef has a long tradition of excellence and the executives we met enjoy their work as well as honor the history that is an important part of midwest culinary culture. If you're a history buff, you'll also love the Vienna Beef History Museum that has been opened inside the factory.
You'll find vintage photographs, marketing materials, and other memorabilia. Did you know that the hot dog was introduced at the Chicago World's Fair in 1893? And did you know that the founders of Vienna Beef, Austrian-Hungarian immigrants sold them in Old Vienna" on the Midway, also known as the Austrian Village? Well, they did. And now you know why the company is called "Vienna" Beef!
Whether you have an entrepreneurial urge or just want to enjoy Chicago's Hot Dog straight from the source, Vienna Beef offers opportunities for having fun, enjoying great tastes, and learning about the realities of starting a hot dog business. We had a great time and will wear our Classic Vienna Beef Chicago's Hot Dog t-shirts with pride.
Pin it for your Hot Dog Dreams on Pinterest