My name is Sue and I'm a tea lover. In my head, I can hear a schoolyard friend saying if you love tea so much why don't you marry it. Well, I might not go that far. But I would say that tea has been with me for so many of life's ups and downs. I can't imagine my life without it.
When I was a little girl I grew up having tea with my mom and my grandmother. I'll admit that "tea" to them was the Lipton yellow bag black tea. My mom reused the same darn Lipton bag for her tea all day long (she liked weak tea and was frugal).
We would have tea after dinner, in the afternoon with some cookies, and certainly if anyone was under the weather. I quickly associated tea as a comforting, soothing drink. I still do.
Back then I had no idea how many kinds of tea there were in the world. I sipped my Lipton all the way through college where I discovered the energizing benefits of all that caffeine.
Making Tea
When my world got a little wider I started to see other tea bags that weren't yellow. What was all this? Herbal tea, black tea, green tea, white tea – it just went on and on. I quickly became a bit obsessed with tea. Different teas for every occasion.
After a stint at a way too stressful advertising job, I forced myself to end my consumption of caffeine. This was tough but I quickly learned the joys of chamomile and lemon teas, my new favorites. They were tasty and calming, too.
Grown-Up Tea
When I started another job they had a magical "beverage station." It housed two giant coffee dispensers, a soda pop dispense, and, of course, a hot water dispenser. They had a rack of teas from Bigelow.  "I Love Lemon" entered into my selections. This would quickly become my "work tea." Whenever I had a big project or important meeting I would dutifully head to the beverage station and get my fresh cup of tea before I could begin. To this day, that tea immediately puts me in serious work mode when I have a cup.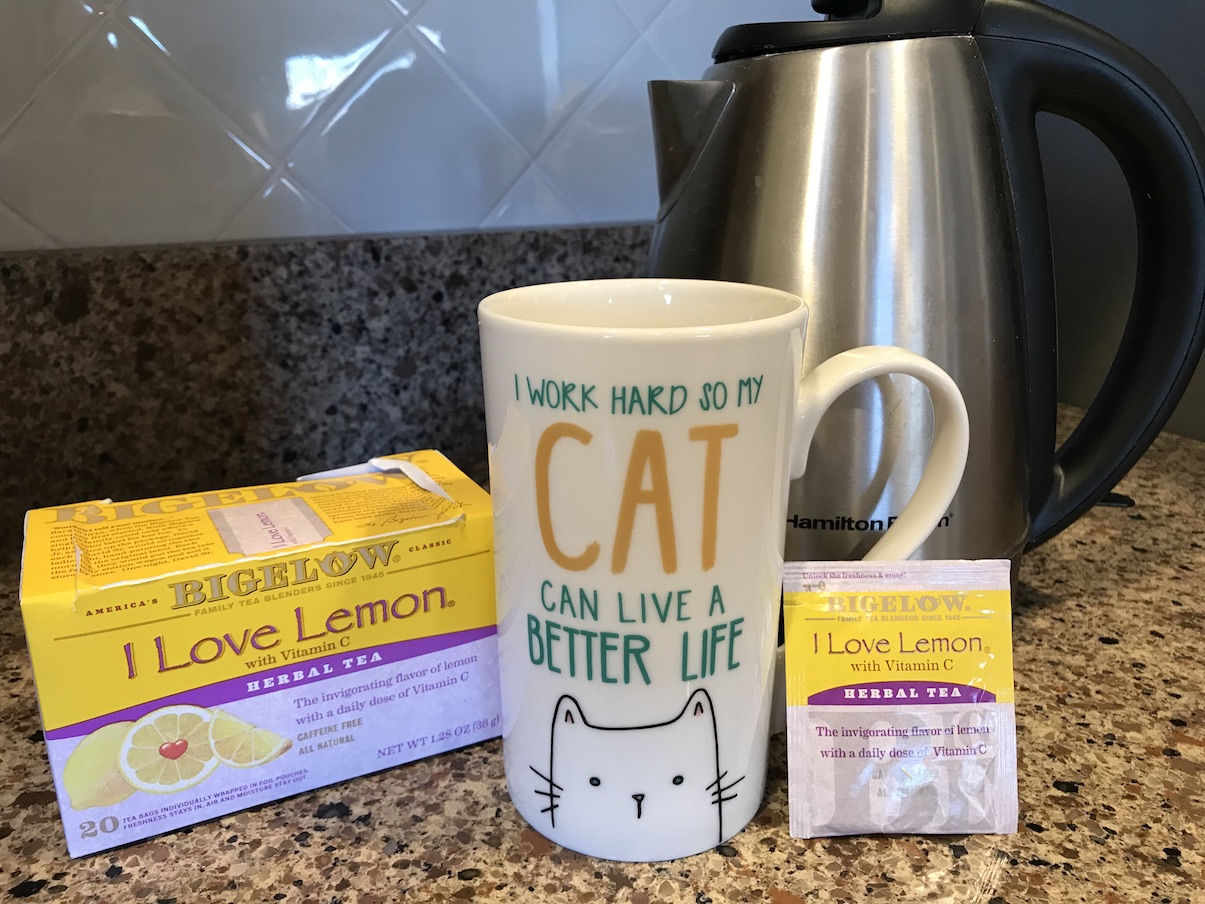 Working on my own now I have my own beverage station, or what most call, a kitchen. My Hamilton Beach electric kettle with a fancy temperature setting for different types of tea is filled all day long. On average, I drink about six cups of tea a day. I have a wide assortment of teapots, teacups, tea strainers, and tea accessories.
And teas? Well, that gets a little complicated. I have one cabinet, a basket for everyday teas, and two rather large boxes of teas I've collected while traveling. Guests asking what kind of tea do you have are met with a list too long to remember. To make things even trickier people bring me tea and send me tea. As my niece might say, I'm rich in tea.
Dedicated Tea Drinker
My love of tea has not diminished over the years. If anything we've developed an even deeper obsessive relationship. And fortunately, I can sip just about any kind of tea I want now.
As you might expect, now that I'm traveling all over the world one of the things I love to do is look for new and interesting teas. Tea shops, tea houses, tea manufacturers, and tea growers all have a special place on my itinerary. I thought it was about time to share with you just a few of the teas around the world that have made me smile and appreciate the world just a little bit more.
Tea in Beijing, China
One of our first trips to Asia was to Beijing, China. We were lucky enough to stay at a friend's place for a week that was nestled among the hutongs. These long narrow alleyways are filled with activities, shops, and homes. We found many tea shops in the neighborhood. Our biggest find was the Famous Tea of China Shop in the "NLGX" Nanluaguxiang shopping district. We stumbled in one afternoon and were greeted with smiles but not one person could speak English. Little did we know that tea lovers can communicate in so many other ways. We tried many teas and went home with a giant sack of blooming teas, fermented Pu-erh tea, oolong, and various others. We loved the Chinese lady who waited on us and thoroughly entertained us as well.
In fact, we went back a couple of years later and took Diana's Mom with us. Another tea lover, she nearly bought out the shop! I hope we get to return again someday.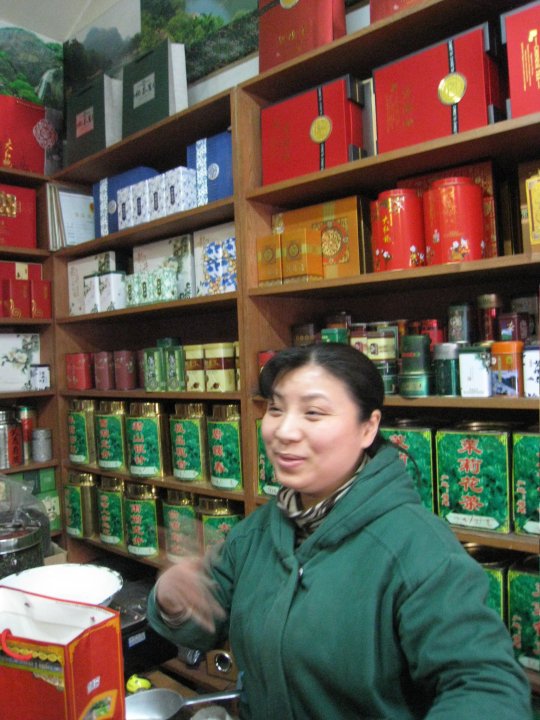 English Tea
We had the pleasure of spending some time in Northern England a few years ago. The Lake District is a beautiful place to enjoy nature, do some hiking (or walking as they call it) and, of course, sip some tea.
Here I discovered Yorkshire Gold tea. This Taylor's of Harrogate brand is made with a very high-quality blend of the best black tea from Asam, Rwanda, and Kenya. It's a lovely golden color and has its own unique and wonderful flavor. It's in England that I learned to add just a splash of milk in my tea.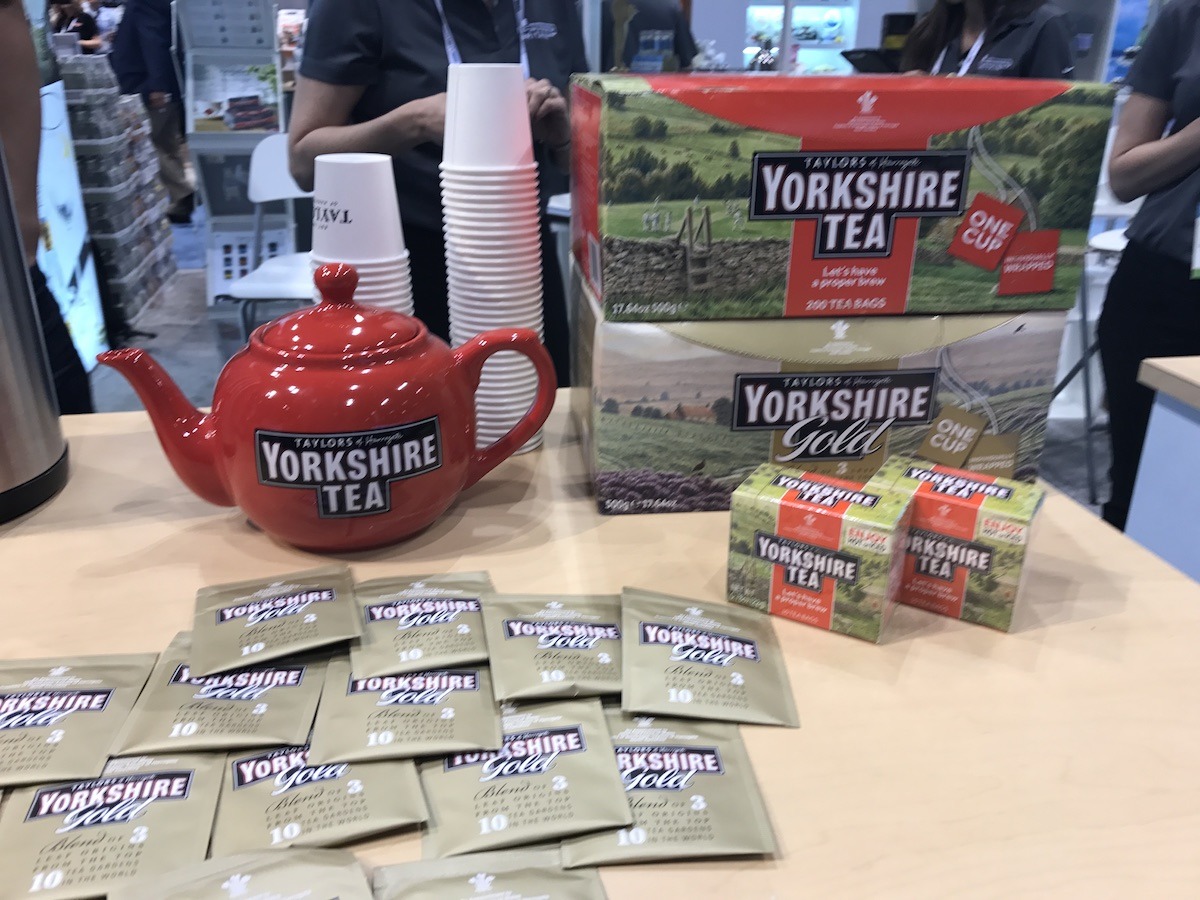 When we arrived at the historic Talbot Hotel in Malton we were welcomed with tea by the fire to enjoy with the owners in the lounge room. It was wonderful. I've yet to have a better shortbread than the one they served that day. I'm a fan of precious small English teapots too.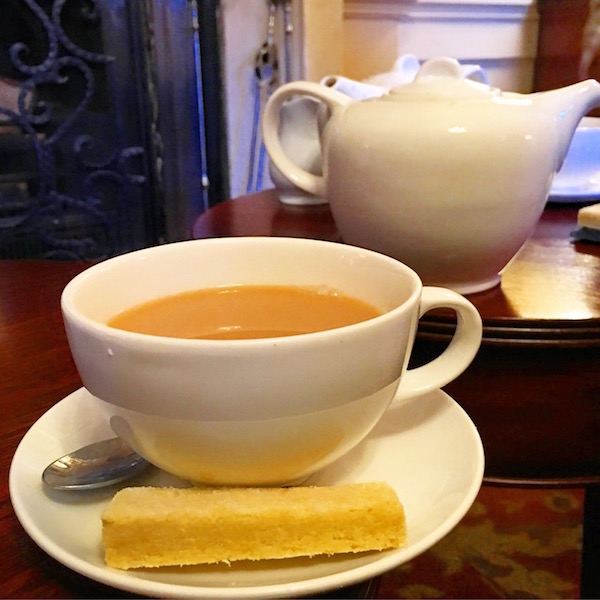 Welcome Tea at Luz Houses in Fatima, Portugal
Sometimes when you enter a room you immediately feel at home. This was the feeling that I had when I entered the common room for our welcome tea at Luz Houses in Portugal. They had the tea service ready for us as we arrived. Jasmine tea with freshly baked biscotti awaited us. The cutest things were the heart-shaped natural sugar cubes. Is it any wonder that I'm eagerly awaiting my next trip to Portugal?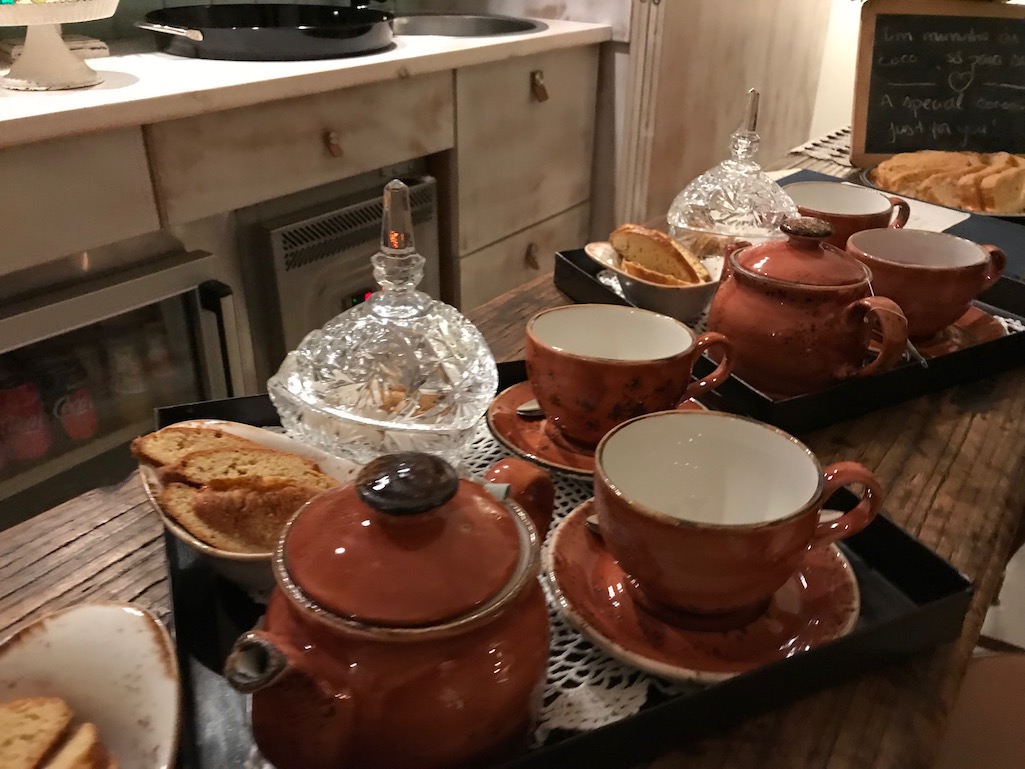 Tumblewood Teas in Montana
When a woman calls you and says she heard you would be in town and would you like to try her teas, you just say yes, please! This is exactly how I first became acquainted with Riza Gilpin and Laurie Rennie, the owners of Tumblewood Teas. Little did I know that these gals were producing some unique and interesting tea blends in the tiny town of Big Timber, Montana (population 1,641).
We had a two-hour tea tasting with them late one night which was wonderful.
We love Yellowstone Country and I have to say I didn't imagine I would find tea folks there. But I did. These are people who take tea very seriously. One of my favorites is their herbal "Bright Montana Morning." Peppermint leaf, lemon grass, spearmint leaf, papaya leaf, lemon verbena, lemon balm, and lemon juice. The perfect way to start your day.  And don't miss their  "I'm Your Huckleberry" black tea with a fresh local huckleberry flavor.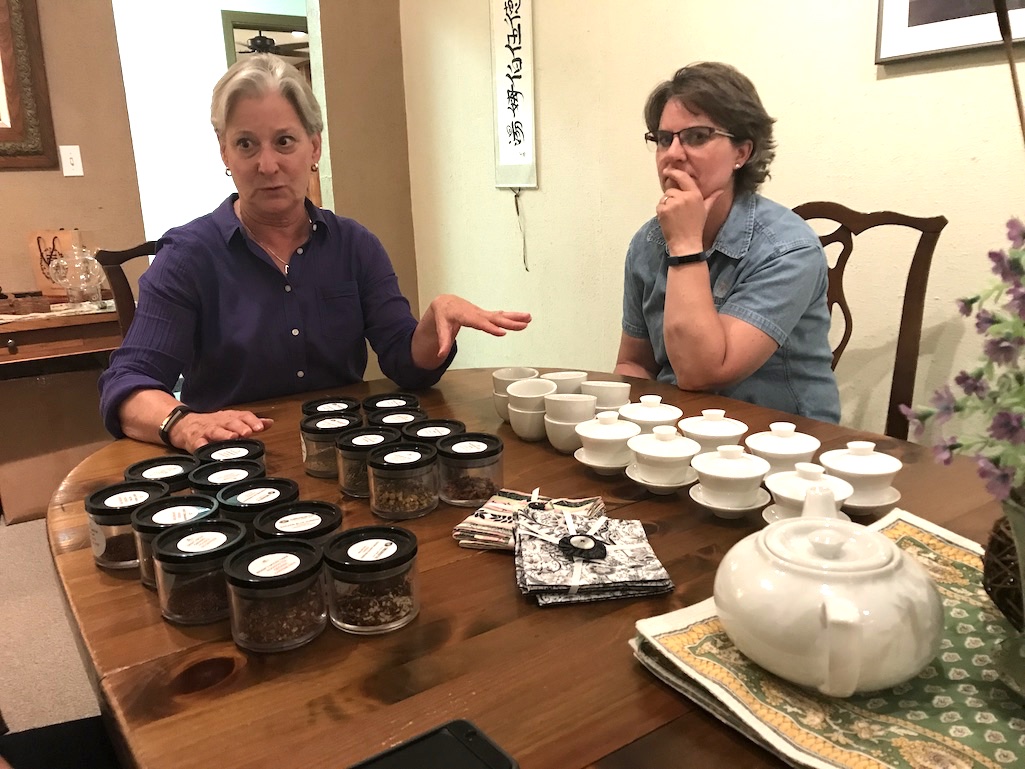 Tea by the Ocean in St. Croix
I absolutely love traveling to new places and discovering they have some of my favorite teas. This happened at the beautiful Buccaneer Resort in St. Croix. When I asked for tea at breakfast I was pleased to be presented with a box full of Harney & Sons tea. How did they know it was another favorite of mine? Clearly this had been arranged specifically for me.
On top of that, they had the Paris blend. Apparently, I'm not the only one who drinks tea in Paris. Mike Harney modeled this fruit-forward black tea from his visits to the city of light. It's rich with vanilla and caramel flavors and has just a touch of lemony Bergamot.
Staring out at the blue Caribbean waters and sipping this tea was a perfect way to start my morning.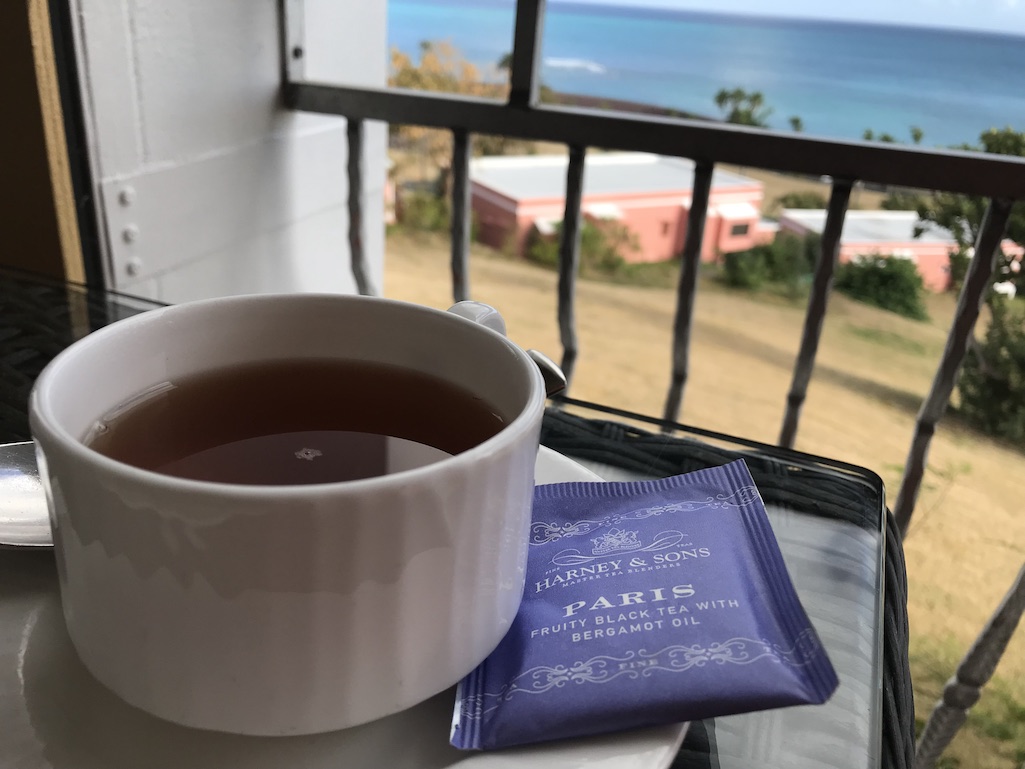 Bush Tea in St. Croix
Tea doesn't get much more organic than hand-picked herbs and spices like the ones you can select at the Farmers Market in St. Croix. Every Saturday morning the local vendors are out early to display their goods. You can get bunches of 'bush tea' for just a few dollars.
Bush tea is a staple throughout the Caribbean Islands. Locals make it from herbs available on the islands. Pickers make their own personal blends that may include mango, apple, fennel, soursop, mint, lemongrass, sage and marjoram. There are as many blends as there are pickers. Many say their "formulas" have health benefits. I'm not sure about that but having a warm cup of the island flavors is a wonderful way to begin the day.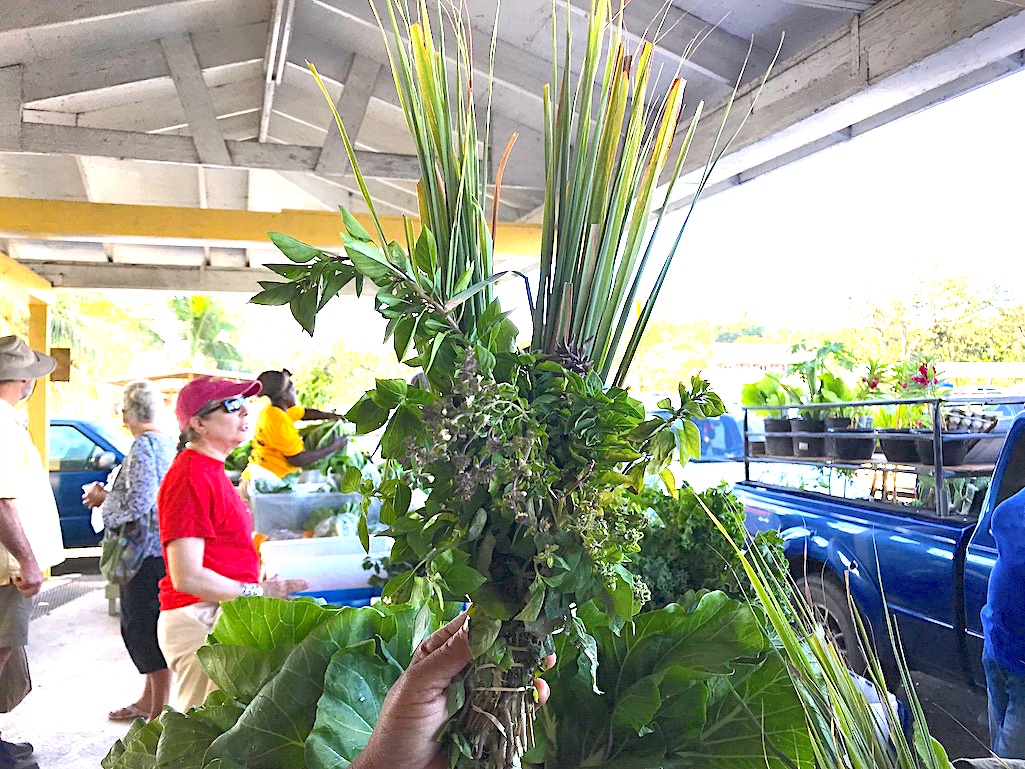 Healthy Teas at the Fairmont
One of the things I haven't mentioned is the health benefit of tea. Recently the Daily Mail listed the many reasons that sipping a cuppa tea will make you feel better, from increasing metabolism to fighting diabetes depending on the type of tea. I read that 3 to 5 cups of green tea can help you burn an extra 70 calories a day or seven pounds a year. I'm in!
The Fairmont in Washington, D.C. had a marvelous selection of their own special blends of tea as well as a Wellness Herbal Tea collection. Whether you're looking to be rejuvenated or for a cup of tranquility they have the right formula for you.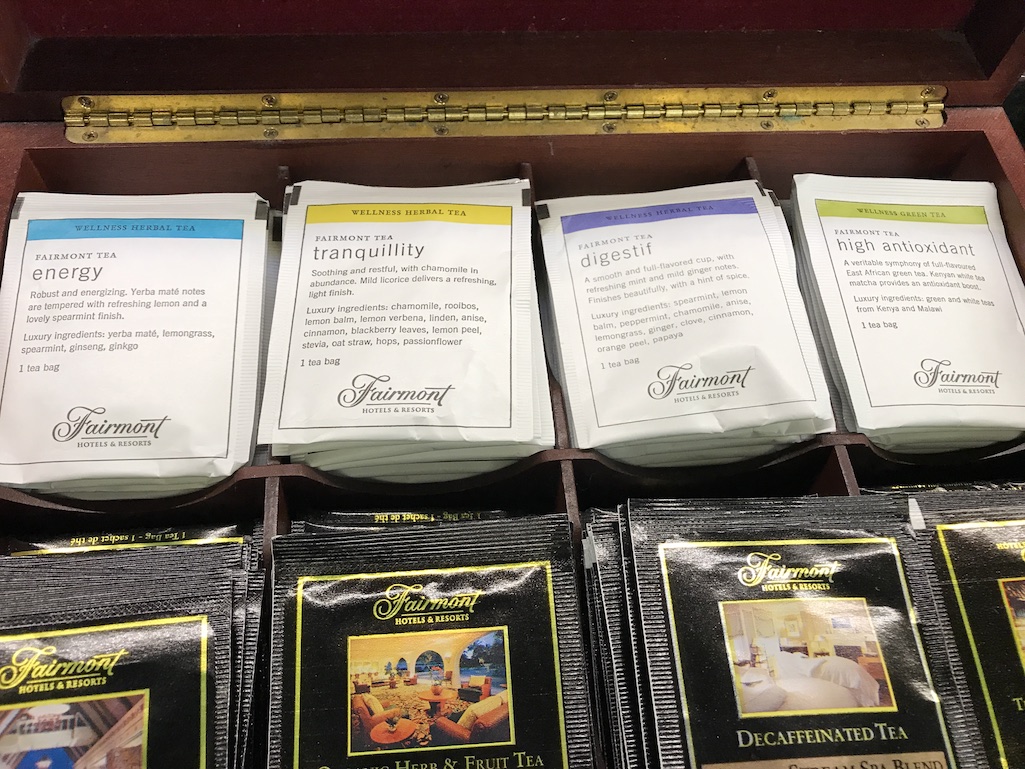 Matcha Tea 
A few years ago the matcha craze swept over the tea world. I was skeptical (of course) but from my first sip, I knew I'd be drinking a lot of this wonderful tea. Served hot, cold, and as an ingredient in many recipes, this fine powdered intense and earthy green tea is considered a superfood. It's high in antioxidants, helps with your immune system, burns calories, and improves cholesterol.
I like that it has the boost of caffeine but rather than a jolt it offers sustained alertness over time. It doesn't make me jittery and there is no crash either, just a good overall feeling. It's a wonderful tea and also great for recipes and baking too.
There are a few brands of matcha that I have in my tea arsenal. I met the guys from Tenzo tea at a trade show a few years back and couldn't get over how smooth it was. They are unique in a few ways. First, they only sell matcha. Pretty neat, huh? So you know they take it seriously. And they offer a subscription service for their tea. Their tea is hand-picked and organically grown. They were tired of the crash that some other less healthy drinks had and when they discovered matcha tea they went all in.
Tenzo Tea
They also keep sustainability in mind. The Tenzo Starter Kit comes with a tin, scoop, bamboo whisk, and stand. Put the matcha tea that comes in a vacuum-sealed bag in the tin and you're all set.  It reduces packaging and plastic. Go green! If you join their subscription program you'll enjoy nice savings too.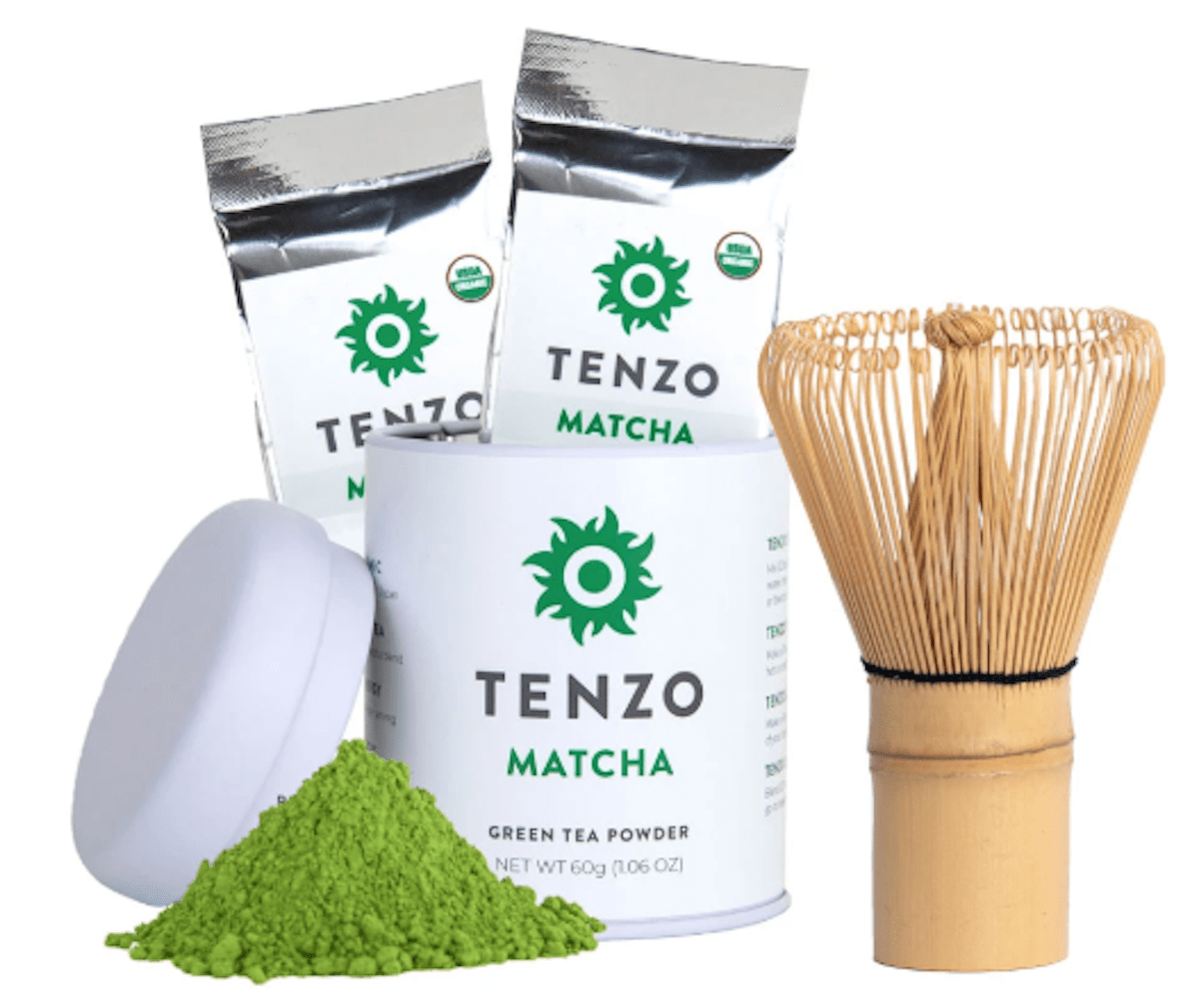 Matcha's earthy taste may not be for everyone. A delicious way to mellow and enjoy it is iced with just a pinch of natural sugar or simple syrup and lemon.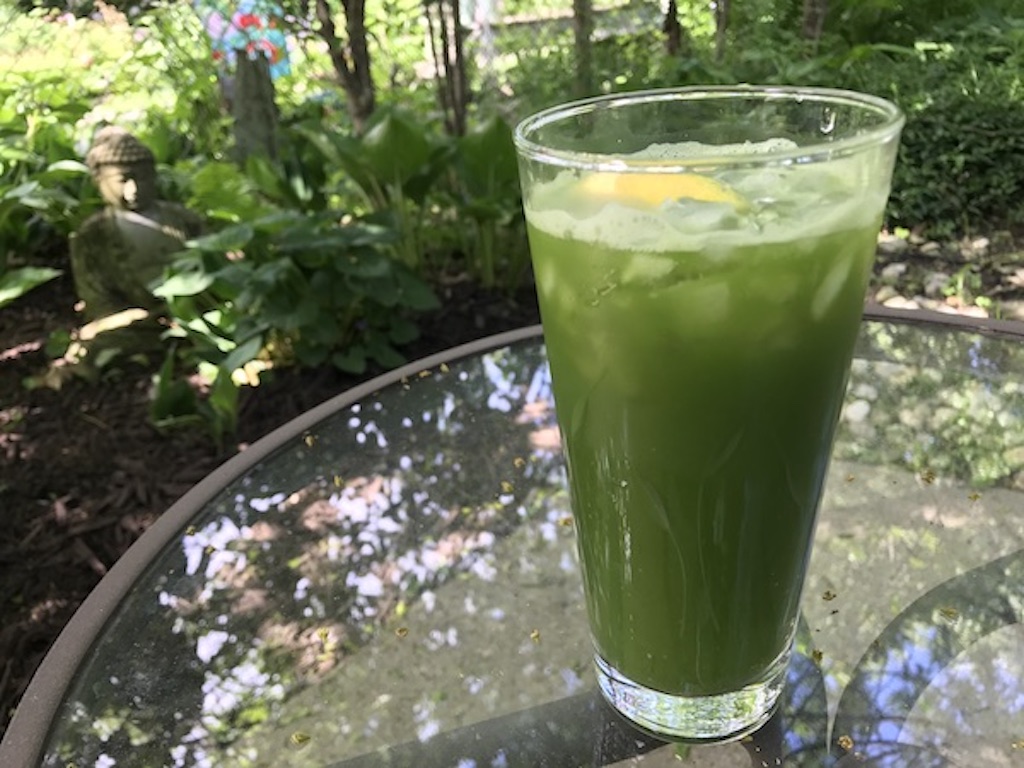 Meditteranean Tea 
One of our favorite trips was our visit to Turkey. While in Istanbul we, like every other visitor, took our shot at the Grand Bazaar. We were on the hunt for a Turkish tea set. Diana was anxious to try her negotiation skills in the famous market known for haggling.
Of course, the process began with a glass of strong Turkish tea brought to us by one of the young boys who run in and out all day with pots of tea and hot water. We spent more time than either of us expected and left with the knowledge that our tea set would arrive safe and sound at our home shortly after we returned.
Our new friend gave us a good deal and more importantly the chance to learn more about his life and family and how much he enjoyed meeting people from all over the world.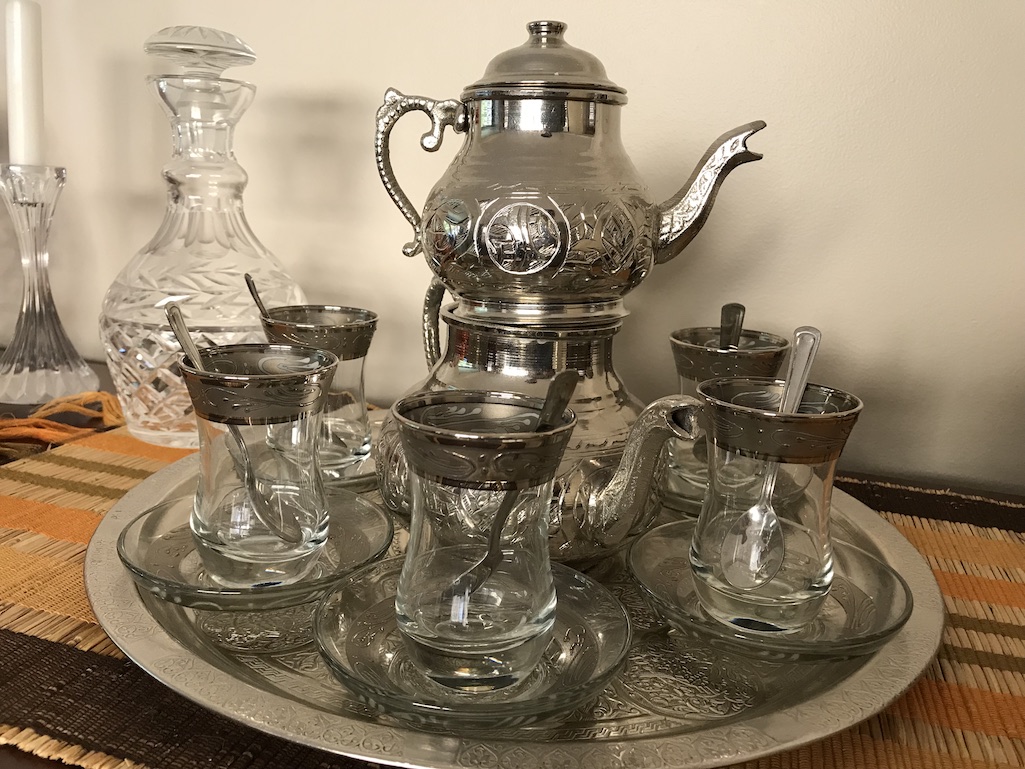 We haven't been to Lebanon (yet) but we had this lovely Lebanese Chai Tea at Suraya in Philadelphia. It was perfectly sweet and delicious. If you're in Philly don't miss this spectacular Lebanese restaurant. Be sure to make a reservation because they get really busy, especially on the weekends when their brunches are legendary.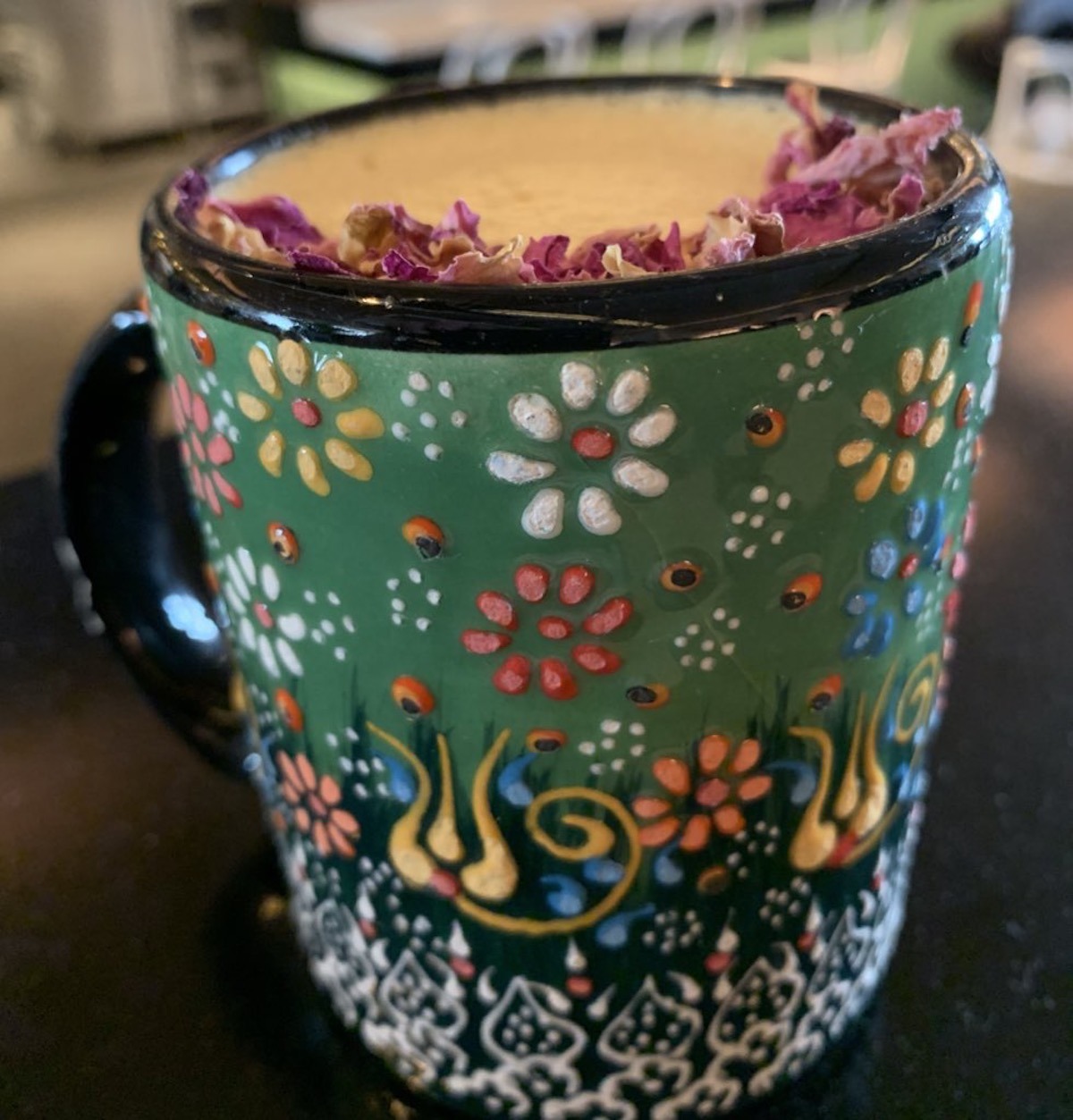 Nana Mint Tea
Ever hear of Nana Mint? It's a special mint grown in the Southern Mediterranean region. Known to most of the world as spearmint this herb is believed to help focus the mind. It's also said to help relieve congestion and colds. Our friends at Wissotzky NANA MINT™ have taken that unique flavor and combined it with 100% natural tea and hand-selected herbs and spices. The tea is GMO-free, certified Kosher, and simply delicious. Try their black tea, green tea, lemon tea, ginger tea, and chamomile all flavored with the slightly sweet and refreshing Nana mint. This lovely mint-flavored tea has quickly become one of my favorites.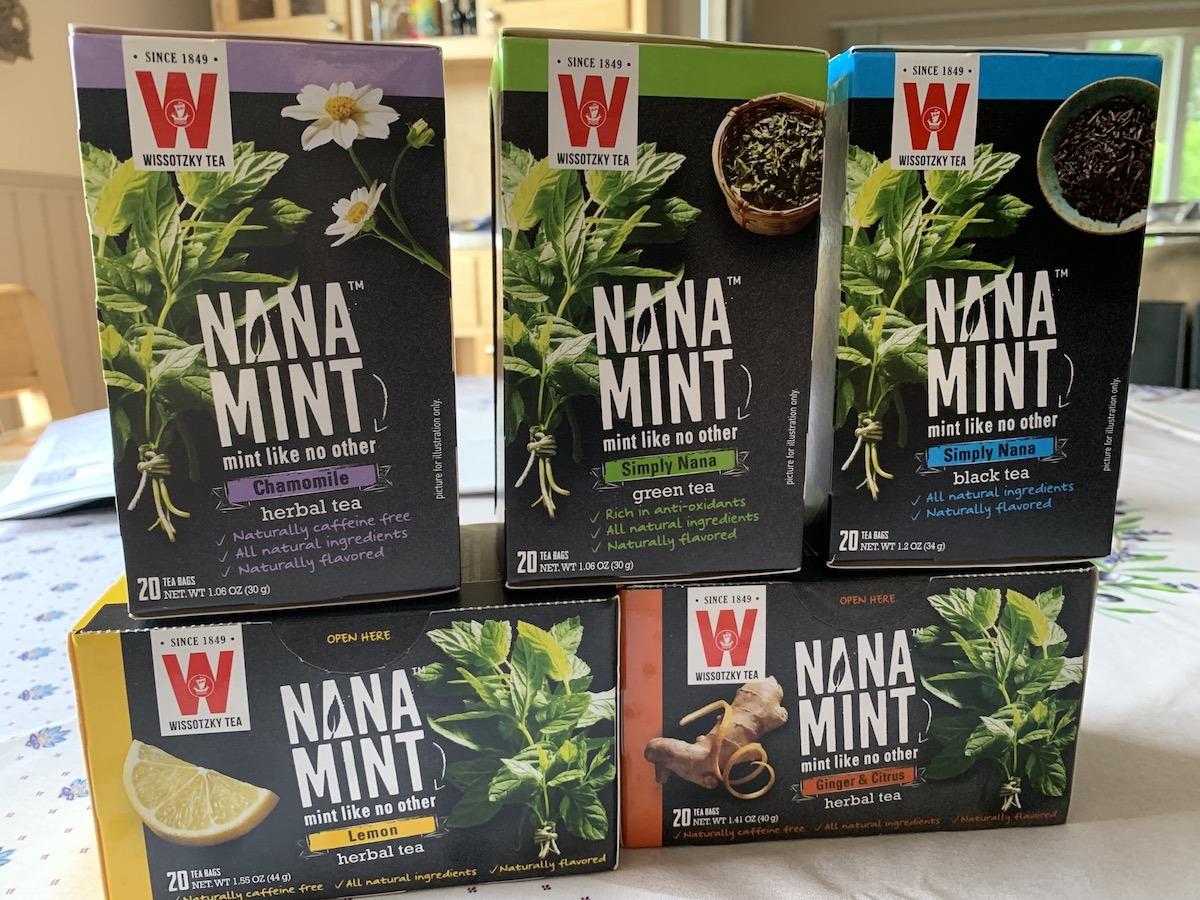 Ye Olde King's Head, Santa Monica, California
The best teas in the world would have to include the ones we share with friends and family. Tea is a big deal in our family. We plan teas at home and teas at places that make a fuss out of it.
One of these places is Ye Olde King's Head in Santa Monica, California. We head to the west coast every December to celebrate the holidays. We were so happy to discover Ye Olde King's Head. Not only did they put on one heck of an afternoon tea (we ended up taking food home!) but we also had a lovely glass of champagne to start the holiday celebration.
They have a very well-stocked gift shop next store where we found lots of last minute gifts. Many British items like Walkers cookies, Cadbury candies, gift baskets, and, of course, plenty of tea.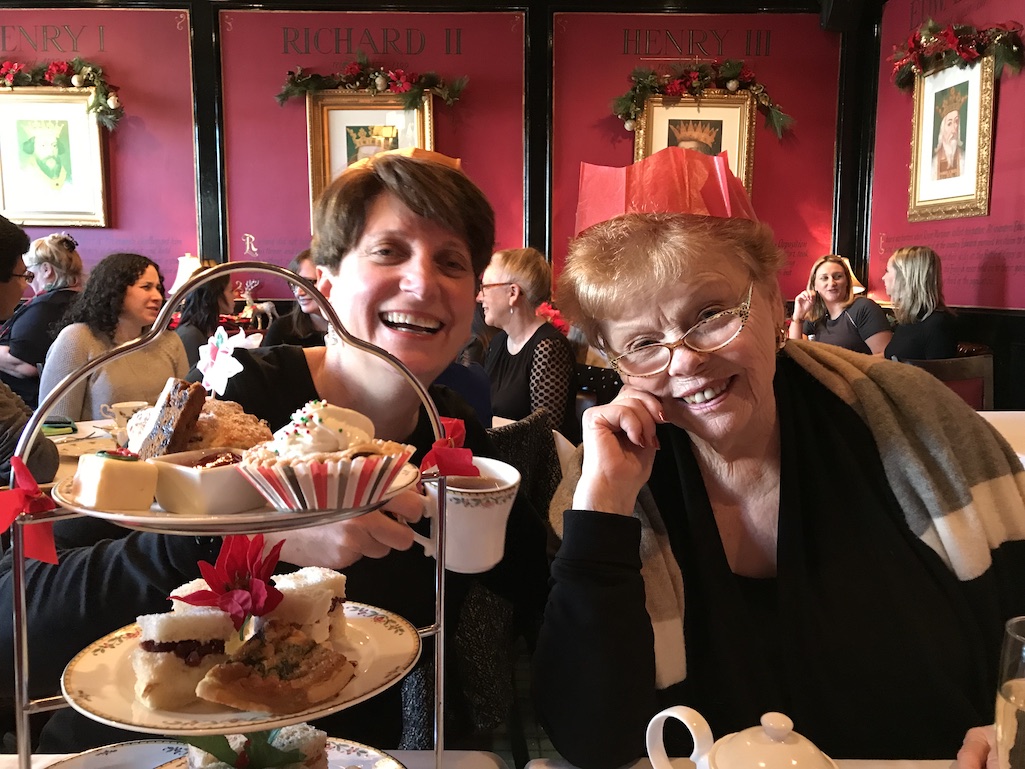 Tea in the Midwest
I do travel around the world and love trying new best tea in the world. Sometimes, though, being home and enjoying a local spot you love is also a wonderful thing. The ritual of tea making and afternoon teas are something that I really enjoy. Taking the time to let the tea brew and munch on some savory and sweet bites with a friend is a splendid way to catch up, relax, and unwind.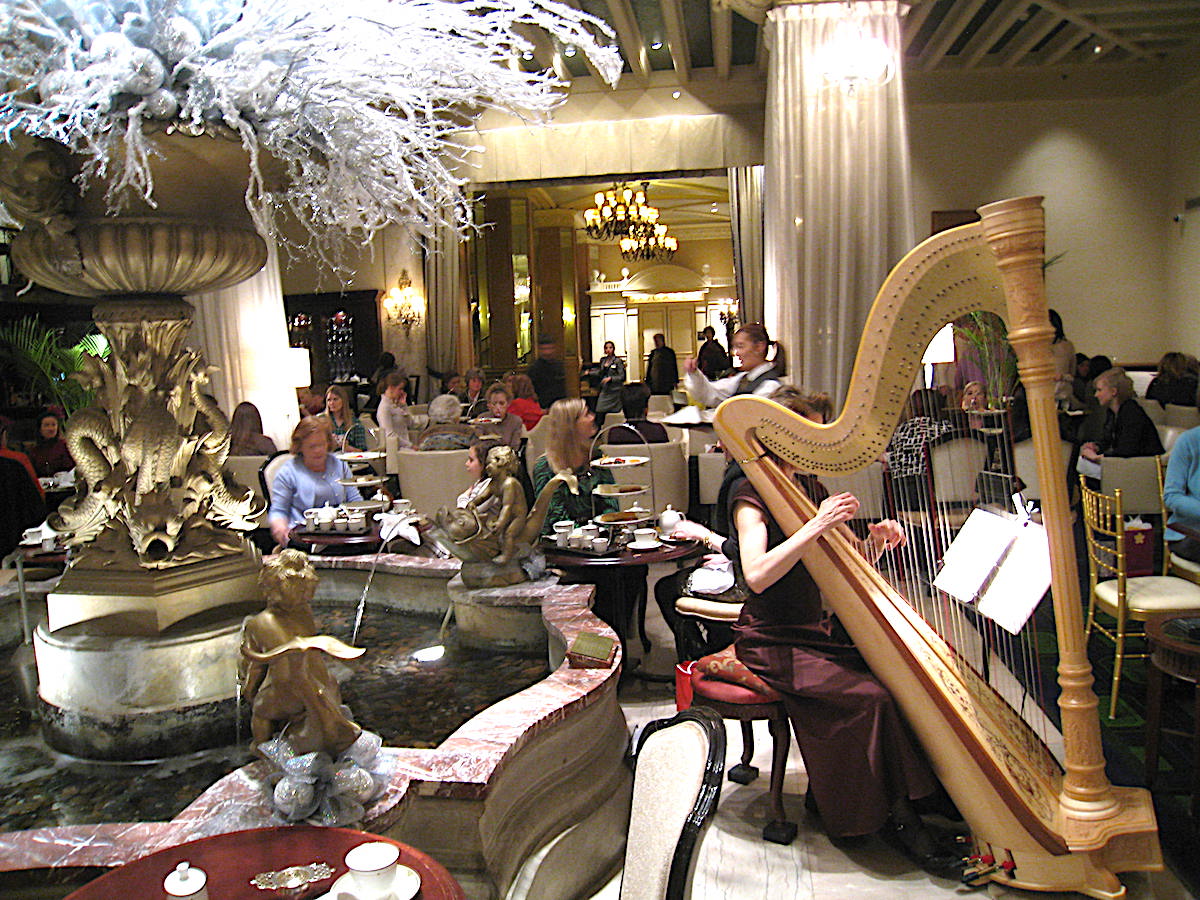 There are a lot of fancy and beautiful afternoon tea places in Chicago like The Drake Hotel, The Peninsula Chicago, The Langham, and the Palmer House, among others. When we lived on the west side of Chicago I enjoyed a place a bit closer to home. Serenitea Tea Cafe in Oak Park, Illinois, is a locally run shop with a good selection of tea and tea snacks. They don't mind if you linger a bit too long with a friend and have just one more cup of tea.
Tea in Milwaukee
Our friends in Milwaukee make us proud as they are home to Rishi Tea, Collectivo, and Urbal Teas. Don't think of the midwest as tea drinkers or tea manufacturers? Think again. Rishi searches high and low for the best teas around the world.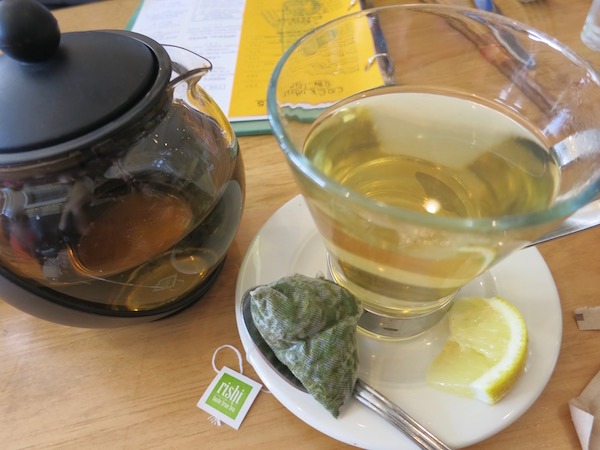 I was already a big fan of Milwaukee when I learned that they have a rather strong tea culture. One of the largest tea makers in MKE is Rishi Tea. We were lucky enough to tour their offices and plant on one of our visits. Their search for the finest ingredients around the world for their organic teas makes them a friend of mine.
Collectivo may be known for their coffee but they take their tea selection seriously too. And Urbal Tea Urbal Tea is a local brand that has created functional herbal teas that taste great and provide health benefits as well. Liquid for life, as they call it. I certainly agree.
Best Tea Brands
As you can see I've drunk more than my fair share of tea in my search for the best tea in the world. I'd also like to share some of the teas that are my go-to teas.
As I mentioned I really enjoy Yorkshire Gold which I think is one of the best black tea flavors and is just perfect for a morning get you going tea. I'm also a fan of Harney & Sons English Breakfast too. If you like organic tea brands Twinings and Rishi each make an excellent English Breakfast.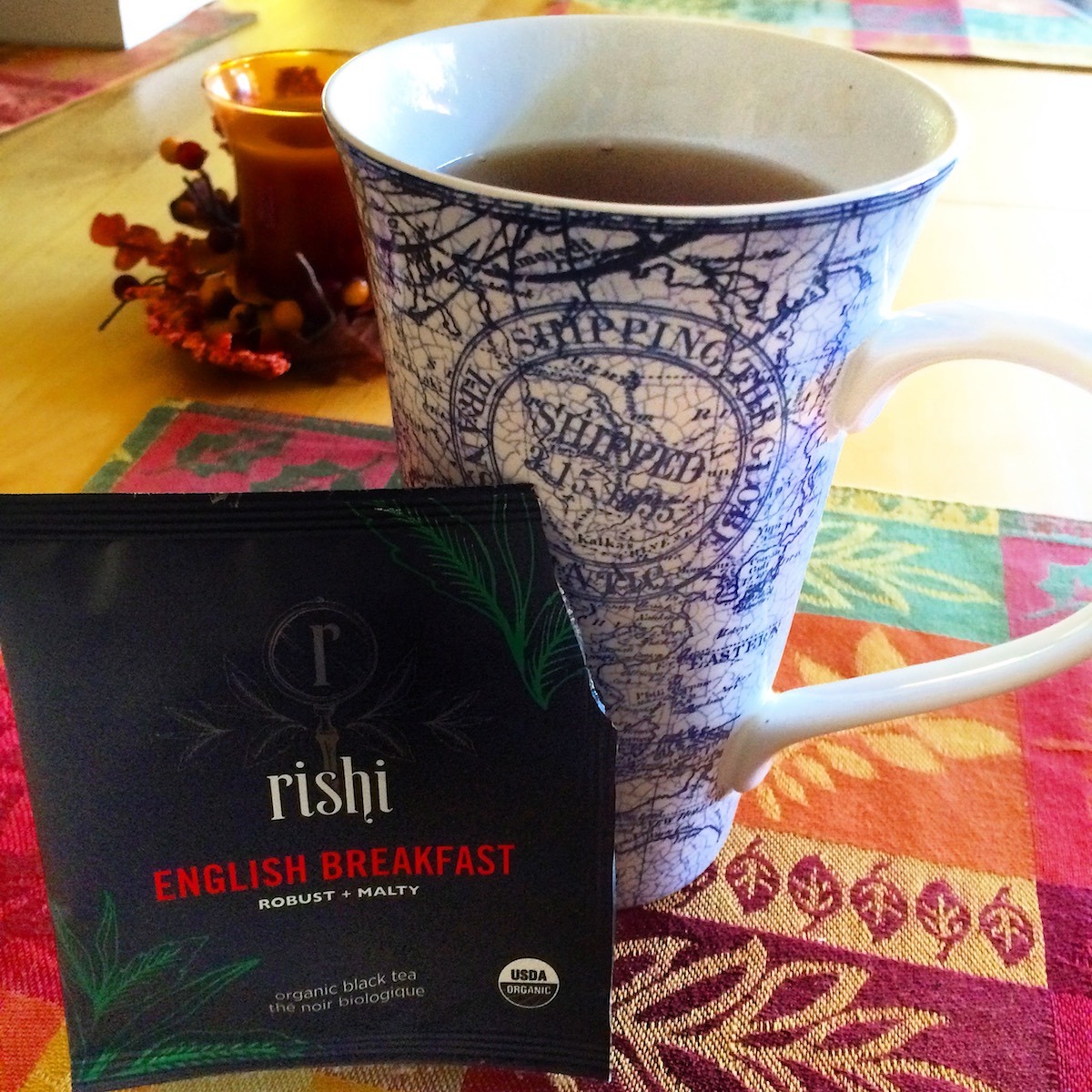 So Many Ways to Buy
The good news is that you don't have to travel around the world to discover teas you'll love. You can buy teas online is just a few clicks. Adagio Teas has a wonderful selection of loose leaf teas for hot and iced tea lovers. They offer seasonal teas as well as specialty teas for holidays. Adagio also has great tea accessories. Their ingenuiTEA teapot is something I use frequently. It's super easy to use, just put the tea in, let it steep and place the unit on your cup and the tea just pours through. Voila!  It's dishwasher safe too.
If you like the subscription model check out Sips By Tea. You fill out a free tea profile, join the club, and your personalized tea boxes are shipped to your home each month. You'll be delighted when your tea treats arrive with new flavors to try. You then rate your teas and keep your tea preferences fresh ensuring you get the best teas to match your tastes.
Best Tea In The World
These are just a few of the best teas in the world that I've enjoyed while traveling and at home. I hope you'll share some of your favorite teas with me in the comments below. I'm off to put the kettle on and enjoy a cuppa with a few friends.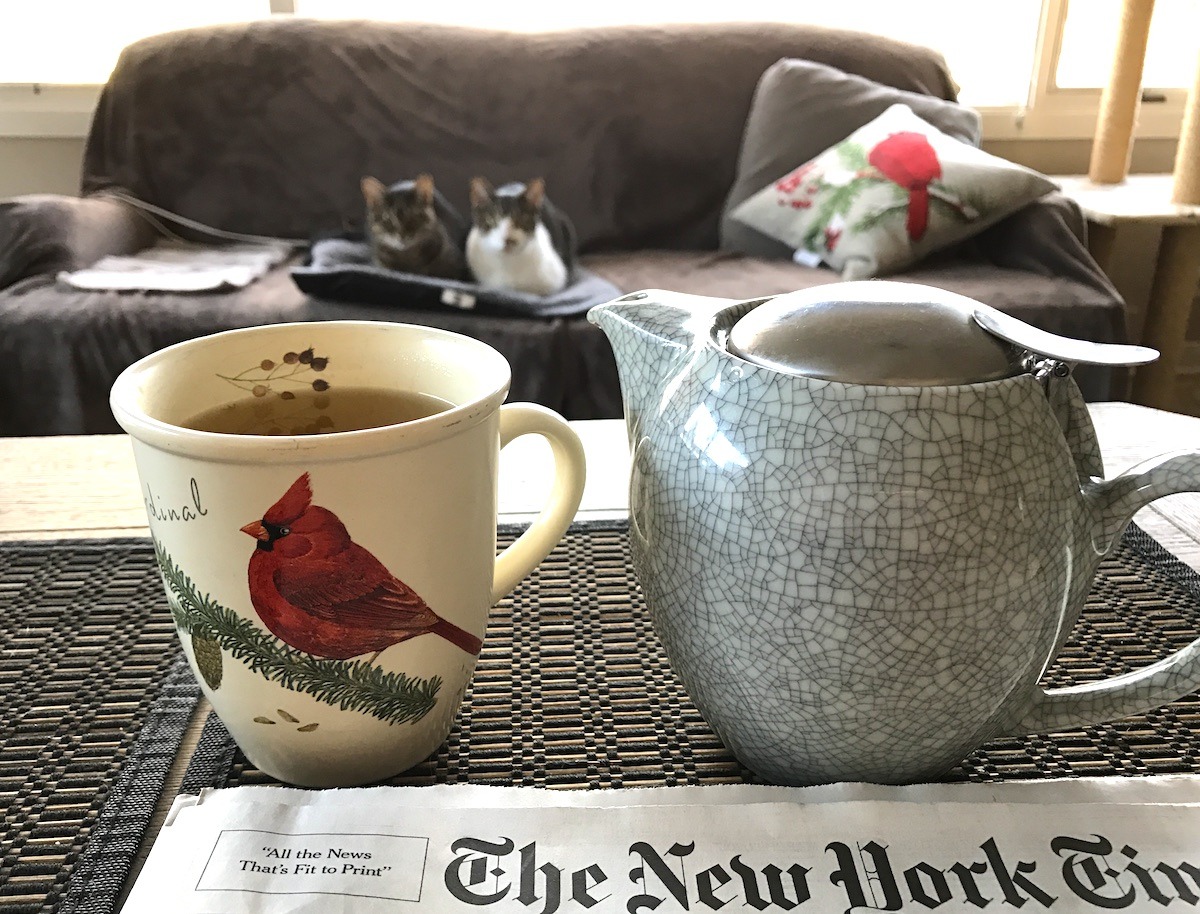 Updated April 2023
Pin to your Tea board on Pinterest