Madison WI Best Things To See And Do
Madison WI surprises a lot of visitors. The capital city of Wisconsin has so much to see and do. It is an isthmus town, sitting on a small hill surrounded by two beautiful lakes. There's a lively college scene, which means there are a lot of great places to eat in Madison with really good prices. And, of course, it's in Wisconsin where the craft beer is flowing and world-famous cheesemakers need to have a license. That's serious stuff – seriously good! Whether you want to visit for a few days or move here to live (like we did!) Mad City has much to offer and we want to show you the best things to see and do.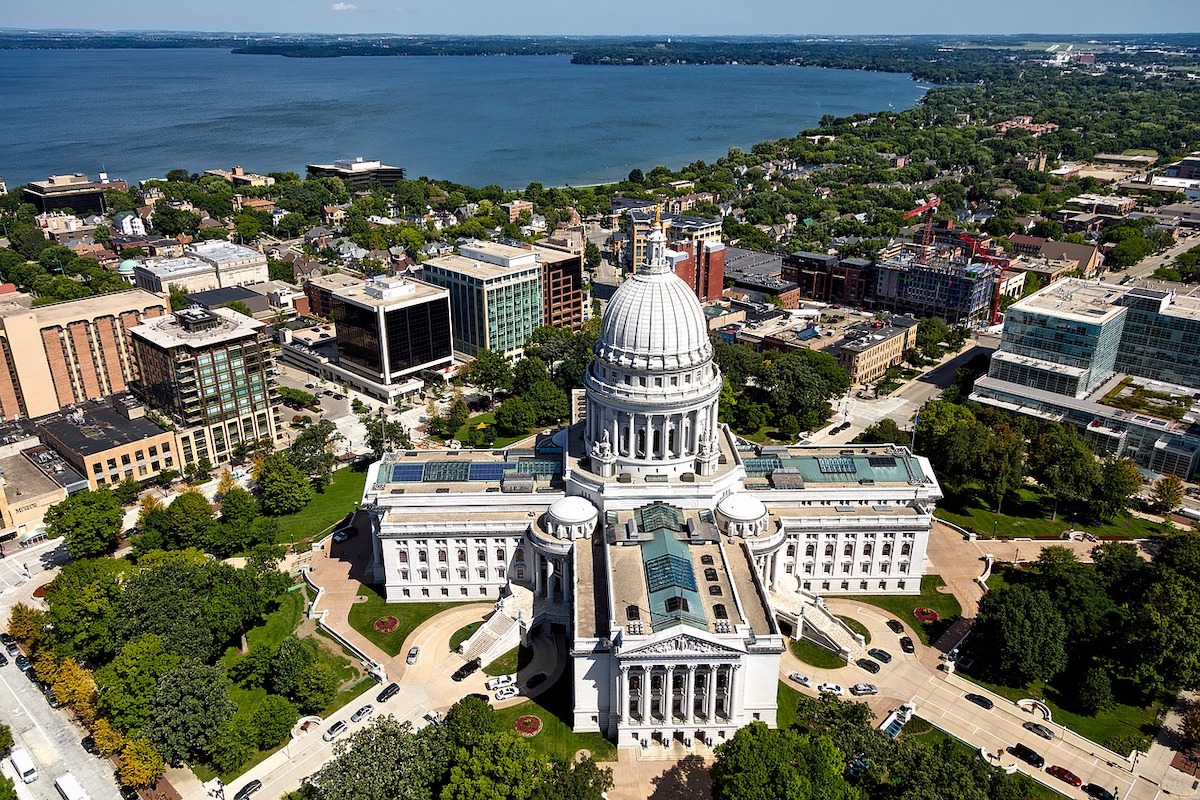 If you read our earlier article about a visit to Marvelous Madison WI you'll know that we had fun in this diverse town. This time we'll give you some more ideas to help you plan your visit.
Here's a fresh look at what to see and do in Madison WI.
Many thanks to the Graduate Madison for hosting us on a stay at their hotel. The opinions expressed are our own and reflect our experience. We were not financially compensated.
Concerts In Madison
Madison WI is a cultural nirvana. Like many college towns, there are lots of spots to enjoy live music. Many of the bars and places to eat in Madison feature local musicians just about any day of the week to enjoy along with your meal.
Orpheum Theater
The Orpheum Theater is a gorgeous venue on the National Register of Historic Places that's Art Deco on the outside with a French Renaissance interior. Seating nearly 2000 people, the Orpheum has hosted great music in Madison from such entertainers as Johnny Cash, Ray Charles, Melissa Etheridge, Toto, Lyle Lovett, and Elvis Costello. It currently hosts concerts, standup comedy, and special events.
Overture Center For The Arts
The Overture Center is a hub of music and theatrical entertainment. It's the resident home of the Madison Symphony Orchestra, Madison Opera, Madison Ballet, Wisconsin Chamber Orchestra, and numerous dance and theatrical groups. Concerts, Broadway plays, and many other performances and events throughout the year make the Overture a busy place. Even so, just like a lot about Madison, it's friendly and easy to navigate. Check what's going on before your visit. You might be surprised!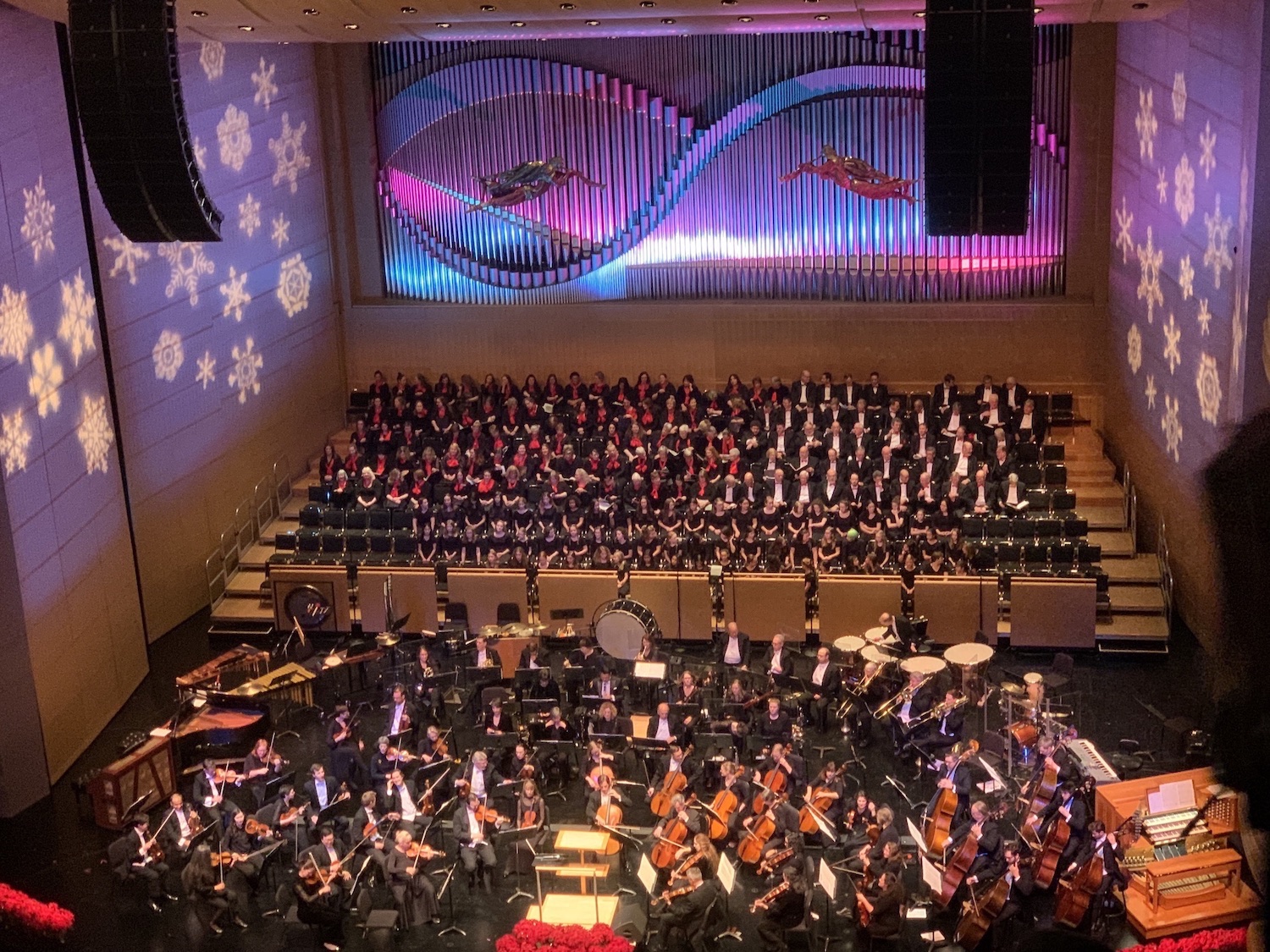 Free Madison Concerts
If you love music but want to save your pennies for other pursuits, there are lots of free outdoor concerts in Madison WI. Starting around May, you'll find free spring concerts at Olin Park Pavilion and concerts on the rooftop begin at Monona Terrace, running through summer. Summer brings even more free Madison concerts like the Isthmus Jazz Festival, Live On King Street, Opera In The Park, Concerts On The Square, and the Capitol City Band. There's something different for whatever your musical tastes. And if dancing is your thing, you'll enjoy Dane Dances later in the summer where you can shake your bootie on Monona Terrace with the lake as your backdrop. You can find out what's happening when at local calendars like this one from Isthmus.
Free Madison Zoo
We love to "no money fun" so one of our favorite treats is the free Madison zoo. Officially named Henry Vilas Zoo, this local favorite is open 365 days a year. We love their focus on education and their participation in highlighting local Wisconsin animals and heritage. Their exhibit highlighting Wisconsin's mining history featuring American badgers and sandhill cranes is unique and fun. Visitors of every age can see everything from aardvarks to zebras, with over a hundred species including primates, big cats, camels, bison, polar bears, alligators, and more. The zoo focuses on its own sustainable practices and offers education and programs about conservation and endangered species. Kids of all sizes also love the Conservation Carousel and feeding ever-hungry goats in the Children's Zoo area.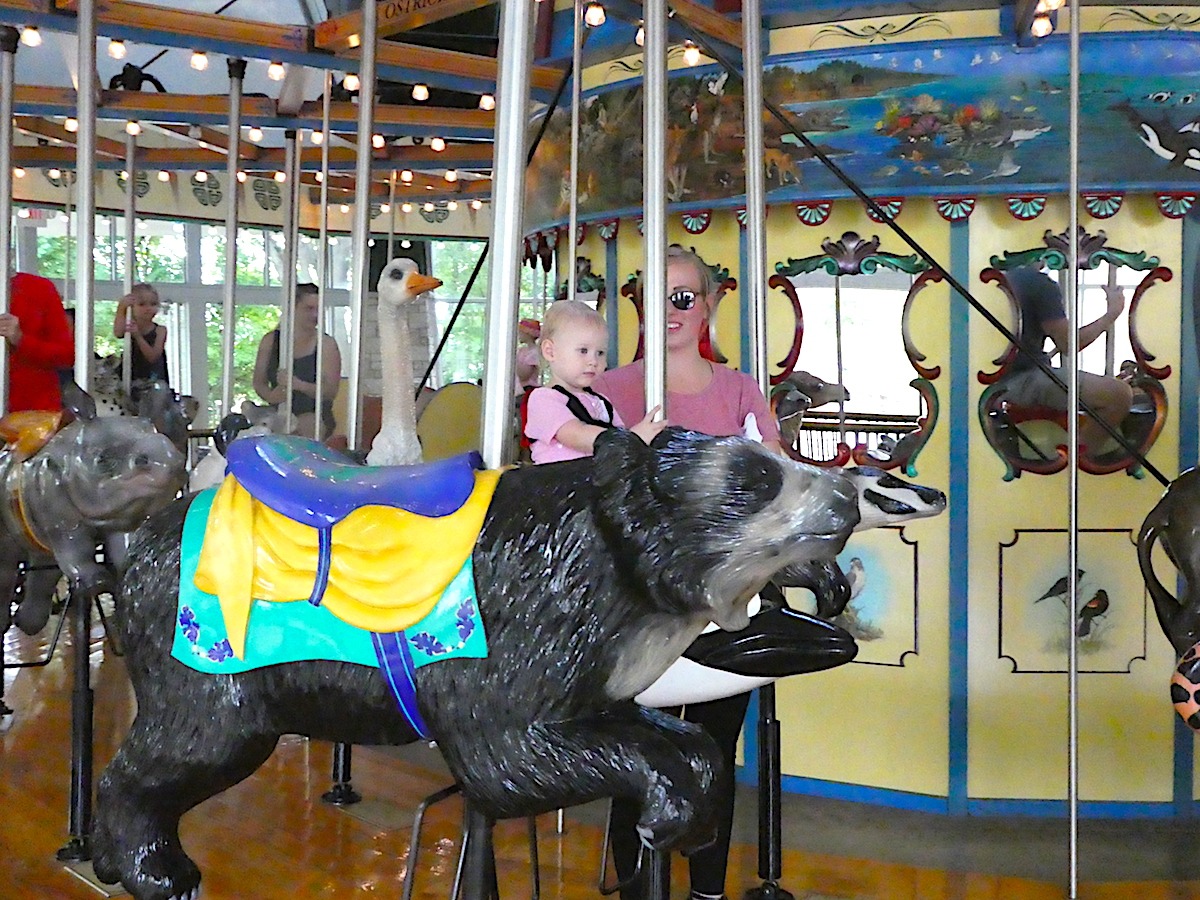 Madison Shopping
After saving some cash with free concerts and the zoo, you might be interested in a little Madison shopping. There are plenty of places with fun items to buy.
Bibliophiles like us will love A Room Of One's Own bookstore with 6,000 square feet of new and used books. They host lots of author speaking events too. And UW Badger fans or fans-to-be can find plenty of fun apparel and merchandise bearing beloved mascot Bucky Badger at the University Bookstore.
If you're looking for foodie treats check out Fromagination cheese shop or Gail Ambrosius Chocolatier for world-class treats. And if you're around from spring through fall, you really have to see the Madison farmers market to believe it. The Dane County Farmer's Market wraps around the entire capitol square. It's the largest producer-only farmers market in America.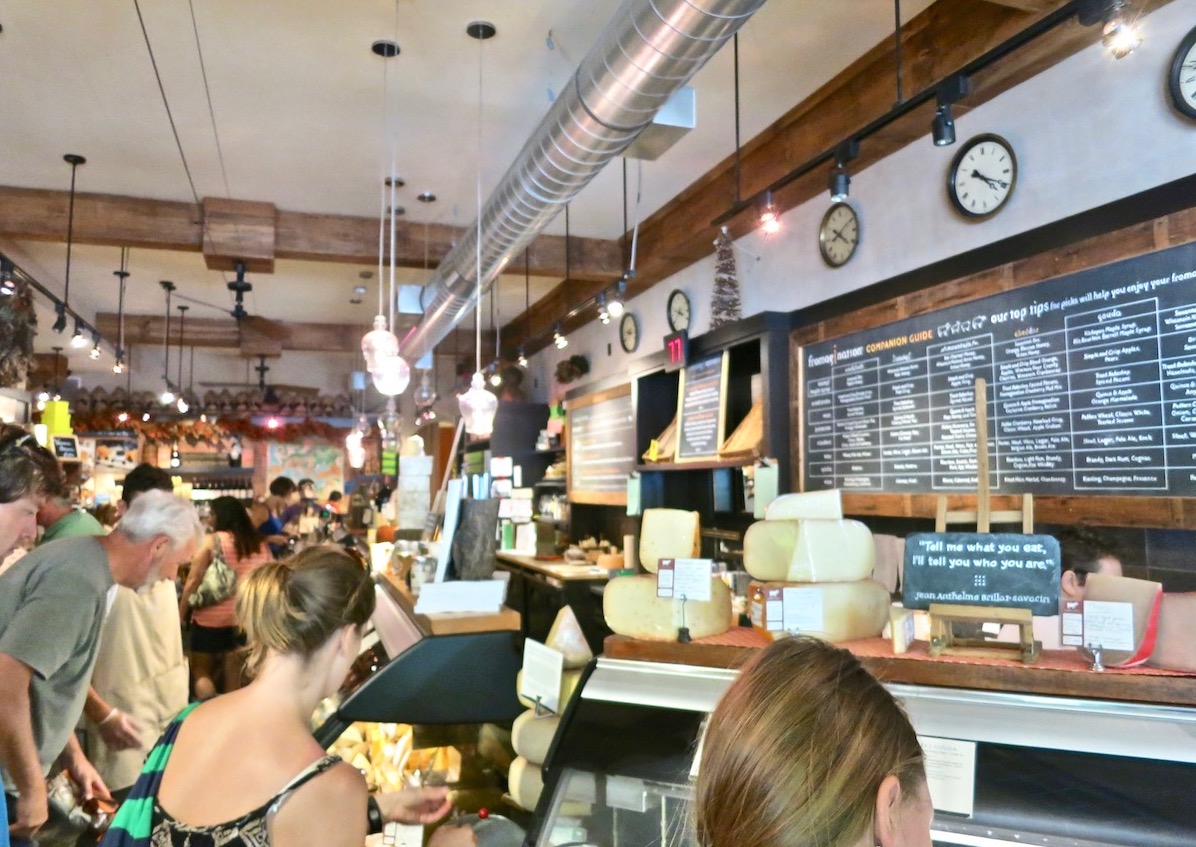 If you're interested in more one-stop shopping destinations, Hilldale Shopping Center, East Towne Mall, Greenway Station, and West Towne Mall will fit the bill. Downtown, State Street is a fun walking area that has lots of boutiques, restaurants, and things to do.
Destination Madison offers shopping itinerary ideas for shopping experiences. Whether you enjoy bargain-hunting,  unique local finds, or just window shopping till you drop Madison shopping has many ways to make you happy.
Places To Eat In Madison
Our previous post showed off a few of our favorite restaurants in Madison.  As with any great food town,  there are many more great places to eat in Madison than you could possibly visit during a single trip. To keep you happily eating and drinking on your many visits to Madison (we know you'll be back again – soon!) here are few more places to eat in Madison that we think you'll want to try.
Asian Cuisine
Asian food is one of our favorite global cuisines and several restaurants in Madison have delicious eats. Mr. Kimchi offers modern Korean with style. New Seoul's traditional family recipes shine in Korean classics like galbi, beef bulgogi, and bokum dishes. You'll even find Korean drinks here like corn, ginger, and ginseng teas. It's a tiny little storefront shop but the food is absolutely delicious. Ramen lovers will get their fill at Morris Ramen, Ramen Station, and others. If you're into dumplings you'll want to try Umami Ramen & Dumpling Bar, Chen's Dumpling House, or our winner for best name, Dumpling Haus. For a real treat, try the authentic Laotian food at family-owned Lao Laan-Xang. There are many other spots with incredible food from other Asian cuisines, you're bound to find whatever flavors you crave.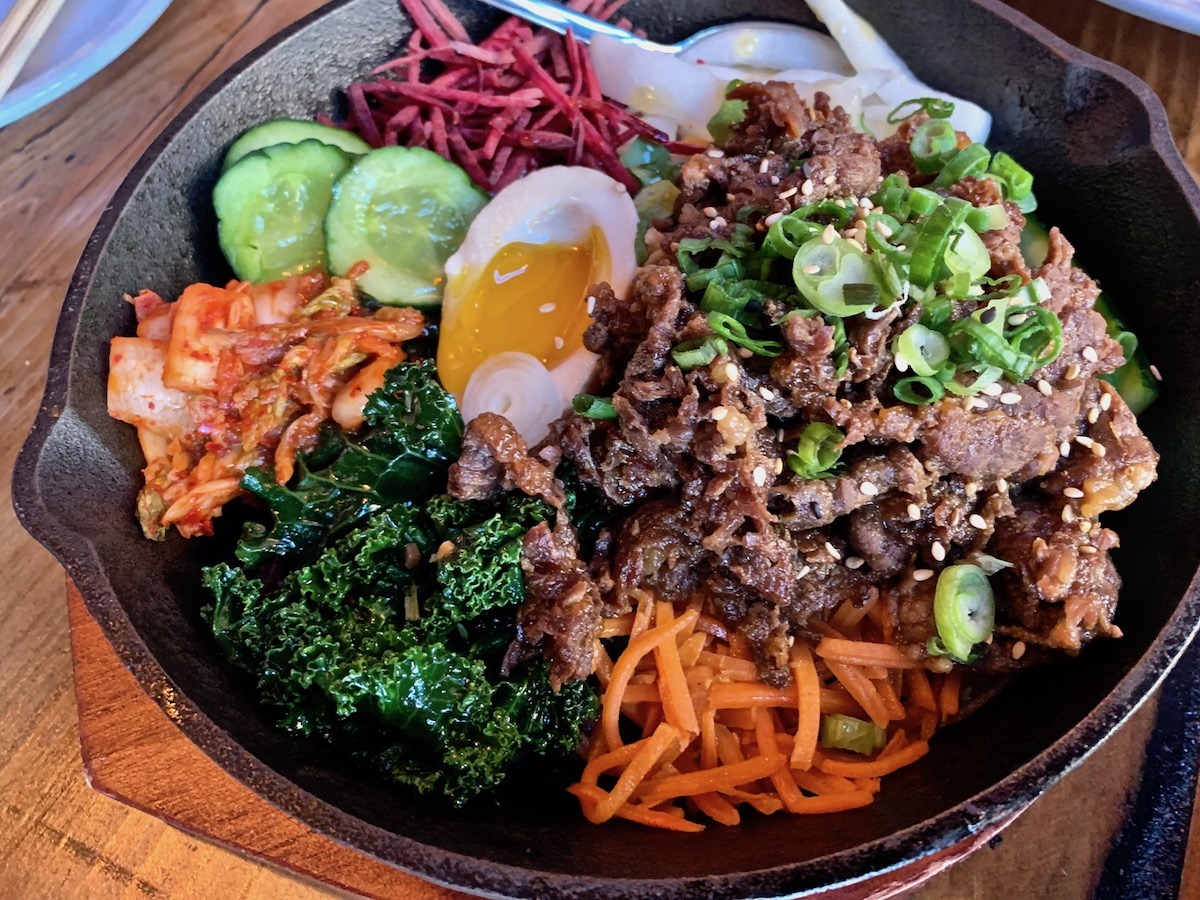 European And Mediterranean
Restaurants in Madison also showcase great European and Mediterranean fare. Essen House is a fun German restaurant that makes every day feel like a party. Where else can you order a giant glass boot filled with beer?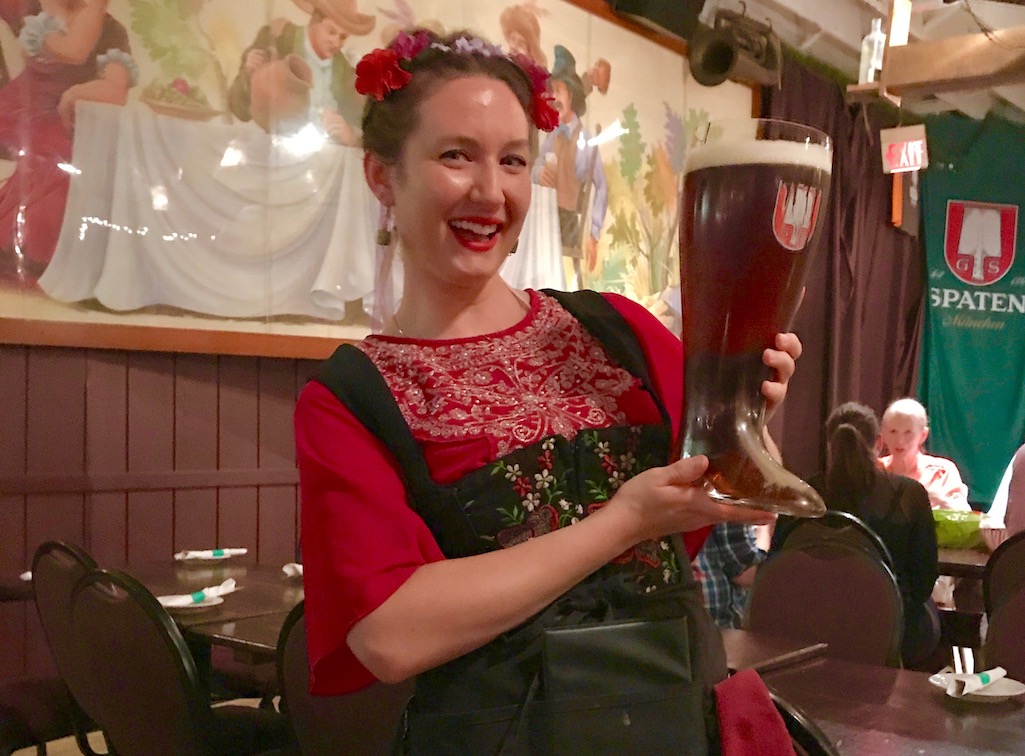 Try La Kitchenette for fun homestyle French. Estrellon gives Spanish a spin and Lombardino's serves fantastic Italian with tasty pasta, satisfying entrees, and brick oven pizza that's as good as it gets. For Mediterranean, there are lots of options too. A Pig In A Fur Coat , Nile Restaurant, Oliva, Otto's, Plaka Taverna, and Parthenon Gyros are just the start. There are lots of Latin American flavors, unique Himalayan restaurants,  and fusion spots too.
American Fare
We could go on forever about the great global cuisines you'll find in Madison. But you can also get delicious American eats. Modern diners like Monty's Blue Plate Diner,  hearty burgers at DLUX, steak, and seafood at Tornado, and of course, fresh farm-to-table at Harvest and Pasture & Plenty make it easy for everyone to get what they want.
Breakfast And Bakeries
Breakfasts are king at Short Stack Eatery, Marigold Kitchen, and Mickies Dairy Bar. Even the laid back Madison locals will get up early to start their day with amazing dishes from these and other favorite spots. And amazing bakeries like Batch Bakehouse and Greenbush are too numerous to mention. And if you love donuts (and, really, who doesn't?) you'll want to make a visit to Hurts Donut Company just to see what wonderful, whimsical, wacky flavors they have that day.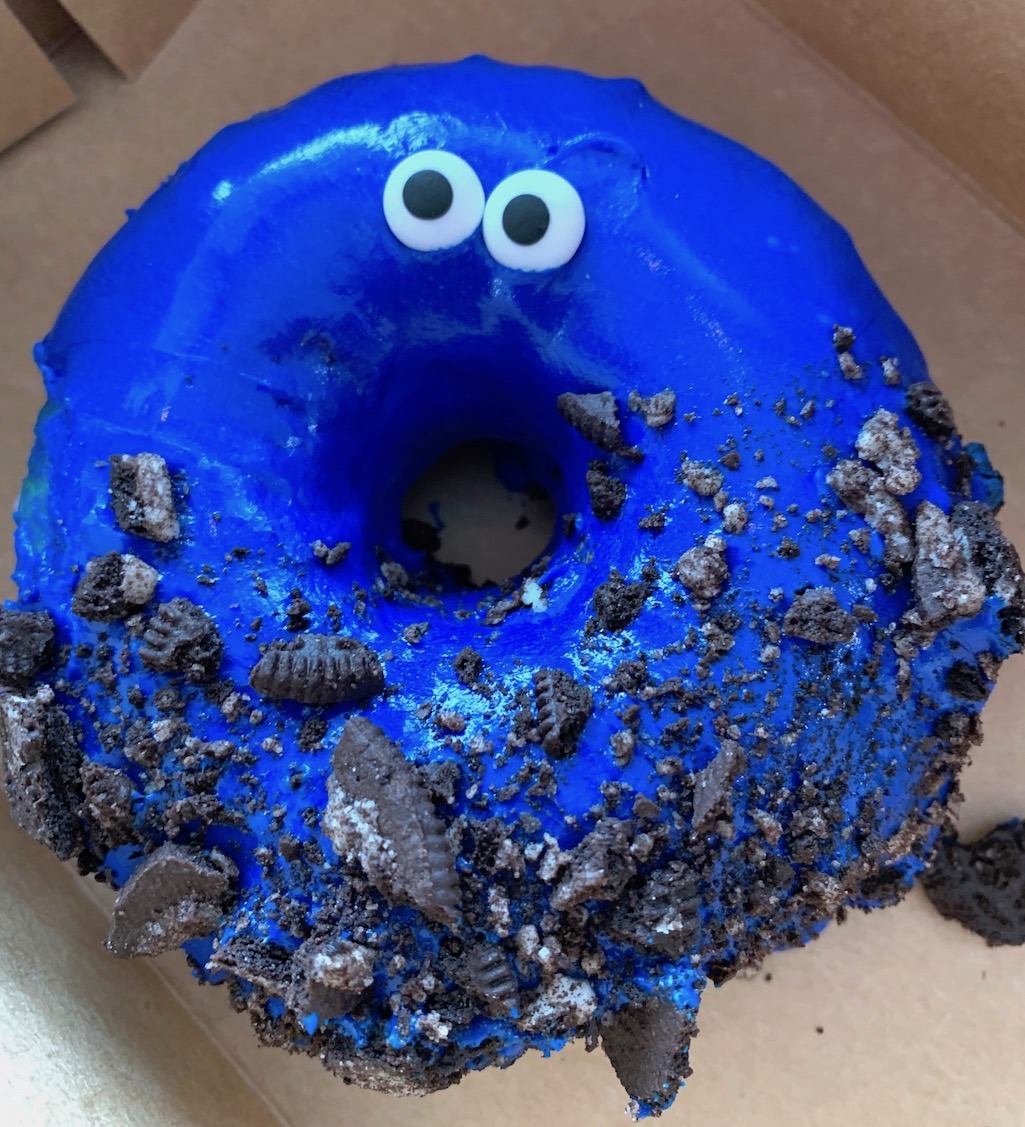 Madison Food Carts
Madison food carts are a fun and unique part of Madison's downtown dining scene. During the warmer months, the city center is filled with dozens of mobile food vendors selling everything edible you can imagine. Arepas, grilled cheese, bbq, burritos, tacos, waffles, loco moco, empanadas, and fabulous fusion foods are all available so you can get a quick tasty meal without skipping a beat in your sightseeing day. They're fun and colorful, and the vendors and your fellow eaters are super friendly. Be sure to ask them about their favorites!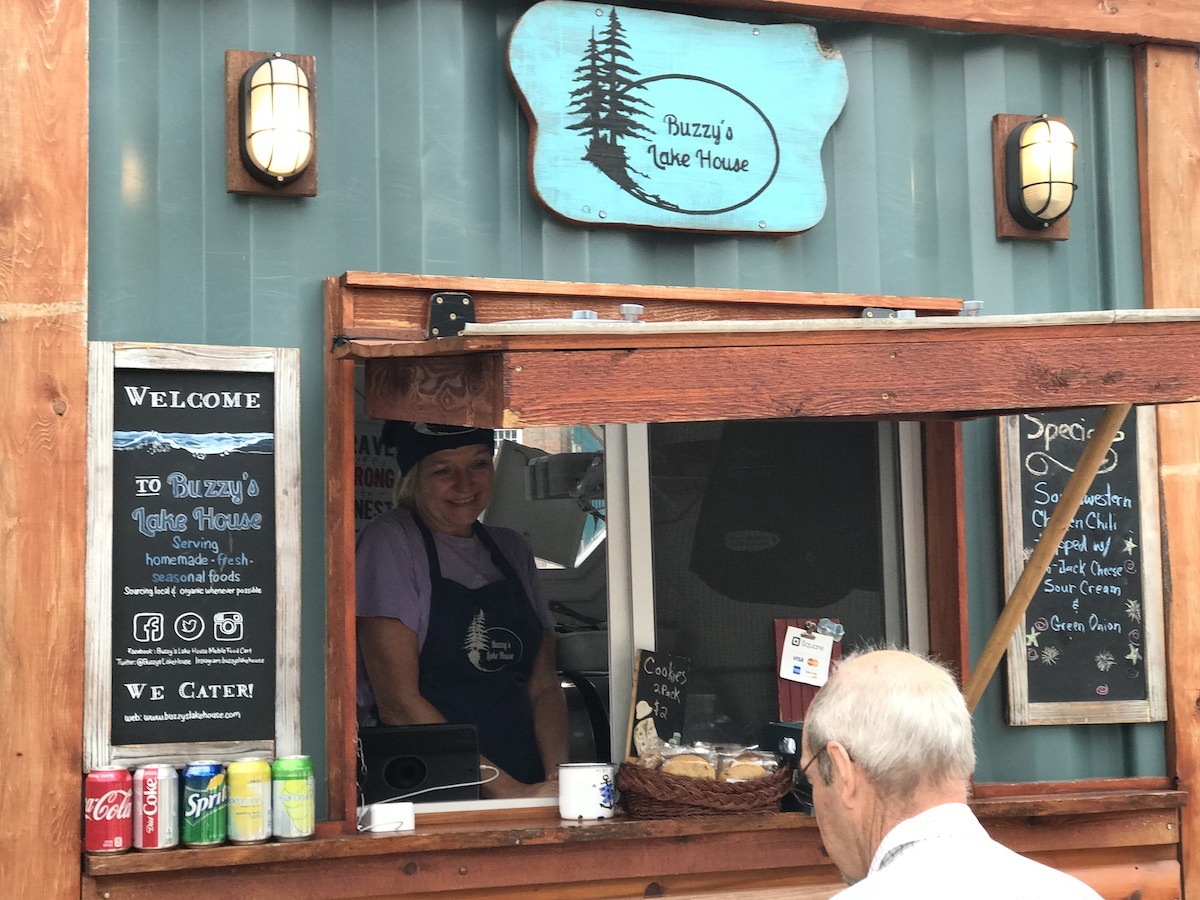 Taste Of Madison
In addition to all of the regular Madison food carts, the city has a huge food festival every summer called Taste of Madison. Here you'll find all kinds of tastes to try from some 80 different restaurants and mobile food vendors. More than 25 beverage stands help keep the 250,000 or so visitors well hydrated too.  There are several stages where live music plays, and the proceeds from the Taste go to fund local charities.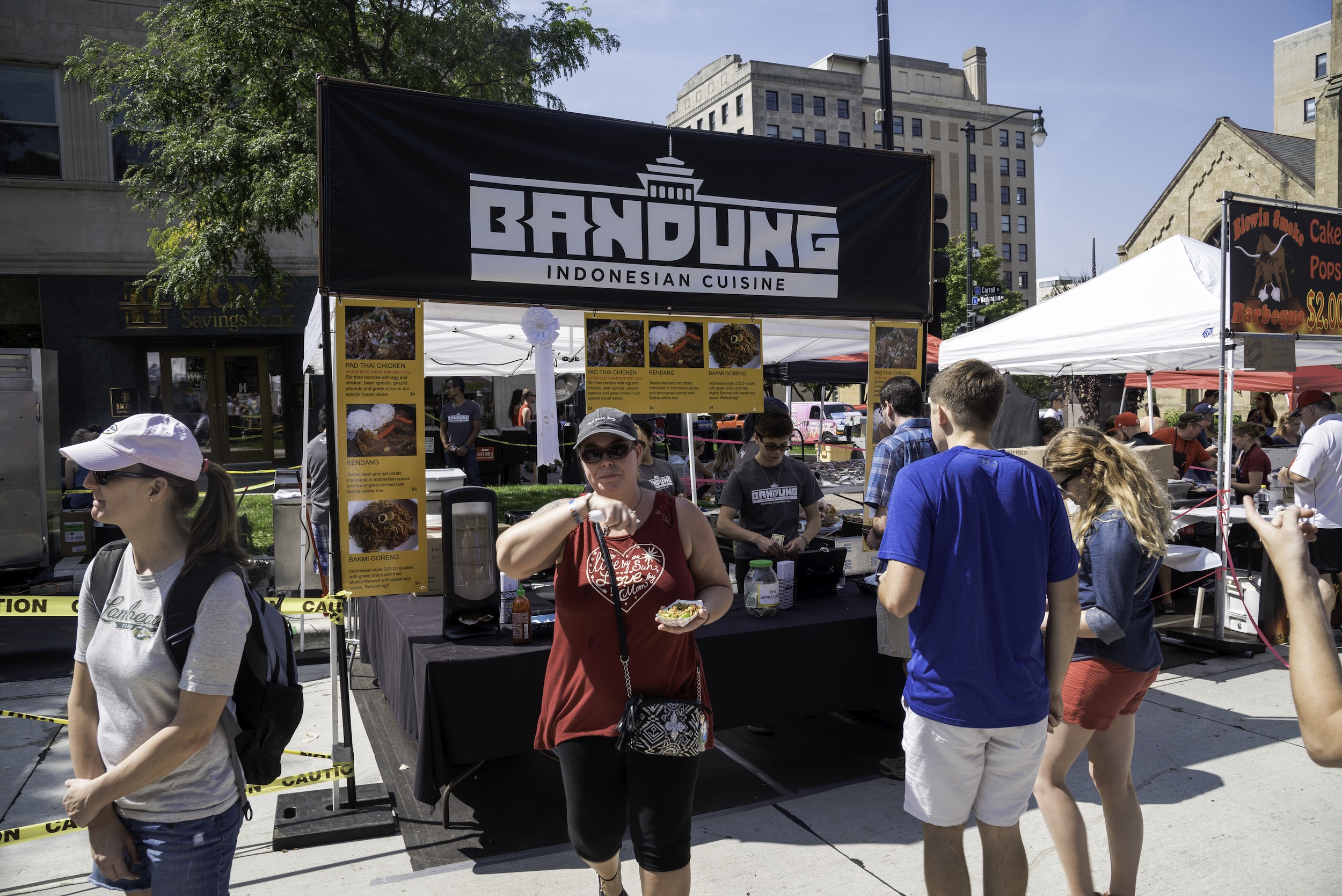 Breweries In Madison
Craft beer is about as popular in Madison WI as deep-fried cheese curds.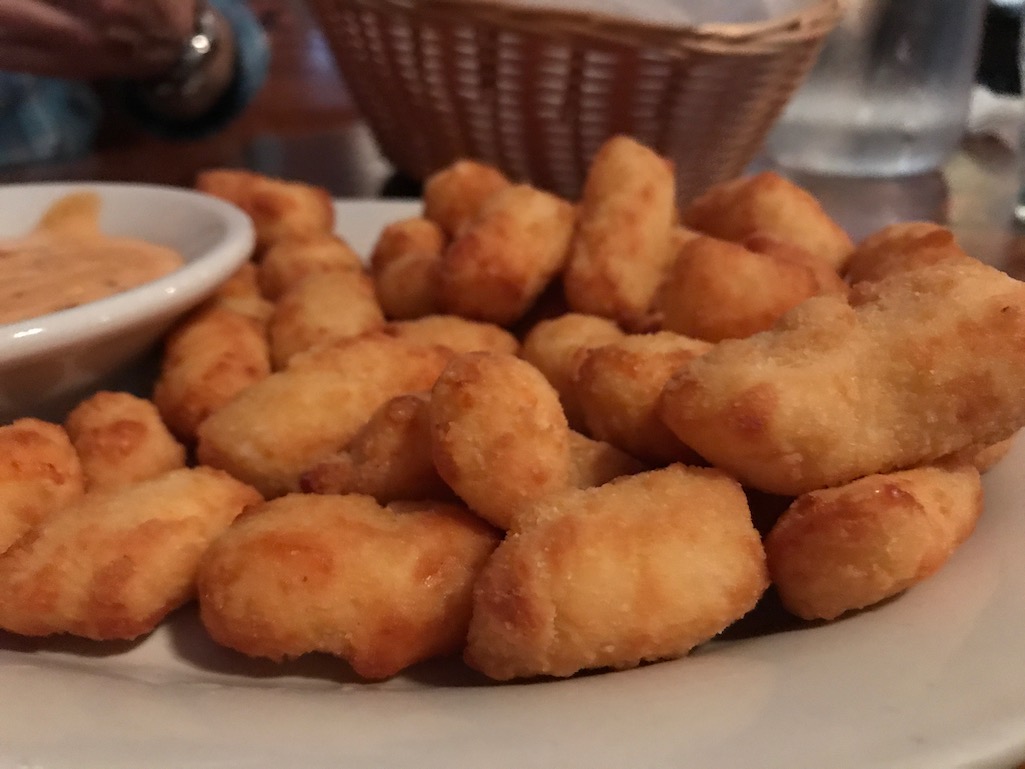 As a matter of fact, these two tastes go great together. Madison has plenty of breweries to visit, each with its own unique personality and style of brewing. We've visited a few of these spots and can say that whatever your preference, there are probably several breweries in Madison that will make you smile.
A few of our favorites include Ale Asylum, a large microbrewery that's right by the Dane County Regional Airport. You can grab a bite and a brew and hang out, or even go on a brewery tour. Vintage Brewing Company also has a great vibe. There are east and west locations making it easy to get to no matter where you stay. Great Dane Pub & Brewing has been a favorite with locals for many years. Karben4, Rockhound Brewing Company, Working Draft Beer Company, and Giant Jones Brewing all have many raving fans. If you're really into craft beer, you can sample hundreds of brews made in and around Madison WI at the annual Madison Craft Beer Week in the spring.
Museums In Madison
Madison is also blessed with some great museums. The Wisconsin Historical Museum and Veterans Museum are favorites of visitors and locals alike. The Chazen Museum of Art and Madison Museum of Contemporary hold world-class collections. Science loves will want to check out the Wisconsin Science Museum, L.R. Ingersol Physics Museum, and UW-Madison Geology Museum. And the Madison Children's Museum rated one of the 10 Best Children's Museums in America by Reader's Digest among its numerous awards offers family fun in a creative, interactive, fun and educational environment.
Madison Loves Sports
Whether you like to watch or love to play, sports are available in Madison year-round. The UW Badgers have raving fans no matter the season. The enthusiastic crowds cheer on their beloved Badgers and the outstanding facilities for team sports keep the fans coming back for more.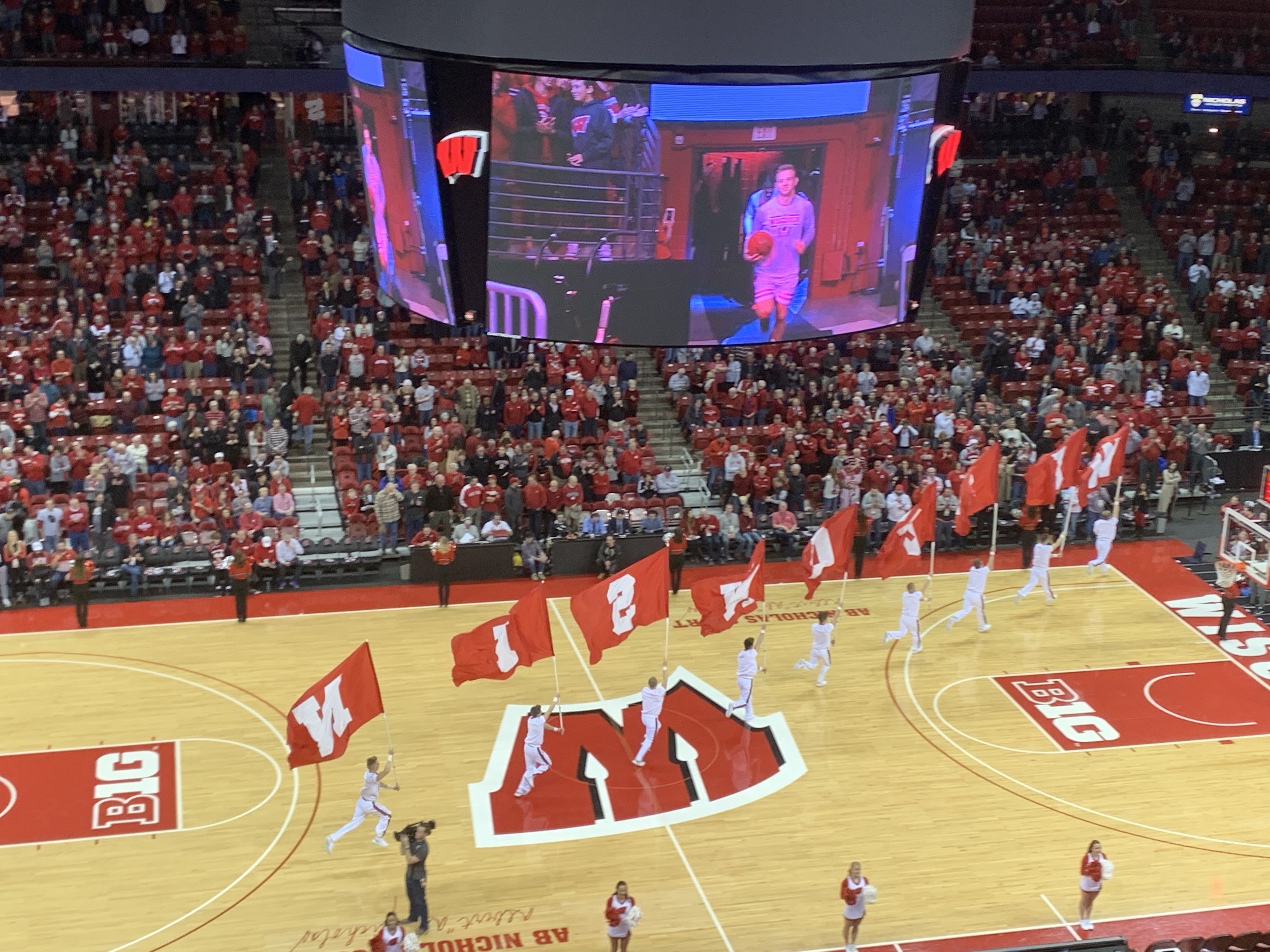 You can play golf when the weather's good. Or go fishing, hiking, kayaking, disc golf, jogging, biking, or anything else you can think of to do outdoors. Madison has hundreds of miles of trails that make getting a little activity outside easy and fun.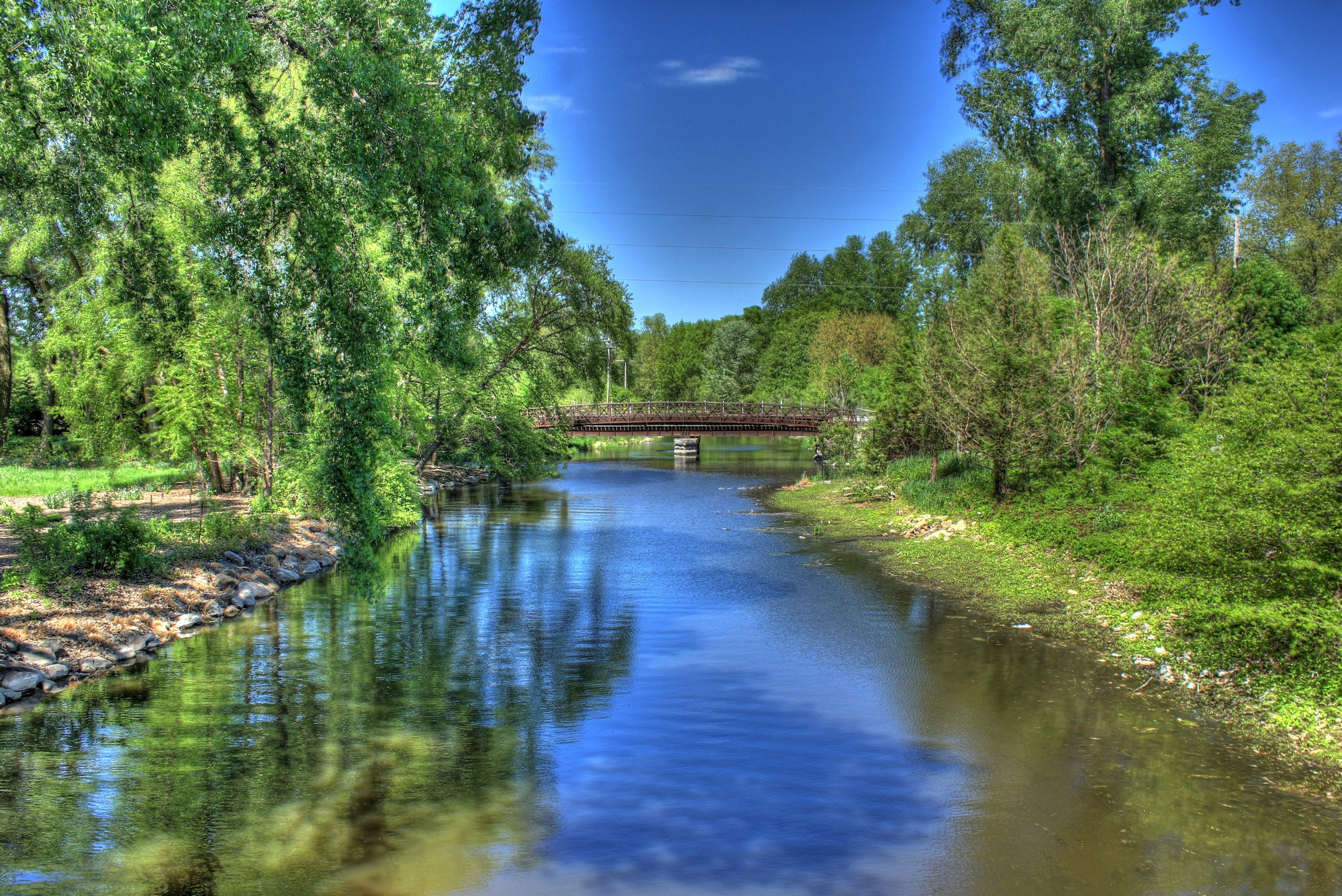 Madison is a birdwatchers and wildlife lover's paradise. There are so many lovely places to relax and unwind in nature. We often go walking in Elver Park on the far west side of the city. It's not surprising when we get to see furry or feathered friends, like these Canada geese just enjoying an afternoon float.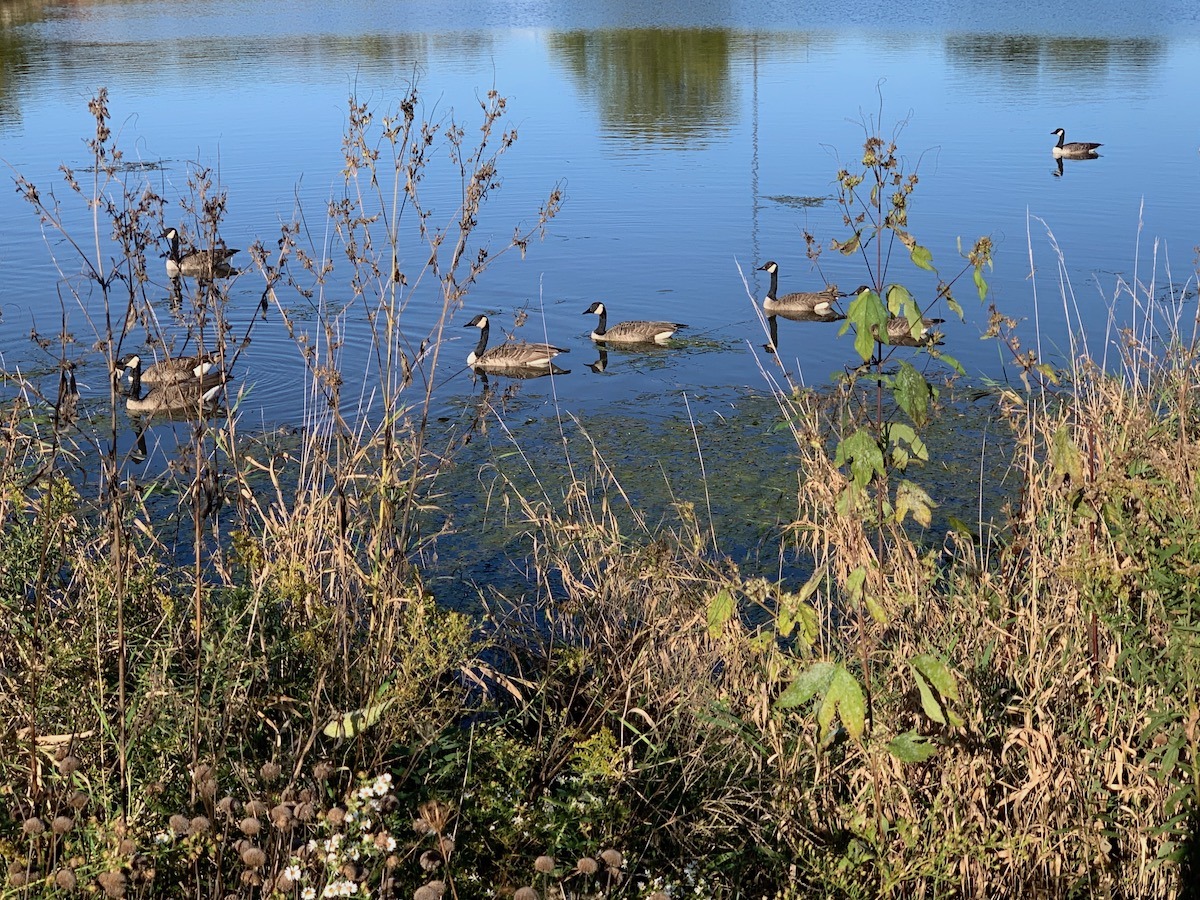 In winter you can go sledding, ice skating, snowshoeing, cross-country skiing, and more. You might even pick up a hockey game at one of the parks.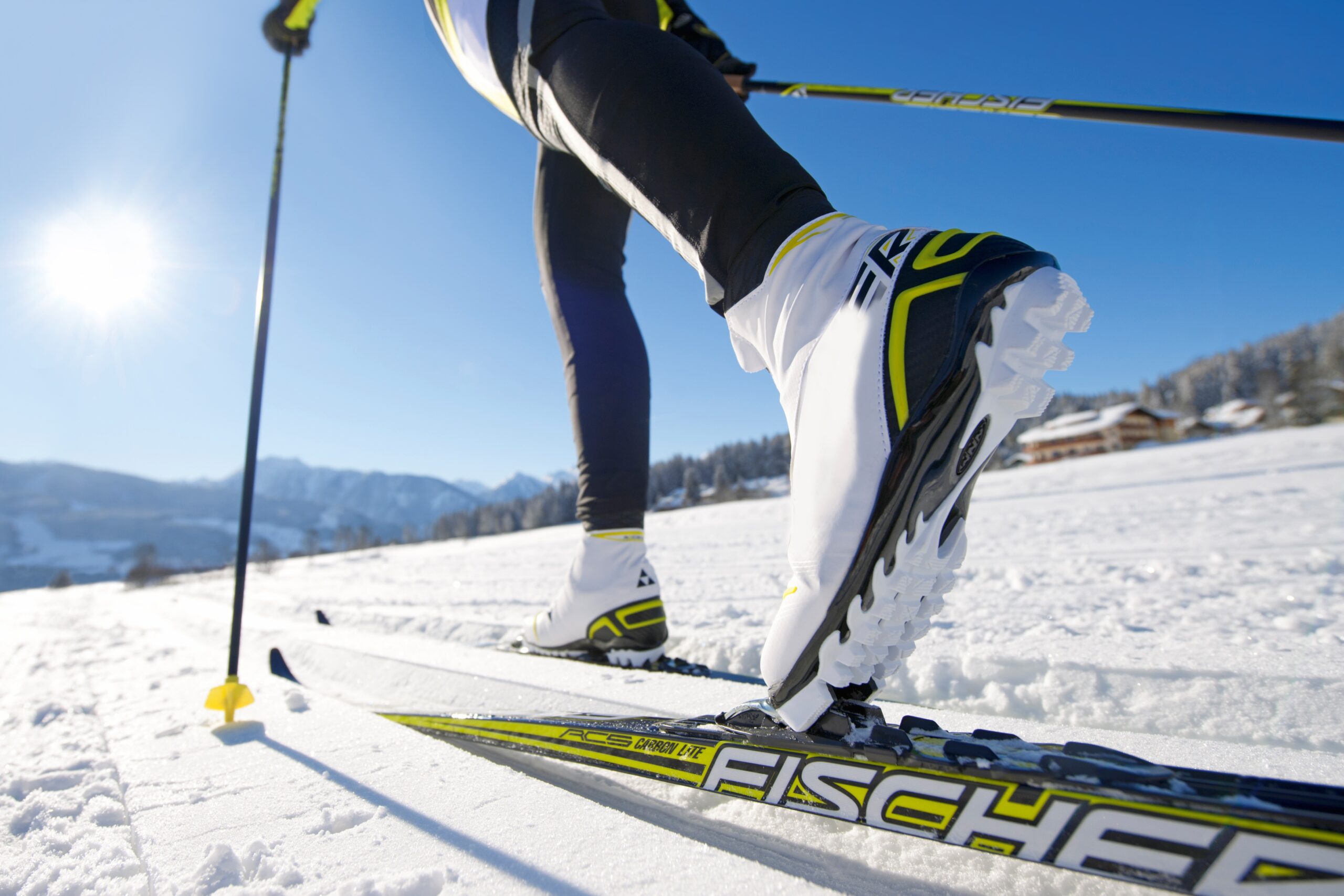 Downtown Madison Hotels
We shared our thoughts about the beautiful Edgewater hotel in our previous post and if you love the water, it's the perfect spot to stay. But one of the great things about visiting a college town is, well, the collegiate atmosphere. The Graduate Madison is literally a block from the University of Wisconsin, Madison campus. It's one of the most fun downtown Madison hotels if you want to be in the middle of the action.
The Graduate
Inside, you'll find every imaginable comfort that will make you wish you were in school again. Whether you're visiting for pleasure, to check out the school, or visit with your own favorite student the location steps away from campus just can't be beaten. The lobby has a fun retro feel created by the art, hanging canoe, and cheery colors, and even plaids. Did you know that the official bird of Madison WI is the plastic pink flamingo? Well, you do now. Look for it in artwork around the hotel.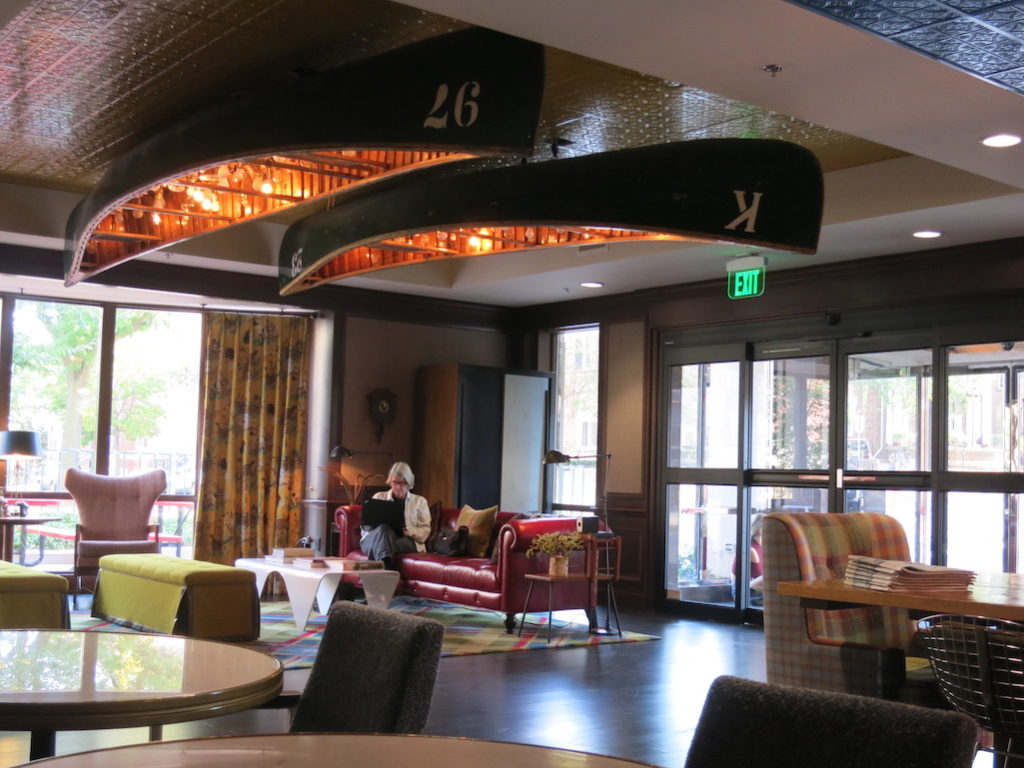 Room For Fun
The rooms are fun and continue to highlight the "Graduate" theme in every detail. Comfy and with lots of amenities, the rooms come in various sizes from a single queen for one or two all the way up to the vintage-inspired Camp Wandawega Suite that is great for parents and kids. Just hanging out in the hotel and the room makes you feel like you're off on a vacation retreat.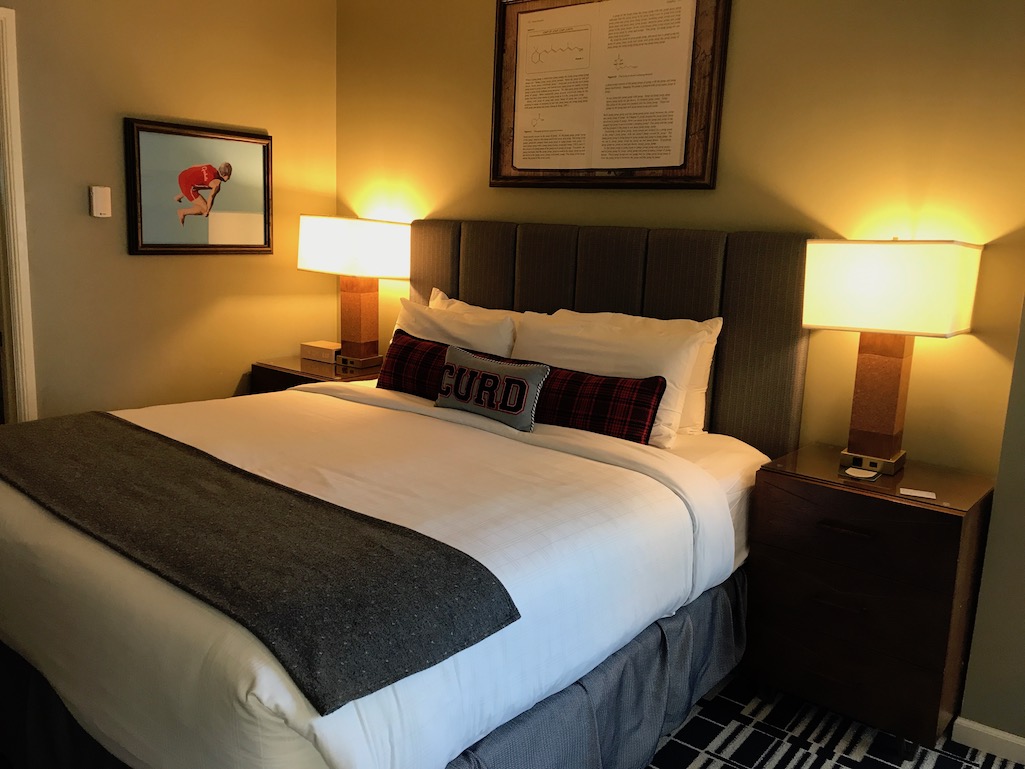 Among our favorite amenities were the complimentary Wi-Fi and the Malin + Goetz products in the bathroom. We had a view right out to the action on the street, but the room was quiet as can be, earning the Graduate super-high marks for one of the most important features, in our opinion. It's hard to believe you can be in a hotel downtown with all the activity and not be bothered by noise. But the Graduate has done it giving us a fun time watching the goings-on without being disturbed by undesired noise.
Each room comes with its own special touches. If you look on the wall in our room here you'll see the photo of Rodney Dangerfield performing the Triple Lindy in his film Back To School. It's these kinds of touches that keep you looking at all the details the Graduate sets out for you to discover making every chance discovery a little bit more fun.
Camp Tripalindee
Even if you're not staying at the hotel, upstairs at the Graduate, Camp Trippalindee (get the reference?) offers a fun retro sleepaway camp atmosphere with tasty campy food like burgers and brats, take a hike nachos, fried pickles, and cheese curds. Quaff some craft beers, mellow wines, specialty camper drinks, or our favorite cocktail the Wisconsin Old Fashioned. Go ahead and relax with a lovely view of downtown and Lake Mendota. For a little fun when the weather's cool, snuggle up with one of their comfy blankies, and roast marshmallows or make s'mores over the fire pits, if you're in the mood. There's also an indoor seating area that's fun, campy, and suitably decorated with more crazy camp memorabilia. You're bound to have a good taste and a good time.
Love The Lobby
The lobby of the Graduate seamlessly flows into a totally chill cafe that doubles as a study area for locals wanting to have some incredibly tasty Nitro cold brew coffee, yummy snacks, and hang out somewhere fun. In addition to some cozy tables around the side, there's a long community table in the middle with lamps that, we kid you not, have model RVs as their bases. The lights above are set in canoe oars.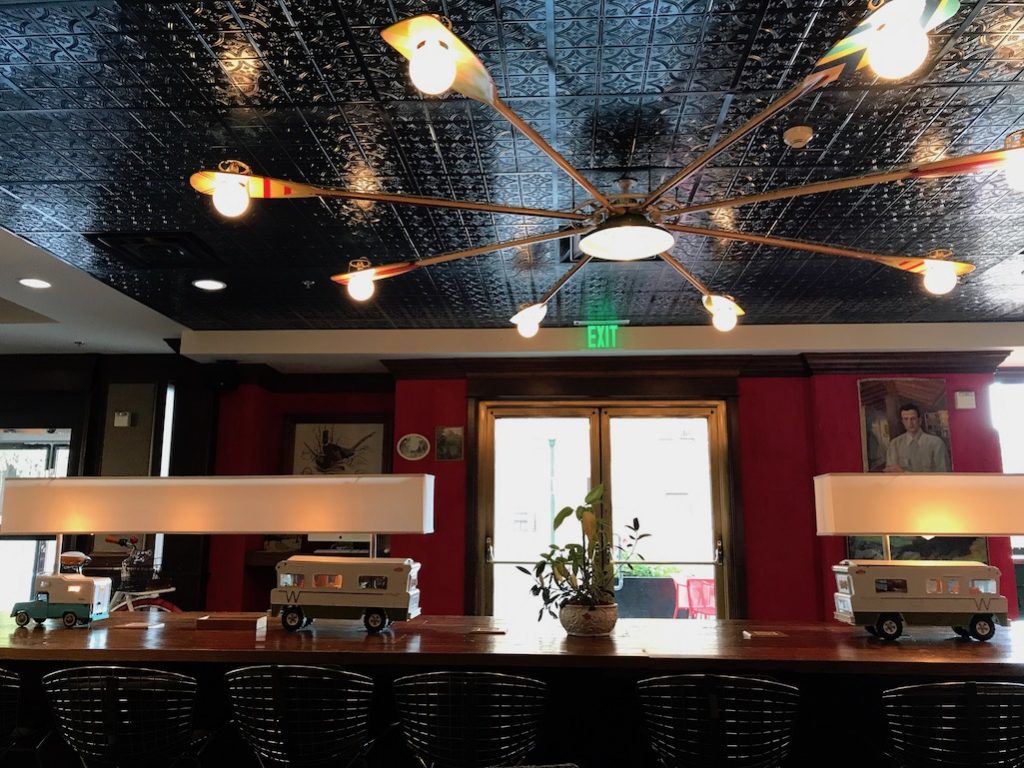 So really, how can you not smile in a place like this? Impossible. Fun. Totally memorable. And, close to everything. The Graduate in Madison WI is a great choice among downtown Madison hotels.
Madison WI At Night
If you're a night owl, there's a lot to do in Madison well into the wee hours. There are music and comedy clubs, bars, and special events. Madison has some famous Wisconsin supper clubs like Smoky's Club and  Avenue Club And Bubble Up Bar.  And don't forget that "Fish Fry" Fridays are still in full force in Madison WI!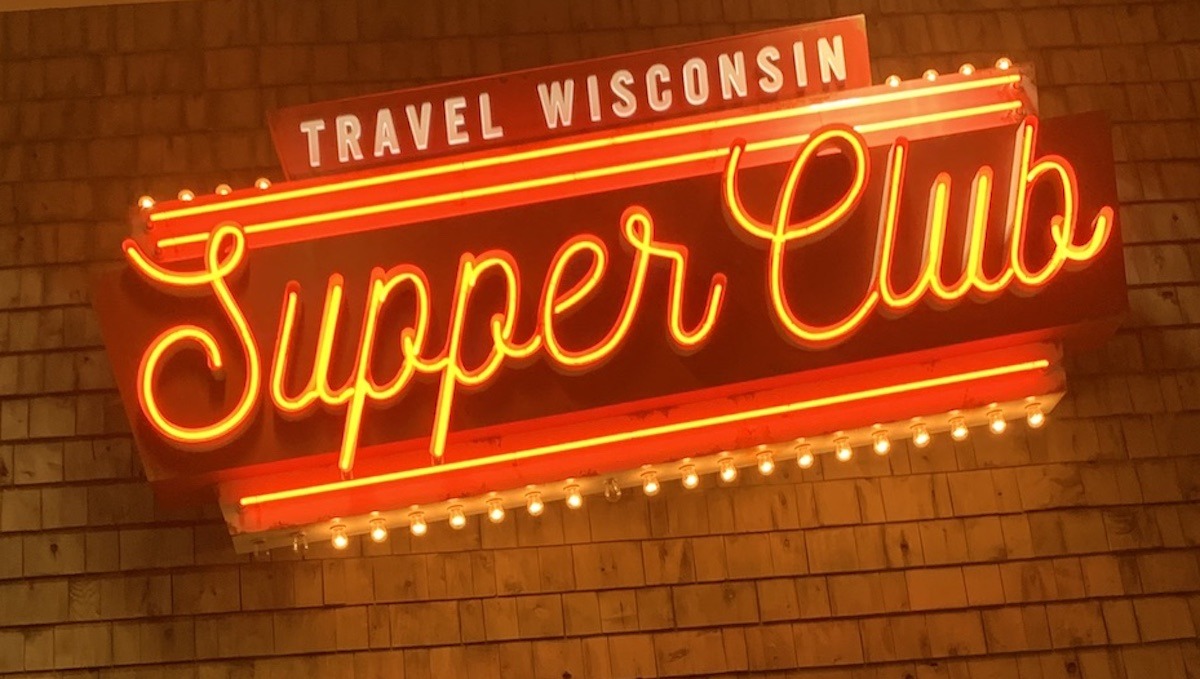 Watching a sunset in Madison is its own kind of special treat any season.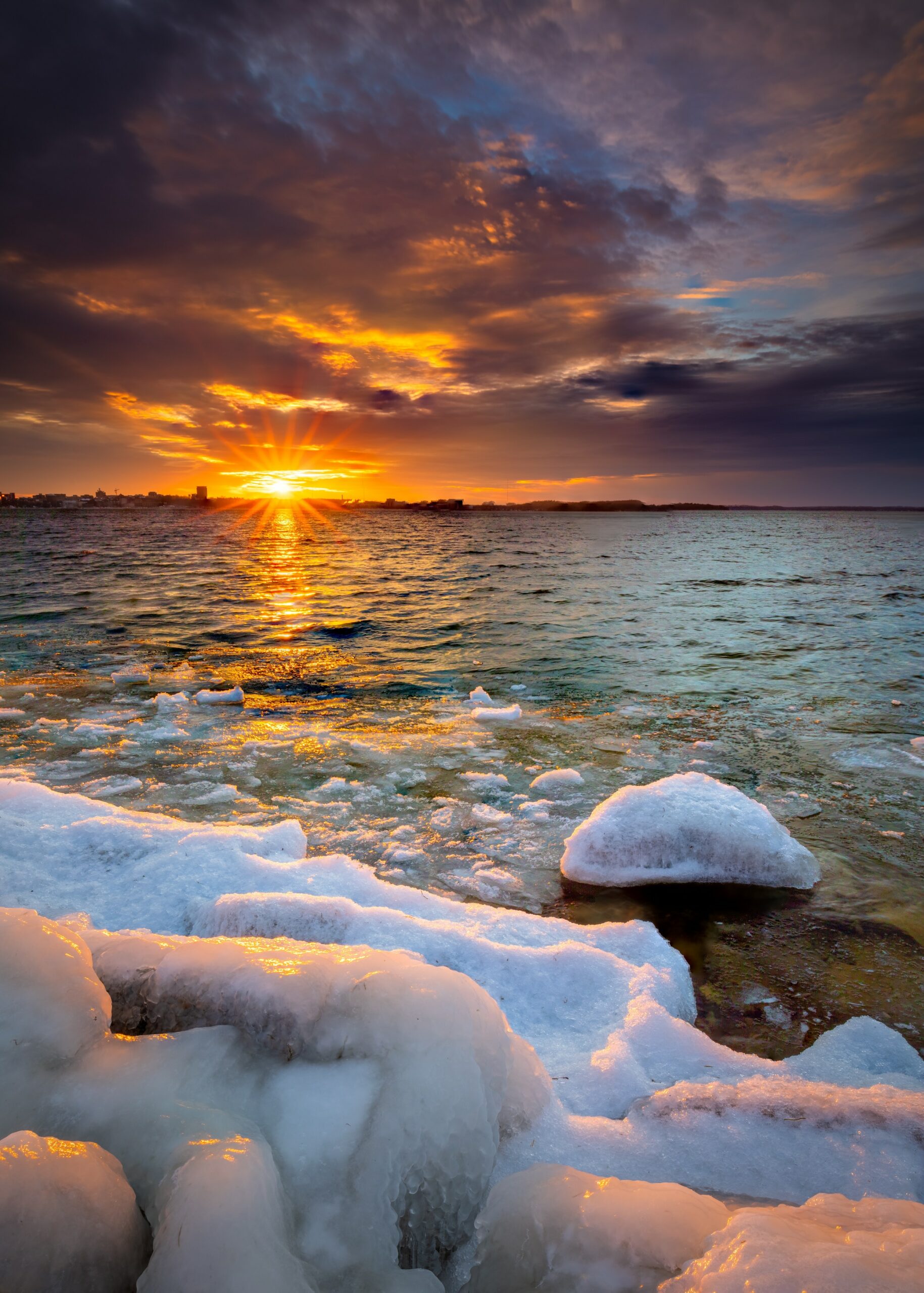 And a nighttime view of the capitol gives some perspective on just how regal the state capitol is.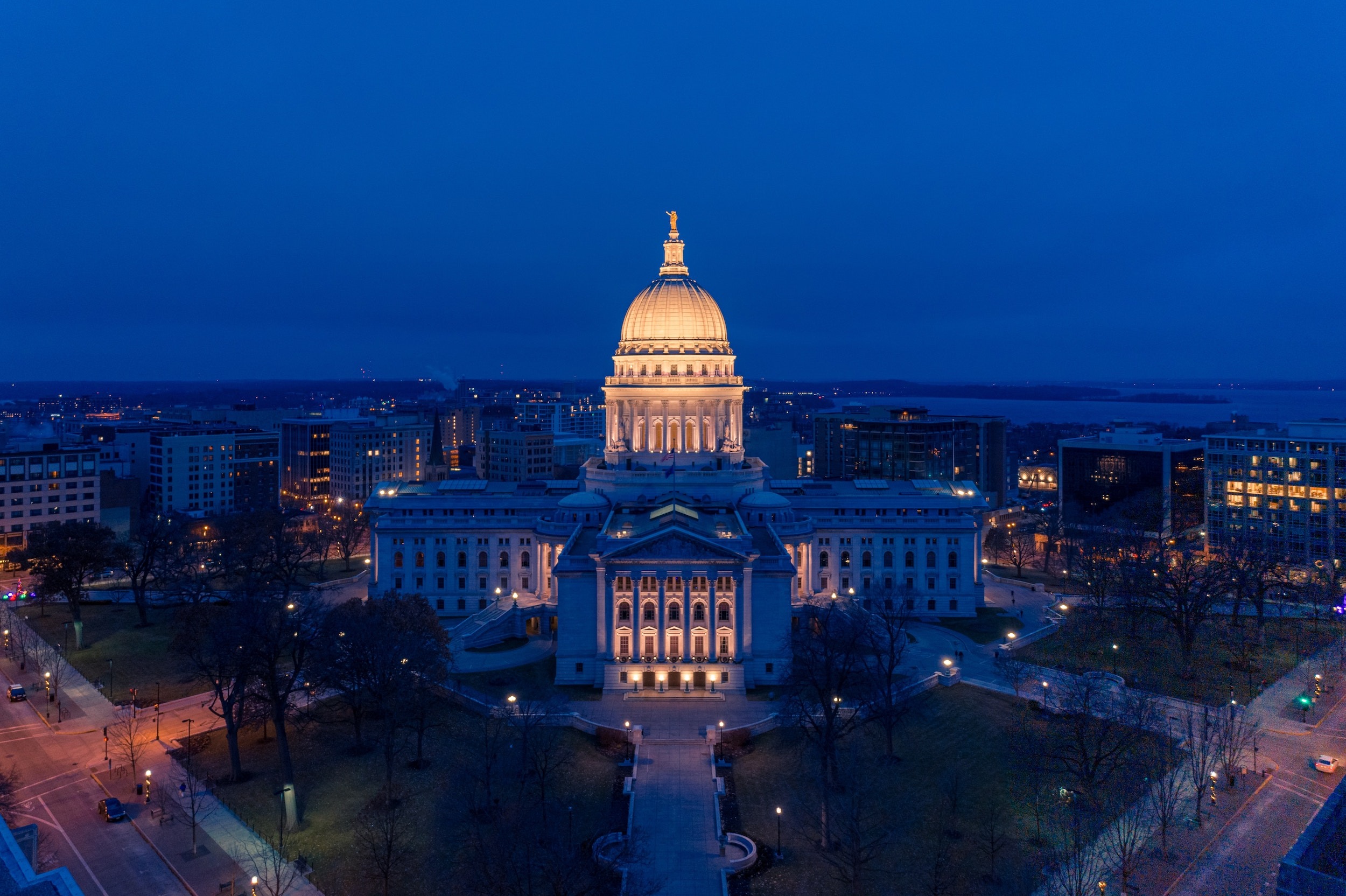 We hope we've shown you that there's a lot to see and do in Madison Wisconsin. So next time you have the inclination for a great time, head on over and have some mad fun.
If you'd like more information about visiting Madison check out VisitMadison.com for lots of planning and travel tips.
Pin For Planning Your Food Travel Trip To Madison