While visiting gorgeous areas of Northern England, we met several people engaged in passionate flavorful pursuits in food and beverage. We thought you'd love to meet them. Here are a few of the tastemakers and their stories about what they're doing in this fun and tasty place in the world.
Ambleforth Abbey
One of the unique places we visited in York, England combines education, religion, and fruity libations. An odd combination you might think? Think again! Ampleforth Abbey just outside the North York Moors National Park was established back in 1802. Monasteries have a long history of brewing some tasty drinks, and Ampleforth is no exception. Its wonderful orchard contains more than 40 different varieties of apple trees. This makes for a great resource in creating the famous award-winning Ampleforth Abbey Cider.
The monks of Ampleforth Abbey, have been growing apples for over 200 years. The monastery orchard has expanded to more than 2,000 apple trees covering over five acres. The orchard is now one of the largest commercial orchards in Northern England. In 2012, the Abbey joined forces with Little Valley  Brewery to produce Ampleforth Abbey Beer based on a traditional Trappist style beer. The result was a winner. In fact, that year the Delicious Yorkshire Awards dubbed it Yorkshire's Best Drink. Not a bad start.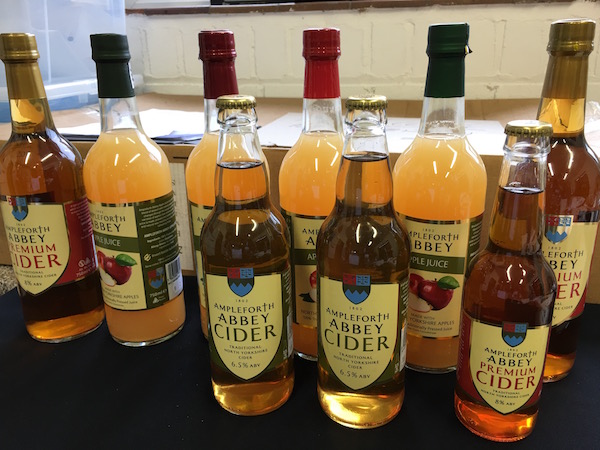 Flavorful Ciders In Northern England
Local layman Tim Saxby has taken the Abbey by storm. He brings his passion for the orchard, cider-making, learning, and experimentation to this uniquely productive environment. In addition to award-winning beers and ciders, the Ampleforth Abbey also produces delicious spirits and liquors. Pear, peach and cherry brandy, a dry cider brandy (somewhere between Calvados and grappa), and apple liquor round out the current offerings. We suspect that there are already other ideas brewing at Ampleforth.
To be sure this beautiful historic attraction is there in the future, all profits from the sale of Ampleforth Monastic Produce go towards the upkeep and restoration of the Abbey and Monastery. We loved meeting Tim, seeing the orchards, and exploring the Abbey. We enjoyed spending time contemplating its historic connections and its new connections to contemporary life. The creative and talented folks making Ampleforth Abbey drinks bring history and modern tastes deliciously together in their flavorful pursuits.
Yorkshire Rapeseed Oil
We love to cook with oil, but of course, that has its drawbacks. There are many kinds of oil, each with its own distinctive flavor and properties. Olive oil is such a healthful oil, but alas, it has a fairly low burn point. Same for coconut oil. Other oils have higher burn points, but they don't really provide any flavor. When we were in Northern England, we discovered a whole new oil that got us thinking about all the wonderful ways we could use it – rapeseed oil.
If you live in the U.S. you may not be familiar with rapeseed oil – we weren't. But upon learning more about it from the dedicated family and friends at Yorkshire Rapeseed Oil, we've become raving fans. They produce award-winning oils, dressings and mayonnaise using the cold pressed process you would associate with the finest olive oils. And, rapeseed oil has half the saturated fat of olive oil, a high burn point, and a mild nutty flavor. Rapeseed oil is a new kitchen hero worthy of these flavorful pursuits.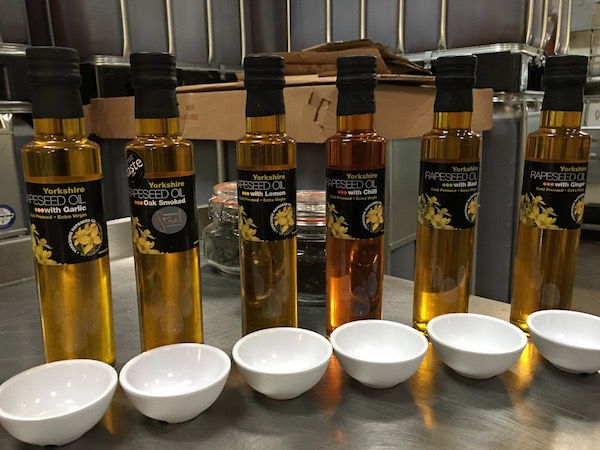 Founders Adam and Jennie Palmer started Yorkshire Rapeseed Oil by going to a local farmer's market. Their product was a hit and they grew the business from there. They're passionate about the healthy uses of rapeseed oil. They care about sustainability and local British farming. As a result, they've become a fixture in the beautiful vicinity of the Yorkshire Wolds. They have a farm with also some 600 sheep and arable land to work. They also spend time educating children in sound farming and agricultural practices.
Rapeseed Oil in Northern England
We tasted several of the products, from extra virgin cold pressed rapeseed oil to oils with flavors ranging from mixed herbs to chili and spice. They also have some "deli" oils with unique flavors like lemon, basil or garlic. These are packaged to make great gifts. Or just enjoy using them in your own creative recipes. For those who want the oil used in a healthy condiment, they offer dressings made from their own home-crafted recipes. We loved the honey and mustard and fennel seed dressings. There's even Yorkshire mayonnaise, plain with garlic, mustard or old smoked flavors, perfect for giving your sandwiches and salads a healthy little zing.
The process of making such carefully crafted oils takes time and patience. We walked through the process and felt the passion of these folks. That passion requires devotion, dedication and just plain hard work. We were thrilled to learn about a type of oil that offers a lot of the health advantages we're looking for with a few surprising added benefits. If you check out their website you can learn more about Yorkshire Rapeseed Oil, their products and get some great ideas and recipes as well.
Staal Smokehouse
Once in a while, you meet people who just have to follow their passion no matter what. Justin and his wife Georgina opened Staal Smokehouse in Northern England because of such a passion. We visited Justin and got a sense of how they work magic with fish and meats in their exclusive, award-winning family business.
Sourcing the best quality products to work within their smokehouse is the first important part of the process. Staal sources almost all of their products from local farms. They dry cure their fish with sea salt and dark molasses sugar. They soak their poultry in a blended brine.  Everything gets time to mature so that the flavors disperse evenly throughout the product. This takes time, but these flavorful pursuits are worth the effort.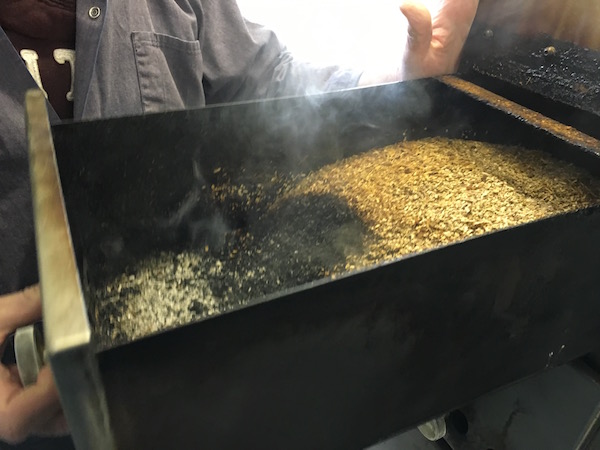 Smoking Salmon in Northern England
Once they ready the food for smoking, they place it in a locally built kiln where a specific blend of apple wood and oak sawdust smolders until it generates a fine smoke that can permeate the product. They cold smoke the fish products but they add the further step of hot smoking to the poultry to add that depth of flavor. That extra time and effort make it a top of the line culinary delight. They then refrigerate the products to mature even more until they achieve the perfect blend of smoke and flavor.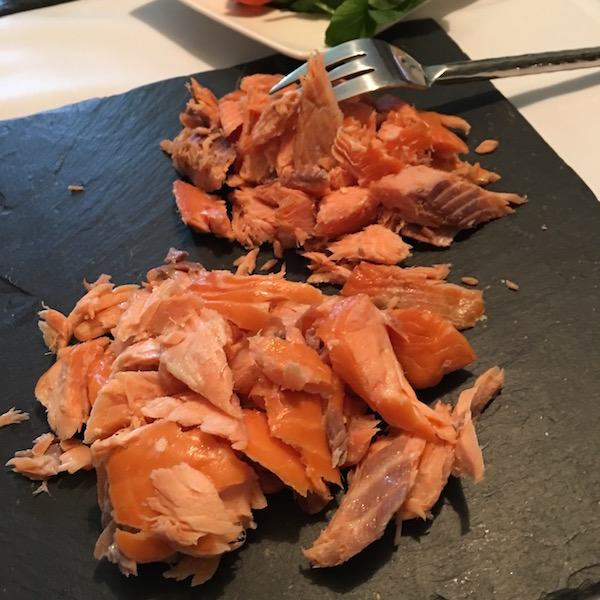 Justin gave us a few tastes of duck, trout and salmon – he smoked them to perfection and they were absolutely delicious. If there's a way to taste the love and care an artisan puts into the product, we tasted it there.  They blend the subtle flavors of the woods, smokiness and high quality of the fish and poultry perfectly. While they might be somewhat secluded by their work in the smokehouse, the folks at Staal Smokehouse have decided that their flavorful pursuits are worth the time and effort.
To learn more about Staal Smokehouse and the individually crafted tasty products they produce, take a look at their great website. It's full of information about Justin and Georgina and the smoking process. There are some great recipe ideas too. You'll see more about how they've managed to live "The Dream" that encompasses their flavorful pursuits, a passion for great food and their experience in farming and fishing.
Ryedale Vineyards
How many people do you know who say they'd love to quit their jobs or retire and run a vineyard? Maybe you've even said it yourself. Well, we met Stuart and Elizabeth Smith, former educators who did just that. Not satisfied with the idea of having a little hobby vineyard, they've developed Ryedale Vineyards the largest vineyards in Northern England are currently the most northerly commercial vineyards in the UK. Make no small plans, as they say.
Surprised to discover that there's wine coming from way up there? We were too. But we got a chance to enjoy a picnic with Stuart and Elizabeth, accompanied by a few of their tasty wines. Not only are their wines tasty, but they've won awards for their whites, reds, rosé and sparkling wines. They're even creating ciders too. Certainly, Stuart's flavorful pursuits in creating a world-class vineyard have culminated in his lifelong dream come true.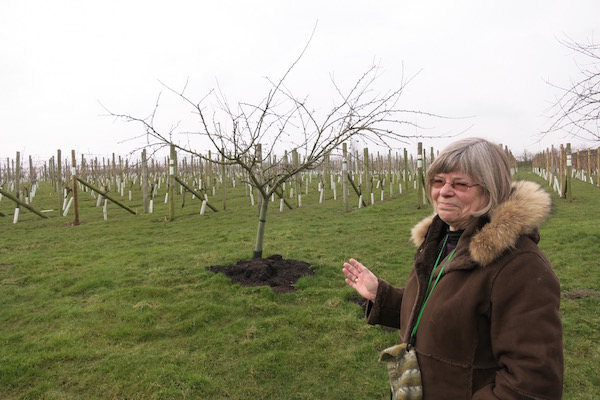 So, does this inspire you to jump out of your workaday world and into the romantic life of growing grapes and making wine? Whether you are or not, you need to know that it isn't as easy as it might look. Stuart's had a passion for vineyards and wine for years, supplying top quality grafted vines for over 20 years before making the leap to living the dream.
Wine in Northern England
Stuart gave us some insights into the process of making the award-winning wines. Elizabeth gave us a tour of the vines. It's crazy to think that they're growing so many grapes in Yorkshire, but that's what makes Ryedale Vineyards so special. Elizabeth confessed that when they started, Stuart was the one with a passion for the business. But she learned quickly and we have to say that her knowledge of the vines and their fruit is second to none.
If you're bitten by the vineyard bug, take a look at what these folks have done with their knowledge, experience, and passion. Even in a place, you would never expect it, Northern England, Ryedale Vineyards is proof that you can live the dream. They create award-winning wines in Northern England by working hard on that dream!
Surprising Northern England
Our time in Northern England was both delicious and eye-opening. We found that people with varied passions in the culinary world found ways to make them come true. Starting with a clear vision, gaining valuable and appropriate knowledge and plenty of elbow grease have led to the spectacular results we've described from these innovators. We hope you find their passionate flavorful pursuits as inspiring as we did.
Special thanks to Visit Britain! We were guests of Visit Britain on our visit to Northern England. We were not financially compensated. All opinions are our own and reflect our experiences at the time of our visit.
THE QUICK BITE:  We visit a venerable old abbey producing wine, beer, and spirits, as well as the creative trailblazers behind a unique culinary oil, tasty smoked fish and poultry, and award-winning vineyards, all in the extraordinary environs of Northern England.