Singapore shopping is known worldwide for its incredible quantity and variety. From indoor malls to outdoor malls to food hawkers, kiosks, and more, there's something to please shoppers of every variety. For Food Travelists, there's one super fun all-in-one shopping area worth getting to know.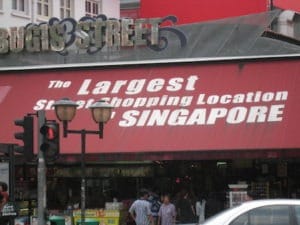 Bugis Street (across from Bugis Junction) calls itself the longest shopping street in Singapore. What's great about this shopping mecca is that it has its very own "Food Street" filled with all kinds of interesting prepared food to try. You can also wander throughout the mall and find many other food items for sale.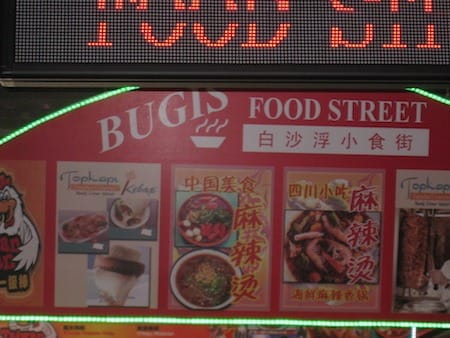 If you're a fan of calamari (squid), you'll love seeing piles of stuff ready to eat. There are lots of other types of seafood available too, like octopus, fish, shrimp, and more.
For those who like the exotic, beautiful dragon fruit brighten up some of the stalls. The pinkish-red skins with the pointy protrusions are easily identified.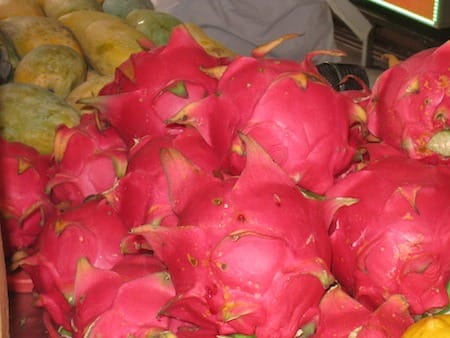 Another fun food product that you can find in abundance is dried mushrooms of just about every type. It's great fun to look at huge bags of tasty fungi piled up next to each other. Other dried items such as flowers or chestnuts or lotus roots can also be seen and purchased this way.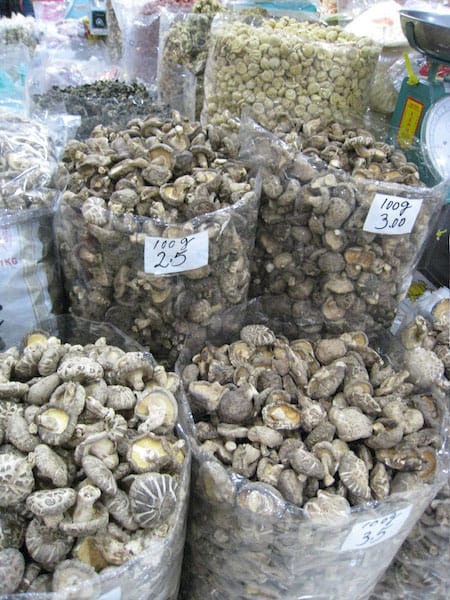 And, if you're a fan of stuff on a stick, Bugis Street has a wide variety of options from hot dogs to fried fish and vegetables, chicken nuggets, deep fried meats, tofu and more. People can be seen walking from stall to stall munching on something that's on a stick.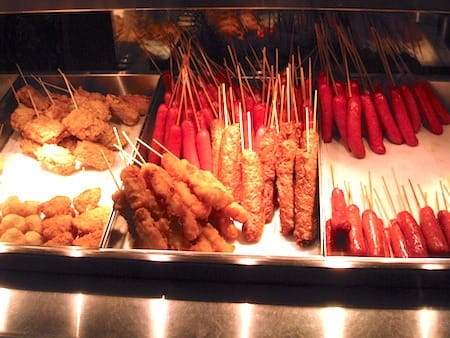 Here's an interesting bit of trivia. In the 1950s through 1980s Bugis Street became a famous tourist mecca where transvestites would gather. Dressed flamboyantly they'd tease and pose for pictures with American servicemen and others. Bugis Street was renovated in the mid-1980s and now houses its wide variety of shops and food hawkers.
There's still a bit of unpredictable local color happening in and around Bugis Street though. So don't be surprised if a little unusual street entertainment should be going on when you're walking by – like this snake charmer and his live cobra!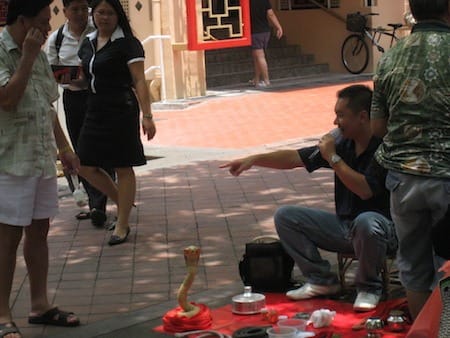 THE QUICK BITE: Singapore shopping is world famous. Food Travelists will enjoy the variety and unique offerings of Bugis Street, the largest shopping street in Singapore.