7 Tips On How To Snowshoe Like A Food Travelist
We have discovered a lot of fun activities to enjoy over the years. But as with many things in life, the longer we're around the more we realize we don't know. Luckily, our sense of adventure keeps us searching for new fun things to do. And one of the most fun things we've discovered is snowshoeing. Yes, that's right. That activity where you strap things to the bottom of your boots and walk around like you're not on snow. Well, kinda. It's actually great exercise, easy to do (if you work it out that way), and gets you into the great outdoors when most of the time you're stuck inside. We've been doing it for a few years now and have loved it every time. Here are our best tips to learn how to snowshoe like a Food Travelist!
1. Discover What Is Snowshoeing
The first thing to do is to understand what snowshoeing is all about. There are different types of snowshoeing, just like there are different types of snow skiing, While some may enjoy tackling steep and rugged terrain in mountaineering snowshoes, that's not for us. We like the joy of wearing regular snowshoes (also known as snow shoes), finding a clean path that may have a little up and down for exercise, and open areas all around us where we can take in some lovely views.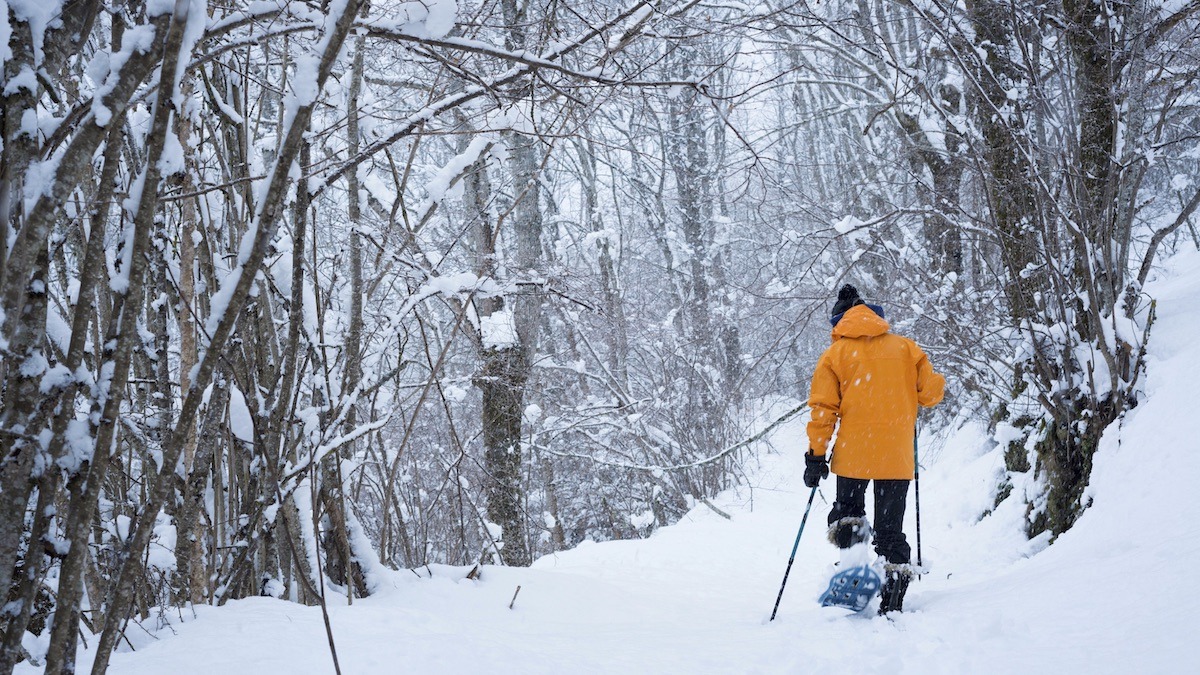 Snowshoeing (or snow shoeing) is good for people of any age if you are healthy enough for a vigorous walk. Because, in its purest form, that's what snow shoeing is to us. It's taking a walk, in the snow. That's it. The rest is just details. So, if you're looking for the shortest answer, snow shoeing is walking on snow with the aid of snow shoes. Pretty simple, right?
2. What To Wear
Just like any other outdoor activity, you'll want to know what to wear snowshoeing. A few items we've discovered are extremely helpful to add to your list. Sunglasses with reflective lenses are fantastic not just for blocking out the sun, but for keeping the glare of the white snow all around you at bay. For the ultimate in ease, find some that also have an adjustable strap on the back so you don't have to worry about losing them along the way.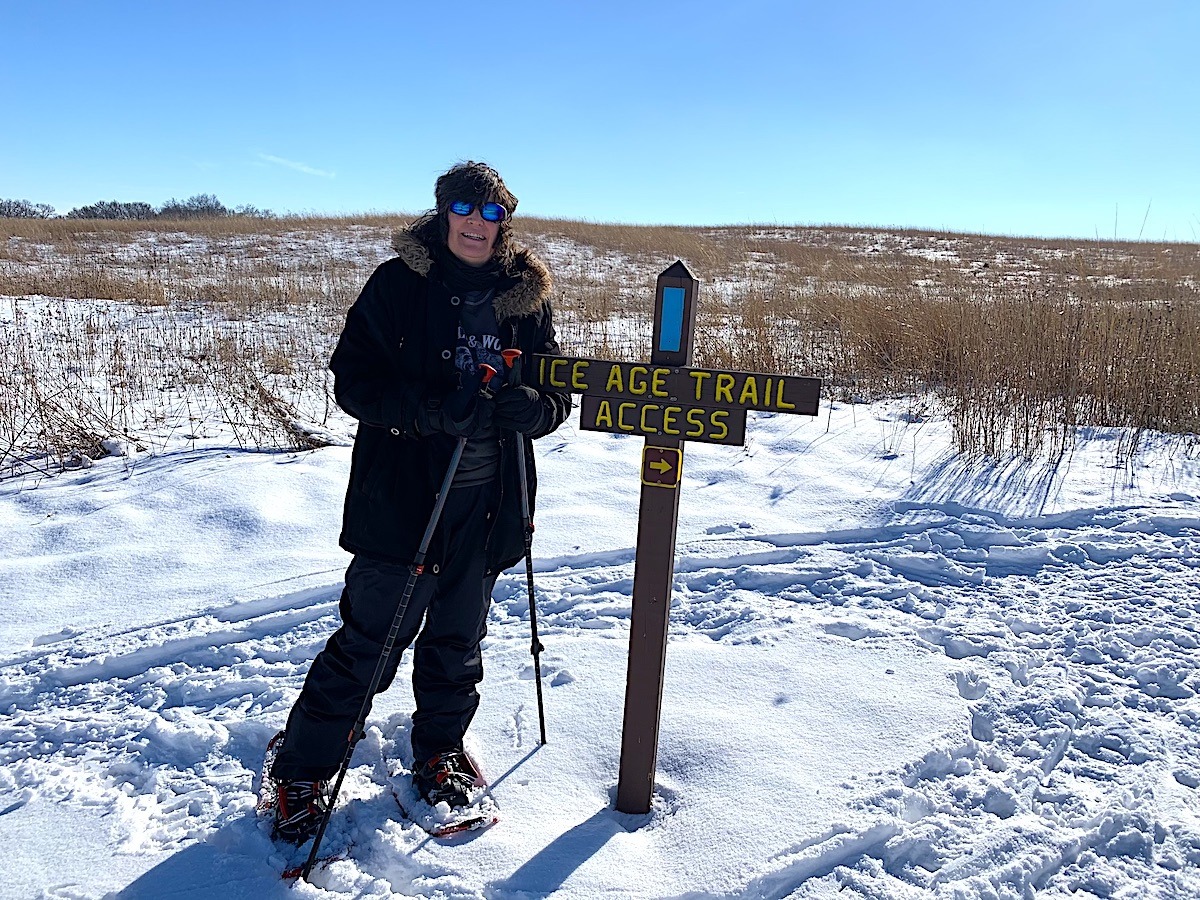 Another great item to have is a gaiter or balaclava. A gaiter is like a turtleneck without the shirt. It's kind of a fabric tube you pull on that keeps your neck warm. You can also pull it up a bit to provide some protection for your face. It's often made of fleece or another soft fabric. A slightly different version of the gaiter is the balaclava. This handy item is great for when its cold or if you find yourself getting chilled from the neck up. Like the gaiter it's a tube of fabric but is generally a thin, stretchy one. You can pull it up to the top of your head to cover your ears. You can also pull it up over your nose or mouth to keep the chill off your face.
Gloves, hats, and layers of clothing work great. If you get warmer as you're snowshoeing, you can peel off the excess. Once you know how to snowshoe in general, you can choose different items to fit the weather. When there's a lot of fresh snow or if it's gotten a bit icy, we like wearing a thin pair of snow pants over our jeans. If it's super cold, don't forget to wear long underwear.
3. Snowshoe Equipment
Snowshoeing equipment is pretty simple. If you're looking for more adventurous snowshoeing options, you can look into mountaineering snowshoes and other related equipment. But for us and those just looking for a great way to get a little fresh air and exercise, a simple set of snowshoes and poles is pretty much all you need. Snowshoes for women don't need to be any different from snowshoes for men, though some companies offer more sophisticated options based on height, weight, and experience, very similar to ski criteria. When people ask us what the best snowshoes are, our answer is whatever you want within your price range and ambitions.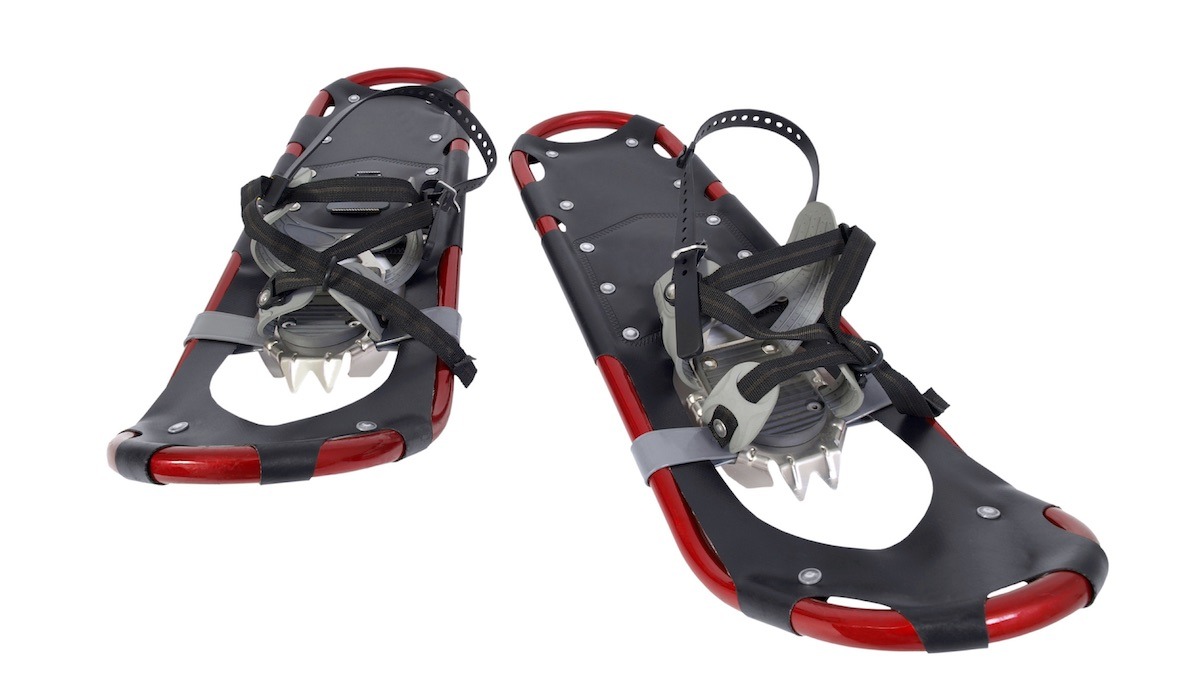 We got our snowshoes at Costco. They were under $70 and came in a nice kit that included poles and snowshoes with a carrying bag. But you don't necessarily have to purchase your equipment. There are parks, trails, and other outdoor areas that have places where you can rent snowshoes, just like you would rent skis. A snowshoe rental may last for a few hours to a few days, depending upon what you plan to do. One time, we just planned to go for an hour or two walk in the gorgeous Yellowstone area, so just rented snowshoes and poles for a few hours.
4. Where To Go Snowshoeing
Depending upon where you live you may have a great many or a few snowshoeing options nearby. One quick way to find out where to go is to head to Google and search "snowshoeing near me" for results. Chances are you'll find some spots worth exploring. Unless, of course, you live somewhere that doesn't get much or any snow. Then you'll want to think about where you might like to spend some time traveling to for the white stuff.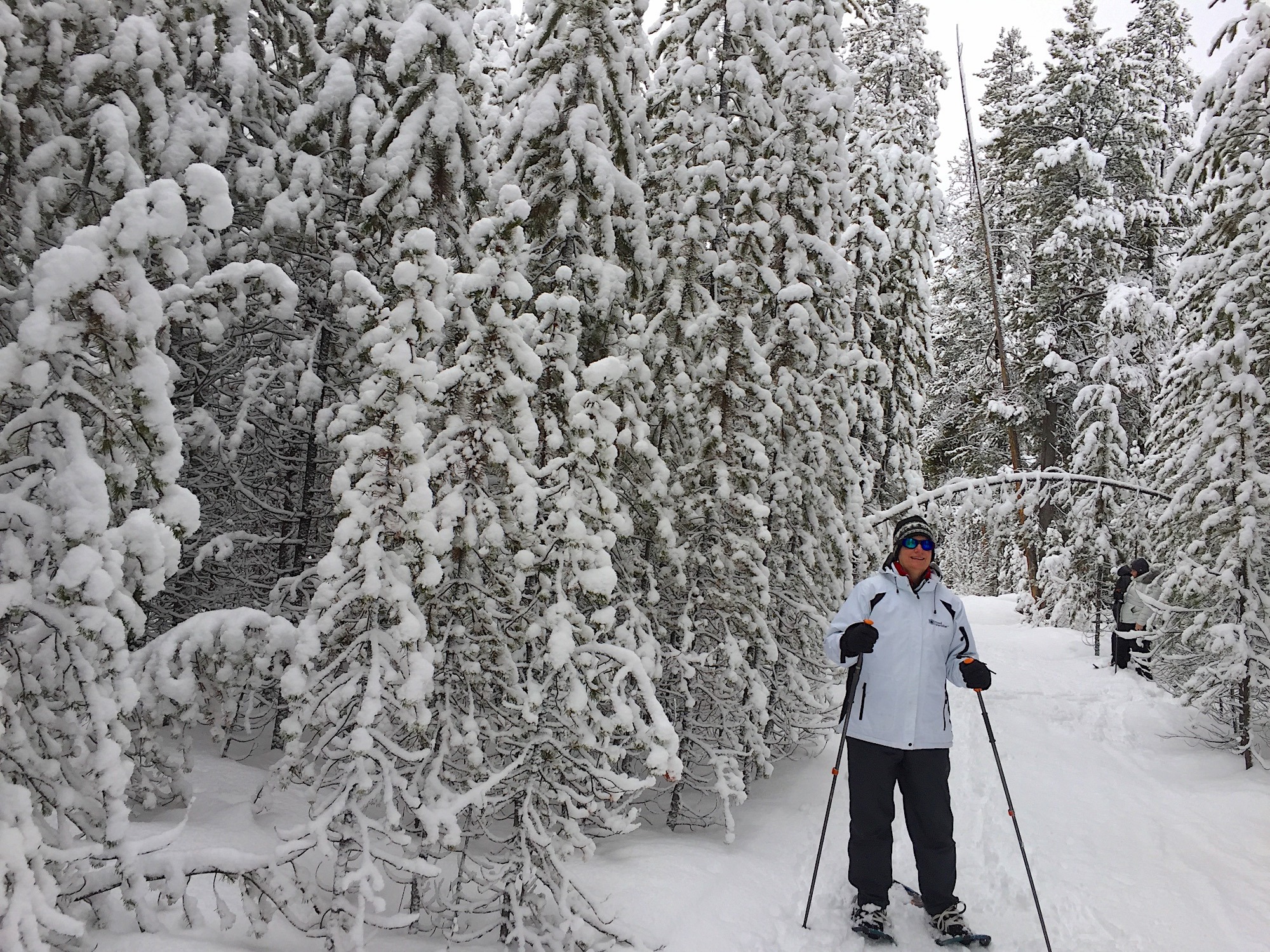 Wherever you seek out places that are good for snowshoeing, you'll want to have things to look at while you snow shoe. The reality is that many local, state, and national parks have trails that allow for snowshoeing. In Wisconsin where we are, there are several parks that have trails groomed especially for people who have learned how to snowshoe and want to do some exploring on well-groomed paths. This is not to say that all parks will have snowshoe paths. Some groom their trails for skiing, and those will usually not allow snowshoeing because they want to keep the trails smooth for thin cross-country skis.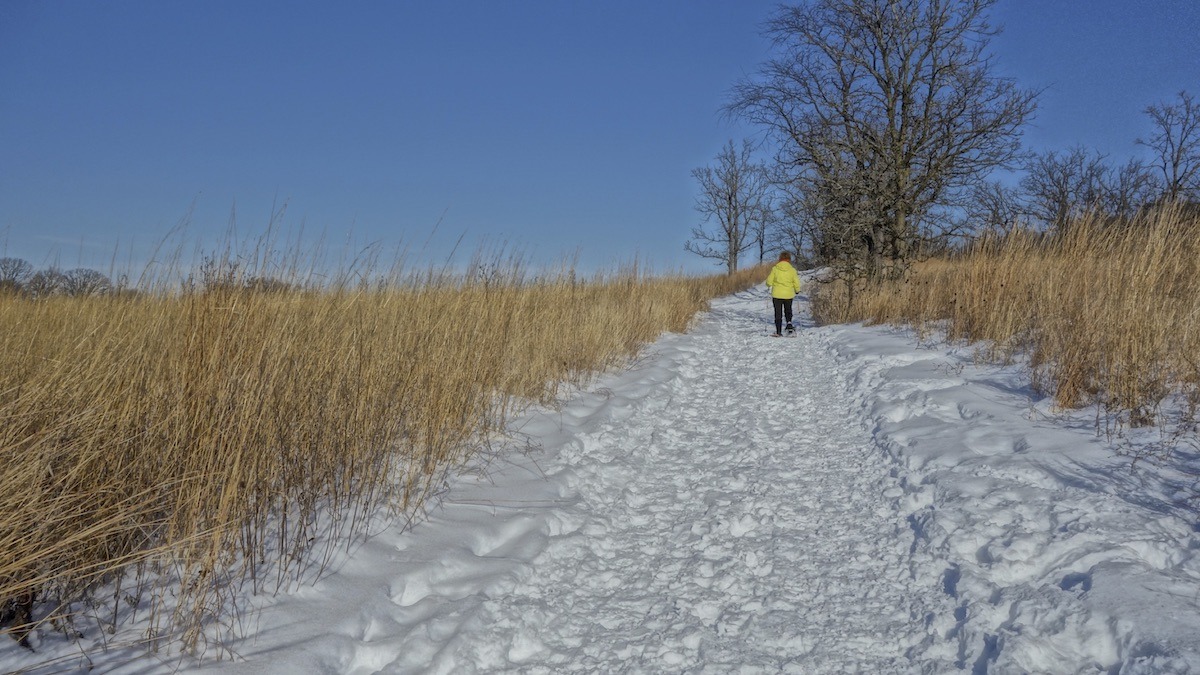 Just about anywhere in the world will have some places to snowshoe. Some of the best-known spots include winter sports of all kinds, including snowshoeing. New Zealand, California, Wisconsin, Canada, Spain, Finland, Italy, and Japan all have wonderful places for snowshoeing. So whether you want to stay close to home or go for an adventurous winter vacation, there are lots of places where you can easily pursue snowshoeing.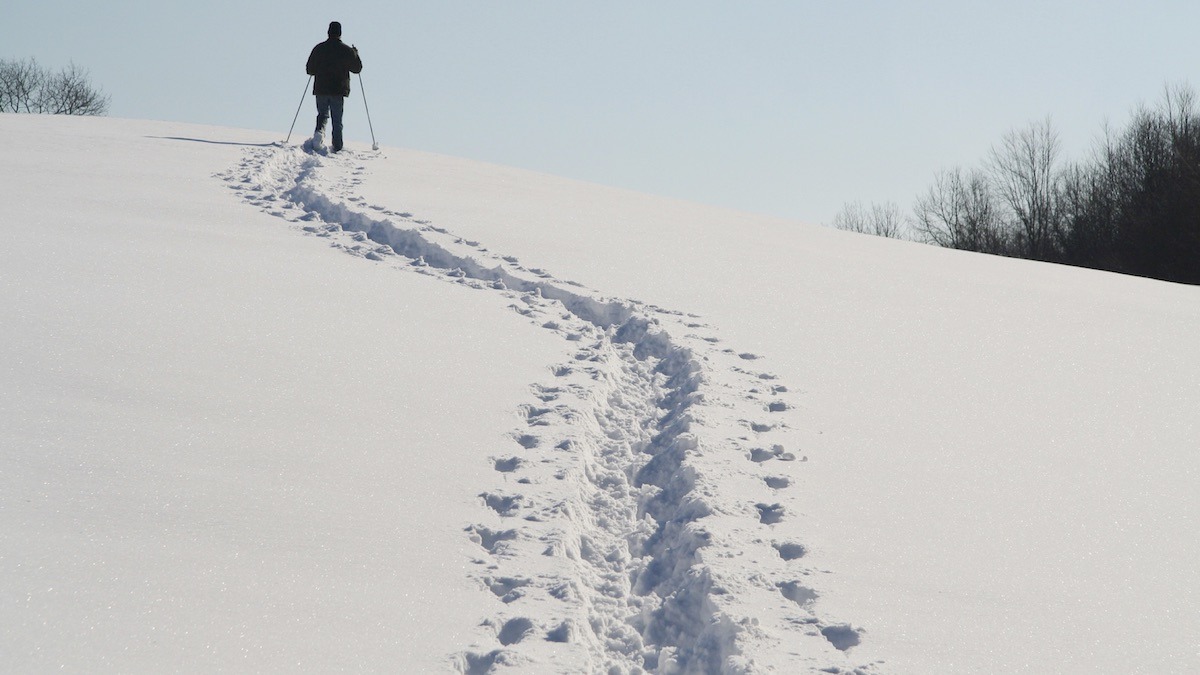 5. Don't Forget The Fluids
Because you're having so much fun walking on top of the snow, don't forget to bring and drink plenty of water and other fluids. You're getting more of a workout than you realize. You're also out in the elements, which we tend to forget once we get warmed up and start peeling off the layers. If you carry a backpack with you, include plenty of fluids and some snacks. If you're just going for a short snow shoe, still be sure to take a bottle of water with you. For those who enjoy warming up with some hot liquid, fill an insulated bottle or thermos with something warm and tasty like hot tea, cocoa, or soup. It's fun to take a break and look back at where you've been with a few sips from something warm and yummy.
6. Take A Friend Snowshoeing
While snowshoeing is a wonderful activity that you can enjoy by yourself, it's even more fun when you have someone else to share it with. It's great to stop and take in a wonderful vista or great scenery with someone that can share the view. It's also a great way to be "alone together," one of our favorite ways to beat boredom, engage in some social activity while also being able to have time alone to mentally focus on yourself.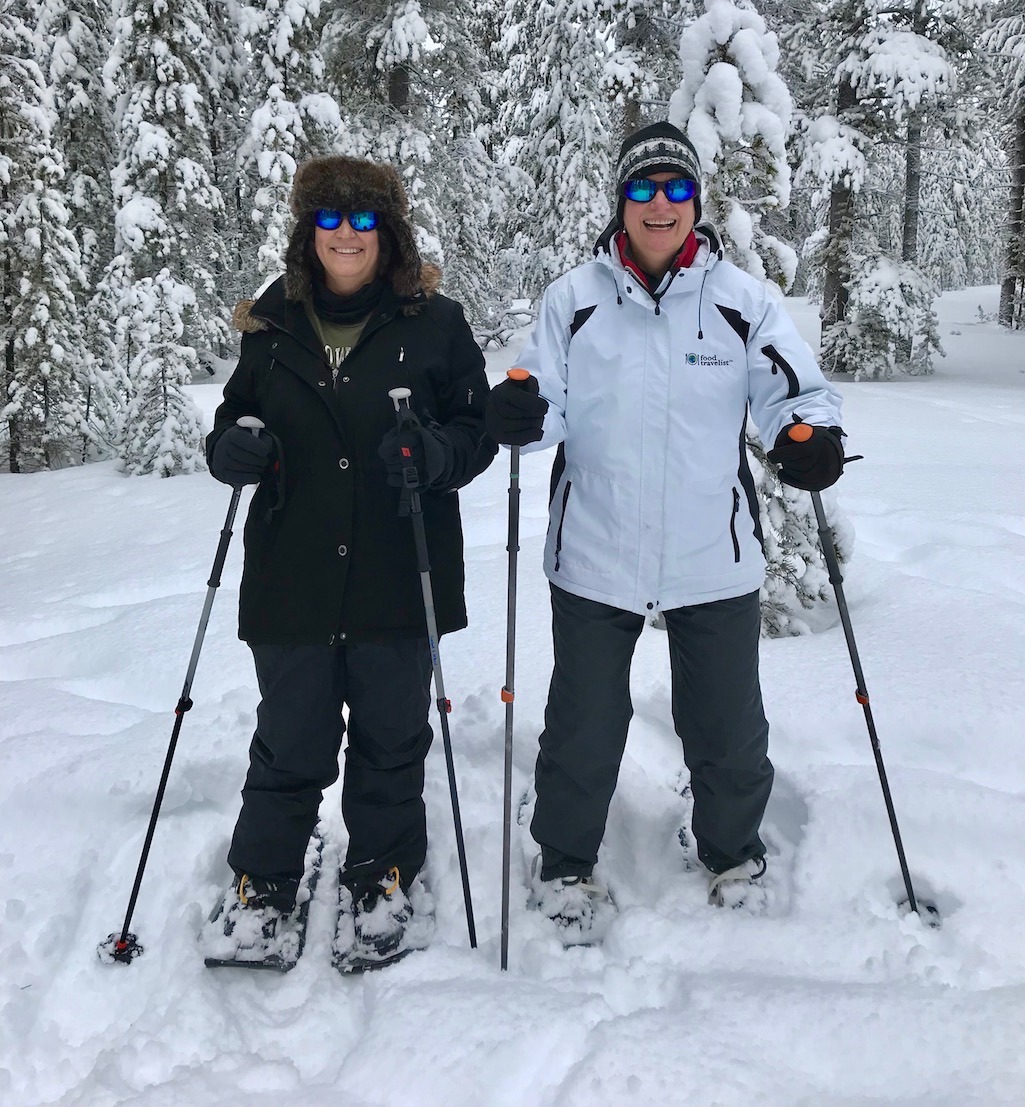 Snowshoeing is just enough exertion to help keep your body flexible. It's better than getting stiff sitting in front of a computer all day! Of course, the safety factor is also there. Especially if you plan to go snowshoeing right after a big snowfall or take a long or multi-day journey. Having a friend accompany you is a great way to minimize risk. And, instead of having to keep taking selfie after selfie, you'll have someone to take your photo and share the stage with too.
7. Try Something Different
Snowshoeing offers a variety of ways to experience the beautiful outdoors in winter. We have snowshoed in National Parks as well as in local areas. Some of the most memorable of our snowshoeing experiences have come in the form of special events. Clubs, parks, and snowshoe enthusiasts often organize snowshoeing events. For our part, some of our best snowshoeing has been during these events.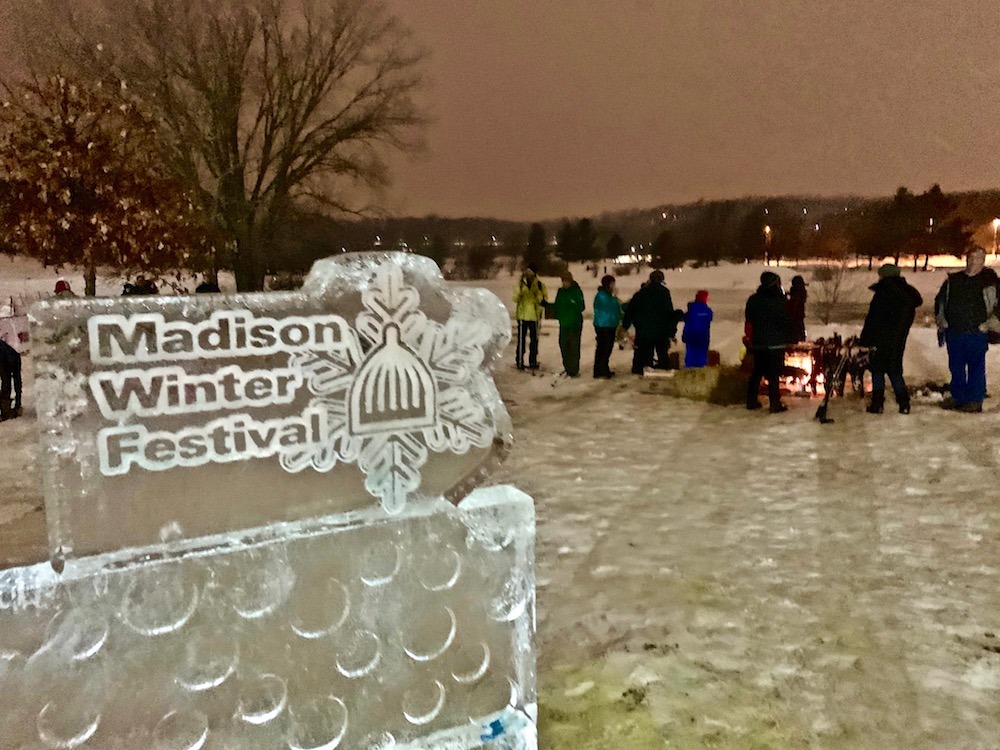 For us, snowshoeing at night has been a real treat. We've snowshoed at marshes, parks, well-known and hidden trails. Moonlight or starlight snowshoeing gives us a real treat because there are usually small candles along the trails and tasty delights like hot cocoa and s'mores to be had at the end of the trail. One event we attended at our own nearby park had other activities like hockey, cross country skiing as well as ice carving, and other creative activities. It made for a great evening outside and some wonderful memories to revisit as well.
For more on snow shoeing check out our article on Travel Awaits for our 9 Reasons To Try Snowshoeing This Winter.
Save it for later, Pin it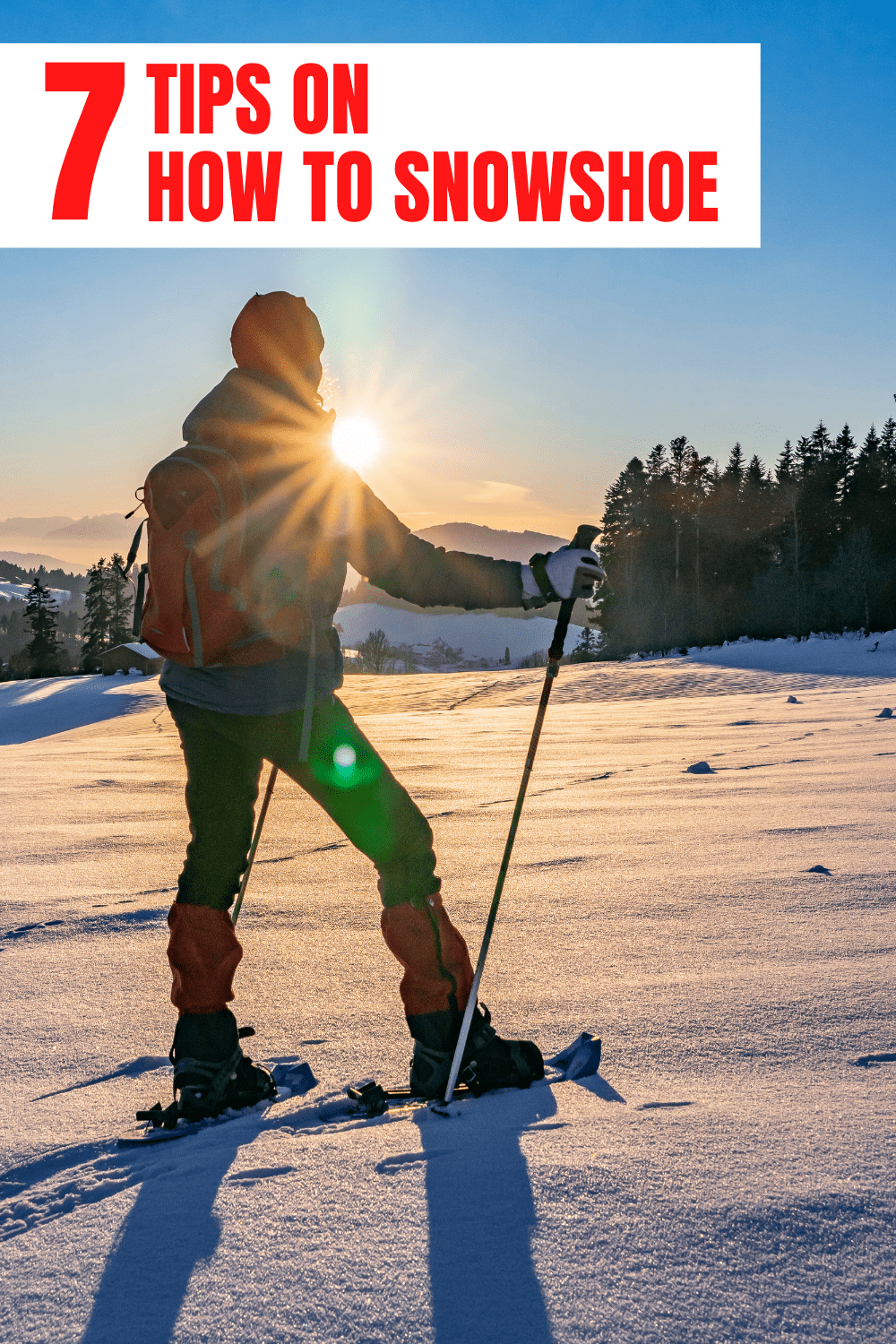 .