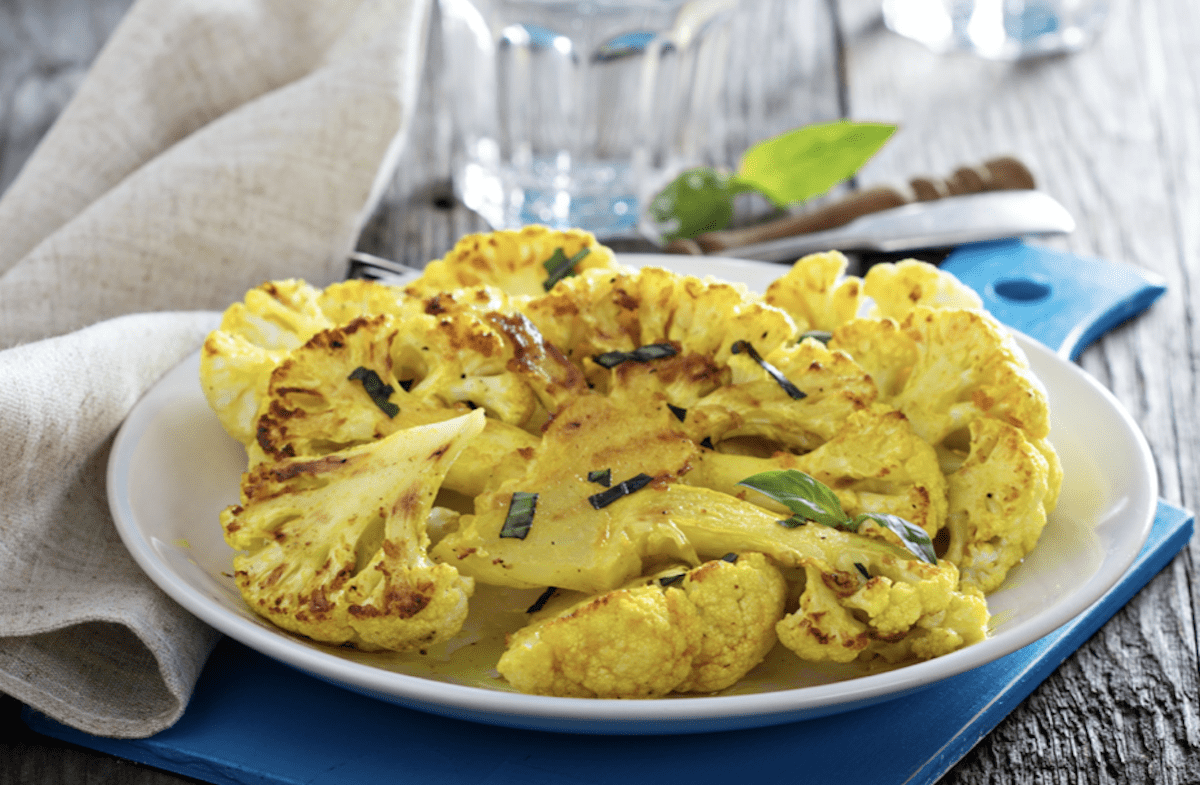 Cauliflower steak is a great option for a plant-based main ingredient when you're trying to cut back on meat. We often think of cauliflower as a tasty side dish, but cutting it thick and whole and roasting it in the oven lets cauliflower take on a central role in your plant-forward meal.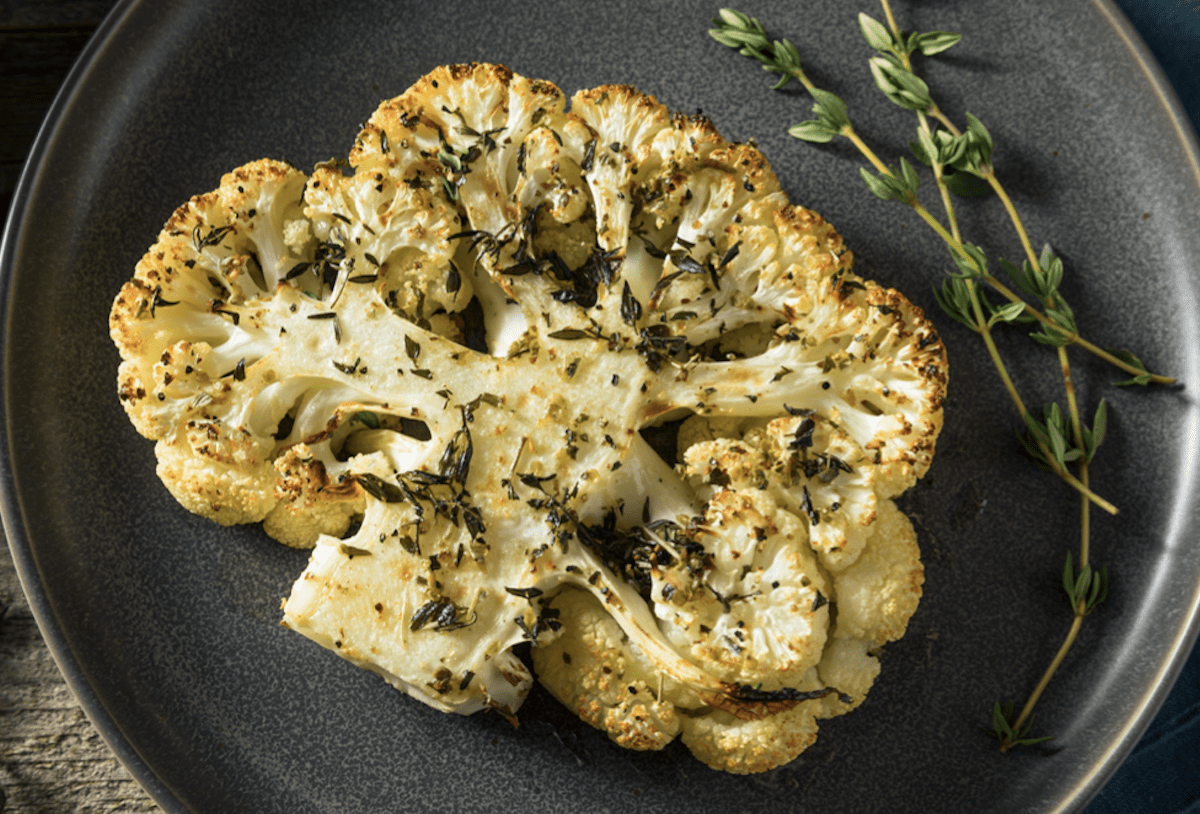 Cauliflower Steak Salad
It's a flexible option you may not have thought about before. Put your cauliflower on some greens and add tomatoes to make a delicious cauliflower steak salad.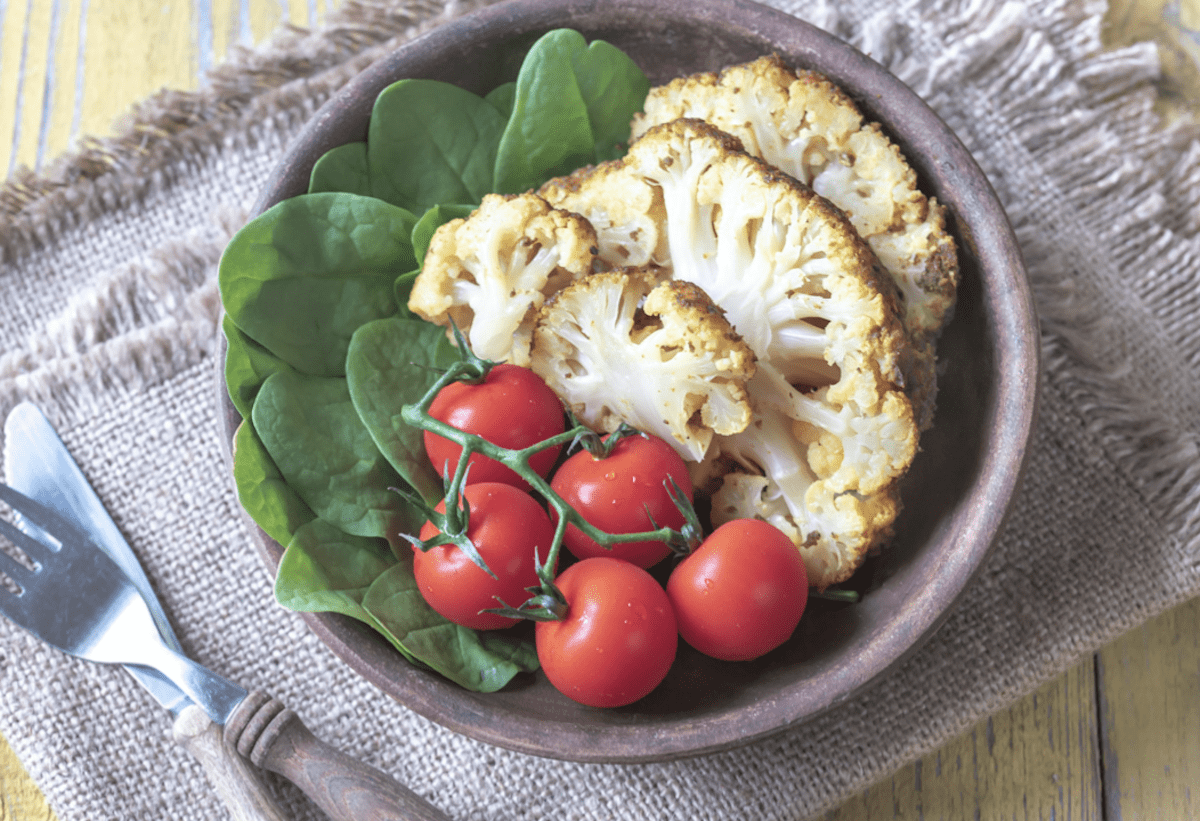 Serve it with some sauteed mushrooms, mashed sweet potatoes, grilled tomatoes, or other sides to round out your meal.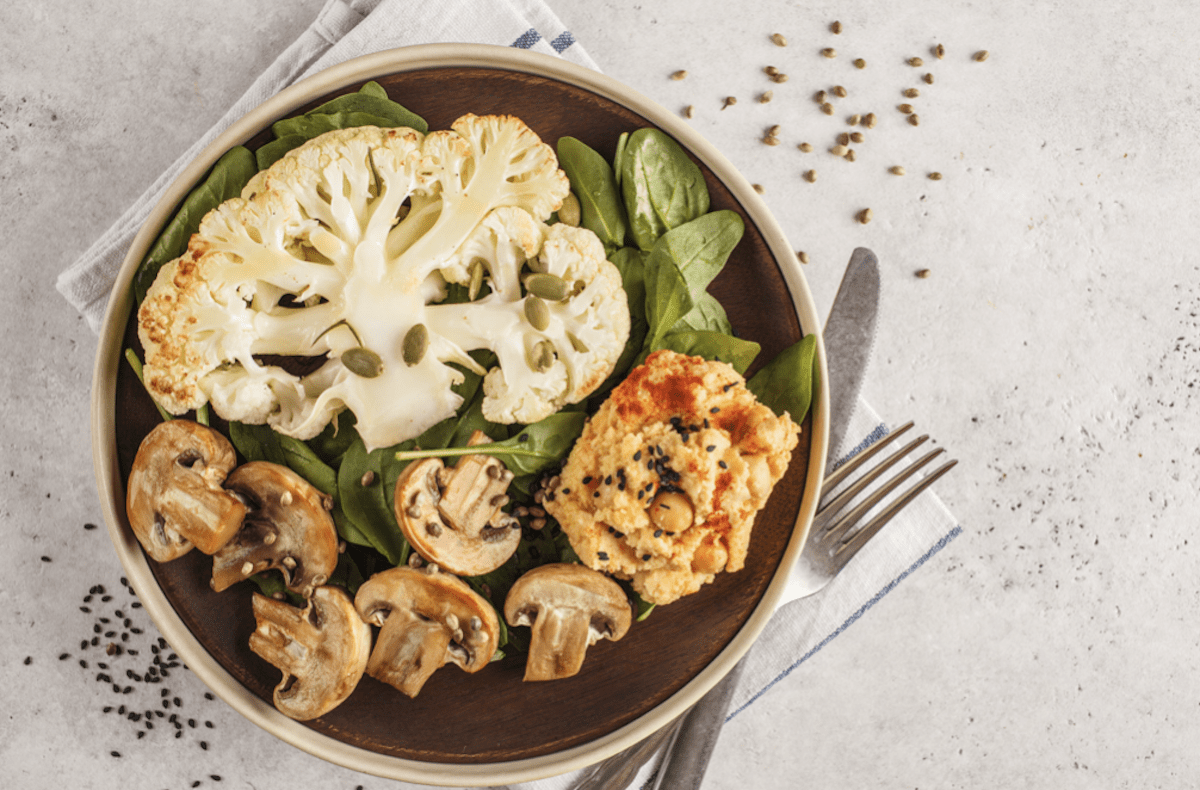 Top With Your Favorite Protein
You can also use it as a unique base and place a piece of salmon, chicken, or other meat on top.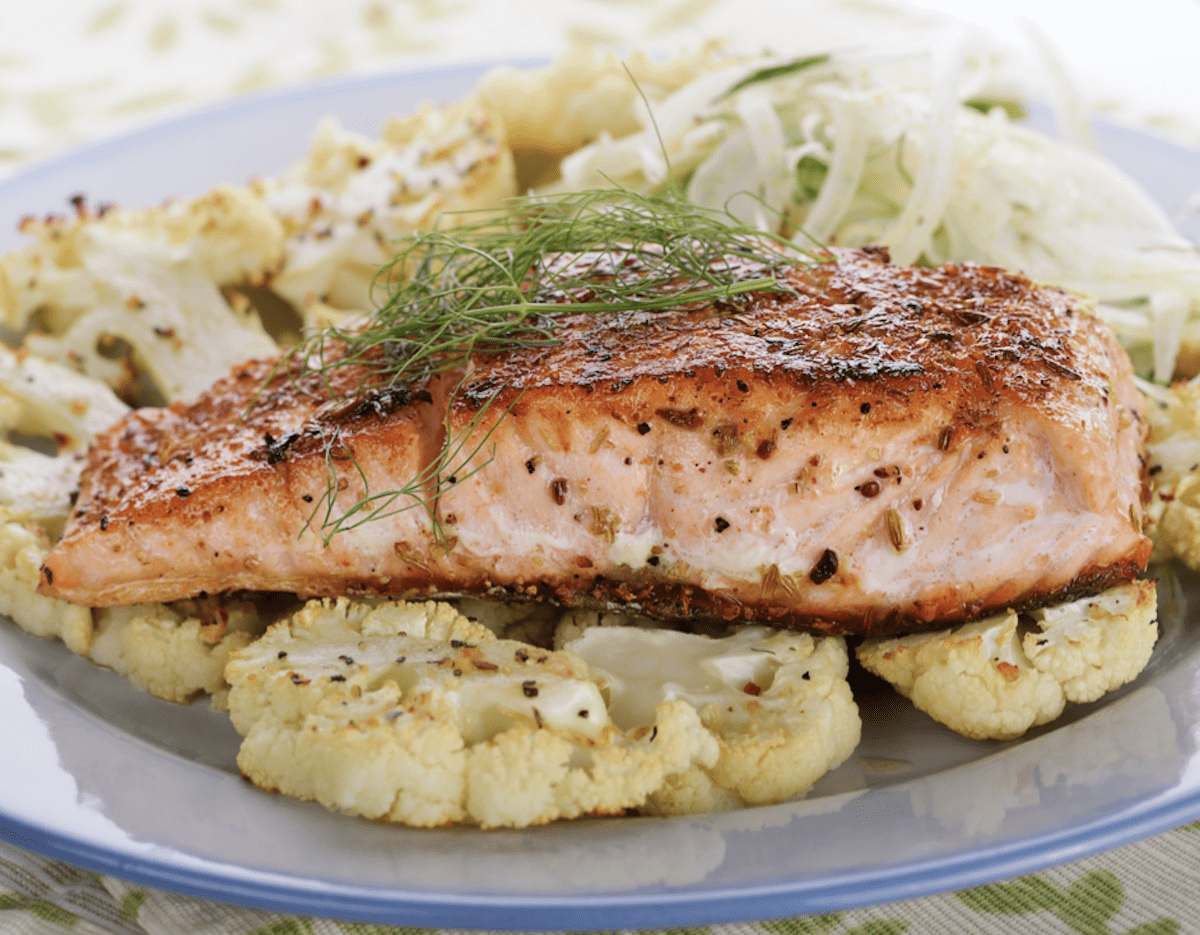 Roasted cauliflower steaks also make a great side dish by offering another option than the usual starchy sides.
These days you can also find cauliflower in brilliant colors, which adds a whole other dimension to the look of your cauliflower steak.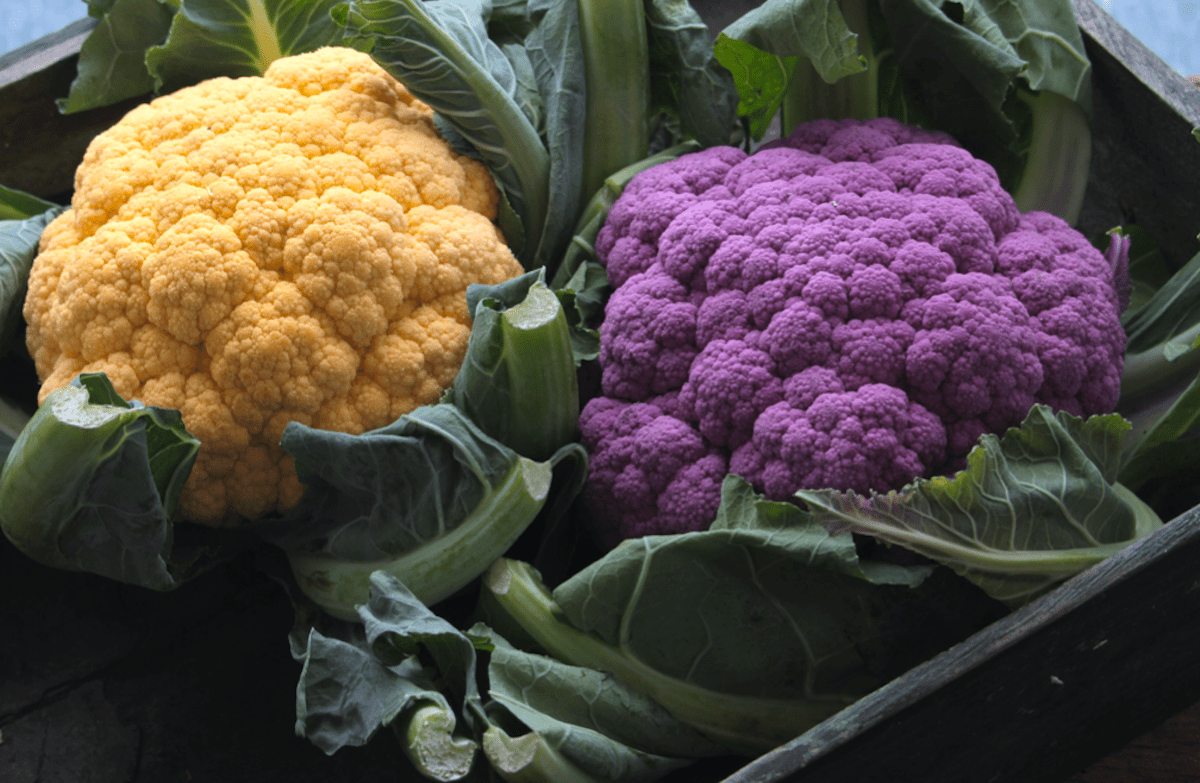 Roasted Cauliflower Steaks Are Easy And Delicious
Our recipe is a simple bit of preparation and technique. You can spice it, add herbs or top it with a sauce of your own favorite ingredients.
We'll provide you with one of our favorite suggestions, a Mediterranean tomato, olive, and feta cheese sauce. But you can use your imagination to create roasted cauliflower steaks that use Indian, Thai, Spanish, Italian, French, or any other type of spices that appeal to you. Give it a try and let us know what you think!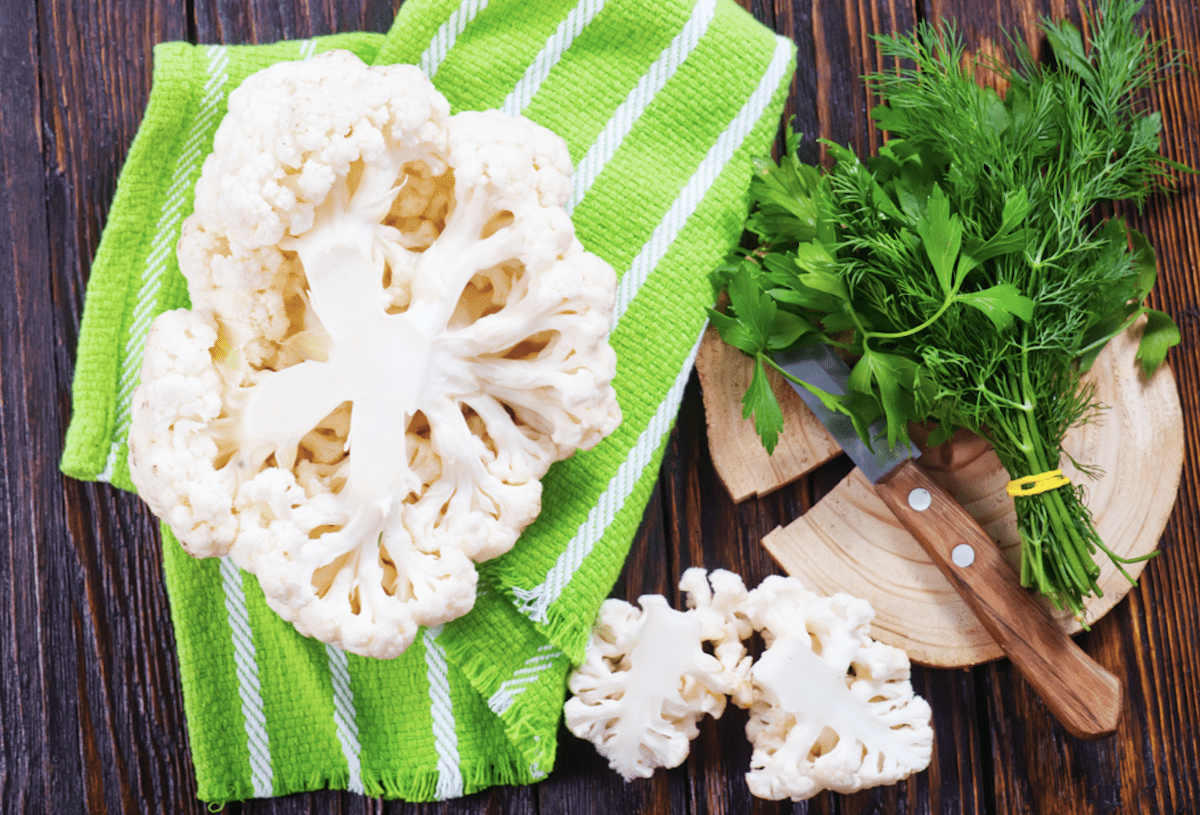 Cauliflower Steak Recipe
Our cauliflower steak recipe is easy and deliciously different. Try it with our Mediterranean tomato, olive, and feta cheese sauce or make up a topping of your own. It's also perfect simply spiced and fresh out of the oven. So now you have a few different ways to enjoy this tasty and filling recipe.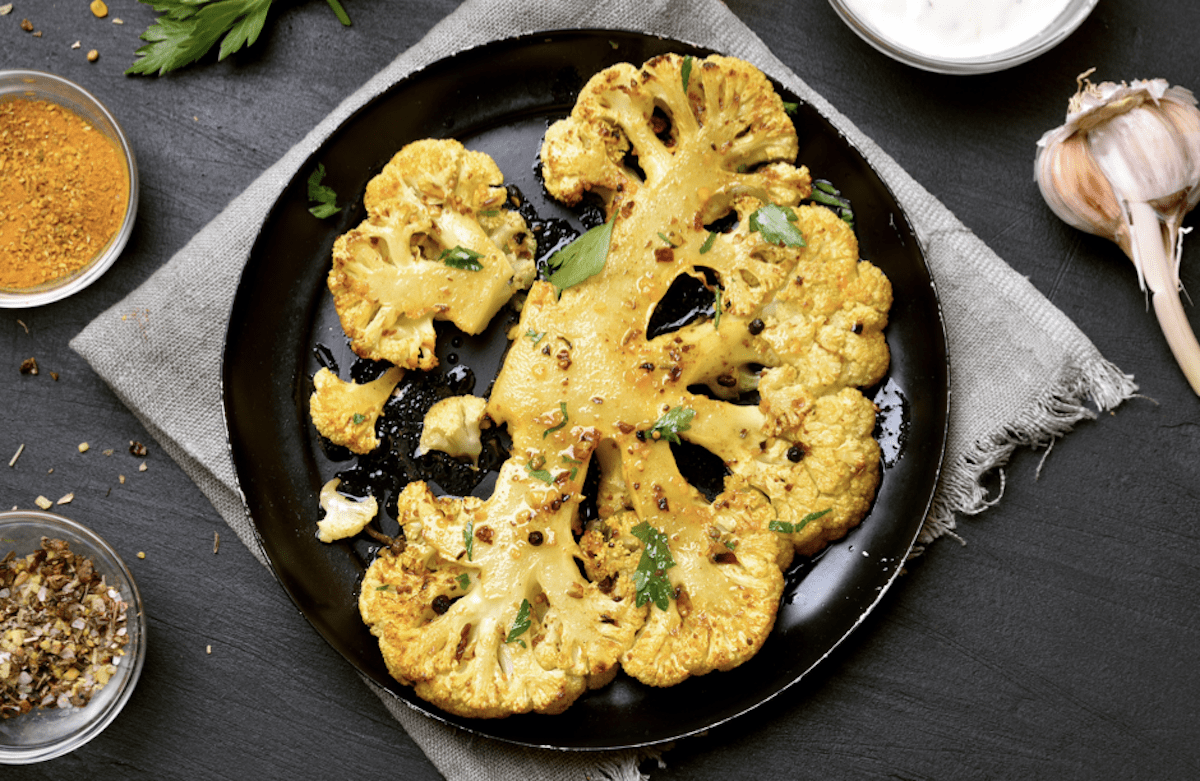 Ingredients
For Cauliflower
1 large head of cauliflower
3 Tablespoons extra virgin olive oil
2 Tablespoons fresh flat-leaf parsley, chopped (or substitute 1 Tablespoon dried parsley)
1/2 teaspoon of up to four dried herbs you like or an Italian or Greek blend (we like oregano, marjoram, and basil to go with our Mediterranean sauce)
Salt and pepper to taste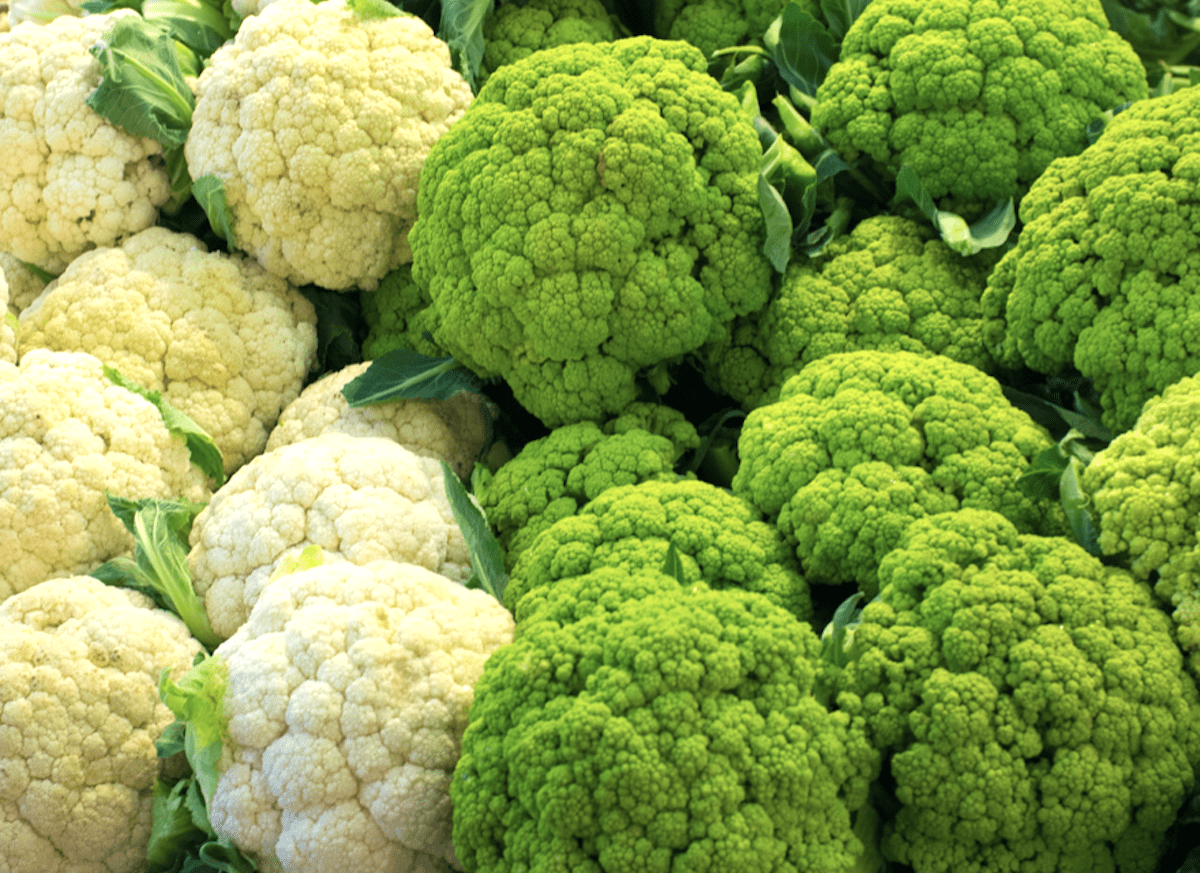 For Mediterranean Sauce
Our  Mediterranean sauce is one tasty option to serve over your cauliflower steak.
1/2 cup pitted Kalamata olives, roughly chopped or sliced
2 sun-dried tomatoes, sliced thin
1 can petite diced tomatoes (or regular diced or crushed tomatoes, or 3 fresh tomatoes, diced)
3 large cloves garlic, minced (or 1 teaspoon granulated garlic instead)
1 Tablespoon fresh chopped parsley (or 1 teaspoon dried parsley)
1 Tablespoon dried herbs or herb blend (use the same ones you've used on the cauliflower steaks)
1/2 cup onion, chopped
1 scallion, sliced
2 Tablespoons extra virgin olive oil
1/2 cup feta cheese, crumbled
Flat-leaf parsley or other fresh herbs for garnish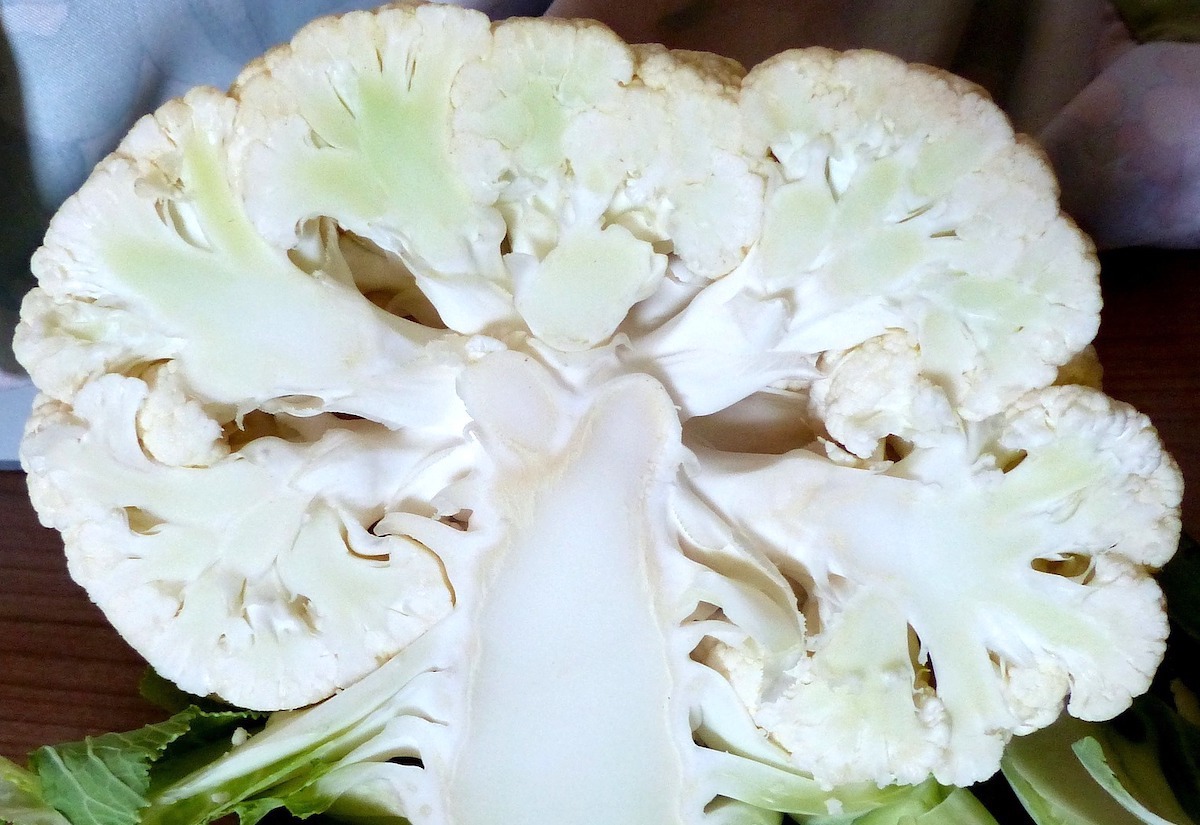 Directions
Preheat the oven to 400 degrees F.
Spread 1 Tablespoon of olive oil on a large rimmed baking sheet.
Clean cauliflower by removing leaves and trimming the stem but keep the core uncut.
Place the core side of the cauliflower on the cutting board and using a large knife cut straight through the whole cauliflower to cut it in half.
Cut cauliflower steak slices 1/2 – 3/4 inch thick working from the center of each side. Some of the florets will fall off and some of the steaks will separate. Don't worry about it. Just try to get four complete cauliflower steaks if you can. You can save the pieces for another cauliflower dish!
Place 2 Tablespoons olive oil in a large skillet and heat on medium-high.
When the oil is hot, place one or two cauliflower steaks in the pan and cook until they are golden brown on one side. Then flip and cook until golden brown on the other side. It should take about 2 minutes for each side.
Place the cooked cauliflower steaks on the baking sheet and repeat cooking the other cauliflower steaks. Then add the others to the baking sheet.
Roast cauliflower steaks in the oven for about 15 minutes or. until fork tender all the way through.
While the steaks are roasting, try our Mediterranean sauce if you'd like to top them off.
To Make The Sauce
Heat 2 Tablespoons of olive oil in a skillet on medium heat.
Add chopped onions and cook till clear, about 3-4 minutes.
Place minced garlic and chopped scallion with onions in the pan and stir together until fragrant, 1 to 2 minutes.
Stir in sun-dried tomatoes and canned tomatoes, or whatever tomatoes you're using.
Turn heat to medium-low, cover, and let sauce heat thoroughly so flavors blend. Stir occasionally to keep from browning.
When sauce begins to thicken, add chopped Kalamata olives, parsley, and other herbs if desired.
When the roasted cauliflower steaks are ready,  take them out of the oven and put them on the serving plate or plates.
Top each cauliflower steak with sauce.
Sprinkle crumbled feta cheese over the sauce.
Garnish with fresh chopped parsley or herbs of your choice.
You don't have to make this or any other sauce. Roasted cauliflower steaks are delicious on their own.
If you like our different approach in this cauliflower steak recipe, try some of our other plant-forward meal options like Mushroom Bourguignon and Santorini Tomato Keftedes.