Top 12 Best Places To Eat Right Now in Providence
Thank you Go Providence for hosting our recent visit. All opinions we provide are our unique views and reflect our experiences. We pledge to provide our audience with truthful and honest reviews.
We love it when we when arrive at a destination and it immediately feels like home. That was certainly the case with Providence, Rhode Island. It's just a quick direct flight not only from Chicago but also from New York, Philadelphia, Washington D.C., Denver, Orlando, Atlanta, Detroit and many others. The PVD Green Airport is perfectly sized to get in and out easily. You can quickly get to downtown Providence in just minutes.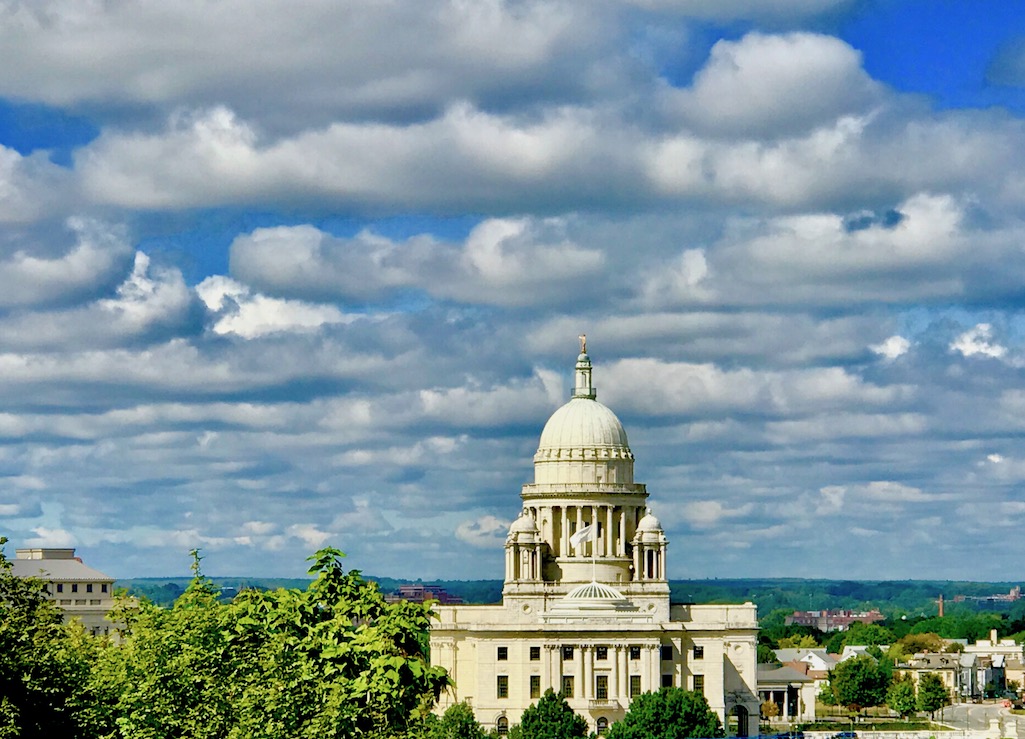 The people in Providence welcome you with open arms. Everyone is welcome. We can easily call this a judgment-free town. And we just love that. Every person we met was friendly and happy to answer our endless questions about the best food around town. And they all had some great ideas. There is certainly no lack of good eats in this town!
We talked to the locals, the experts and everyone in between and here, in our opinion, are the top 12 best places you have to try on your visit to Providence.
One thing you'll learn about Providence as soon as you start asking around is this town has a lot of Italian influence. They love their Italian food and there's plenty to choose from. A spot that has us still dreaming about our visit and all the wonderful dishes we tried is Bacaro. Each dish was better than the last. One of the unique things we loved most about Bacaro is that you can eat in whatever style you feel like at the time. Do you want just appetizers? Great. Feel like a board with selections of their cheeses and meats? How about pizza? Hungry for a full meal with satisfying main entrees? All are available for you. You decide. And whatever you decide, it will be delicious.
We loved the Pasta Con i Funghi, a fresh egg tagliatelle made with butter and Parmigiano-Reggiano cheese, white truffle-scented egg, mushroom duxelles and crushed red pepper. I could eat this dish every day. We also tried the steak frites and it was perfect. High-quality wood-grilled steak with the thinnest, crunchiest potatoes was a great combination. If you like grilled pizza give theirs a try. Thin crispy crust with the finest ingredients makes it a real winner. Chef Brian Kingsford learned how to make it at the legendary Italian restaurant Al Forna, less than a mile away. He's perfected his own recipes and I can't wait to visit again and try them all. Leave room for their homemade ice cream churned fresh daily. The Grappa-scented custard-filled Bombolini also provide a tasty little treat. The service is friendly and impeccable and the ambiance is, like the food, whatever you're in the mood for. People were wearing everything from plaid lumberjack shirts to jackets and ties. Come as you like, eat what you like, and enjoy yourself immensely, just like we did. You will certainly have a delicious meal and a great time.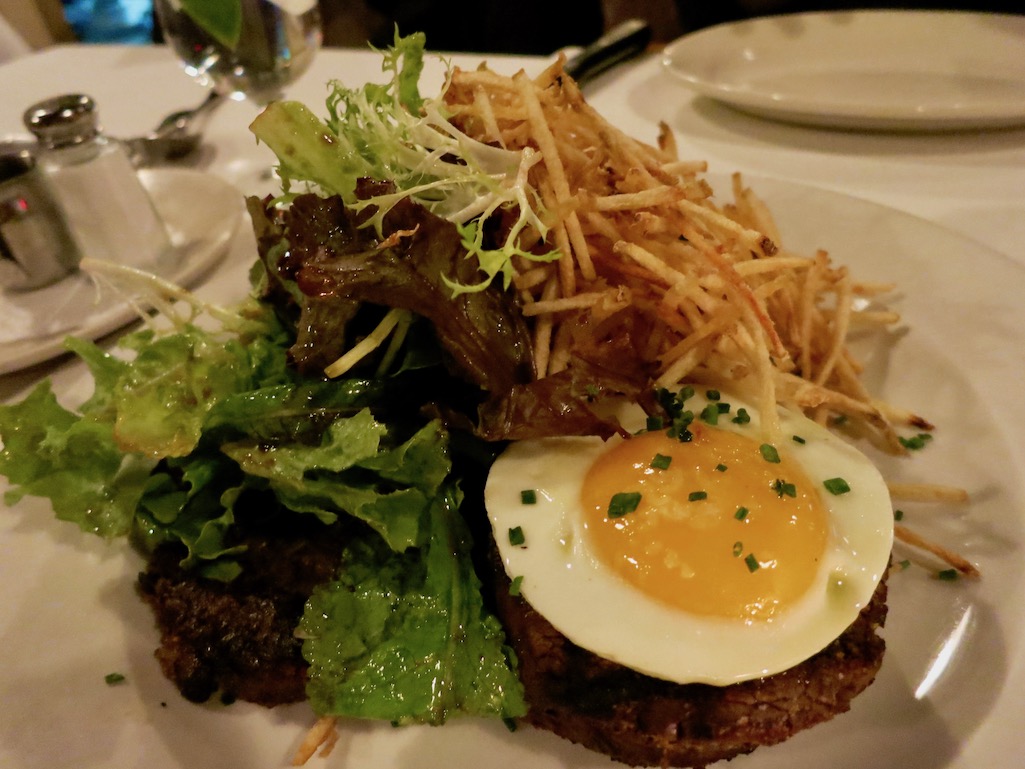 Another Providence stable is seafood – fresh seafood. Being so close to the ocean definitely has its perks. Located right in the center of town this popular spot is a convenient and enjoyable place to eat after visiting the RISD Museum, after Waterfire (another Providence must-do) or just out strolling around the town.
Chef Max Peterson brings in only the freshest and best seafood Rhode Island has to offer. One of the many delicious offerings that you absolutely must try is their Rhode Island style calamari. It's made at Hemenway's with Port Judith squid, hot peppers, garlic, and butter with a light and crispy coating. It's so addictive that we just couldn't stop eating it!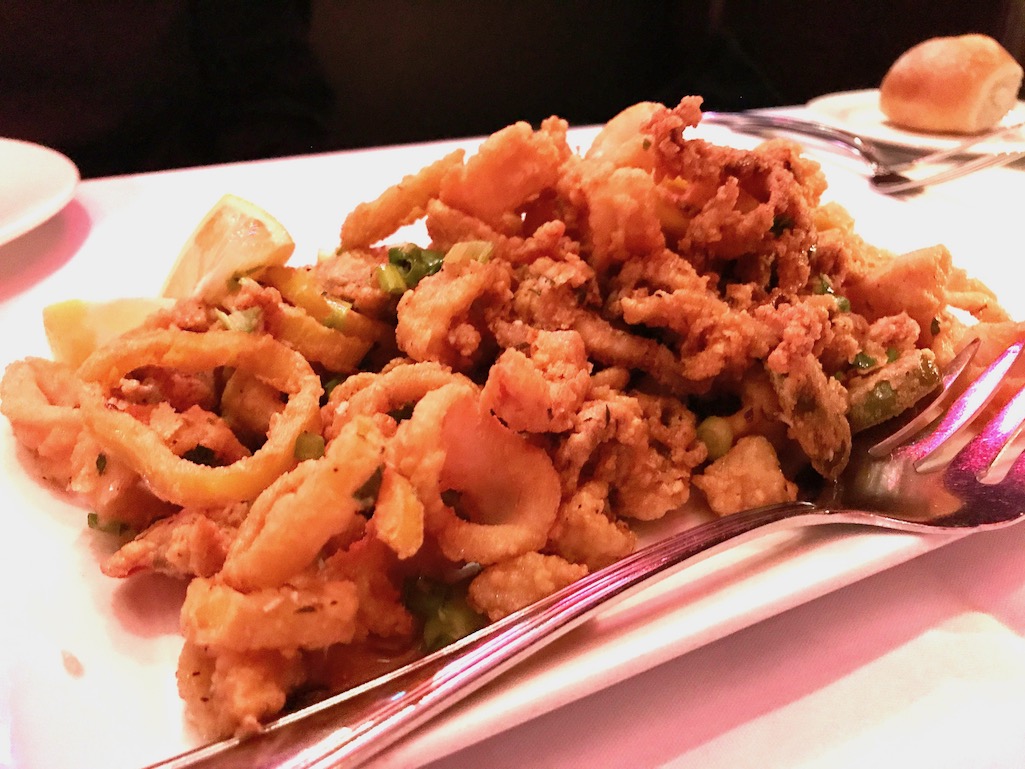 But that's just the beginning. Whether you sidle up to the raw bar or make a whole evening out of sampling from their menu, you really can't go wrong. They have many classic dishes like a fantastic wedge salad, Rhode Island style clam chowder, garlicky escargot and more. If you just can't decide, go all out and order the Shellfish Platter with cold baby lobster, jumbo shrimp cocktail, oysters and littleneck clams. There should be something there for everyone to enjoy. We also couldn't resist trying one of their most popular options, the Surf and Turf. The fun thing about it is that you can create your own combination of a meat and seafood option, so we went all out choosing the Angus Filet Mignon and Lobster (you can order 1.25 lbs. up to 5 lbs!) If you're adventurous you can pick apart the whole lobster yourself. Or, if you prefer, they'll do all the hard work for you in the kitchen and bring you the lobster's best without the mess.
Again, the service was ridiculously great. We learned a lot of history, some of the local lore, ideas of where to go and what to do, and much, much more. So sit back, relax and enjoy. Locals and visitors have been coming to Hemenway's for years, another reason it's a must-visit while in Providence.
This is one place that kept coming up with many of the locals we chatted with – especially one particular UBER driver. He told us to go and ask for the manager and tell him the UBER driver sent you. It was funny and he was insistent, so we did! Even funnier, it didn't matter. Everyone we saw at the restaurant got the same delicious food, huge quantities and attentive service. This authentic Peruvian and Bolivian cuisine restaurant will really knock your socks off.
We can't emphasize this enough – be sure to arrive hungry. The meals they serve are substantial. Even if you share an entree you will most likely have food to take home. Ceviches, empanadas, salads and soups will get you started. You'll love the Asian influence of the Chaufa de Pollo or Chaufa De Res. Chifa influenced wok fried rice, infused with kion, sautéed with strips of chicken or sirloin steak, kiko soy, eggs and finished with scallions. Try the Churrasco al Gaucho with 16 oz. Angus grilled ribeye served with ensalada rusa, fried yucca and rice. There are also many wonderful seafood dishes like tasty paella and jalea, a Peruvian fisherman seafood medley. They also make all their desserts from family recipes so you must save room for just a bite. Our server was from Peru and proudly explained all the subtleties of the offerings with a smile and a story. It was a wonderful experience.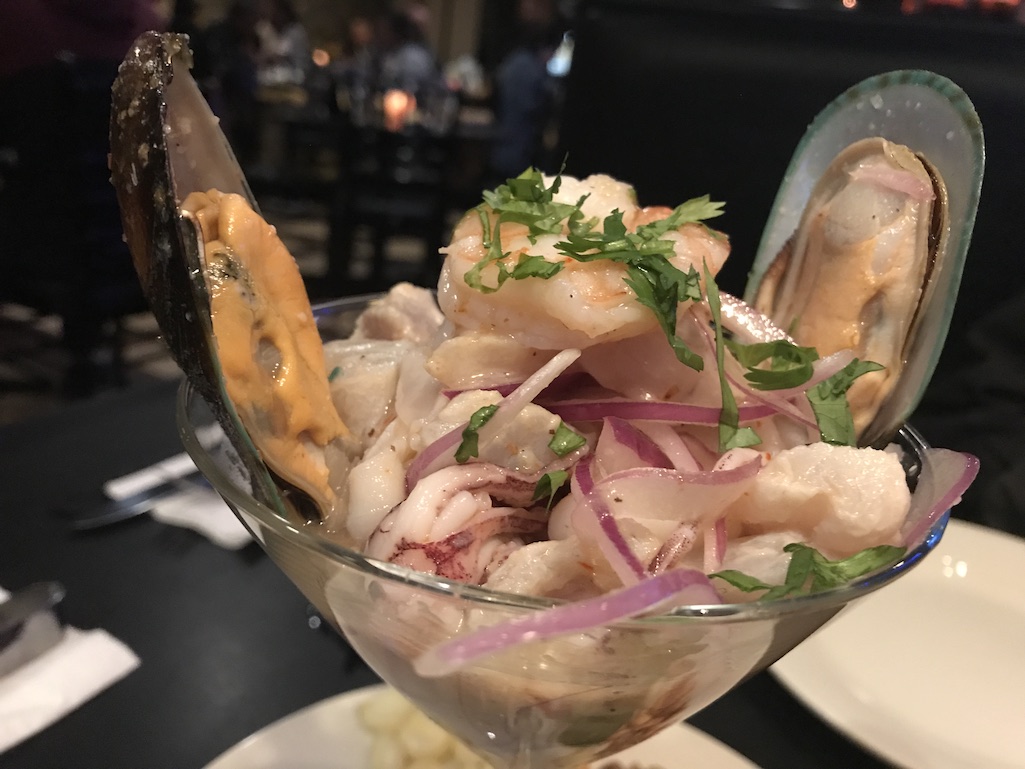 No list from Food Travelist is complete without at least one bakery and in Providence, it's Ellie's. Whether you're looking for breakfast, lunch or just something to satisfy your sweet tooth, you're sure to find it at Ellie's.  Their hearty sandwiches, fresh salads and signature breakfast sandwiches will make you and your tummy happy.
Pro Tip: Don't miss Ellie's French macarons. Each month they do a seasonal selection of three different flavors inspired by a theme. some unique flavors have included grape hazelnut, spiced pear and lemon lavender. Each tasty bite is a special treat.
We had a chance to taste some of their delicious offerings, including a flavorful bruschetta and a decadent chocolate financier as part of the Rhode Island Red Food Tour we took during our visit. Both were incredibly delicious. It was a perfect first stop on our half-day tour. What an impressive start! If you're looking for a way to taste and drink your way around Providence we highly recommend one of their tours. Just be sure you don't eat before you go because you'll need all the room your stomach can hold – and your biggest stretchy pants – on this robust tour. You'll also get a large dose of fun history, local lore and insights, art and culture during your fun exploration of downtown Providence.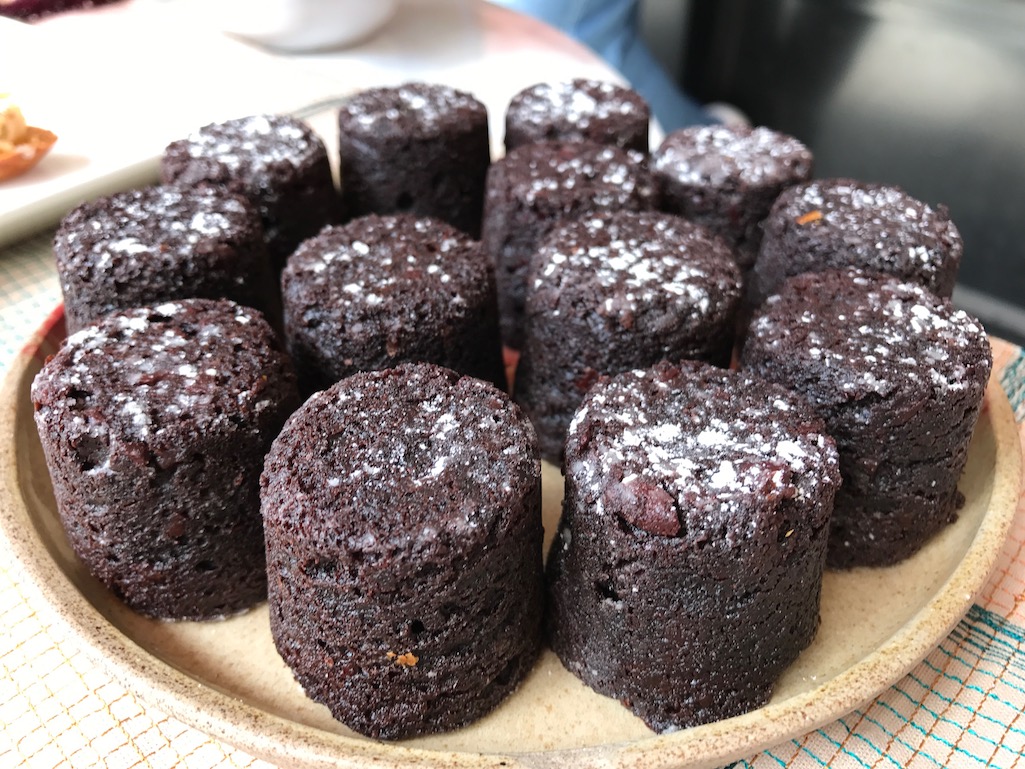 Providence loves it's Italian contingent so when you're in Providence you must go up to DePasquale Plaza on Federal Hill. You will think you've stepped onto a little Italian street with open-air cafes, Italian markets and even live music if you're there at the right time of day.
Cafe Dolce Vita was the first outdoor cafe in Providence so you know it's is going to be special. We went there to try breakfast but they also have a full menu for lunch and dinner. They're equipped with a full bar too. For breakfast you might want to try the incrediblly light and fluffy lemon poppy seed pancakes with raspberry butter. The Eggs Benedict served on Portuguese muffin halves, topped with Bavarian ham (so good) or Applewood smoked bacon or country sausage was also delicious. The slightly sweet Portuguese muffins really made this a perfect breakfast treat.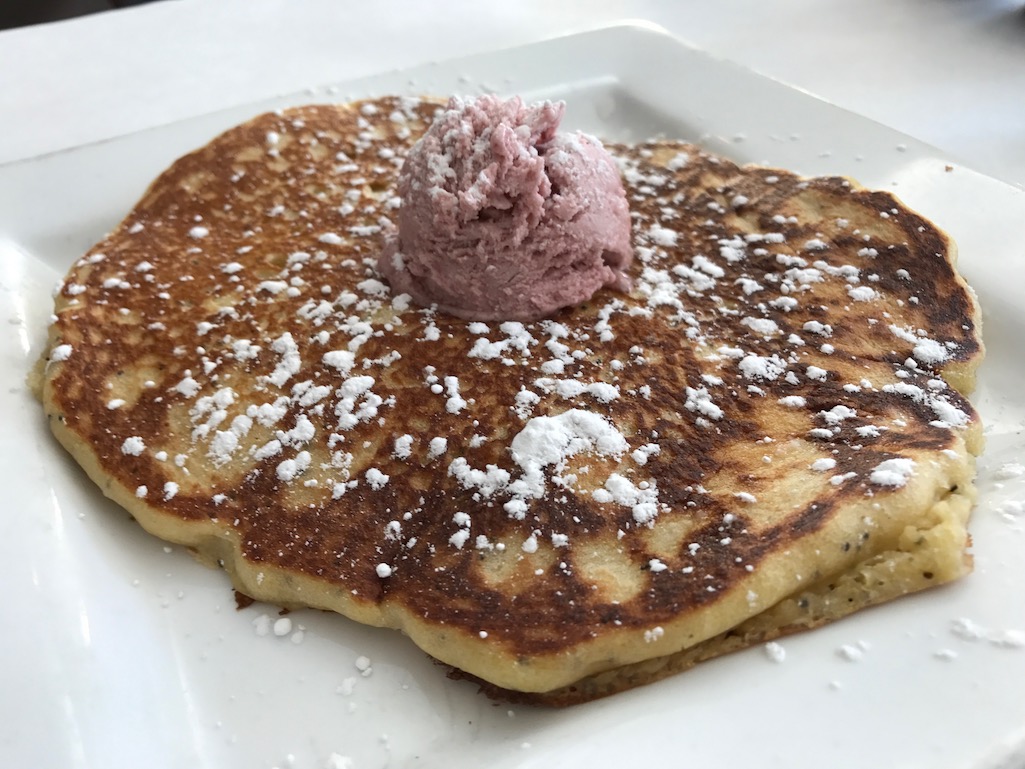 While Providence does love Italian, this is a fantastically diverse and welcoming community. Next up is Kleo's, a new Greek restaurant in Providence. You can find all the classic Greek dishes you'd expect as well as a few new ones. We were especially taken with their unique version of saganaki. Typically flaming in a Chicago restaurant (where that whole thing started as a marketing tactic) this gooey melty cheese comes in its own skillet surrounded by crispy phyllo dough. Opah! Be sure to check out their cocktails and wine list too. They put a lot of thought into their offerings, providing lots of fun and delicious concoctions for everyone. We tried a seasonal special featuring watermelon at the center of a fruity cocktail that was oh so good.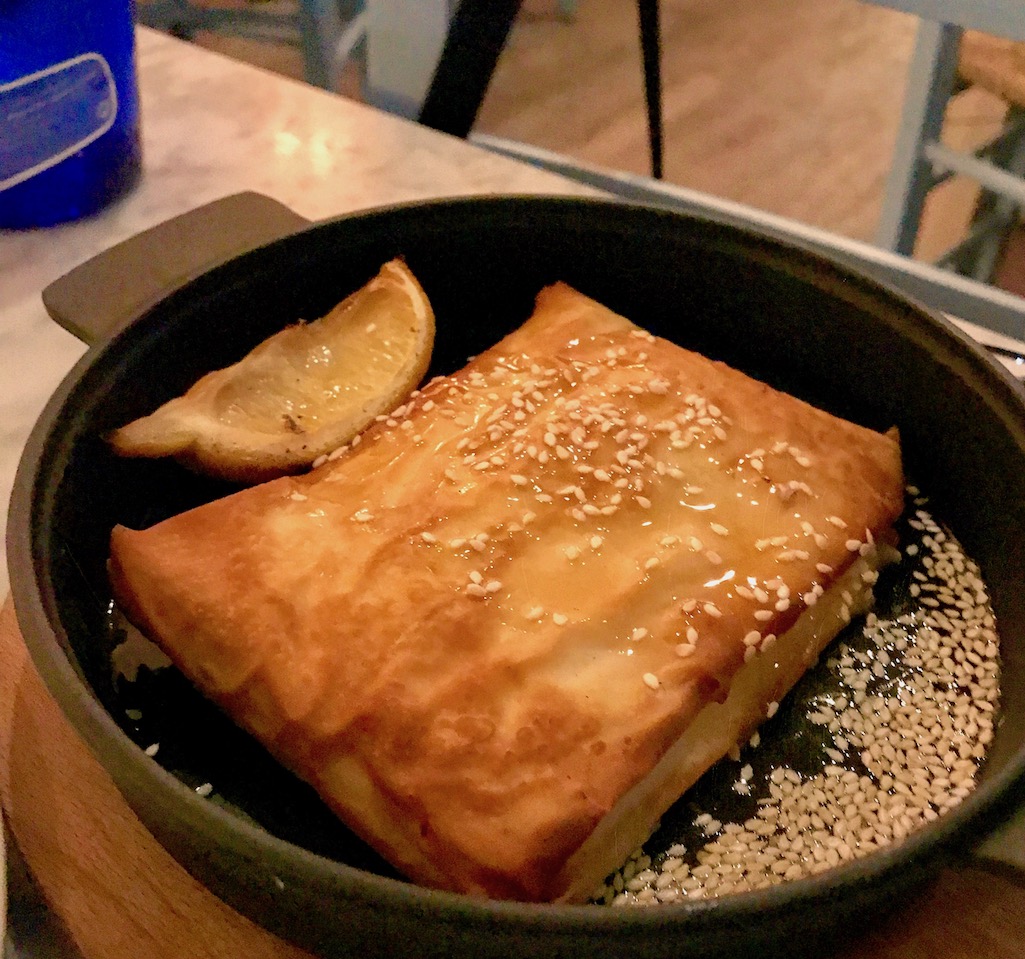 Whether you're just looking for a small snack or a full filling meal Tallulah's Taqueria is fantastic place to try. We love that this eatery is tucked into a fabulous neighborhood on the East Side of Providence. One of the things about Providence that is great for travelers (and for locals) is that the city is really walkable. We loved wandering around and discovering little shops, bars and restaurants in this fun part of town.
Tallulah's came highly recommended and it didn't disappoint. Customize your tacos any way you'd like with fresh seasonal ingredients. They call it "Chicano Cuisine on the go" and plenty of locals stopped in and left with their take home bag of joy, but there's also space to eat inside and a cute outdoor area for enjoying your nibbles too. Tacos, burritos, tortas, quesadillas, bowls – they have it all. If you want to get your authentic Mex on, this is the place to do it deliciously.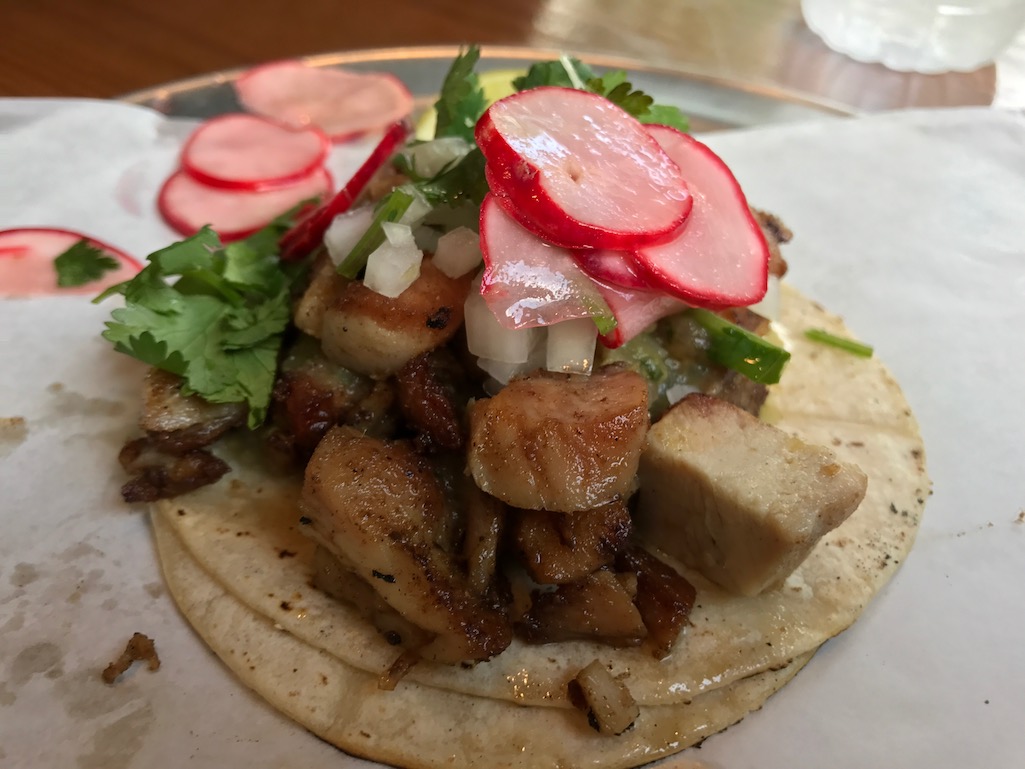 Sometimes all you need is a great cocktail and Providence has you covered with the Eddy. We met our friends Brittany and Derek from Backpacking Britts for a drink and ended up staying for hours. They had me as soon as I walked in and heard 70s Motown playing. Hopefully, the Britt's didn't mind me interrupting our conversation from time to time with some of my favorite lyrics from Marvin Gaye, The Temptations and more of my faves.
They've got "snacks" that we'd call upscale bar food, including meat and cheese boards, sliders, oysters and desserts. I can't believe I missed the onion dip. Guess we need another visit. Where the Eddy really shines though is in its unique and tasty cocktails. You know you're in for something special just reading the cocktail names on the menu. Orange Julius Caesar, The Honey Badger, Orange You Glad I Didn't Say Carrot (which was excellent, by the way), and the Hills Are Alive are just a few of the ever-changing array of options. They have so many unique and memorable drinks. Go out on a limb and try something you normally wouldn't. You'll be glad you did.
They also have an extensive list of local craft beer. Who can say no to a Miller High Life pony? Perfect if you want just a little chaser. And, of course, their wine list is worldly and comprehensive as is their list of global spirits. Whether you want to chill before moving on or wind down the night with a drink and a bite, the Eddy will put a smile on your face with its irresistible good nature, friendly ambiance and fun fare.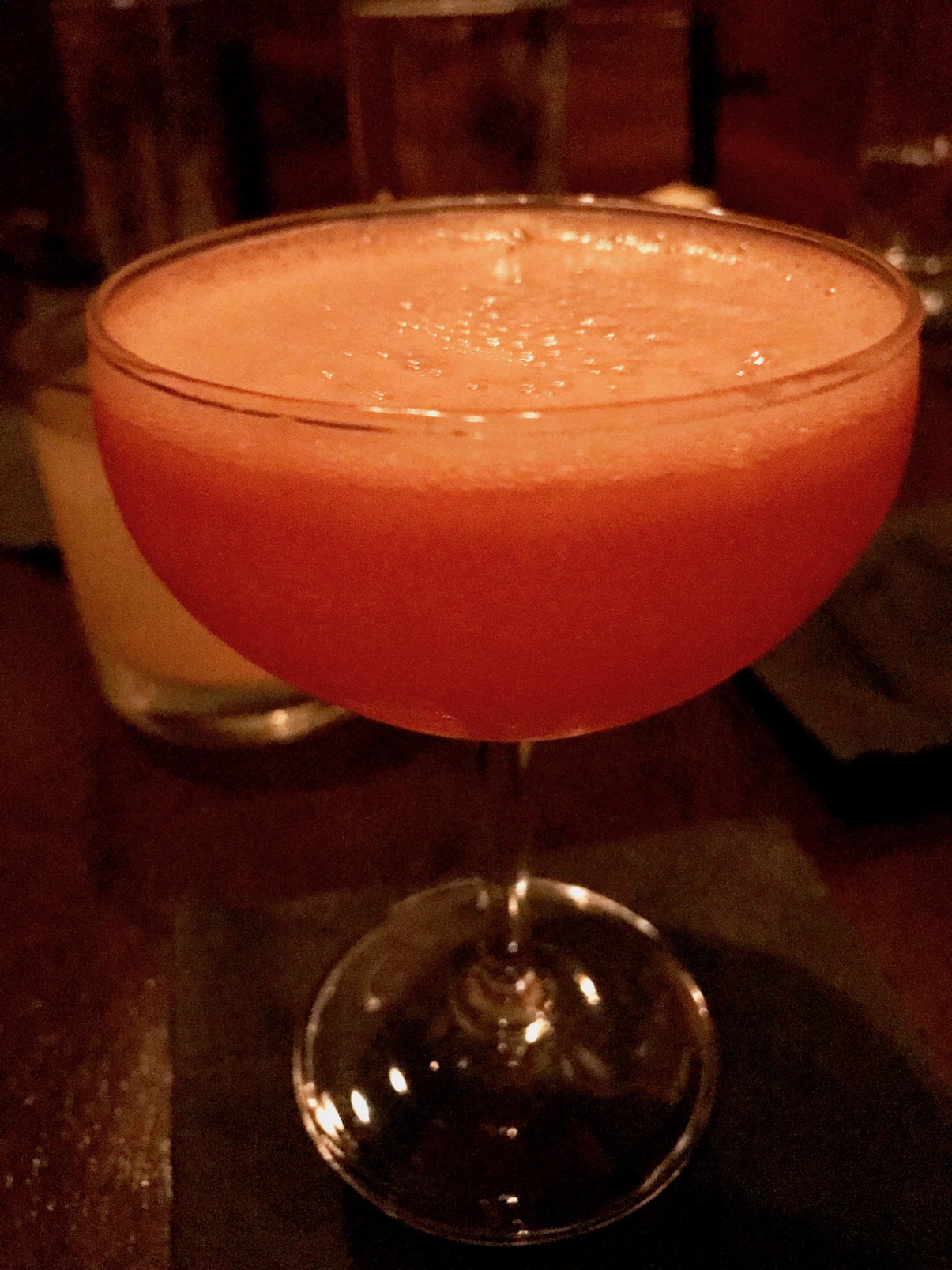 If you're gonna be out late drinking or not you must stop by the Providence classic Olneyville New York System Wiener. Every food writer and TV personality from here to kingdom come has been there. It could practically be its own Food Network Channel.
First off, you need to know that these are no ordinary hot dogs. They don't even call them hot dogs and neither should you. The correct term is Hot Wieners. And these are claimed to be Rhode Island's best! Their unique dog starts with a natural-cased wiener, a steamed hot dog bun, yellow bran deli-style mustard, chopped Spanish onions, celery salt, soybean oil, and all topped with their famous ground beef sauce.
You'll see them made right in front of you and it's a lot of fun to watch. You need big hands if you'd want to work there. They prep those puppies three at a time! Operating in Rhode Island since the late 1930s the original Greek family, the Stevens, still operate two of restaurants. This is a great place to sit at the counter and chat with locals. On our visit, we met a guy who had his very first date with his wife there in the 50s and remembers using the phone booth in the back. Great stories, great people, great food, great fun. Don't miss it even though it's a little off the beaten path. We love that anyway, don't you?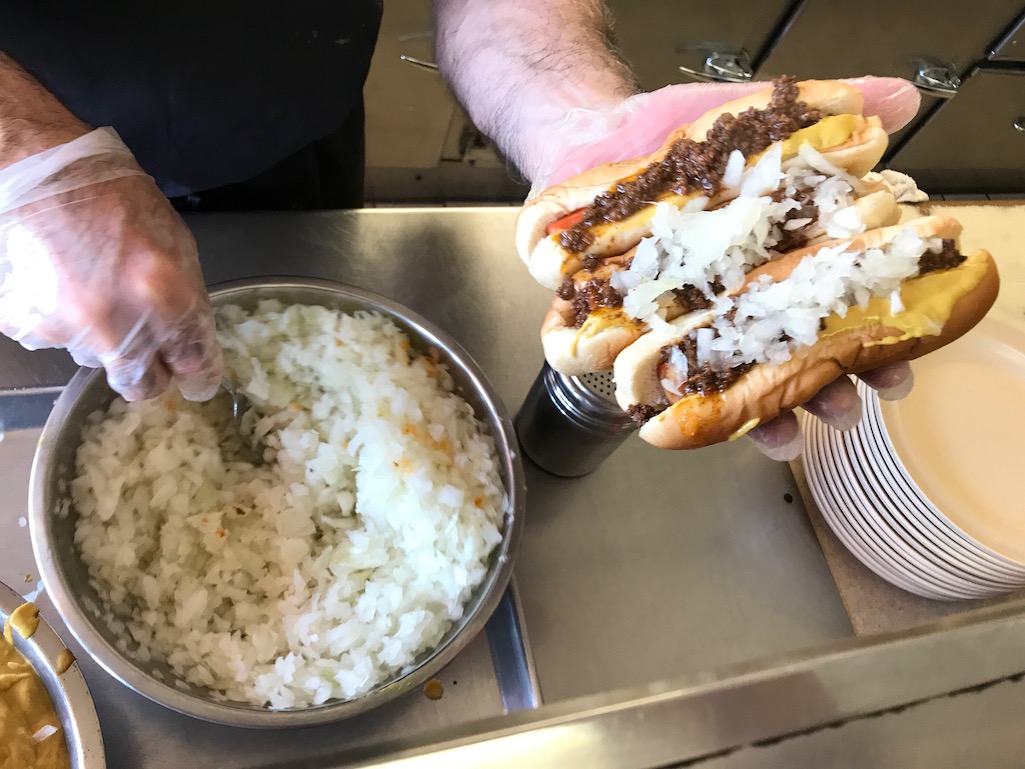 Another great place for breakfast or lunch is Sydney Providence. Yes, that's Sydney as in Australia, the destination that inspired this comfy little cafe and coffee shop. We loved the vibe of this place. Low key, casual, open space perfect for a relaxing munch or meeting.
They have a great avocado toast for sure, but go rogue and try the ricotta toast. The fresh fruit and light ricotta offer a delicious twist for a great morning starter. The bread is chewy, crunchy, rustic and simply perfect. There are plenty of great beverages, lunch items, and bakery specialties too. We can see how this would be a perfect place to do your crossword and relax with your treats or grab something wholesome and tasty for the road.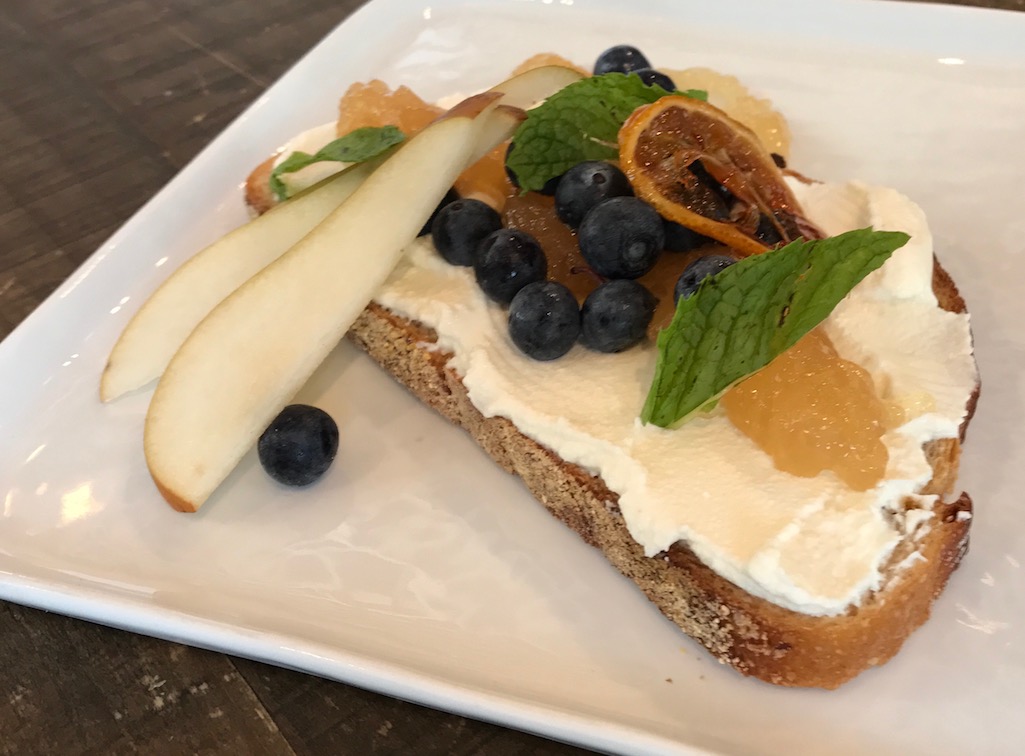 When everyone you meet tells you to have brunch at Nick's On Broadway, well, you go. And you should. You may have to wait a bit but don't stress. Have a seat at the bar and order a bloody Mary, breathe in and out, relax and enjoy. Think about the amazing food you're going to be eating in a short while and smile. You might want to study the menu while you're waiting. Frankly, there are just too many good choices and you'll want to look through them all before you decide on just a few.
You gotta love a place that says, "Nicks specializes in seasonally inspired, locally focused food, put forth humbly with thoughtfulness, passion, and honesty." We sure did!
Every dish bursts with fresh local and seasonal flavors. Although we absolutely loved the veggie omelet, pancakes and more you simply cannot skip having a breakfast dessert here. The Chocolate Chiffon cake with Schartner Farm blackberries, coffee ice cream, caramel and whipped cream was absolutely delectable. Also be sure not to miss their English Muffins, which are thick and yummy. And if you're a tea lover like me they're serving local loose teas from Farmacy Herbs. Give them a try because their tea is excellent and worth seeking out. Just as is Nick's On Broadway. Just like everyone told us, we're going to tell you. Go. Have brunch at Nick's On Broadway. Go.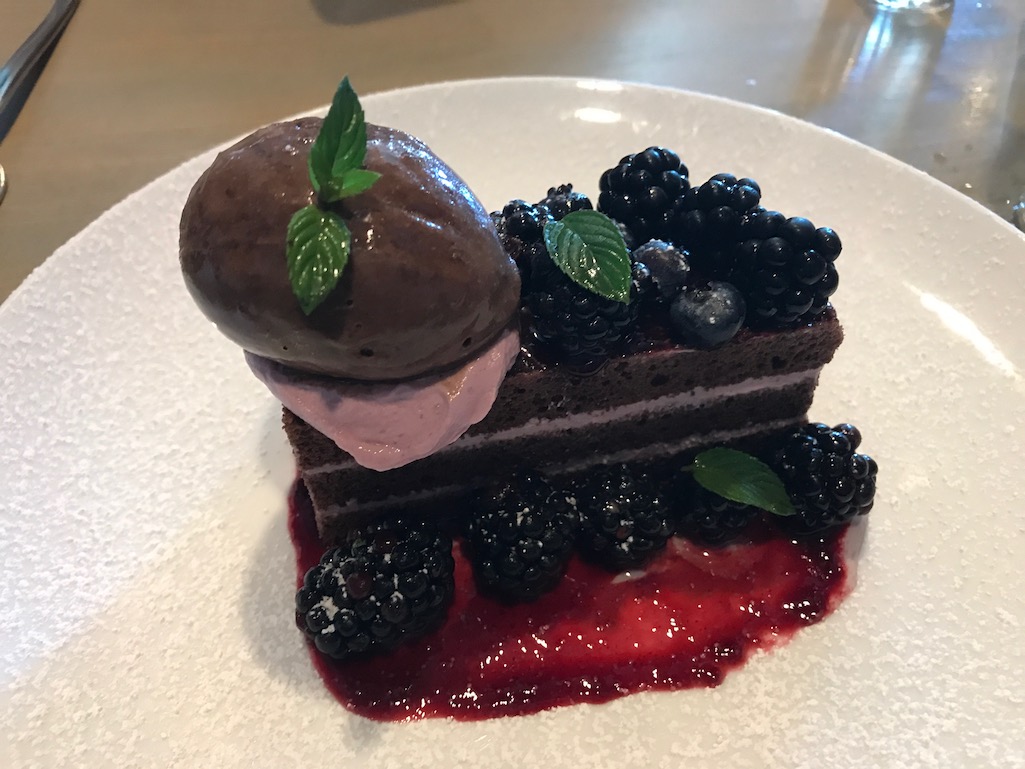 Their slogan "Good doughnuts made well" pretty much says it all. I'm not gonna lie. When you walk in Knead Donuts and see all the doughnuts in front of you the chance that you'll get a little light-headed is very high. Where to start?
They have old-fashioned, cake, and brioche style, filled and fritter style goodies. They also offer vegan Sunday through Tuesday and flour-less options on Saturday and Sunday.
The flavors and fillings change seasonally so you'll want to stop in and pick up some of your favorites, old and new. While we were there we noticed that they pack up donuts in pretty little boxes for special occasions and delivery. What a treat that would be! Also if you're hankering for ice cream they make a doughnut ice cream sandwich that looked decadent and yummy. We watched a young lady at a nearby table in their cute little sit down area devour it with delight. We loved watching the selfies she took of the experience, so you know we were deliriously happy at the time.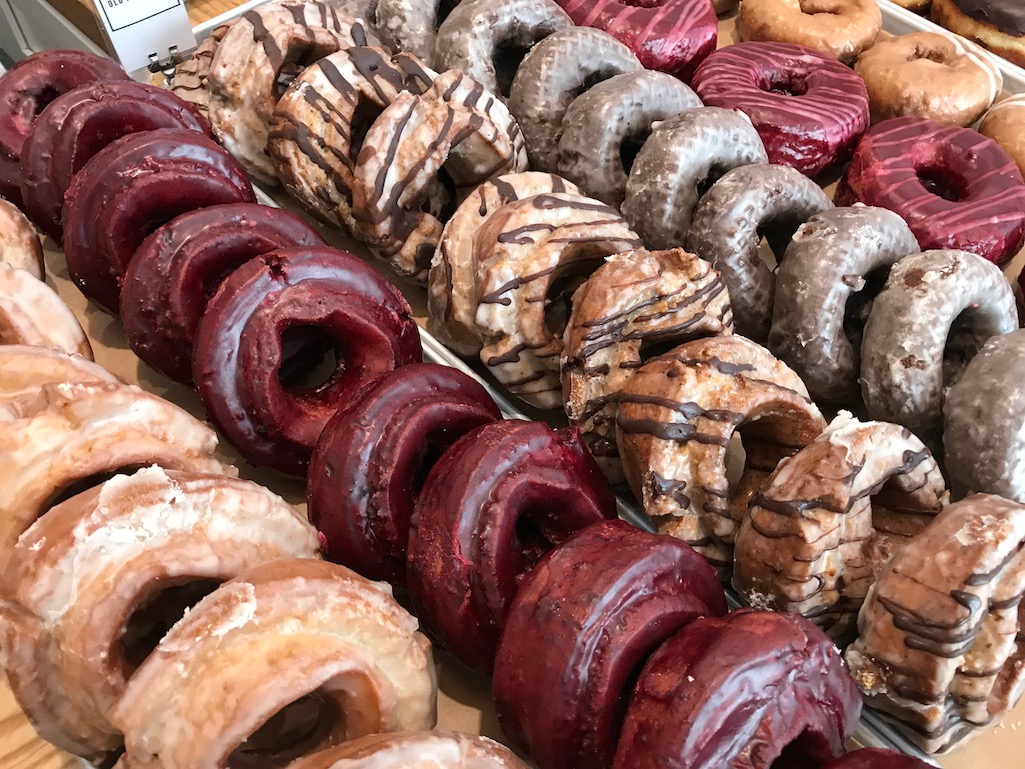 This list is by no means where your food discovery will end in Providence. In fact, it's just the beginning. Stroll up and down the streets, explore the various neighborhoods, and let yourself be the free spirit that Providence encourages to be sure you don't miss anything. If you like what you see so far, stay tuned. We'll also be sharing our favorite places to visit and stay while in Providence.
To learn more about Providence and to plan your visit check out GoProvidence.com.
Pin It For Your Providence Food Travel Planning