If you're looking for hot Barcelona Bars look no further than Espit Chupitos. This little bar doesn't look like much from the outside, in fact, most people would pass it right by, but you will be amazed by the selection of drinks available. This bar specializes in shots and over 200 are available and neatly listed on the wall of the bar. If your Spanish is not that great – you might be surprised at what you'll have in store, so order carefully.  We ordered the Ferrari and were surprised as the bartender prepared the drink that he spilled some alcohol or fuel on the bar. But not nearly as surprised as when he lit the alcohol and it ignited and moved toward the glass. It all happened so fast that we had to order another just to get this great picture. In true Spanish form – this bar doesn't even fill up until after midnight. If you get there at 9 pm the bar will be all yours. Good if you're in a large group not so great if you're alone.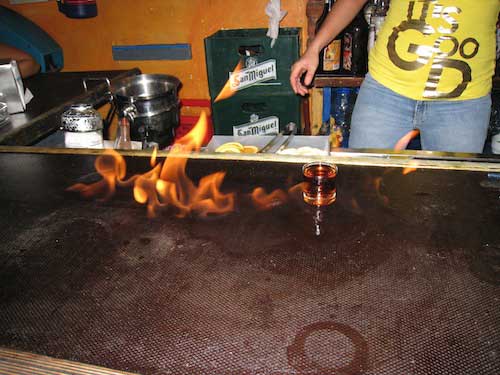 There is so much to experience in Barcelona – the beach, the art and architecture, the shopping, the music and dancing, and of course all the delicious food. Exploring all the tapas bars along with the Spanish wine can also be fun and a great way to sample all the food Barcelona has to offer. After spending a full day in Barcelona hitting the bars is a wonderful idea.
Which gives this bar a rating of cheap and cheerful. If you're looking for a great place to start or finish your evening this is one of the Barcelona bars that just might be the spot for you.
THE QUICK BITE: If you're visiting Barcelona and looking for a fun spot to get a drink, try Espit Chupitos for a huge list of shots and picture-taking entertainment.