Asian Chicken Salad, also called Chinese Chicken Salad, is one of our all-time favorite healthy salads.  You can make it with a variety of ingredients depending upon what you have on hand. We love healthy salads that can be enjoyed anytime. Because this is one of the most flexible chicken salad recipes, it has become one of the best salad ideas for dinner, especially when the summer heat is in full swing.
Asian Salad With Lots of Flavor
We enjoy the Asian salad dressing that gives this recipe lots of flavor while still remaining a healthy salad dressing. The key is combining unique Asian flavors from seasoned rice vinegar with some sesame oil. That way, we use less regular oil to keep the fat content low but still provide lots of zing to this Asian salad.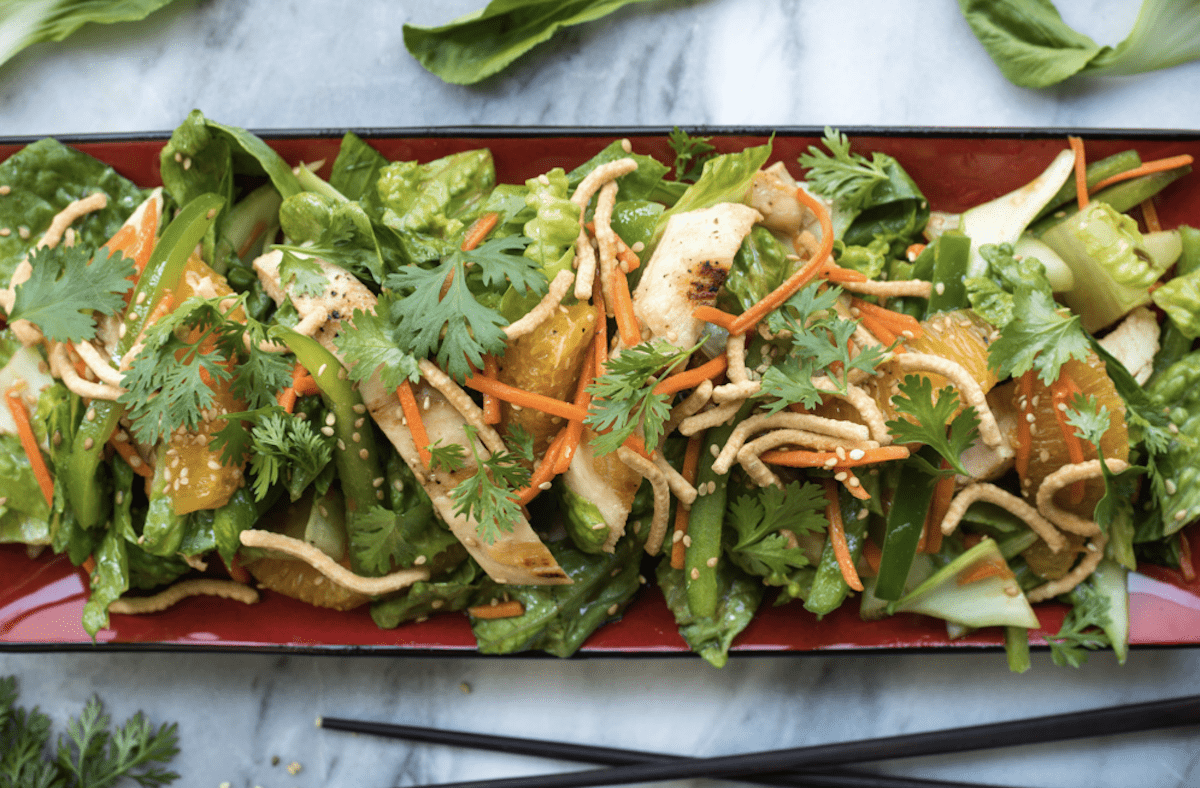 Our approach is to see what we have in our pantry and use that as the basis for our Asian salad. That keeps things interesting too because it will be different every time. Some of the salad ingredients give it a distinctively Asian twist such as crispy rice noodles and mandarin oranges. But you can substitute chow mein or ramen noodles, or even cook the noodles if you like. And, if you don't have any noodles on hand, that's okay too.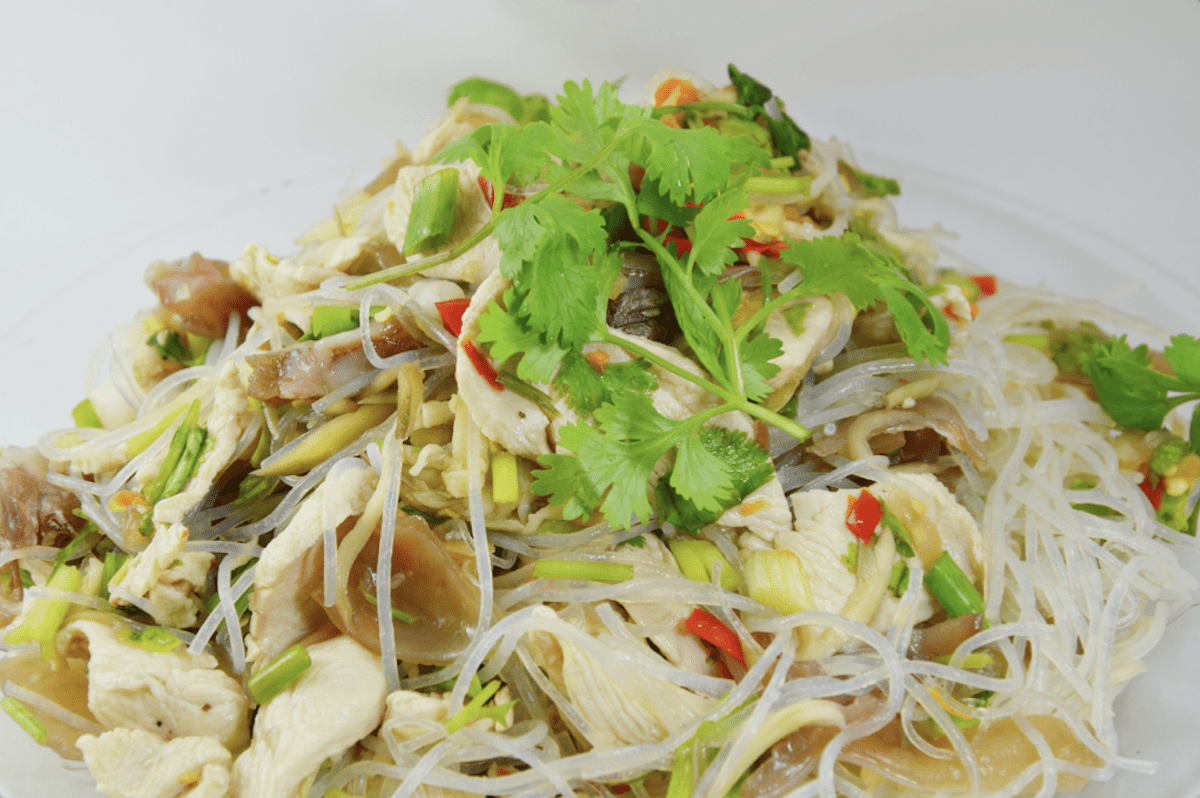 We Love Healthy Salads
Crunchy vegetables like carrots and cabbage can add crunch to our Asian chicken salad if you're trying to stay away from carbs or are eating gluten-free. It's also fun to add whatever other vegetables you have on hand to suit your taste. Cucumbers, tomatoes, sweet bell peppers, sugar snap or snow peas, bean sprouts, and more are all fantastic additions.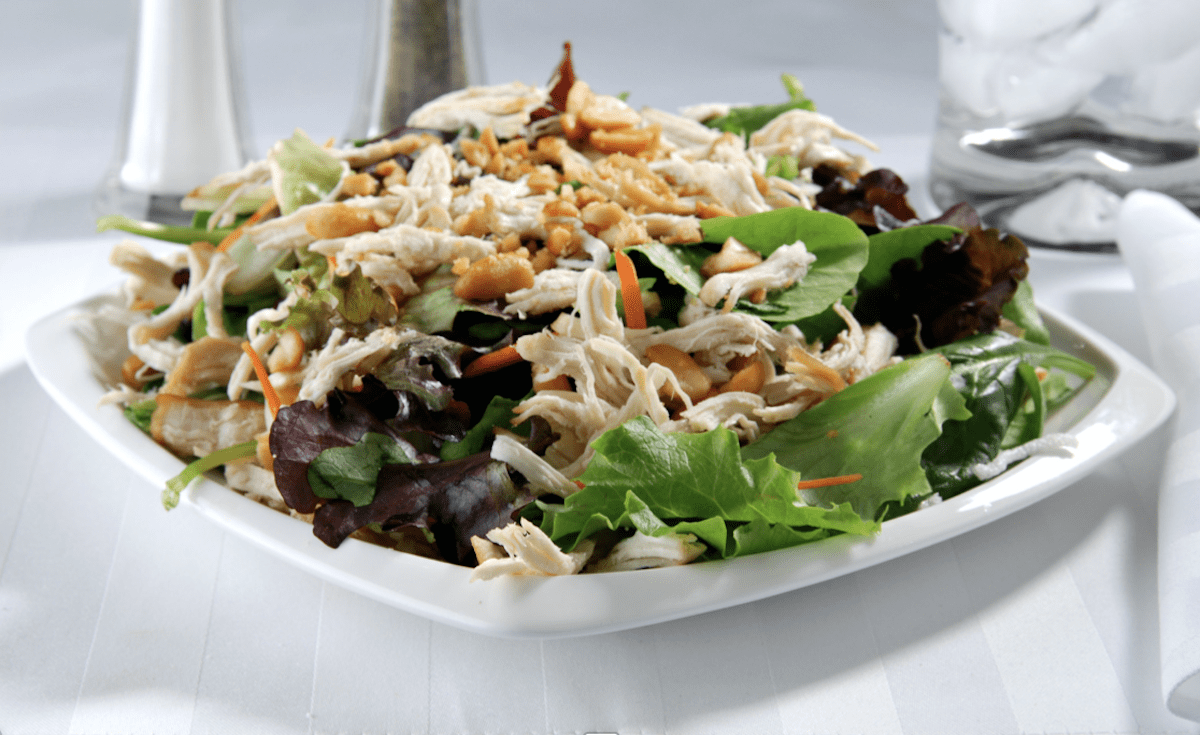 The important thing to remember is that this is your salad. If you like adding nuts for a little crunch, try some crushed peanuts or slivered almonds to top off your Asian chicken salad. You can even skip the chicken and use shrimp or just go all veggie instead. Sometimes we'll use hard-boiled egg wedges for a bit of protein instead.
Just Have Fun!
Whatever you do, have fun. We love chicken salad recipes that give us choices, and this one is perfect for that. We'll list the possible ingredients for you and then give you an idea of how to put it all together. We'll also provide a very simple healthy salad dressing recipe. And, we'll give you a few ideas for how to spruce things up a bit if you want to experiment or add some other flavors.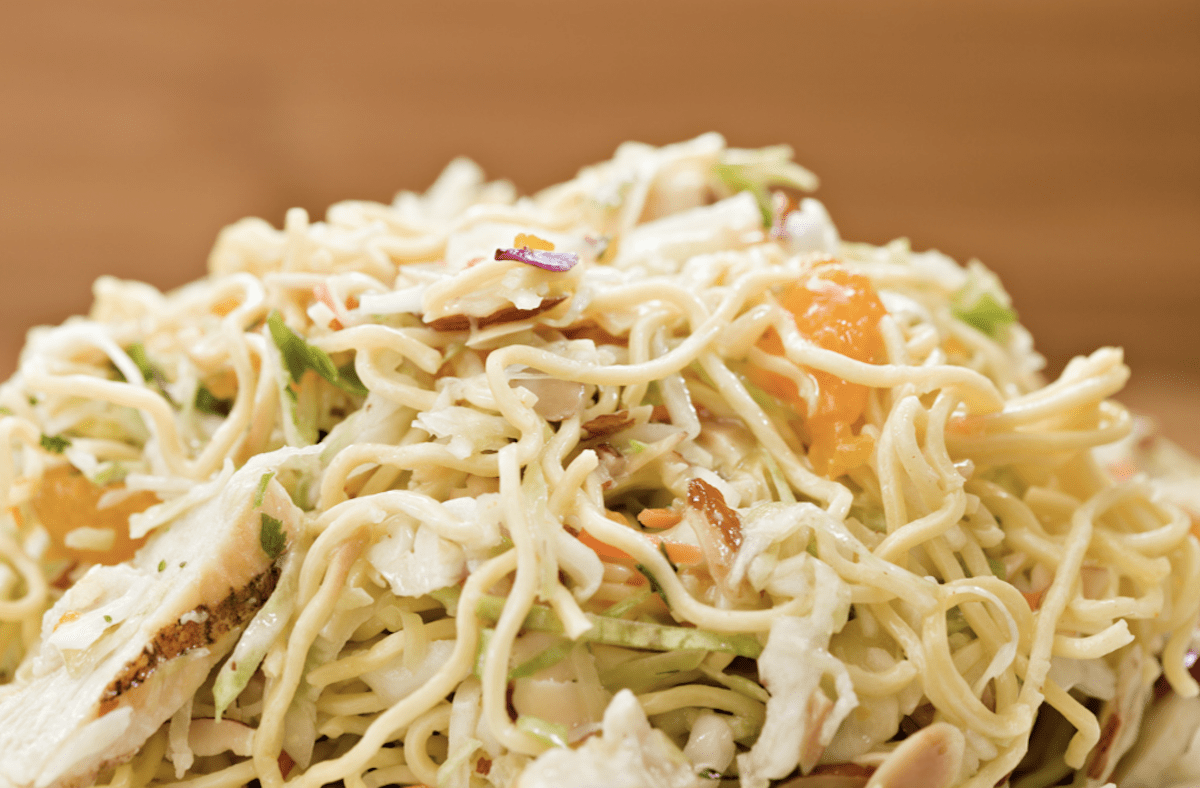 Asian Chicken Salad
Salad Ingredients (use what you like and what you have)
1 cup cooked sliced or diced chicken, shredded rotisserie chicken, or 1 can chicken breast
1 cup Napa or green cabbage, shredded
1/2 cup red cabbage, shredded
1 cup chopped Romaine lettuce
3 green onions/scallions, sliced into thin disks
1/4 cup fresh cilantro, chopped + a few sprigs for garnish
1/4 cup red, orange, or yellow bell pepper, thinly sliced
1/2 cup cucumber, julienned
1/4 cup carrot, julienned
1/2 cup bean sprouts
1/2 cup snow peas, cut into thirds
1 small can mandarin orange sections
1 cup crispy rice noodles, chow mein noodles, uncooked ramen noodles, wonton noodles (or cooked noodles if you prefer)
Chopped peanuts or slivered almonds to taste
Black or white sesame seeds for sprinkling on top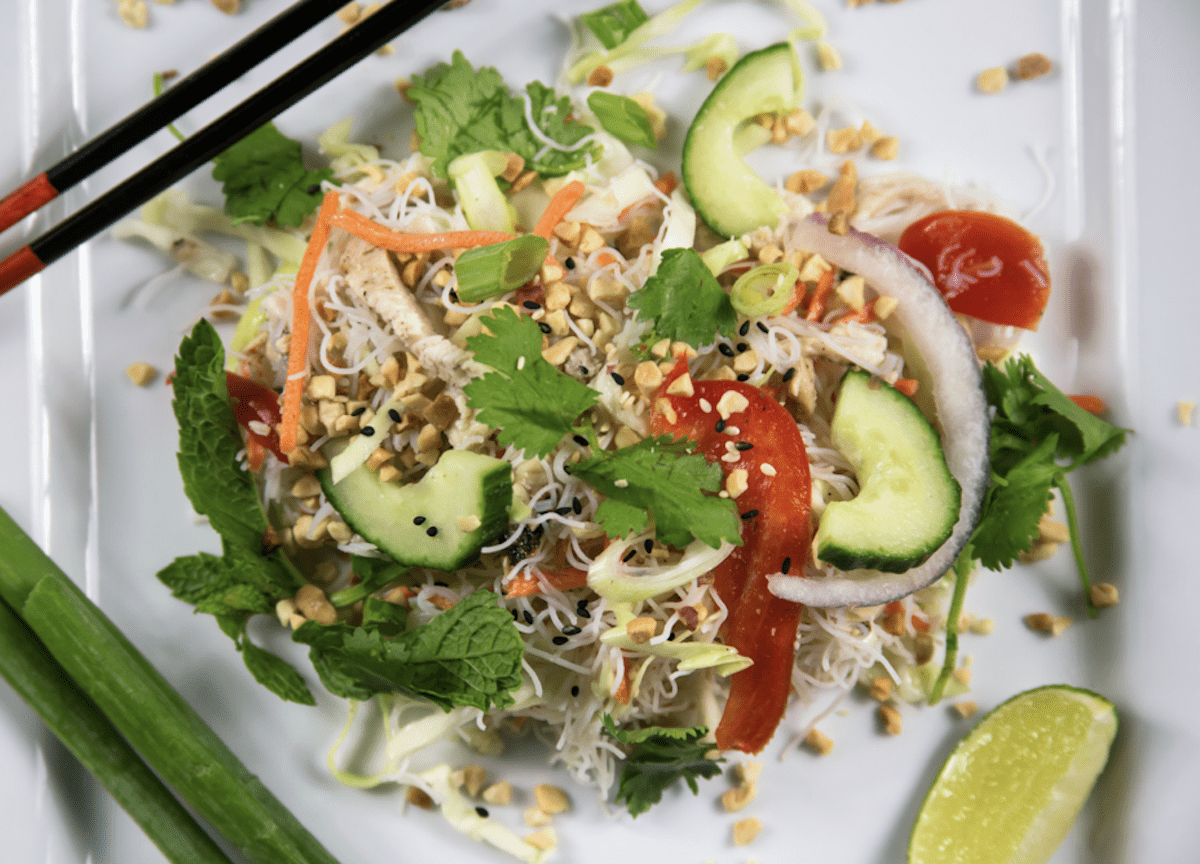 Asian Salad Dressing Ingredients
2 Tablespoon neutral flavor oil (extra light olive, macadamia, almond, walnut, etc.)
1/3 cup seasoned rice vinegar
1 Tablespoon grated ginger (you can use fresh or jarred, but powdered ginger does not provide the same flavor)
1 teaspoon honey
1/2 teaspoon toasted sesame oil
Directions
Combine all the salad ingredients and place into two serving dishes and arrange as you like. Some put the noodles on the bottom then layer lettuce, veggies, chicken, and nuts. Others prefer to combine chicken and veggies then top with noodles. Do whatever you like and make it your own! Also, you don't have to include all of the salad ingredients. Just what you like and what you have on hand.
In a small bowl, combine the ingredients for the Asian salad dressing and whisk together. For a richer dressing, you can add 1/4 cup hoisin sauce or 1 Tablespoon of low sodium soy sauce or Tamari (gluten free).
Drizzle the dressing over the salads evenly. Top with your choice of cilantro sprigs, nut pieces, and sesame seeds.
Enjoy this tasty Asian Chicken Salad whenever refreshing and healthy salads sound like a good choice to you.
Check out some of our other healthy recipe ideas like our easy Vegetable Pasta Primavera Recipe and our delicious Quinoa Bowl Recipe.
Give our Asian salad a try and let us know how it goes!