One of our favorite things to do during the holiday season is visiting Christmas markets. Whether at home in Chicago or visiting in Europe we love them all. One of the oldest and largest Christmas markets is held in Nuremberg, Germany. Apparently, despite numerous investigations, there still is no solid proof as to which Christmas market was the "first."  In our humble opinion, it doesn't really matter. Every market has its own unique traditions.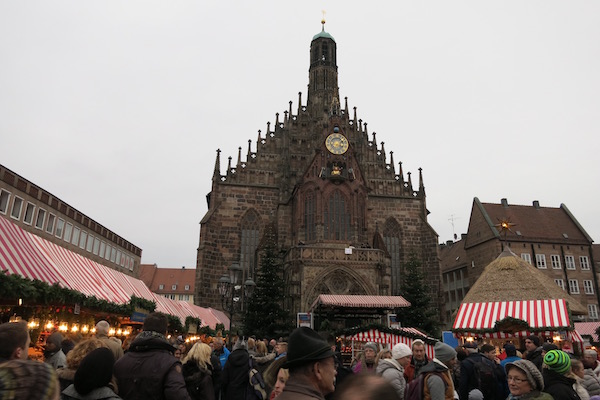 Nuremberg Christmas Market or Christkindlesmarkt is visited by over two million people every year. The main market is held in front of the Frauenkirche church in the town square although the market does spill onto other nearby streets throughout the small town.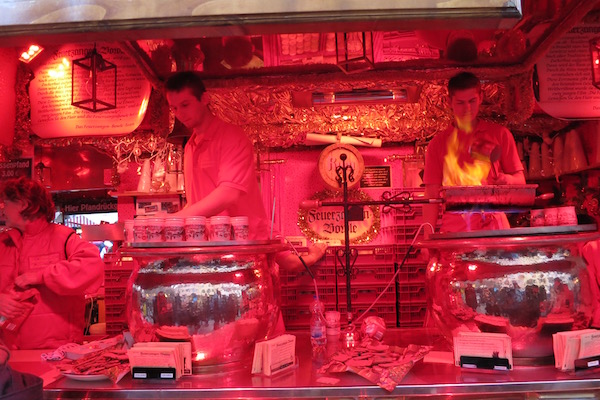 Lots of Glühwein To Drink
Of course, we love Christmas markets, especially for two things: food & glühwein. In Nuremberg, we were drawn to the red glow of the stall serving Feuerzangenbowle or Fire Tong Punch. Different than the typical glühwein – mulled warmed wine found at Christmas markets – this fiery drink has a "loaf" of rum-soaked sugar that is lit on fire. The caramelized mixture drips into the mulled wine below. The rum and the wine pack a powerful "punch" so be sure to sip your drink as you stroll around the market.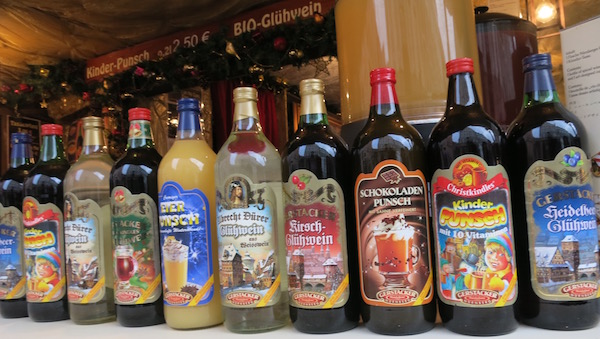 Lots to Eat
If that concoction doesn't strike your fancy not to worry. There are many varieties of glühwein to sample including an organic or "bio" wine and even non-alcoholic types for the kinder (children).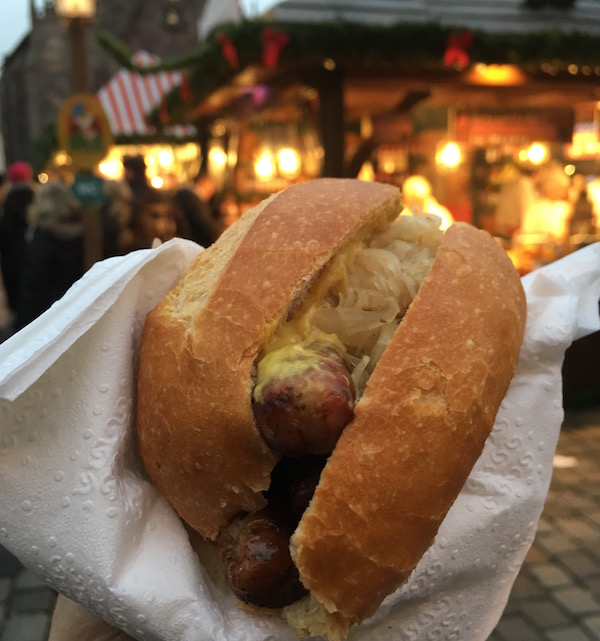 No German market is complete without some type of sausage. The storied Nuremberg "rostbratwurst" sausage is available all over town and typically sold in multiples of 6, 8, 10, or 12 for dinner. These sausages, unique to the town, are small and thin. There are many tales as to why they are so skinny. Some say it's because pubs and town gates closed early in the Middle Ages and these little devils could fit through the keyholes to feed those who may have stayed out a little too late. Germans being ever the practical people came up with the thin little sausages.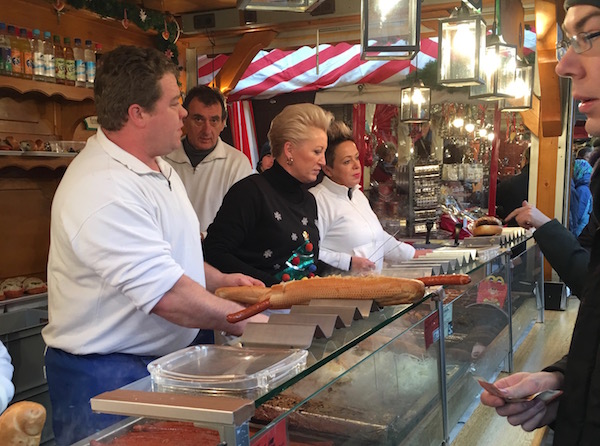 If you're looking for something a bit more substantial you're in luck too. There are many types of full-size bratwurst and sausages from which to choose.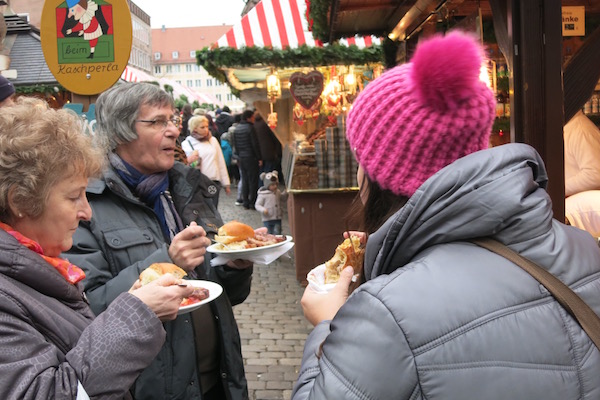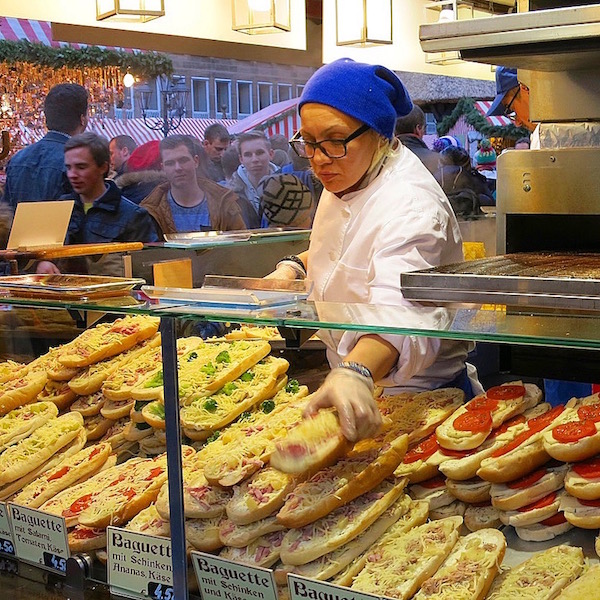 In fact, there are so many different goodies cooking your nose will lead you around until you find just what will satisfy your hunger.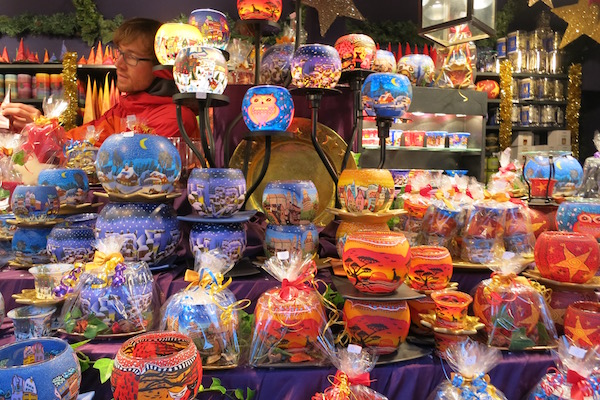 Lots to See
Once you have a full belly you'll want to walk around and check out all the holiday decorations, ornaments, and gifts. The Nuremberg Christmas Market features goods from the region many of them painstakingly handmade. You'll be walking side by side with local families, who make it an annual tradition to spend time shopping and eating at the markets.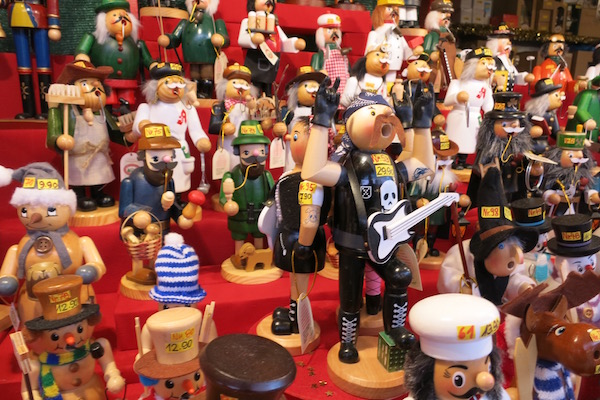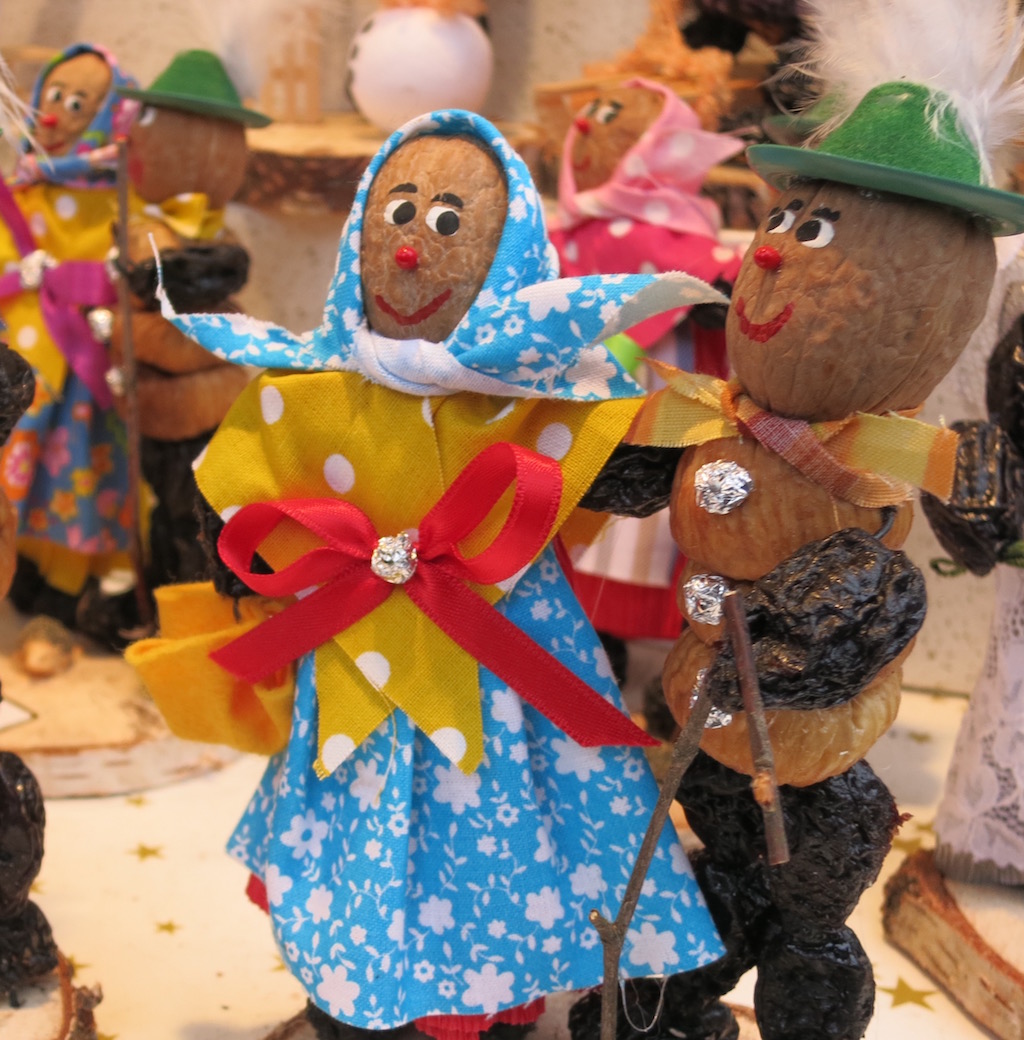 A holiday decoration that is special to Nuremberg is the prune men or Zwetschgenmännle. A local wire craftsman in the 18th century had no money to purchase gifts for his children. He fashioned toys out of leftover wire, prunes from his plum tree, and walnut shells. They would play with them and eventually eat the prunes. Times have changed and they are no longer edible. Signs warning not to eat them are everywhere. They are now designed to be used year after year. The saying goes "Hosd an Zwetschga im Haus, gäid dir es Geld und Gligg ned aus" or "With a prune man in your house, money and happiness stay, too".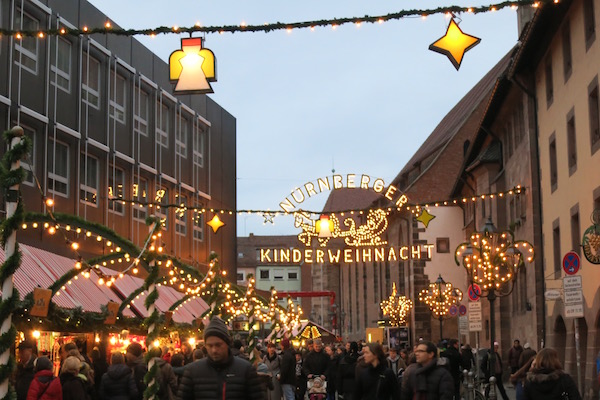 There's even a separate section that has games and rides for children. The Kinderweihnacht is especially sparkly and glowing with lights. I'm sure the little ones can't decide which way to turn as they survey all the goodies. Once you've explored the over 180 market stalls throughout Nuremberg it's time to eat again!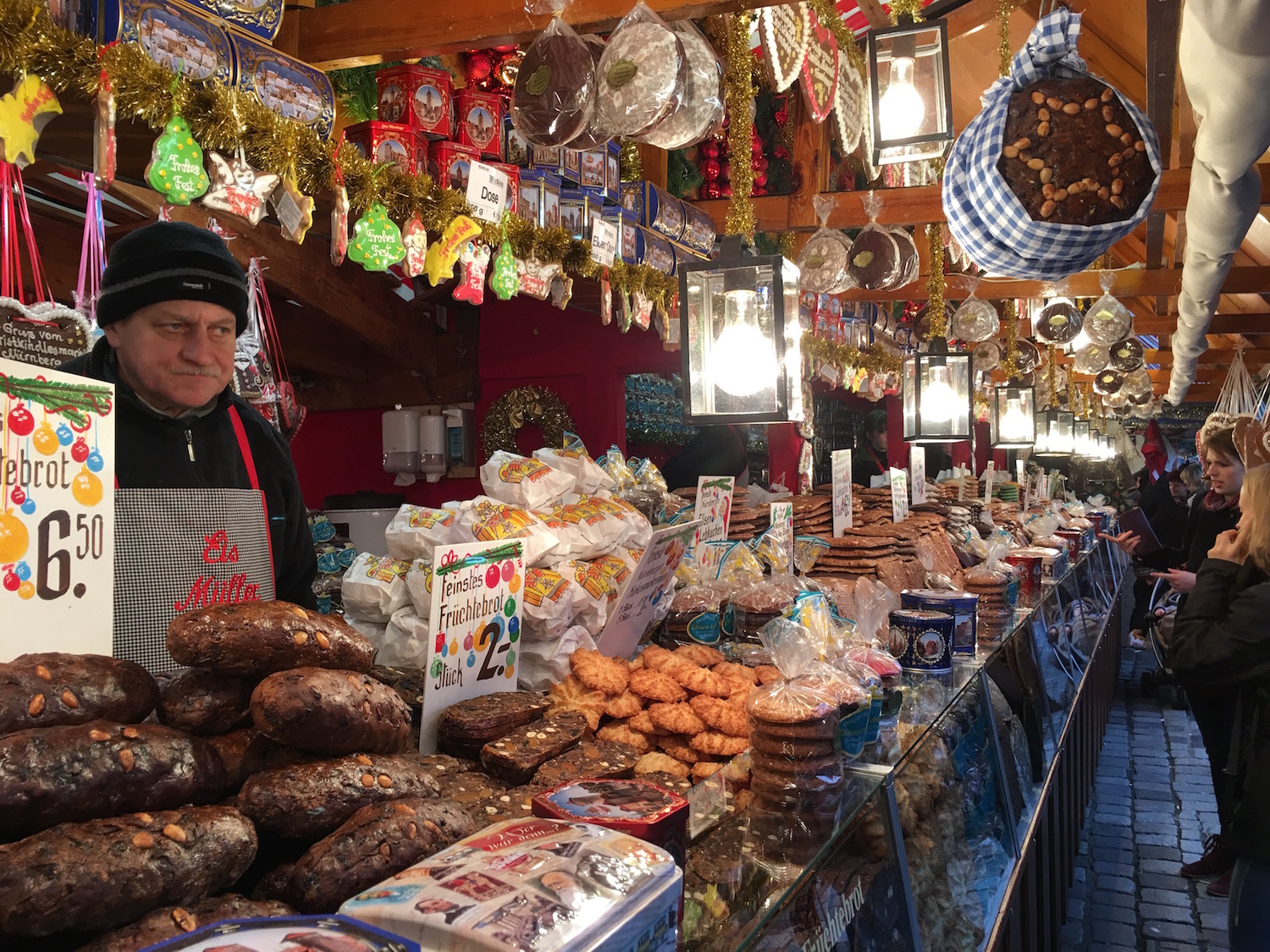 Lots of Sweets
Now it's your chance to check out the many sweets that are abundant at every Christmas market. In Nuremberg, the traditional lebkuchen or gingerbread can be found many places. You'll want to check out the famous Lebkuchen-Schmidt. They have many assorted decorated gift boxes to take with them or ship anywhere in the world. A Nuremberg institution, Lebkuchen-Schmidt is the oldest mail-order company for Lebkuchen and pastry delicacies. You can learn more about them and even place an order on their website for a true taste of this Nuremberg specialty.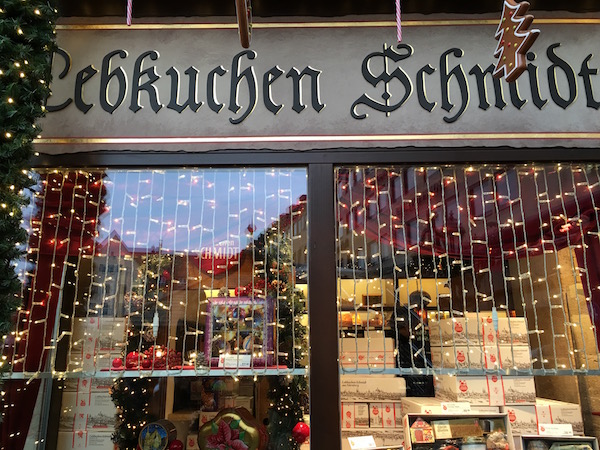 If you're like me you'll want a lebkuchen heart that either has the name of the market or declares "ich liebe diche" – I love you. These are purchased as a gift and given to someone special from their sweetheart. It's fun to see the many sizes and other sentiments also available. There are as many different "hertz" as there are people to buy them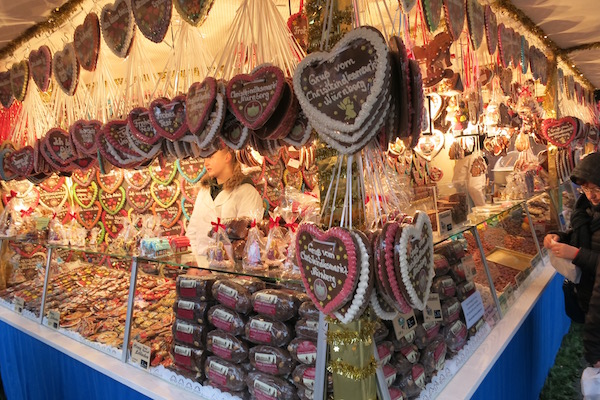 We also encountered these unique beautiful vegetables crafted out of marzipan.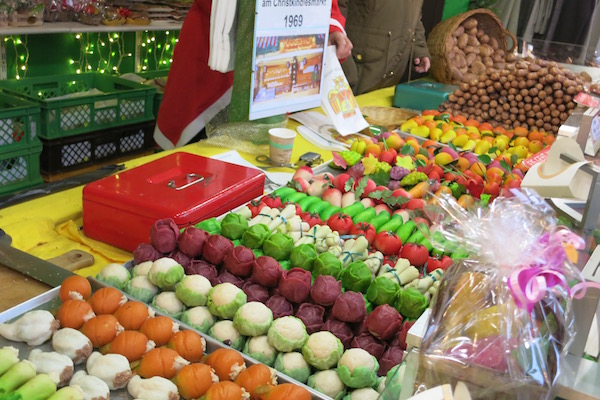 Not to worry if your legs need another rest. Jump on one of the horse-driven carriages for a trip around town. You'll hear carolers and music throughout the town. Be sure to visit the market in the evening when all the lights come on. They will take your breath away and make you giddy like a child.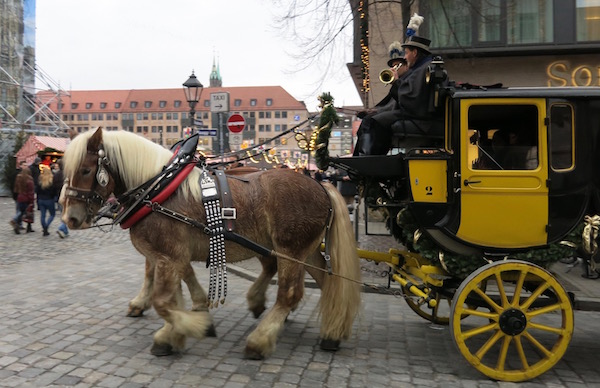 Check out the bavaria.us website for more details when you plan your travels. The Nuremberg market runs from November 25 to December 24, 2016. Open 10 am-9 pm Monday through Sunday.
THE QUICK BITE: The Nuremberg Christmas market is one of the largest and oldest in Germany. You'll find authentic holiday food, drinks decorations, and gifts that will keep you busy all day long.