I have a tendency to write about food travel experiences in other parts of the world so often I don't take time to share some of the wonderful things we have going on in our own hometown of Chicago.
One of my favorite times of year is Christmastime in Chicago when the city really shines. Despite our warmer than typical fall I think we're already enjoying the glistening snowfall and some ready for some holiday cheer.
Watching A Charlie Brown Christmas the other night instantly brought me into the holiday spirit. As soon as I heard the opening notes of Vince Guaraldi's Christmastime I'm done. Forget about working or getting anything in particular accomplished. I'm thinking about decorating, baking cookies and doing all the things I love to do at Christmastime in Chicago.
I'd like to share just a few of things that we like to do during the holiday season. Trust me there's a lot more to do than any quick guide can provide. Chicago has enough going on to fill way more than 25 days of Christmas.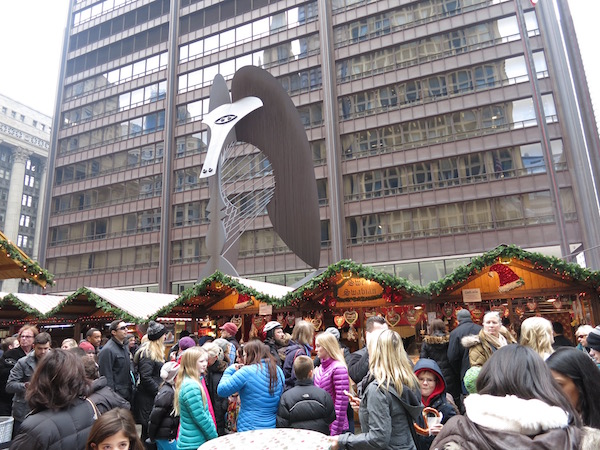 Christkindlmarkets
Chicago has had one of the best German Christmas markets outside of Europe for over 20 years. The organizers bring in vendors from Europe with authentic gifts, food and of course glühwein. Pronounced glue-vine, this mulled hot red wine really takes the frosty cold out of Chicago's wind. They serve the hot spiced  in traditional mugs or boots and every year they're a little different so they make great souvenirs. Needless to say we have quite a collection.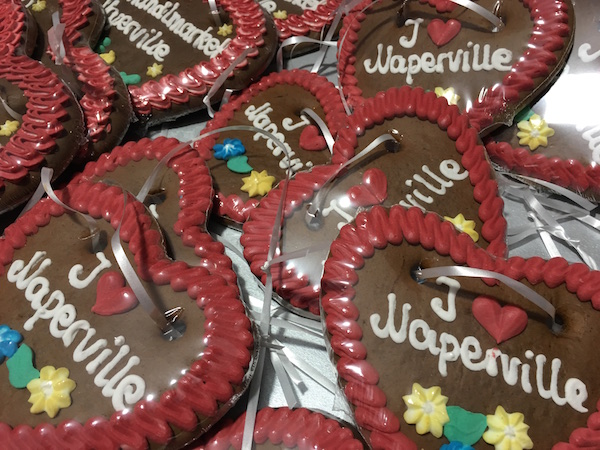 Christkindlmarket has two locations this year. The original market downtown in the Daley Plaza around the iconic Picasso statue is joined by another just west of the city in the downtown are of suburban Naperville. We checked out the outpost in Naperville this year and it's similar to the Chicago downtown version. There's plenty room, many of the same vendors and lots of indoor heated space for eating and drinking. Although we're sure the weekends get a giant crowd, our late afternoon visit on a Friday was easy to navigate.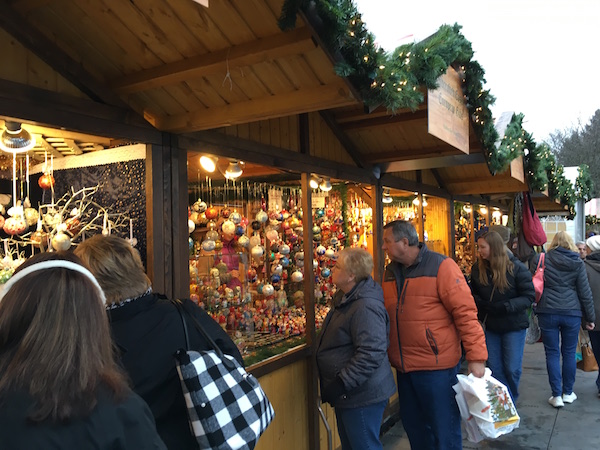 These markets are as close as you're going to get for experiencing a real German market in the U.S. Along with drinking a mini stein (that is the shape of the souvenir mug this year) of glühwein, you can sample bratwurst, potato pancakes, schnitzel, pretzels, strudel, apple cider donuts, spiced nuts, gingerbread, racelette cheese and many other traditional taste treats.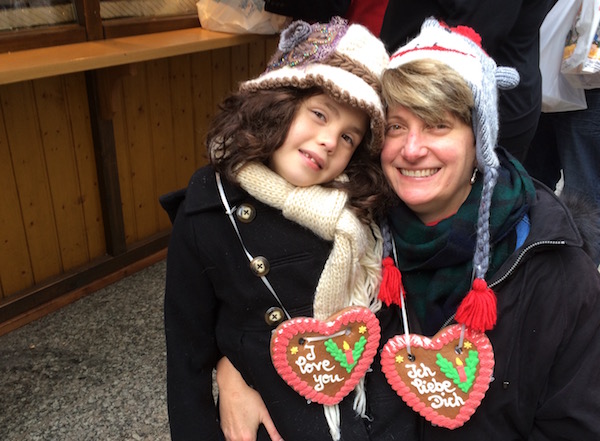 There are lots of vendors selling handmade gifts and holiday decorations from Germany, Austria and elsewhere. I dare you not to smile after a hot mug of glühwein and a German snack. It's just not possible! There's no entry fee so be sure to wander around checking out everything before you settle on what to eat, drink and buy.  You can get all the info on their site Christkindlmarket.com.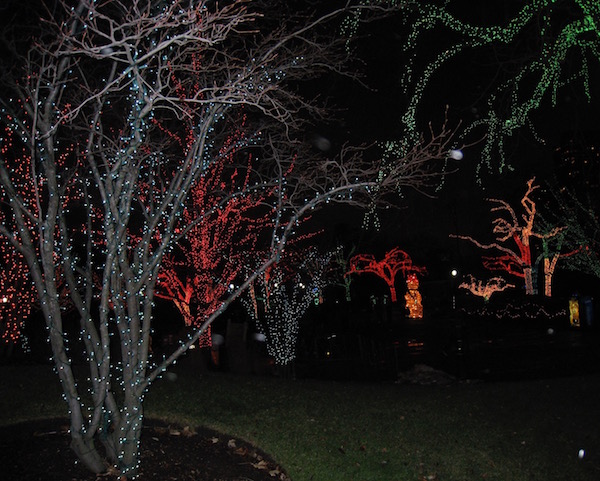 Z00 Lights
We're lucky to have two world-class zoos in Chicago. Lincoln Park Zoo on the near north side hosts festive zoo lighting that we really enjoy. As always, the zoo is free so walking among the animals and admiring the light displays is a real treat for everyone – especially the kids. This year they also have a Holiday Market filled with unique gifts from local artisans and shops. All proceeds go to helping keep the zoo free. Check their website for more activities and events.
The other zoo is in Brookfield and is great to visit anytime of year and especially during the holiday season. Holiday Magic at the Brookfield Zoo, out in the near west suburbs, starts at 4pm and includes a Polar Light show, photos with Santa and the Mrs. and many other fun scheduled events. Be sure to check out their website for all the details and ticket information.
Downtown and Magnificent Mile Walking
We're blessed to live in a beautiful city. We always recommend walking everywhere possible when traveling, and our recommendation for Chicago is no different. We have a pretty good public transportation system so walking and taking the "el" elevated train or buses is pretty easy. If you want to get even more energetic, there are several ice skating rinks where it's fun to take a spin or spill.
Walking around downtown during the holidays is a delight. If shopping is on your mind, don't miss out on the Magnificent Mile, where you can wander down Michigan Avenue amid the hustle and bustle of holiday shoppers or stroll along on State Street to see the fantastically decorated windows at Macy's. If you visit Macy's, be sure also to go inside to visit the beautiful Walnut Room and the huge ornately decorated Christmas tree. There's also a great wine bar there, so feel free to get off your feet for a bit and enjoy a hot chocolate or something stronger! Although like many a staunch old-school Chicagoan I'm still miffed that Macy's took over the venerable Marshall Fields building, entering the Walnut Room still brings back oodles of holiday memories every time I walk in. Keeping up that tradition is truly meaningful and I enjoy it to this day.
As you stroll around, be sure to enjoy some of the fabulous views from many great places like The Hancock Tower, Navy Pier, Willis Tower and The Art Institute. Stop along the way for a bag of popcorn from Garrett. They have several locations throughout the city. You'll want to try the Garrett Mix, cheddary cheese popcorn mixed with buttery caramel corn. It's truly a Chicago signature culinary delight. Buy two bags – one to eat while you're walking and another for your trip home.
Holiday Shows
We also have wonderful live performances in Chicago. During the holidays you can see classics like the Nutcracker at the ballet, Handel's Messiah at the symphony and A Christmas Carol at the theater. But there are plenty of other holiday activities as well. Just a quick look at the listings and you'll see there's something for just about everyone to enjoy.
Sing-Along Movies
The Music Box Theater hosts several sing-along movies during the holidays. My favorite and a family tradition is the Sound of Music. Folks get dressed up as the characters from the movie and everyone sings along. They give you a "Magic Moments Pack" that contains all the props you need to participate in the fun. If you've never done this type of thing before you are in for a real treat. They even have the a old pipe organ playing before the show so get ready to sing a few carols too! They also show White Christmas and It's a Wonderful Life. The theater is a classic with an old red velvet curtain that still rises before each show and a ceiling that glows with twinkling stars. It's truly an experience not to be missed, whatever movie you're seeing there.
Christmastime in Chicago
This is just a small sample of things to do at Christmastime in Chicago. If you're traveling to Chicago be sure to check out ChooseChicago.com for all the latest and greatest things to do and see.
THE QUICK BITE: Christmastime in Chicago has loads of fun things to do. From the authentic Christkindlmarket to sing-along movies you're sure to find something for everyone.