St Lawrence Market in Toronto Canada has been named the world's best food market by National Geographic and with plenty of good reason. When in Toronto, any Food Travelist will want to visit this colorful marketplace loaded with a huge variety of food markets, bakeries, delis, meat shops, and much, much more.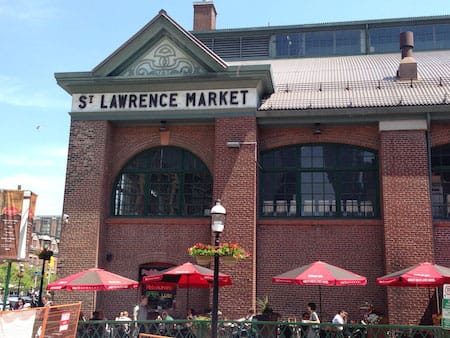 You could easily spend all day wandering happily around St Lawrence Market. In addition to the massive cheese, seafood, bakery, and deli displays, there are a few crazy specialties that you just won't find anywhere else. It's all part of the fun that you'll encounter when you visit this eclectic and extensive labyrinth celebrating consumption. Here are a few wacky highlights that might get you to check it out.
Dog bones for all of man's best friends. Some of the butchers offer a wide variety of bones, from beef to pork and from regular doggie size to brontosaurus size bones fit for the biggest pooch you could ever imagine.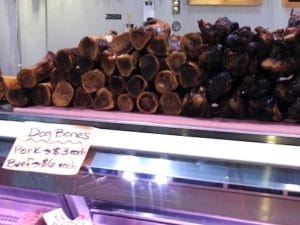 To show off their sense of humor, some of the vendors offer thematic decor. For example, Diliso's Meat puts the stand at the intersections of downtown BBQ Street and Poultry Lane and upmarket Beef Boulevard and Pork Place.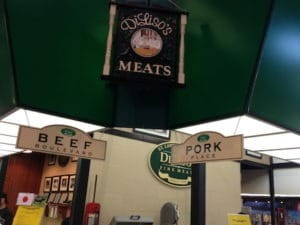 The "World Famous" Peameal Bacon on a soft country bun is the odd Toronto tradition offered by the Carousel Bakery in St. Lawrence Market. This simple sandwich has captured the attention and affection of famous chefs from all over the world (whose images and signatures are plastered all over the stand) as well as just about everyone who steps into St Lawrence Market.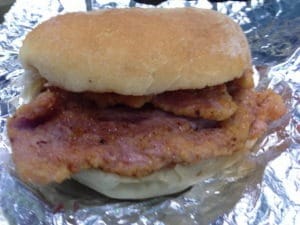 Fiddleheads or crosiers as they are sometimes called,  are actually a type of fern (the ostrich fern, if you must know) that is native to parts of Ontario, Quebec, B.C., and the Maritimes. Chefs and foodies alike are fans of this versatile and nutritious green that is fun to look at but works well tossed into a seasonal spring omelet, added to soup, or eaten fresh on its own.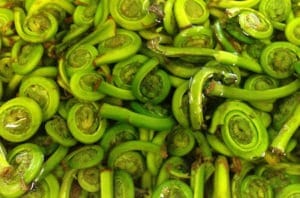 Perhaps not so surprisingly, you'll be able to find maple products in abundance at the St Lawrence Market. In fact, there are maple products for consumption, like cookies, syrup, candies and the like to soaps and creams and lotions. As any self-respecting Canadian will tell you, your shelf is not full unless its full of maple!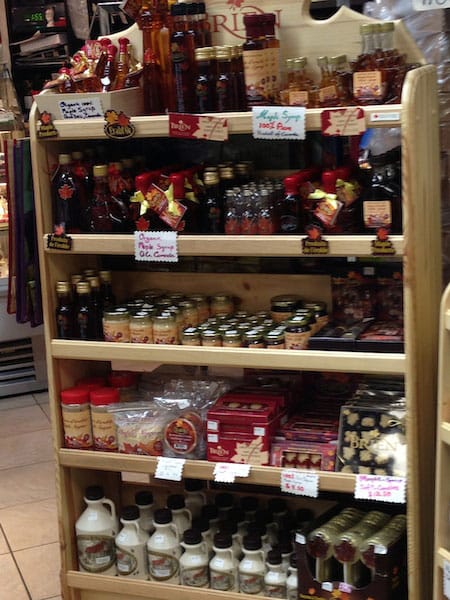 Along with a mustard stand with a hundred flavors, olive bars with more colors of olives than you'd ever imagine and cheese, meat, and bakery stalls loaded with goodies, these are just a few of the weird and wonderful items you'll encounter at the St Lawrence Market in Toronto that make it a fun place to explore.
THE QUICK BITE: Toronto's amazing St Lawrence Market has many fun wonders to explore from the exotic fiddlehead to the famous peameal bacon sandwich.