We loved exploring Amsterdam food in the capital city of the Netherlands. Many Dutch specialties like Pannenkoeken (formerly spelled Pannekoeken) and Poffertjes have names that twist the tongue. But trying all these amazing treats is worth the challenge. We want to share a few of our favorite Amsterdam food finds. And if the Food Travelist in you wants to enjoy these delicious bites at home, we've included links to our recipes for some of the best so you can give them a try.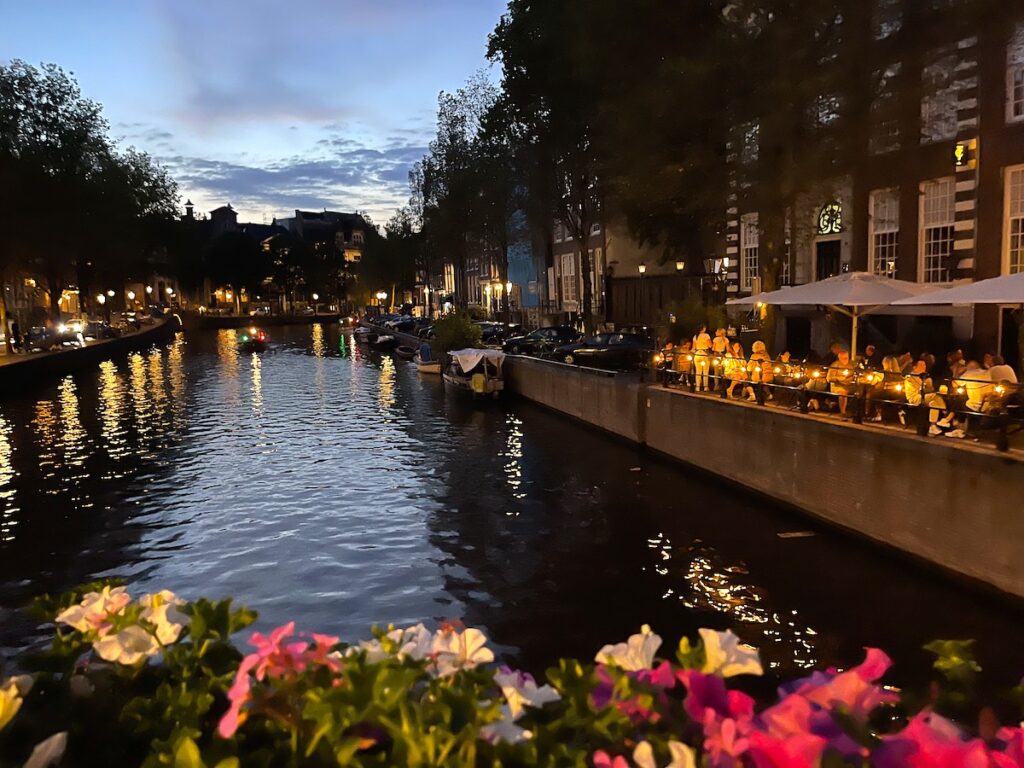 Pannenkoeken
If you like pancakes, then Pannenkoeken will take you to your happy place. These Dutch pancakes are large and can take up a whole plate if left flat. They're thinner than an American pancake but not as thin as a French crepe and either served with toppings or rolled with fillings. Oddly enough, they're not particularly a breakfast dish. With Dutch pancakes Amsterdam diners eat them all day long.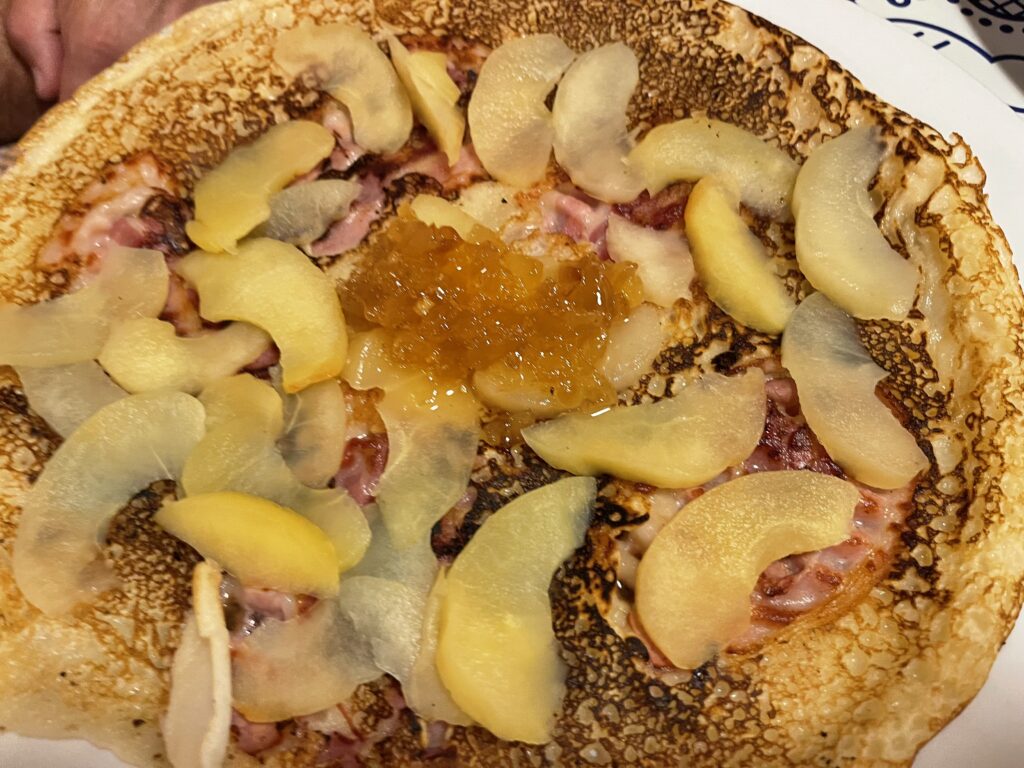 Pannenkoeken can be served as a savory or sweet dish. When we were exploring Amsterdam food in the fall, we saw a wide variety of toppings. Two of our favorites were a combination of apples, bacon, and cheese for a savory touch and bananas, strawberries, and chocolate sauce for a bit of the sweet treatment. Stroop syrup is found all over Amsterdam and provides a wonderful thick, sticky, sweet drizzle that works well as complement to any pannenkoeken style. We got the best pancakes Amsterdam has to offer at Upstairs Pannenkoekenhuis, a fun and funky spot where your climb up the narrow stairway is an experience in itself.
To make this treat at home, try our easy Pannenkoeken Recept (Dutch for recipe). (link)
Frietjes
We love fried potatoes and so do the Dutch. Many of us grew up with someone asking, "Would you like fries with that?" But Amsterdam fries or frietjes can be the main attraction. With so many Amsterdam restaurants offering sandwiches and burgers, it surprised us to learn that there were stands everywhere selling literally nothing but fries and sauces. Though food historians debate whether fries originated in France or Belgium, in Amsterdam they have been given a special place among Dutch foods to be enjoyed by all.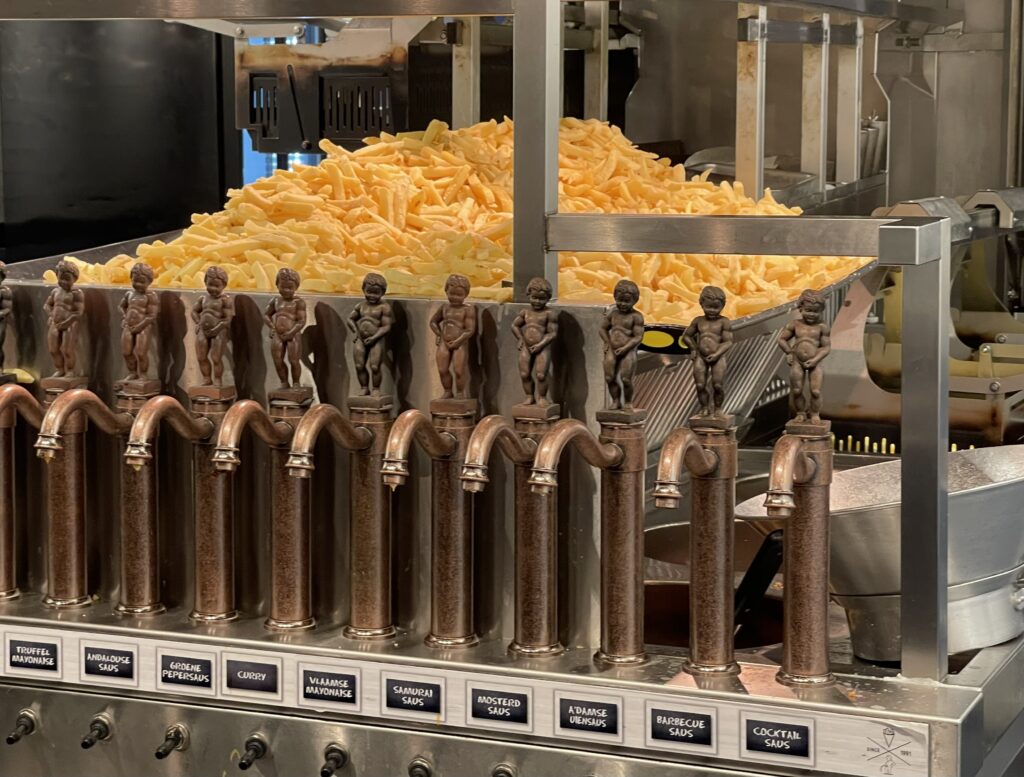 Frietjes, sometimes called patatjes by locals, are a serious matter and heated debates have been known to erupt when discussing the best fries Amsterdam makes. While Canadians have their poutine, loaded fries with cheese curds and gravy, the Dutch have patatje oorlong or "war fries." These Dutch fries are topped with mayo and satay, an Indonesian sweet and salty peanut sauce. Then the whole thing is topped with diced raw onions. The fries themselves are cut rather thick and fried twice, giving them a great crisp outside and tender inside. We loved the sauce dispensers at Mannekin Pis, with over two dozen sauces to try. It's easy to get obsessed with frietjes, a great street food Amsterdam visitors should try.
Bitterballen
A favorite Amsterdam food especially at snacktime, bitterballen are bite-sized fried meatballs. At the center they have a mixture of meat stew thickened with roux, which when cooled is rolled into balls, breaded, and deep fried. Often served with a mustard dipping sauce, bitterballen are a favorite accompaniment to a nice cold beer. The texture of the soft inside makes a surprising contrast with the crunchy coating. These little bites are easy to pop in your mouth after taking a bike ride or while relaxing by one of the picturesque canals in the city.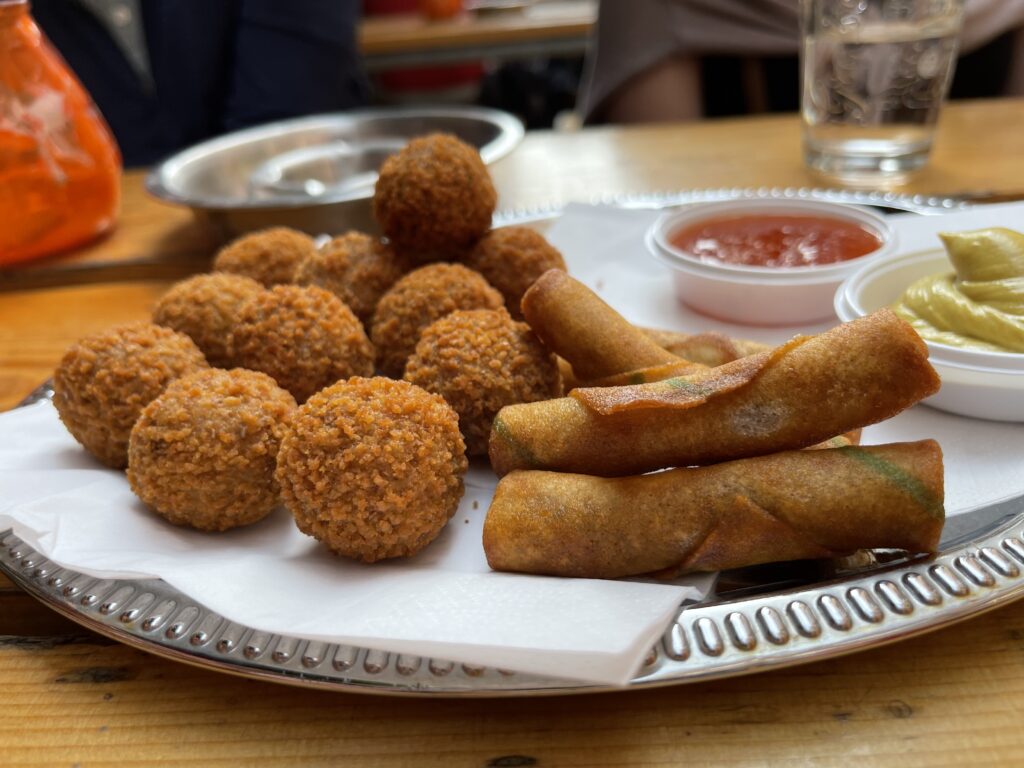 Traditionally, bitterballen use beef. But they could be made with other meat such as pork or even turkey. Sometimes other kroketten (Dutch croquettes) are served with bitterballen. These are typically made in a log shape containing, cheese, potato, vegetables, shrimp, or other ingredients then breaded and friend the same way. If you're a grazer then a bowl full of bitterballen together with some kroketten and frietjes would make a perfect meal.
Enjoy bitterballen wherever you are with our easy bitterballen recipe. (link)
Gouda Cheese And Edam Cheese
There's no doubt that any exploration of Amsterdam food has to include some of its amazing cheese. And two of the most famous types, Gouda cheese, and Edam cheese come in an infinite variety of styles and flavors worth tasting. Aged and smoked Gouda adds a deliciously rich dimension to the cheese flavors. And both Edam cheese and Gouda cheese can be found with additional flavors such as herbs and spices. Smoked Gouda has a unique flavor that many people enjoy too.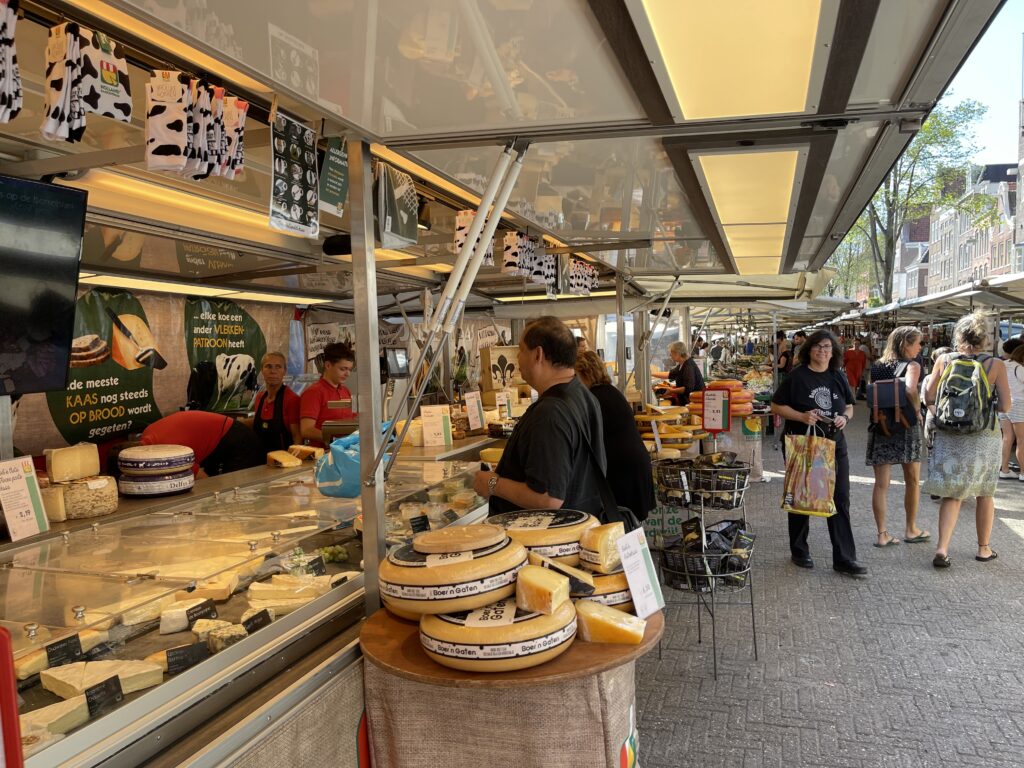 Amsterdam has no shortage of places to try or buy these great cheeses, and many others. One of our favorites is the Old Amsterdam cheese store. Like many other Amsterdam cheese shops, they offer plenty of free tastes so you can try them before you buy. The one cheese that most tickled our tastebuds was the aged Gouda. Full of crystals that result from the aging process and with a rich, buttery flavor, this cheese remains one of our favorite Dutch snacks.
Poffertjes
For a different take on Amsterdam pancakes, poffertjes are bite-sized fun. A poffertje may be described as a fluffy little pancake or like a small yeast donut. They make a wonderful dish for Sunday brunch or a great as snack or dessert anytime. A popular treat, poffertjes can be found at Amsterdam food markets and Amsterdam restaurants alike.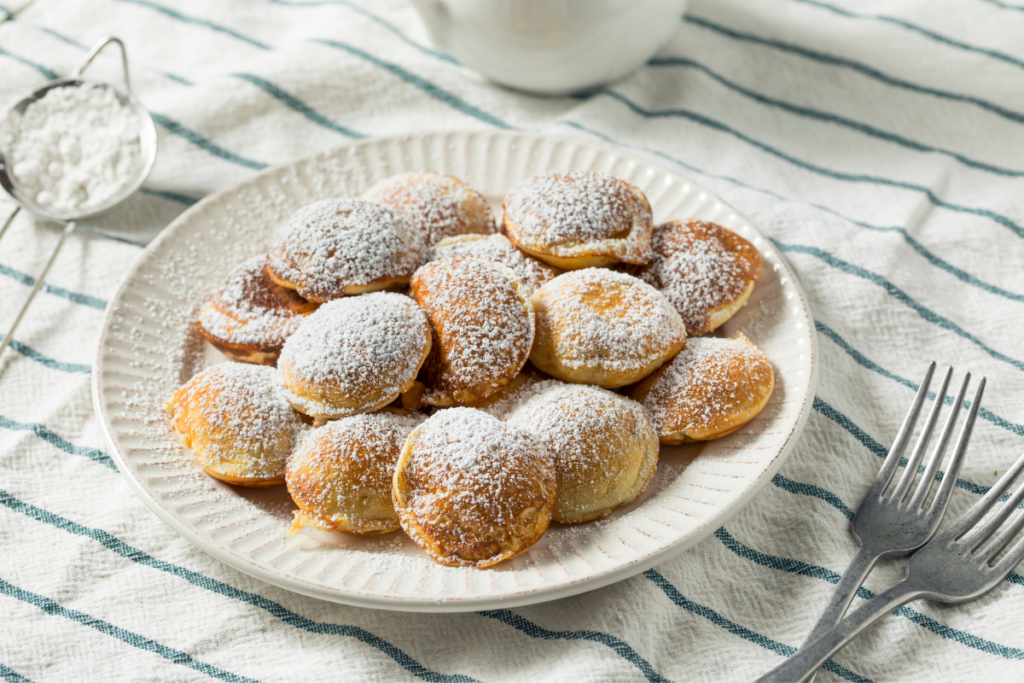 Commonly made with buckwheat flour in the Netherlands, they can be made with all-purpose flour as well, and are most often topped with good butter and powdered sugar, but more recent versions can add toppings like fruit jam or Nutella.  Any survey of Amsterdam food should include at least one version of these tiny but mighty sweet bites.
Traditionally, these little round puffy pancakes are made using a poffertjespan (a dimpled poffertjes pan), but our recipe offers some suggestions for how to get around that if you don't have one available.  (link)
Stamppot
The national dish of the Netherlands, stamppot is the ultimate comfort food. There are a lot of variations depending on whether it includes meat, vegetables, or a combination. But common to all varieties is a mashup of potatoes and something. Hollandse pot includes potatoes, vegetables, and meat, while hutspot includes potatoes and carrots. Sometimes the stamppot will be served with rookworst, a smoked sausage. We tried several versions of stamppot at De Blauwe Hollander, a traditional restaurant in Amsterdam's Leidesplein neighborhood. It's a great place to try many Dutch specialties in one place, and the atmosphere is charming. It's a very popular place, though so be sure to make your reservation in advance.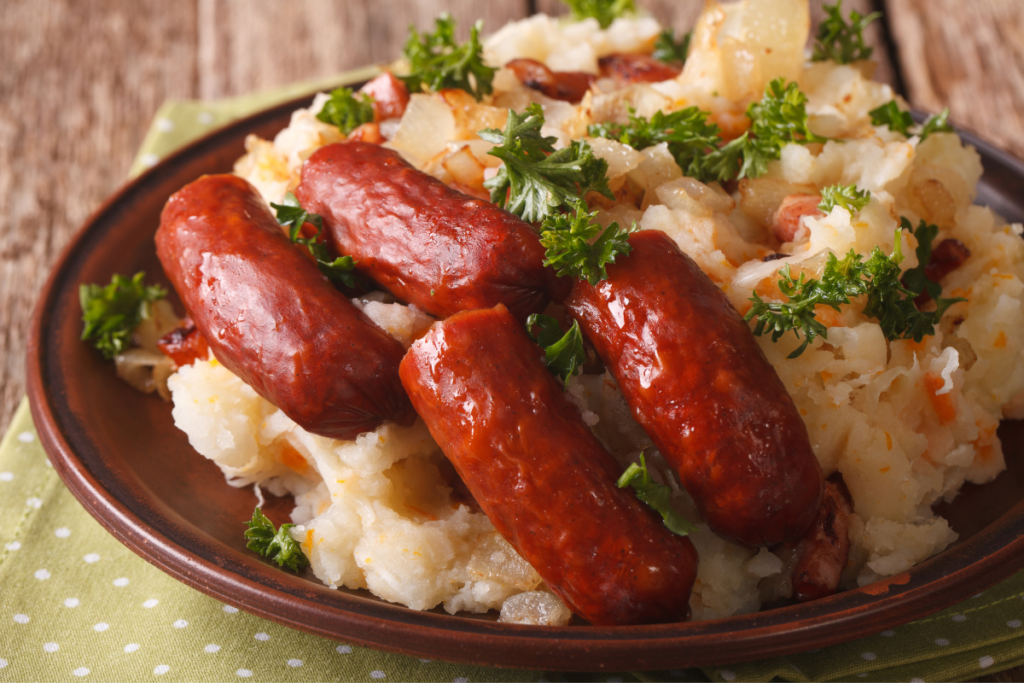 It is said that Stamppot originated when Spanish troops occupying the Netherlands in the 1500s were defeated and abandoned their food, a stamppot of meat, potatoes, and vegetables which the hungry Dutch ate with pleasure. The end of the war came with the Liberation of Lieden, and the day is still celebrated on October 3rd every year, including this traditional dish.
There's no need to wait for a holiday to enjoy stamppot, though. Try our recipe for this hearty Dutch dish anytime you like. (link)
Stroopwafel
Recently it seems that stroopwafels are everywhere. They have shown up on airplanes as a snack, in coffeeshops as a sweet side addition, and on the shelves of stores with cookies and treats. And we're happy that the stroopwafel has broken through into the global cuisine scene. At their best, the stroopwafel is gooey caramel sandwiched between thin waffle-like wafers. Served hot and freshly made at places like Albert Cuypmarkt (Albert Cuyup Market) and other markets, stands, shops, and cafés all over, it's hard to resist this sweet combination.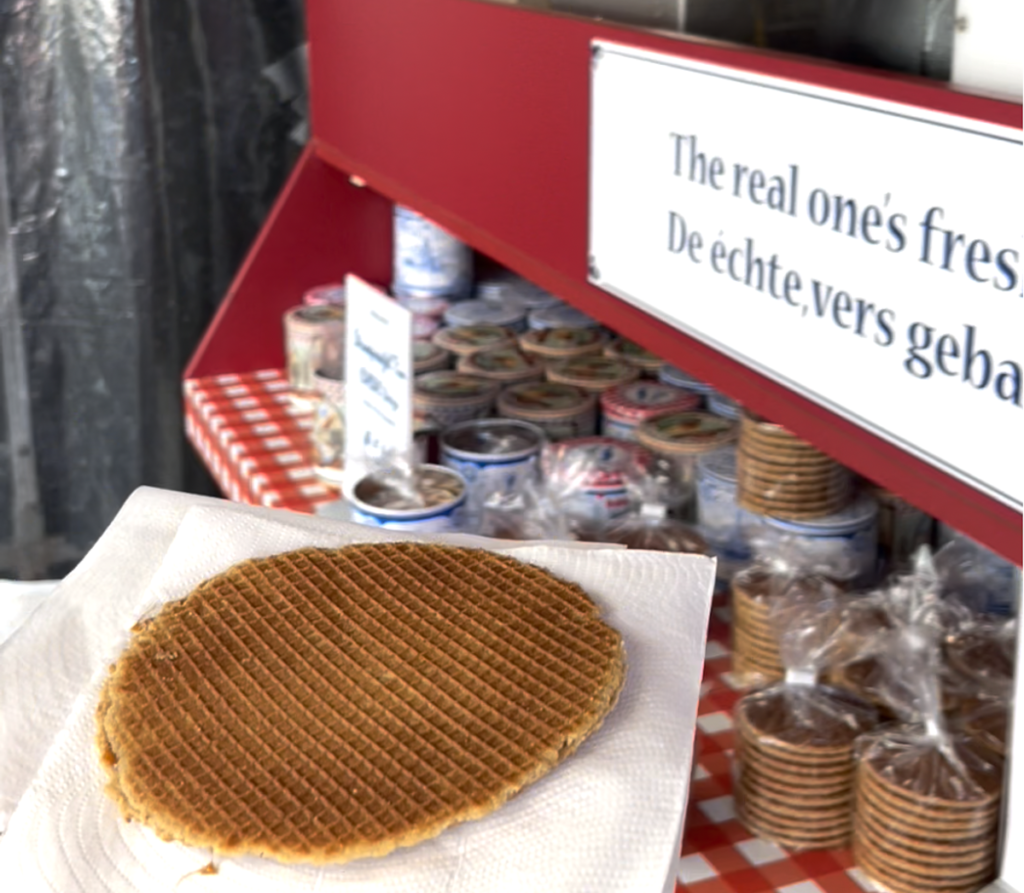 Sometimes, the stroopwafel is a small, bite-size treat, other times it's the perfect size to put over your cup of tea or coffee, which then heats it up so that the caramel becomes warm again. The fresh stroopwafels made at the markets, however, tend to be big, ooey gooey monsters, that require a whole lot of napkins to capture the hot caramel before it gets all over. Originally created in the city of Gouda, stroopwafels can be found all over the Netherlands, and increasingly around the world. The combination of crispy, chewy, and gooey textures with the buttery sweet flavor make for an undeniably rich treat. They're messy but they're good!
A popular brand of stroopwafel you can try at home is Daelman's. (amazon affiliate link) They come in various packages and different sizes, so you can choose what looks good to you. We like to warm the original caramel ones over our coffee and tea mugs for a perfect afternoon pick-me-up or sweet treat before bed. Some of the cute packages also make for a great gift!
Pannenkoeken, frietjes, bitterballen, Gouda cheese and Edam cheese, poffertjes, stamppot and stroopwafel are just a few of the great flavors we enjoyed while we were in Amsterdam. There are so many flavors to explore that we will be back to Amsterdam in the spring so we can try even more dishes on the great Amsterdam food scene. In the meantime, we hope you'll give some of our recipes a try and let us know how you like them. Remember, wherever you are in the world, you can always treat yourself to the tastes of travel at home and enjoy the world on your plate.