The Caribbean Islands. Known for their vibrant blue waters and long stretches of beaches have been ignored by many travelers.  Some are fearful that the comfortable accommodations and amenities may not be quite the same after the hurricanes wreaked havoc on many of the islands several years ago.
However, work has been done, renovations have been made and I would argue that now is exactly the time to visit. They all rely very heavily on their tourism business. Planning a trip and spending your money on the local food, in local shops, and with local business owners is the quickest way to help them grow and thrive.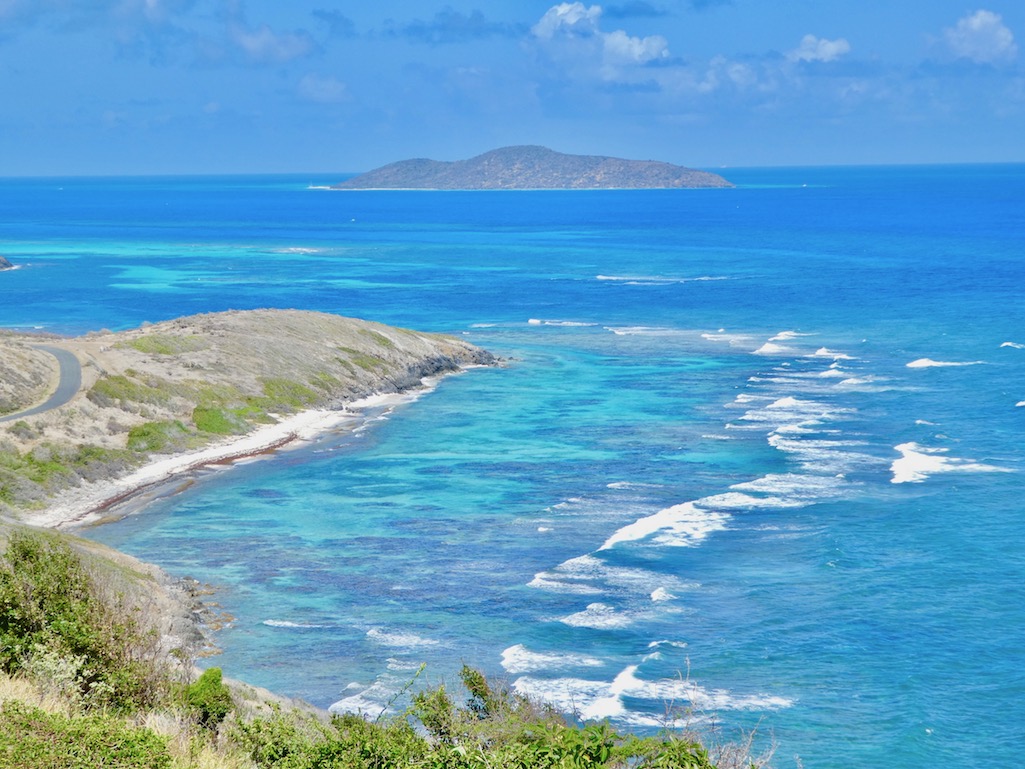 On my visit to St. Croix I learned that there are many, many tasty reasons to visit. I couldn't wait to start my exploration of the restaurants in St. Croix. In fact, my short visit and my limited stomach space made me keenly aware that I will simply need to return to continue my food explorations in St. Croix.
While I was initially invited to attend the St. Croix Food and Wine Experience I was quickly swept up in the enthusiasm of our hosts and wanted to try everything I could. Be warned that if you don't like warm, friendly people who will make you feel welcome from the moment you arrive – this is not the place for you.
Meet Your Cousins
By the end of the first day of my visit, I had more "cousins" than I ever knew existed. Now you may write this off as touristy and pandering but you would be wrong. I had serious conversations with many island people we met. We talked about the hurricane restoration, employment, seafood sustainability and much more. What surprised me was the number of ex-pats who live on St. Croix. Many started as tourists and quickly discovered that this island was their home. I quickly learned why.
Everyone is welcome. Really. One day during our visit an Olivia Cruise ship with over 2,000 lesbians arrived on the dock in Fredrikstad. There were bands, stilt walkers, rainbow balloons and even a giant beach party thrown by a local hotel, the Sand Castle. Rainbow flags were everywhere letting the gals know they were not only welcome but that St. Croix was glad they were there.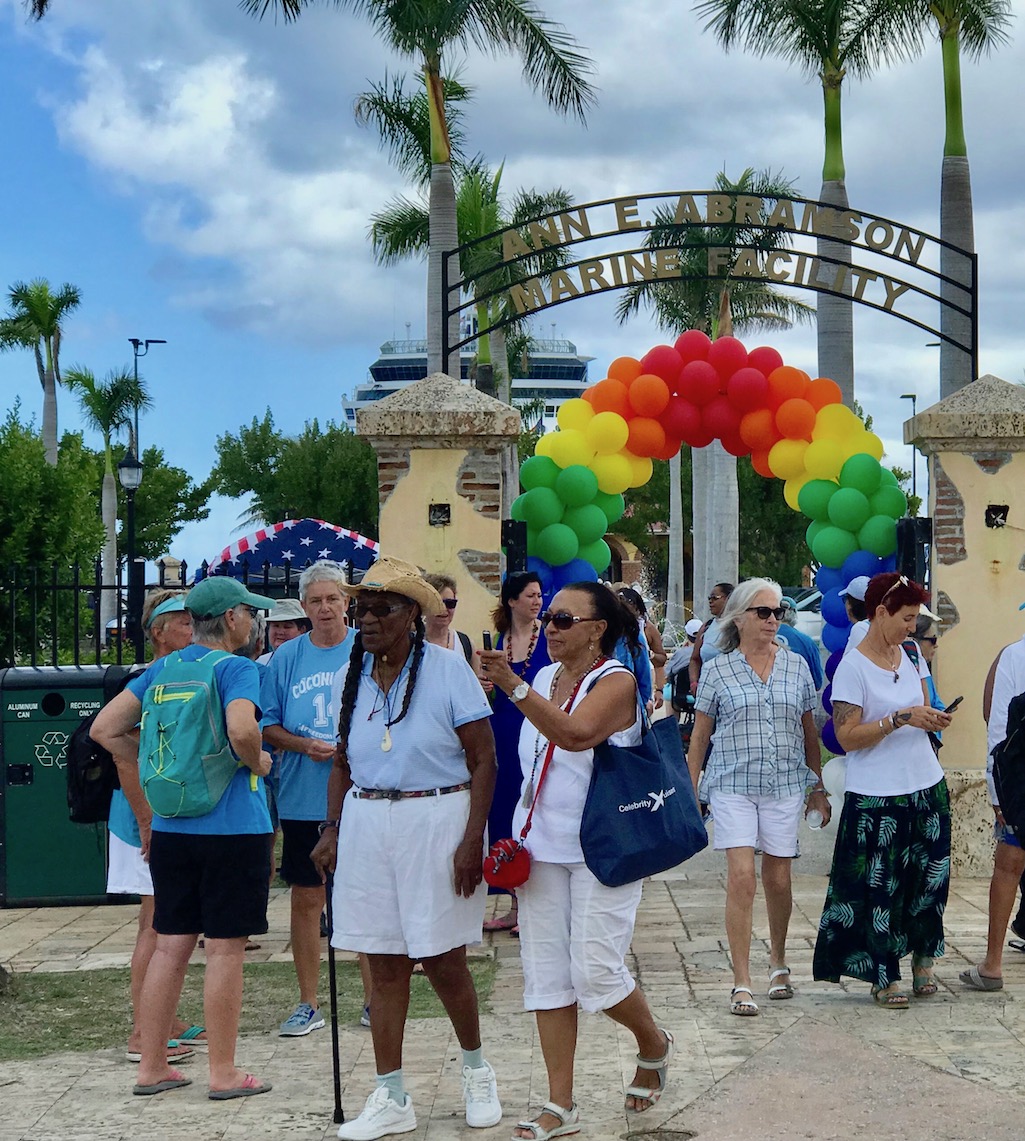 Let's talk about the food first. If you haven't had a snack lately grab one because the restaurants in St. Croix are bound to make you hungry.
Restaurants in St. Croix
I love walking into restaurants that have magical entrances. Little paths that you take wondering what culinary treats you'll discover at the end. This was the case with Savant Cafe. When you enter the garden patio with twinkling lights and flickering candles ensconced in the walls you know you've arrived at someplace special.
Be prepared to spend a long time here. Not in a bad way but in the way that you will want to take your time to savor the whole experience. Enjoy the beautifully designed space. Take your time choosing the right cocktail (there are way too many good ones). Take your time with the specials. There were six specials the night we visited. The menu changes every night as the chef prepares the freshest fish and produce on the island.
Happy to see my favorite vodka Tito's on the menu, I had to try the Ruby Red Martini. They make the cocktails strong and delicious. Prepare to sip and have a wonderful conversation.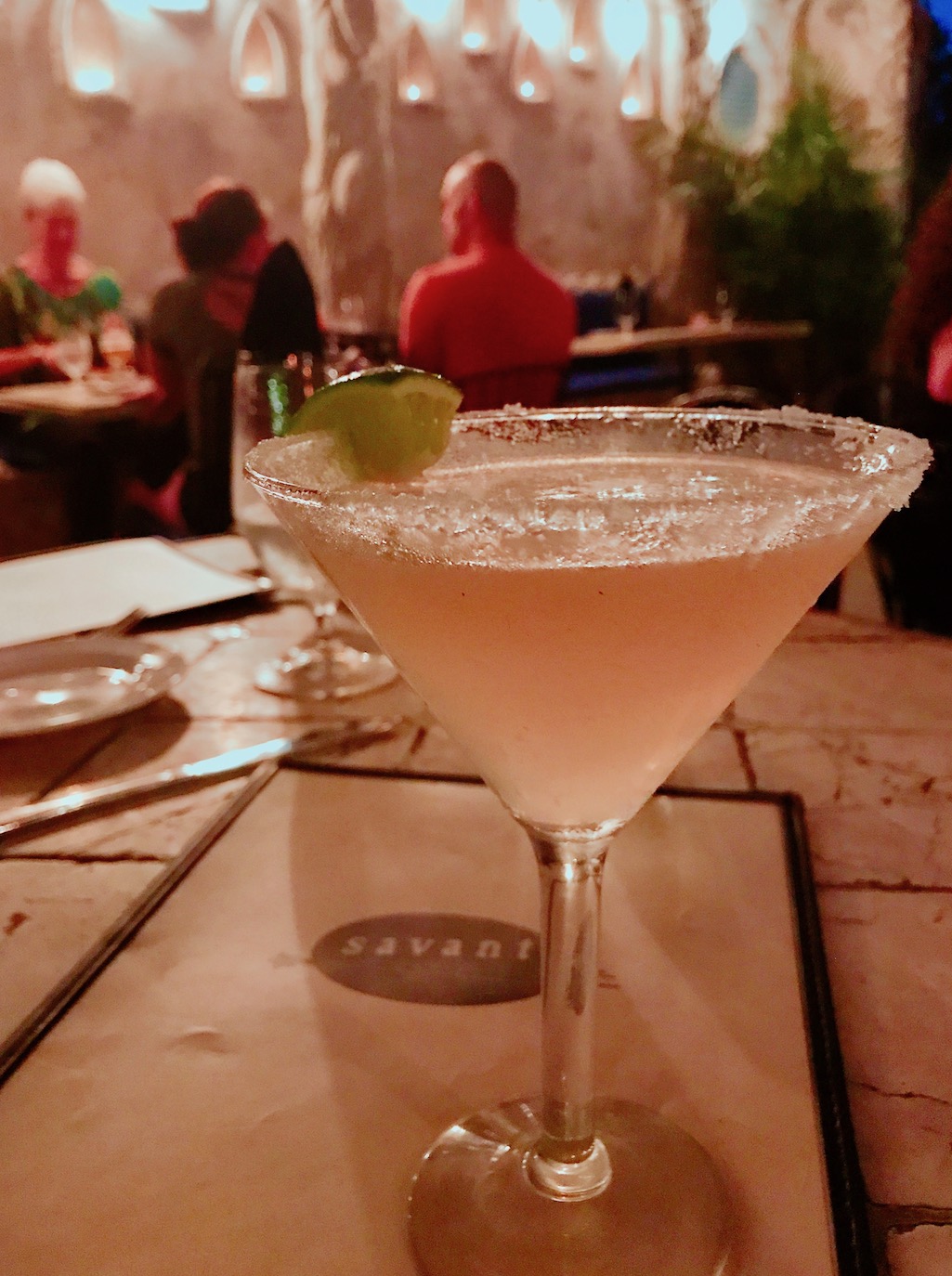 I have to admit that when our server read the specials there were so many that appealed to my stomach. When she asked what I wanted I, of course, asked her to repeat several. Seeing that I was having trouble choosing she said that my eyes really lit up when she mentioned the crispy skin snapper (am I that transparent or was she that observant?). I went with it and it was a perfect dish.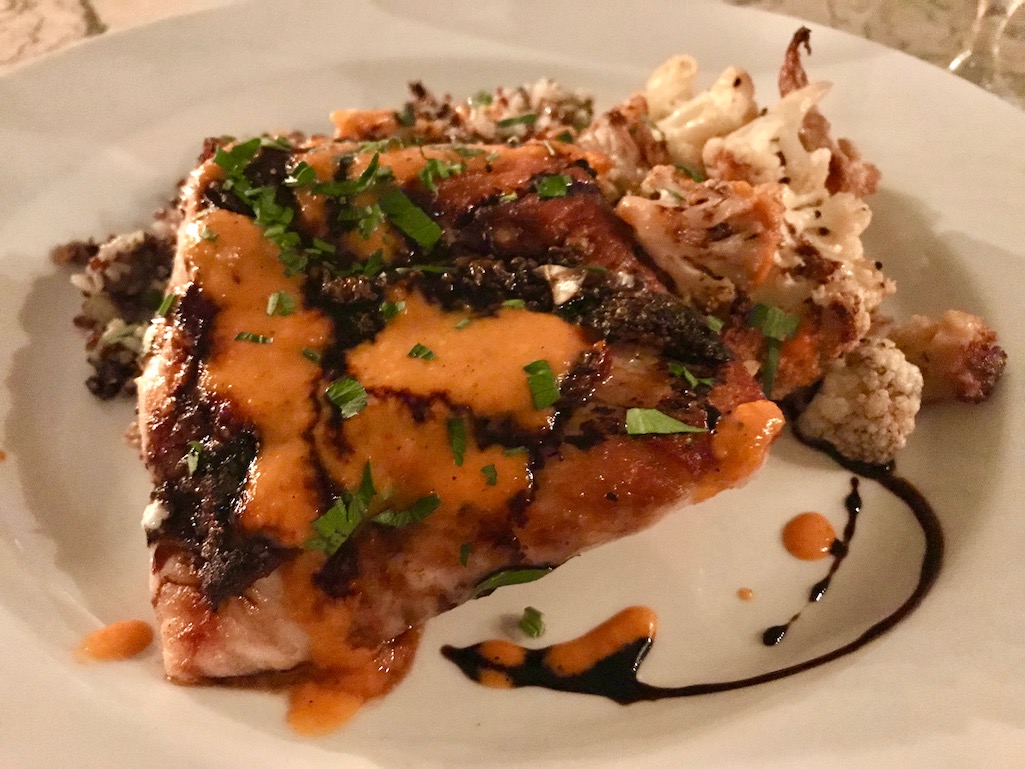 I admit to trying everyone else's meal that night (thank you friends) and every single dish was excellent. Don't miss this spot. Don't miss this delicious restaurant in St. Croix.
I'm going to say right here that if I'm going to an island or coastline location I'm going to be eating seafood at every meal. This was our first night on the island so fresh seared tuna with a peppercorn crust and local blueberries was a perfect way to start. We also met some local homeowners at the restaurant, who insisted on meeting us and telling us all about how they discovered St. Croix while visiting and decided to make the island their home. It was just the first of these types of stories.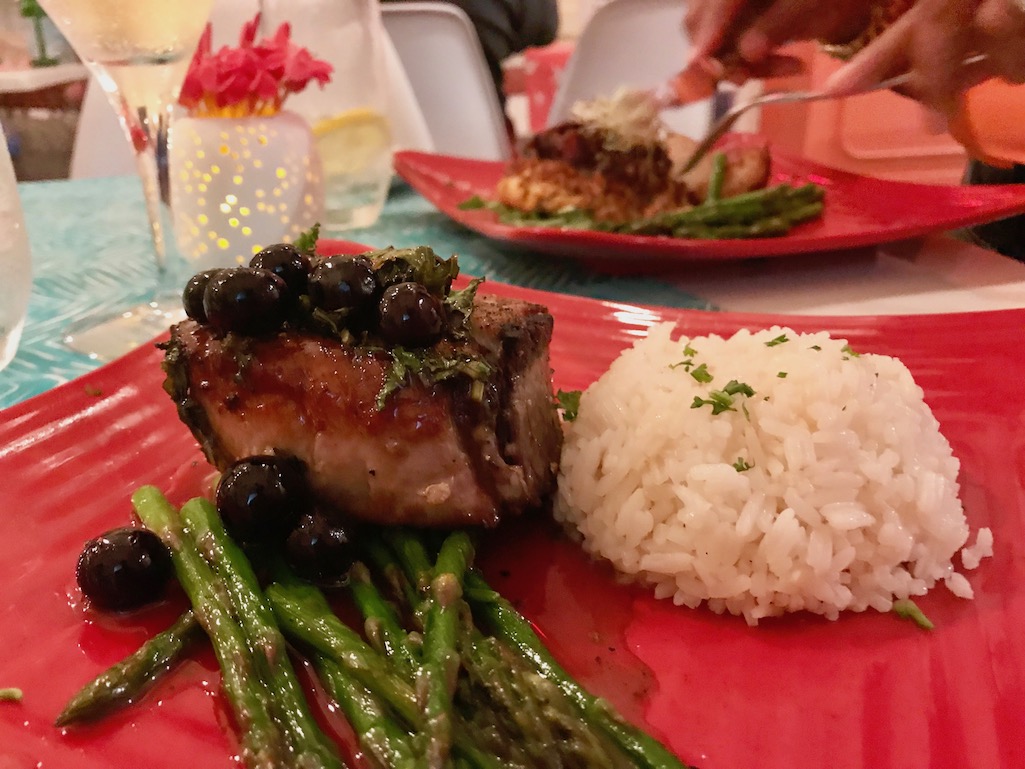 If you're looking for a spot to eat on the beach in a beautiful unpretentious setting check out the Beachside Cafe at the Sand Castle on the Beach Resort.
The eclectic menu has something for everyone. This is another place for amazing seafood. Try the sweet Caribbean lobster with beef filet if you're feeling hungry.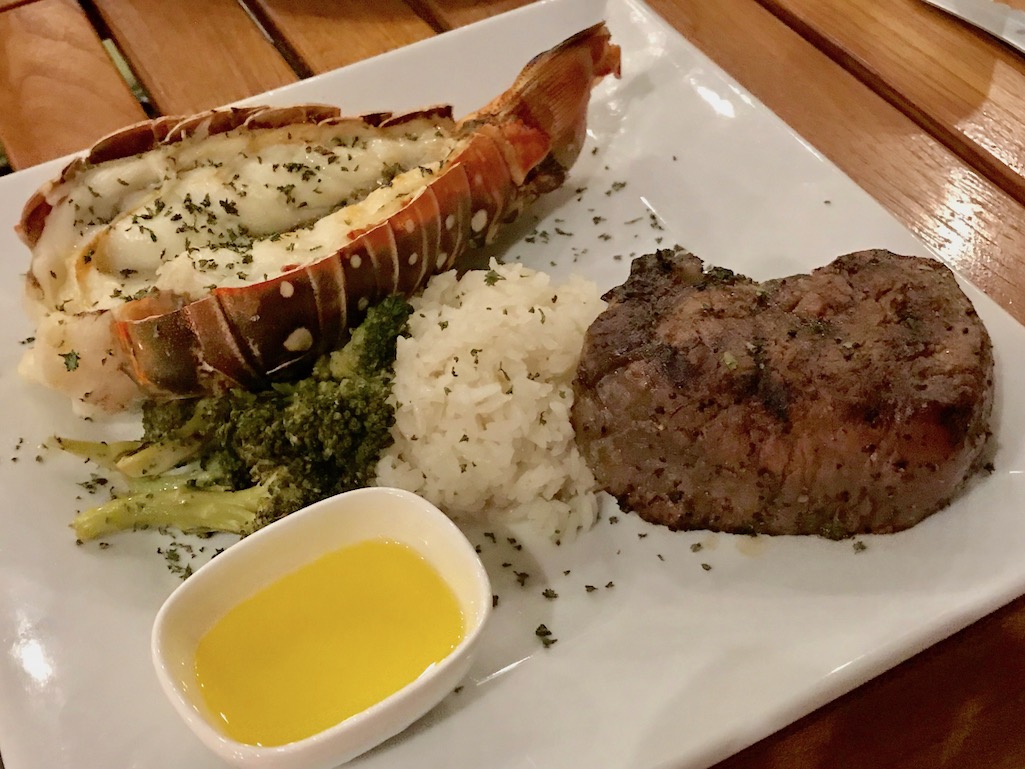 The chef also has several preparations of mussels and clams that you won't want to pass up.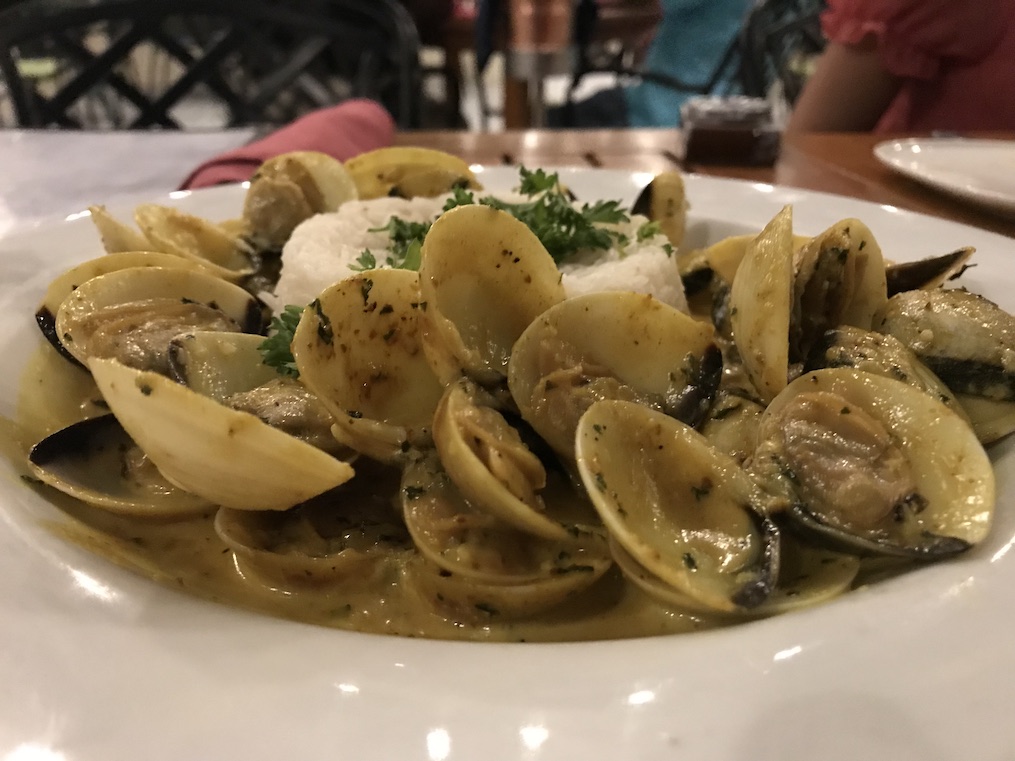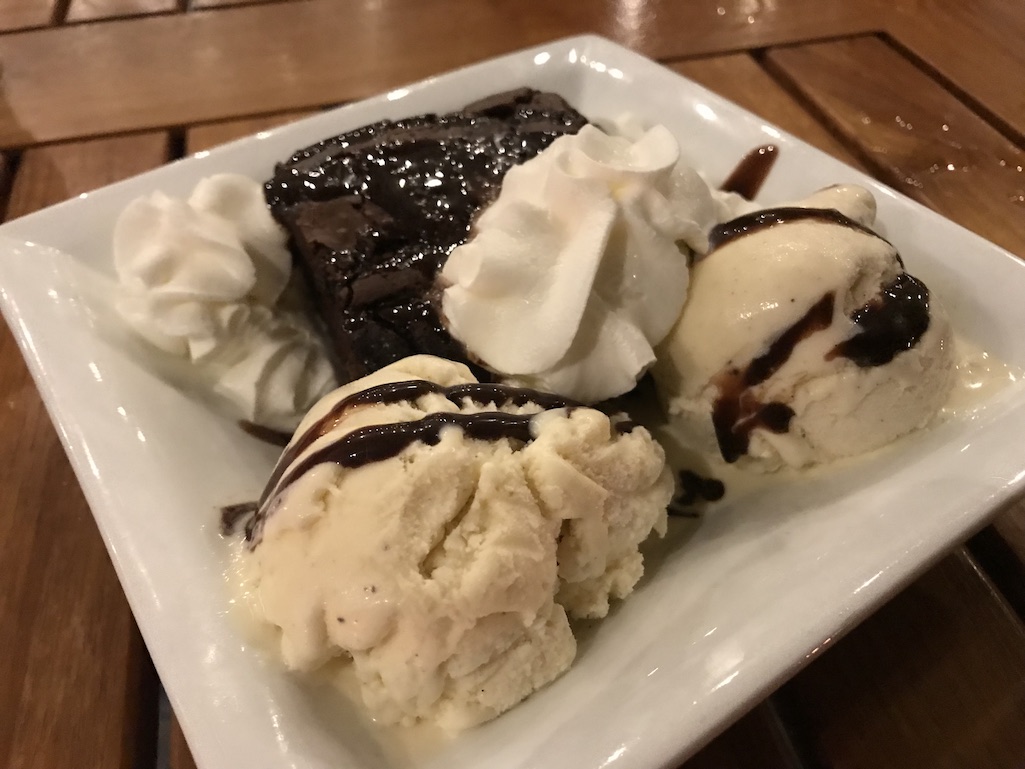 Be sure to leave room for dessert. The brownie with fudge and ice cream is a shareable fun treat for the table.
We had the pleasure of staying at The Buccaneer during our visit. The resort is up and fully functional. The oldest hotel on the island, it is among the Historic Hotels of America. It's also home to several restaurants available for guests and visitors.
The beachside Mermaid Restaurant serves up salads, sandwiches, and libations. I had the snapper wrap with a local Virgin Islands Island Hoppin IPA. Perfect after a snorkeling excursion to nearby Buck Island National Reef.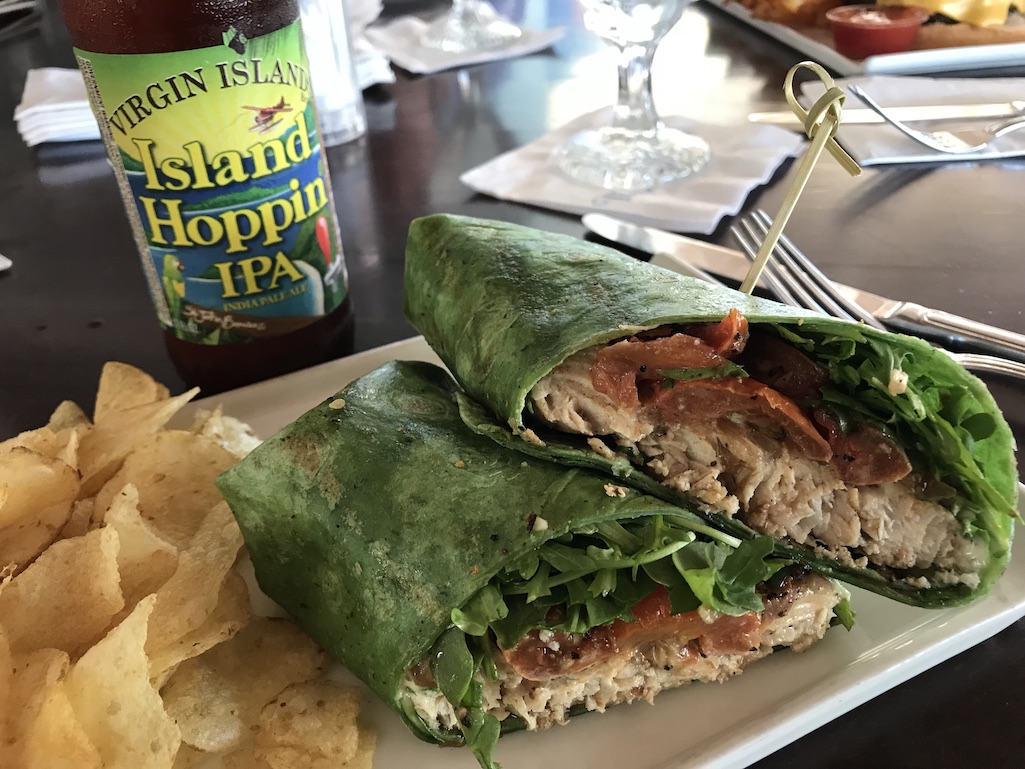 The Buccaneer also serves up a fine breakfast buffet back at the main building. Located on the top of a hill the restaurant also gives you a lovely view with your meal. The buffet has local fresh fruits, an omelet station, lots of pastries, waffles, cereals, yogurt and more.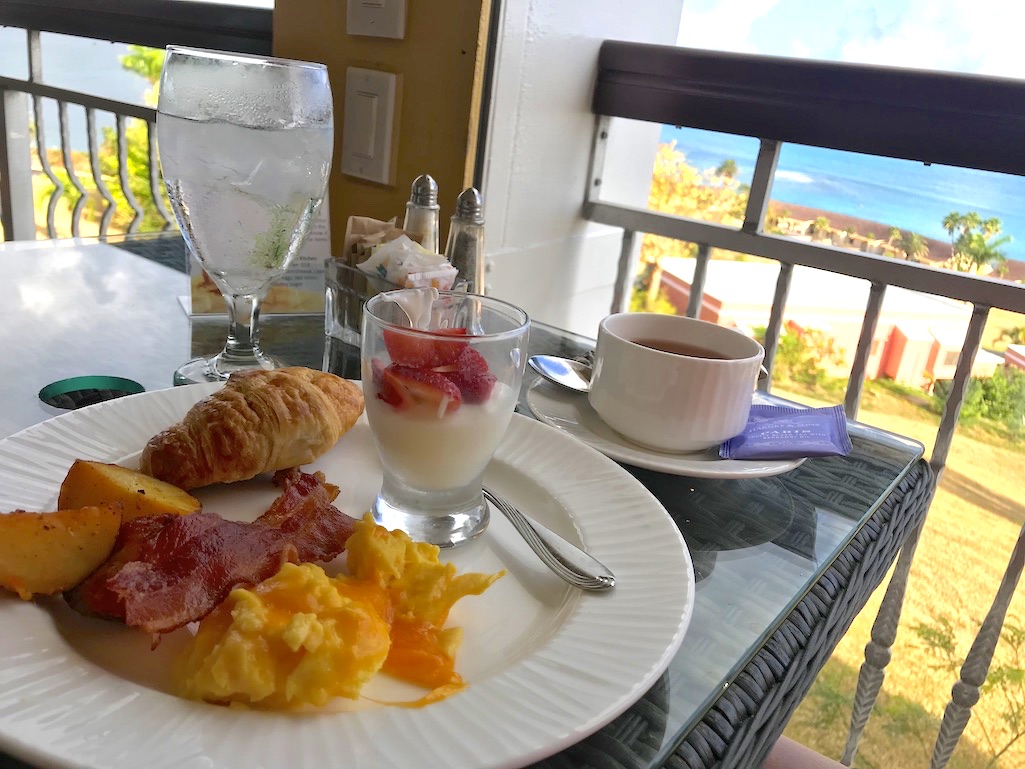 Have Some Fun in St. Croix
They say that this spot is either your first meal or last meal in St. Croix. Located near the airport it's easy to see why this rotisserie chicken restaurant became so popular. Take a trip around the back to see the chickens spinning away. They say they sell hundreds of chickens every day.
We got there early on our way out of town and there was already a line.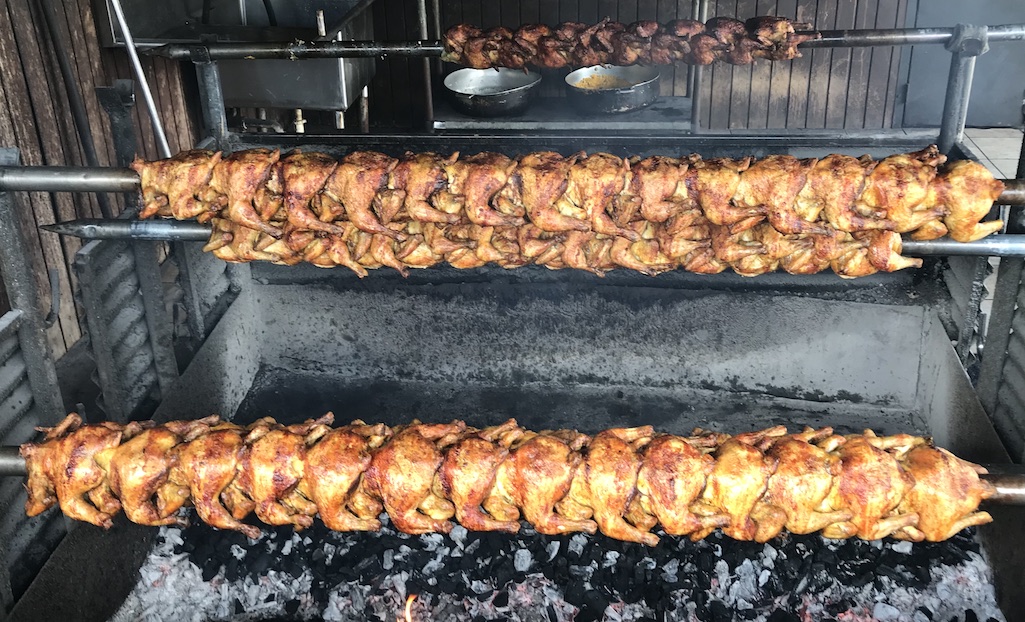 Don't be put off by the styrofoam containers. This chicken has some good flavors going on. I suggest getting all the sides for the best experience. You have to try the Johnny cakes, cassava, plantains, and all the sauces.
I'm pretty sure La Reine's has been on plenty of flights back home!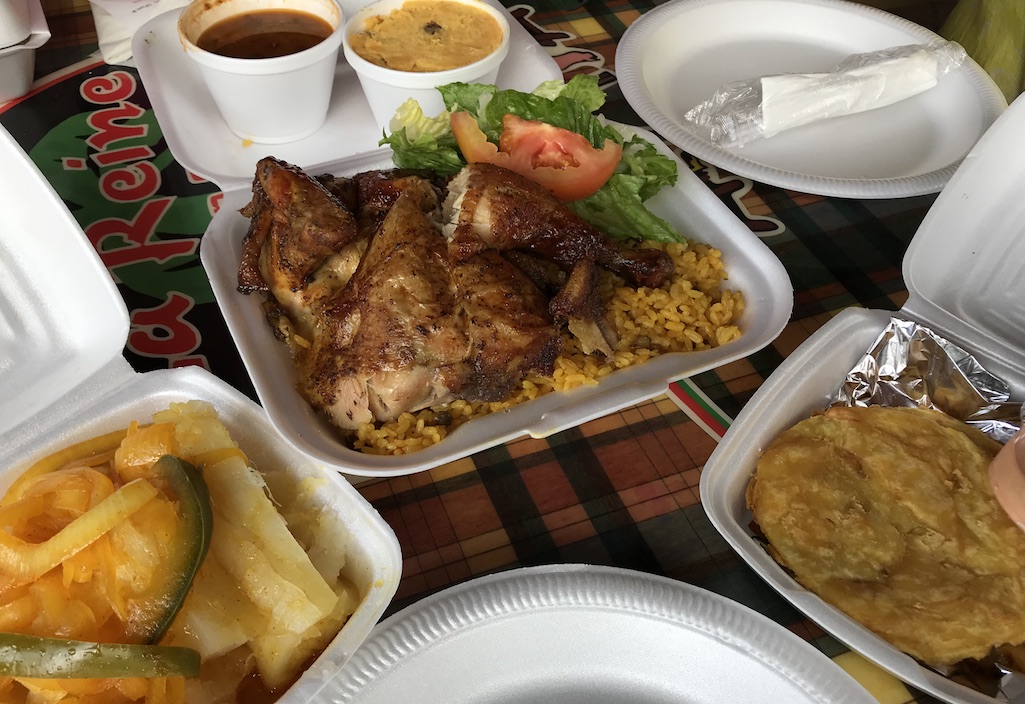 Armstrong Ice Cream
This local spot is busy and for good reason. They are making yummy, creamy ice cream. You will be in line with tourists and locals alike. Check out some of the local flavors like gooseberry, guava, mango, passion fruit and soursop.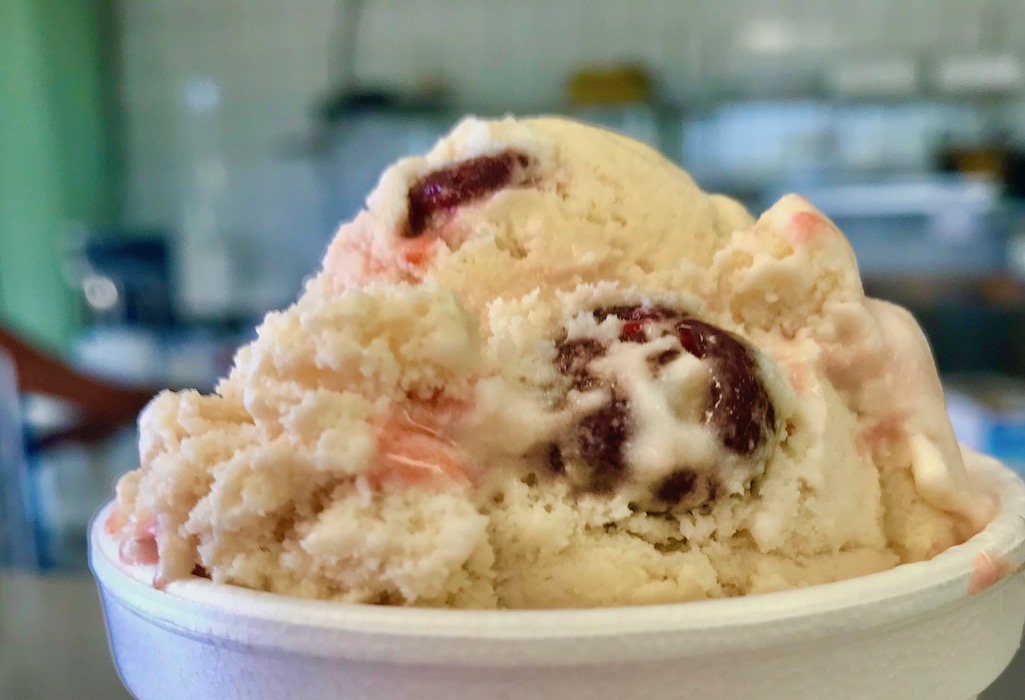 Farmers & Fish Market
If you're lucky enough to be in St. Croix on a Saturday get up early and go to the Farmers Market. It's just another opportunity to meet locals and check out the local produce and fish.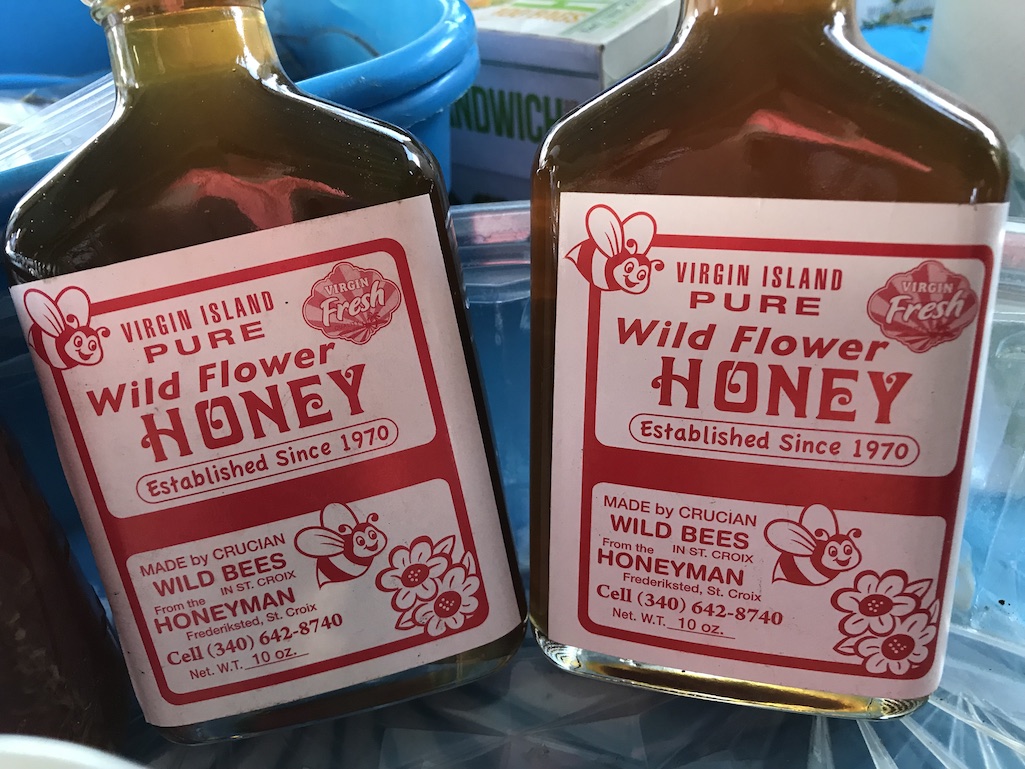 Even if you're not going to purchase produce or fish you'll find some interesting items. Locally made honey is perfect to go along with the bundle of herbs you can buy to make your own Bush tea. Bush tea is a local favorite concoction that locals each put their personal spin on with their own combination of ingredients. In addition to being tasty, it can also be used for medicinal purposes.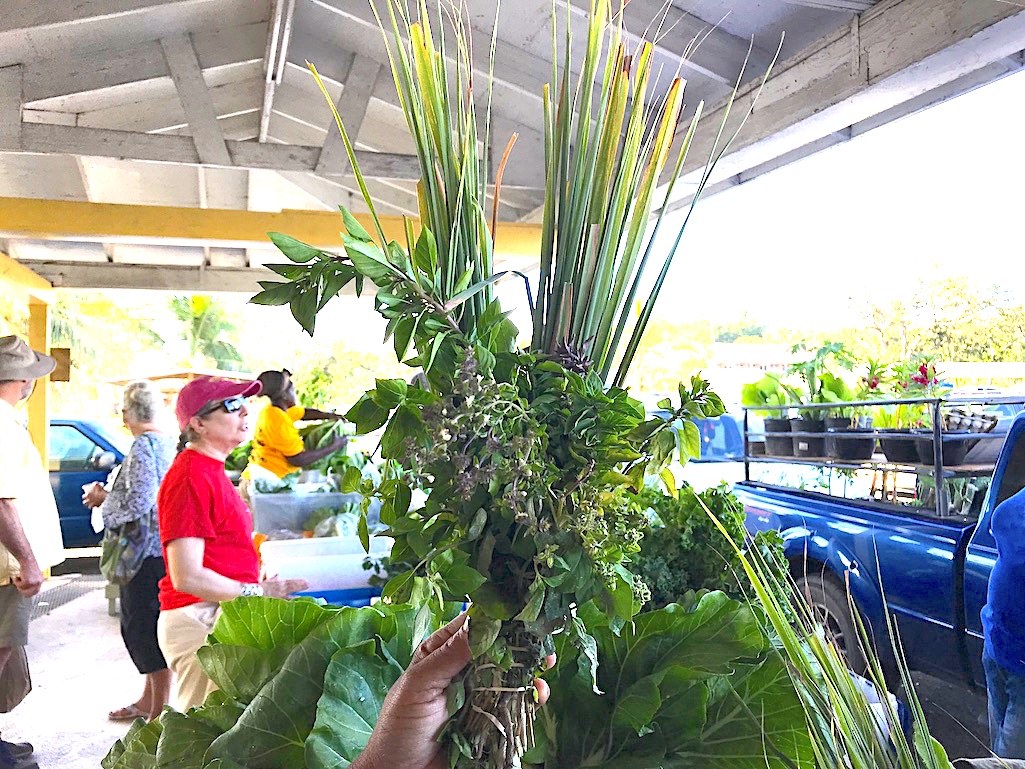 Don't want to make your own? There's a vendor ready to serve some up. The one below was made with herbs including sorrel, which had a bit of a sour taste but was super refreshing on a hot morning.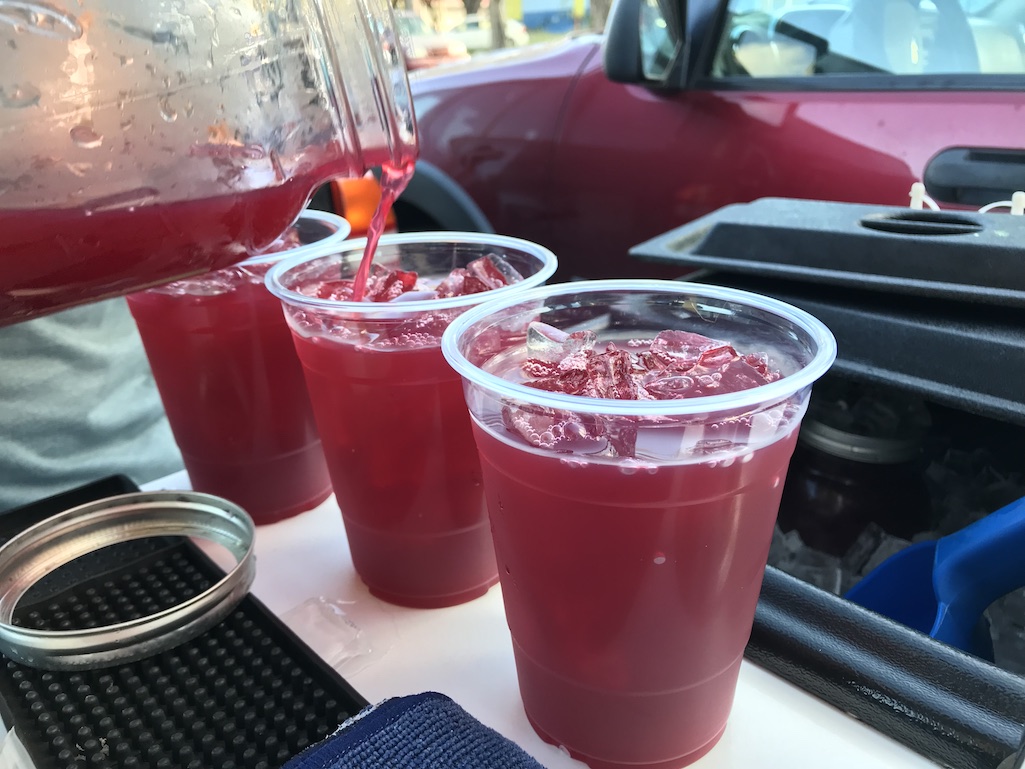 Really Relax
Gas Station Parties
What? Yes, in St. Croix there are gas stations that turn into nightclubs. They serve beer and make food. People hang out just like they do in bars. I wish I had more time to explore these fun little hot spots. I'm fairly certain you could do a gas station crawl and have a wonderful time.
The locals have their favorites. Don't be afraid to join in the fun. You will meet a lot more cousins.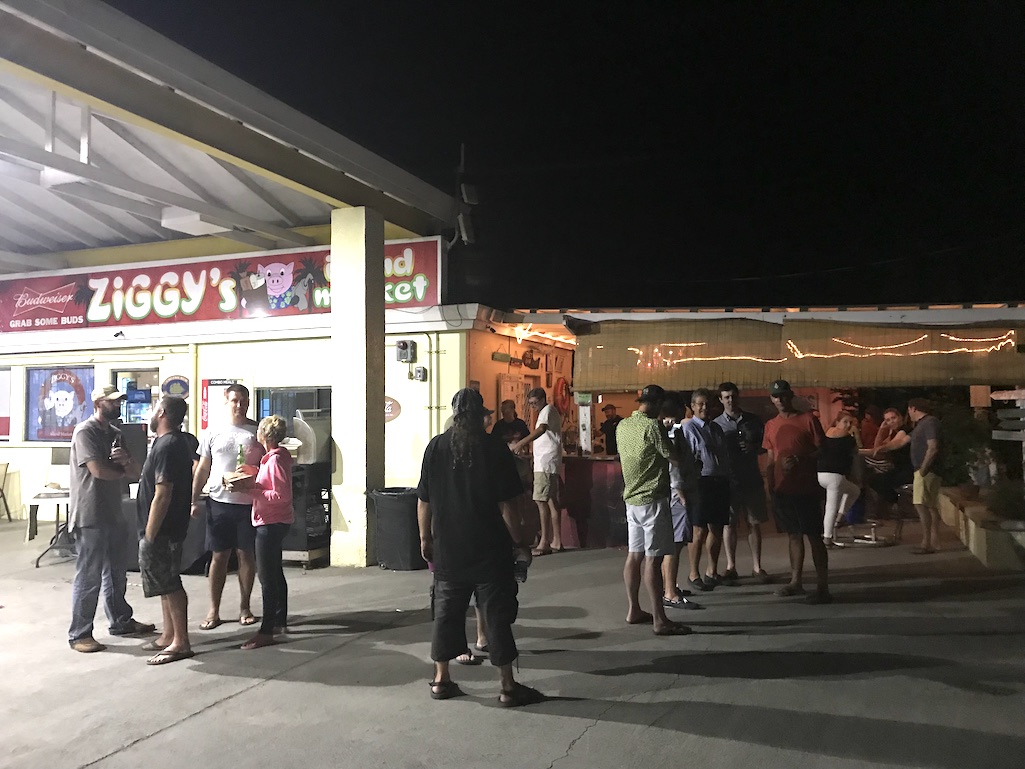 Frontline Bar & Restaurant
You're gonna have to ask a local how to get to Frontline. Go for the breakfast and go on Sunday if you can. Tell the man at the counter you want the breakfast. Pay him cash it's under $10. Wait. He'll hand you a box. Take the box get back in your car. Drive to the beach. Open the box and find a Johnny cake, a boiled egg, a chicken wing, a small green salad, fish salad and a hunk of bread.
Thank me later.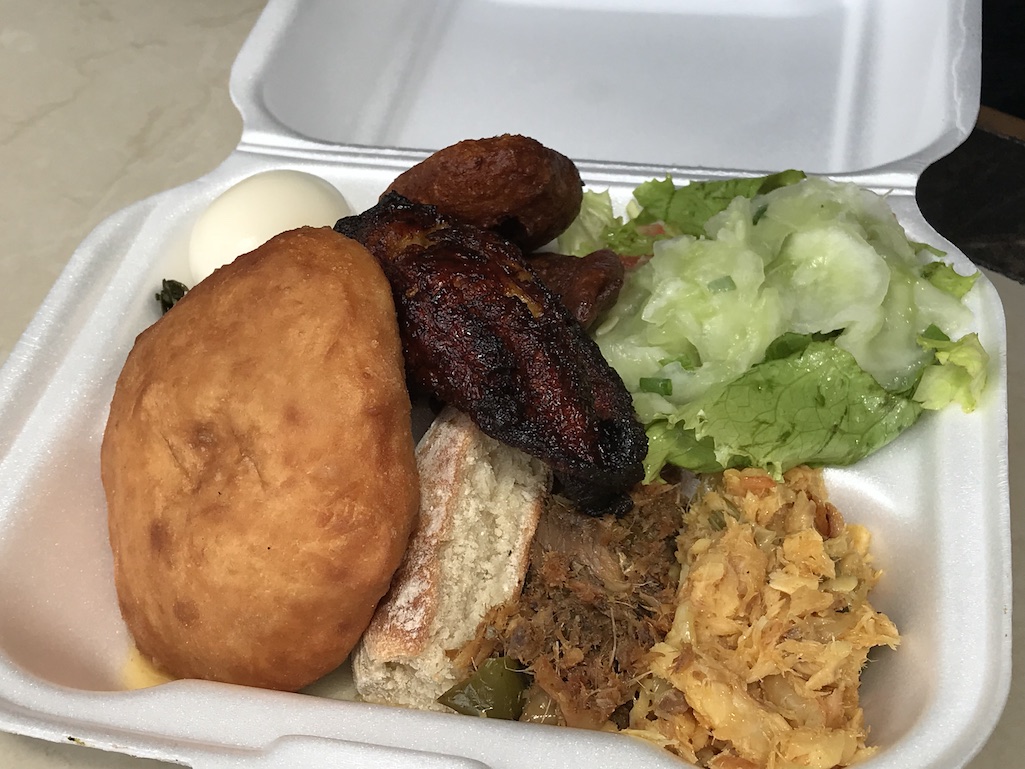 Now you know that whether you want a beachside snack or a gourmet meal you can find it at one of the tasty restaurants in St. Croix. The abundance of fresh seafood, locally grown produce and locally sourced products (and Cruzan rum!) make this a food and drink paradise.
Be assured that the island services are up and running. The positivity and resiliency of the Crucian people is palpable and you will feel like you have arrived home. After all, you will discover favorite cousins you have never met and they will stay with you long after your time on this tasty and beautiful island.
For more information on traveling to St. Croix check out VisitUSVI.com.
My trip was hosted by the United States Virgin Islands Tourism. All suggestions and endorsements are solely personal. Our policy is only to share and recommend honest and fair reviews of what we personally like and have experienced.
Updated May 2023.
                               Pin It!