The holiday season is chocked full of delightful sights, sounds, tastes, and smells. German Christmas markets bring all your senses to life.
As you may know, there are hundreds of Christmas markets around the world. We especially love visiting the Christmas Markets in Germany. Everyone is unique and special.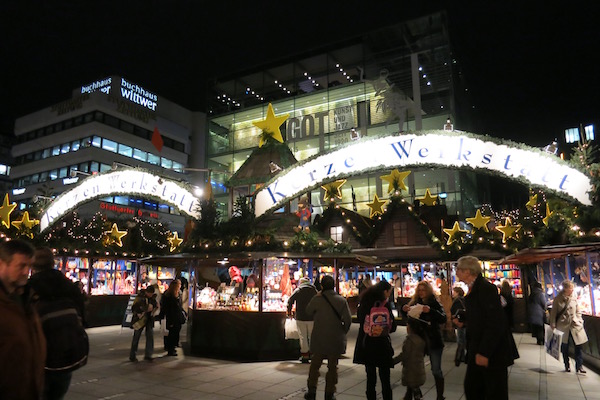 As a result, while visiting the Christmas Market in Stuttgart we discovered many wonderful traditions. To really get into the holiday spirit an outdoor concert in the Renaissance courtyard of the Old Palace is just the way to begin.
After enjoying the music you'll want to stroll through the streets of Stuttgart enjoying more than 280 stalls that are beautifully decorated. In addition, you'll want to pay attention to the rooftop displays on each roof. Because of the pride taken in decorating, every year the winners with the best displays are honored.

Tastes of the Christmas Market
As you take in the Christmas market stop along the way for a mug of glühwein or mulled hot wine to keep away the winter chill. Your adventure will continue as you explore the many stalls filled with handmade holiday gifts. There is even a special area for families with children to enjoy rides, games, and more.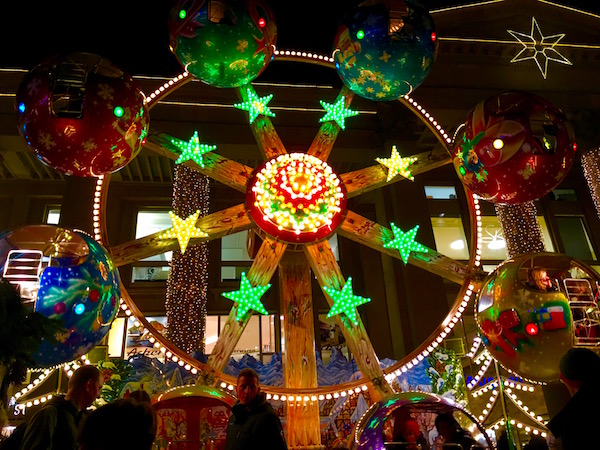 Swabian culture finds its roots in southwestern Germany and many of its traditions and foods can still be found throughout Baden-Württemberg and Bavaria. Whether you make it to a Christmas market or not this year you can still bring the flavors home with this traditional Swabian German recipe for Dambedei. This sweet brioche-type pastry is typically shaped into a man and served during the holiday season.
I was fortunate enough to chat with a local, who kindly let me take a photo of the Dambedei she had bought for her grandson. Although my German and her English didn't get us too far we both had big smiles as we admired her precious bakery item.
The Dambedei is decorated with raisins, almonds and with a "pipe" that is said to reflect the "crozier" or staff the catholic bishops carried. In order to see the resemblance one has to turn the bread around.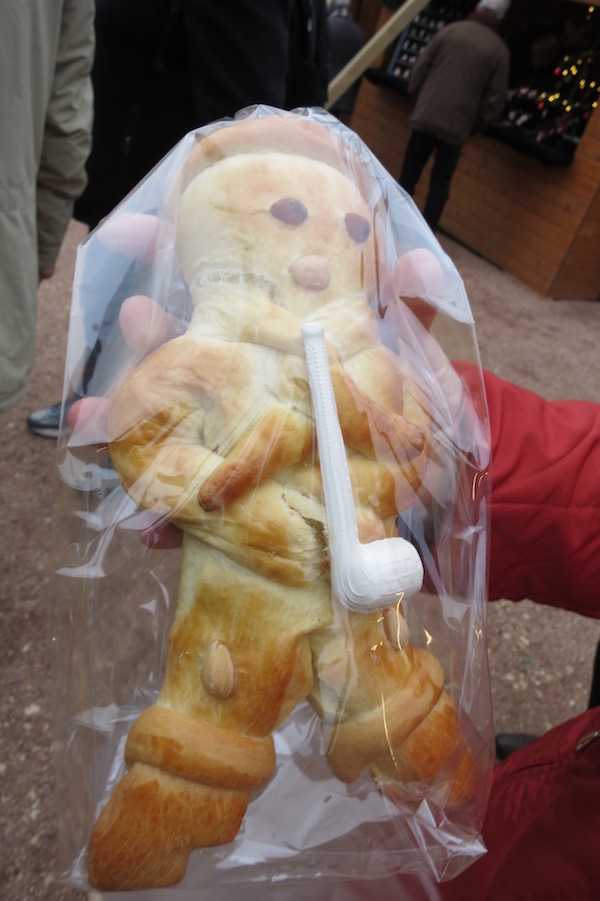 Dambedei
Time needed: 30 minutes to prepare, 2 hour waiting time, 30 minutes to bake
Ingredients (makes 6 Dambedei):
½ cup sugar
4¼ cups flour
pinch of salt
1 vanilla bean
1 lemon zest
¾ cup milk
0.7 oz. fresh yeast (0.35 oz. if you use dry yeast)
1 egg
1 stick butter
Raisins
1 egg yolk
2 tablespoons milk
Instructions:
Combine flour, sugar, and salt in a large bowl. Add lemon zest. Split the vanilla bean lengthwise, scrape out the vanilla, and add it to the flour.
Heat the milk until it's warm (in the microwave or a pot). Crumble the yeast into the milk and stir until it has dissolved. If you're using dry yeast, mix it in with the flour, not the milk!
Melt the butter. Pour milk and butter into the bowl and stir.
Add egg and knead until the dough has a smooth consistency.
Cover the bowl with a clean cloth and let it rest for 1,5 h (ideally in a warm place).
While you're waiting, you can make a little man out of cardboard to use as a template later.
After 1 1/2 hours, roll out the dough on a floured surface. It should be about 1 cm thick (as thick as a finger).
Use a cardboard template to cut out little men with a sharp knife. Take scraps of dough, knead them, and roll them out again to make more Dambedei.
Use raisins to make little eyes and buttons. Press raisins into the dough firmly! Let Dambedei rest for another 30 min.
Meanwhile, preheat the oven to 360°F/ 180°C.
After the dough has rested for 30 min, mix egg yolk with 2 tablespoons of milk and spread it across the Dambedei using a pastry brush. Cut smiles into the faces with a small knife.
Bake each batch of Dambedei for 15 minutes. You can fit 3 on one sheet.
Be sure to decorate your Dambedei with almonds, walnuts and sugar.
Special thanks to  ChefKoch.de and TheKitchenCorner.net for the dambedei recipe. 
We hope you enjoy making your Christmas goodies. Please let us know who you share your Swabian goodies with!
For more details about the Stuttgart Christmas Market visit their website www.stuttgarter-weihnachtsmarkt.de.
Visit our look at other Christmas Markets near Stuttgart here at Christmas Markets On The Sunny Side of Germany.
THE QUICK BITE: German Christmas Markets bring all the best sights, sounds, and smells of the holidays.  Visit Stuttgart where you'll find a large traditional and treasured German Christmas Market.