We had a complimentary stay at the Martinhal Hotel & Apartments Chiado. We provide honest reviews from our own experiences.
Are you looking for a place to stay in Lisbon that is family-friendly? If so, we have the perfect place for you  – the Martinhal Chiado Lisbon Hotel and Apartments. Let's face it, figuring out where to stay in Lisbon for your family isn't always easy. There are literally hundreds of hotels. You may find the perfect location only to discover that the property doesn't have the amenities that your family needs.
Let us introduce you to a luxury serviced apartment hotel in Lisbon that has it all. Location, amenities, great food, and what we would call extreme family friendliness.
Best Area To Stay in Lisbon For Families
We would describe the Martinhal Hotel and Apartments as family forward. There are other hotels in Chiado Lisbon but not one as perfect for family travel as the Martinhal. Each of the rooms is a small apartment that is outfitted with everything you need during your stay. A fully equipped kitchenette has everything you need to prepare meals right in your room. Frankly, our room was better equipped than the "fully" furnished apartment we rented when we first arrived in Portugal. We got a chuckle out of that.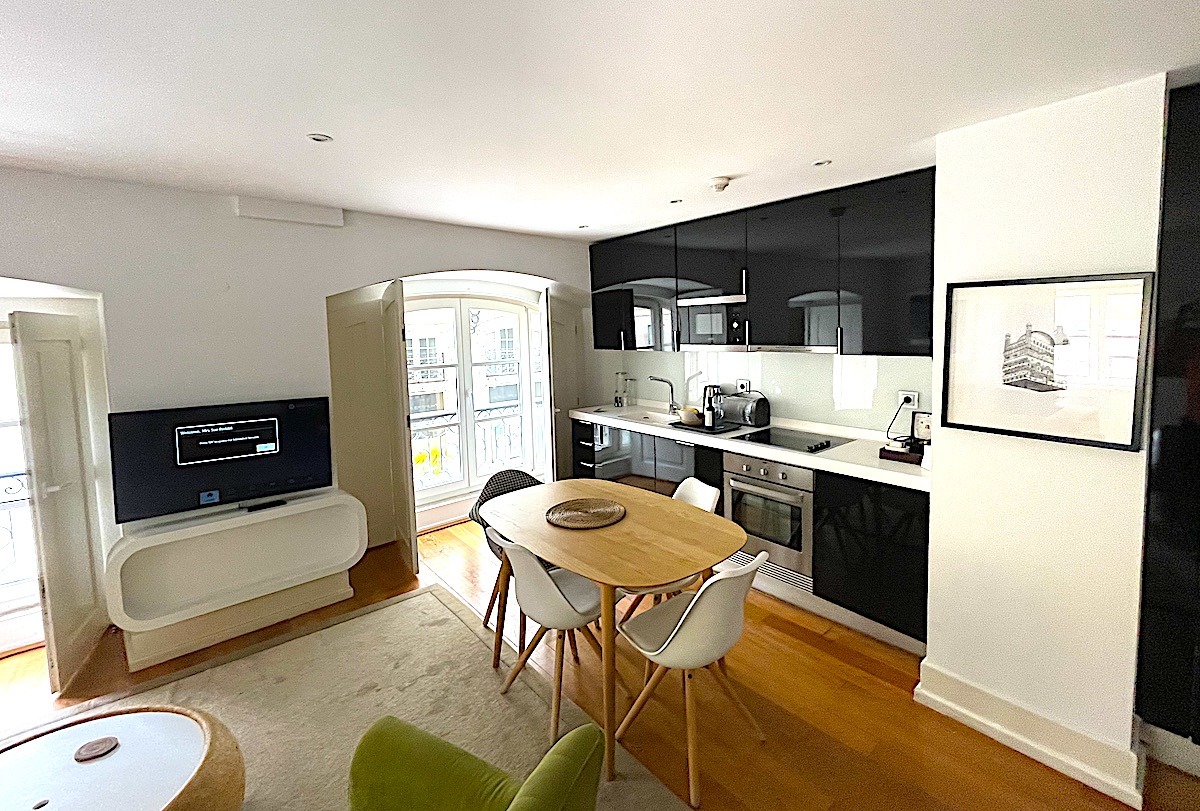 You'll find a coffee maker with coffee pods and tea. There's a washer and dryer, oven, cooktop, refrigerator, toaster, and all the plates, cups, silverware, pots, pans, and glassware you'll need.
We arrived to find the bath stocked with wonderful toiletries and loads of towels. There were plenty of pillows, blankets, and even extras in the closet. We were there during the summer so the air conditioning was on and the room was already cool when we entered late in the afternoon. This was a real treat after spending the day walking around Lisbon.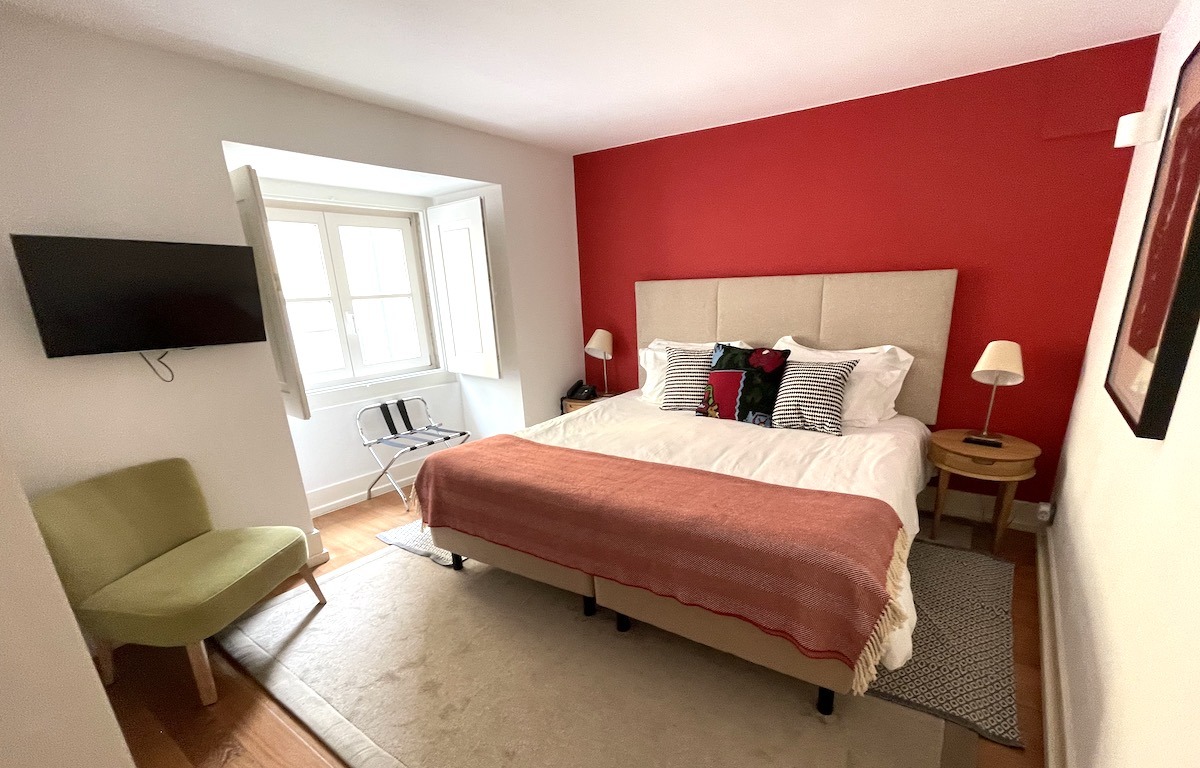 The apartments are available in 2 bedroom deluxe, 1 bedroom deluxe, and deluxe studio apartments. We stayed in a 1 bedroom and it was spacious and had plenty of room for two adults and two or three children. There were bunk beds in the living room and a couch that could also be used for a bed.
They have all the kids' equipment you will need so you don't have to bring it with you. Strollers, potties, safety gates, bottle sterilizers and warmers, baby cots, and baby baths. They simply thought of everything!
Lots of Activities for Kids
One of the things we really liked about the Martinhal Chiado is that it had the feel of one of the 5-star hotels in Lisbon yet was very family friendly. Many times we get asked where a family can stay in Lisbon when they are vacationing or doing research to potentially move to Portugal. The Martinhal is definitely that place.
There aren't kids running around all over the place either. It's quiet and really peaceful. We were there when it was booked. We had to ask if they paid people to keep the kids quiet. They said it was always like that!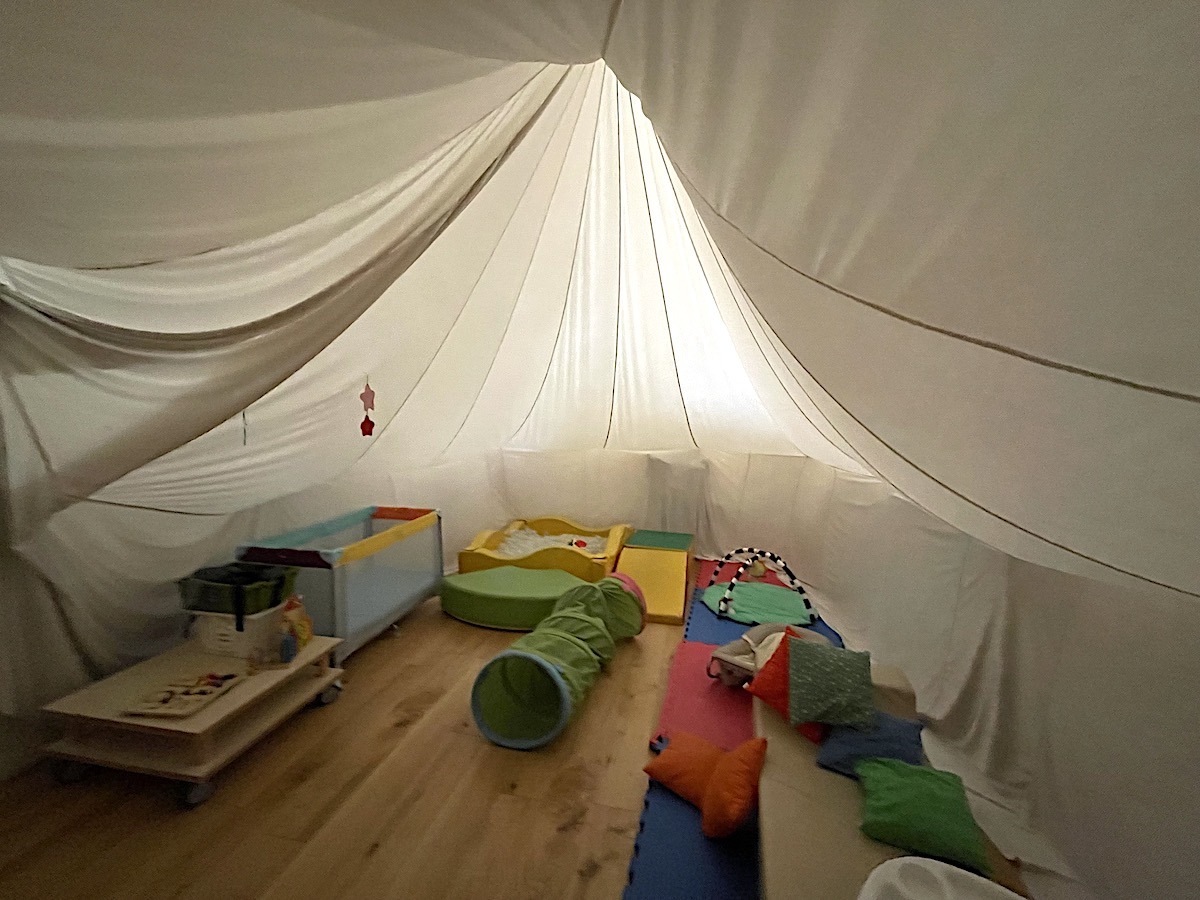 They do have plenty to keep the kids busy. The Kids Club has activities that cover kids from 6 months to early teens. It's a secure, safe, creative, and welcoming space. There are even workshops for your kids to do some creative projects, too. The tent room was so cool that even we had to go in there just to experience it. The staff is also available to watch the kids if parents would like an afternoon or adult-only night, too.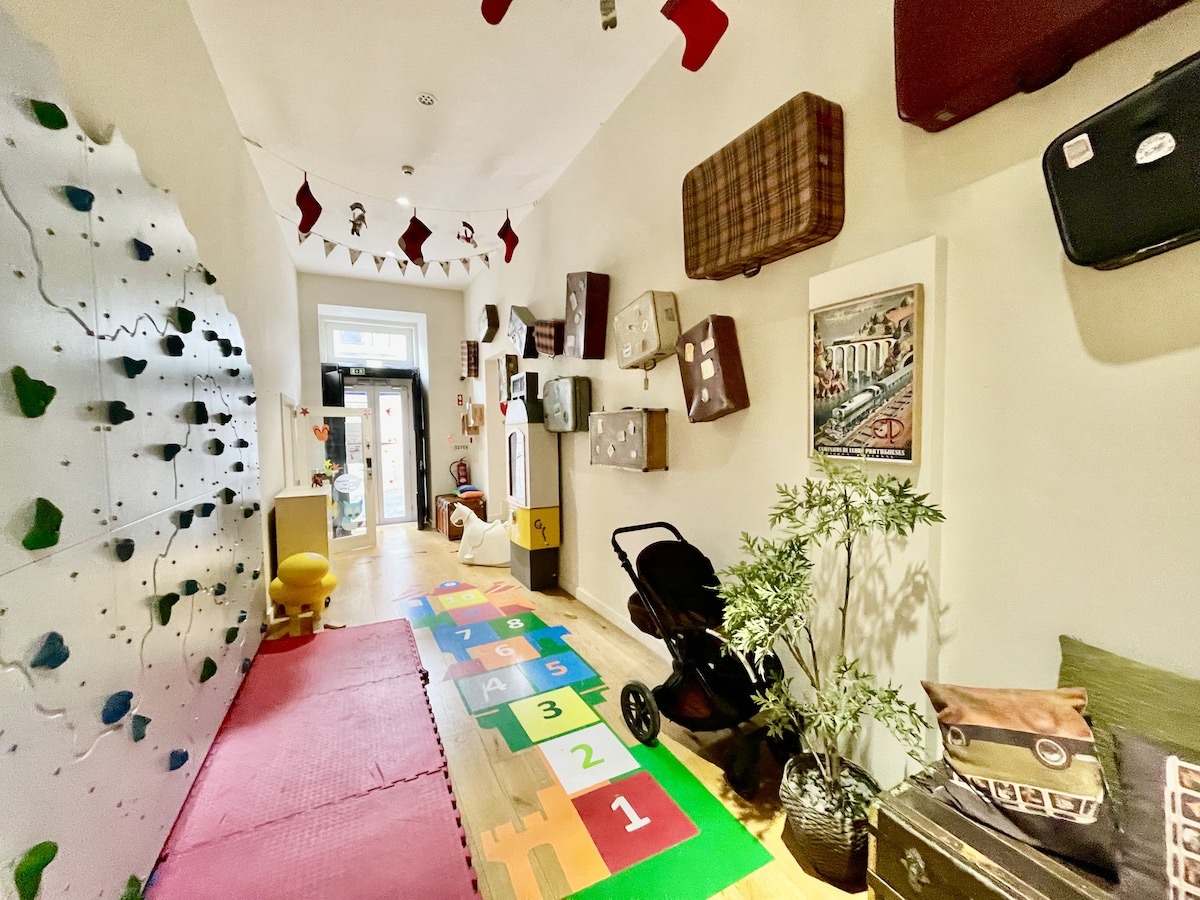 The Kids Club has its own climbing wall and plenty of activities to keep young intrepid travelers busy under the watchful eye of experienced caregivers.
Martinhal Chiado Lisbon Great Location
Located in the Chiado district of Lisbon makes this property one with easy access to many of the activities you are going to want to do. It's just steps away from the Cais do Sodre train station which gives you access to the Linha de Cascais to take the train all the way to Cascais, the three ferries across the Tagus river, and the Metro subway trains. This makes it easy to get just about anywhere.
It's also an easy walk to the iconic No. 28 tram line that winds through some of the most popular tourist spots in Lisbon. Grab a seat or hold on tight, watch the city go by, and see the lively neighborhoods of Alfama, Baixa, Graça, and Estrela.
Check out this quick video we took while taking the No. 28 tram through the Alfama neighborhood.
The Museu Nacional de Arte Contemporâanea is also very close by. They offer several workshops for kids, adults, and all art lovers.
You'll also be near the Praça do Comércio where many festivals are held. Restaurants and cafés are plentiful if you just want to grab a bite or a drink and let the kids run around the square.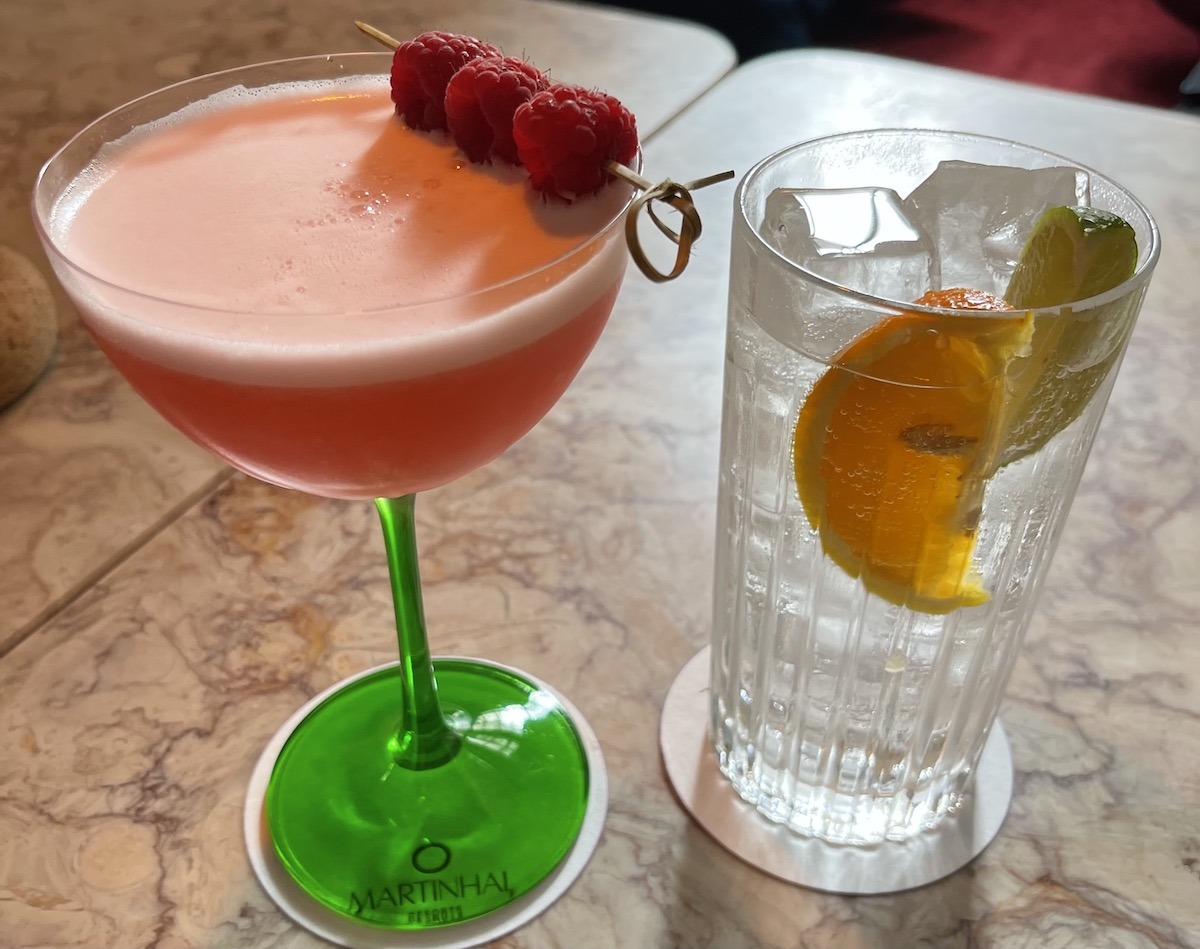 Try Bar 1855 at the Martinhal
One of the best features of the Martinhal is its Bar 1855 Gin Garden. They worked with mixologist Peter O'Connor to create a unique and delicious cocktail list. There are many low and no alcohol drinks available, too. We had the chance to sample a few cocktails and they were really special. You can create your own gin and tonic or choose from the cocktail menu.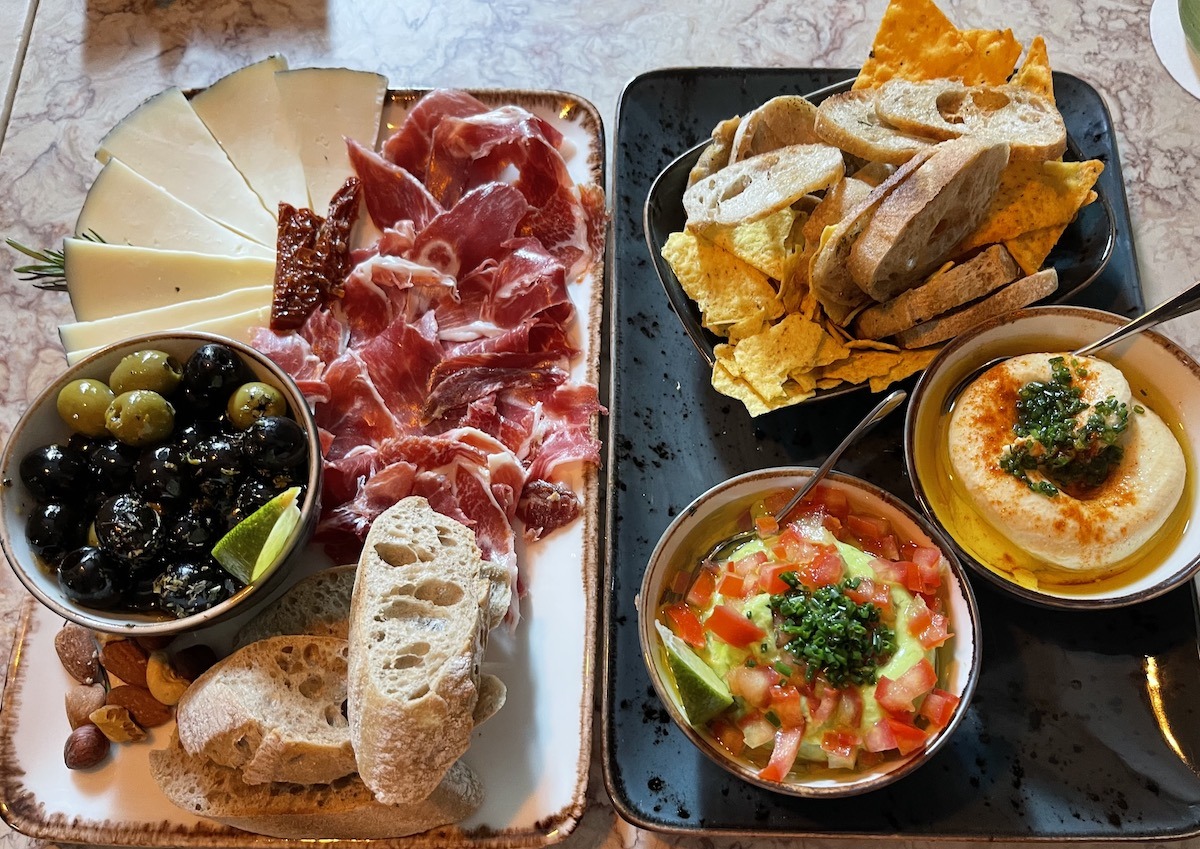 They also have a diverse and tasty pintxos (appetizers) menu that is set up for sharing. You can enjoy many different appetizers and the food is outstanding. We had a few the night we visited and we were so full we had to skip dinner! We'd definitely recommend a stop here whether you're staying at the hotel or not.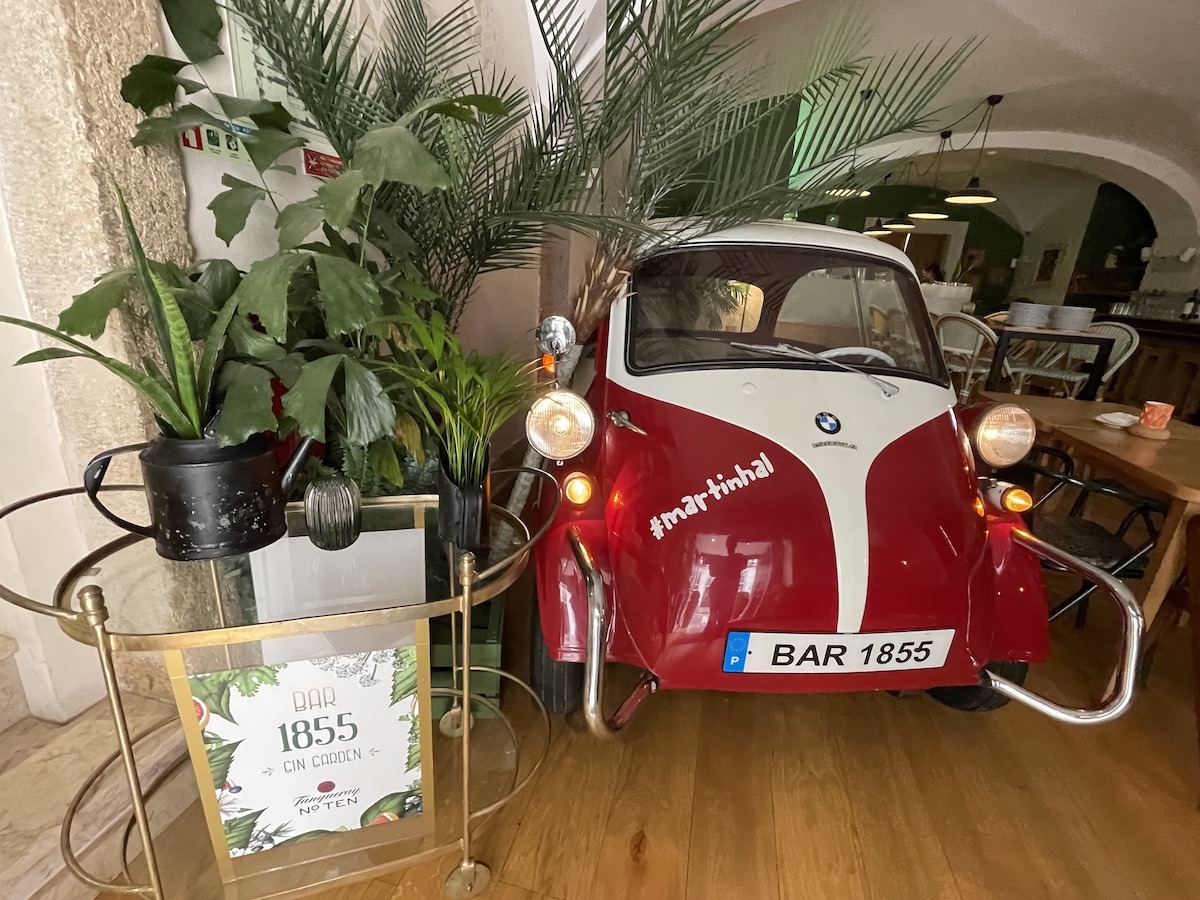 In the morning the space turns into a family-friendly breakfast lounge. Here you can relax and let your family choose from a wide variety of morning foods. From cereals, yogurt, fresh pastries, and prepared-to-order omelets and pancakes. Fresh juices and smoothies were some of our favorites. There is absolutely something for everyone.
Sign Up for The Food Travelist Newsletter & Receive 7 Tips To Eat Like A Food Writer
More Lisbon Activities 
The Lisbon Time Out Market and the Mercado da Riberia are just a couple of the top tourist attractions that are easy to walk to from the Martinhal. Landau Chocolate is just a few steps down the street where you must try the "best" chocolate cake in the world to see if you agree.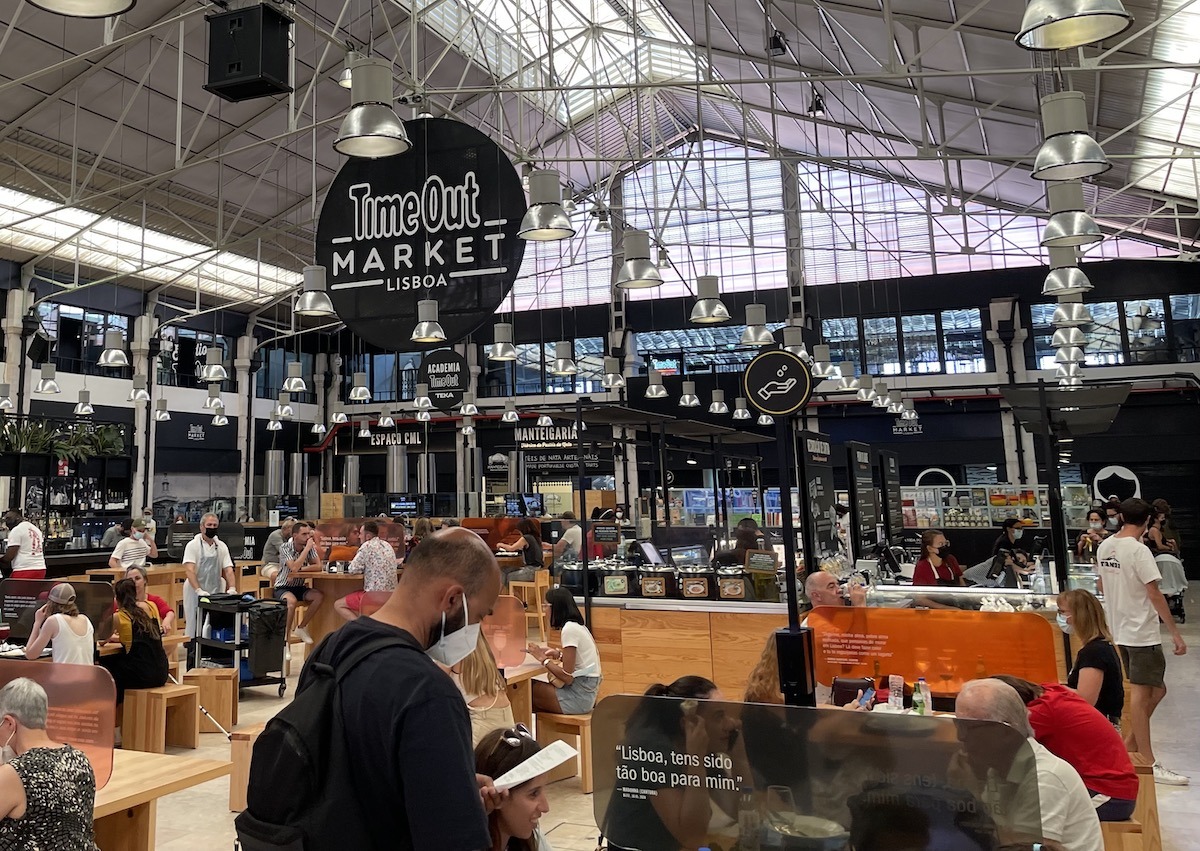 There are more shops, restaurants, and museums that you'll want to make time to see as well. The staff at the Martinhal is extremely friendly and helpful and can assist you in setting up tours, securing tickets to attractions, and even making restaurant reservations, too.
They Have It All at Martinhal
If you are looking at 5-star hotels in Lisbon that will make your family feel very special and meet all your needs be sure to check out the Martinhal Chiado Lisbon.
For those planning in other areas in Portugal try the Martinhal properties in Cascais or Algarve, you can stay at the Martinhal Cascais or one of their two locations in the Algarve. Their other locations are sure to be just right for any family looking to feel comfortable and pampered on their next trip.
Check out their website for rates, availability, and more details for all their locations.
Pin It For Later