Updated June 2022
White Fence Farm. Just hearing that name brings back so many memories for me. Folks working on their Route 66 Planner must know that White Fence Farm has been a haven for family meals along Route 66 since the early 1920s. Located in Romeoville, Illinois just about 25 minutes southwest of the Chicago city limits, this restaurant has been serving up the "World's Greatest Chicken" to families for generations.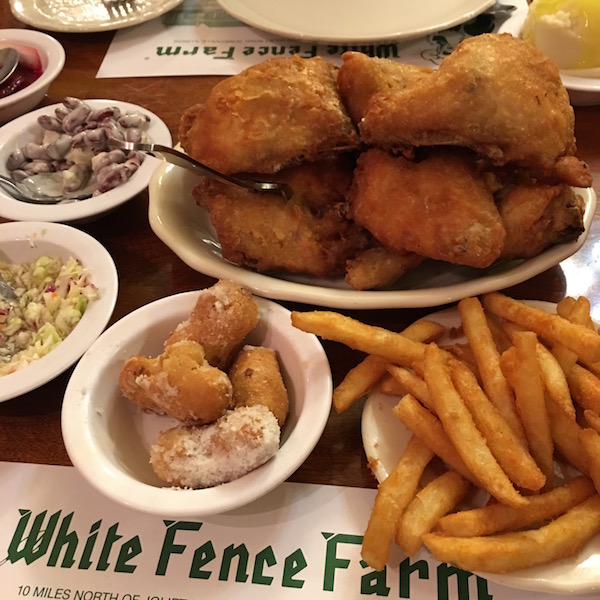 When I was a kid my family didn't eat at restaurants a whole lot. In fact, even going to McDonald's was a treat, something special. On occasion, we'd go out after church for a Sunday dinner. At that time there weren't a lot of casual dining family restaurants. My Mom typically cooked at home or we'd go to my Grandmother's or Uncle's house for dinner.
On Sundays, my family had a couple of spots they liked and they seemed always to be a bit of a drive. Of course, now that I'm an adult I realize they were all less than 30 minutes away. But at the time it seemed like we were going on a road trip! I had no idea that this was a famous restaurant for Route 66 drivers going through Illinois and probably on many Route 66 tours.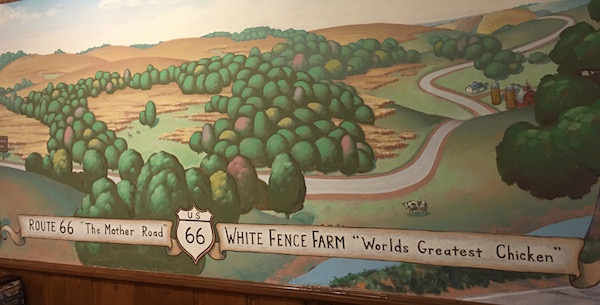 We were recently returning from our visit to St. Louis I remembered that White Fence Farm was right off of Route 66, which is now mostly I-55 for you road-trippers. So we threw caution to the wind and decided to take a trip back in time and visit White Fence Farm.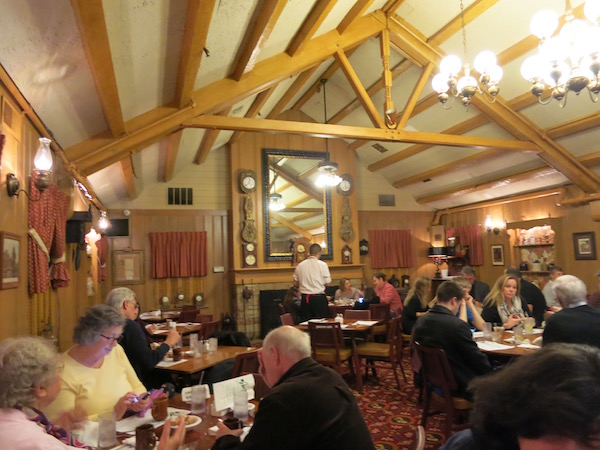 Fence Farm Family Restaurant
I have to be honest and say that I don't remember what the food tasted like or much detail of the place we visited as a kid. When we turned the corner to the entrance I had a vague memory of the buildings. Chicago businessman Stuyvesant Peabody built the restaurant in the early 1920s originally on 12 acres of a 450-acre farm. The idea was that people would enjoy coming to the farm and having a home-cooked simple meal. It worked because it had over 40,000 visitors in the first four months. In the 1950s the Hastert family purchased the restaurant and did plenty of remodeling. It's still run by the Hastert family to this day.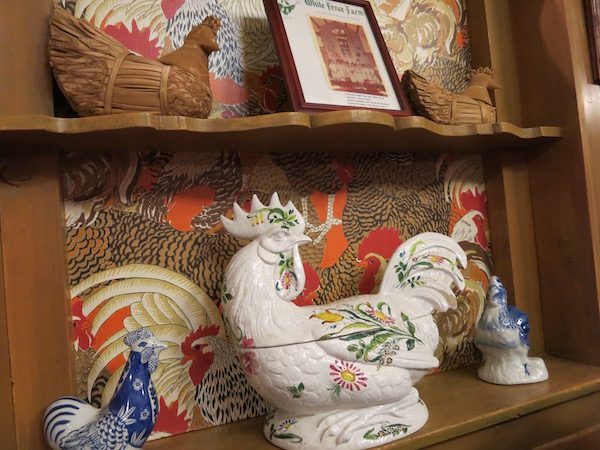 The restaurant still serves meals family-style and now has seating for over 1,000 people. The original hand-hewn hardwood ceiling beams still exist in many of the rooms. Each room is decorated in what I'd call farm-chicken retro. Chicken memorabilia is found everywhere. Plus there's chicken carpeting, chicken wallpaper. It's chicken decor all around, far beyond an accent.
Step Back in Time
They also have a "museum" full of antiques and collectibles. Any Route 66 planner is going to want to check this museum out. There are even antique cars, motorcycles, and arcade games, which the kids can play. There's a large waiting room with plenty to entertain adults and kids. Outside there's a petting zoo for the kids too. They are clearly set up to feed many people but the weekday we visited we didn't need to wait and were seated promptly.
The one thing that's really different from what I remember is that this is now a family "casual" dining experience. When visited in the '60s and '70s we were in our Sunday best. Patent leather shoes and cute dresses for me, and Dad in his suit and tie. As much as I now love being casual and comfortable there was something about being dressed up and going out to eat that made it something really special.  Ah, nostalgia!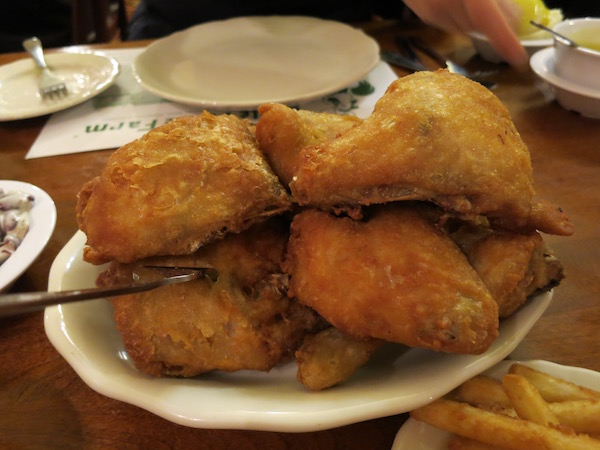 Best Chicken on Route 66
Let's get to the chicken. We ordered "our specialty" 1/2 (4 pieces) of Farm Chicken $15.00 per person. White Fence Farm's chicken is really tasty and crispy. It's prepared in a pressure cooker and then flash-fried in low-cholesterol soybean oil for just three minutes. It's not greasy at all and it reminds me of "broasted" chicken. They use fresh chicken that arrives daily and the coating is, as you'd expect, a well-guarded secret. The chicken is served with your choice of potato: mashed with homemade gravy, baked (they will charge you 35 cents for sour cream, ha!), French fries, or macaroni and cheese.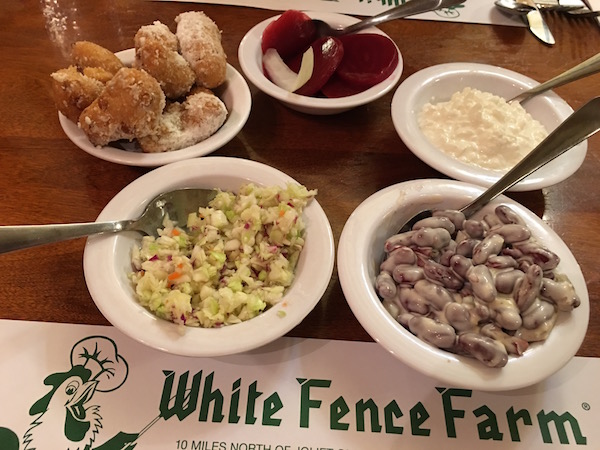 While you're waiting for your fresh hot chicken, you start your meal with a variety of relishes. The term still sticks from the relish trays they used to serve as salads back in the day. Some of you may even remember the relish trays from the supper clubs that used to be so prevalent in the Midwest. Those have been replaced by small bowls of pickled beets (my favorite), cottage cheese, kidney bean salad, and coleslaw, which are brought out very quickly after you order.  All of these are all-you-can-eat the server will bring out more upon request.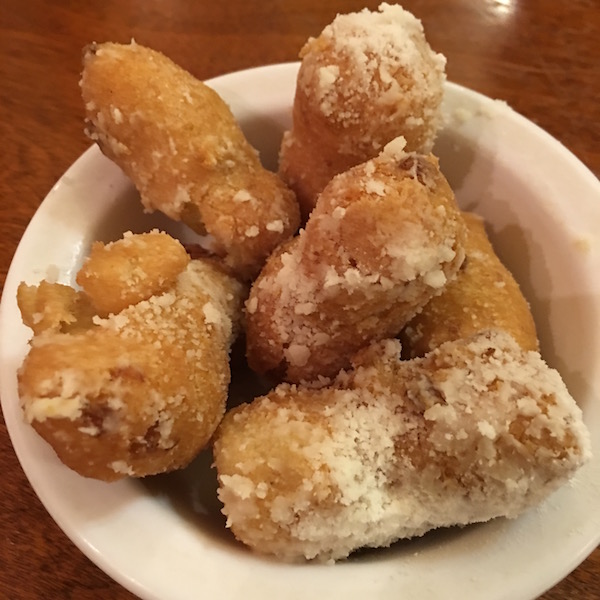 Corn Fritters
The second star of the show is the fried corn fritters. Oddly enough, I do fondly remember these. These little crispy gems are dusted with powdered sugar so they're really more like a dessert, but they pair perfectly with the fried chicken, as do waffles. These are also all-you-can-eat, which is terrible because they're small, delicious and warm.  You'll want to eat a lot so be careful. Be sure to plan a stroll around the farm post-dinner to work off those extra corn fritters.
They do serve entrees other than chicken. Aged steaks, pork chops, French fried shrimp, and whitefish are available. All meals are served with the relishes and corn fritters.
The food is brought out quickly and hot. An extra bonus is that although there are plenty of people eating, the dining rooms are pretty quiet. There's no music, just simple conversation. Although I did spy a few cell phones in use there was a lot of actual dinner conversation going on. Remember that?
Cocktails and More
They also serve cocktails, beer, and wine.  They still serve the old school cocktail favorites like Manhattans, Old Fashioneds, Whiskey Sours, Vodka Gimlets and Highballs. The wine list is short and affordable (the Inglenook Chablis would have had my Mom's name all over it and at $3.50 a glass you can't beat it). They also have dessert, which we didn't have room for, but I have a vague memory of the hot fudge parfait (probably why I still like these) and the Brandy ice for the adults.
All and all it was a fun trip down memory lane. It brought back fond memories of my Mom, Grandmother, and Uncle, who are no longer with me but I'm sure were smiling down and happy that I could experience White Fence Farm again and this time share it with Diana.
If you're traveling to or from Chicago, or live in Chicago go give it a try. It's a great couple of hours of food, conversation, and fun. Like many along the old Route 66 these types of restaurants are dying out and only consistent diners and visiting families can keep them open. If you like to support local restaurants like we do add White Fence Farm to your Route 66 planner today.
Route 66 Planner Tip:
WHITE FENCE FARM
1376 Joliet Road, Romeoville, IL 60446
whitefencefarm-il.com 
They also have carryout locations throughout Chicago. See their website for details and hours.
THE QUICK BITE: White Fence Farm is a family restaurant just south of Chicago off old Route 66. Stop in for a homestyle fried chicken dinner and a little nostalgia.
Pin to your Route 66 Planner Board on Pinterest