Dialing for Delicious Italian Food At 312 Chicago
Thank you 312 Chicago for our complimentary lunch.  We were not financially compensated for this review. All opinions we provide are our unique views and reflect our experiences. We pledge to provide our audience with truthful and honest reviews.
One of the best things about living in Chicago is being in a truly extraordinary culinary destination. Our biggest challenge is getting to the many restaurants that exist here. The City of Chicago website states that there are more than 7,300 restaurants in the city. Thus, it would take 20 years to eat at every restaurant if you ate at one every single day, or seven years if you ate out three times a day. Now that would be something to write about!
The Spot
Needless to say FS when we find another restaurant that we enjoy our first thought is to share it with you. We recently had lunch at 312 Chicago located in the Kimpton Hotel Allegra in the heart of the Theater District. The location is ideal for downtown business lunches and pre-theater dining.
The restaurant itself is very old-school Chicago Italian, or as I like to call it, classic Chicago. The comfortable booths provide a perfect spot for deal-making and private conversations. The modern bar looks like a fun place to enjoy an after-work cocktail or glass of wine.
The Food
Executive Chef Luca Corrazina learned his cooking skills from his mother in northern Padova, Italy. His family moved to Chicago in 1986 chasing the American dream while sharing their delicious home recipes. Chef Corrazina spent time at many popular Italian restaurants in Chicago and Florida before landing at 312 Chicago.  His recipes include soul satisfying dishes prepared with the best ingredients available.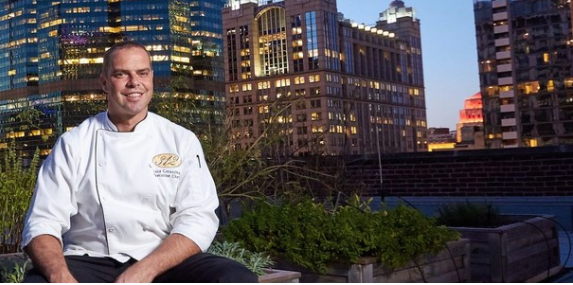 Let's face it everyone does Brussel sprouts (or kale) now. But not everyone does them well. At 312 Chicago they fry the sprouts with toasted pistachios, granny smith apples, and apple cider. These little devils were gone as fast as some Chicago politicians.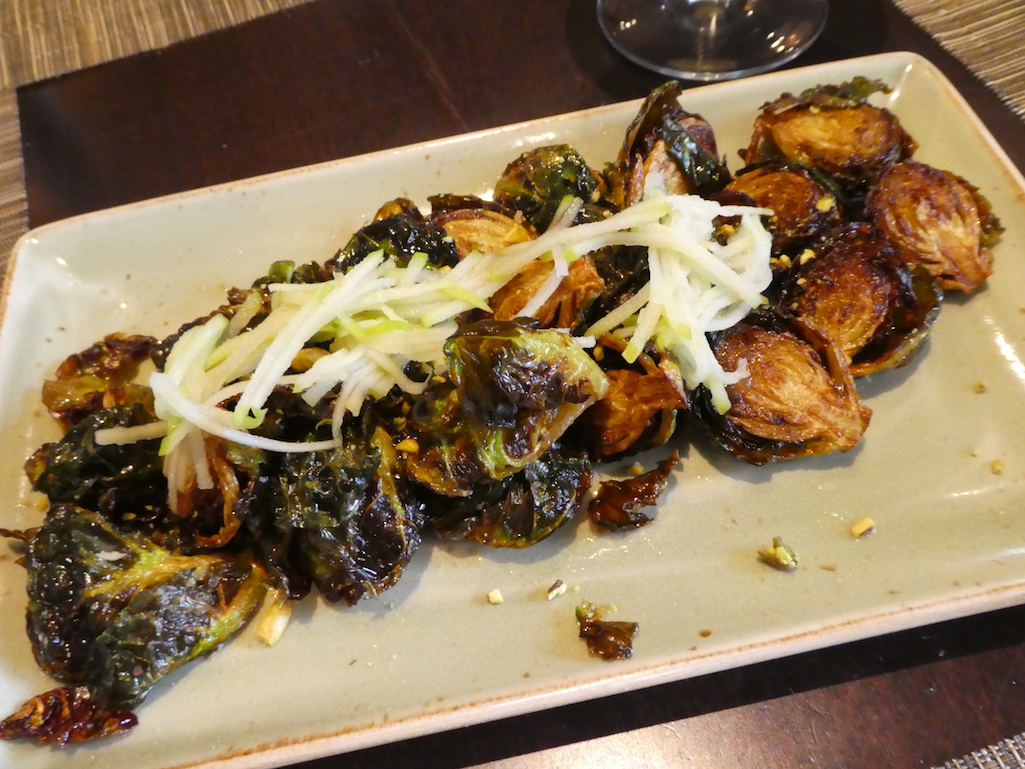 An Italian menu stalwart the Caesar salad is a solid offering for a tasty and lighter lunch. For an additional charge, you can add chicken, shrimp, salmon, scallops, steak or tuna.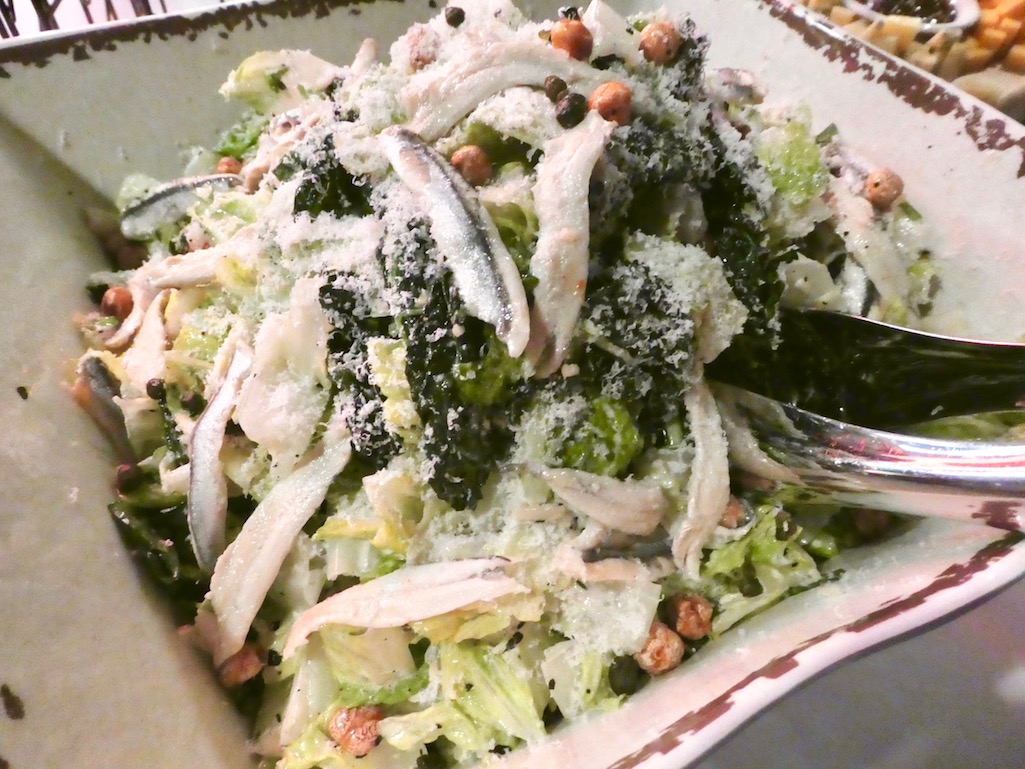 Don't say no to the bread basket or a handcrafted cocktail. Both are delicious and worthy of a little splurge They also have a full wine list, local draft beers on tap and in bottles.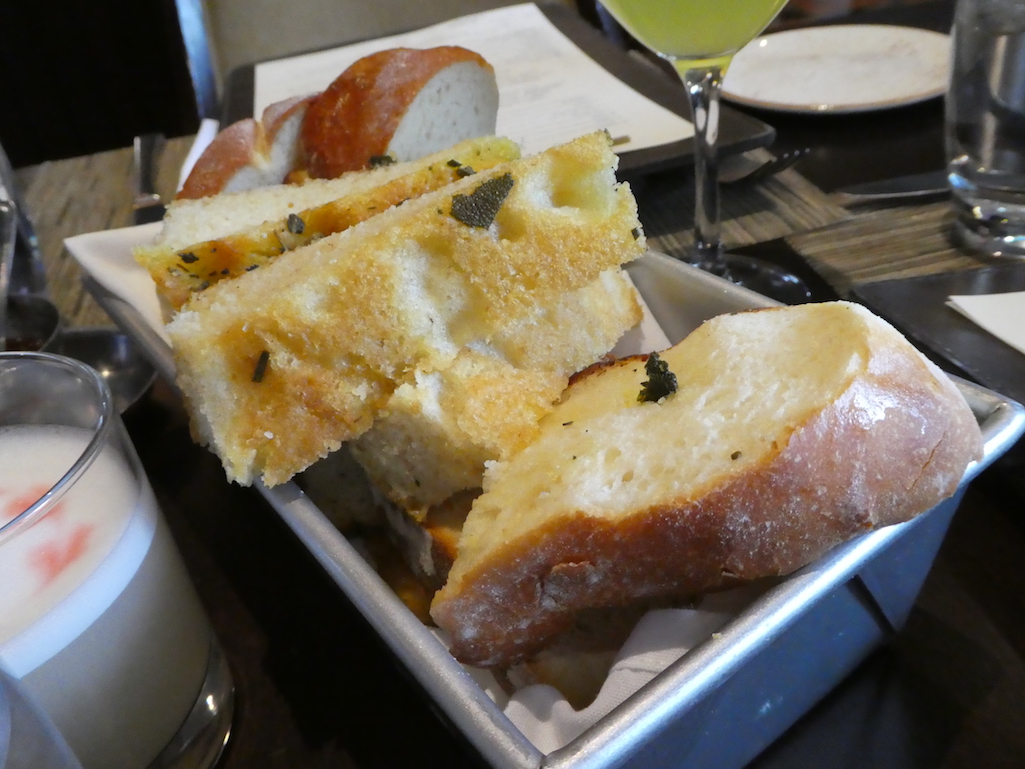 Burrata Lovers
The lunch menu also includes some delicious paninis. Diana tried the Italiano Panini and it was bursting with burrata. Because it was so big she only ate half and took the other half home and, gratefully, it was just as tasty the next day.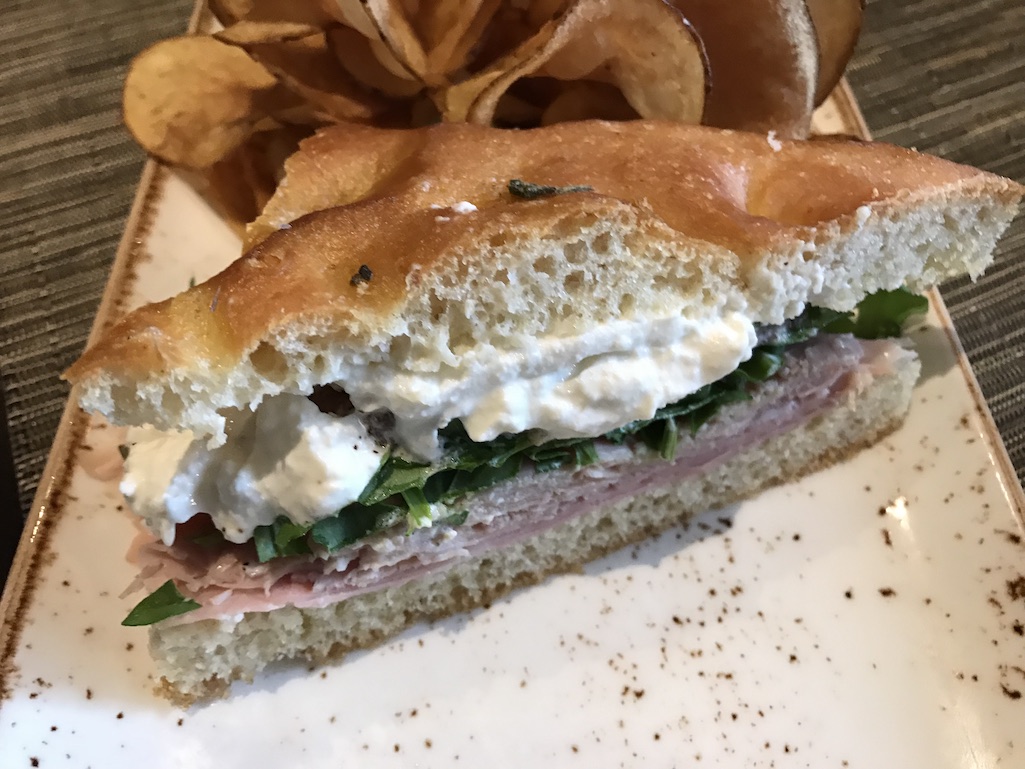 The Seafood
Their lunch menu has many selections of from salads, starters, sandwiches and full entrees. The rock stars on the menu are the housemade pastas, sauces, and fresh seafood.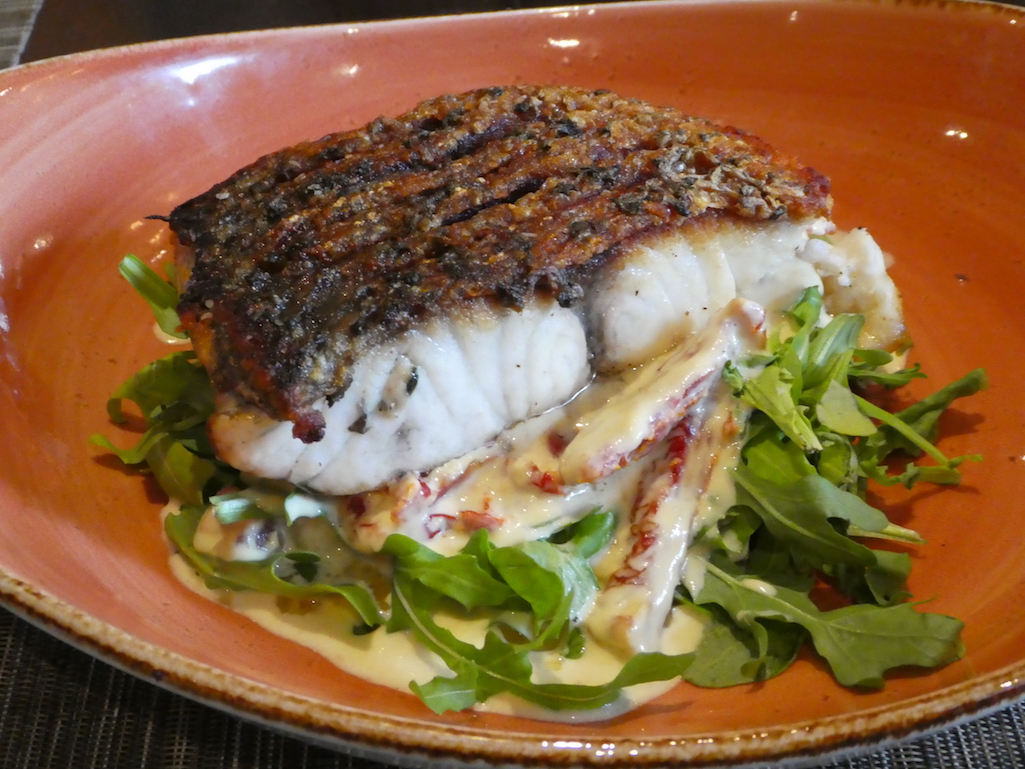 Top quality seafood with housemade sauces will make it difficult to decide. It's also good to know that many of their pasta dishes are available gluten-free. One of our lunch companions had the Linguine Nere, a black squid ink pasta made with gluten-free linguine. She loved it. Looking at the photos again I'm wondering why she didn't at least share a bite. Somehow I missed tasting those tiny luscious bay scallops.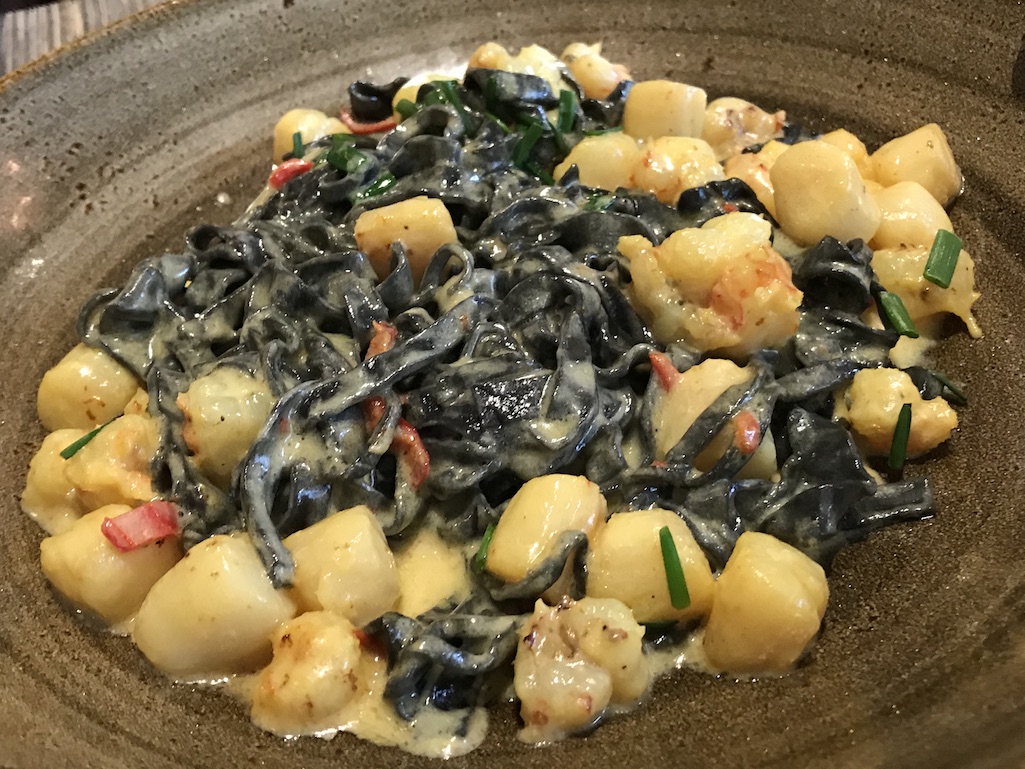 If you love octopus or have never tried it, certainly you should try the grilled braised baby octopus starter Polpetti. It was perfectly prepared with Spanish Chorizo, pickled red onion, fried potatoes and saffron aioli. I loved this dish and confess to not widely sharing with the table. Hmm. Maybe that's what happened with the squid ink linguini…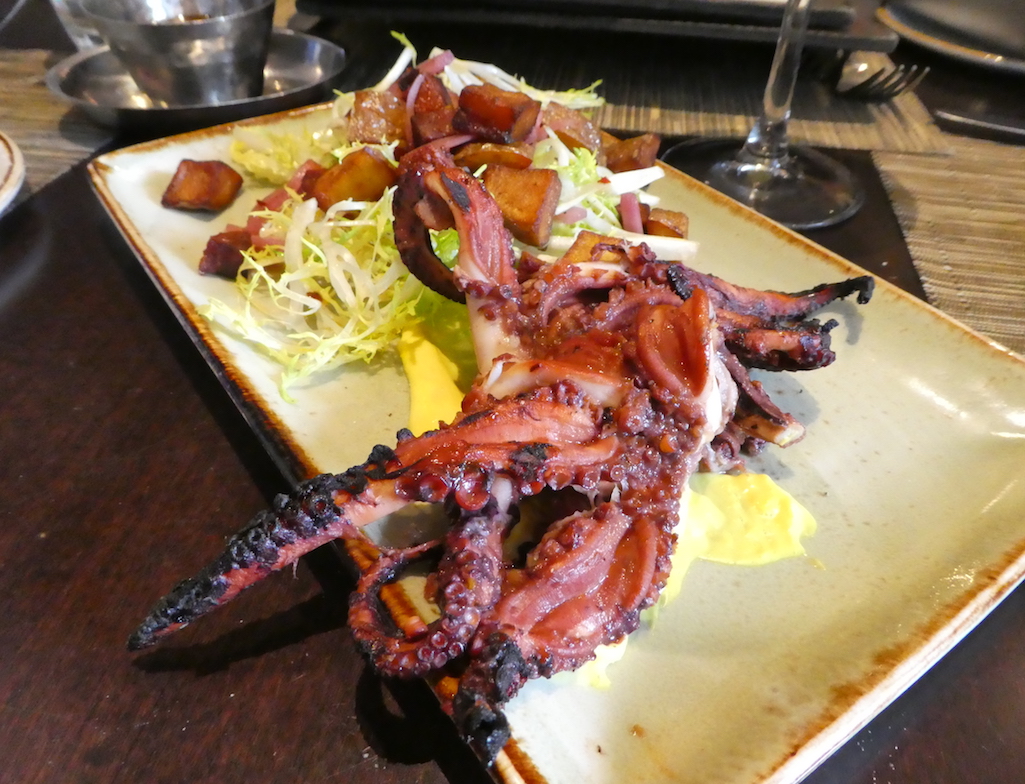 Wait There's More
No meal is complete without dessert, right? 312 Chicago has a sweet selection of Italian classics like tiramisu, biscotti cookies and gelato. Their specialty is their Torta di Noci a tart loaded with pecans nestled on caramel sauce and topped with butterscotch gelato.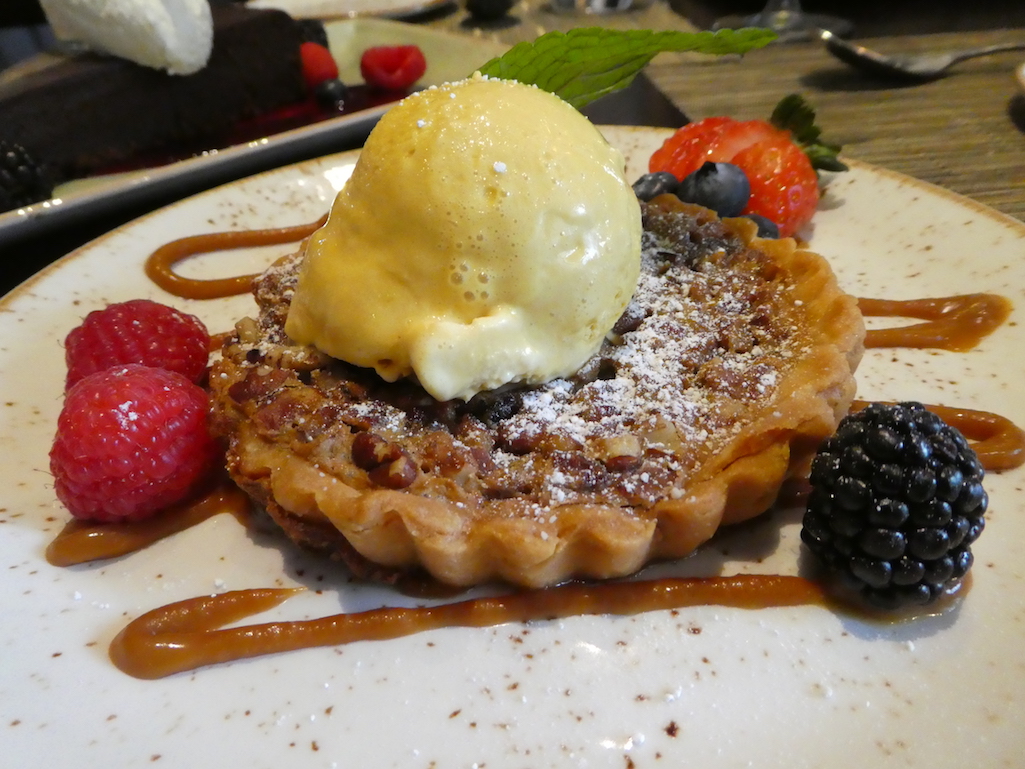 We also enjoyed the Torta di Ciocolato, a flourless chocolate cake that was fudgy and delightfully dense. It comes seated beautifully on top of a mixed berry sauce and crowned with Chantilly creme and chocolate shavings.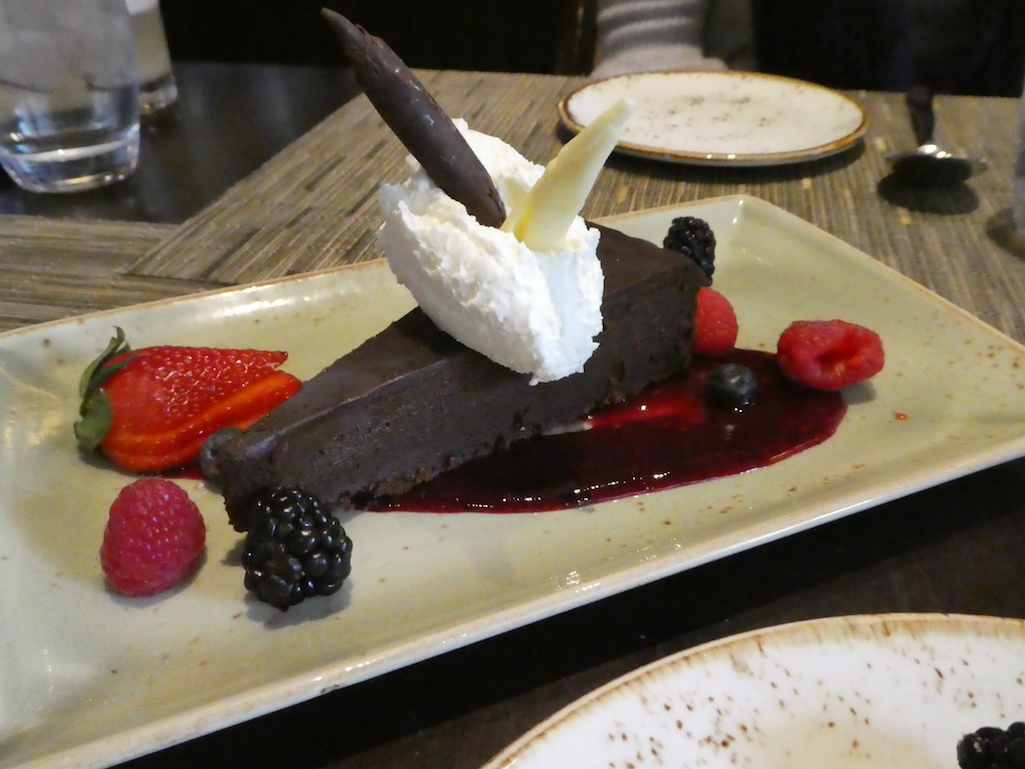 Add 312 Chicago to your list of Italian restaurants to try on your next visit to Chicago. Their satisfying food, easy location, and classic Chicago atmosphere add up to a highly enjoyable experience.
To see their complete menu and make a reservation check out their website 312chicago.com.
Pin It for your next Chicago Dining Experience