312 Chicago Tops Downtown Chicago Italian Restaurants
312 Chicago is a great find among restaurants near Chicago Theater. With so many downtown Chicago Italian restaurants, it's sometimes hard to choose. But we're always happy when we find a winner and 312 Chicago restaurant definitely earns high marks. Here's what we found during our tasty visit for delicious dining.
The 312 Chicago Vibe
312 Chicago is one of the restaurants near Hotel Allegro Chicago. As a matter of fact, it's located in the Kimpton Hotel Allegro Chicago. The location is ideal for downtown business lunches and pre-theater dining. It's smack dab in the Theater District near the Cadillac Palace Theater and Chicago Theater.
The restaurant itself is very old-school Chicago Italian, or as we like to call it, classic Chicago. We'd describe it as swanky. You know, kinda cool, slightly retro but in a sophisticated modern way. The comfortable booths are nice and roomy. They give you enough space and privacy to provide a perfect spot for deal-making and private conversations. The modern bar adds a nice touch of social invitation too. We think it would be a fun place to enjoy an after-work cocktail or glass of wine with some friends, old or new.
We know that when you're getting dinner before a show, you sometimes feel tense because you need to get out on time. But you want to enjoy your meal and don't want to be rushed. The 312 Chicago restaurant staff is more than capable and provides friendly service that lets you relax and get through your meal without feeling hurried. Of course, you'll want to make a reservation to give yourself enough time if heading to the theater next is on your agenda.
But we were there for a leisurely business lunch and loved the laid back and happy vibe. Because some of our dining companions had various food sensitivities, we asked a lot of questions about items on the menu. Our server answered all our questions thoroughly and with a smile. They were willing to accommodate just about any request we had, and we felt confident that all of the items we ordered would be carefully prepared.
The Chef 
Executive Chef Luca Corrazina first learned his cooking skills from his mother, a professional chef in northern Padova, Italy. His family later moved to Chicago in 1986 in search of the American dream while sharing their delicious home recipes. Chef Corrazina spent time working at many popular Italian restaurants in Chicago and Florida before landing in his spot as Executive Chef at 312 Chicago.  His recipes include soul-satisfying dishes prepared with Northern Italian style and flair. Chef Luca's culinary philosophy is that "the best ingredients, treated with care, can result in perfection."
The 312 Chicago menu features the freshest local ingredients in clean, elegant preparations that highlight the flavors of his robust cuisine. Those looking for one of the best downtown Chicago Italian restaurants will find it here.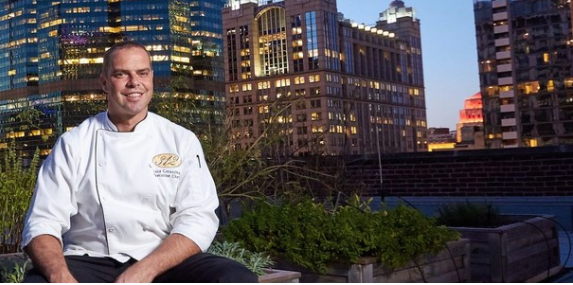 The Food
Let's face it everyone does Brussels sprouts these days. But not everyone does them well. At 312 Chicago they fry the sprouts with toasted pistachios, Granny Smith apples, and apple cider. The combination provides an irresistible blend of sweet, savory, and tangy punctuated by the pistachio crunch. Everyone at our table loved them. It's fair to say that these little devils were gone as fast as some Chicago politicians. We can imagine looking for restaurants near Chicago Theater and stopping here just for a plate of these babies with a glass of wine and being good to go.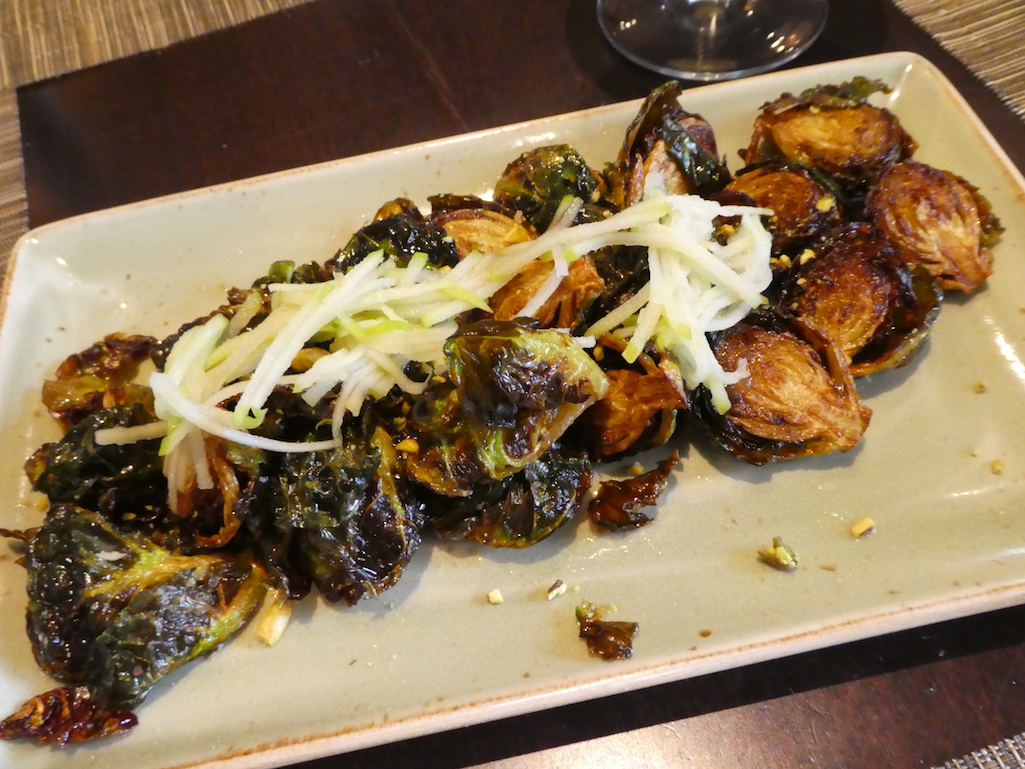 If you're looking for something slightly more substantial, the Caesar salad is a solid offering. You could have it for lunch, an appetizer, or a light dinner. For an additional charge, you can add chicken, shrimp, salmon, scallops, steak or tuna, which would amp it up into a filling Italian favorite. We loved the addition of fresh grated Parmesan cheese on top. This is one of those dishes that, when done right, is a real crowd-pleaser. Fortunately, 312 Chicago did it right.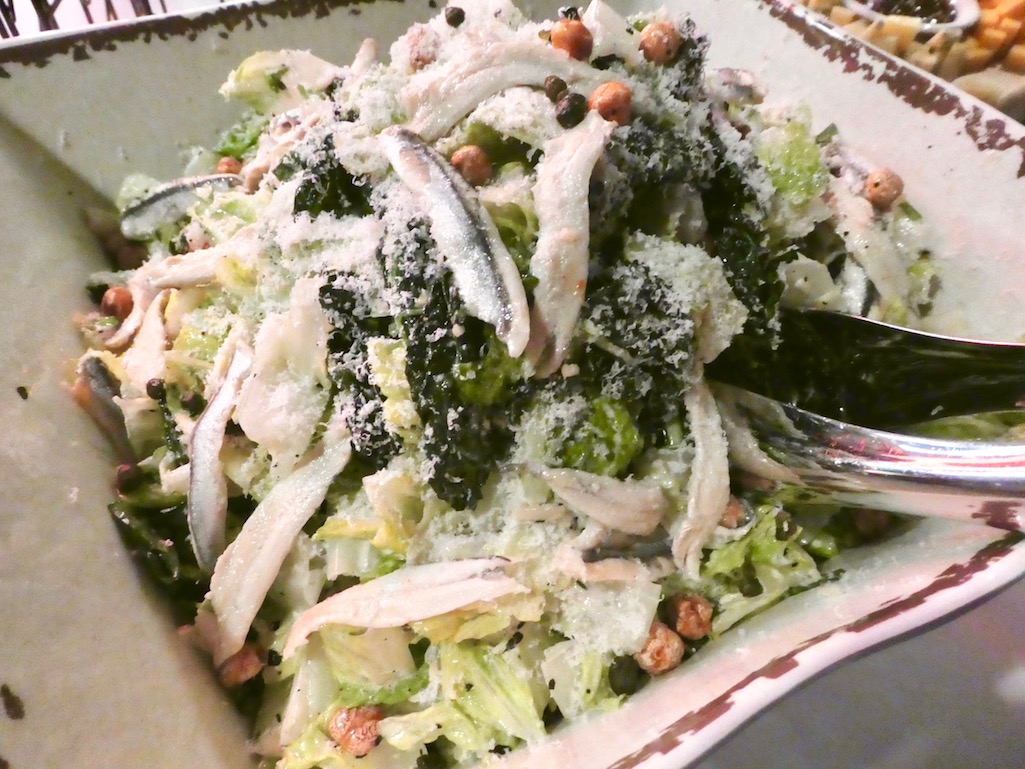 We'll never say no to a bread basket or a handcrafted cocktail. Both are delicious and worthy of a little splurge. The bread includes different varieties. Our favorite was the savory rosemary focaccia that tasted like it just came hot from the oven. They also have a full wine list and plenty of local beers on tap and in bottles.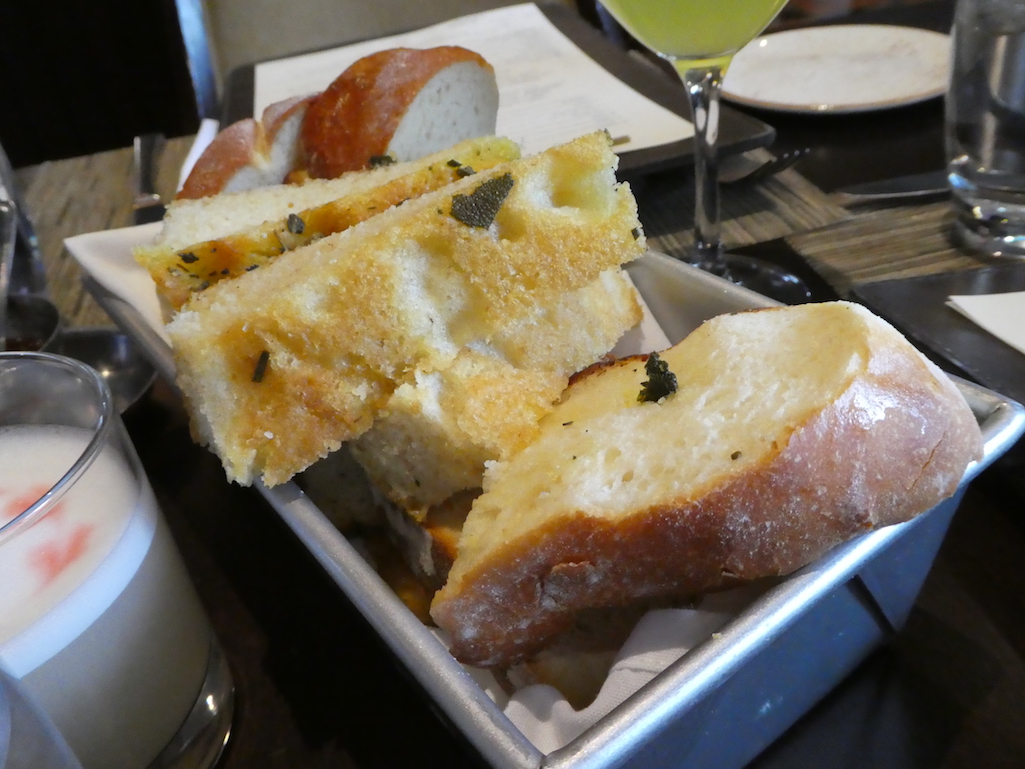 Burrata Fans Rejoice
The lunch menu also includes some delicious paninis. Diana tried the Italiano Panini and it was bursting with burrata. Between two layers of that beautiful rosemary focaccia are Prosciutto Cotto, pistachio mortadella, and fresh lettuce, tomato, and olive oil along with the burrata. Because it was so big she only ate half and took the other half home and, gratefully, it was just as tasty the next day.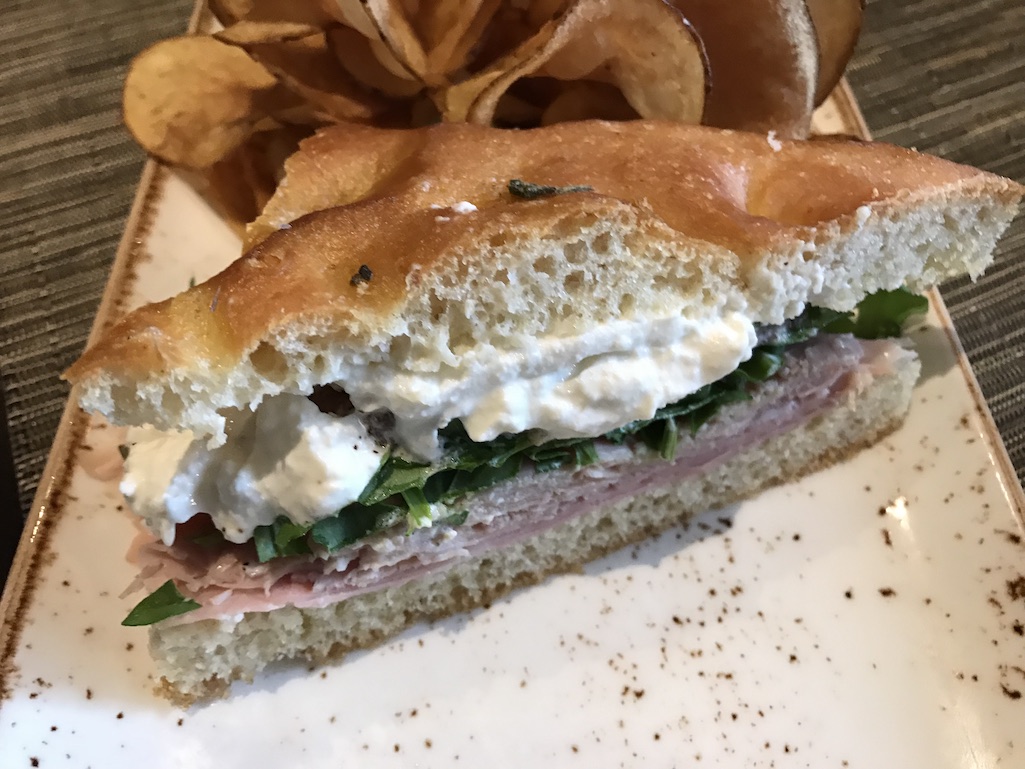 For The Seafood Lover
312 Chicago's extensive lunch menu includes a variety of salads, starters, sandwiches, and full entrees. Among the standout choices on the menu are the housemade plates of pasta with creative sauces and fresh seafood. For the sake of thoroughness, we decided to try a few of these options. It's research, after all, and we owe it to you to describer the most complete experience possible.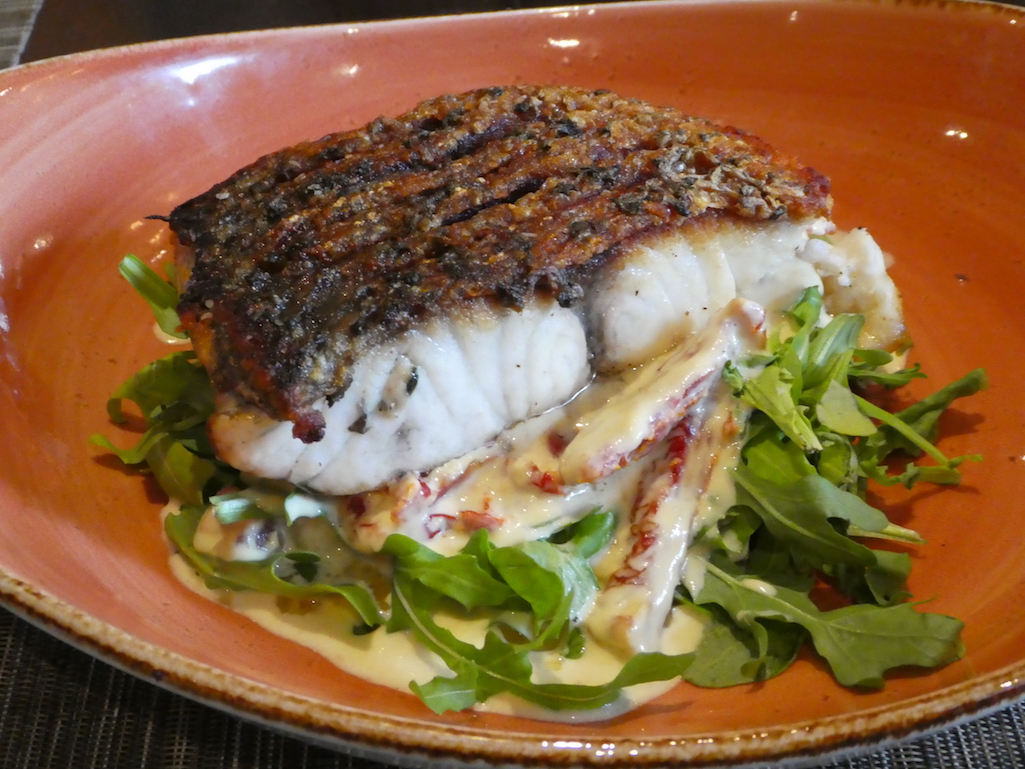 The fresh seafood is really outstanding. There are options for fish in various preparations, so depending on what you prefer, you'll likely find something that will be just perfect. Even at lunchtime, the portions are generous too.  We have to admit that we really love the texture and flavor of housemade pasta. It's a difficult task so we know that when we find it we're in for a treat. Pairing fresh pasta with housemade sauces just makes our tastebuds tingle. It's also good to know that many of their pasta dishes are available in a gluten-free version. One of our lunch companions had the Linguine Nere, a black squid ink pasta made with gluten-free linguine. Everyone at the table took a taste and it was a huge hit. Those tiny bay scallops melt like butter in your mouth. What a wonderful dish.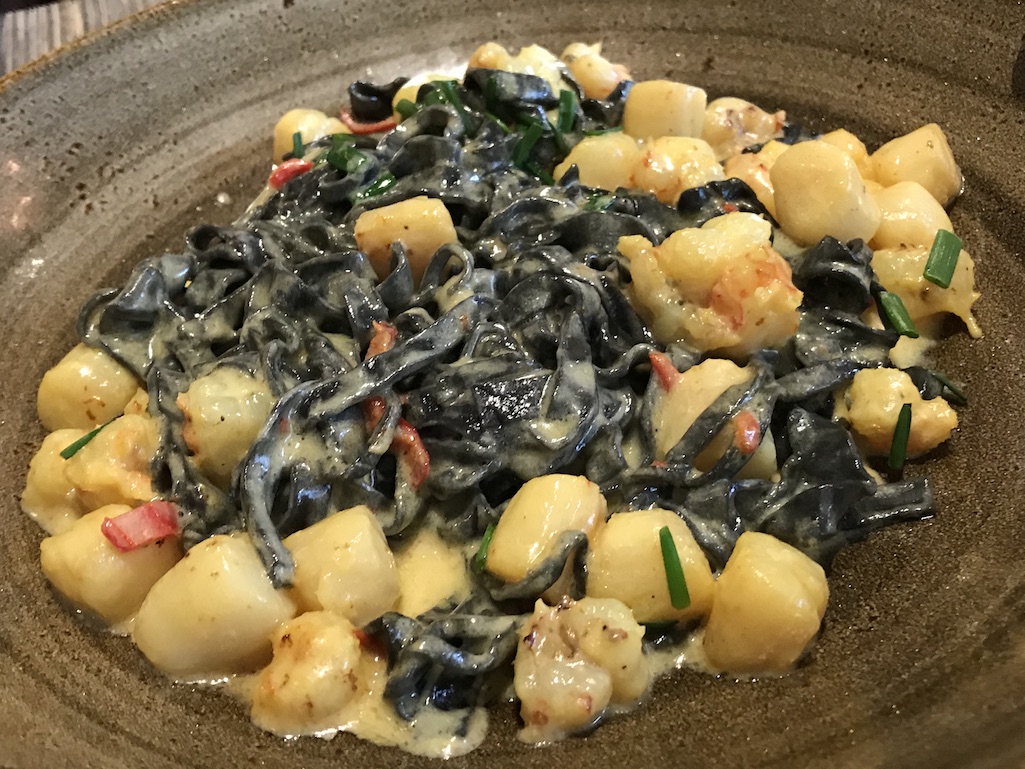 If you love octopus or have never tried it, the grilled braised baby octopus starter Polpetti was another smash hit. It was perfectly prepared with Spanish Chorizo, pickled red onion, fried potatoes, and saffron aioli. Octopus can be tricky because if it's prepared properly it's tender and mild. And this one was done to perfection. The chorizo and onions brightly complemented the mild octopus.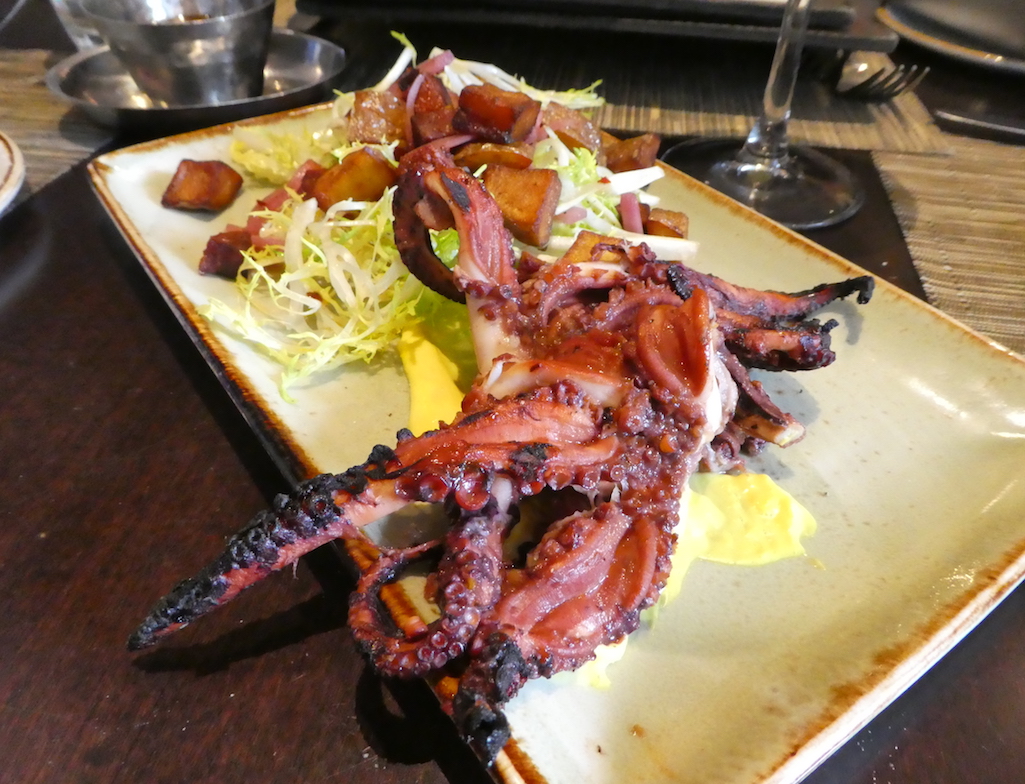 But Wait, There's More!
No meal is complete without dessert, right? 312 Chicago has a sweet selection of Italian classics like tiramisu, biscotti cookies, and gelato. Their house specialty is a Torta di Noci. This sweet delight is a buttery tart crust loaded with crunchy pecans nestled on sweet and gooey caramel sauce and topped with butterscotch gelato. If you aren't drooling over that description, take a look at the photo below. Are you with us now? Yay Torta di Noci! It's not just indulgence, though. The beautiful plate also features lovely fresh berries and actually a great way to get your vitamins. That's what we say anyway.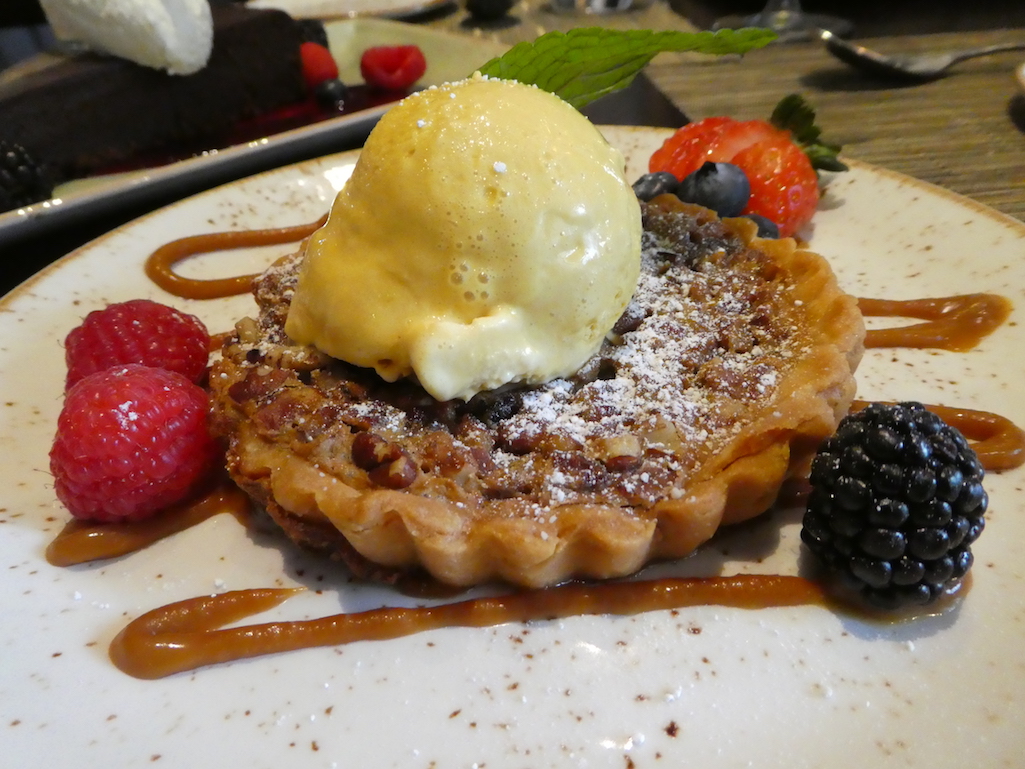 Chocoholics will have no choice but to try the Torta di Ciocolato. This flourless chocolate cake is super chocolatey, satisfyingly fudgy, and delightfully dense. It arrives seated beautifully on top of a mixed berry sauce and crowned with Chantilly creme and chocolate shavings. And because its "flourless," those watching their intake of wheat or gluten will be able to indulge without guilt. Again, the fresh fruit adds color and nutrients. We'd almost go so far as to say this is actually a health food. Almost.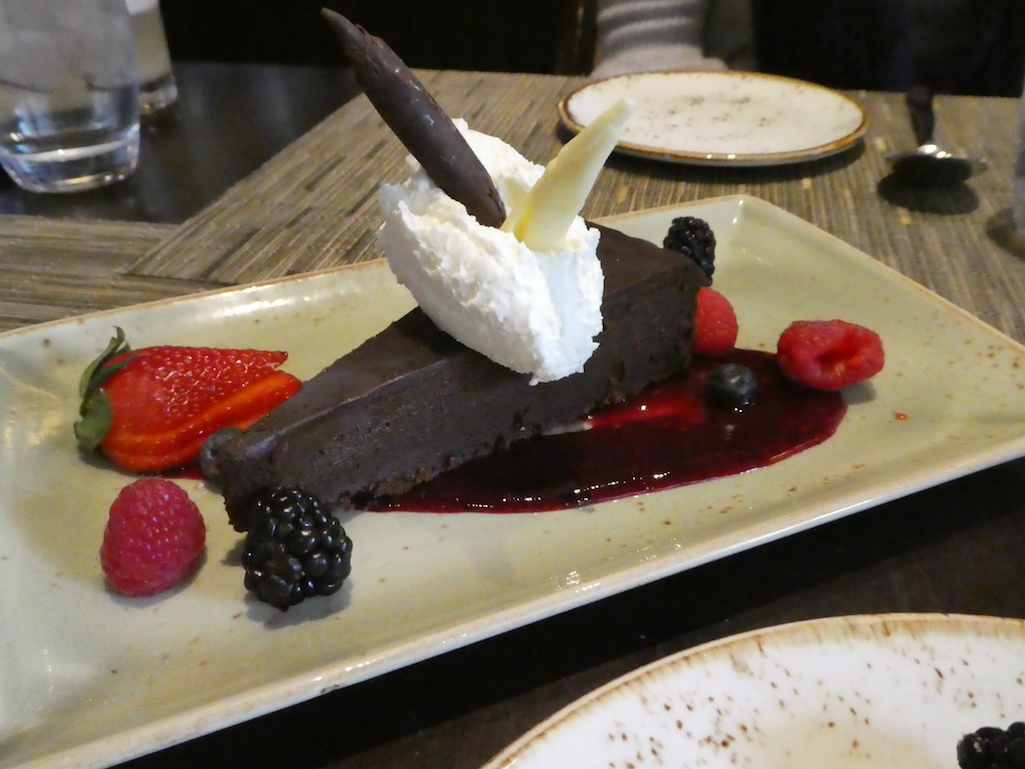 Breakfast At 312 Chicago
Although we were there for lunch, 312 Chicago also serves breakfast. They generally open at 7 am on weekdays, 8 am on weekends. The breakfast options look pretty tasty too. Dishes include everything from housemade granola and steel-cut oatmeal to buttermilk pancakes and brioche French toast. They have plenty of egg dishes too, including frittatas, omelets, short rib hash, steak and eggs, and a full American breakfast with the works. What caught our attention were the Italian spins on breakfast. The Caprese omelet uses egg whites, fresh diced tomatoes, mozzarella and basil. And the Italian breakfast includes Prosciutto di Parma, mortadella tomato, stracchino cheese, warm Italian bread. 312 Eggs Benedict can be made with Prosciutto Cotto, smoked salmon or baby organic spinach. And when we saw Parmesan potatoes as a side, we knew we'd have to come back for breakfast sometime soon.
312 Chicago For Great Dining Downtown
Add 312 Chicago to your list of downtown Chicago Italian restaurants to try on your next visit to Chicago. Its convenient location is near Chicago Theater, Cadillac Palace, and other attractions of Chicago's Theater District. Located in the beautiful Kimpton Hotel Allegro, this stylish and tasty Italian spot offers a touch of class with a modern feel for downtown Chicago dining. Prices are moderate, with breakfast dishes and lunchtime paninis in the teens dollar range. Pasta dishes are around twenty dollars and entrees are mostly in the mid-twenties dollar range at both lunch and dinner. Whether you go for a yummy lunch as we did, or for dinner or a pre-theater experience, their satisfying food, easy location, and classic Chicago atmosphere add up to a highly enjoyable experience.
To see their complete menu and make a reservation check out their website 312chicago.com.
Thank you 312 Chicago for our complimentary lunch.  We were not financially compensated for this review. All opinions we provide are our own and reflect our experiences. We pledge to provide our audience with truthful and honest reviews.
Pin It for your next Chicago Dining Experience