Crispy Cauliflower Crust Pizza
Sometimes we want all the flavor and chew of a really good pizza without giving having the crust hangover that sometimes comes with it. Here's an alternative cauliflower crust pizza that is so close to a doughy crust you will not miss the dough. And your waistline will be so thankful  that you'll be tempted to make it for family and friends as well. Perfect for those eating gluten free too! It is a little time-consuming, but so worth it. Add your own personal touches to create the perfect blend of naughty and nice.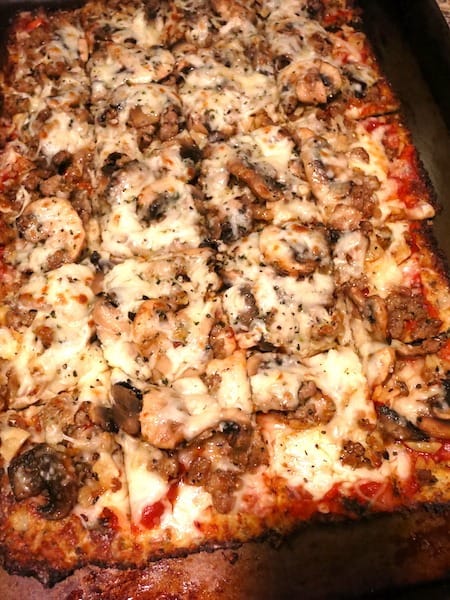 Crispy Cauliflower Crust Pizza
Crust Ingredients:
1 head of raw cauliflower (5-6 inches in diameter)
1 cup shredded part skim mozzarella or Italian blend cheese
2 Tablespoons finely grated parmesan cheese
1 large egg
1/2 teaspoon salt
1 Tablespoon dried Italian blend herbs
Topping Ingredients:
1/2 to 3/4 cup pizza sauce (homemade or prepared, as you choose)
12 – 16 oz. cup shredded mozzarella, divided
Pizza toppings of your choice – sausage, pepperoni, onions, mushrooms, peppers, olives, etc.
1/3 cup grated parmesan cheese
dried Italian blend herbs and granulated garlic (optional) to sprinkle on top
Directions
Preheat oven to 425 degrees F.
1. Cut out core of cauliflower and divide head into large chunks. Grate the cauliflower chunks with a grater and put in microwave safe bowl.
2. Microwave cauliflower crumbles on high in microwave oven for 8 minutes until limp and soft. Remove from oven and let cool until slightly warm.
3. Place crumbles in a kitchen towel or cloth napkin, gather corners and hold over the sink. Twist the ends together and squeeze out as much moisture as possible. There will be a surprising amount of it and when done the cauliflower will resemble a dough ball!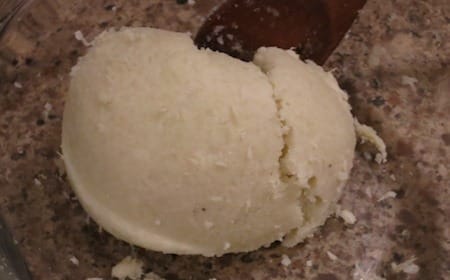 4. Place cauliflower in a mixing bowl and add the egg 1 cup of shredded mozzarella or Italian blend cheese, salt, parmesan and Italian herbs. Mix together thoroughly.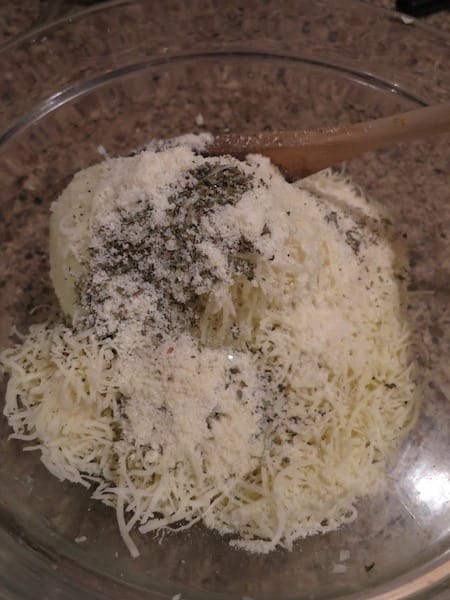 5.  Line two jelly roll pans or large baking sheets with parchment paper and spray the parchment liberally with nonstick spray or grease well with olive oil. The spray or oil will keep the crust from sticking – very important!
6. Place the cauliflower-cheese mixture on one of the sheets and pat out to a thin, even layer in either a circle or rectangle, as you prefer. Be sure to make the edges and the corners just as thick as the rest or they will burn when cooking. Use paper towel to absorb any extra moisture and bake on middle rack for 15 -20 minutes until top is brown but not burned. If it doesn't brown, broil on high for 3-4 minutes or until it does turn brown.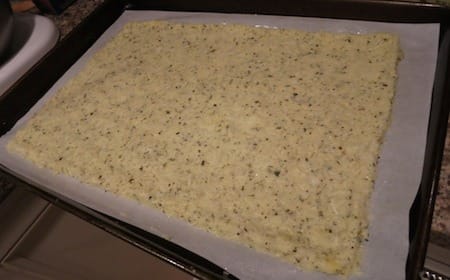 7. Remove from oven and dab with paper towel to absorb any moisture and let cool for a couple of minutes. Then place the second baking sheet with parchment over the one with the crust and flip the crust onto the second baking sheet. Remove the parchment on top and dab to remove any excess oil or moisture.
8. Place crust under the broiler for 5-10 minutes until it browns, again being careful not to burn the edges. Remove when crust is brown and solid. Let cool for a few minutes and the top with sauce, mozzarella, vegetable and/meat toppings, mozzarella, parmesan and sprinkle with dried herbs and granulated garlic, if desired.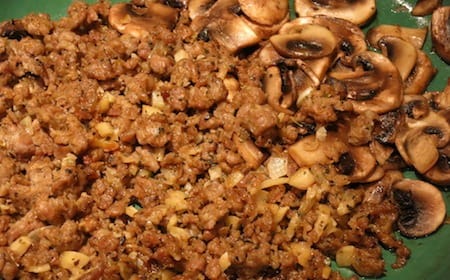 9. Place under broiler for 4-5 minutes until the cheese starts to bubble and get brown spots. Remove from oven and place on cooling rack and let settle for about 5 minutes. You can then use a regular pizza cutter to slice as you like.
A few other  ideas for you:
Toppings
You can use fresh mozzarella for the topping (but do not use it in the crust) and add fresh basil and tomato slices for a caprese pizza.
Add small bits of bbq chicken, cilantro and red onion toppings for a California style bbq chicken pizza.
Use as many veggies as you like and can think of for a veggie deluxe version.
Add sausage, pepperoni, meatball, bacon and any other meat you like for a meat-lovers version.
Top with ham slices and pineapple for a Hawaiian special.
Mini Pizzas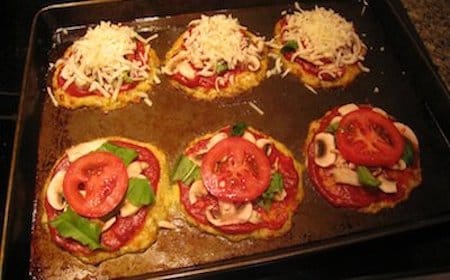 You could also make several individual pizzas rather than one large one.  Each could be topped as you choose – it's up to you!
THE QUICK BITE: When you have a taste for Italian pizza but don't want all the dough that goes with it, here's a cauliflower crust pizza alternative so good you just won't miss the dough.