We are pleased to have this guest post on Israeli food by our friend Cory Lee from Curb Free with Cory Lee.  
As well as being a treasure trove of diverse culture, sacred places, religious artifacts, and contrasting modern industry, Israel is also foodie heaven! It's now renowned for being a country full of award-winning chefs and incredible Michelin-starred restaurants. However, it's not just about trendy, smart restaurants where you can experience flavorsome and richly spiced Israeli dishes.
There are thousands of outlets and street food stalls across the country selling homemade snacks and filling meals. Israeli food is most definitely a melting pot because it's derived from so many different influences, religions, and cultures, and this is reflected in its national dishes. It's so exciting that many of the dishes you'll sample when visiting date back thousands of years, but equally lots of food comes from other parts of the Middle East. Additionally, there are plenty of foods that come from parts of Eastern Europe making it a real fusion of foods.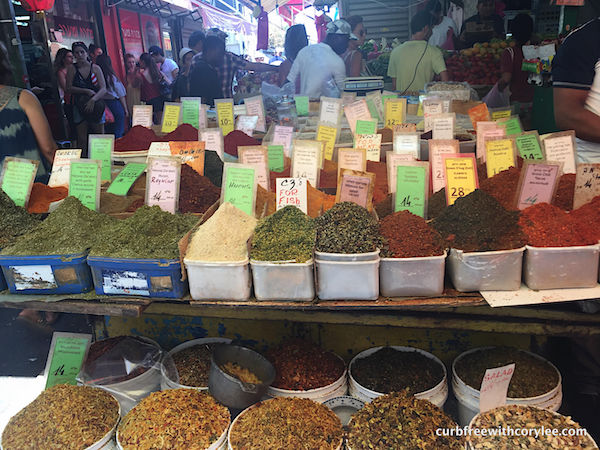 If you are about to embark on a trip to Israel there are a number of foods that you should definitely try. I promise you'll enjoy sharply contrasting textures, and extraordinary flavors and feel completely satisfied with each of these Middle Eastern dishes.
8 Foods You Need to Eat In Israel
Falafel
Deep fried, crispy on the outside, and soft on the inside, falafel is on almost every menu and every street corner! An Israeli favorite for thousands of years and supposedly appeared during Egyptian times, the name coming from the word "mefelfel" which means "spicy" in Arabic. It's made out of chickpeas combined with onions, scallions and a host of different spices including garlic, cumin, and coriander. It's spicy, but not too spicy, and incredibly satisfying. The Israelis like to enjoy it with a finely chopped Israeli salad or inside a large, warm pita bread pocket along with their famous salad. It makes a light lunch or a filling snack. If you're visiting Nazareth, you'll find some fantastic falafel at Casa Nova Restaurant.
Labneh
You will find lots of yogurt-based food on Israeli menus and in small coffee shops. Coffee shops are especially popular because Israelis like to watch the world go by and sit and chat with their friends. They serve plenty of Israeli snacks, one of which is Labneh, a spicy cheese snack made with tomatoes and drizzled with olive oil. There's also Labneh yogurt dip, which is similar, but creamier and used with crudités or served alongside other food. It's a popular dish served with salads and with olives – which are homegrown in Israel, so they are plump, juicy, and packed full of flavor. Israelis like a savory breakfast with plenty of cheese and salad so you'll find Labneh on lots of breakfast menus. Labneh is particularly great in the Old City of Jerusalem, where Yemenites brought the original recipe over – it's extremely authentic.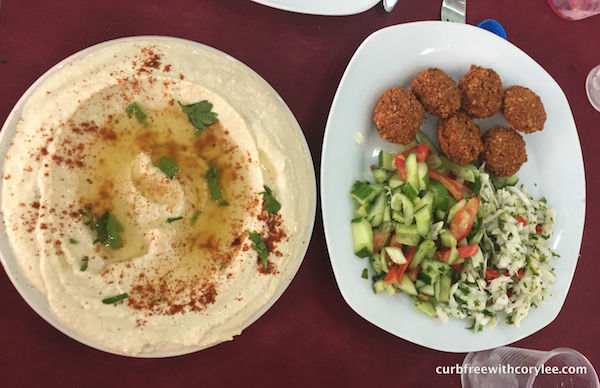 Schwarma
You can't miss out on Schwarma because the Middle East is renowned for this dish and it's served in so many places in Israel. Extremely popular, it's a combination of mixed meats such as chicken, lamb, beef, and veal. The meats are marinated for hours on end to produce an exotic, spicy flavor and then the huge Schwarma is grilled on a large upright spit for hours. It can be served as a kebab with rice and salad but it makes an amazing sandwich when it's placed in warm, soft, and fluffy pita bread. Mostly, it's served with an Israeli salad, a Labneh dip or hummus dip, and perhaps a crispy falafel ball. While you'll find Schwarma everywhere – if you're in Jerusalem head down toward the bus station and you'll find a shrine to Schwarma with plenty of street stalls and restaurants serving this renowned Israeli dish – enjoy!
Kugel
Not so much a Middle Eastern dish as an Eastern European dish but definitely a part of Israeli heritage – try Kugel! It's a traditional Jewish recipe that dates back hundreds of years. If you want something filling, this one will definitely satisfy you. Made with egg noodles, sour cream, eggs, butter, potatoes, and a sweet helping of cinnamon and sugar, it's served in plenty of Israeli restaurants. You'll find it usually accompanies pot roast style dishes. It's not for you if you're dieting though – it's a very sweet and definitely a naughty dish! Look for an Ashkenazi (Eastern European) Jewish restaurant in Jerusalem to enjoy kugel – but go hungry because you'll need an empty belly for this one!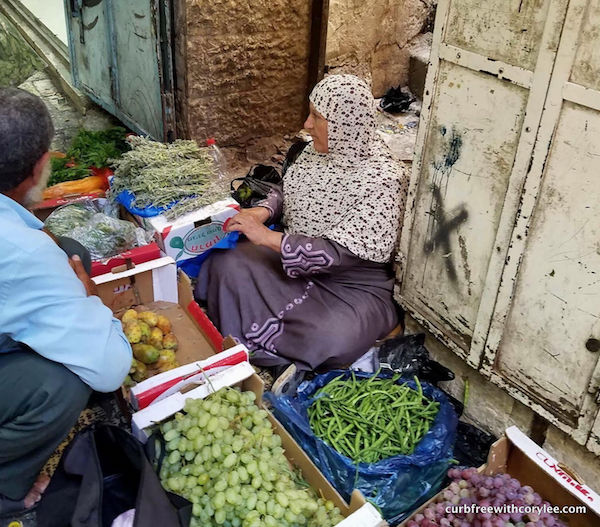 Sinye
Sinye is a very popular Israeli meat kebab dish made with ground beef, onion, and plenty of fresh herbs and spices; it is then topped with a crispy crust and served with tahini sauce. Sinye is filling with an incredible burst of exotic flavors – the best place to enjoy this meat dish is in Galilee.
Israeli Salad
No meal is complete without an Israeli salad, which is a refreshing, crisp, chopped salad. It's usually made with cucumber, tomato, and onion and lightly dressed with freshly squeezed lemon juice and a drizzle of olive oil. It can be enjoyed as an accompaniment or makes a tasty snack or lunch. Traditionally it is served with almost every Israeli meal and every restaurant in Israel has it on the menu. Enjoy this light, zesty, and delicious-tasting salad anywhere in Israel, it's a staple!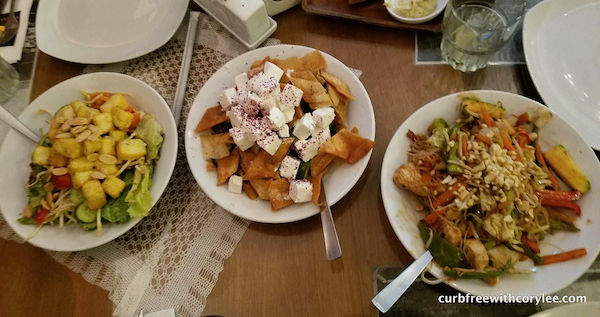 Shakshuka
Shakshuka means "all mixed up" and is an incredibly filling and flavorsome Israeli dish made using eggs, tomatoes, chilies, and onions and packed with a fusion of heady spices. It's normally served at the table still in the frying pan! The base of Shakshuka is cooked in the frying pan and then the eggs are carefully cracked and placed on the top so they cook whole. One of the best places to enjoy this is in Old Jaffa where you'll find a plethora of traditional-style Israeli restaurants. It's the type of dish you can enjoy all day long for breakfast, lunch, or dinner!
Hummus
Enjoying hummus with pita on a warm, summer's night with a cool glass of wine is just one of the ways to sample this dip. It's an exceptionally tasty, rich, and creamy dip that Israelis like to serve with a number of different foods, whether as an appetizer, with crudités or to accompany a main course. Hummus is made with chickpeas, lemon, and garlic and is a national favorite. After eating hummus in Israel, don't expect to be satisfied with store-bought hummus in the U.S. anymore. Nothing can compare to the real thing in Israel.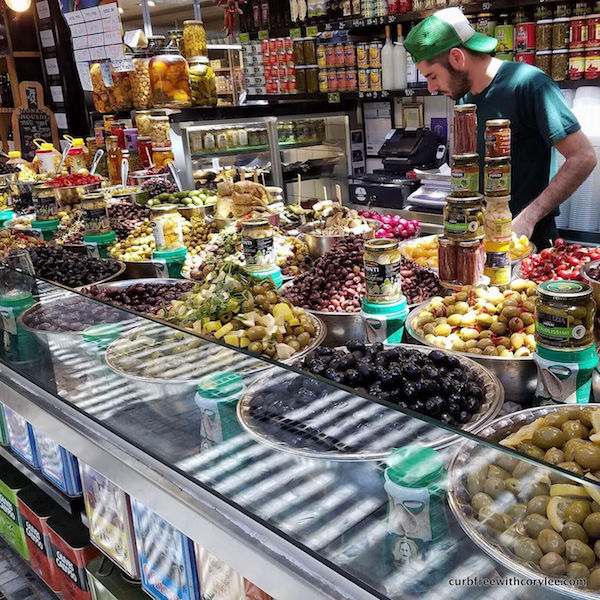 So there you have eight different dishes you must try when in the Holy Land. However, there are hundreds of other dishes, which are all a fusion of different cultures and religions and from many different areas of the world. That's one of the reasons I love Israeli food – it's an exotic blend of traditional food from all the different people who live there, in one wonderful destination.
Thanks so much for taking us on this tasty journey to Israel Cory! We can't wait to visit ourselves. 
To read more about Cory's experiences in Israel, check out his blog Curb Free with Cory Lee