Enjoying European Waterways
We Love Barge Cruising
If you've followed us for awhile, you know we love the slow, luxurious barge cruises. You can find barges to cruise on canals around the world. We've written about our barge cruise in Burgundy, France here. We jumped at the chance to explore hidden pleasures of southern France on a European Waterways barge.
We'll start by explaining why we think barge cruising is a great way to explore destinations.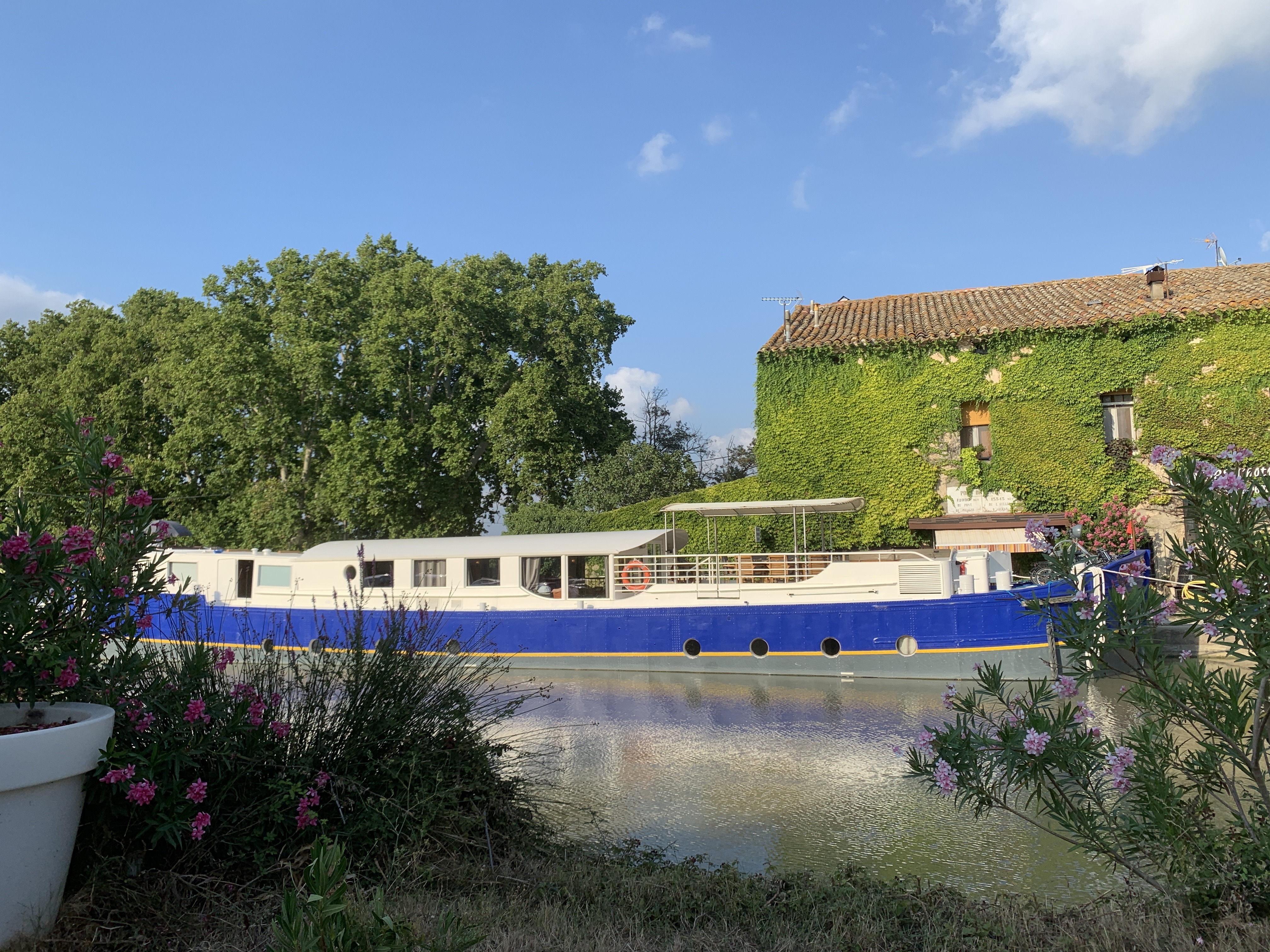 Disclaimer: We were guests of European Waterways for the Canal du Midi cruise on the Enchanté barge. We were not financially compensated and all opinions expressed are our own based on our experience.
What Is A Barge Cruise?
Slow Travel
Barge cruising is the ultimate in slow travel. You are able to do a deep dive into a destination because barges move SLOWLY. You can get off at one lock and meet the barge at a later lock quite easily. Most barges have bikes you can borrow right on board. There are usually easy paths to walk and towns to wander while you make your way along. Planned excursions are also included. But if you'd rather sit in the sun on the deck and read a book, that's okay too.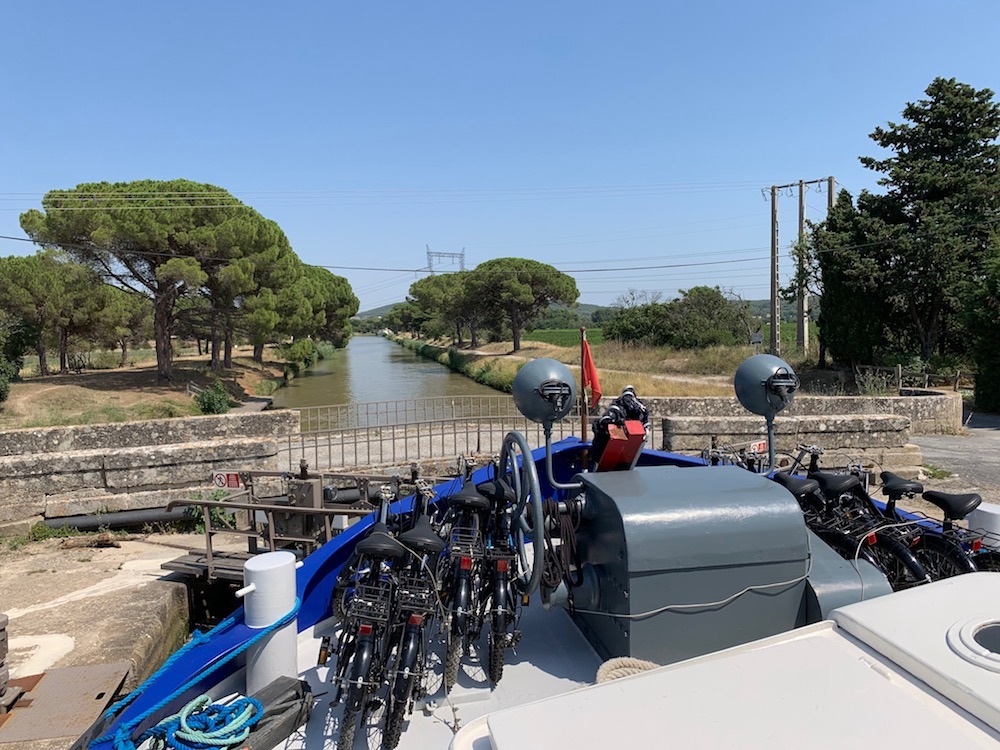 European Waterways A Small Luxury Hotel
The barges we are talking about are like floating luxury hotels. You can certainly find more moderate barges that you can operate yourself if you are a take-charge traveler. We appreciate the pampering that comes from having only a small number of passengers. We have been on barges that sleep 12 and 8. There's about one crew member for every two guests. They quickly take your comments, compliments or complaints to heart.
Do What You Want
Traveling by barge affords you the opportunity to do what you want – or do nothing, really. When we first considered barge cruising we thought we'd take a cruise where we got to prepare our own meals. But we realized we'd rather spend our time exploring, not preparing meals. We saw demos and learned recipes onboard as we chose.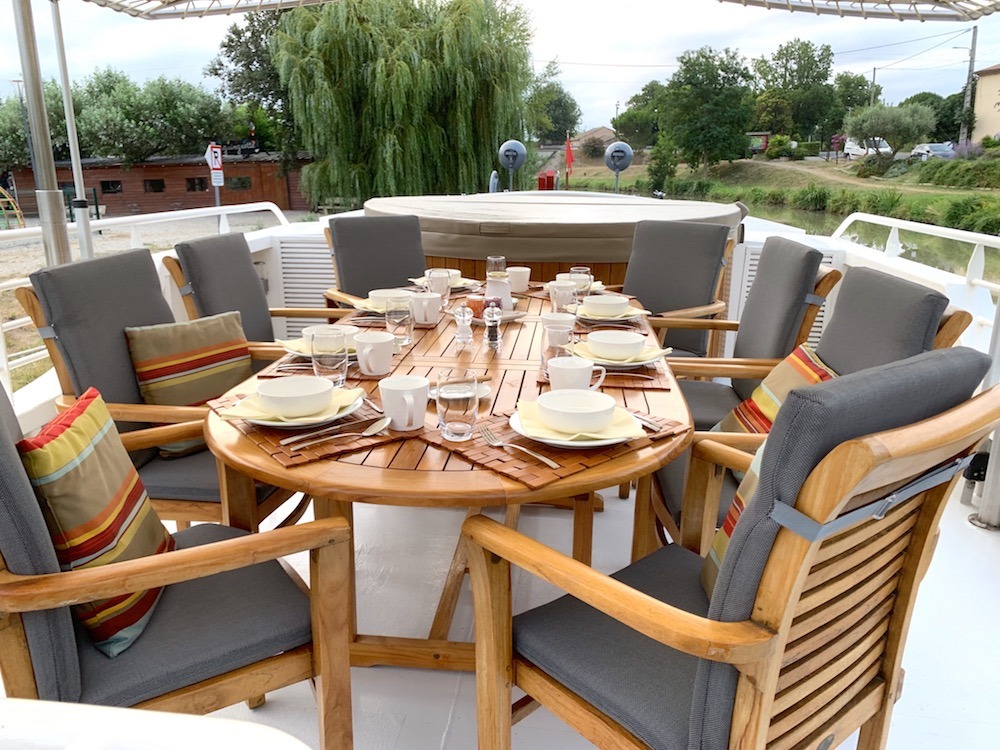 Special Interests
Also, barge cruises can have different themes that cater to your interests. We, of course, love culinary cruises. But there are also cruises that focus on music, art, wine, golf, history, architecture and more. We learned about local ingredients and regional cooking methods. It was also fun visiting farmers' markets and tasting cheeses everywhere we went. Our culinary education paired the areas we visited. So we had a special connection with the local producers, chefs, and restaurateurs.
Barge Cruise In South Of France
For our journey this time, we headed to the South of France for a cruise down the Canal du Midi. The canal runs some 150 miles linking the Mediterranean Sea and the Atlantic Ocean. It passes notable cities like Toulouse and Carcassonne. Along the way are beautiful small villages like Lagasse and Minerve. European Waterways' sumptuous Enchanté, our barge, has 5 crew members: a captain, tour director, two hostesses, and a chef.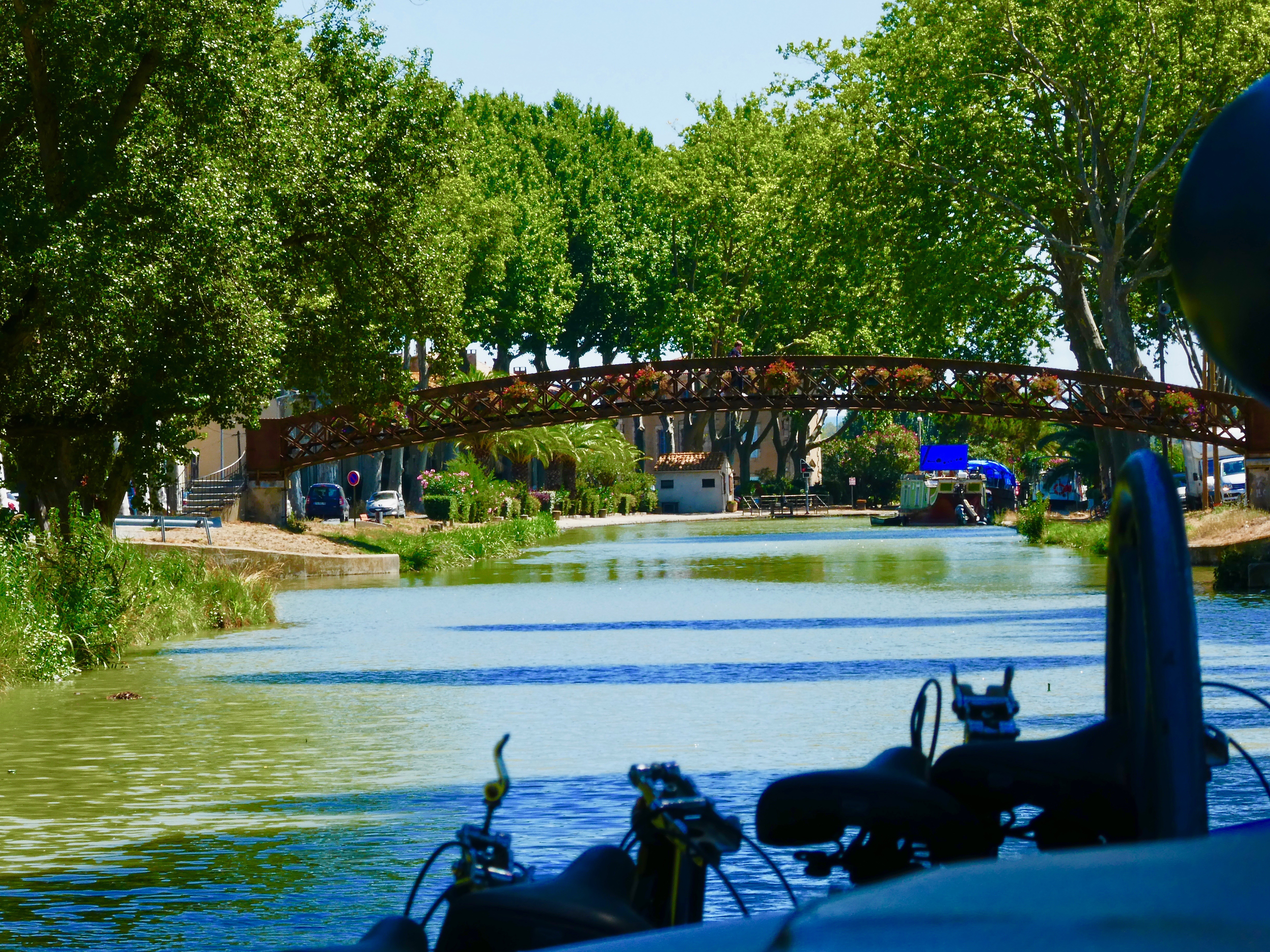 We joined our fellow passengers on the journey without knowing any of them. Two couples from the southern United States were friends. A couple from England did not know the others either. After introductions, we launched right into luxury barging mode with a lovely champagne toast and tasty appetizers. The crew made us feel right at home from the start, setting the tone for a fun and friendly cruise.
Comfy Rooms
One of the happy surprises about a luxury barge cruise is the rooms. They are quite comfortable and have ample space. Clever storage options, like being able to put your suitcases under the bed optimize the space. For our European Waterways barge cruise, we had a king bed, a closet, and several drawers. Our room had steps leading up to the bathroom, providing a great separation between the two areas. The bathroom itself was a good size, with a shower and drawers to hold our toiletries.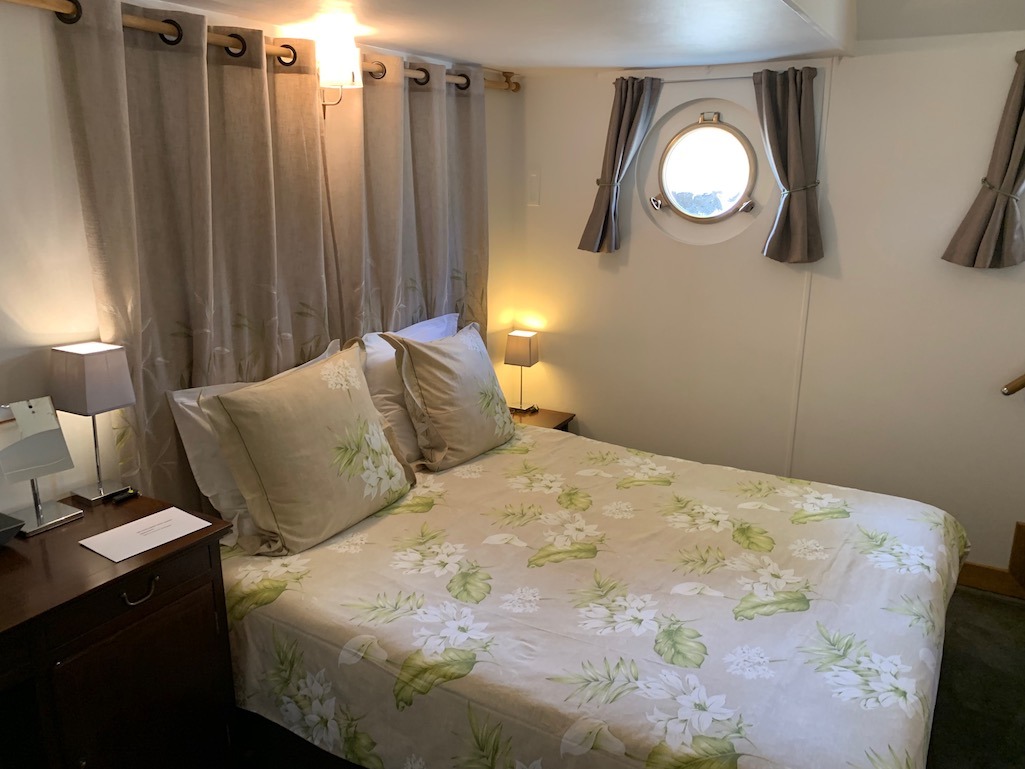 The crew attentively clean your room and are happy to give you anything you might need. Our favorite "luxury" was our room's air conditioning. We loved our cool room in the sweltering summer.
Food Glorious Food
The Enchanté fit food lovers like us perfectly. The barge has an open kitchen so that you can watch the chef prepare your meals anytime you want. Our chef, Sylvain, by his own admission, was 99% French and 1% Italian. He received professional training as well, so you can imagine how good our meals were.
The crew would pick up local ingredients in the local towns. The chef prepared a great variety of meals using duck, lamb, beef, salmon and other fish to keep us from getting bored. Vegetables and fresh local produce always accompanied the meals. And specific dietary concerns, like my allergy to avocado or another's non-dairy diet received attention without bother.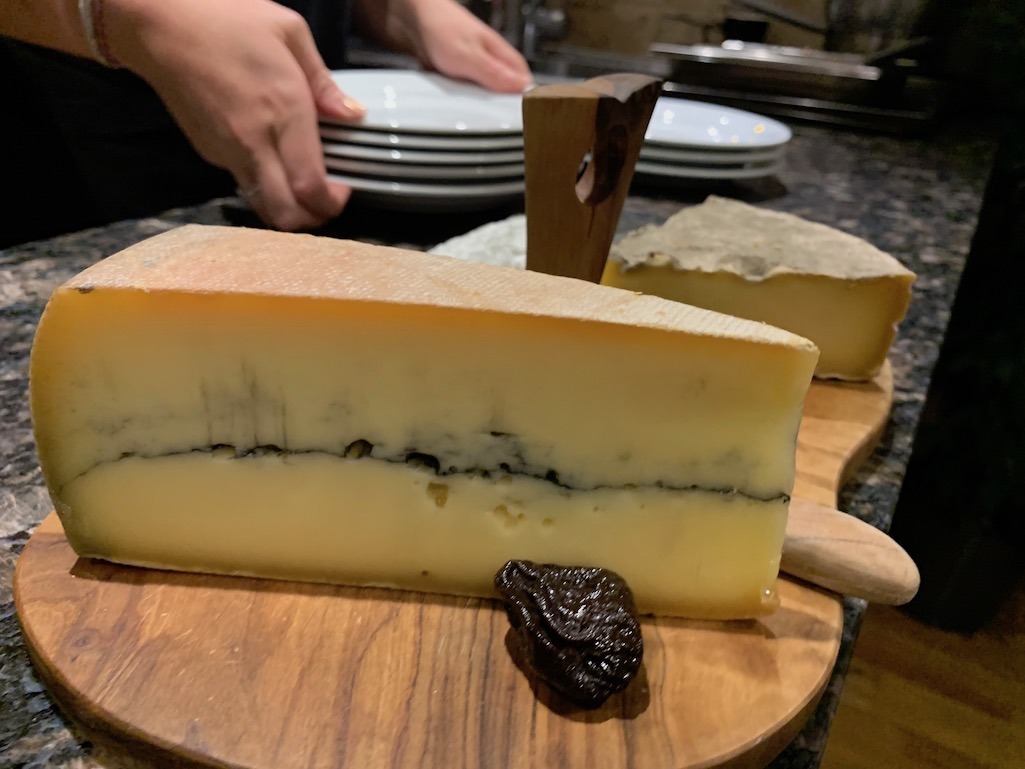 Lessons And Recipes
It's fun to learn the tricks of the cooking trade. So when the chef provided a demonstration of a classic French fish dish, all the passengers watched attentively. At the end of the trip, we were given a lovely pamphlet with information about our travels and the recipe included.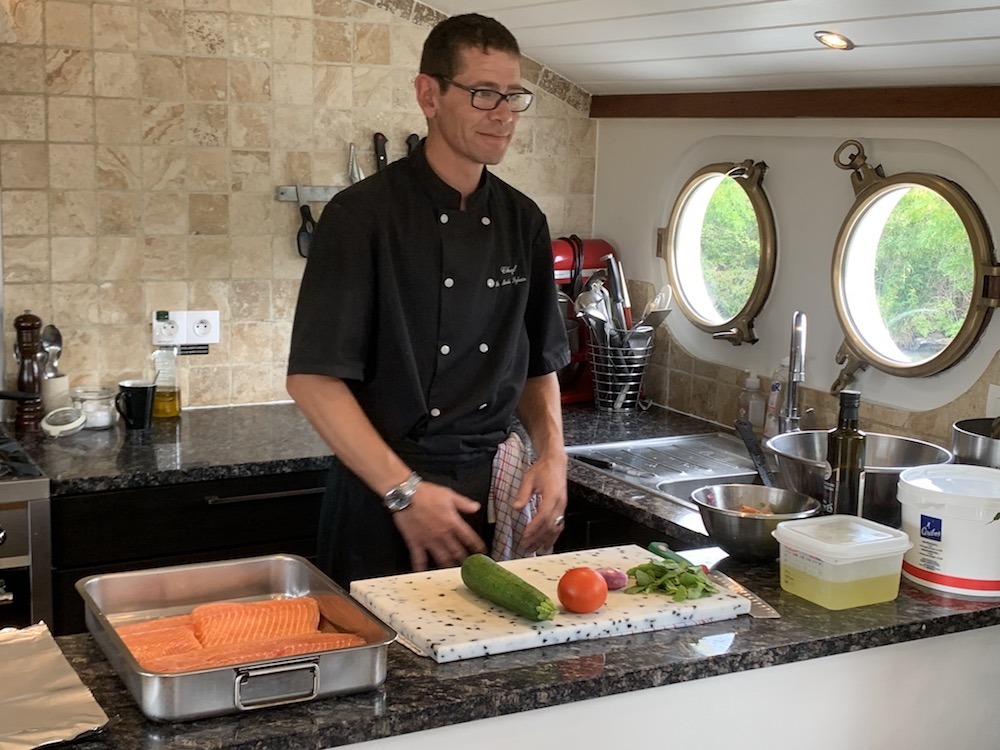 We gave a few lessons too. Since we were the only Wisconsin representatives, we had to request an Old Fashioned from the bar. Although it was well-stocked, it did not have maraschino or Luxardo cherries. The crew remedied that by getting them the next time they went shopping. We taught everyone the delights of the Old Fashioned. And our fellow passengers from England requested a mandarin Napoleon brandy, which none of us knew. The crew got that and we all had fun exchanging new tastes and recipes.
Treats and Sweets
Of course, baked goods and desserts also highlighted our culinary experience. Every morning greeted us with fresh baguettes, croissants, pastries, local butter, jams, juice, and other goodies. And if you wanted eggs you could ask them to be prepared however you like. We had fun watching one of the young hostesses learn to master the omelette, which she did! Chef also surprised us with delicious desserts to finish.
The crew purchased fresh, local ingredients. We got an informative presentation about each of the wines and cheeses from the region. The guests also made a few special requests for unique liquors unavailable elsewhere, which were added to the already full bar. Our morning pastries, croissants and bread came from nearby bakeries and we could request custom made eggs, adding to the fun.
Places We Visited
Our stops along the Canal du Midi during our European Waterways barge cruise were interesting and enchanting. The barge's name Enchanté seemed perfectly apt for the journey as well. Southern France has many unique charms and even if you've been to other parts of the country, this area is well worth exploring as well.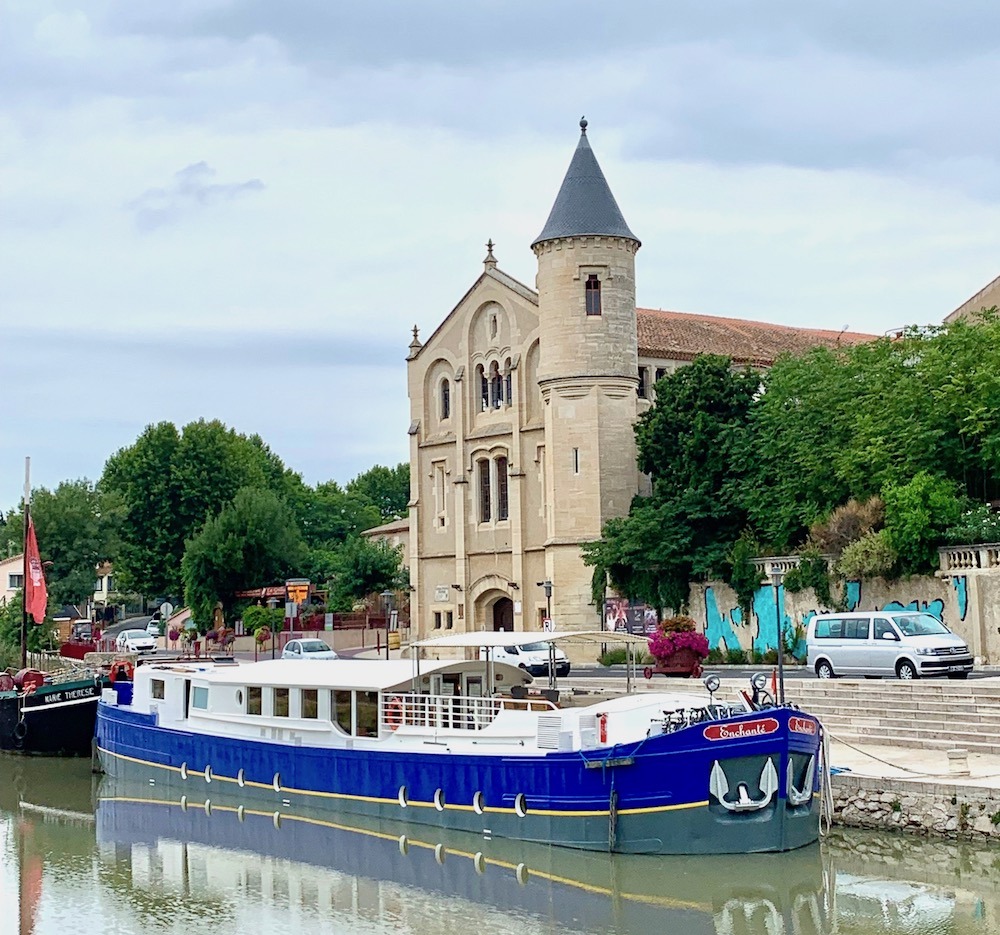 Les Plus Beaux Villages De France
Something we discovered on our visit was a special designation granted only to certain of the "most beautiful" small villages in France. An independent tourism association grants the title of "Le Plus Beaux Villages De France" only to villages that meet specific criteria. To start, the village must be rural in nature, with less than 2,000 residents. It must also have at least two officially registered national heritage sites. There are only 158 such villages right now out of some 32,000. And from what we saw, they really are that special.
Lagrasse
This charming town captured our hearts. It is a Medieval village, complete with a famous abbey, historic bridges and houses from the 14th to 16th century. The stone streets hold lively shops and markets. There's even a small beach that we saw fill with people escaping the summer heat. They enjoyed picnicking and having a splash in the water. You can feel so much of the history as you wander through the streets, taking in the present views that embody centuries of people and events important to this community.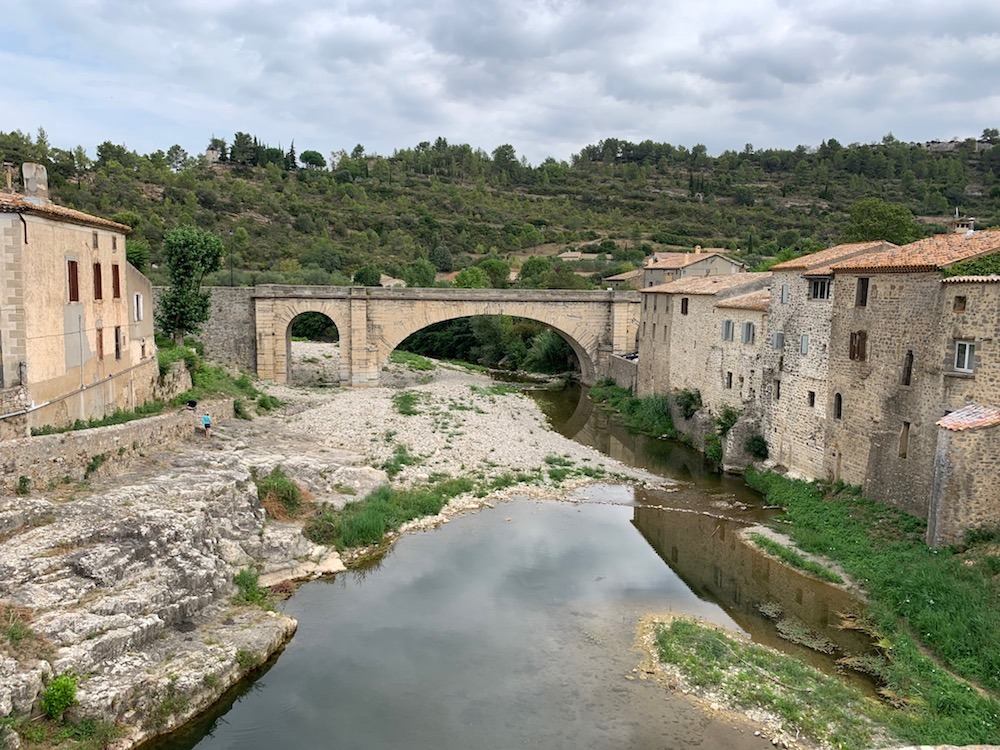 Lagrasse was also the spot where European Waterways had us eat lunch in town. We ate lunch at a local restaurant instead of on the barge. We dined on the patio of a darling place with a view of the Corbieres vineyards. Restaurant de l'Hostellerie des Corbieres is owned by a local couple. The menu was full of fresh, seasonal fruits and vegetables as well as local meats and cheeses. We also tasted some wonderful wine produced from grapes near where we were eating.
Minerve
The Minervois is a large wine region that rivals California's Napa Valley. We stopped at a local wine producer for a tasting. The area is best known for its red wines. But we had fun trying reds, whites, and lovely rosés that are favorites of the terroir.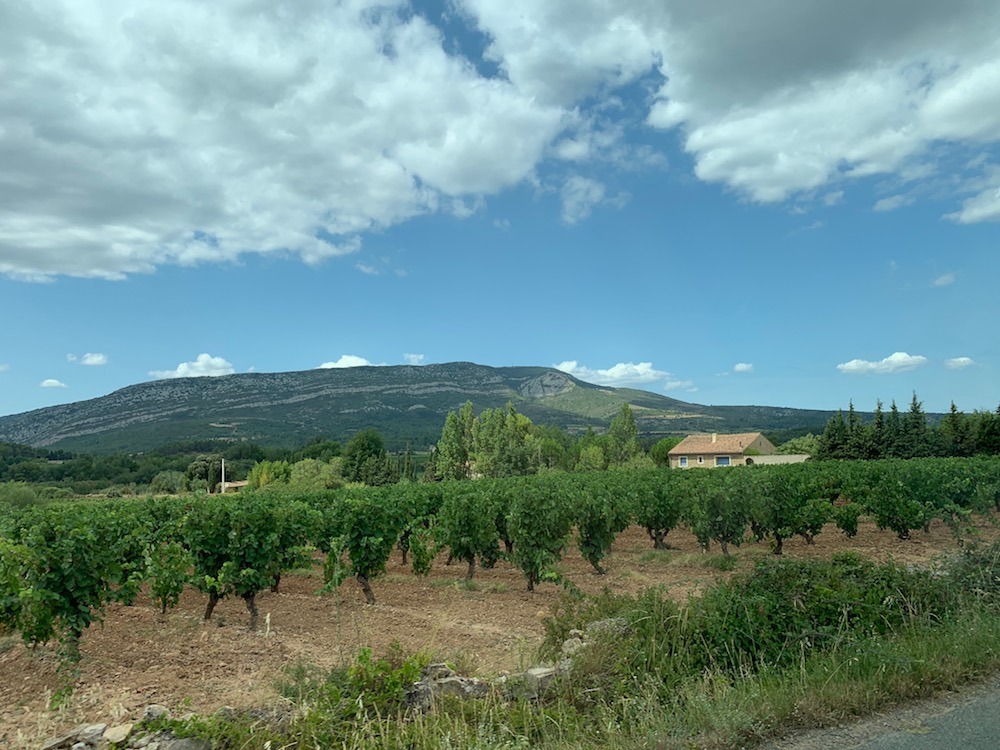 The village of Minerve was another highlight. No cars are allowed because this historic town is perched atop a high ridge. Our van parked in the parking lot outside the village and we walked into the town. Along the way, we saw incredible land formations, rocky cliffs, and steep ravines. One area, known as Brian's gorge became a thrilling background for our fellow passenger, you guessed it, Brian.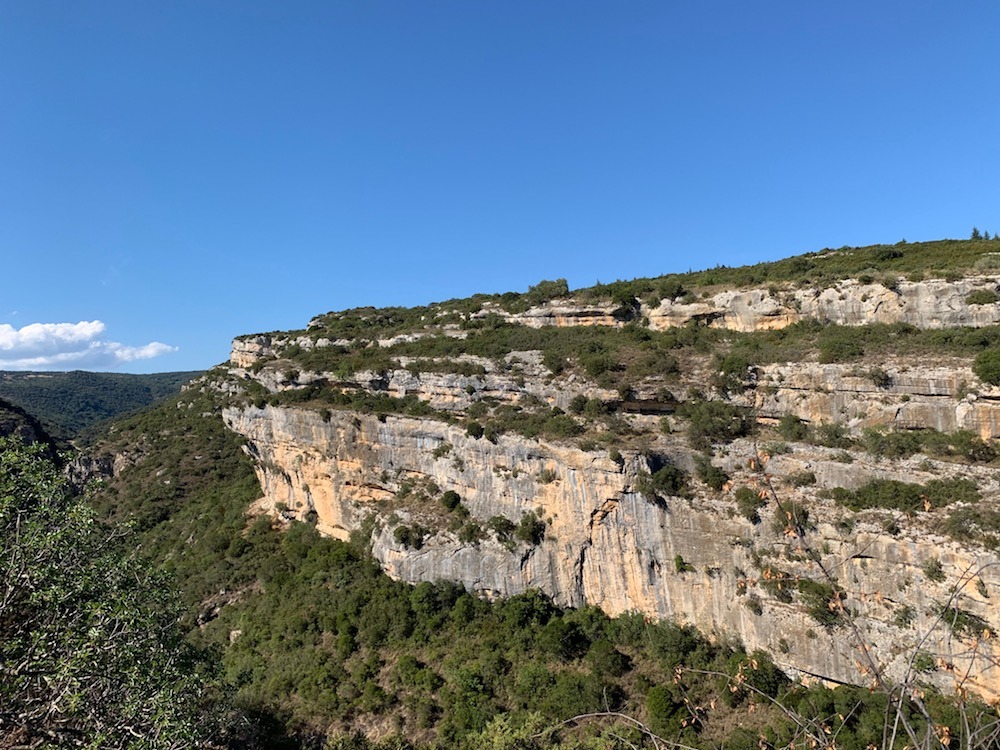 Another of the Les Plus Beaux Villages de France, Minerve was also significant for the Cathars during 13th-century battles. You can still view remnants of famous catapults used in the battles. There are also plenty of happier attractions. Shops sell books, art, and other goodies. The winding roads offer a wonderful path to see and experience the area's history.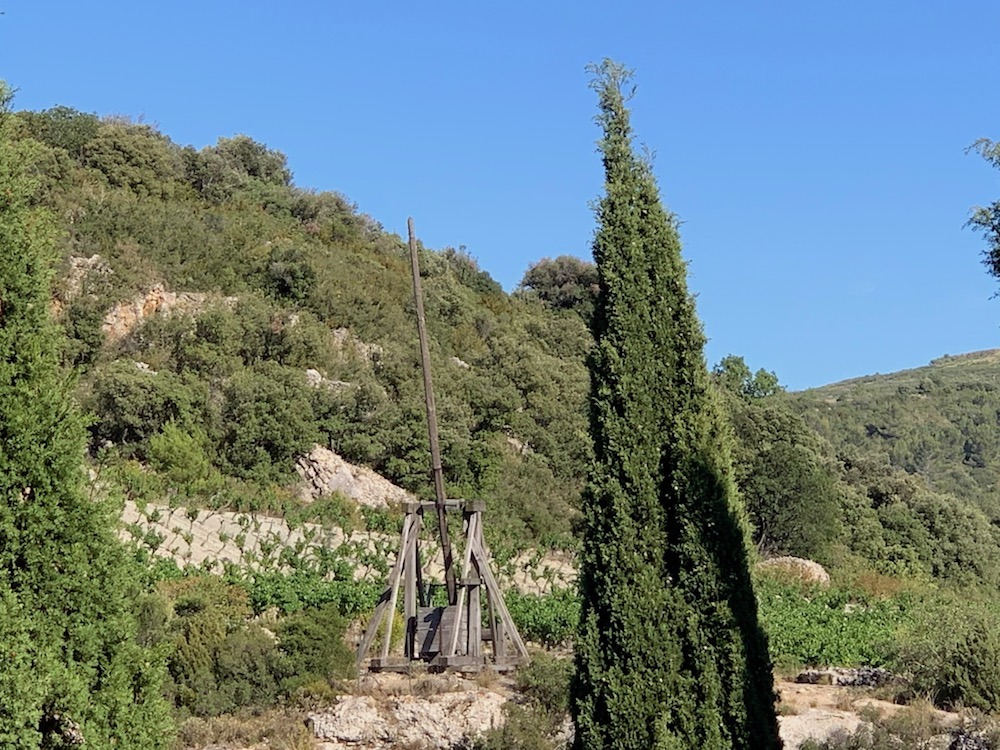 Carcassonne
Although not one of the most beautiful villages, Carcassonne is without a doubt one of the most important. This fortified city has been occupied since the Neolithic period. The hilltop area was first filled with Romans until the fall of the Empire. It was then taken over by the Visigoths, then expanded by many rulers since. Interestingly, Carcassonne's fortifications used different methods of protection, such as wooden ramparts. You can see the many layers of history throughout the village and learn about the important people that are part of it.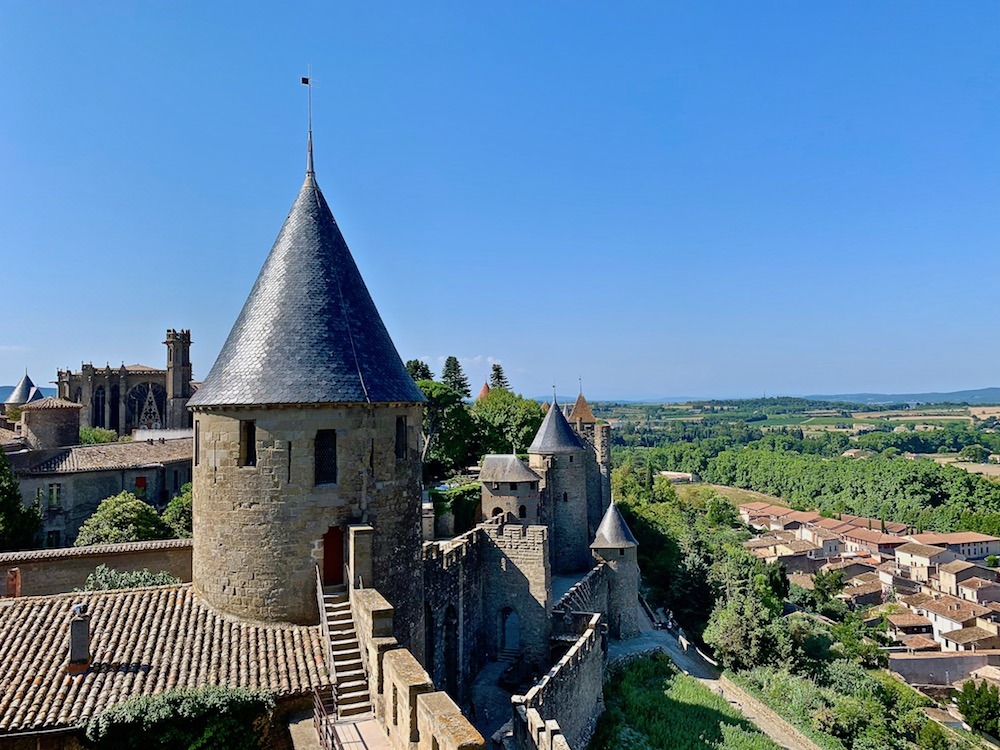 Narbonne
We were a little biased toward loving the delightful city of Narbonne even before we arrived. A friend of ours from Chicago had moved to the area several years ago and now calls this city home. Narbonne was our first as well as our last stop on our Canal du Midi cruise. And that was a perfect way to experience it.
While there's a daily indoor market, Les Halles du Narbonne, on Saturdays the streets also fill with vendors. Prepared foods of all sorts, clothing, toys, flowers, jewelry, produce, spices, baked goods and more line the streets. It's lots of fun to stroll and test out your French language and negotiating skills.
Ile Du Gua Suites
We spent our first night in France at the Ile Du Gua Suites at the recommendation of European Waterways. While it's a fair bit away from the center of town, for us, the gorgeous hotel with its gardens, waterfalls, duck ponds and terrace restaurant kept us busy enough not to notice.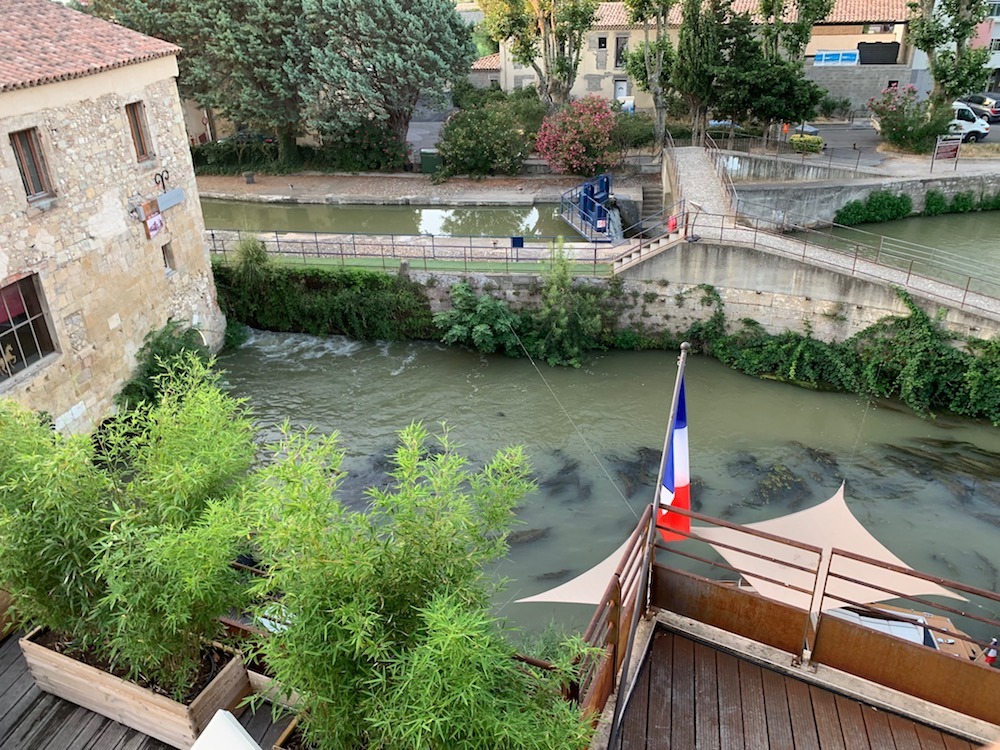 The hotel sits on the banks of the UNESCO World Heritage Site Robine Canal. You can see the canal lock from your suite window. The suites come with indoor jacuzzis, a kitchen and a lovely wooden terrace. Ours was just about as big as our room, which was plenty big. The wooded garden feel pervades the property.
We ate dinner in the restaurant, the Brasserie du Molin, which gets its name from the converted mill in which it resides. The cuisine is refined, using local ingredients and French fine dining precision. But the mood is casual and relaxed. It's hard to be uptight when you are surrounded by raspberry bushes, floating ducks, lush gardens and waterfalls.
A La Table Du Marche
One of the best things about having a friend in a place you visit is that they know all the good places to eat. In this case, the wonderful A La Table Du Marche was a perfect fit. Right behind Les Halles, this tiny but mighty restaurant had an appealing menu with outstanding dishes.  We spoke with the young chef who was originally from Latin America. He has traveled the world to bring flavors from all over to infuse traditional French cuisine with global flavors. The place is small, so if you want to go, make a reservation in advance. We were fortunate because our friend knew the chef. Because she cannot eat gluten, they had many previous conversations and were friendly. We left with happy tummies and a great sense of this thriving southwestern French city of about 50,000 people.
European Waterways Barge Cruises
Canal du Midi on the Enchanté
Now you know a little bit more about our experience with European Waterways on our canal cruise down the Canal du Midi in the south of France.
If you want to take a group with you, you can book the whole barge. for the Enchanté that would be eight people or less. You could go with some friends or, like us, just go and meet others with whom you'll share your journey.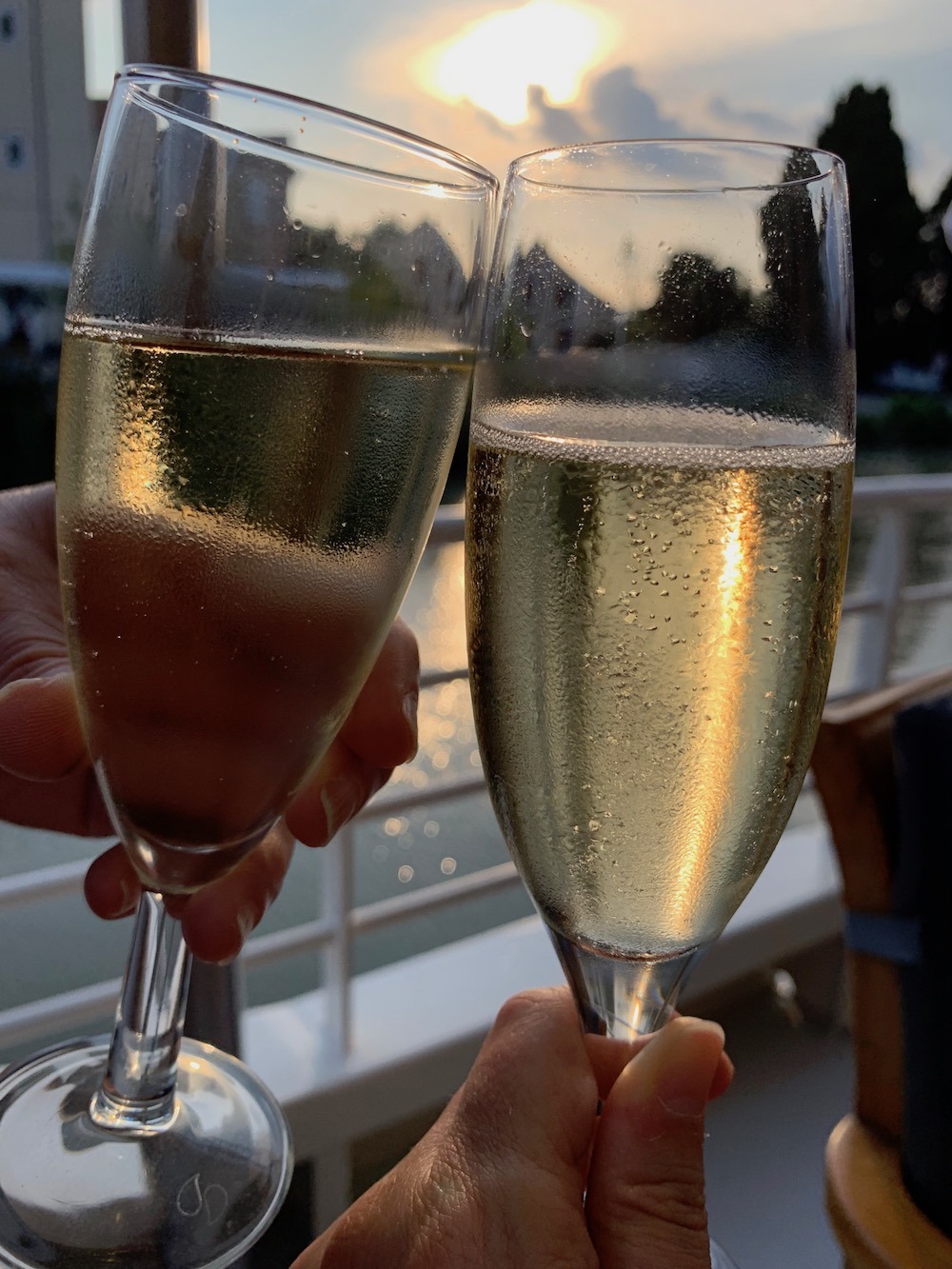 Some people worry about traveling with strangers that you'll be spending so much time within a small group. But this is our second such experience, and we can say that from our view, that is just not a concern. We celebrated anniversaries, birthdays and special occasions as though we had been friends with our fellow passengers forever. We all had fun and, when we wanted to do our own thing, we did.
Other Cruises
European Waterways offers plenty of other cruises in France. Burgundy, Bordeaux, Alsace & Lorraine, Champagne and Gascony are all available. They also float on other canals in Europe such as Italy, Scotland, Holland, England and Ireland.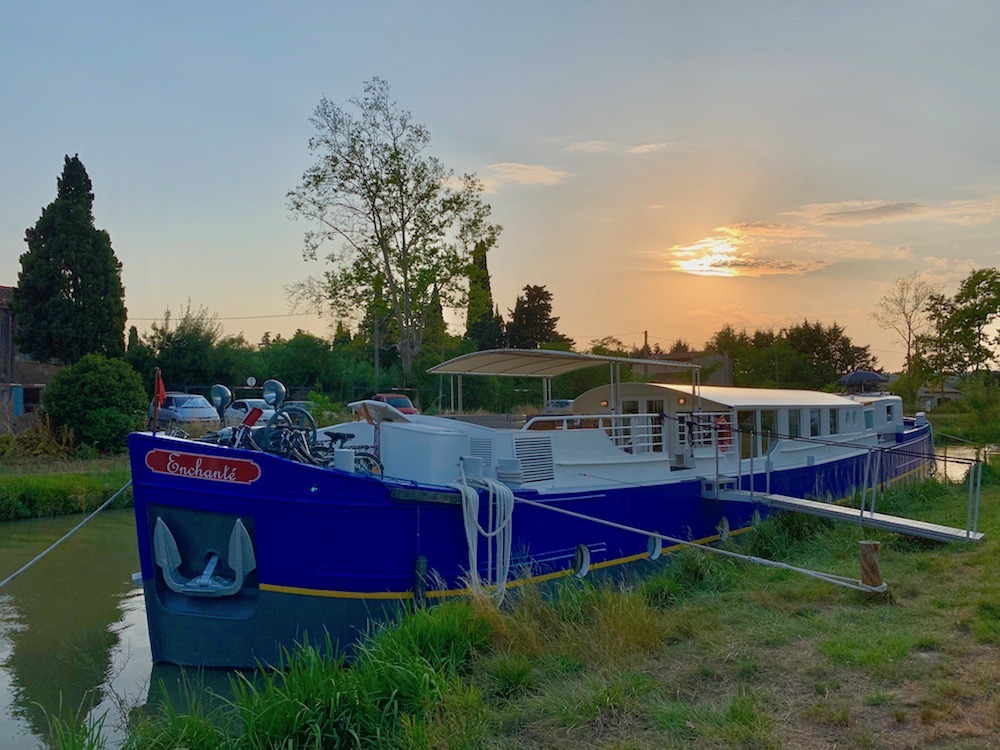 And they have barges of different sizes from 6 to 20 passengers. Imagine a family reunion floating on canals and seeing the sites with generations of your whole family? They can do it. You can also go for a themed charter such as wine appreciation, golf, or walking cruise. Whatever your interest or your number of passengers, you'll be able to get the barge cruise of your dreams. They'll even book a tandem cruise with two barges traveling together if you have a group too big for one!
Do It!
If the idea of a barge cruise in France appeals to you, we recommend that you do it. They're certainly not the cheapest form of travel. But, you can sometimes find seasonal specials and offers. Even if you don't, save your money and invest in the barge cruise that speaks to you as something you would enjoy. We love visiting France any time.  Slowly floating down canals in the south of France was dreamy. We experienced beautiful small towns, incredible cuisine, and historic sites. And we made treasured memories and friendships that will last. We would only want the same for you. So, as we said, do it!
Pin It To Your Barge Cruise Board on Pinterest