Beet soup is one of the easiest and most delicious recipes you can imagine. It's totally flexible depending upon what you have on hand as well as your personal preferences.
Ukrainian Origin
Ukrainian food may seem unfamiliar, but you may know it better than you think. While beet soup, also known as borscht, is found in many Eastern European countries, its place of origin is Ukraine. The bright red beetroots are a main ingredient and give the dish its recognizable color. Made with meat stock or bone broth and various sautéed vegetables such as carrots, onions, potatoes and others along with the beets, Ukrainian borscht makes a hearty meal.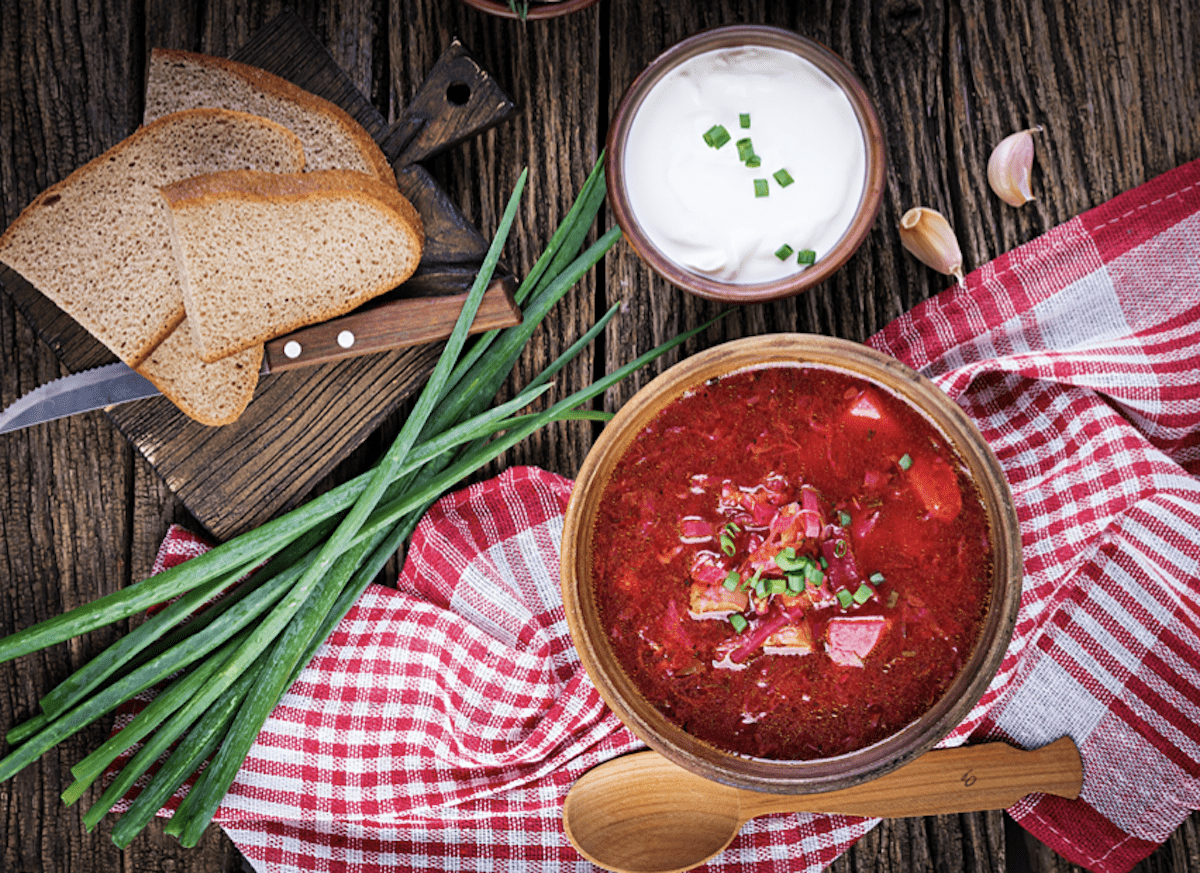 Flexible And Delicious
You can eat beet soup hot or cold. If you prefer a smooth soup you can blend it.
Or leave in chunky vegetables for a bit of chew.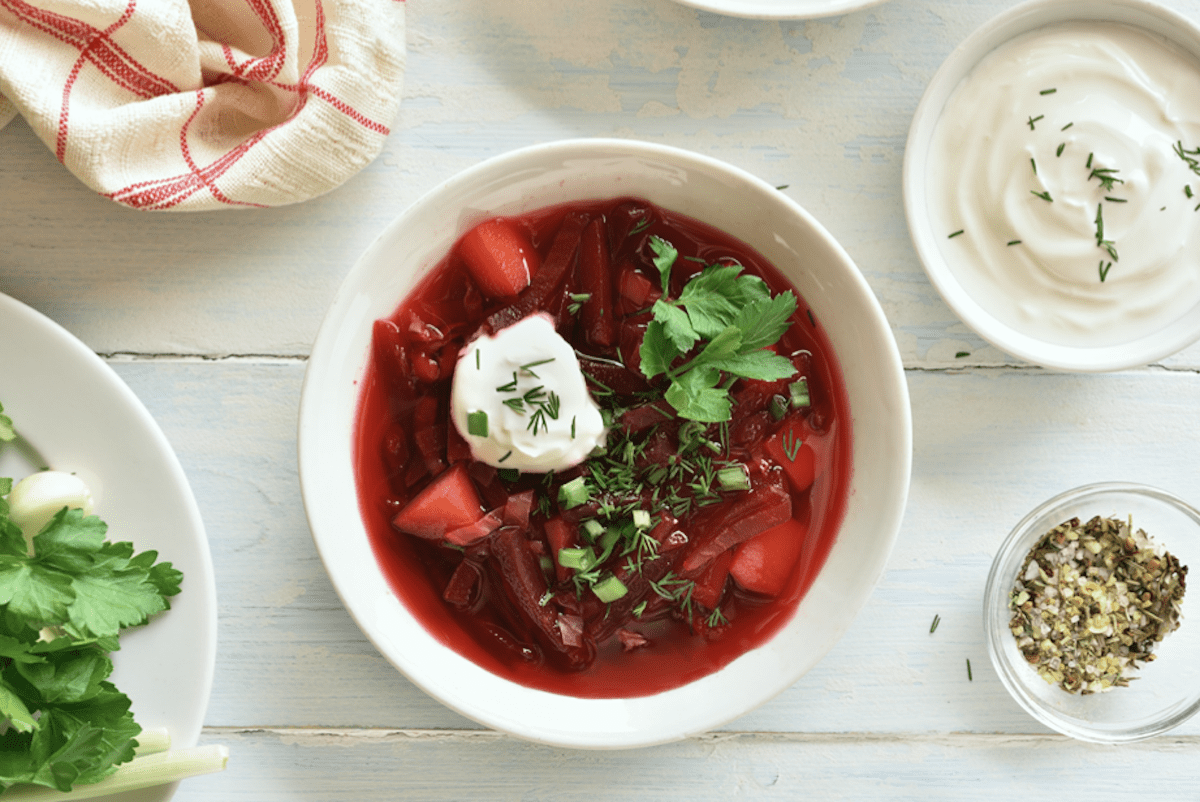 You can make your own roasted beets for that earthy flavor.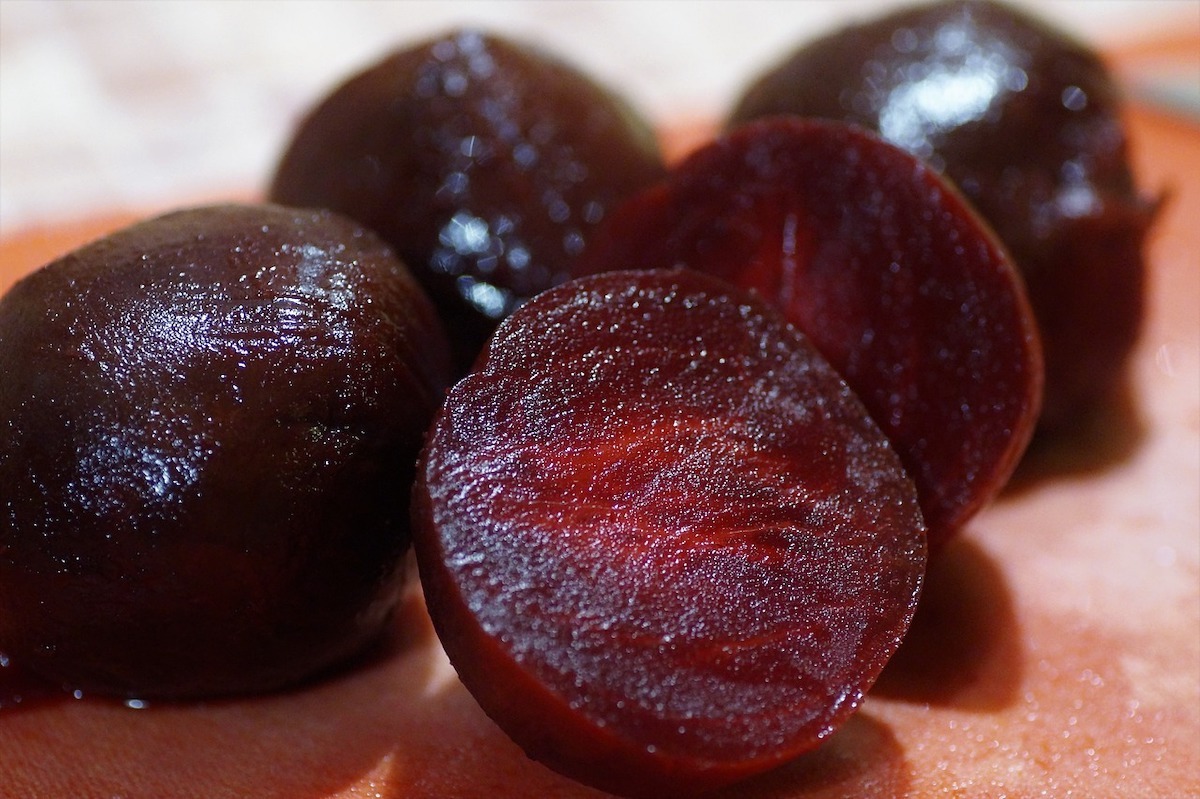 Or just grab some canned bees from off the pantry shelf.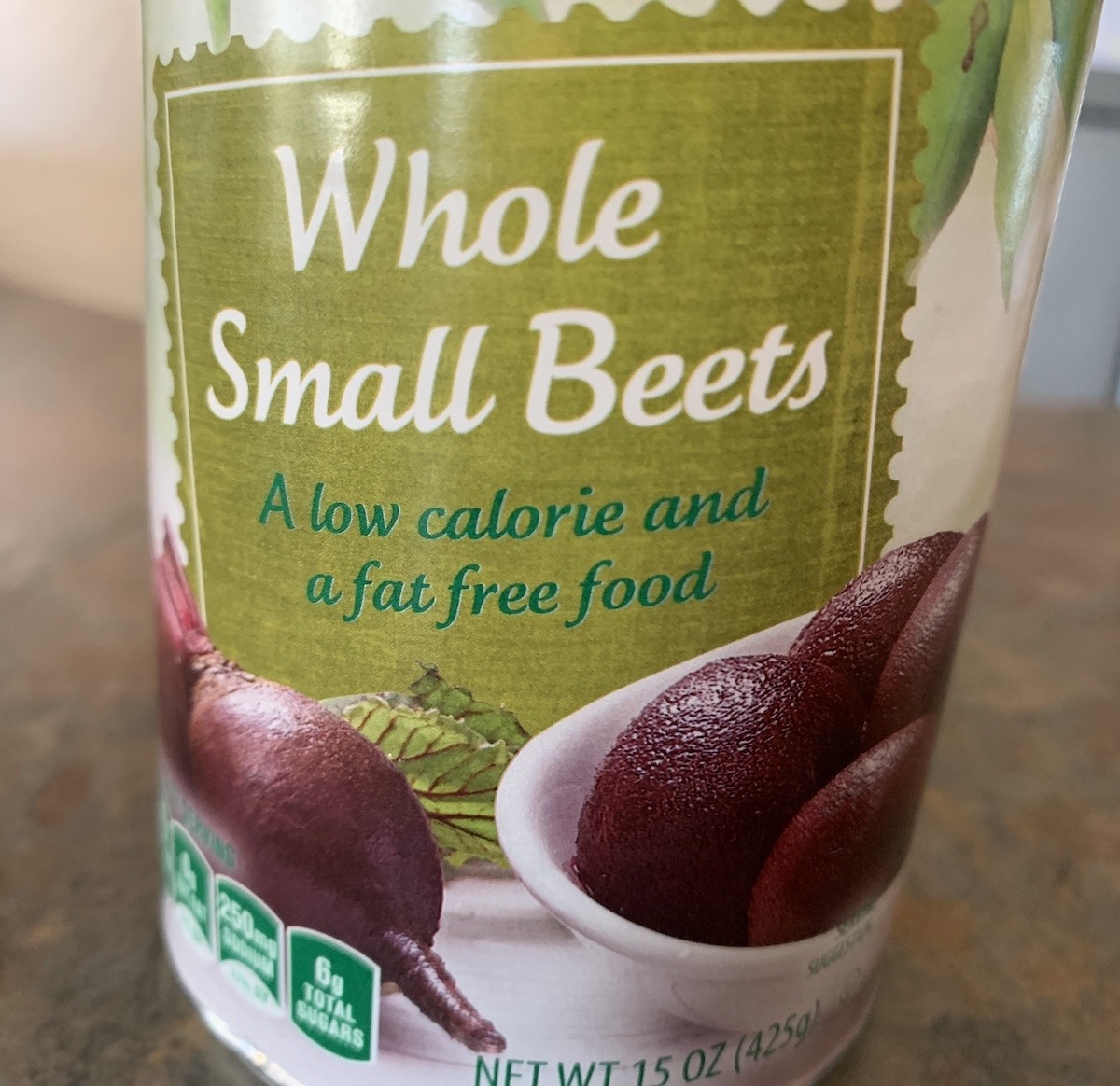 You can even use pickled beetroot if that's what you have or like. It will give an extra tang to the recipe, so you can probably omit the vinegar that's otherwise added and simply include the juice that comes in the jar or can of pickled beetroot.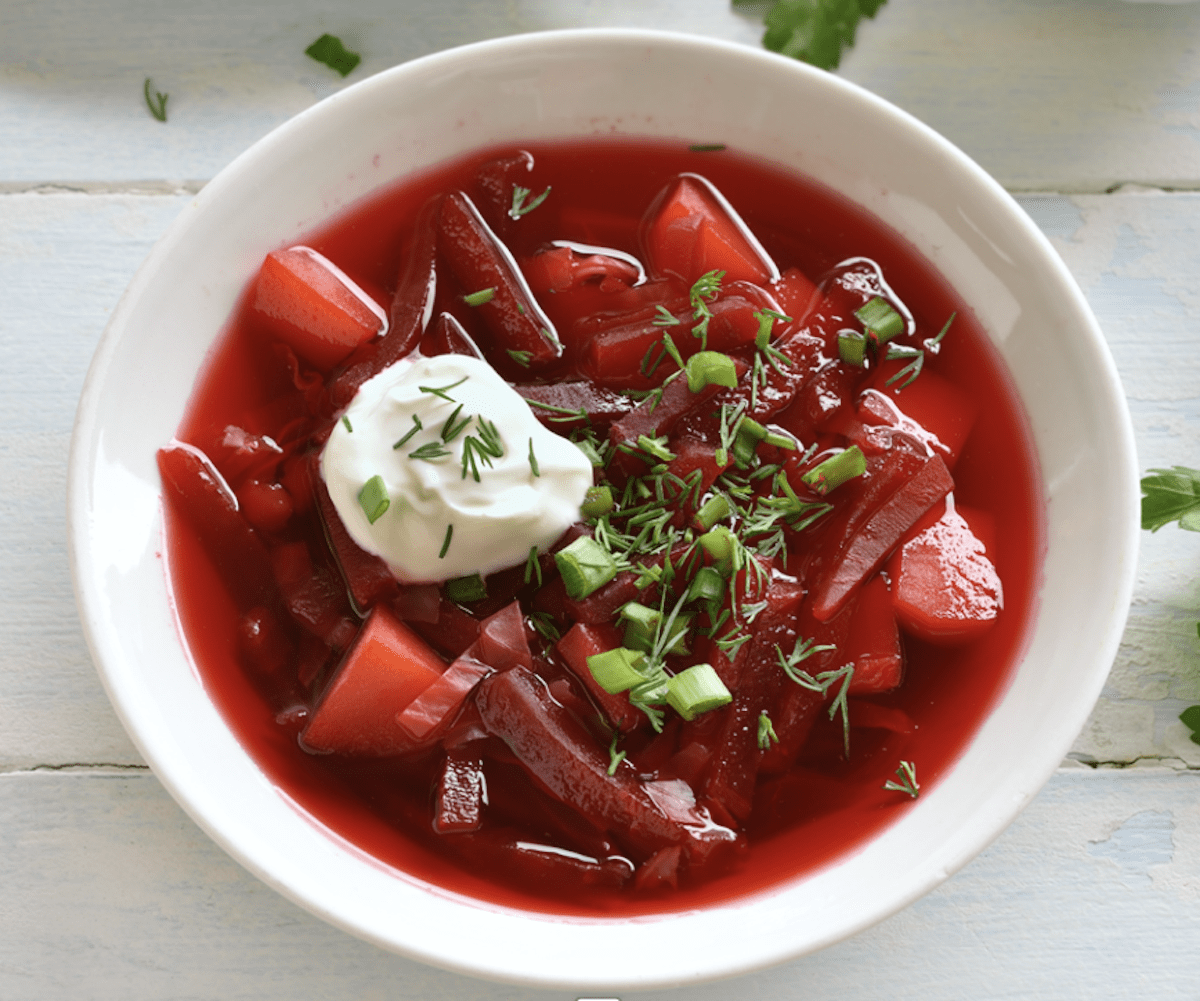 Elegant Or Rustic
Beet soup is a beautiful dish that you can dress up and serve as an elegant starter.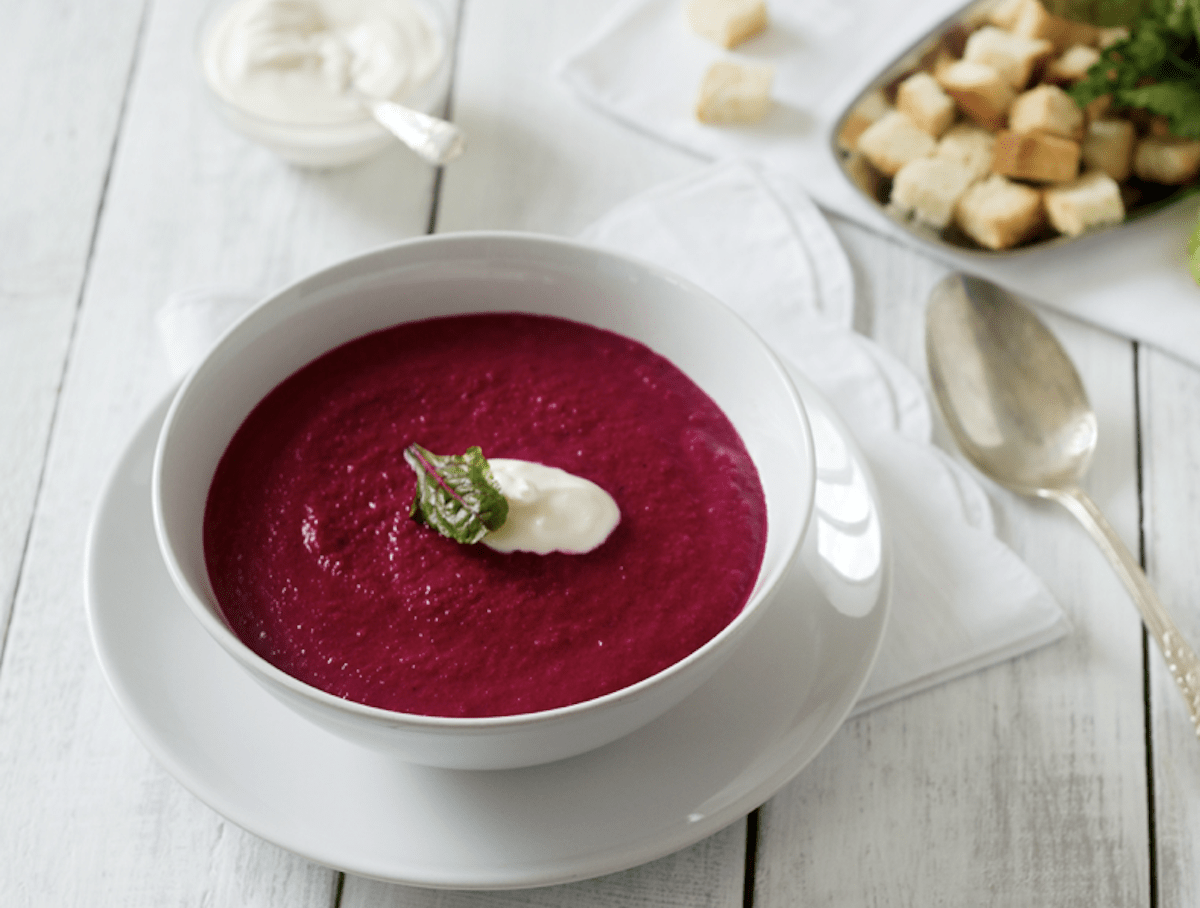 If you're looking for a satisfying and rustic meal, get some hearty bread to serve with it. Toppings you can use to finish it off include crispy croutons, sour cream or yogurt, chopped chives or scallions, fresh dill, or hard boiled eggs. Ukrainian food includes some perfect side dishes such as small dumplings called Vushka or small donuts called Pampushka that make excellent companions to beet soup.
Traditional Ukrainian borscht may be made with beef stock but you can easily make vegetarian borscht by simply swapping out the beef stock with vegetarian stock or broth.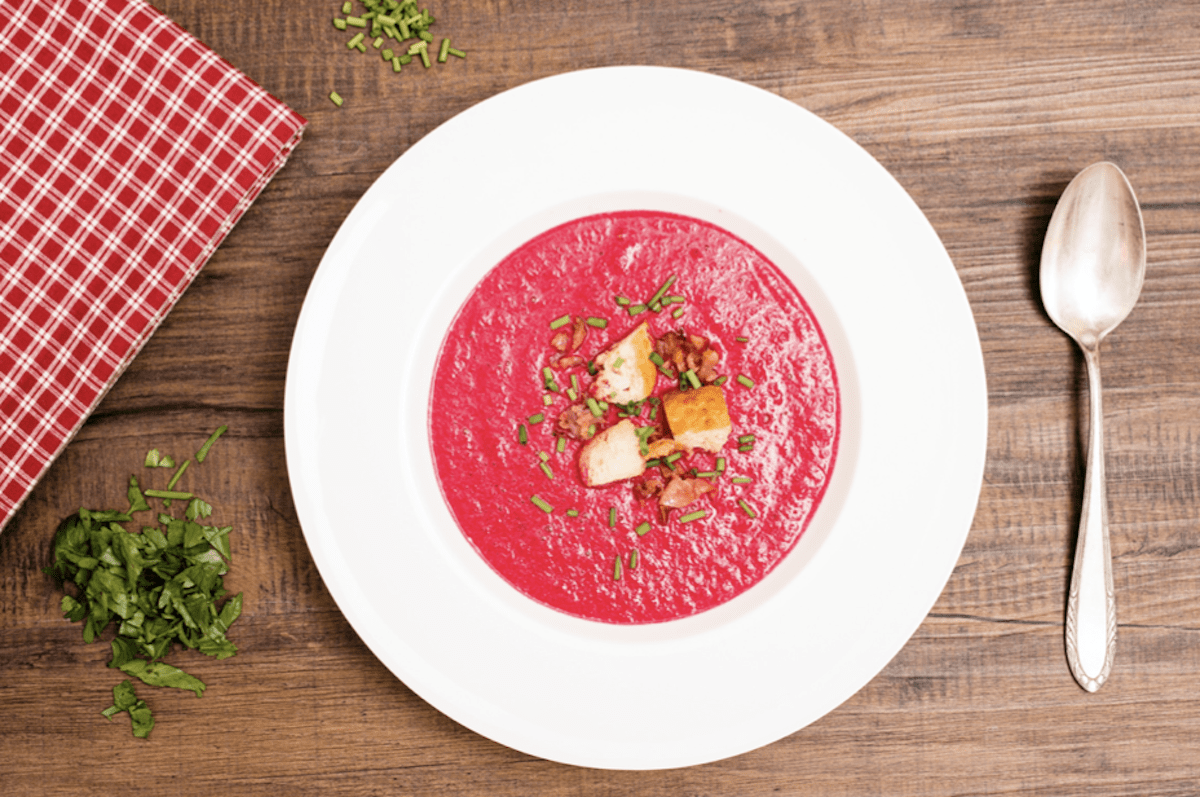 Use What You Have For Our Beet Soup Recipe
Our beet soup recipe allows you to use what you have. It makes a great hearty cold-weather dish and equally refreshing dish when the temperature warms up. All you have to do is serve it hot or cold and make it hearty or light. The choices are up to you.
We provide you with a basic beet soup recipe with a few ideas for garnish that we consider tried and true. But you can experiment and change it any way you like.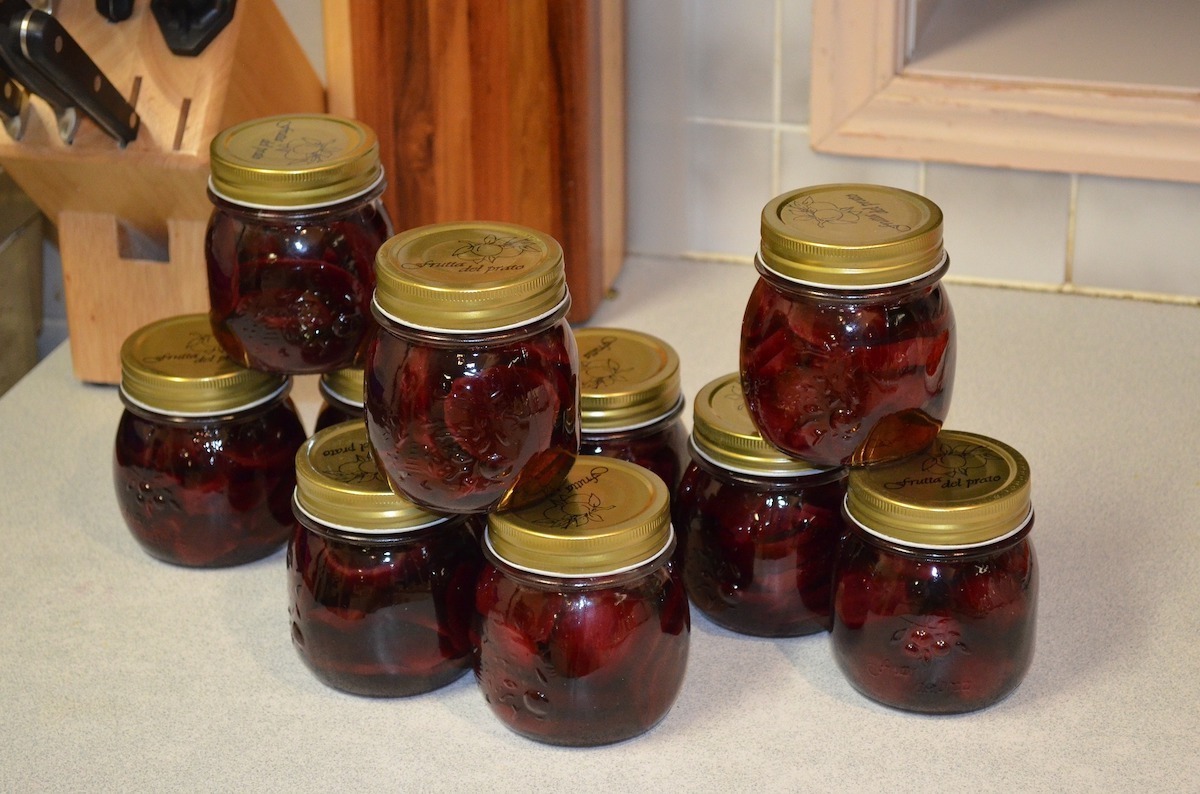 Beet Soup
Here's our recipe that you can use as a template to make the beet soup of your dreams.
Ingredients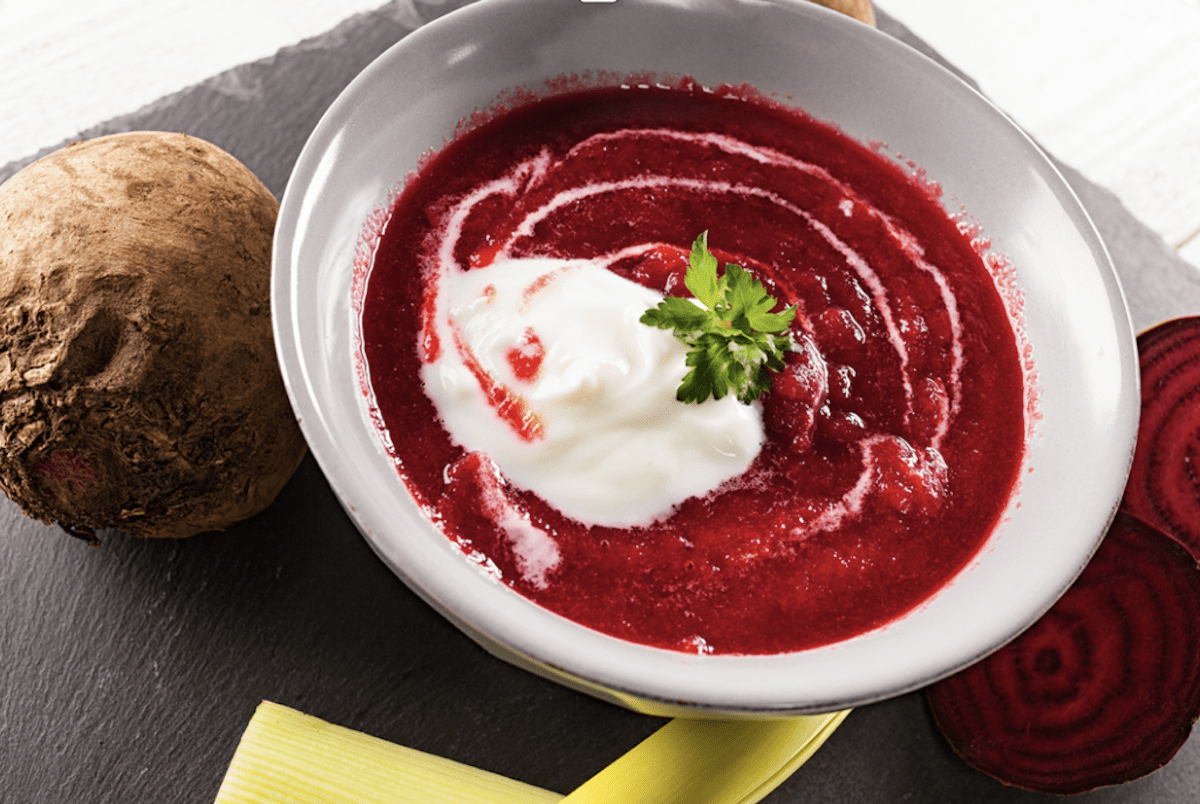 1 pound fresh beets for roasting (2-3 beets) or 1 can or jar (15 oz.) canned beets or pickled beetroot
Salt and pepper, to taste
1 Tablespoon marjoram (you can use whatever herbs you prefer, fresh or dried)
1/4 cup extra virgin olive oil
4-5 cups vegetable, chicken or beef stock (you may add more to adjust the thickness)
1 medium onion, diced
2 carrots, diced
2 large cloves garlic, smashed or minced
1 Tablespoon honey
2 Tablespoons red wine vinegar (omit if using pickled beetroot)
1 apple, diced or julienne (any apple you prefer, tangy or sweet)
2 Tablespoons fresh dill or one 1 Tablespoon dried dill
Sour cream or plain Greek yogurt, and scallion, parsley, chives, or herbs of choice for garnish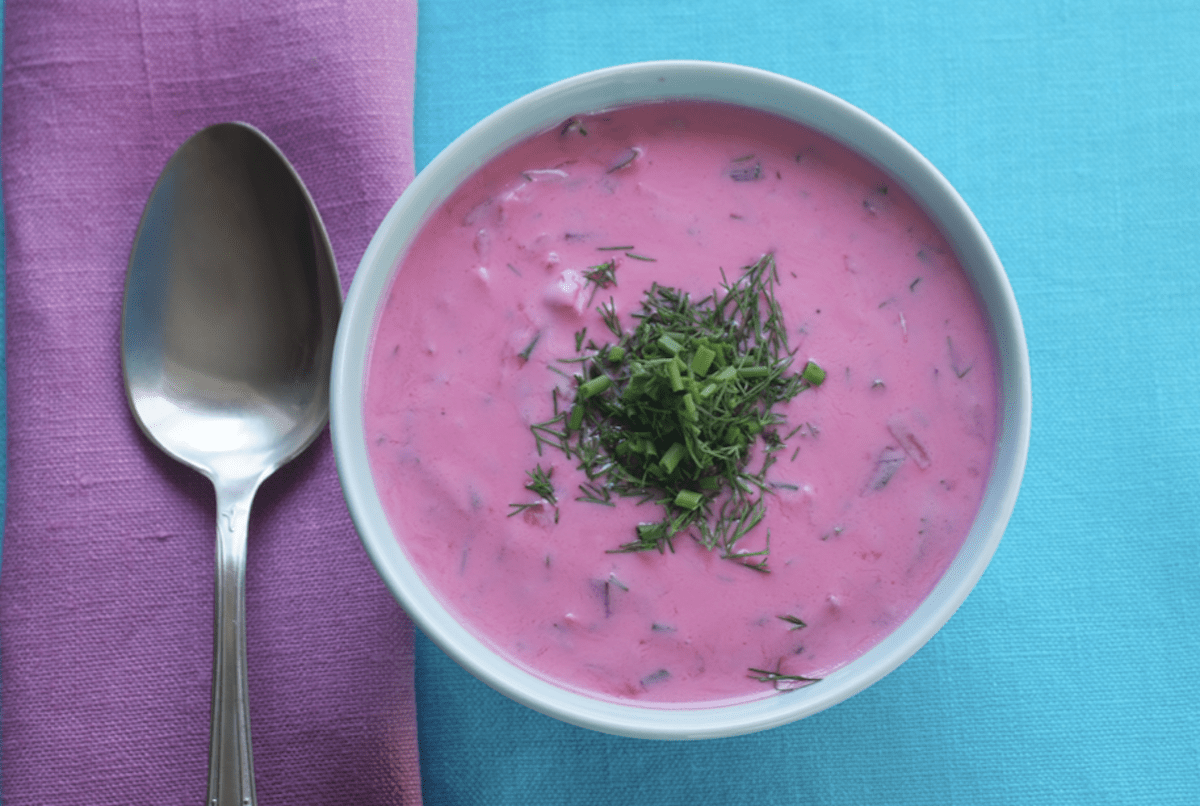 Directions
For Roasted Beets
1. Preheat oven to 400 degrees F.
2. Clean the beets with water and scrub skins.
3. Place cleaned beets on a large piece of foil
4. Season with salt and pepper and drizzle with 3 Tablespoons olive oil.
5. Wrap the foil loosely around the beets and place them on a baking sheet.
6. Bake  1 hour until beets are tender. Check tenderness by opening foil and poking with a fork
7. Allow beets to cool for about 10 minutes, then peel off the skins.
8. If you want to keep the beet soup chunky, cut into bite-sized pieces or julienne. Cut into chunks if blending.
Note: If using canned or jarred prepared beets you can skip this step.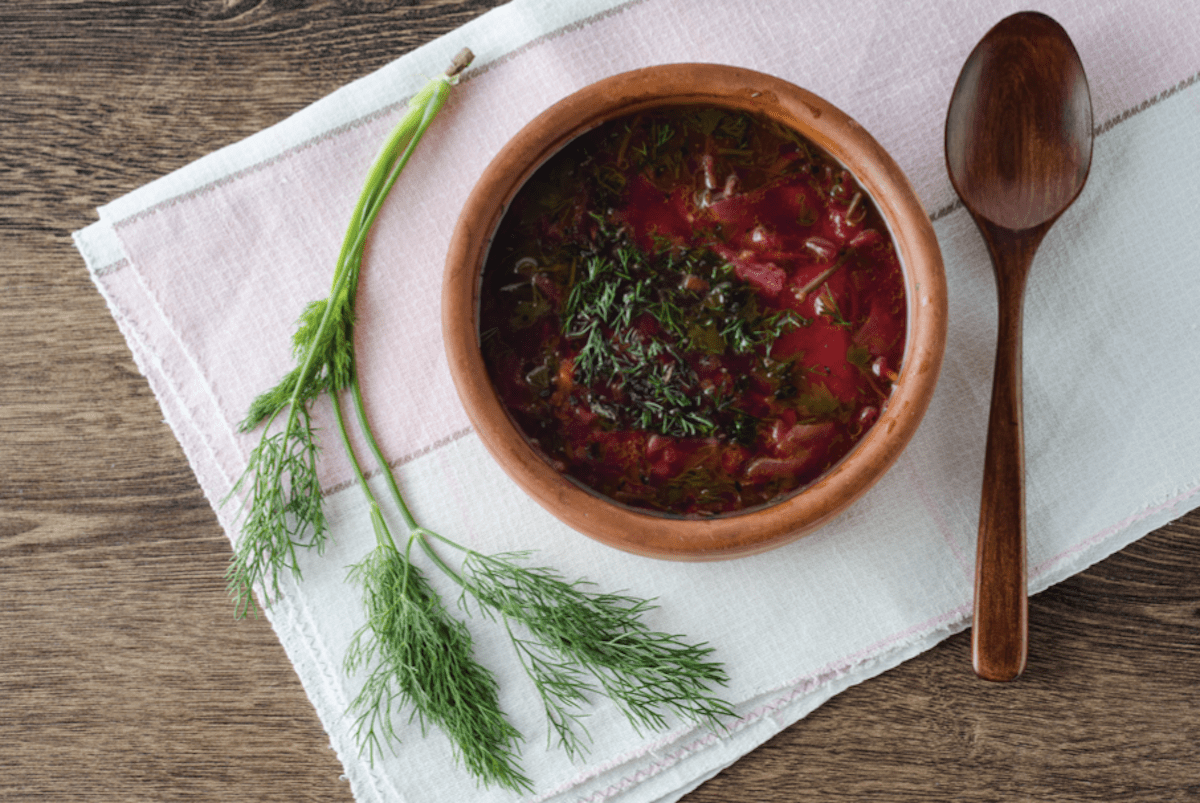 For The Soup
1. Bring the broth or stock to simmer in a saucepan over medium-low heat.
2. While the liquid is simmering, heat  3 Tablespoons olive oil in a large saucepan or stockpot over medium heat.
3. Add the onion, carrots, 1/2 of the apple pieces, garlic, and marjoram (or herbs of choice, dill is great too).
4. Cook vegetables until starting to soften, stirring to keep from browning, about 10 minutes.
5. Add the warm stock or broth to the vegetables and simmer until the vegetables are tender about 15 minutes.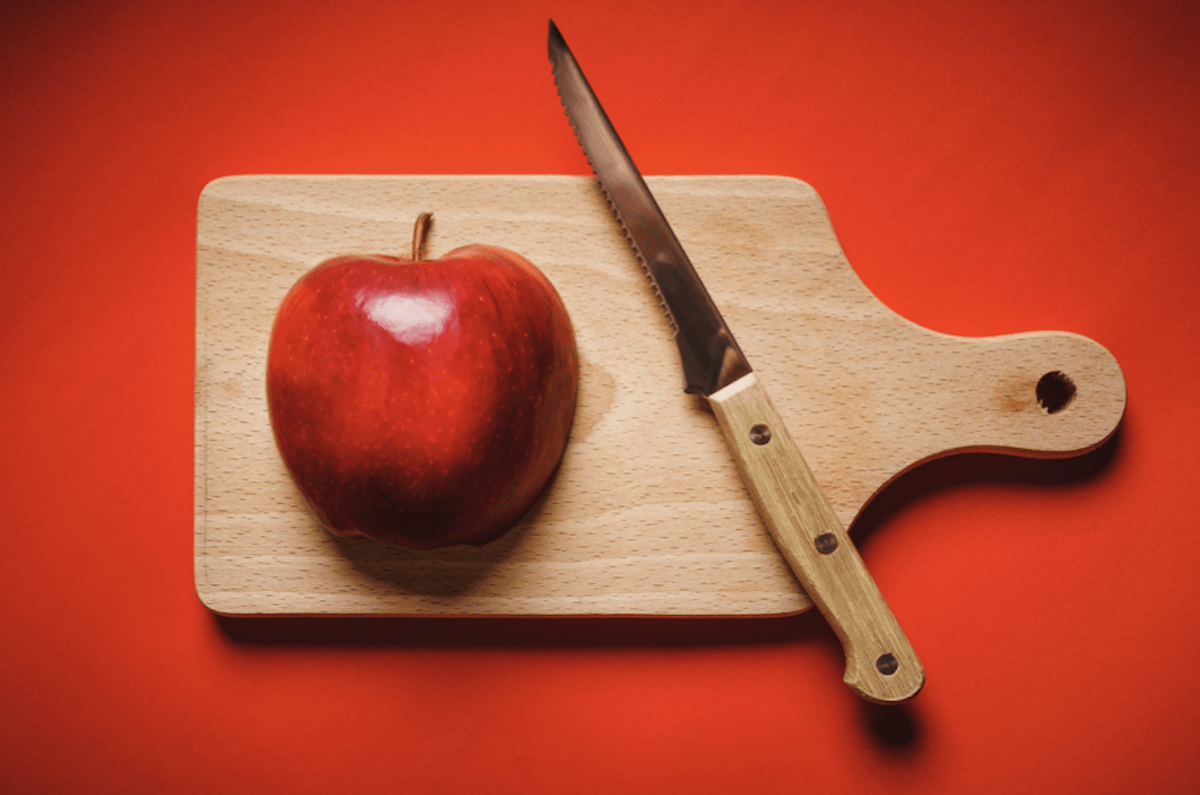 6. Add the beet pieces to the cooked vegetables, apple, and stock or broth.
7. If you want a smooth beet soup, use an immersion blender or regular blender (in batches) to blend until smooth. Add more stock or broth if the mixture is too thick. If using a blender, return blended beet soup to the stockpot.
8. Add the vinegar and honey, and stir until well blended. You can skip the vinegar if using pickled beetroot.
9. Season to taste with salt and pepper and stir gently together to incorporate all of the flavors.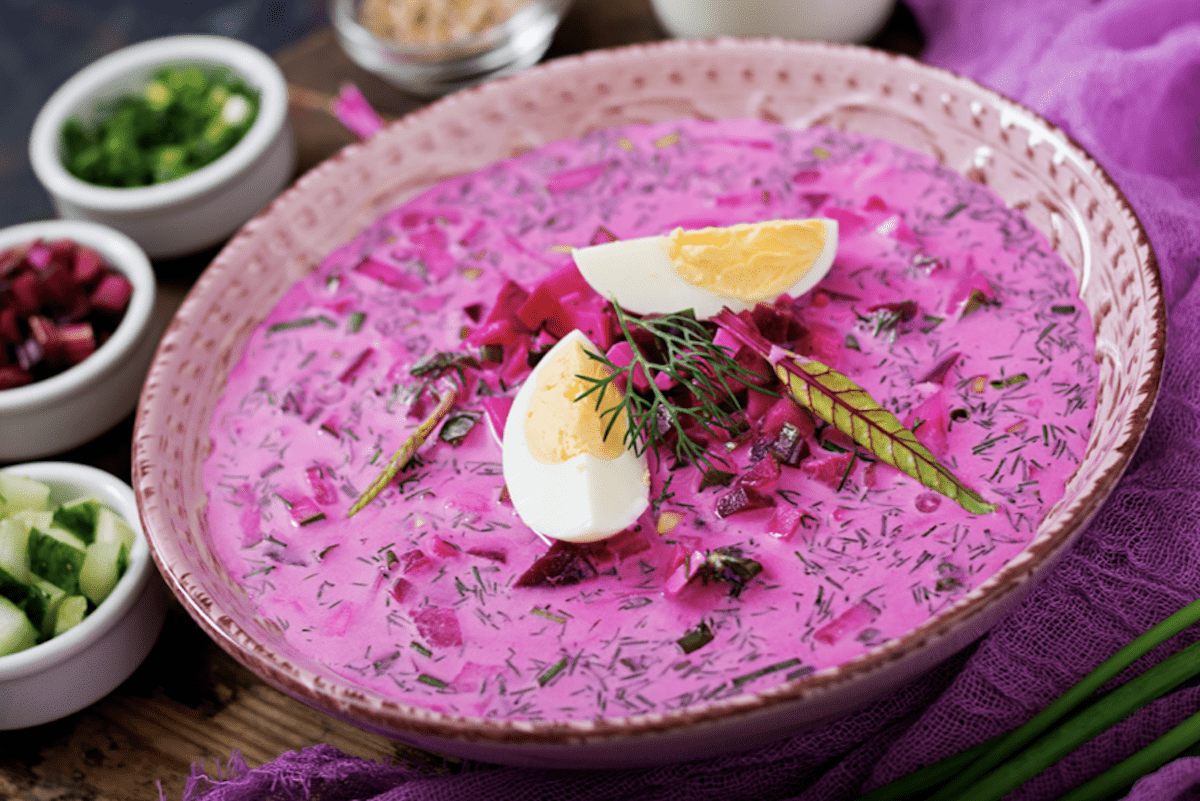 For Serving
10. If you want to serve the beet soup cold, place in a container and refrigerate until chilled at least 1 hour.
11. Hot or cold, put into serving dishes. You can garnish with whatever you like, but we love to start with a big Tablespoon of sour cream or plain Greek yogurt. Then top with chopped apple, fresh dill, chives, scallions, or other herbs. You can also add fresh croutons, toasted pepita or sunflower seeds, or sliced almonds. If you want to blend the sour cream or plain Greek yogurt in, that makes for a beautiful color as well. Top with hard-boiled egg quarters and herbs for a beautiful presentation.
If you like this easy beet soup recipe, try some of our other easy pantry cooking recipes like our Easy Chili Recipe or Easy Butternut Squash Soup.