There is a world full of turkey casserole recipes for just about every taste. Our turkey casserole recipe is about as versatile as they come. We call it Turkey Tetrazzini, which you may have heard of before.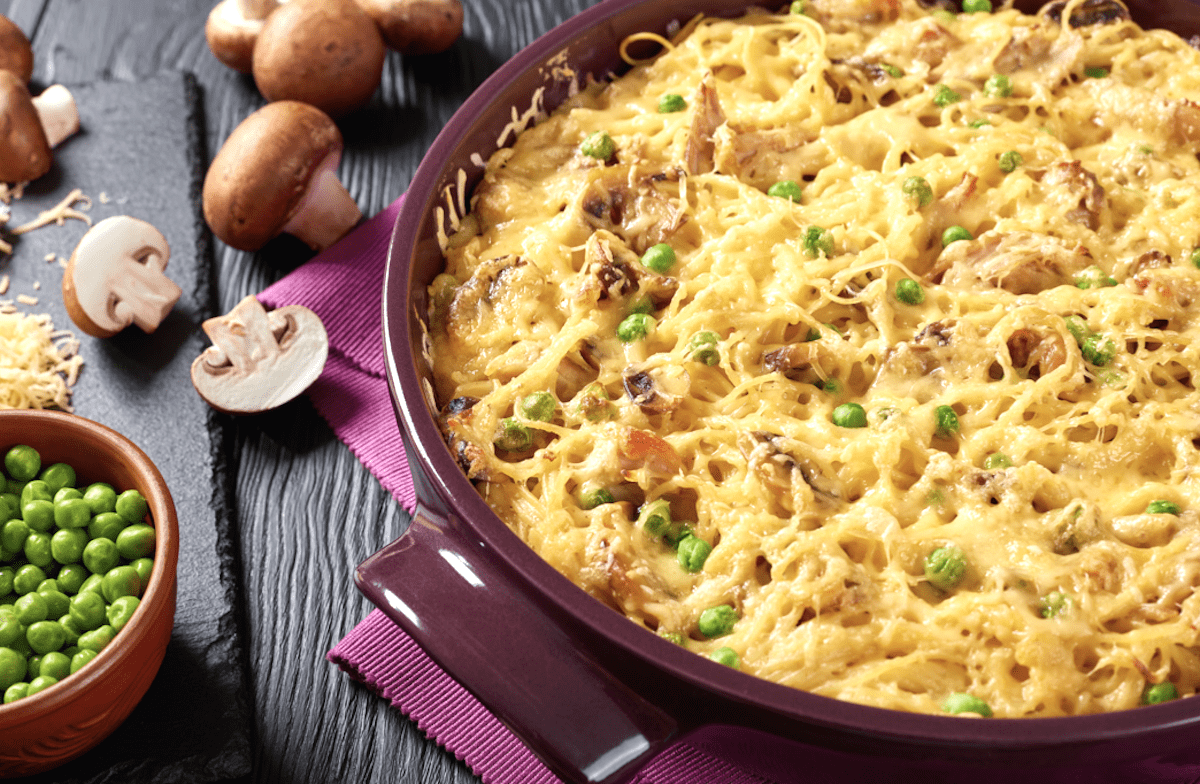 Did you know that the "tetrazzini" in Turkey Tetrazzini signifies a pasta dish with cream sauce? The traditional turkey casserole recipe is a creamy dish with turkey, noodles, mushrooms, and peas. It's named after Italian coloratura soprano Luisa Tetrazzini, for whom it was first made.
Our turkey casserole recipe is a favorite around our house. You can make it with boneless turkey breast or canned meat like canned turkey or even canned chicken if you prefer. If you want to blaze some trails with your tetrazzini, you can even make it with ground turkey for a unique twist.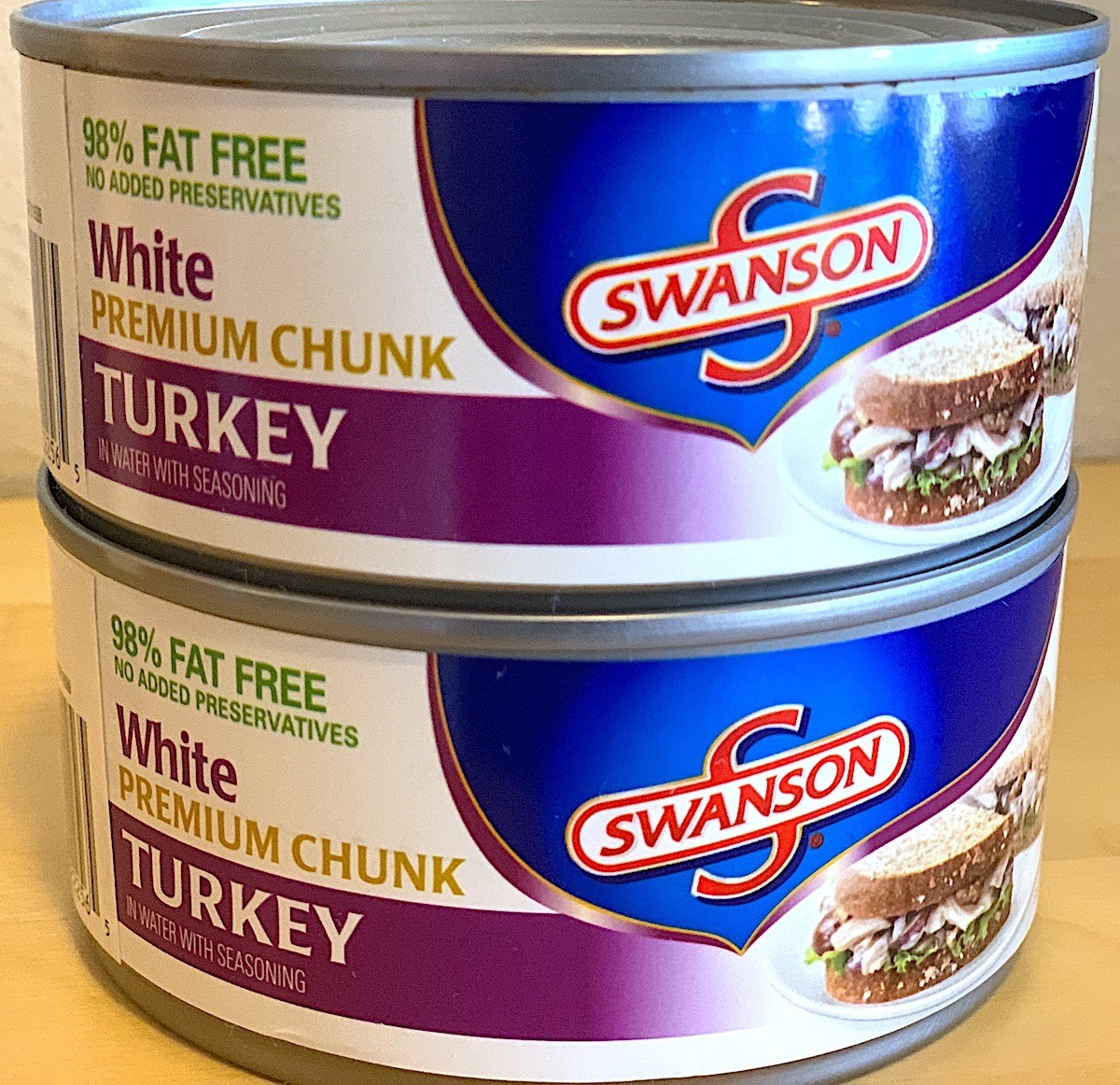 This is a delicious leftover turkey casserole that you can make whenever you have some extra turkey. If you like, you could use smoked turkey breast to bring in that smokey flavor. The basic idea is using what you have in the kitchen to make a tasty casserole with pasta.
In our easy casserole turkey joins mushrooms, peas, pasta, and some other pantry ingredients in a creamy turkey noodle casserole. You can include other vegetables like frozen or canned mixed vegetables if that's what you like or have around.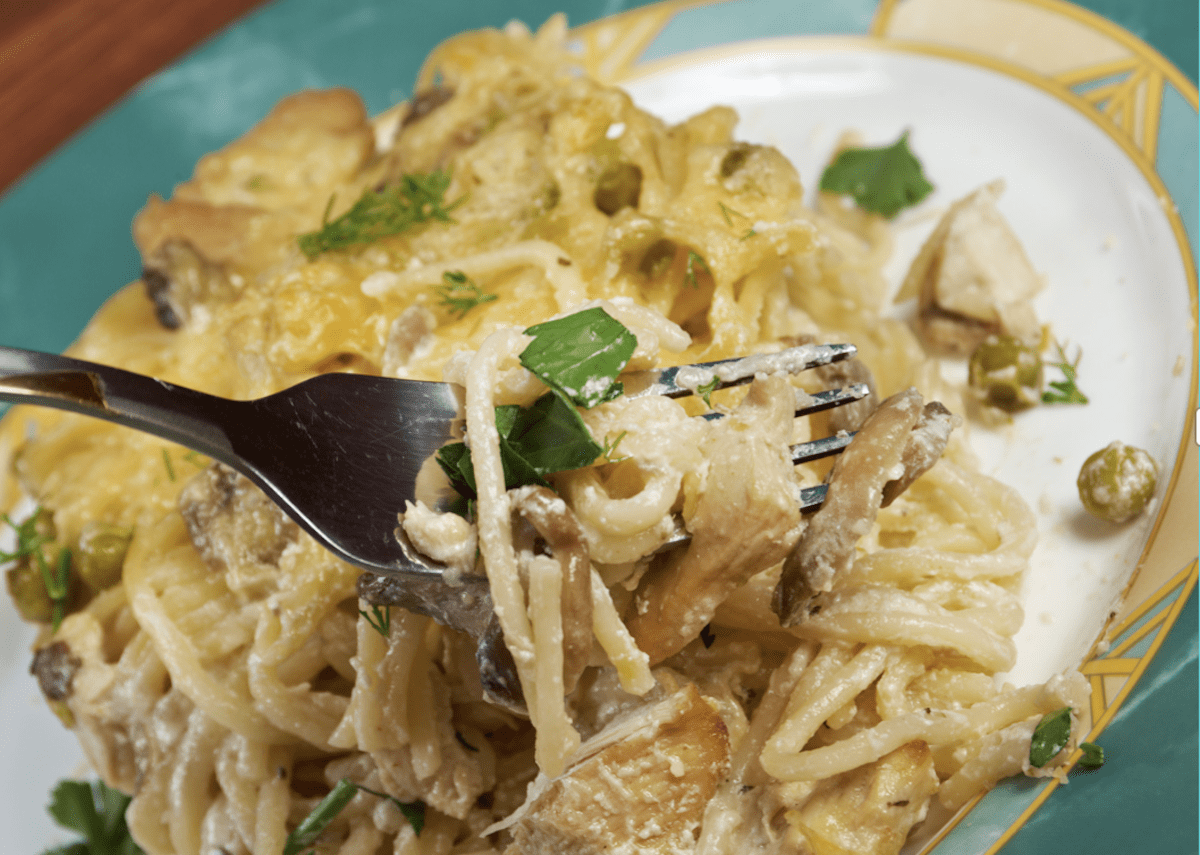 Tetrazzini Turkey Casserole Recipe
Here is the way we make our turkey casserole. Feel free to make substitutions based on what you have in your kitchen and what you prefer. Now that's what we call pantry cooking!
Ingredients
8 ounces pasta of your choice – fettuccine, spaghetti, linguini, or short noodles, if you prefer
2 cups of cooked turkey, or 2 cans canned turkey or canned chicken
1 large sweet onion, diced
4 cups button mushrooms, sliced
1 cup frozen peas (or use frozen or canned vegetables as you like)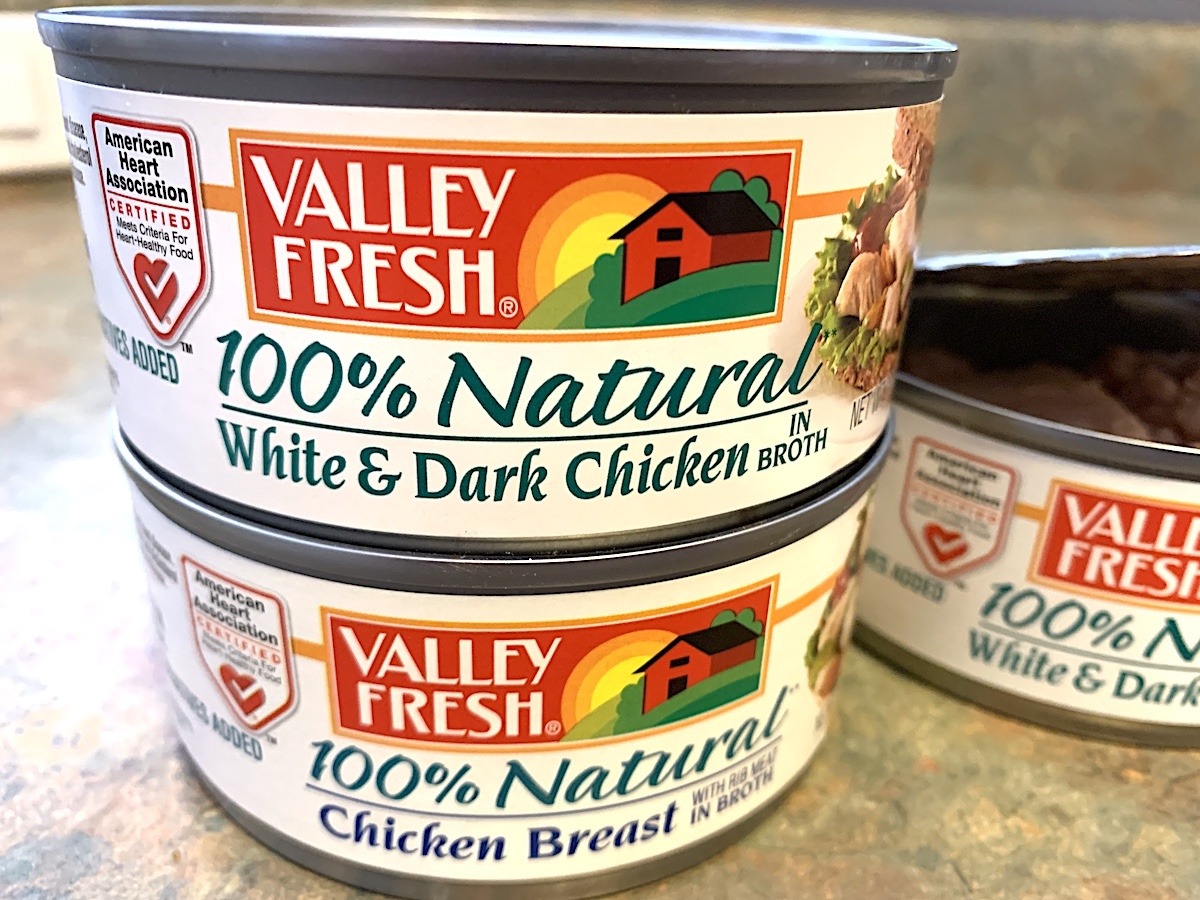 Turkey Casserole Sauce
1/2 stick butter
1 can cream of mushroom soup (or if making your own cream sauce 2 Tablespoons butter, 2 Tablespoons flour, and 2 cups heavy cream, half and half, or whole milk – use slightly more or less flour to thicken or thin to your preference, salt, and pepper)
1 teaspoon granulated garlic
2 cups grated Parmesan cheese, divided (you can use any other cheese you have or like too)
1 cup heavy cream
Topping
1 cup bread crumbs (Panko crumbs are great for a crunchy topping on turkey casserole)
salt and pepper, to taste
Fresh parsley or chopped green onion or chives to garnish (if desired)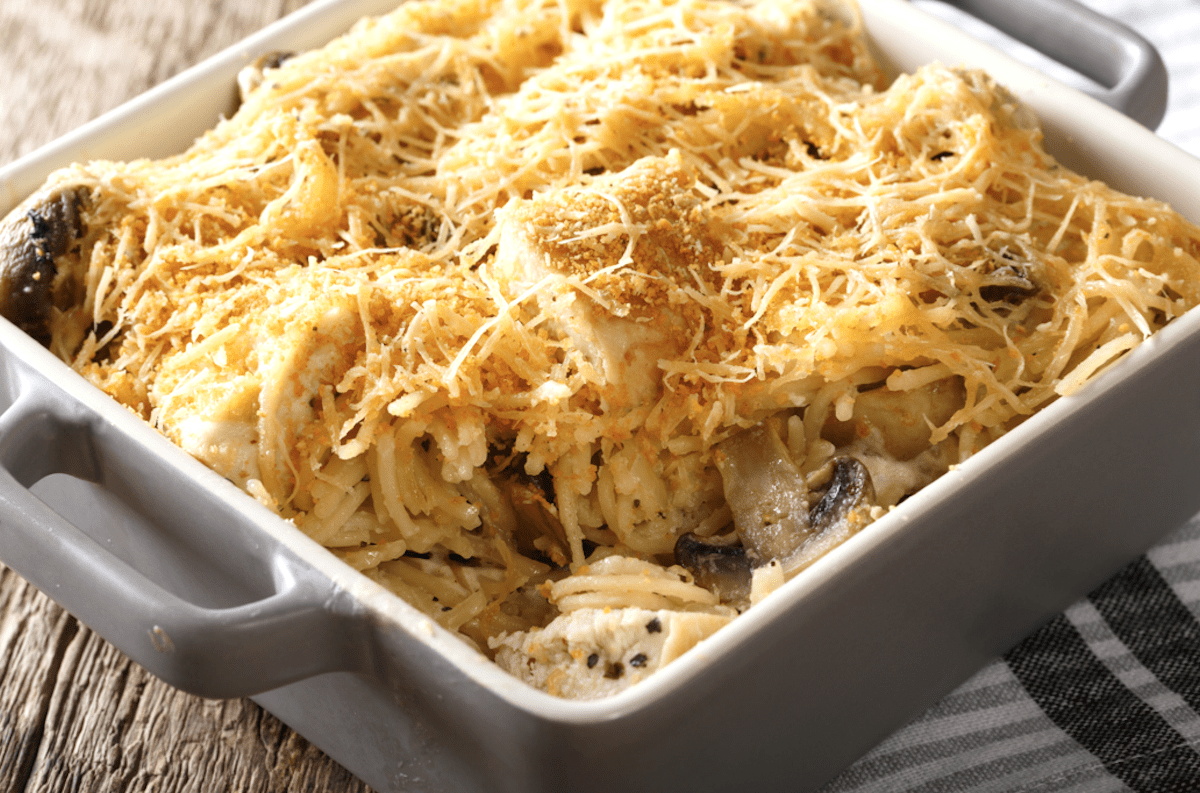 Directions
1. Heat oven to 375 Degrees F.
2. Cook pasta to "al dente" instructions on package
3. Melt butter in a large, deep frying pan over medium heat.
4. Put sliced onions in the pan and cook until they start to soften.
5. Add mushroom slices and cook until they start to soften.
6. Incorporate peas or other vegetables and cook until they are thawed (if frozen) and warm, mushrooms are brown and soft, and onions are clear and soft. Sprinkle in granulated garlic, salt, and pepper to taste.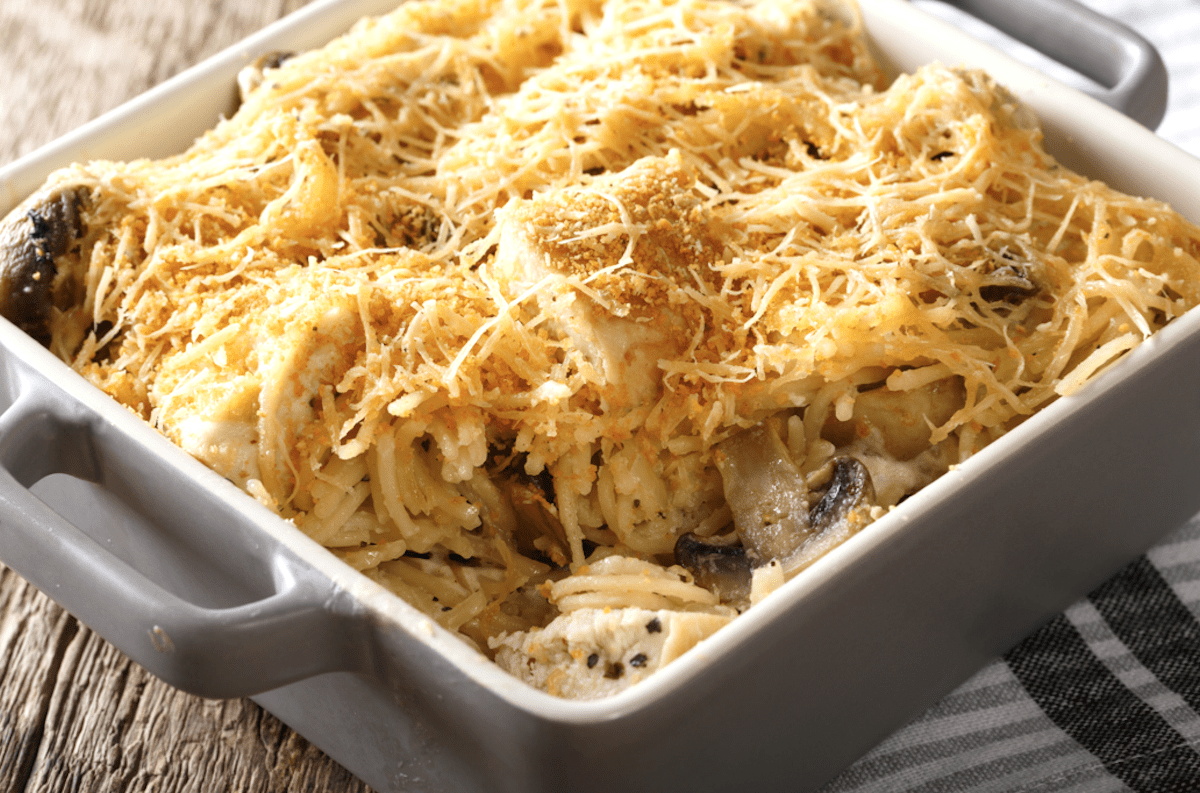 7. Turn heat to low and add cream of mushroom soup. If making your own cream sauce do the following: Heat 2 Tablespoons of butter in skillet. Add 2 Tablespoons of flour and whisk together until flour is absorbed. Add 2 cups of heavy cream, half and half, or milk by slowly pouring in a stream, stirring constantly. If sauce becomes too thick or thin add more flour or liquid to get to a thick, smooth but not gloppy consistency. (You want your turkey casserole should be creamy and moist.).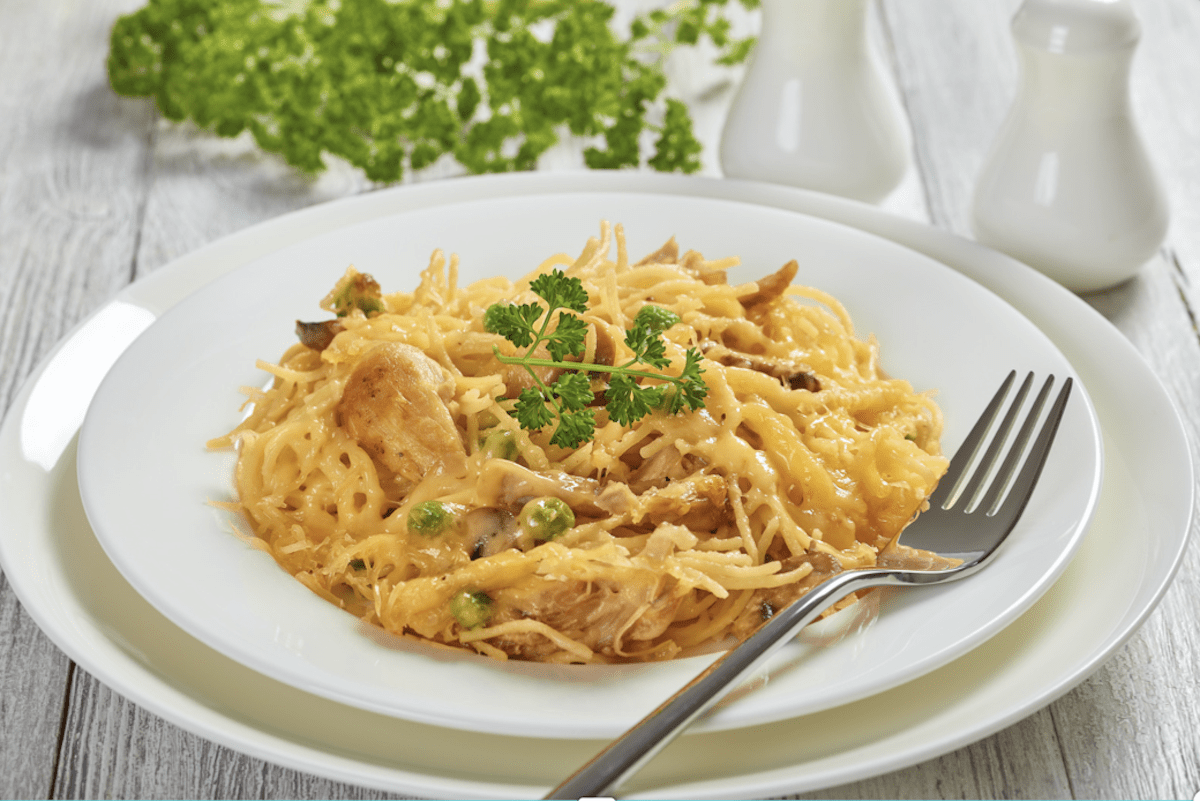 Continue…
8. Stir in enough cream to the soup to make a thick sauce, not soupy
9. Add cooked pasta and 1 cup grated Parmesan or other cheese and stir until everything is well blended.
10. Put mixture into a buttered 15 x 10 casserole dish.
11. Blend bread crumbs or Panko and remaining Parmesan cheese and cover top of mixture evenly.
12. Bake in the oven on the middle rack for 30 minutes or until top crust begins to brown and mixture becomes bubbly.
13. Remove from oven and let cool for 5-10 minutes, then cut into squares.
14. Garnish each square with fresh parsley, chopped green onion, or chives, if desired.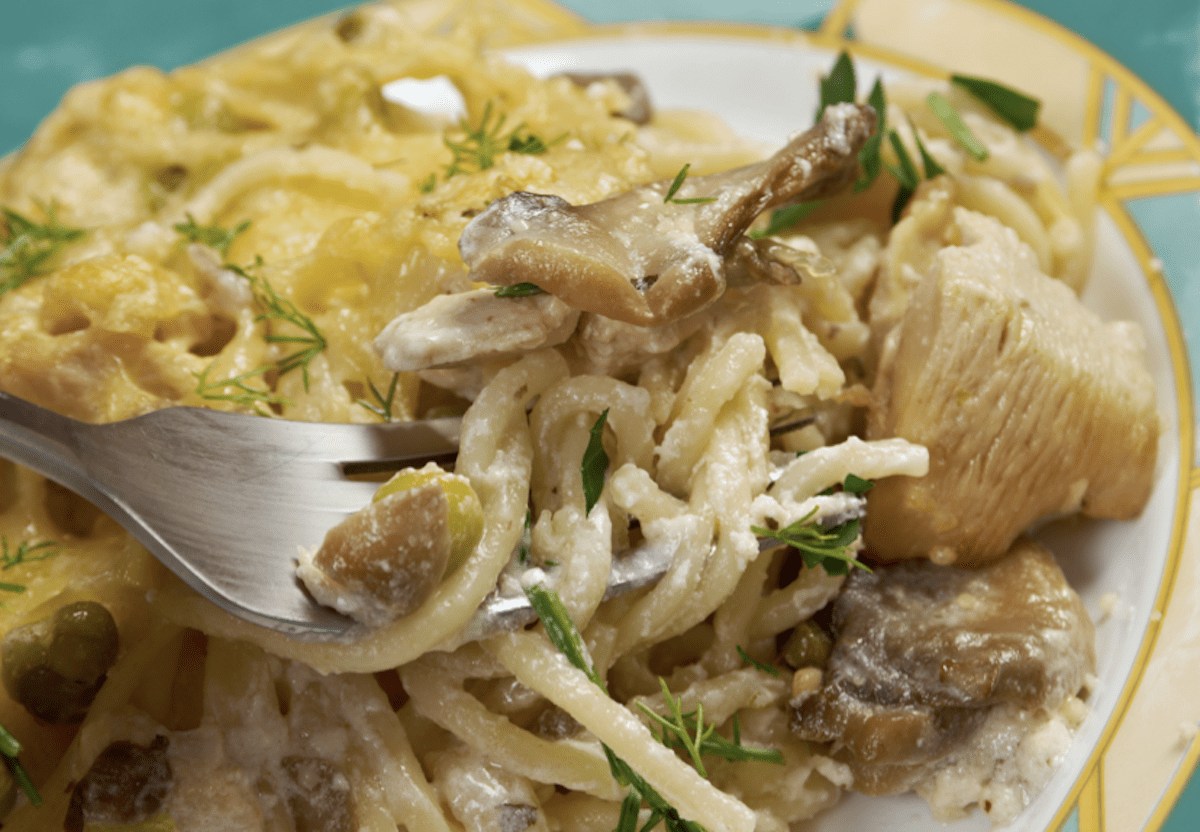 Turkey Casserole Pantry Cooking
Tetrazzini Turkey Casserole goes nicely with a crisp green salad.
If you like this easy pantry cooking, check out our easy Canned Chicken Recipes and Canned Tuna Recipes too.
Pin It!