Are you staying at home to avoid the Coronavirus? Or maybe you're just looking for some tasty ways to use that old pantry favorite canned tuna. Either way, we've got a couple of tasty ideas that we love for an easy, healthy, satisfying meal at home.
Canned tuna recipes can be as simple or complex as you like. We are all about quick and easy with good flavor. Canned tuna provides valuable nutrition, so it's great to include just about anytime. And, if you find yourself in the future with a little bit more in your pantry than you anticipated when the Coronavirus hopefully is discussed in the past tense, these canned tuna recipes will make mealtime fun and help clear the pantry at the same time.
We'll provide you with the basics for these canned tuna recipes. But feel free to make them your own. Add spices you like, garnish with veggies, pickles, olives, and more. Whatever sounds good to you will probably work great with the canned tuna. We just want to give you some idea starters to get your own creative juices flowing.
Tasty Canned Tuna Burgers
We love burgers and its great to have an alternative to beef. This is one of our favorite canned tuna recipes to use when you're ready for a hearty dish that you can make in a flash. You can make these into smaller patties for sliders or create regular sized burgers, whatever you prefer.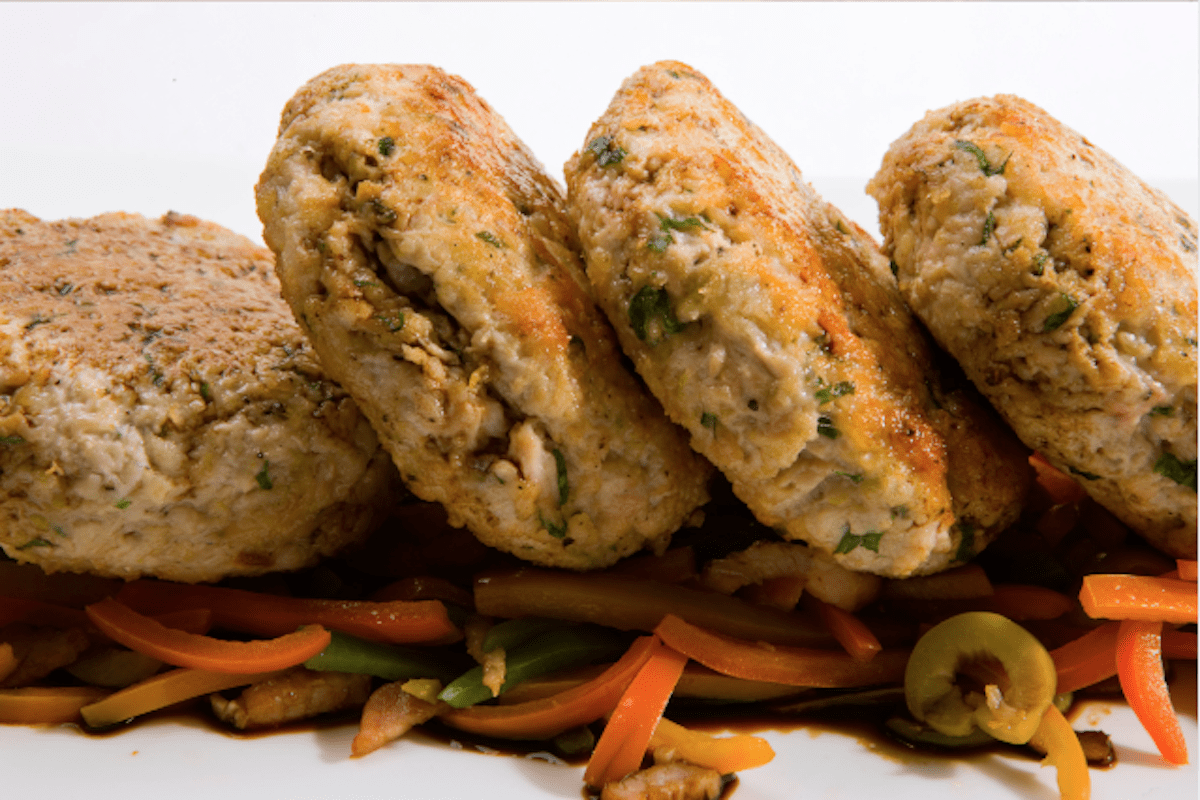 Ingredients
1 (5 ounce) can of tuna packed in water. We use low sodium tuna.
1/2 Tablespoon freshly squeezed lemon juice
1/4 cup chopped celery
1/4 cup small diced onion (you can substitute 1 Tablespoon dry minced onion)
2/3 teaspoon garlic powder
1/2 teaspoon dried dill
1 Tablespoon fresh flat-leaf parsley or 1 teaspoon dried parsley
1/4 teaspoon celery seed
1/4 cup breadcrumbs
1 large egg, beaten
2 Tablespoons olive oil for cooking
Directions
Drain the canned tuna and place in a mixing bowl.
Add all of the ingredients except the egg and blend together.
Salt and pepper to taste
Add the egg and blend into the mixture completely
Place 1 Tablespoon of oil into a pan and heat at medium-high until water droplet placed in pan sizzles.
Form burgers out of the mixture, flatten and place in pan. You can make sliders to get about 6 patties or 4 regular size burgers.
Place as many patties into the pan as you can without crowding. Cook until the outside gets crispy golden, about 5 minutes. Then flip and cook the other side until likewise crisp and golden. Add the other Tablespoon of oil into the pan and when it sizzles cook the remaining patties.
You can serve these on a lettuce and tomato salad, julienne veggies with olives and pickles, on slider or regular burger buns. Anything goes! Dress with tartar sauce, cocktail sauce, chili sauce, or as you would your regular burger. Or serve them plain with a squeeze of lemon. It's really up to you!
Terrific Canned Tuna Melt
These canned tuna melts are one of our favorite treats especially when someone isn't feeling well. Tuna melts have all the flavor of an indulgent crispy toasted sandwich with your favorite cheese. But keeping with our canned tuna recipes motif, the nutritional benefits of the tuna shine through here too. Of course, you can dress this up any way you like. If you want to add lettuce and tomato, just place them on before putting the two sides of each sandwich together.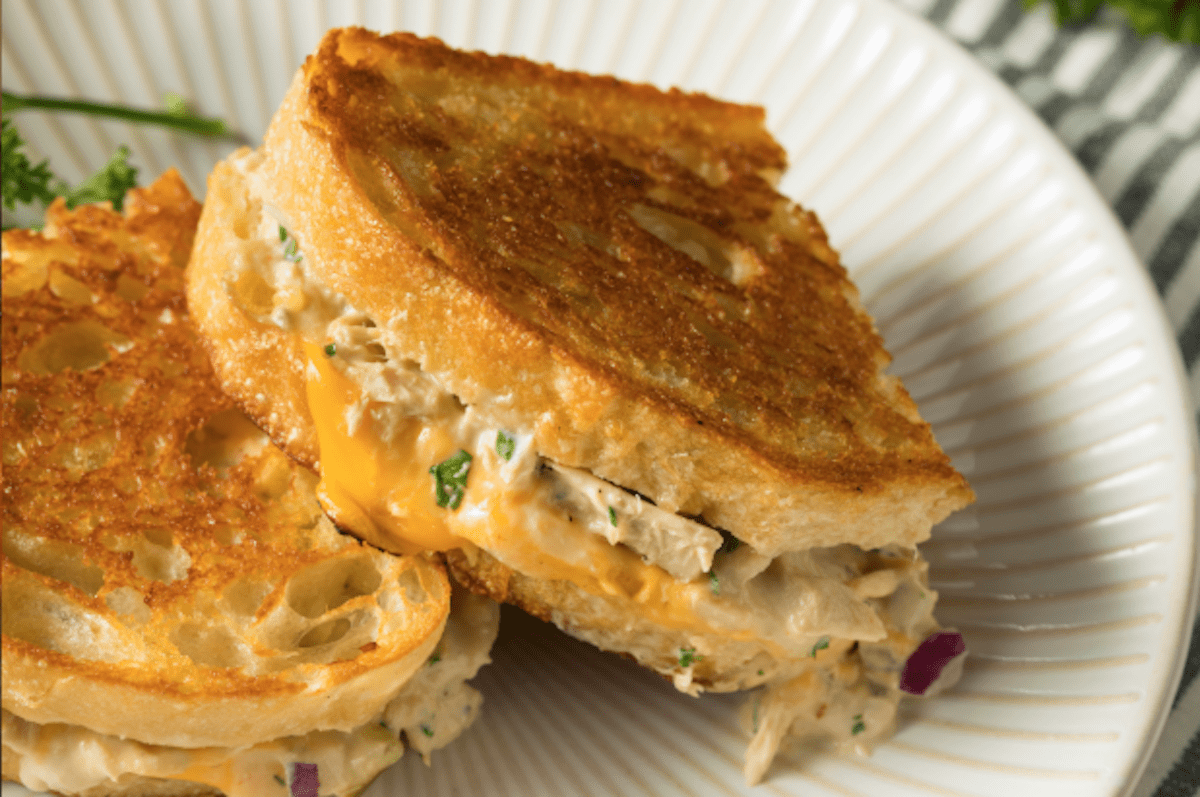 Ingredients
1 (5 ounce) can of tuna packed in water. We use low sodium tuna.
1/4 cup chopped celery
1/4 cup small diced onion (you can substitute 1 Tablespoon dry minced onion)
2/3 teaspoon garlic powder
1/2 teaspoon onion powder
1 Tablespoon sweet pickle relish
1/2 teaspoon celery seed
1 1/2 to 2 1/2 Tablespoons mayonnaise (we use light mayo) to the consistency of your choice
2 slices cheddar cheese
4 slices of your favorite toasting bread (we love rye or sourdough for canned tuna recipes)
Softened butter for toasting bread
Directions
Drain the canned tuna and place in a mixing bowl.
Add all the other ingredients and blend thoroughly.
Place pan on stove and heat to medium.
Butter two slices of bread on one side.
Place bread butter sides down on the pan.
Put tuna mixture on one piece of bread and sliced cheese on the other side.
Cook on medium until bread is toasty golden and cheese begins to melt.
Flip the cheese toast on top of the tuna toast to make a sandwich.
If necessary, cook a little longer until the desired doneness on each side.
Repeat for the second sandwich.
Great to serve with pickles, coleslaw or side salad, chips, or a cup of soup. You'll feel like you're at your favorite deli – only better!
Favorite Canned Tuna Casserole
This is one of our family favorite canned tuna recipes. Whether you're feeding an entire family or just one or two, you'll be able to make enough in one easy dish. If you have leftovers, they freeze perfectly. That makes it easy to have a delicious comfort meal when you don't have time to make something fresh. We don't use canned soup for our recipe because we like to watch our sodium. But if you have canned soup on hand and want to use it, you can easily substitute it for the milk and flour. If you have fresh or additional canned mushrooms, we suggest you add them too because we love the extra mushroomy flavor.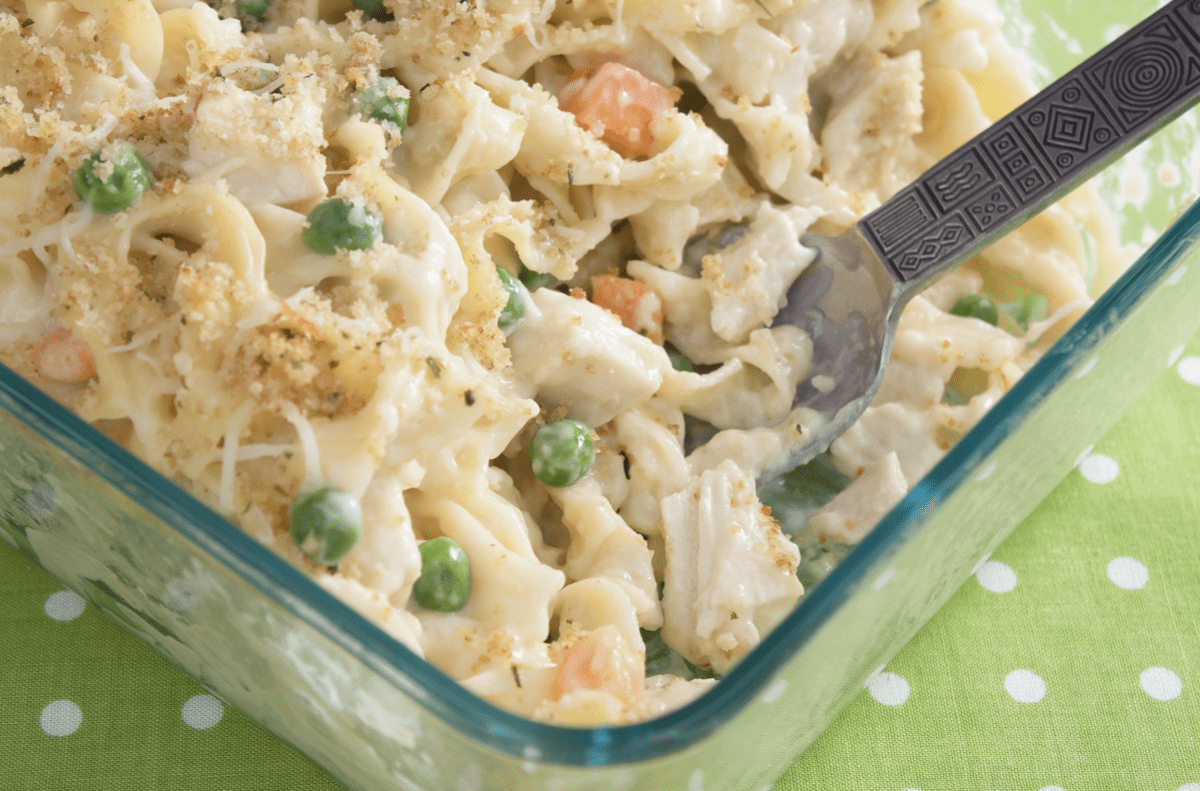 Ingredients
8 ounces of pasta (we like whole wheat, but you can use whatever you like or have)
2 Tablespoons olive oil or butter
1 Tablespoon butter for topping
1/2 cup onion, chopped
1 cup frozen green peas, thawed (canned is okay too)
1-2 large ribs celery
1 can (5 ounce) tuna, drained (if you like more tuna or are feeding a crowd, add another can)
1 1/2 cups sliced fresh mushrooms (canned or jarred is okay)
2 cloves garlic, minced (or 1/2 teaspoon garlic powder)
1 cup milk
1 cup chicken stock or broth or vegetable broth (can also use diluted bullion or if you don't have any use water)
1/2 cup Panko breadcrumbs (can use regular breadcrumbs, cornflake crumbs, or smashed up potato chips or crackers if you like – buttery style crackers like Ritz are great too)
1 cup shredded cheddar cheese (or other cheese you might have or like)
Directions
Grease a 13 x 9 casserole baking dish with oil, butter, or non-stick spray.
Preheat the oven  to 375 degrees F
1. Cook the pasta according to package directions for al dente (usually about 8-10 minutes)
2. Meanwhile, melt the oil or butter in a skillet the sauté onions and celery until soft (about 4 minutes)
3. Add garlic and cook until fragrant (1 to 2 minutes)
4. Put sliced mushrooms into the mix and stir until liquid evaporates. If you are using soup add now and skip the following step.
5. Add flour and stir until vegetables are coated. Add milk and stock, broth or water, alternating. Stir until mixture begins to thicken.
6. Add tuna and combine.
7. If using crumbs, melt 1 Tablespoon of butter and mix into crumbs.
8. Add peas and pasta to vegetable mixture, combine, and pour into greased pan.
9. Top with buttered crumbs and top crumbs with shredded cheese.
10. Bake at 375 degrees F for about 30 minutes or until topping is bubbly and brown.
Goes well with a nice little mixed green salad too!
We hope you enjoy these simple canned tuna recipes. We'll be publishing additional recipes using pantry staples to provide you with ideas for food that you can make at home while we all wait for the coronavirus to pass. But these recipes are delicious anytime, so keep them handy for whenever you like!
In the meantime, check out some of our other easy and tasty recipes like Santorini Tomato Keftedes
and Traditional Cuban Rice Recipe Moros Y Cristianos.
                                        Pin to your Easy Recipe Board on Pinterest