Our accommodations were hosted by Real Greece Travel, but all opinions and suggestions are solely personal. We only recommend what we personally like and experience. 
Where in the Heck is Piana, Greece?
Like many of you, we pride ourselves on finding destinations that are out of the ordinary, off the beaten, unique and memorable hidden gems. But even if we spent months scouring the broad array of diverse places to explore in the wonderful regions of Greece, it's unlikely we would have determined to visit the charming and under the radar village of Piana, Greece.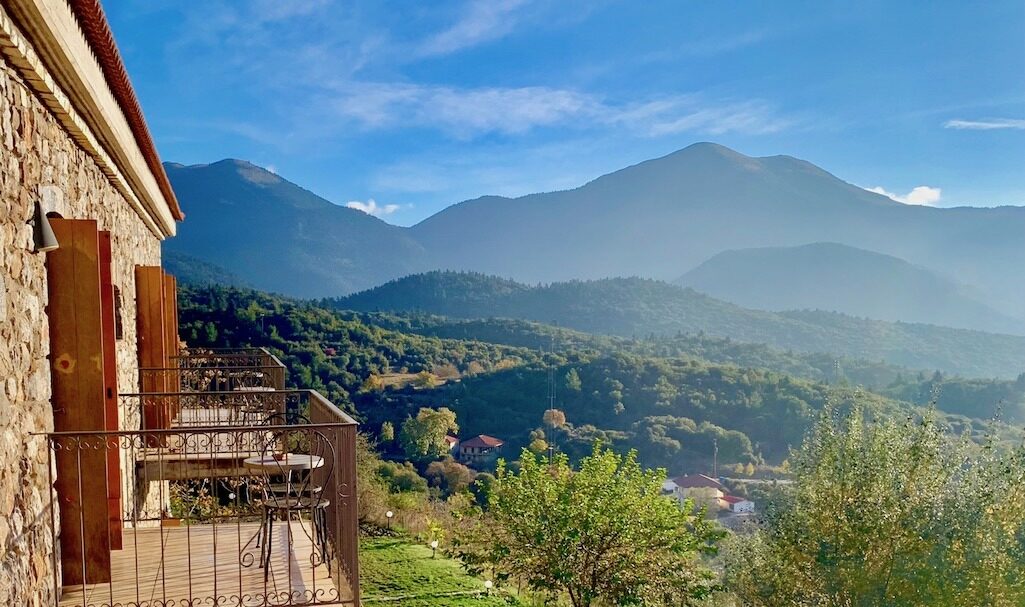 Fortunately, our friends at Real Greece Travel, are pros at finding just these type of real Greek experiences. When Carole and Basil met in Chicago and fell in love even they couldn't have predicted that they would end up owning multiple rental properties in Greece and becoming wonderful ambassadors of Greece for all their raving guests. What makes them perfectly equipped for this role is their love of Greece, their love of food, and of course their love of each other. Thanks to them we were introduced to Piana, Greece.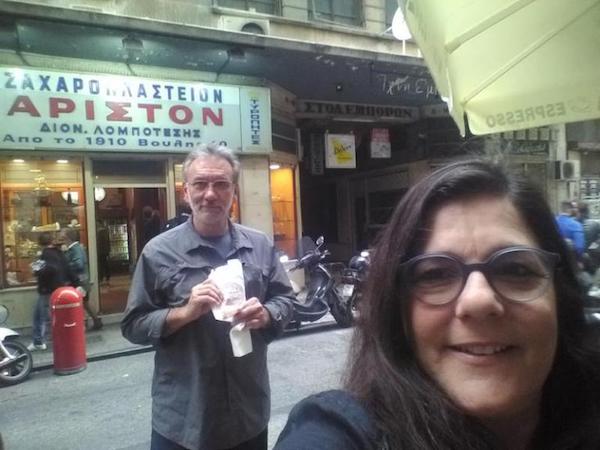 With only about 20 full-time residents, this tiny village in the Arcadia area of the Peloponnese is full of delights and surprises. We suspect that it is only known to those who have either happily stumbled on it while ambling around the great hiking of the area or, as in our case, have been introduced to it by knowledgeable locals with personal experience that they want to share with you.
Four Seasons of Greece
When many people think of Greece the images that come to mind are warm islands, blue waters, ancient ruins and the bustling metropolis of Athens. You may be surprised to learn that there are parts of Greece that experience four seasons and are so mountainous and even get snow in winter. Nestled into the Mainalos mountain range, Piana is such a place. And our fall visit provided us with yet another experience of the kaleidoscope that makes an authentic Hellenic experience so memorable and unique.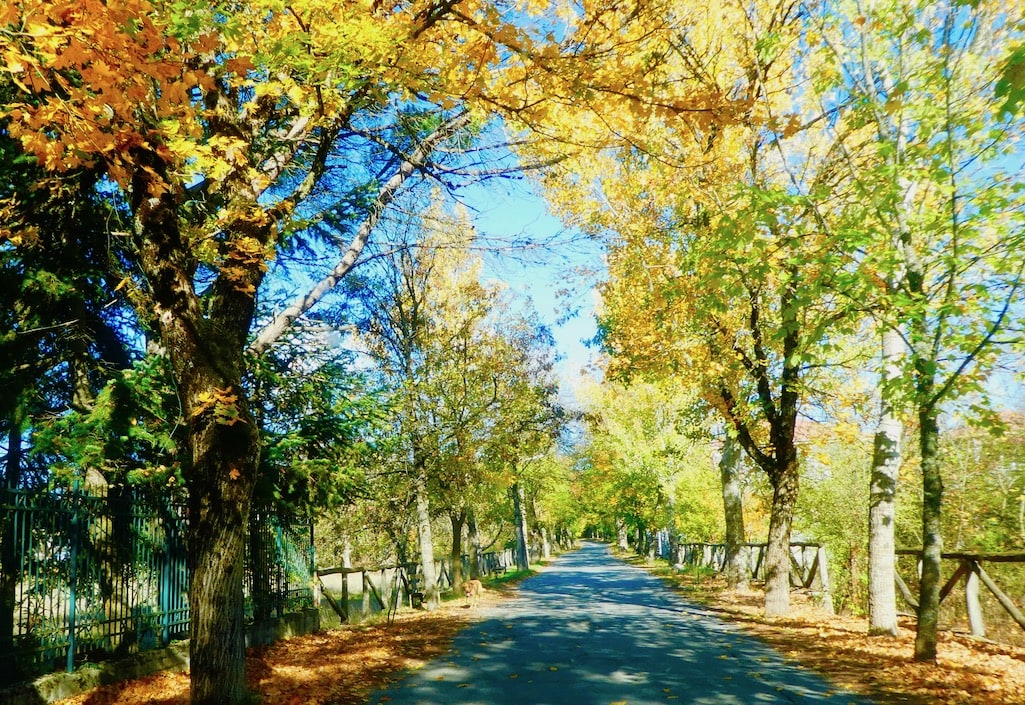 Hotel Papanikola in Piana, Greece
Although Piana is small, it has one thing that we most enjoy in any place that we visit. Wonderfully comfortable and welcoming accommodations. Here, the Hotel Papanikola fit the bill perfectly.
When you first arrive, you can't help but breathe a sigh of delight. The welcoming main area of the guesthouse is more like a giant rustic living room, complete with super comfy seating of all kinds, bookshelves loaded with interesting titles, and a wood-burning fireplace. No matter where you've been or how you got there, you'll want to plop down and relax for a while. It just feels like the thing you most want to do. Your bags will make their way to your room and you will check it out, but those sofas just beg to be lounged in right away.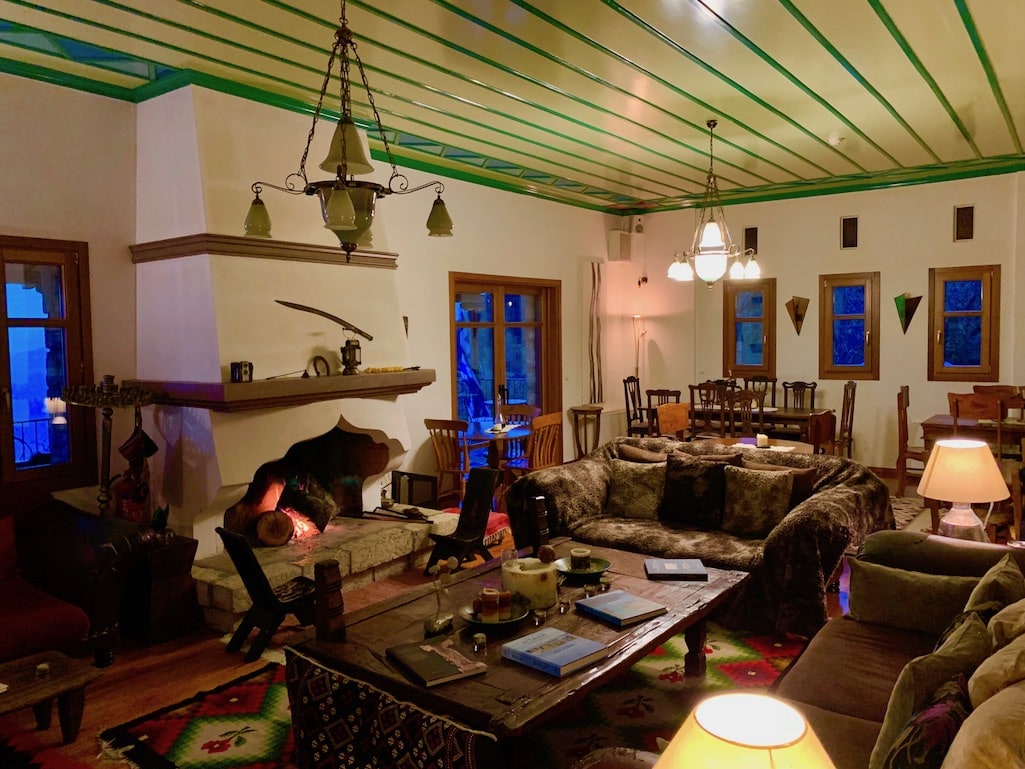 We were warmly greeted by Dimitris Triantafyllidis and his wife, proprietors of the hotel. Our hosts referred to them as "Athens hipsters," who came to support Demetris' uncle, who owns the property. They are delightfully low-key, manage your check-in efficiently and let you gently slide into the relaxing ambiance without missing a beat.
Special Spirit and Spirits
One of the other great features of the Hotel Papanikola is a very well-stocked bar that adorns one side of the main room. Rakomelo is a local libation, in the form of a warm alcohol shot that we came to discover and enjoy. It consists of Tsipouro, a strong distilled Greek spirit made from the pomace or residue of the wine press, similar to the Italian Grappa. It comes in two varieties, with or without anise flavoring added.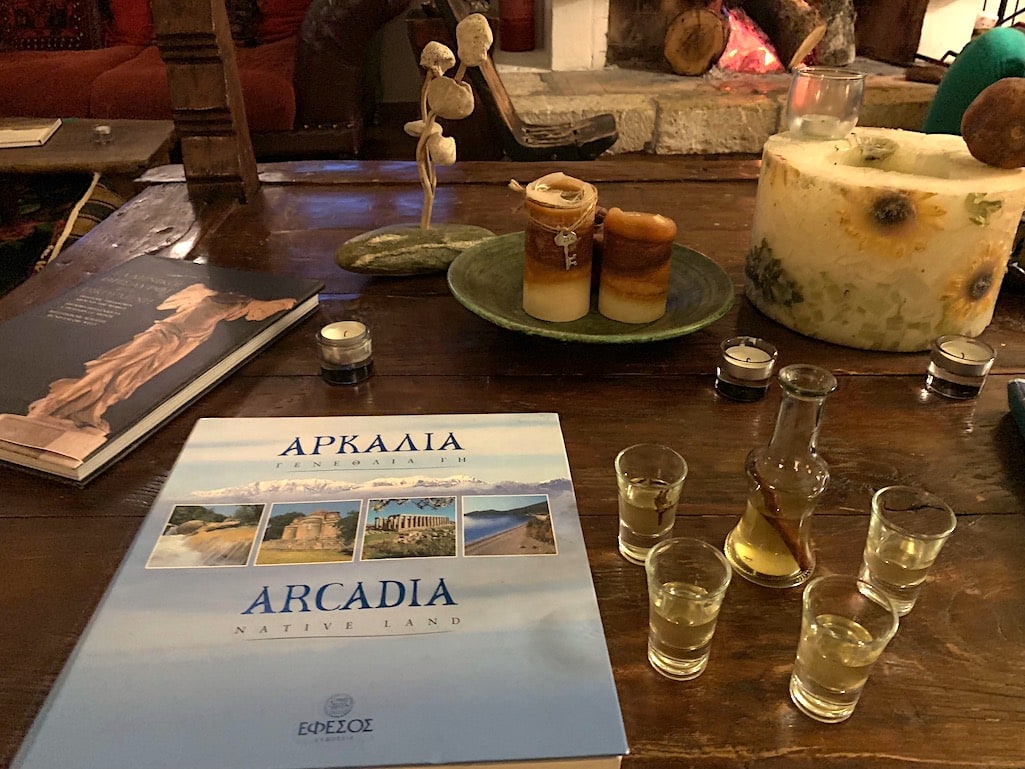 The Tsipouro is warmed and combined with honey, which is also a locally produced product and cinnamon or other local spices. This is a sipping shot drink rather than a shooting one. The Tsipouro has a high alcohol content of 40 or 45%, so together with the honey and spices, it will warm and relax you even in the height of winter. Full of antioxidants, we like to think that a little shot of Rakomelo has a health benefit, too.
We Went Nuts!
Another local specialty in the area is the walnut. We found a lovely bowl of shelled walnuts surrounded by a platter of whole walnuts in the shell waiting to accompany our Rakomelo. You will also find a plate of whole walnuts with a cracker and some lovely port wine sitting in your room if you want to relax by the fire in private. There are bags of walnuts available at the hotel, and Dimitris is developing a premium-aged Tsipouro that you might be lucky enough to snag for your journey home if your timing is right.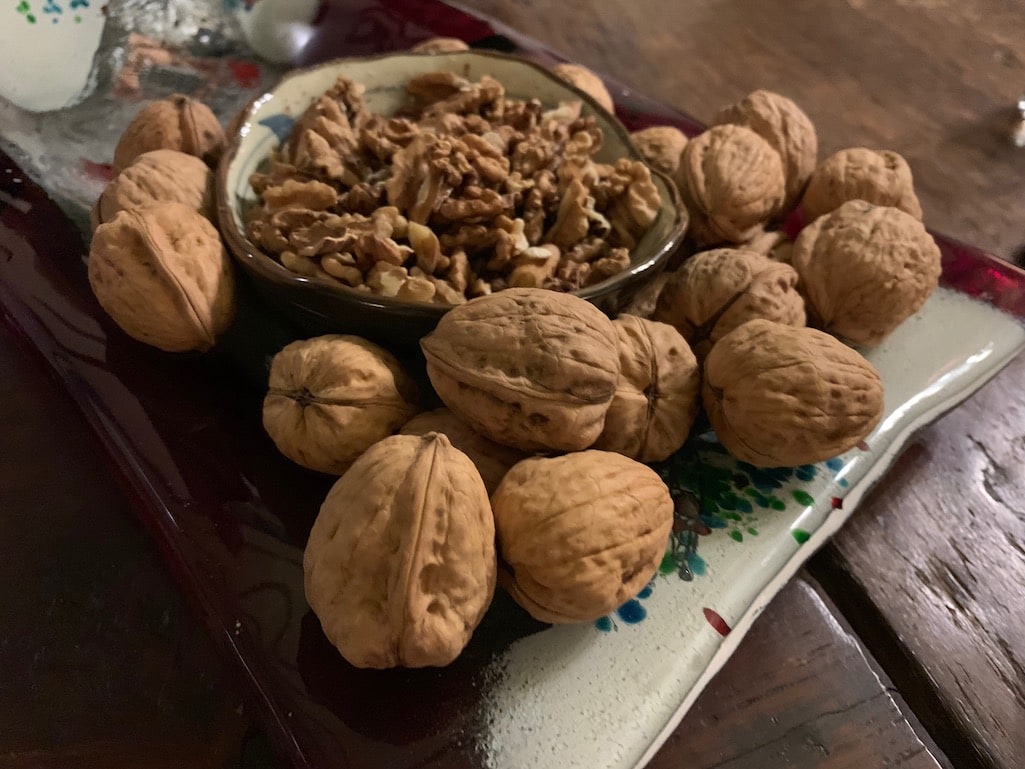 Start The Day Right
You will notice that the dining area is part of this great room and there you can enjoy a traditional breakfast, looking out at the beautiful mountains.
You are welcomed in the morning with the smell of fresh baked bread and pastries. Wash it down with freshly brewed coffee or tea. Since Sue is a tea lover, she loved Hotel Papanikola's tea menu and couldn't wait to try the local mountain tea, which is thoroughly enjoyed.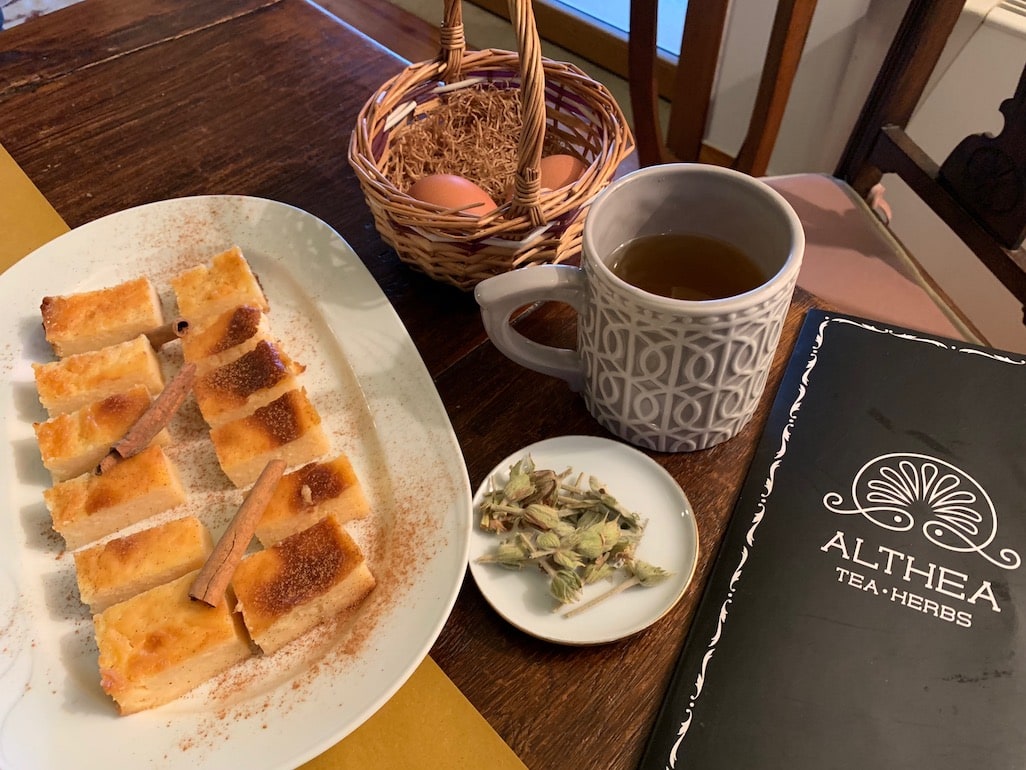 Fresh bread and toast, meats and cheeses, and farm-fresh eggs will be brought out when you are ready. They also provide homemade jams and honey and sweets like freshly baked orange cake or French toast. Your day will start out feeling like you belong to an exclusive club of Greek insiders when you take in the local hospitality, peace, and beauty of this place.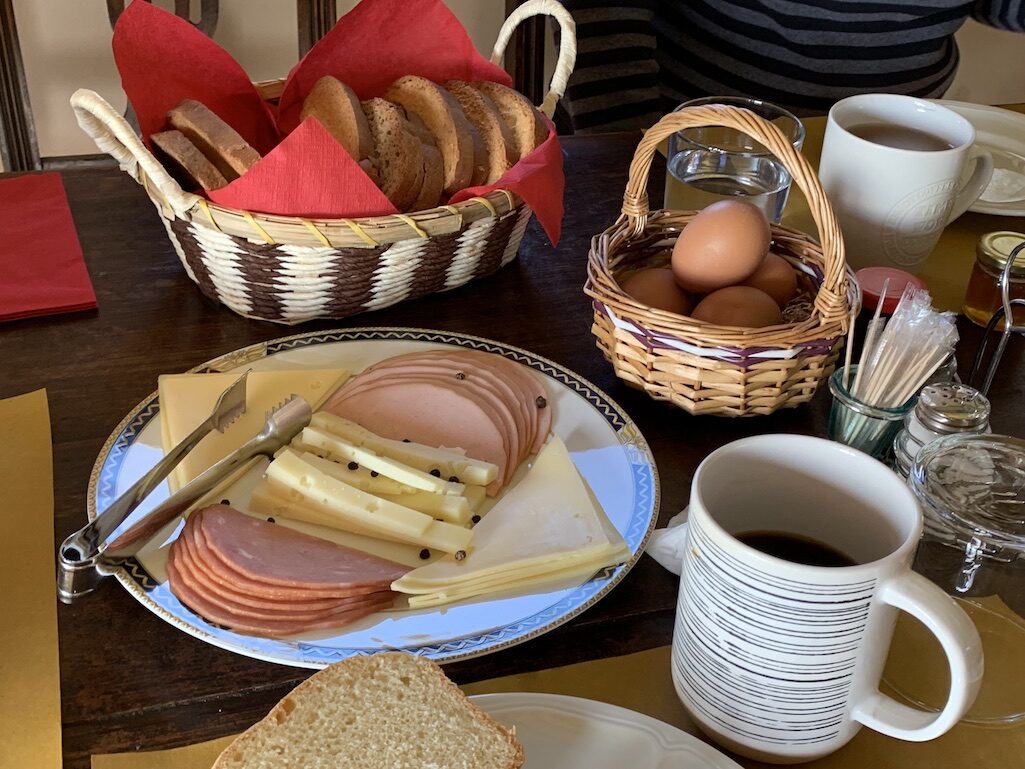 Comfortable Rooms and Great Views
The rooms are comfortable, offering a rustic chic that doesn't feel forced. Each room offers a private balcony for you to enjoy the wonderful view. Comfortable beds, mini-fridges with minibar, stereo, and a safe for your valuables and private baths all come standard. There are 8 rooms and 2 suites, with one accessible room for those with special needs. If you bring the kids along, they have a playroom complete with table tennis and other fun stuff to expend that boundless energy. There's free wi-fi on the premises as well, but it can be spotty and we recommend that you relax and enjoy the peaceful surroundings anyway.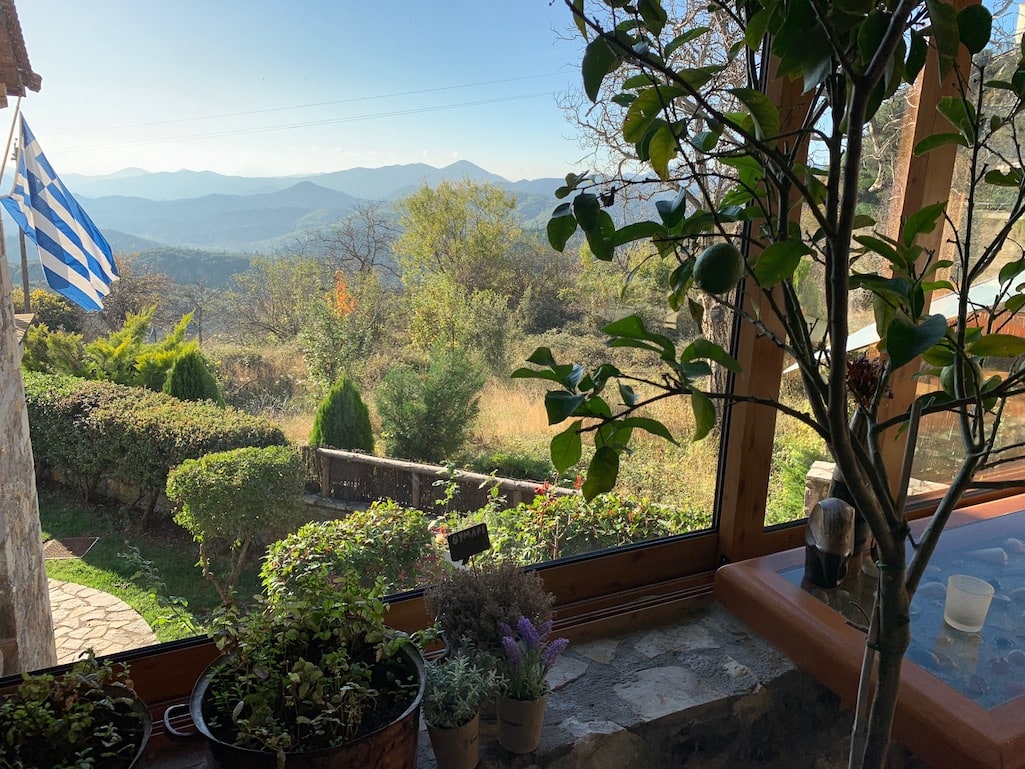 Food Glorious Food
While you can wine and dine yourself happily at the hotel, you'll also want to explore dining options nearby. No matter what time of year you visit the area, you'll find local food seasonally prepared and deliciously fresh.
The Paradosiaki Taverna offered us some unique twists on familiar tastes. We started with a ridiculously delicious pita bread stuffed and baked with feta cheese and some of our favorite garlicky tzatziki spread. This was followed by a light mutton broth that we laced with a squeeze of fresh lemon. The mutton used to make the broth and some roasted lamb was served with fresh fried potatoes, the sort of food that you think, "Oh, I couldn't possibly eat anymore," and then you do.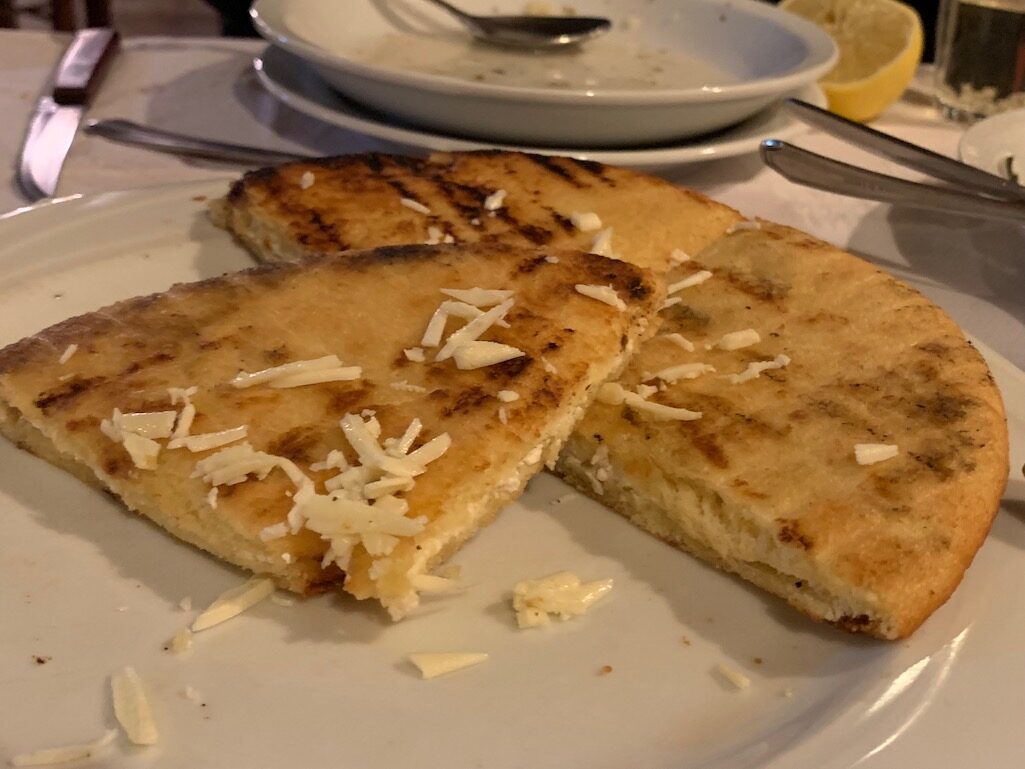 We also enjoyed some cooked local horta greens, which our host Basil expertly prepared with salt, pepper, and lemon. And we discovered that the typical "Greek salad" of tomatoes, cucumbers, and onions that is so ubiquitous in summer is replaced by a winter salad of cabbages and carrots, equally light and refreshing.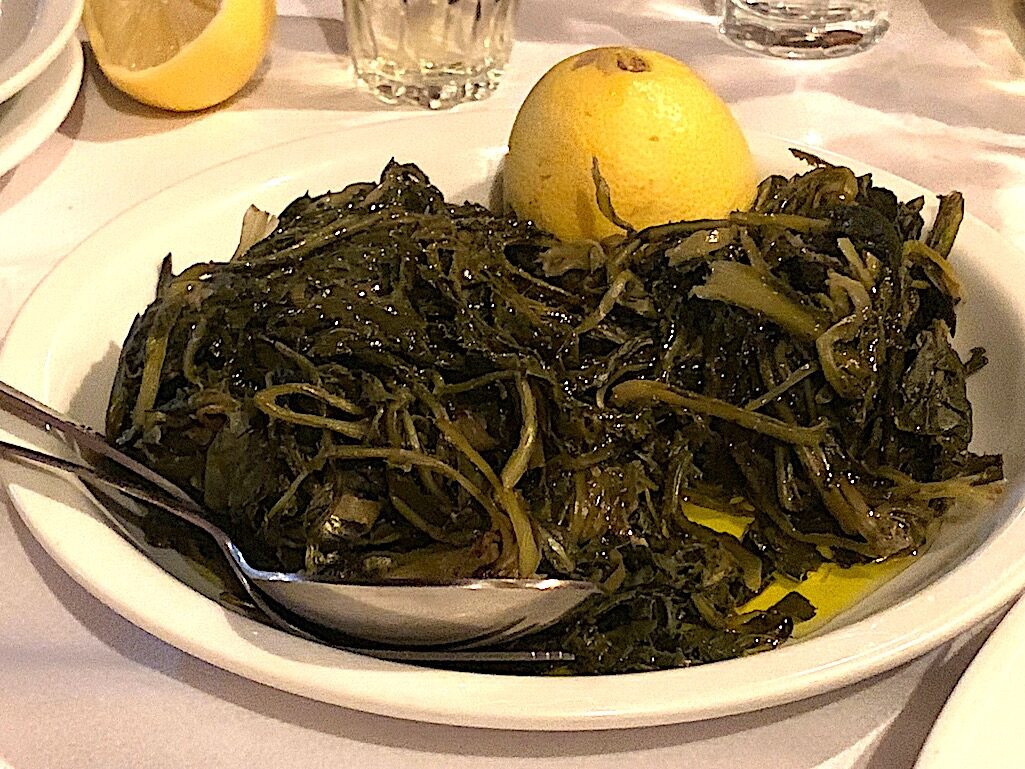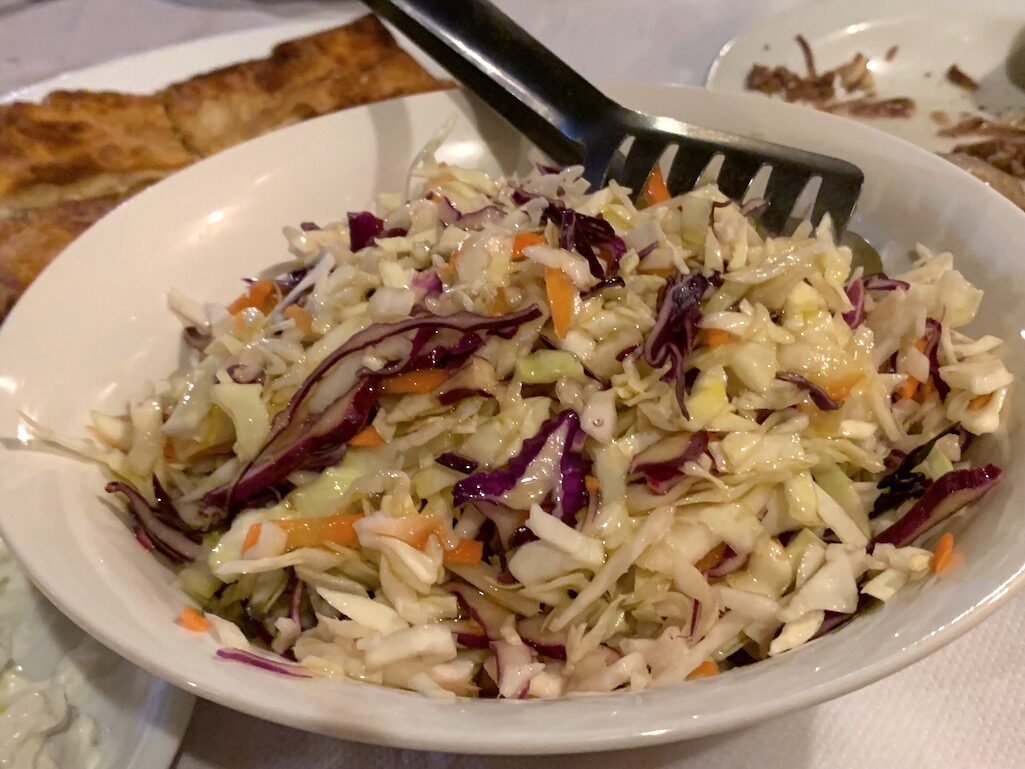 Other yummy dishes included a baked "pita," or pie, of cheese wrapped in delicate dough, baked and served warm and a unique plate combining roasted pork and eggs. We smartly finished off our lovely but substantial meal with a big platter of fresh local fruit.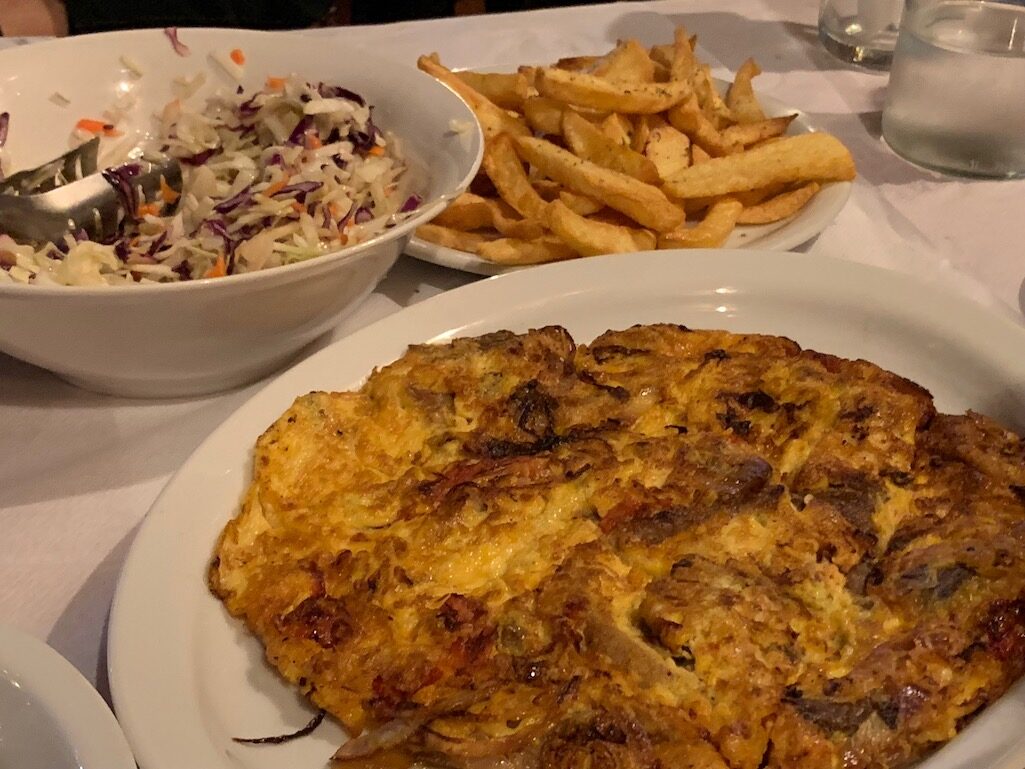 A Meal Like Grandma Makes
One of the special things about traveling with hosts that know the local area so well is that they also know the local residents. In our case, our host Basil from Real Greece Travel knows a special lady in Piana, Greece who treats him – and those of us with him – like family. In fact, the night we visited Mrs. Toula Basil's cousin happened to be eating there too!
Mrs. Toula is one of the full-time residents of Piana, and she has a small restaurant where she treats visitors and locals alike to real "YiaYia" (grandma) style meals. We visited her one evening and immediately knew that we were in for a meal that was not only prepared with fresh, local and seasonal ingredients, but also with heavy doses of love and care.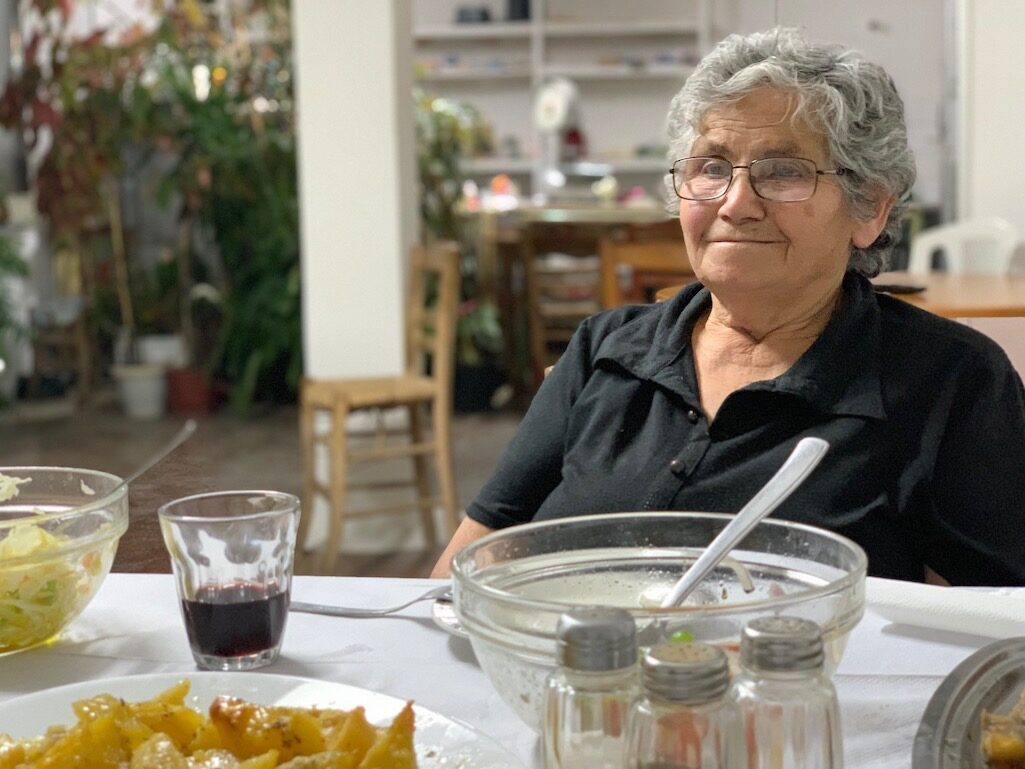 We enjoyed abundant servings of Greek salad (both regular and winter versions), feta cheese made by a local cheesemaker, freshly baked bread, oven-roasted pork, and delicious heaping platters of local potatoes baked with olive oil, oregano, and lemon. Basil brought along a bottle of wine from one of our winemaker visits to make our meal complete.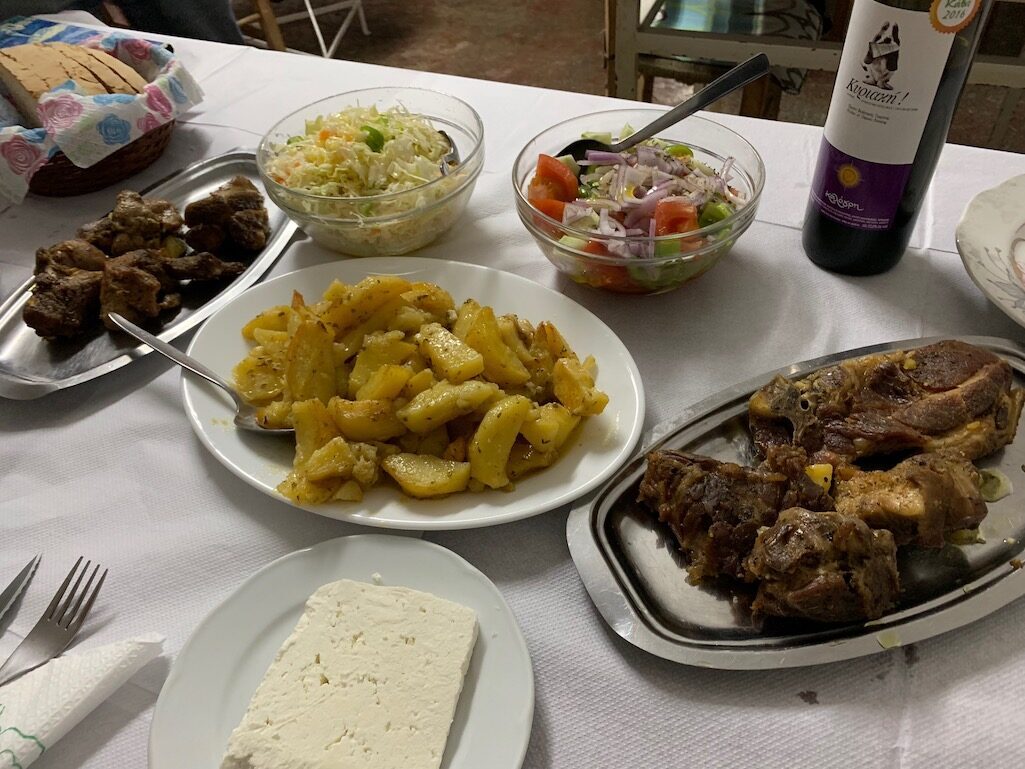 It was fun for us to have a meal prepared by such loving and skillful hands. Mrs. Toula shared stories and personal experiences with us as well. One of the great joys of travel is getting to experience the local culture and meet the real people that populate the destinations you visit. For us, dinner with Mrs. Toula was the best of that experience, and one we won't soon forget.
But Wait, There's More
If you'd like to learn how to make any of the local specialties, you might be able to get a lesson from Dimitris and friends as we did. We were treated to a cooking class on how to make a traditional leek and onion-filled pita known as "Prasopita." Before you worry that it's a difficult or time-consuming process that is beyond you, trust us, it's not. It just takes a little attention and care but is well worth the effort. Below is the recipe and instructions. And we include a photo or two so you can see the progress as you move along. This is one of those recipes that is as authentic as they come. We ended up eating ours for dinner that night and went to bed with full tummies and happy memories.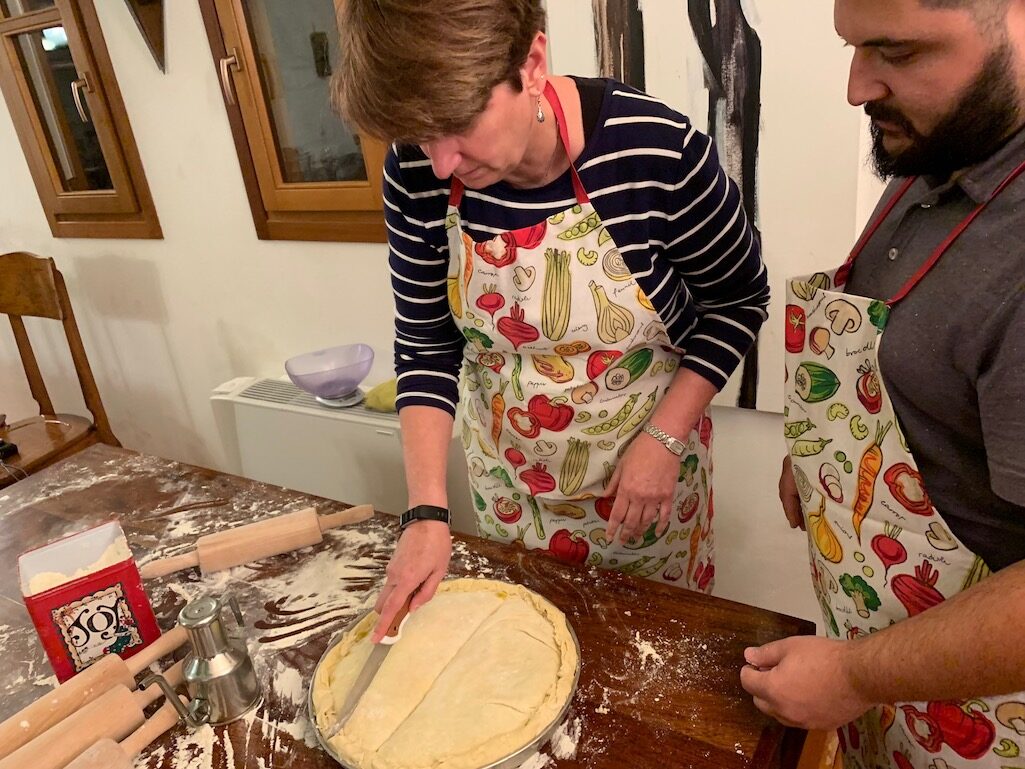 Recipe for Hotel Papanikola Prasopita
Ingredients for the Filling
Prepare ahead of time and let come to room temperature.
800 gr (4 cups) cleaned, sliced leeks
800 gr (4 cups) sliced onion
Olive oil for sautéing
White wine for deglazing
Salt & pepper to taste
1 cube Knorr vegetable bouillon
2 Tablespoons of all-purpose flour
2 eggs
2-3 Tablespoons Greek yogurt

Directions
Sauté the leeks and onions in a large skillet with plenty of oil (do not let it be dry) until soft.
Add some wine to the pan and scrape the brown bits in the pan into the liquid (deglaze) and add the salt, pepper and vegetable bouillon cube, combine.
Remove from the heat.
Add the flour and stir until mixed well.
Let the mixture cool to room temperature.
Once cooled, add eggs and yogurt and mix well. (If making a Vegan version, you may omit the eggs and yogurt).
Ingredients for the Filo Dough for 6 sheets of filo.
800  gr (4 cups) all-purpose flour
5 gr (1 teaspoon) salt
10 gr (1 Tablespoon) sugar
30 gr (3 Tablespoons) butter
300 gr (1 1/4 cups) water
30 gr (3 Tablespoons) wine vinegar
90 gr (9 Tablespoons) olive oil
Directions
Add all the ingredients into a stand mixer with a dough hook and blend until mix well. Or, add all ingredients and blend by hand, kneading gently but not overworking the dough.
Divide into 6 pieces.
Let rest for 10 minutes.
Brush a generous amount of olive oil on a 10 cm/4″ deep 30-40 cm/ 18-20 inch pan.
Start working the dough and add flour until it no longer sticks to your fingers or the board. Roll out the dough evenly to 2 mm/ 1/8 inch thickness.
Loosely wrap each dough layer on your rolling pin (a broom handle is traditionally used) to transport to your pan. Unroll your dough onto your pan, letting it fold over the edges.
Press the dough into the bottom of the pan, making sure to get the corners down.
Brush the layer of dough with olive oil and repeat the process 2 more times so that you have 3 thin layers of filo dough on the bottom of the pan.
Add the cooled filling on top of the dough layers and spread evenly.
Add 2 more shots of filo dough on top of the filling, brushing with olive oil in between the sheets.
For the third and top layer, you can make small folds for purely cosmetic purposes, or just layer on top as you prefer.
Pinch together all of the edges of the filo dough that are overhanging the pan and cut with a sharp knife, leaving about 2 cm/ 1 inch of the excess over the edge of your pain.
Pinch and fold in a braid to seal tight the edges of the dough around the top.
With a sharp pointed knife, cut the top layers of the oil into 10 cm/ 4-inch squares. (Hint: It may be easier to cut if you place in the freezer for about 10 minutes before cutting).
Optional: You can brush egg white on the dough if you want to have a shiny top.
Bake in convection mode at 175 Degrees Celsius /350 Degrees Fahrenheit for about 1 hour. Rotate the pan every 20 minutes to cook evenly and check as you go along for doneness as ovens vary.
If the top is not quite golden brown, you can turn on the broiler for a minute and watch carefully. If your top browns too quickly, cover loosely with aluminum foil.
Remove from the oven and let stand for 10-20 minutes before serving. You can also serve it at room temperature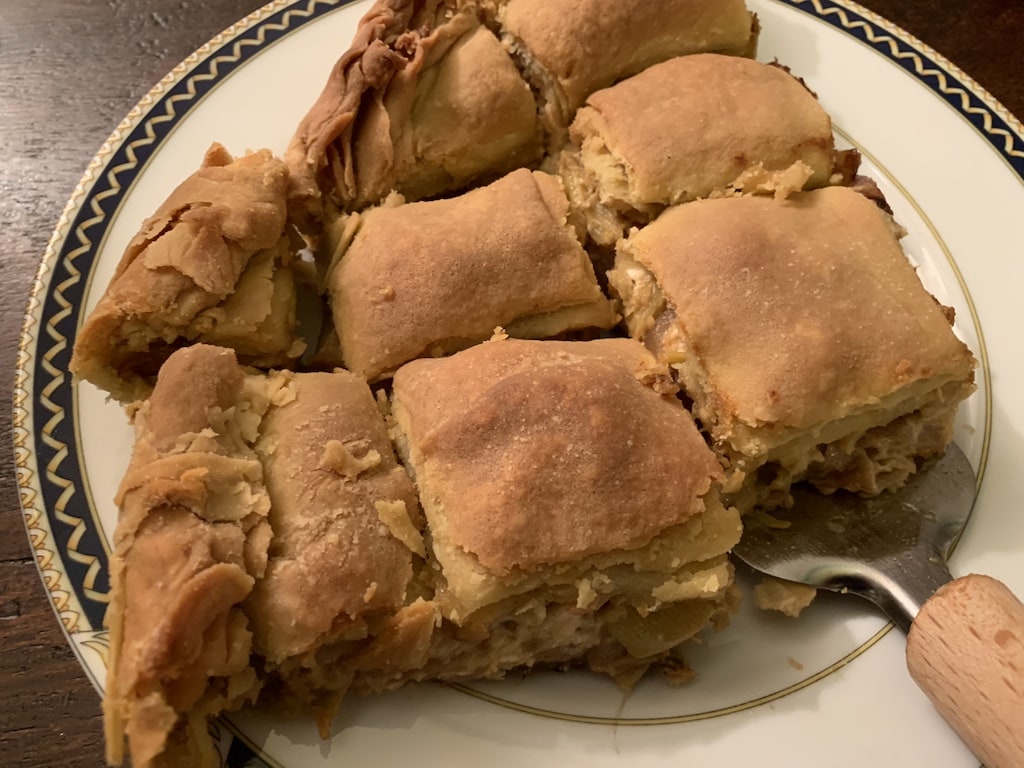 A Place in History
While we love the food and drink in Piana, Greece, this mighty tasty village also has some wonderful historical and cultural highlights too.
For you history buffs, you might be interested to know that Piana played an important role in the 1821 Greek Revolution. Because it was difficult to access, the Armatoloi and Kleftes, Greek freedom fighters, were able to hole up there and provide support to the Greeks' fight for independence from Turkish domination. They were first organized in this area by Theodoros Kolokotronis, and statues of the military hero still stand in the village. National bakeries in Piana also provided bread for fighters during the conflict.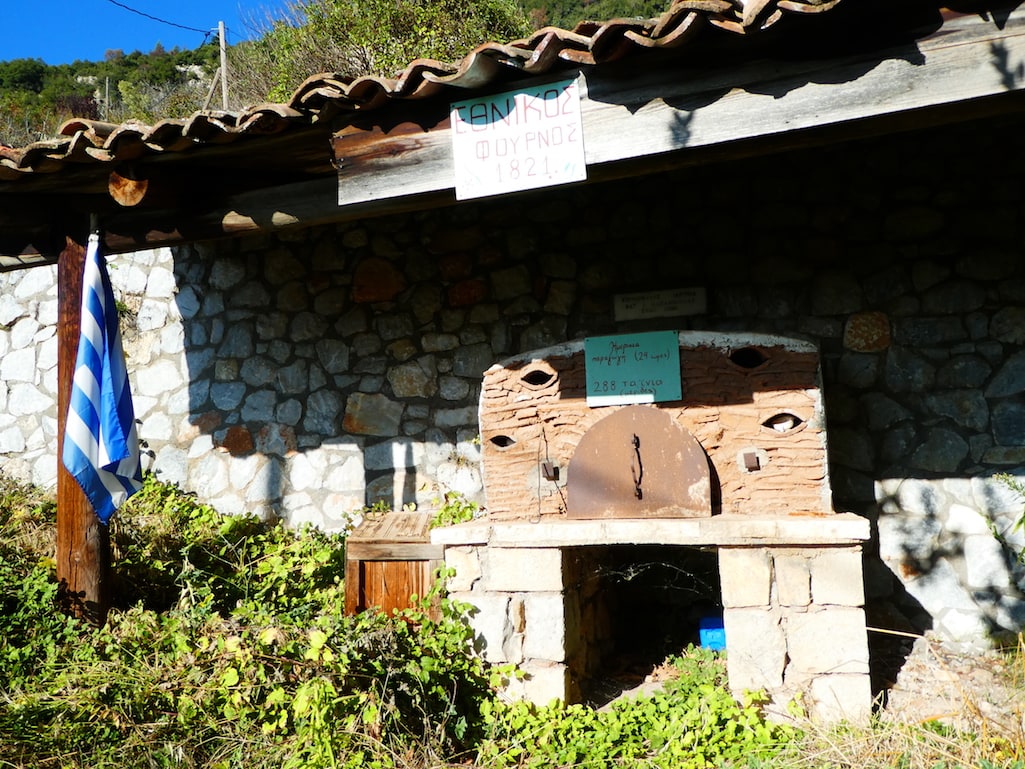 Mythological Importance
The name Piana may strike a chord with the musical mythical character of Pan, the half-goat half-man who was said to live in a cave above the village. The mythological Pan is the god of the wild, shepherds and flocks, rustic music and even fertility and spring. One of the famous myths associated with Pan is that he pursued a certain nymph named Syrinx, who tried to flee his affections. To aid her in her escape, her fellow nymphs turned her into a reed, the type of which can be found abundantly in the area. The legend goes that Pan was still taken with her and because he didn't know which reed she was, he cut the reeds into several pieces. In his grief, he kissed the reeds and discovered that his breath created sounds and fastened them together side by side to create a musical instrument, which he then kept with him all the time. We know this instrument as the Pan Flute or Panpipes, also sometimes called the Syrinx.
What Else to See and Do
There's a small folklore museum in the village square where you can explore some of the agricultural life and traditions of the local area.
And, one of the most important fixtures in the village is Aigios Giorgios (St. George) cathedral. You can see it from just about every vantage point in the village as it sits atop a rocky overlook.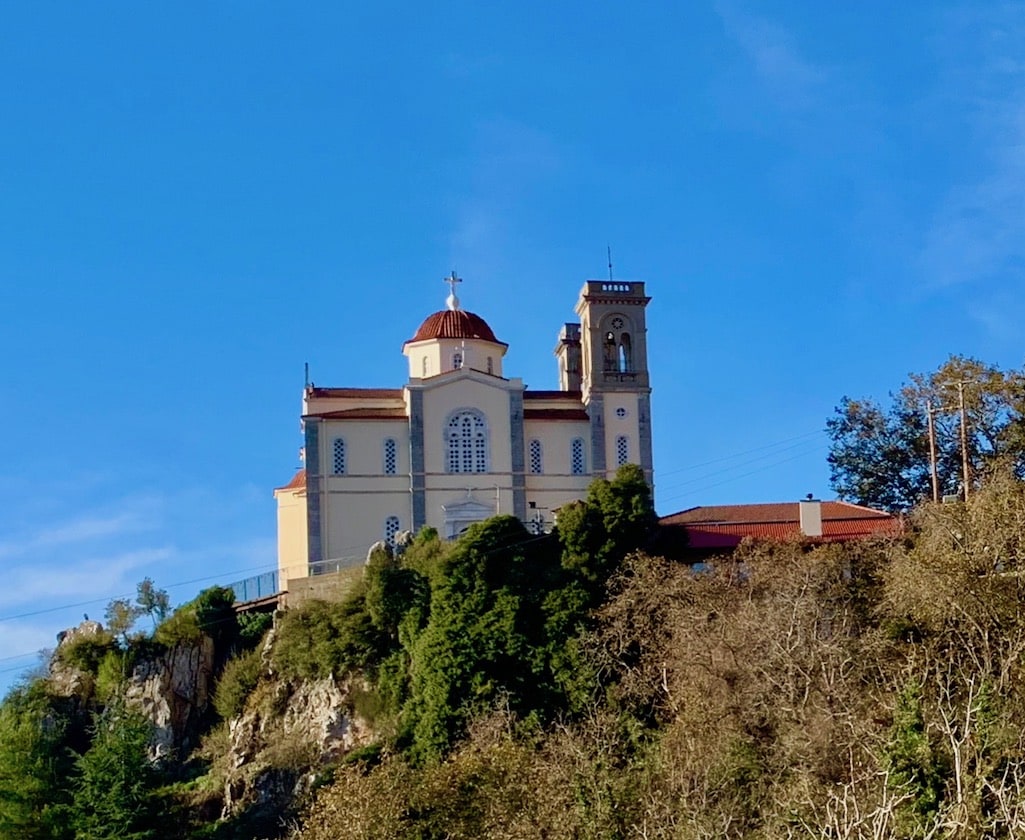 There's also another small church in the village known as the Panagia Polykameni. Originally the Church of the Virgin Mary (Panagia), the Turks had burned it so many times that it was Polykameni (many times burned) was added to its name.  The church grounds still house an oven used to bake bread for the Greek military during the revolution.
There are also lots of other small villages and towns near to Piana, which is less than half an hour from the capital of the Peloponnese region, Tripoli.
Tiny but Mighty Tasty in Piana, Greece
If you've been to Greece and think you've seen it all but haven't been to Piana or some of the other interior regions, we'd like to let you know that you have much still left to explore. This tiny village in the heart of the Peloponnese is home to some of the most beautiful scenery, warmest people and unique history of Greece. We loved our visit to this hidden gem and would highly recommend you consider adding it to your future plans for uncovering even more of the many diverse experiences waiting for you in Greece.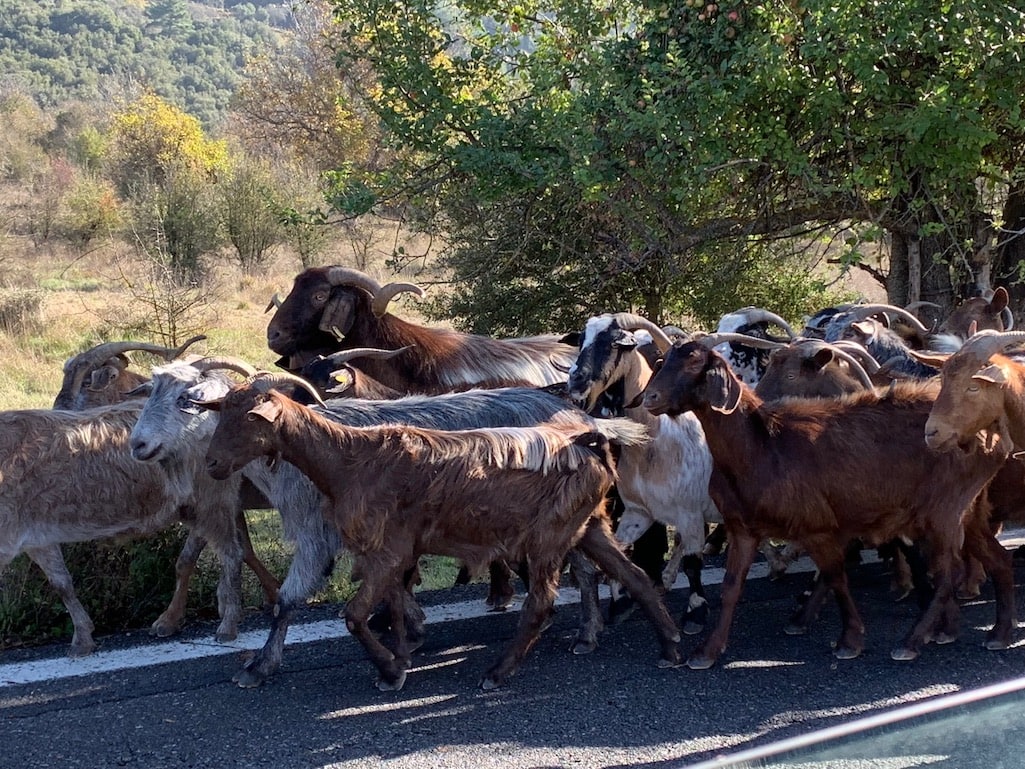 If you're looking for help planning a visit to Greece check out Carole and Basil's website RealGreece.com for information about accommodations, day trips and much more.
And for more information on the hotel visit HotelPapanikola.gr.
Pin To Your Greek Travels Board