16 Best Ever Christmas Markets That Will Blow Your Mind
My favorite time of year is almost here. That time from the end of November until Christmas when Christmas and Holiday Markets happen all over the world. I am so grateful to be able to say that I've been to my fair share of these markets. I've visited Germany, Austria, Hungary and even some in the good old U.S.A.
If you haven't been to a Christmas Market or Christkindlmarket as many are called let me explain why you need to change that. First off, whether you celebrate Christmas or not these markets are sure to put you in a fun-loving spirit. Sparkling lights, hot-spiced wine, grilled food and frankly just being outside is sure to make you smile.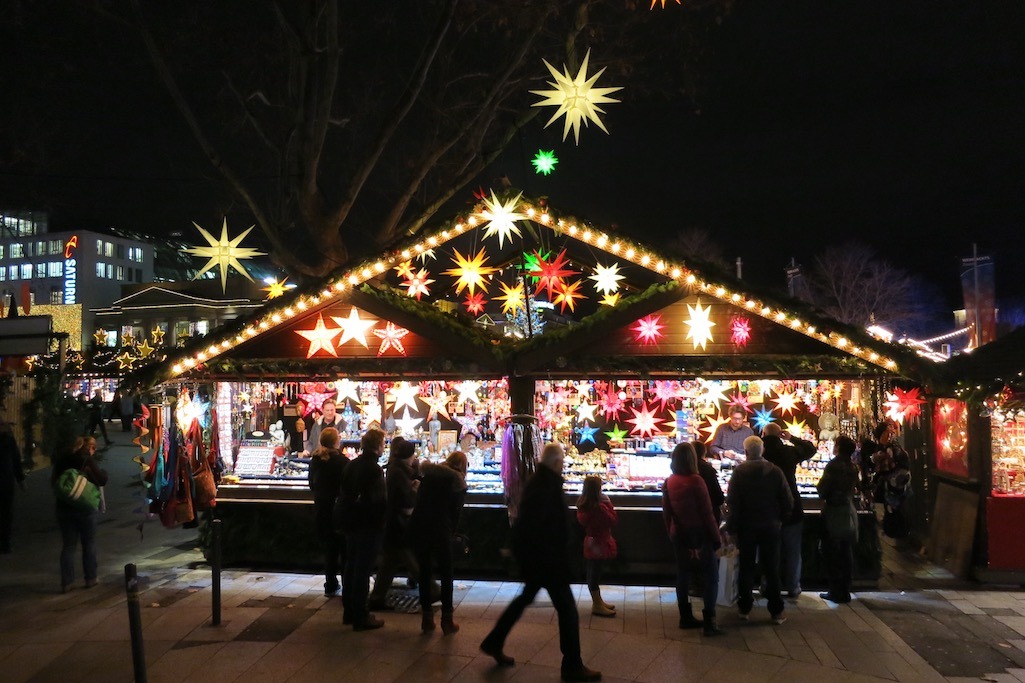 Many countries in Europe have a long history dating back to the late Middle Ages of hosting such markets. Whether they're called a Christmas market, Christkindlmarket, Christkindlesmarkt, or Weihnachsmarkt they all celebrate the four weeks of Advent that lead up to Christmas. They may have originated in Germany but you can definitely find them throughout Europe and on other continents as well.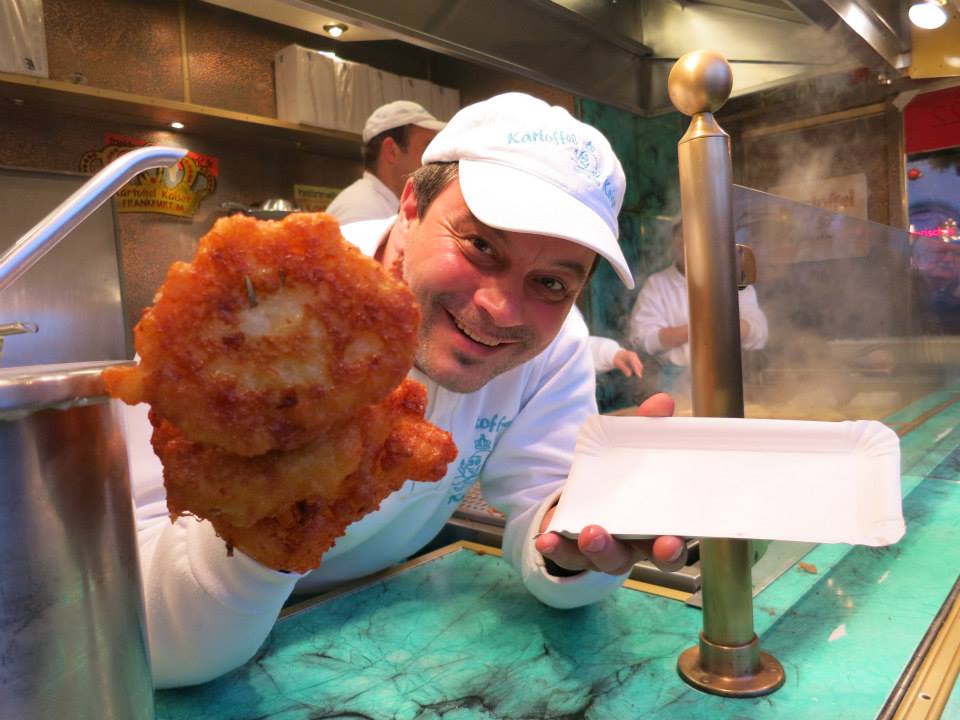 While the argument of which town had the first Christmas market goes on and on the town most likely to hold that spot is Dresden, Germany. Their Striezelmarkt is said to have begun in 1434. Rather than bicker about who was first, I say go to as many as you can. There are hundreds of markets throughout the world to choose.
Many large cities like Berlin have up to 60 markets going on throughout the town. Frankfurt's Christmas Markets seem to wind down every street. Every corner you turn brings something new and tasty.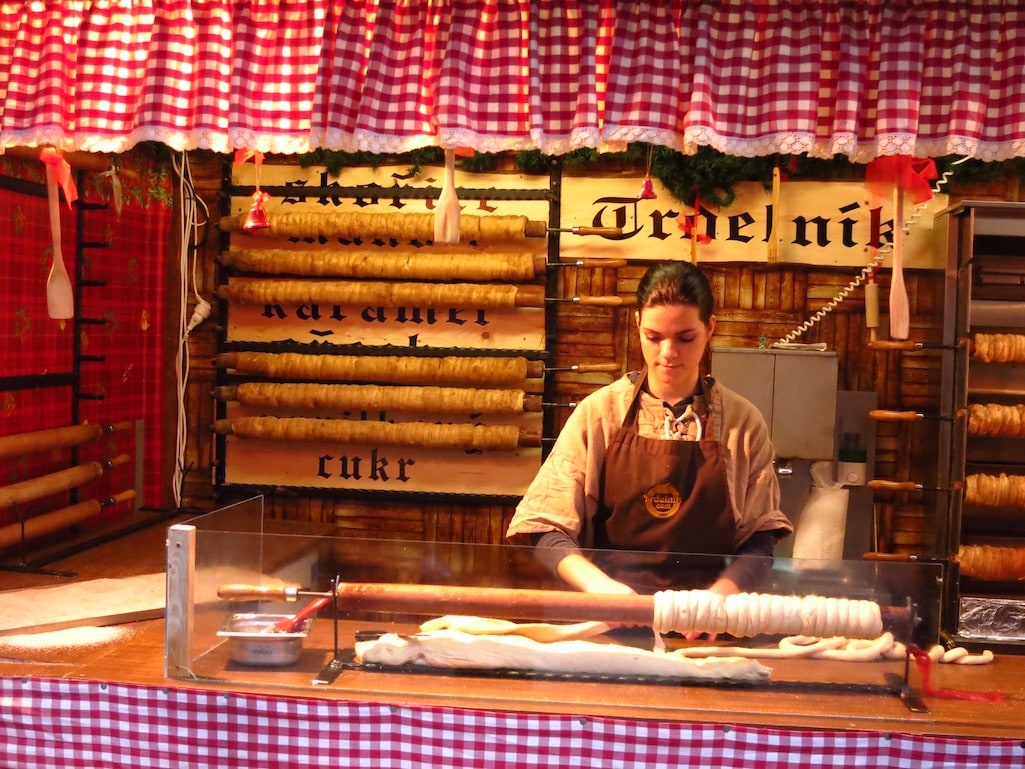 My all-time favorite thing to do at a Christmas Market is to have a steamy mug of glühwein. Those who know me well know that I've been collecting these colorful little mugs since who remembers when. When we moved this summer I had to pack three entire boxes just filled with glühwein mugs. But that's a whole other story…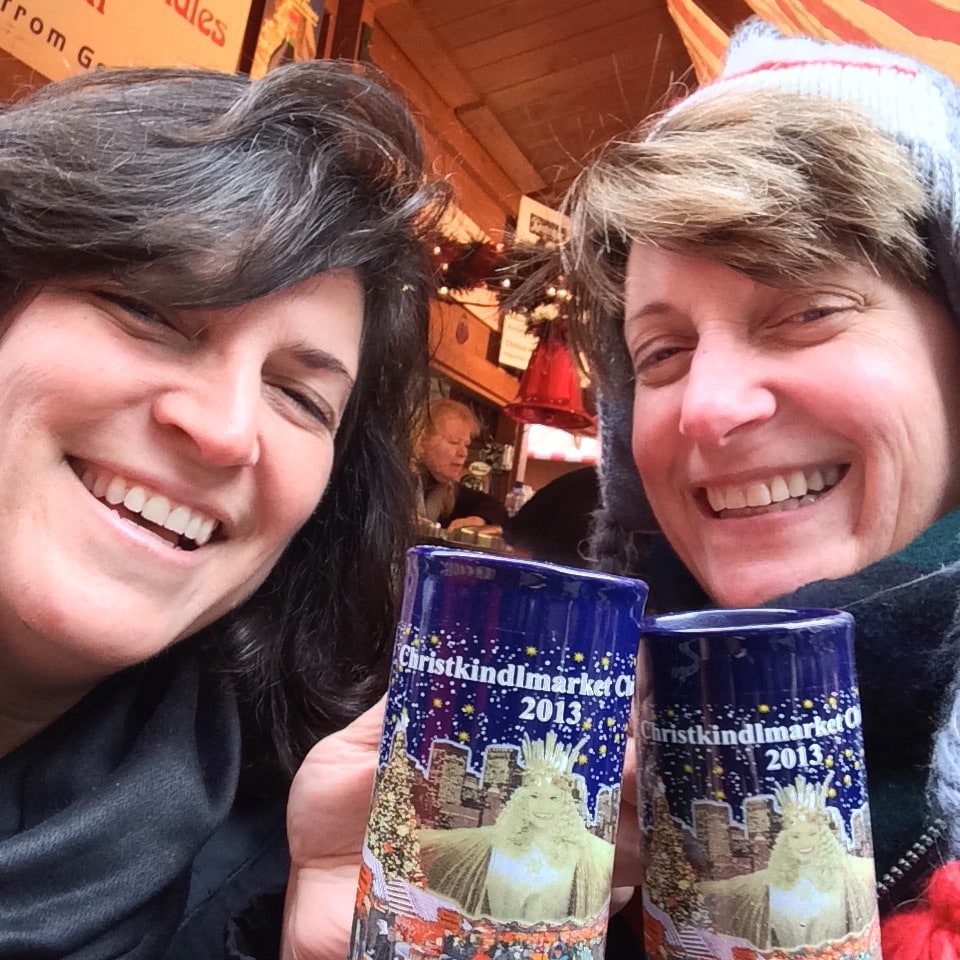 What is gluhwein you might ask? Gluhwein is hot mulled wine seasoned with spices. Although the best gluhwein comes from Germany (in my humble opinion), you may find gluhwein at each market you attend, so you be the judge. If it's really cold outside, I'm a fan of adding a little extra kick with a shot of kirschwasser (cherry kirsch) or apple schnapps. Either way, it's bound to make your cheeks a little rosy.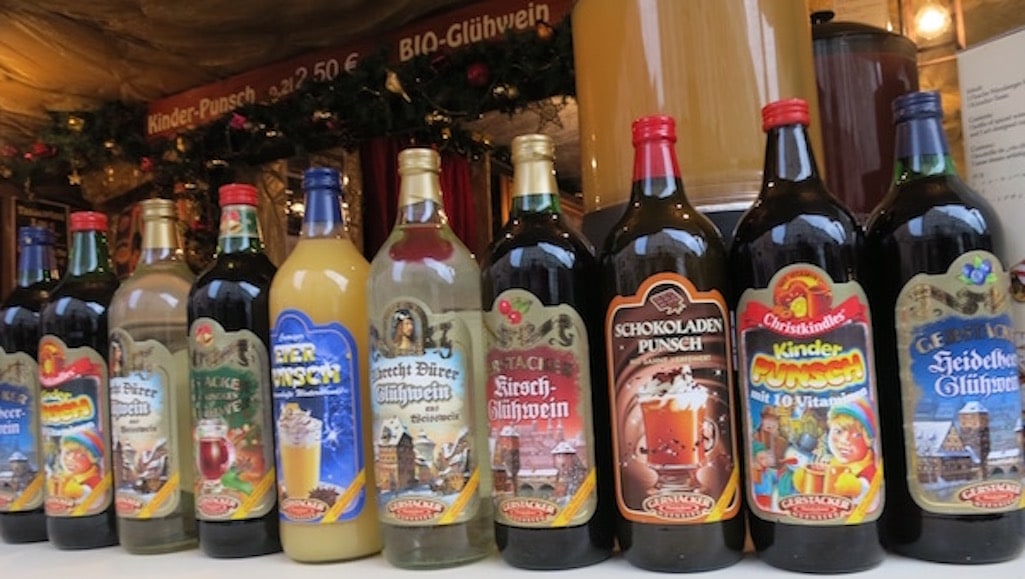 There's also a lot of food to try at the Christmas Markets. As with the glühwein, every market has its specialties. Keep your eyes and nose open for the long lines and great smells for a sure bet that something tasty is around the corner.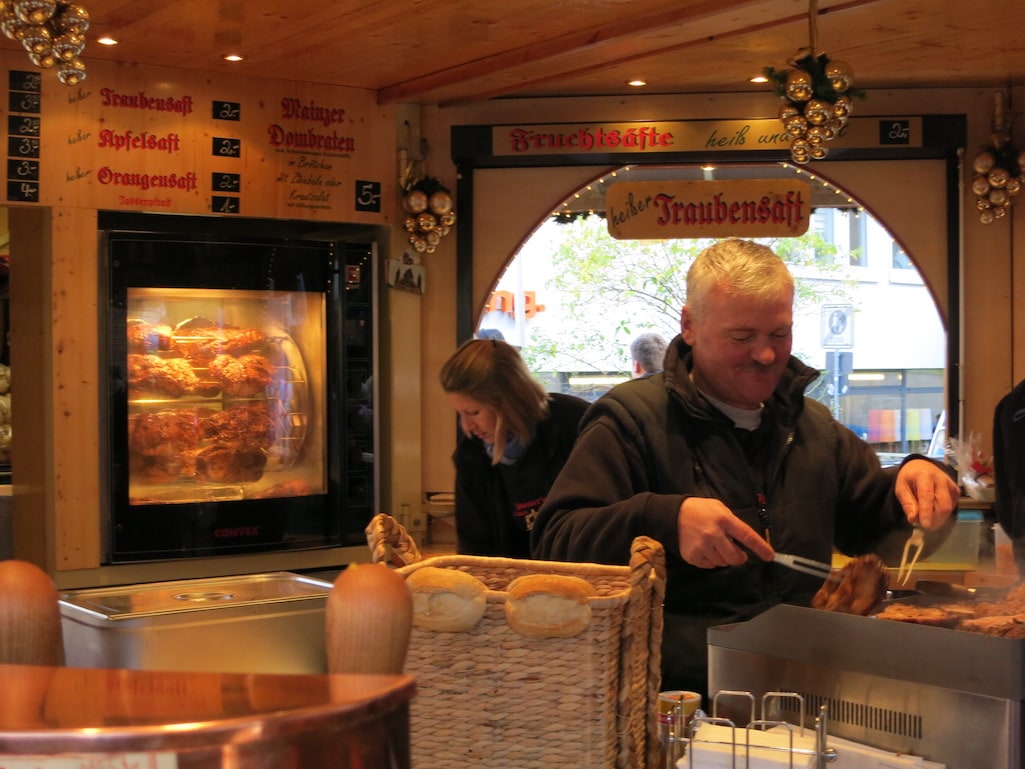 There are also games, rides and lots to do for the kids so you'll see many local families enjoying the markets together. They also use the markets to buy gifts for the holidays. You'll find handmade crafts, toys, ornaments and unique one-of-a-kind items that make great gifts and souvenirs.
Here are just some of the places you can experience an authentic Christmas Market.
BEST EVER CHRISTMAS MARKETS 
Frankfurt, Germany
This was one of my first Christmas Markets and if you need a place to start this is one is a winner. Not only does the market take over the whole city but the outstanding train service in Germany makes it possible to see many other markets in the region that are just a short comfortable train ride away. On our visit we made Frankfurt our hub and also visited Mainz, Wiesbaden and Rüdesheim.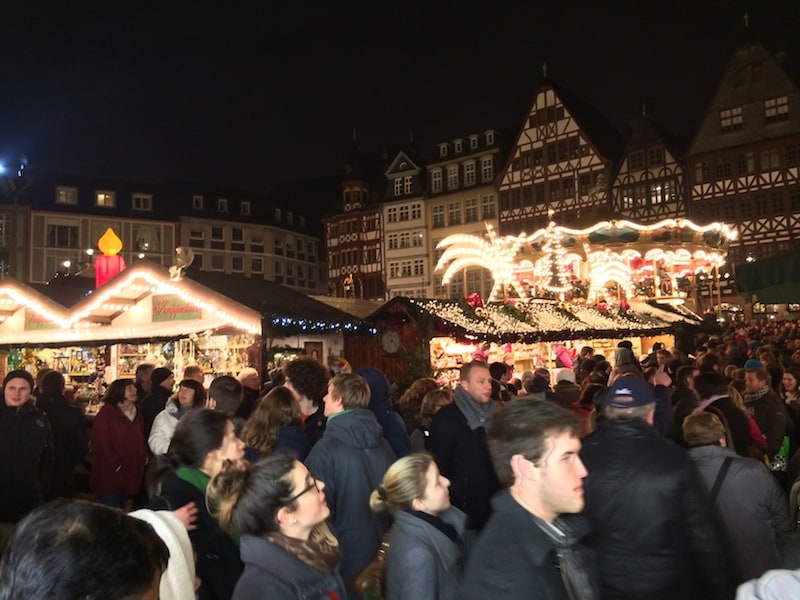 Make sure to pace yourself. Wander around and check out as many vendors as you can before making your decisions on where to eat and drink. We like to share snacks as we explore that way we get to taste many different dishes and work off a few calories to make room for even more goodies!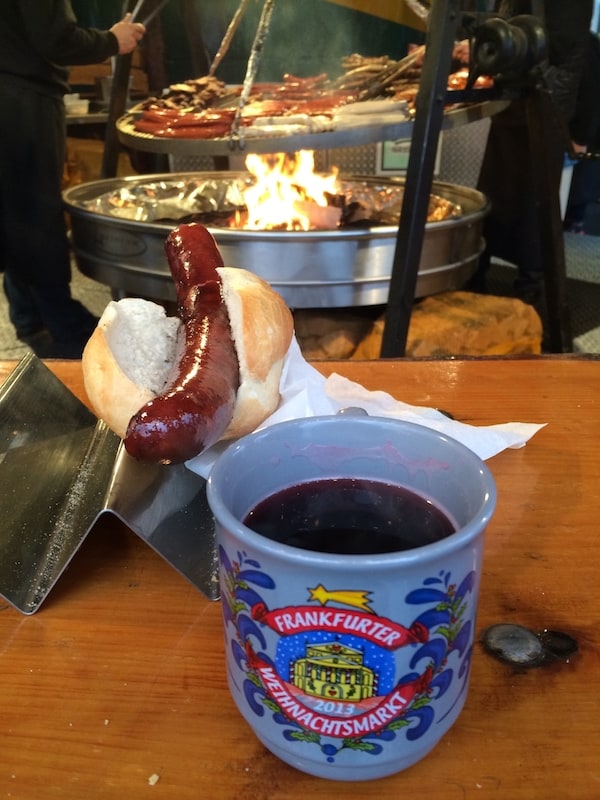 Be sure to grab a mug of glühwein as you wander around. Nothing keeps you warm on a cold winters day like warm mulled wine.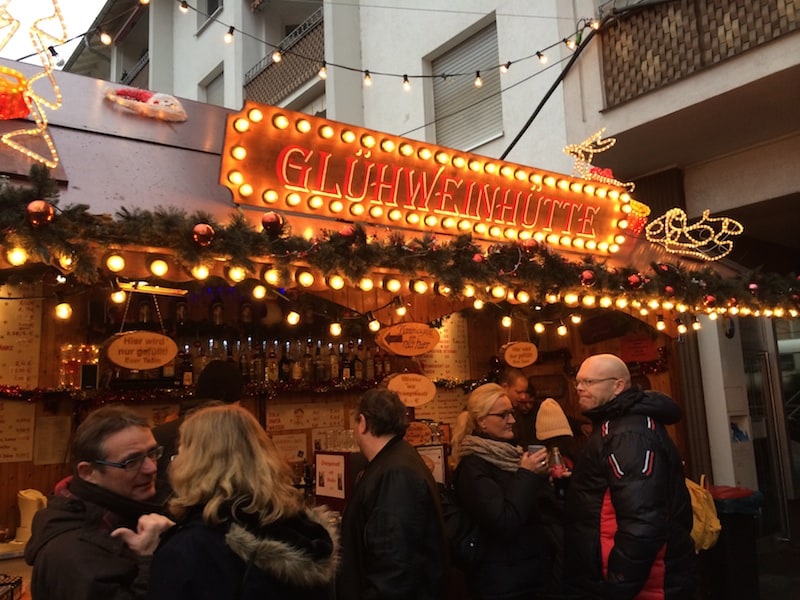 Passau, Germany
Set in one of the oldest towns in Bavaria, the Passau Christmas Market takes place in the Old Town Square, dominated by the beautiful St. Stephan's Cathedral. Wander through more than 70 stalls that offer crafts, Christmas decorations and of course, food and glühwein. If you're a music lover don't miss the concerts performed on the world's largest cathedral organ at St. Stephen's every Wednesday and Sunday from noon to 12:30 pm.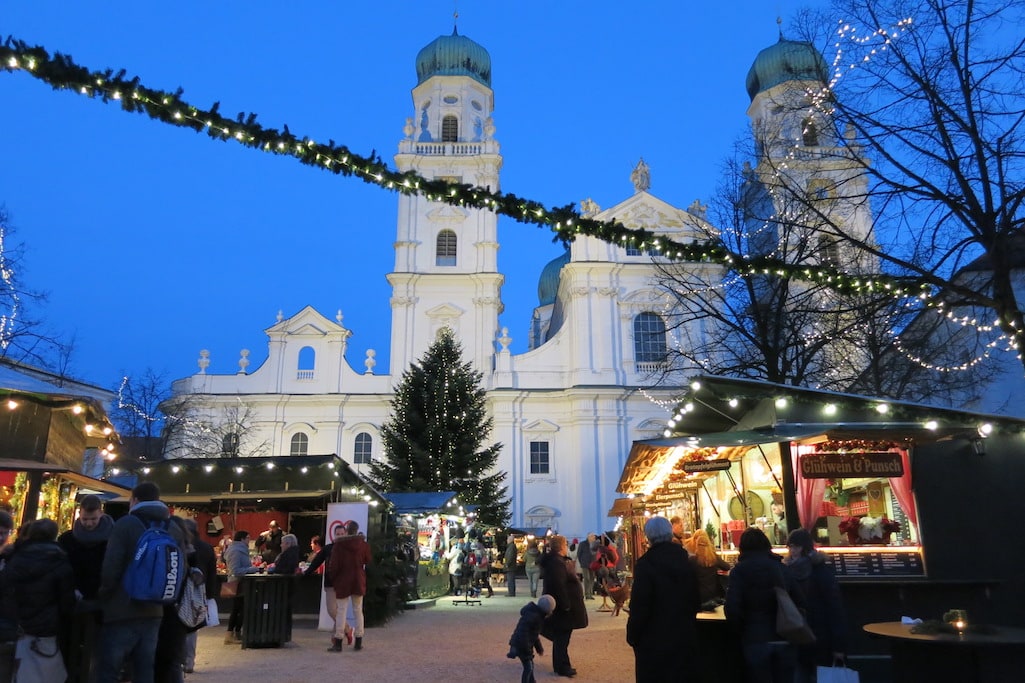 Royal Christmas Market at Hohenzollern Castle, Germany
A Christmas Market in a castle? Yes! This is truly one of the most unique markets you'll find. The market begins outside but you enter the castle to see all the local crafts that are for sale.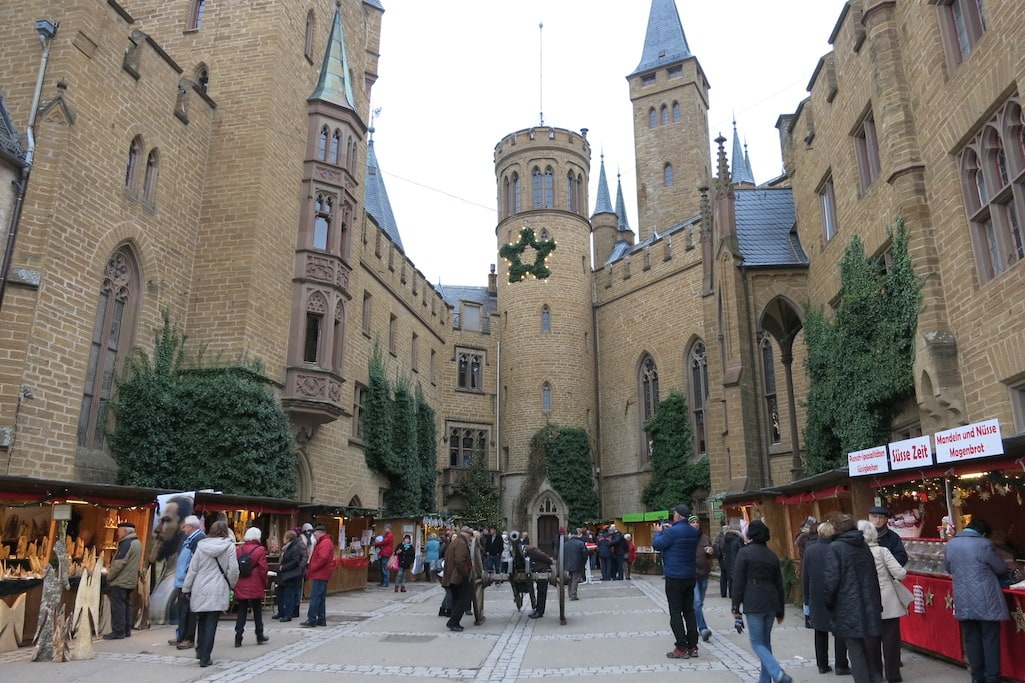 As you wander around the castle, the holiday lighting inside the castle creates a warm and welcoming glow that you won't soon forget.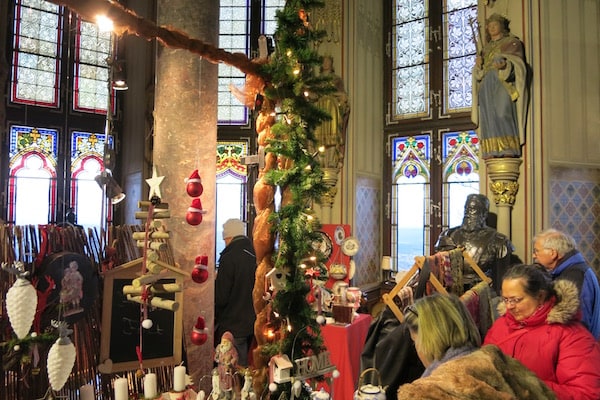 Mainz, Germany
You know you've arrived when you see the giant candle windmill display in the town square. One of the specialties in Mainz is also a visit to the Gutenberg Museum where you can take part in the Christmas card workshop.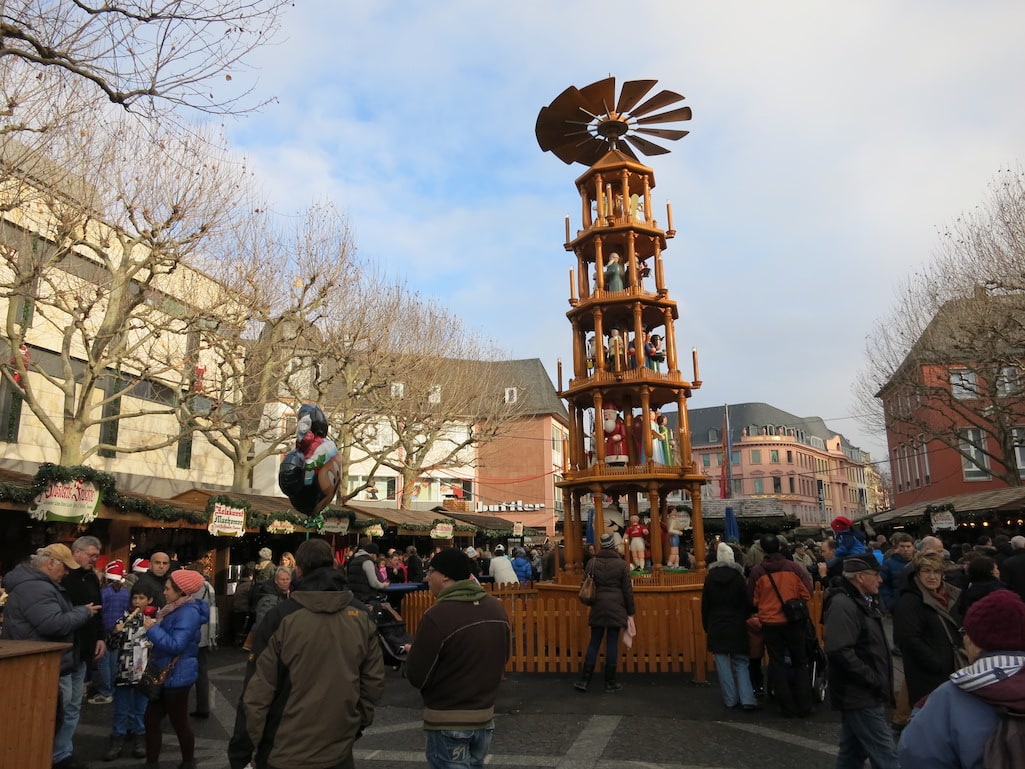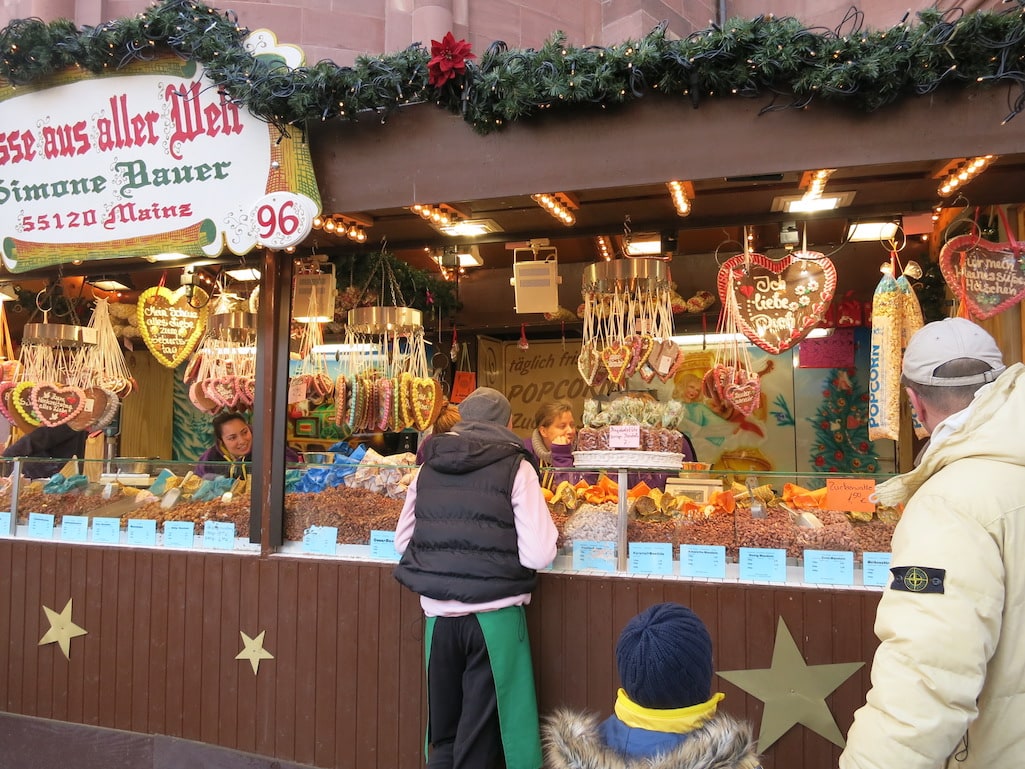 Regensburg, Germany
Regensburg is home to one of the most magical Christmas Markets. The Romantic Christmas Market in the Thurn and Taxi Castle is one of most memorable markets you'll ever see. When you enter the castle grounds it's lighted with only lanterns and candles that make you feel like you are going back in time.
Make your way into the large courtyard for live music and more food and drinks.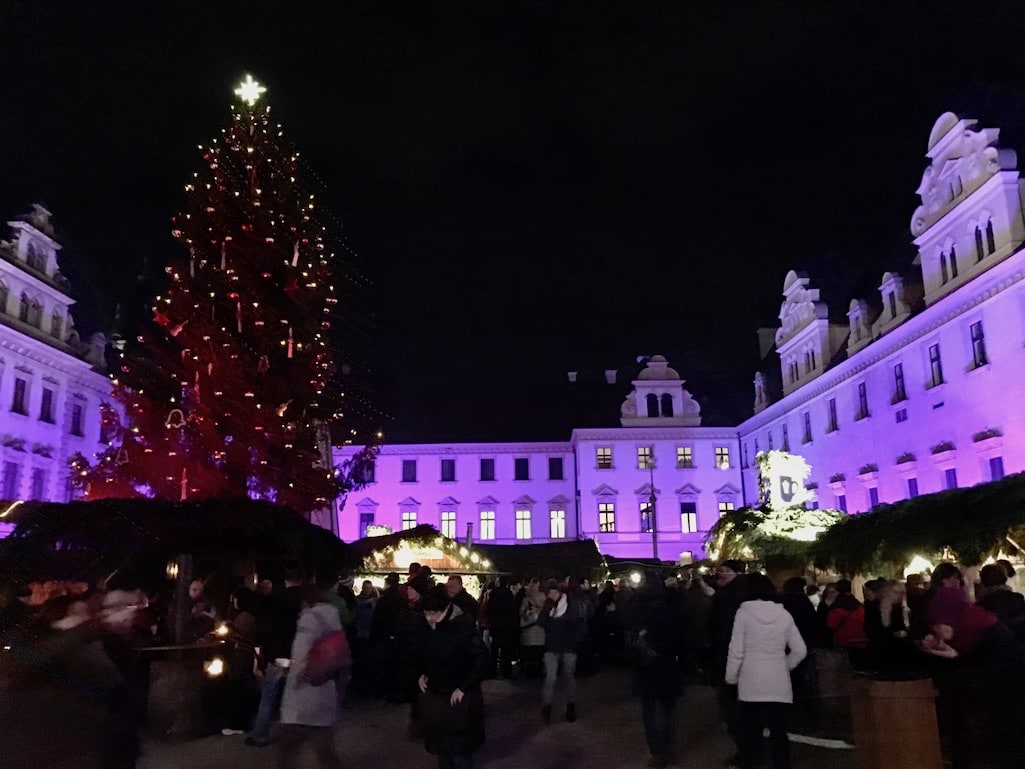 The town also has several other markets going on at the same time so make sure to leave enough time to visit them all. I just couldn't help myself when I spied this three-meter sausage that I just had to try!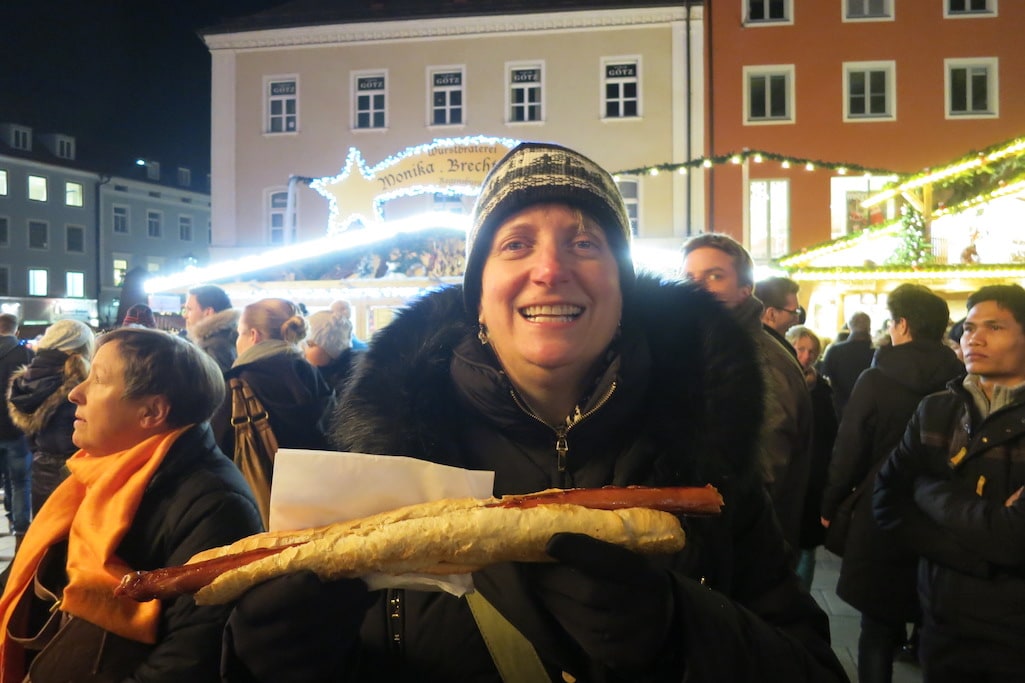 Wiesbaden Twinkling Star Christmas Market, Wiesbaden, Germany
The giant ten-meter high lit lilies are what makes the Wiesbaden Christmas market another fond memory. One of the symbols from the Wiesbaden coat of arms the lilies lead the way to all the fun you'd expect.
Don't miss the life-size nativity scene and the giant Christmas tree decorated in blue and gold ribbons. They also have an ice skating rink and two curling rinks for those who just have to try this now famous Olympic sport.
If you get chilly and lucky like we did head over to the Marktkirche for a tour and Christmas carol concert.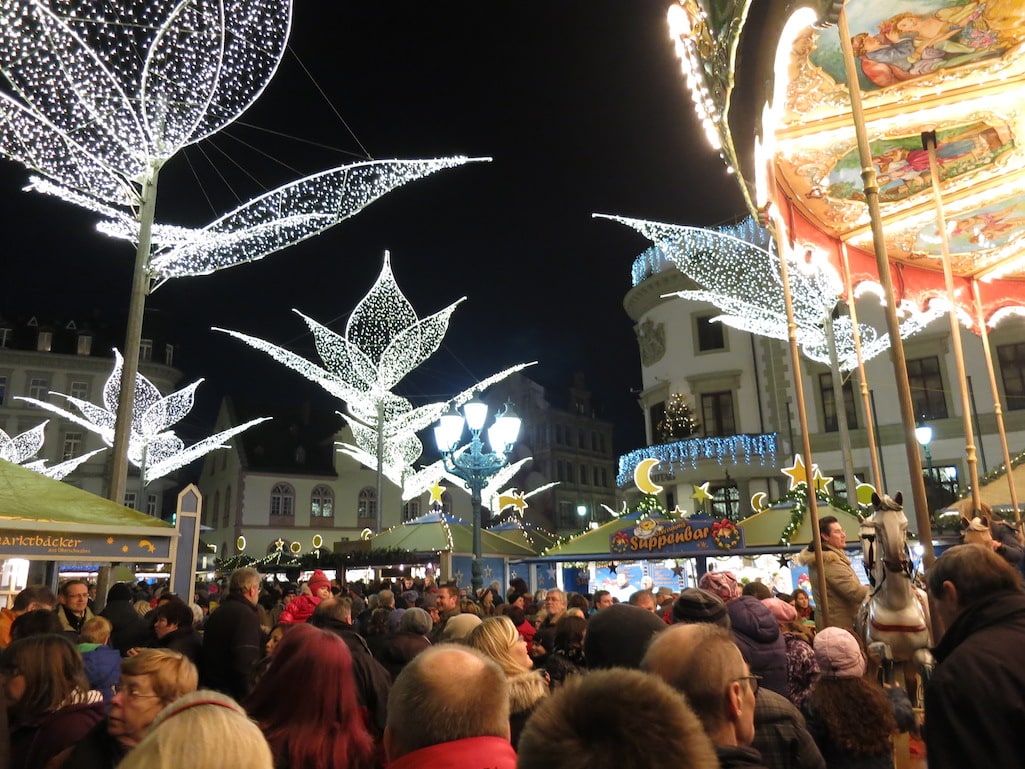 Stüttgart, Germany
The Christmas markets in Stüttgart wind their way through the main square on off the side streets as well. One of the things that is unique in Stüttgart is that they have free local Wi-Fi in the downtown area, which makes it super easy to share your Christmas market adventures with friends and family at home.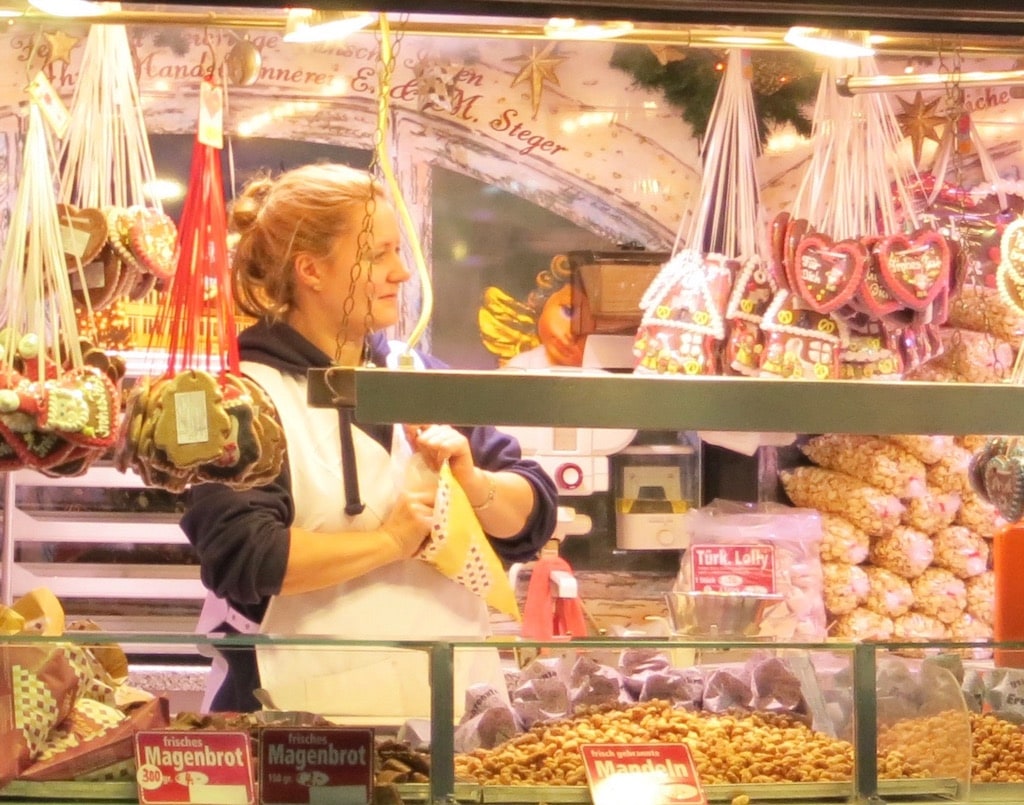 They also elaborately decorate the tops of the vendor stalls in Stüttgart. There's an award given to the best decorated at the end of the market. Competition is fierce – so be sure to look up when you're in Stüttgart.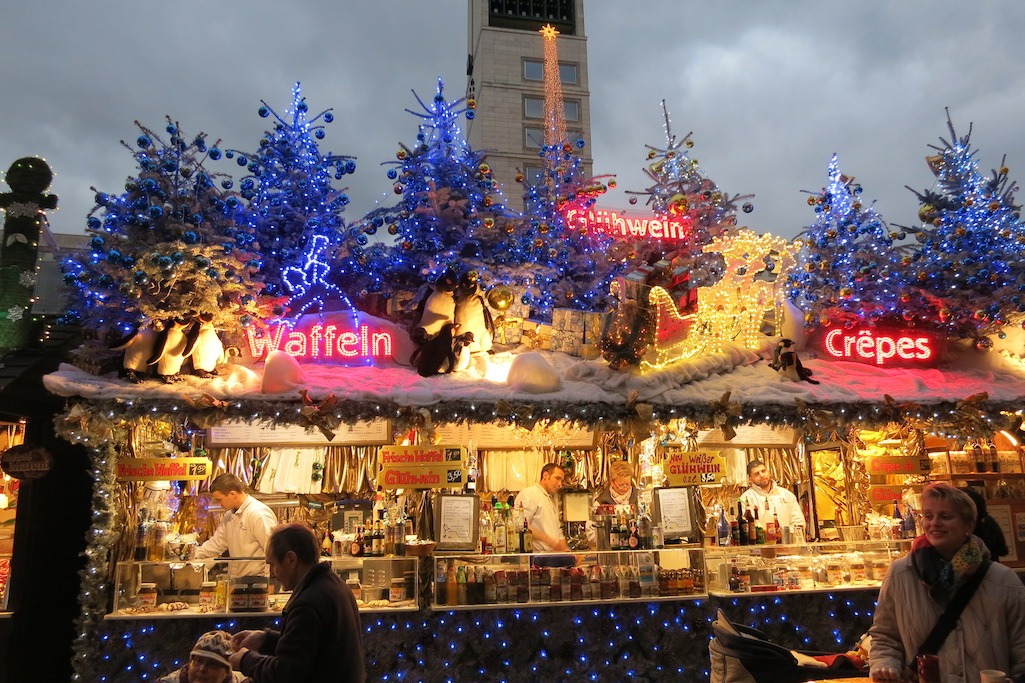 Baroque Christmas Market, Ludwigsburg, Germany
Giant lighted angels welcome you to the Ludwigsburg Baroque Christmas market. They also boast one of the best lebkuchens (gingerbread) in the world so be sure to stop by and try a sample.
I had a very special treat in Ludwigsburg – a veggie flammkuchen. The gooey cheesy goodness with green beans warmed me up and kept me going.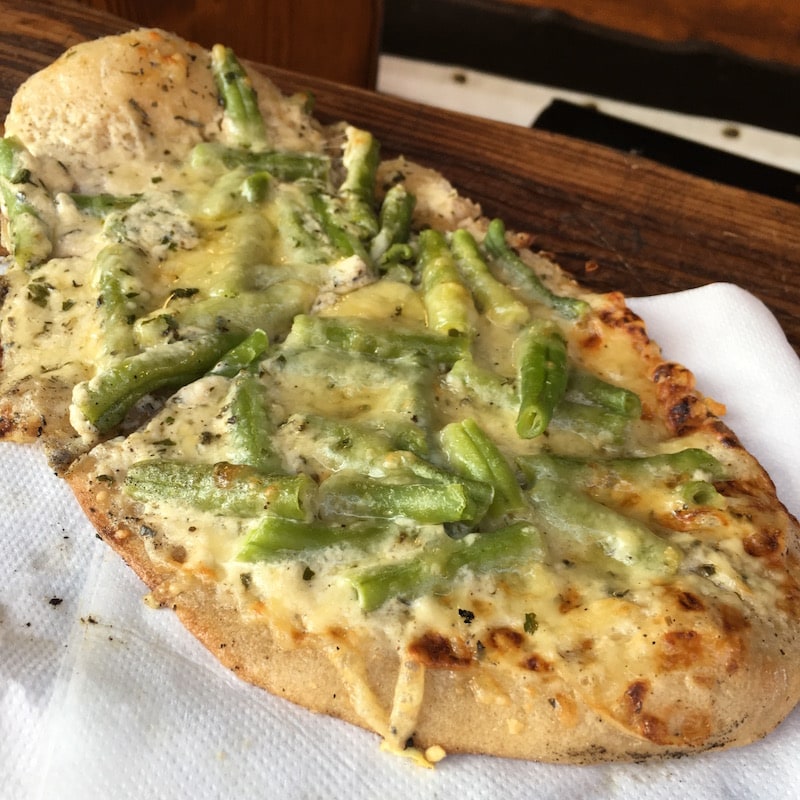 Pro Tip: Dress warmly, even with a warm mug of glüwein it still gets cold out there. Be sure to wear warm, comfortable boots as you'll be doing a lot of walking.
Medieval Christmas Market, Esslingen, Germany
Within walking distance from Ludwigsburg is the Esslingen Medieval Christmas Market. Here the vendors dress in Medieval costumes, which makes this experience all the more fun.
Don't be shy. The vendors will taunt you and beckon you to buy their goods. You'll see jugglers, basket weavers, blacksmiths and more. Be careful, though. If you misbehave you may find yourself in the stockade.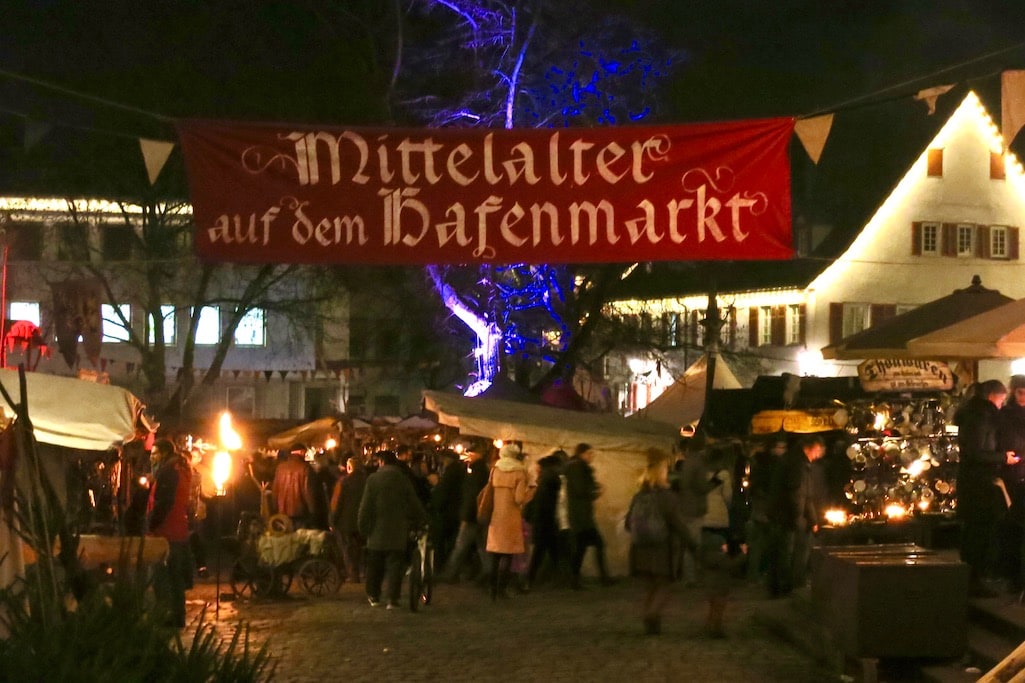 Chocol'ART Christmas Market, Tubingen, Germany
If you're a chocolate lover, the Chocol'ART Christmas Market in Tubingen is a must-not-miss for you.  You enter the market that goes all around the town square and features chocolate from around the world.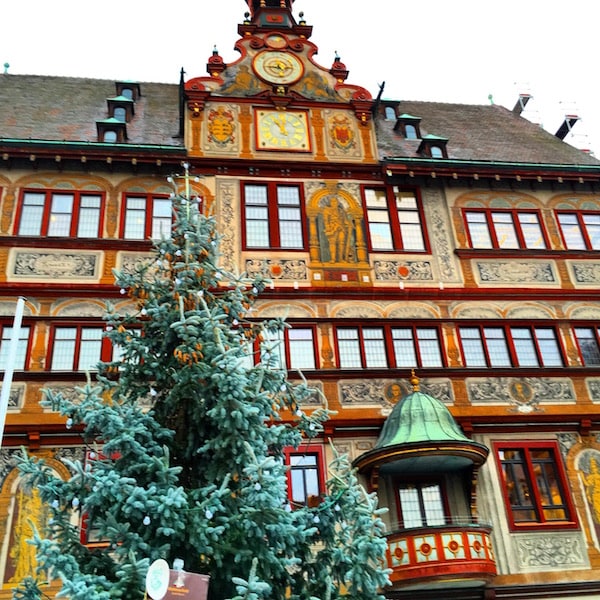 This special market happens just for one weekend in December so be sure to check their calendar to avoid being disappointed.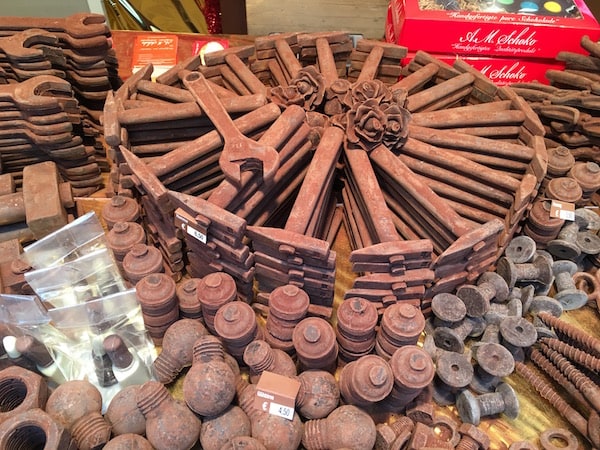 St. Blasien, Germany
Flanked by the Black Forest and the beautiful Dom Saint Blasien this is perhaps one of my favorite Christmas markets. While it may be a bit smaller it's no slouch, drawing in over 30,000 people on weekends in December. My suggestion is to go on a weekday and enjoy it at its best.
Strolling the kiosks, glühwein in hand, you will find yourself relaxing and the world melting away as you smell the sausages grilling, the Christmas tree pine and hear the gentle voices singing Christmas carols and gospel (yes, Gospel) music.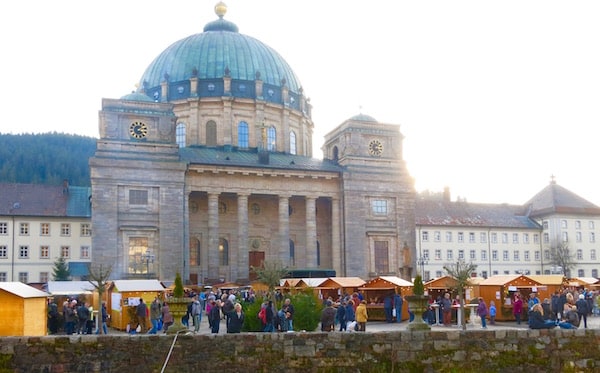 The St. Blasien market has wonderful gifts from handmade children's clothing to decorative lawn ornaments. This is definitely a family-freindly market. Extra Bonus: a terrific view of the Black Forest!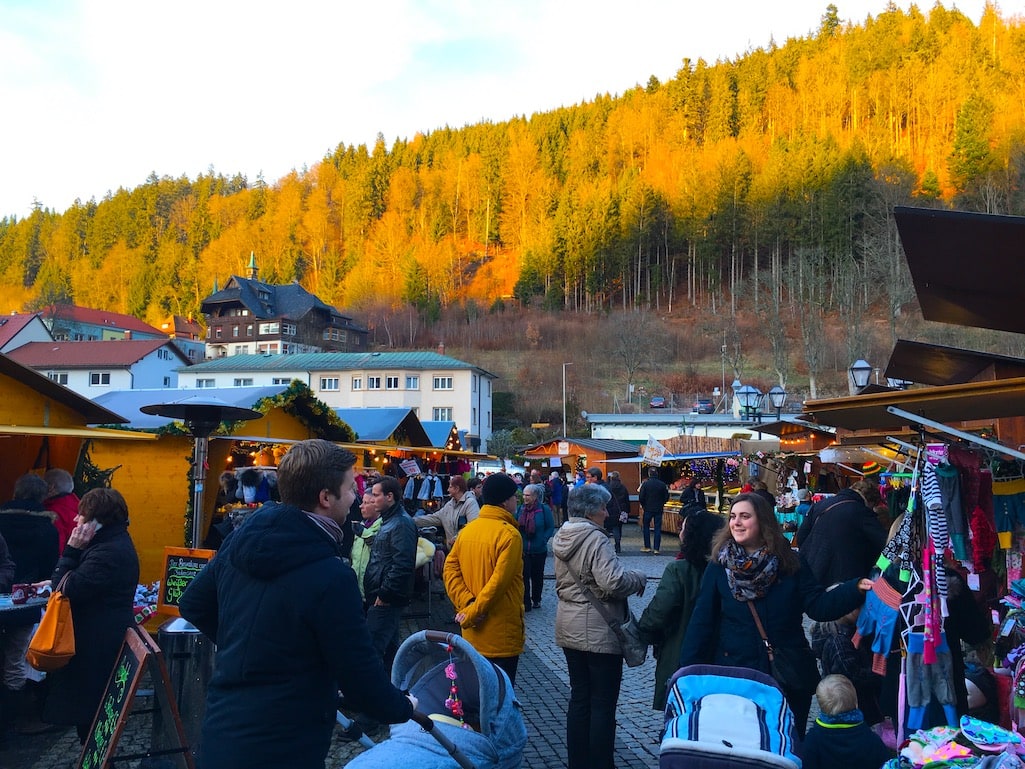 Rüdesheim, Germany
Located along the Rhine River, Rüdesheim's Christmas market weaves its way through the town. It's easy to start at one end and make your way around the entire town. One of the unique things about the Rüdesheim market is that they bring in vendors from over 20 nations and 6 continents so this is a shoppers paradise.
We love bringing home special treats for our nieces and nephews when we travel. While visiting Rüdesheim, we had a handpainted heart made for our niece.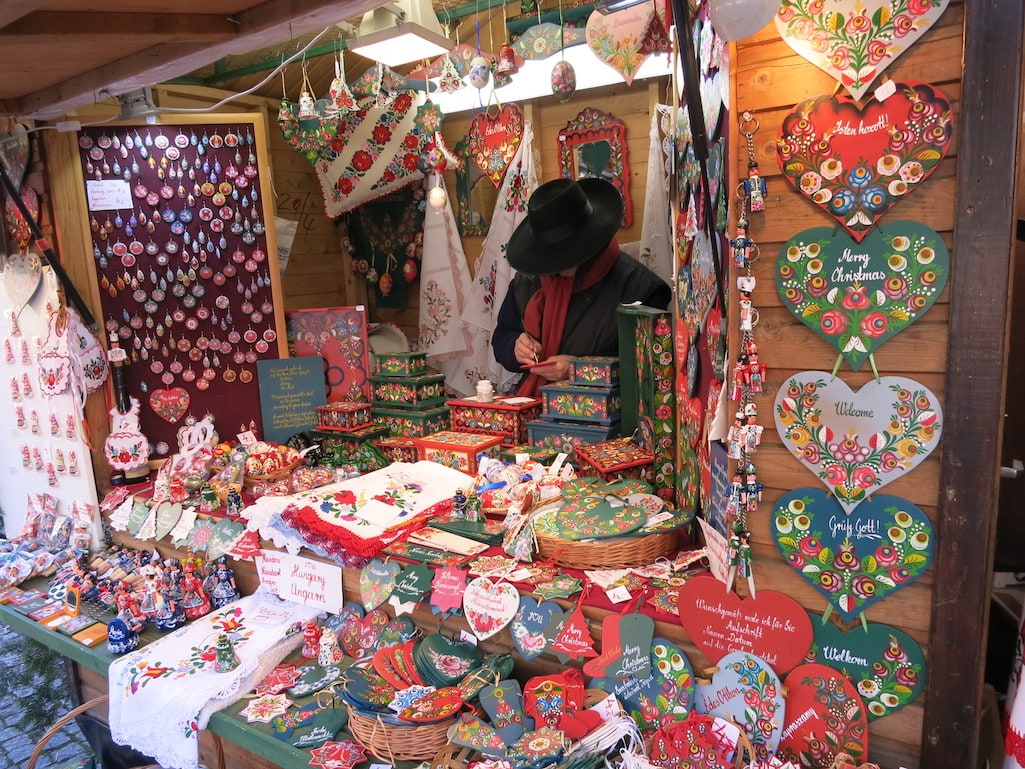 When you're done exploring be sure to stop in for a special Rüdesheimer Kaffee. Invented by German chef Hans Karl Adam in 1957, this winter warmer-upper is created by mixing Asbach Uralt brandy and sugar cubes. The brandy is then heated and the sugar mixed in. Very strong coffee is added. That's topped with vanilla sweetened whipped cream and sprinkled with chocolate.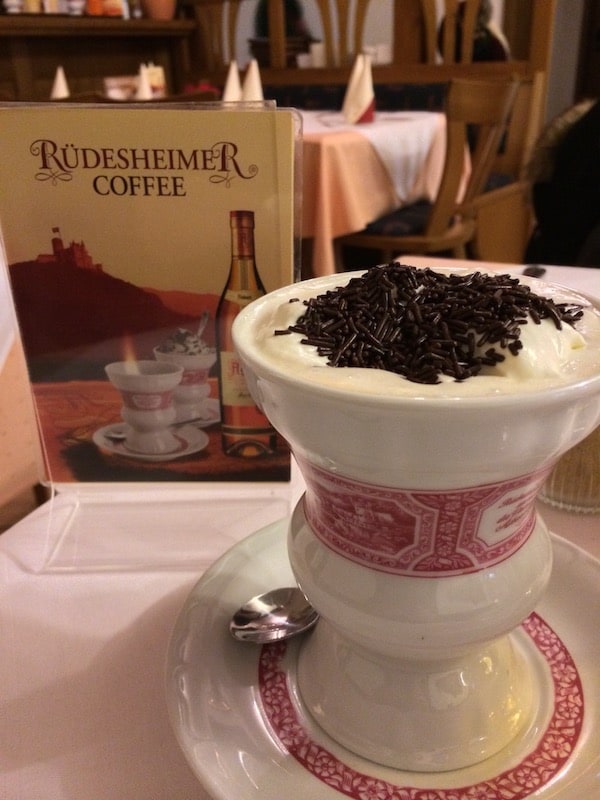 Nüremberg, Germany
The world famous Nüremberg Christkindlesmarkt may take over the town square but be sure to check out the other parts of town where the market continues. There's an entire street devoted to children's games and brightly lit rides.
One of the oldest in Germany the Nüremberg market dates back to the mid 16th century.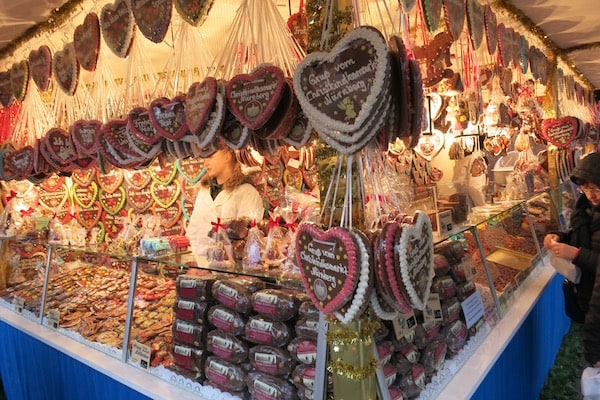 Don't miss the famed Nüremberg sausages when in town. Order the traditional "Drei im Weggla" – three in a bun. You will get three smaller link sausages on a large roll. Don't forget to add sauerkraut and mustard. This sausage has been around for more than 700 years with varied stories on how it got started. Who cares? They are delicious and that's all you need to know.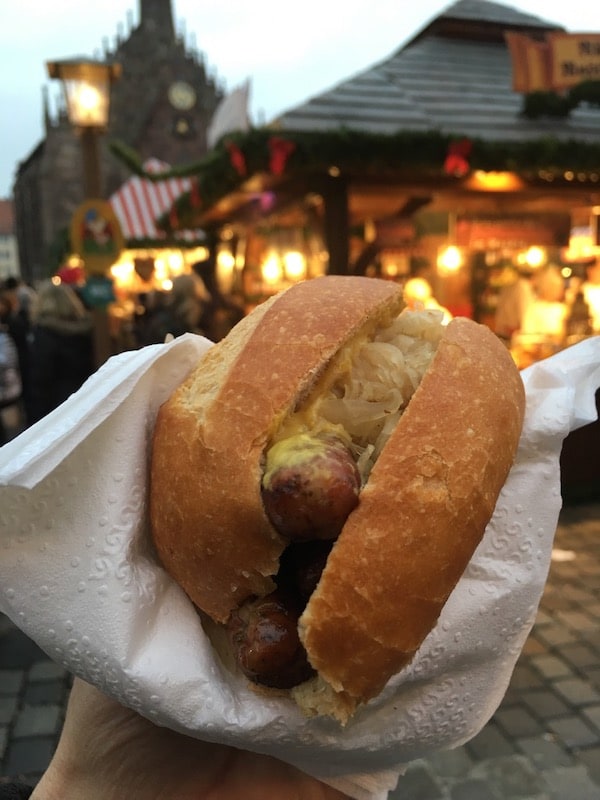 Click here to read our full review of the Nuremberg Christmas Market.
Budapest, Hungary
This was one city where I can say that even I was overwhelmed by the amount of Christmas markets that ran throughout the entire city and the number of people in attendance. To say it was wall to wall people is a huge understatement.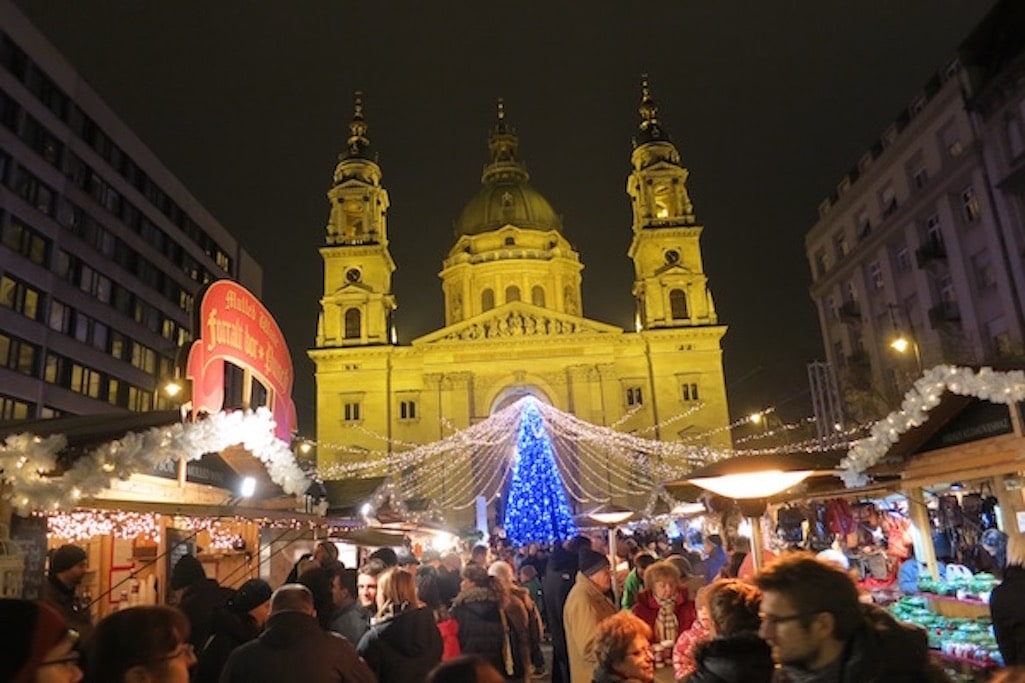 The highlight, of course, was the food. There were so many different kinds of food available. We tried the longos, which was fried dough with assorted toppings. Unique and delicious. There's also the traditional sausages, pretzels and of course, glühwein!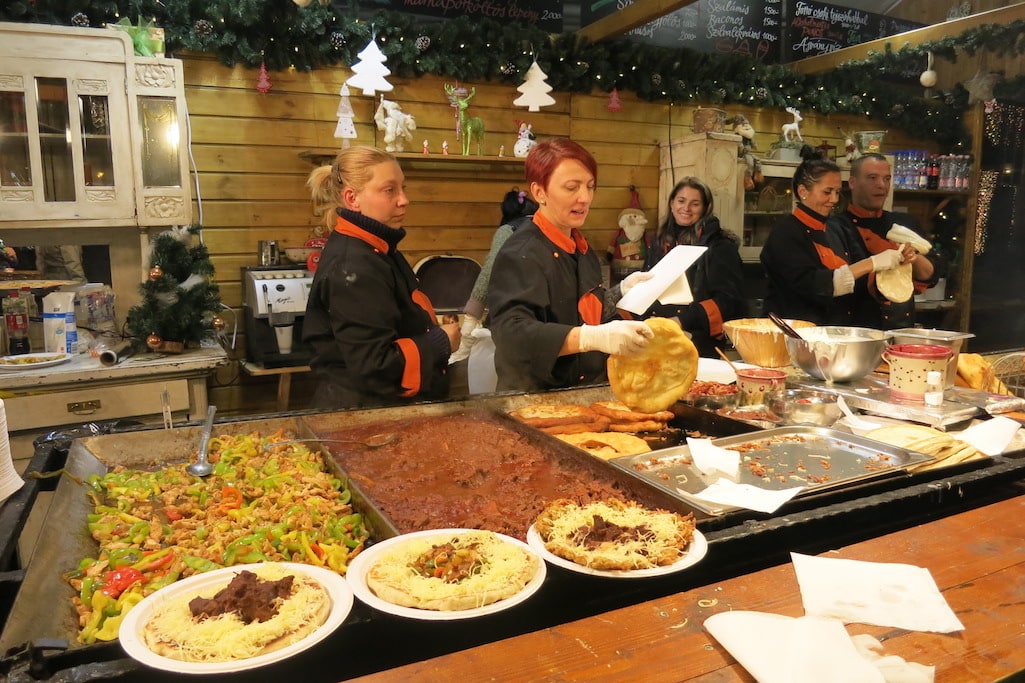 Vienna, Austria
Another one of my favorites, Vienna is a town I love to visit any time of the year. Being there for the Christmas market season just makes it all the more special. There are many markets throughout the city. If you want to get to them all you'll need a couple of days to do it properly. Don't miss the one in front of City Hall. The lights will guide your way. You'll find just about anything you can imagine from giant linzer cookies to hand-blown glass ornaments.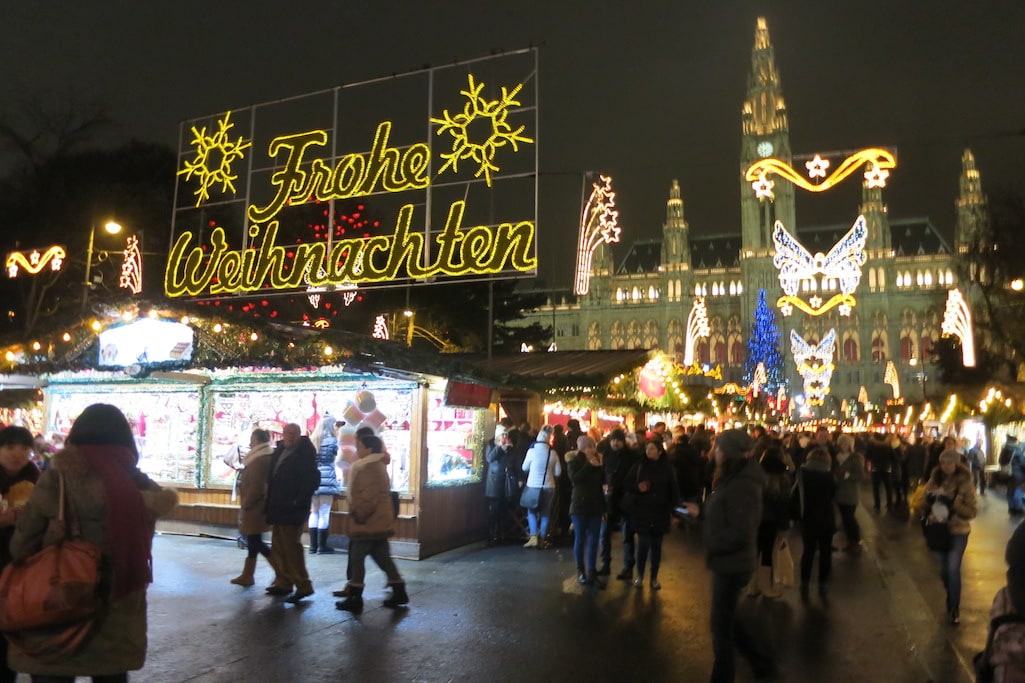 Another one of my favorites is at the Christmas Village Maria-Theresien Platz. It's in between the Museum of Natural History and the Museum of Art. Here I found my all-time favorite Christmas market snack. A two-foot sausage wrapped in dough, baked and then dipped in garlic butter. This is a food travel memory I can still taste and often crave!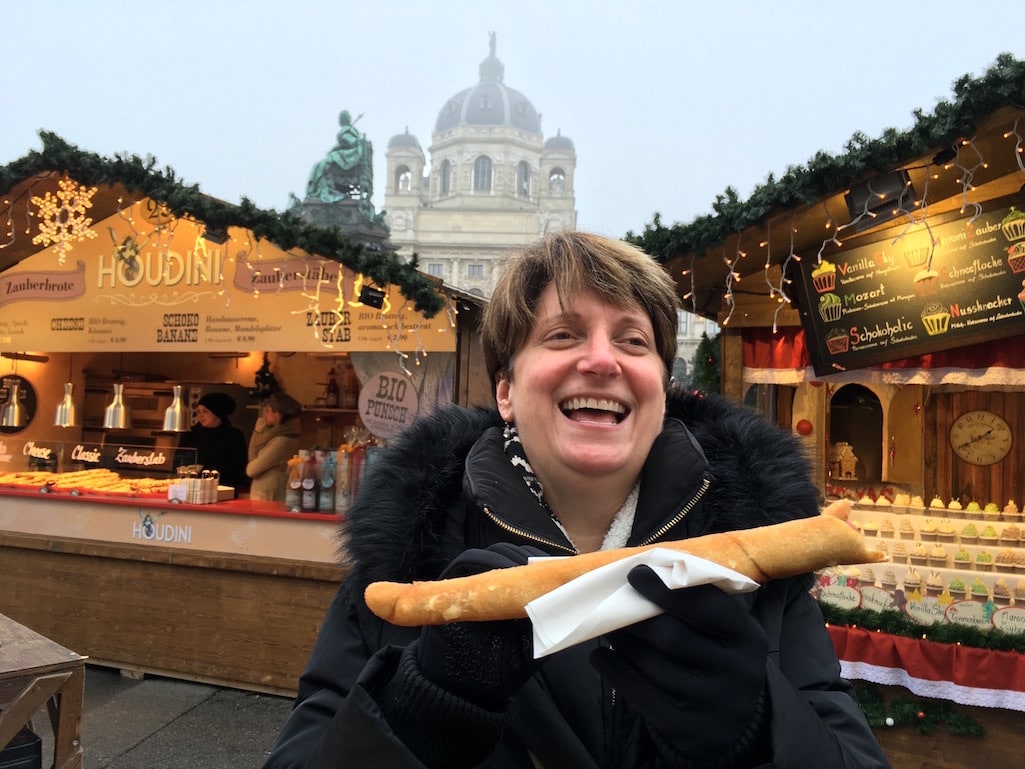 And of course my hometown of Chicago, IL
Yes, I still call it that although we now live in Madison, Wisconsin. Chicago knows how to throw a party. The Christkindlmarket has long been a family tradition for us. We started our glühwein mug collection in Chicago and it grew from there. They have expanded the market with another one in Naperville but my favorite is still the one in Daley Plaza. Where else can you drink glühwein under a huge Picasso statue?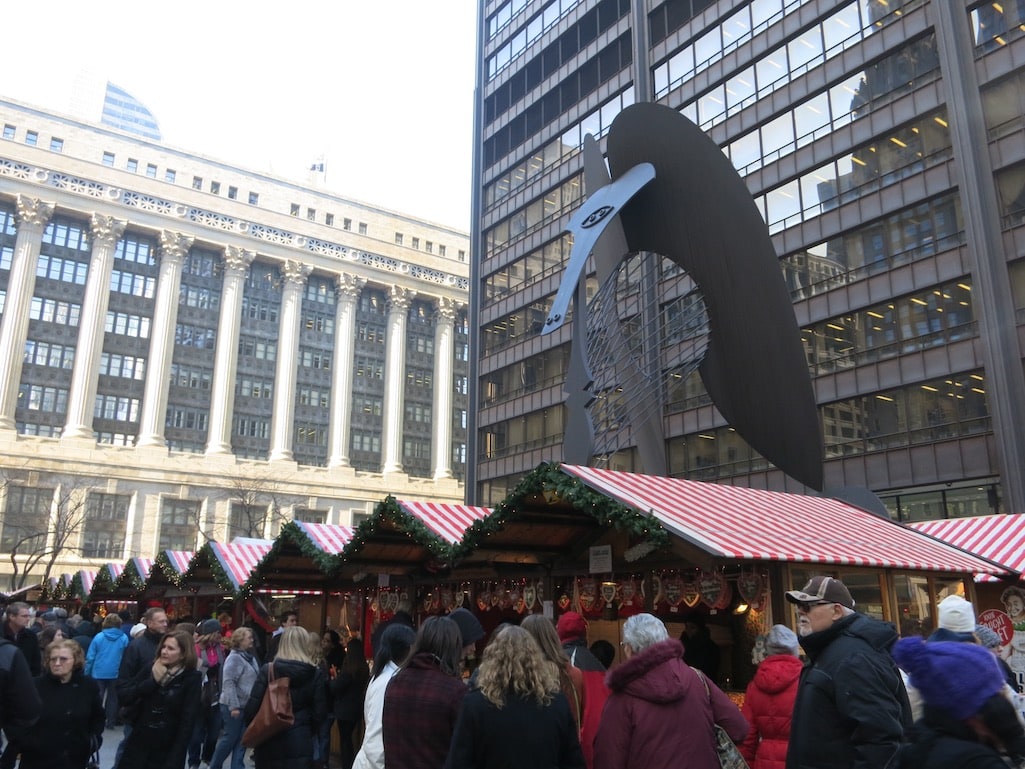 While we were attending an Oktoberfest celebration in Madison this year I was chatting with some locals who said if you like this celebration, you will LOVE the German Christmas Market in Oconomowoc. Held on November 23-25th, this celebration is now high on my list of things to do this month. I'll report back on how it goes. I hear that the food, glühwein, beer garden, music and more are worth a visit.
Christmas Market Planning
It's not too late to plan a trip to a local Christmas market or even make a trip over the pond to Europe. Just be sure to check out the schedules before you book.
One way to visit many markets is to take a Viking River Cruise. We experienced the Romantic Danube cruise in December and it was marvelous. The ship goes from town to town so you just enjoy the beautiful scenery along the river. Once you arrive at each port you can take advantage of the expert Viking excursions to learn more about each location. You will still have plenty of time to go exploring on your own and check out all the local Christmas markets.
They also do a wonderful job of making the cruise extra festive by offering gingerbread house making classes, Christmas ornament making, cookie cooking classes and more.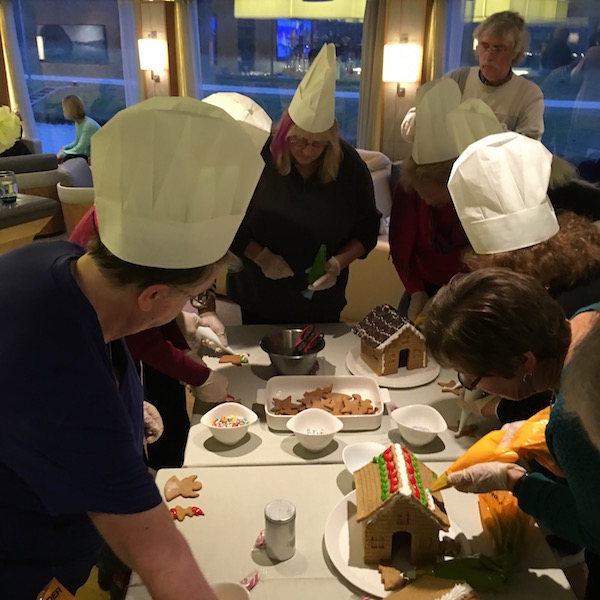 Whether you go and visit a Christmas market in your own hometown or travel to one on the other side of the world my hope is that you get to experience this fun and tasty holiday tradition. If you have a favorite place to visit for a Christmas market please let me know in the comments below so I can add it to my Christmas market wish list.
Pin To Your Christmas Market Travels Board