Veggie Noodles Like Zucchini Spaghetti
Welcome To Pantry Cooking
Veggie noodles like zucchini spaghetti are welcome any time of year. Welcome to our new Pantry Cooking posts. Here you'll find basic recipes and ideas for cooking when you're at home for an extended time. Right now we're all dealing with Coronavirus. But even when this pandemic passes, there will be times for various reasons we need to stay at home. And that means cooking!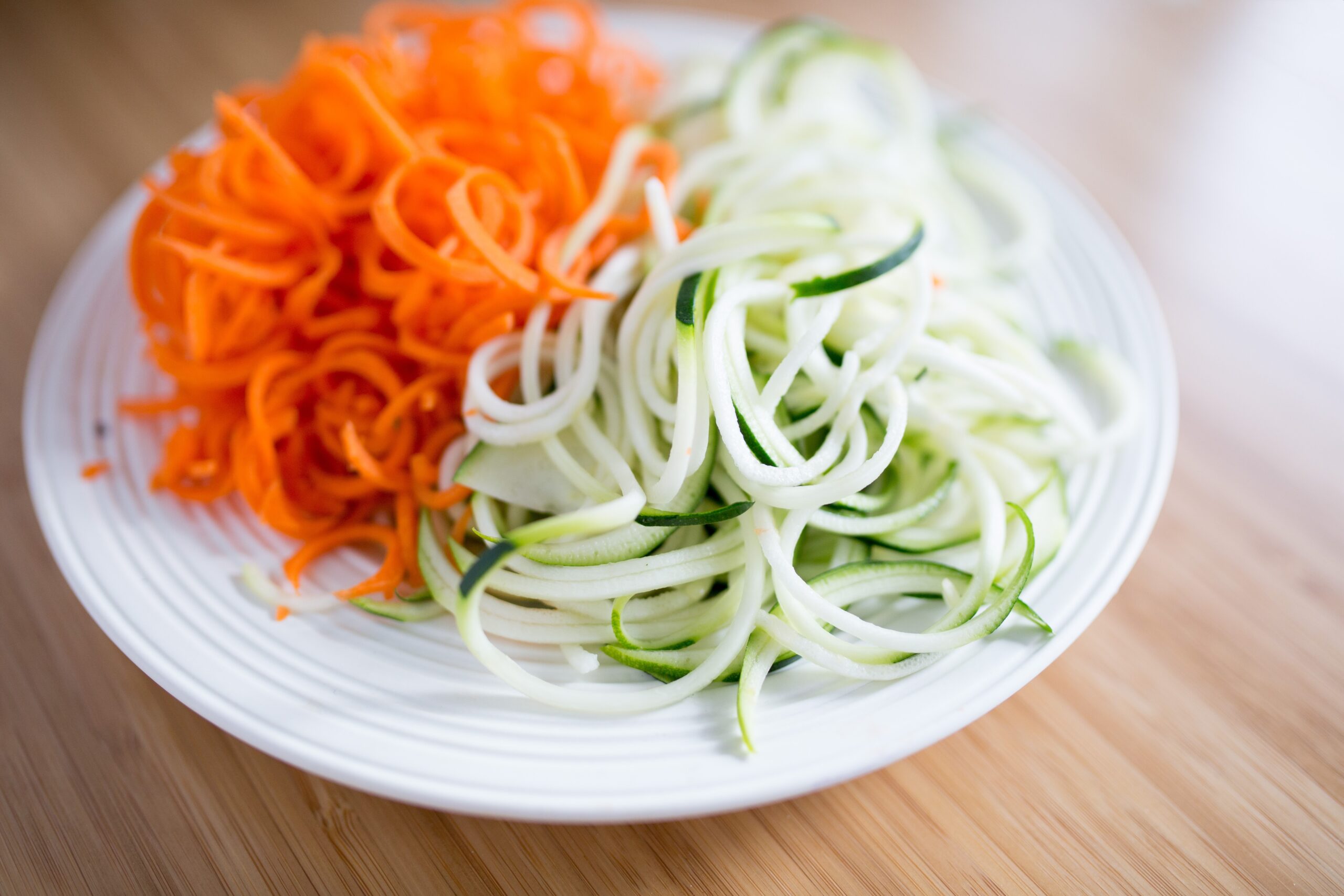 We'll be sharing basic delicious recipes that everyone can make. Because we know everyone's tastes and pantry are different, we'll also provide a lot of options for how you can make a meal that's perfect for you.
Basic principles are the foundation of what you'll discover here. We'll offer techniques, ingredient combinations, and ways of thinking about meal prep that are easy, quick, and oh so satisfying.
Pantry Cooking Facebook Videos
If you'd like to see us make a dish, follow us on Facebook for quick and easy Pantry Cooking videos. Join our  Facebook Group to get even more ideas and share with others in our community.
Those of you with a larger living space, extra fridge/freezer, and lots of room for storage may be able to cook normally for a long while to come. Now is a time we miss our big Chicago house, two refrigerator-freezers, and massive pantry space! But we're in Madison, Wisconsin, with much more limited space limited and we have to pay attention to what ingredients we have on hand, and how we can make it last without getting boring in the kitchen or bored with our meals. We know lots of you have a similar living situation.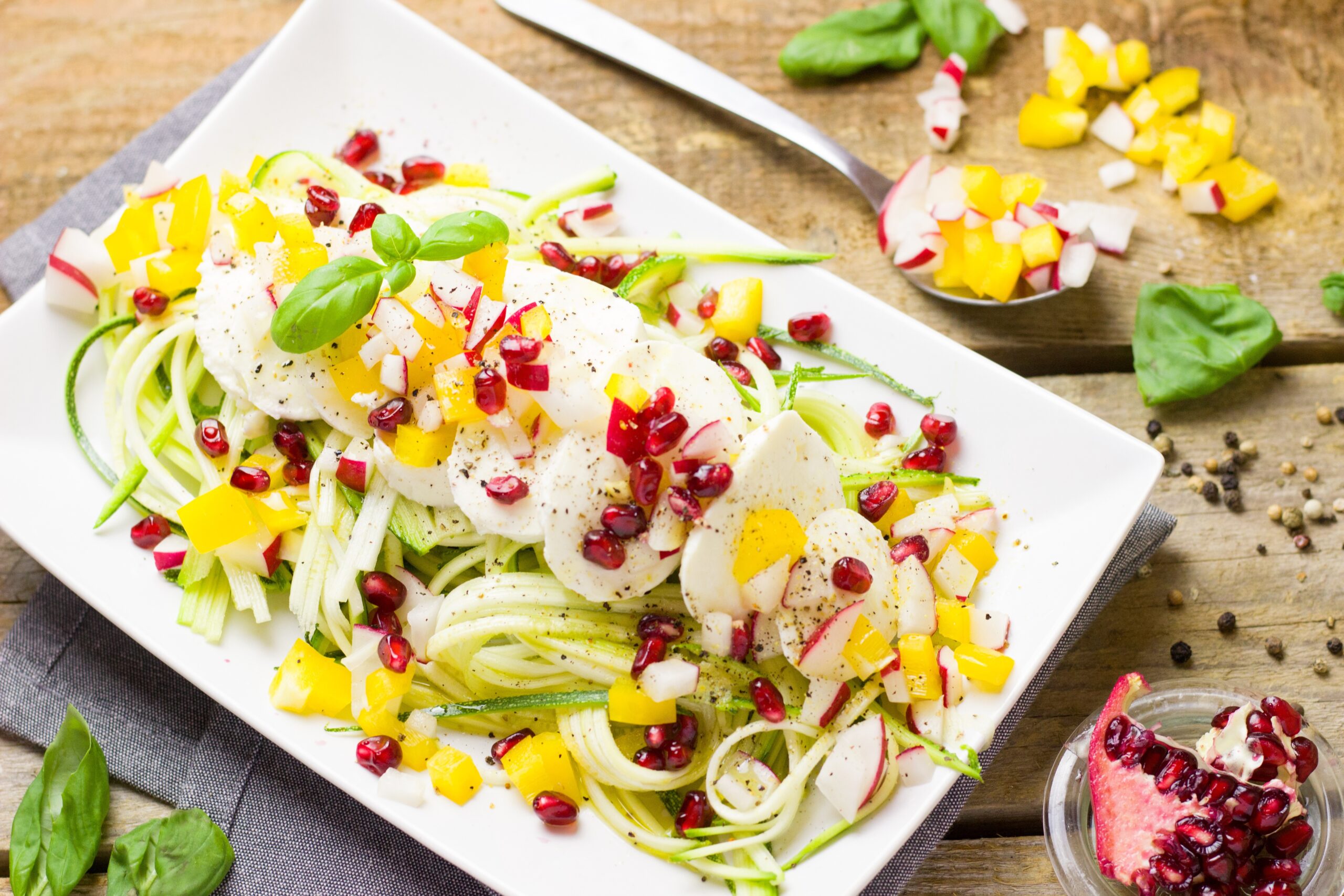 So, come along with us on this journey as we see what we can do to make delicious meals based on cooking what we've got. Welcome to our Pantry Cooking. We're all in this together, so we might as well make it tasty!
Flexibility Is Key
One of the best ways to get vitamins into a meal is through healthy vegetables. We stocked up at the grocery store one last time before we decided it was important for us to stay at home and hunker down.   We've been using what's in the fridge first, meaning we've started going through the fresh veggies and fruits, dairy products and perishables for the past week. We'll probably have another couple of weeks before we shift to frozen, canned, and pantry cooking exclusively.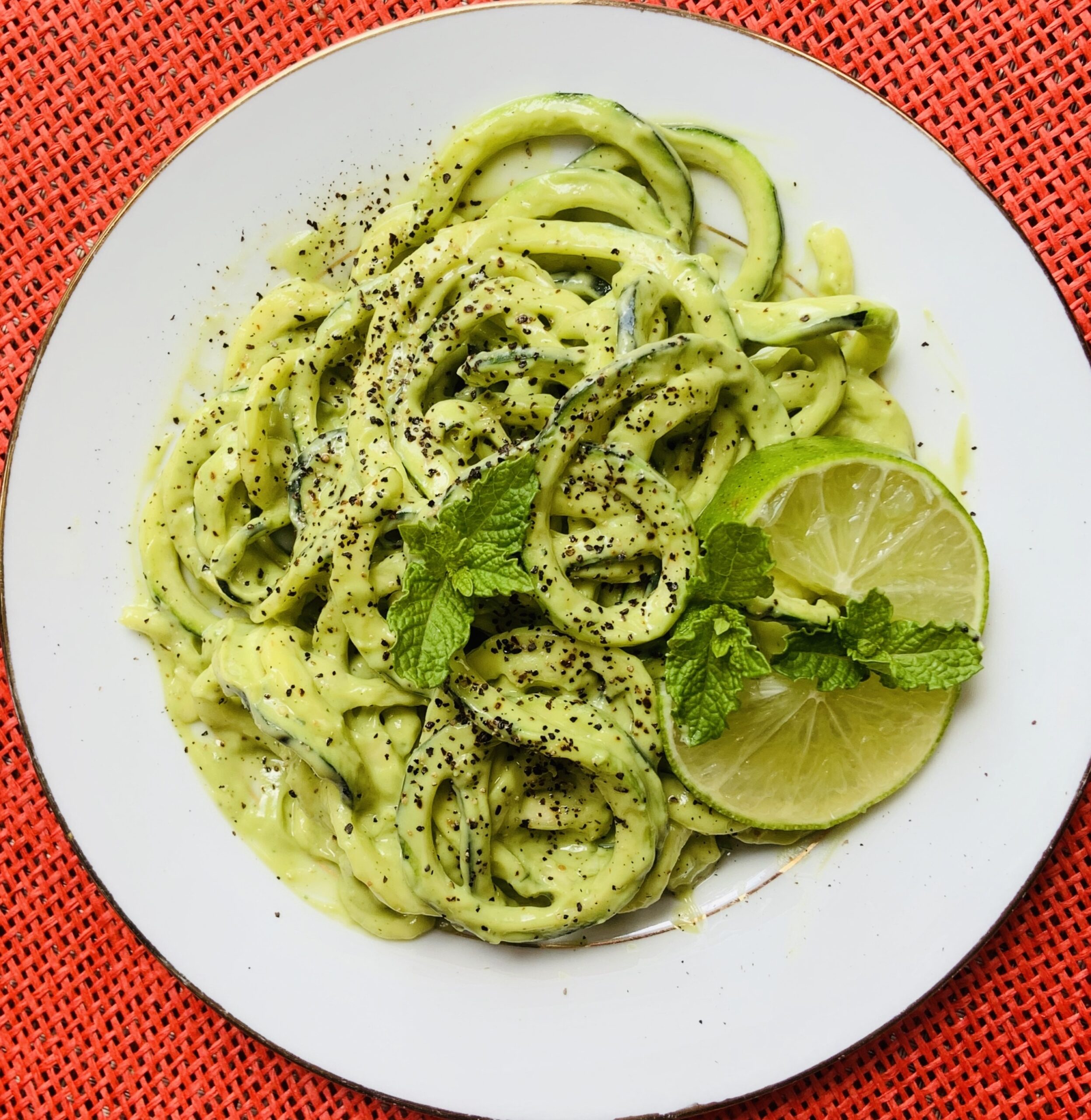 Veggie Noodles
Depending on what you have on hand, you can make delicious, nutritious veggie noodles like zucchini spaghetti, butternut squash fettuccini, or carrot or sweet potato linguine. We'll use zucchini in our recipe because we happen to have a squash in the fridge that needs to be used.
You can use a spiralizer if you have one, mandolin, julienne or plain vegetable peeler, or patience and a sharp knife. Cut your veggies into the shape and size you'd like or that you can easily manage. We'll give you the process and some ideas of how to make vegetable noodles into a filling meal, which can be adjusted to the tastes and the ingredients you have on hand.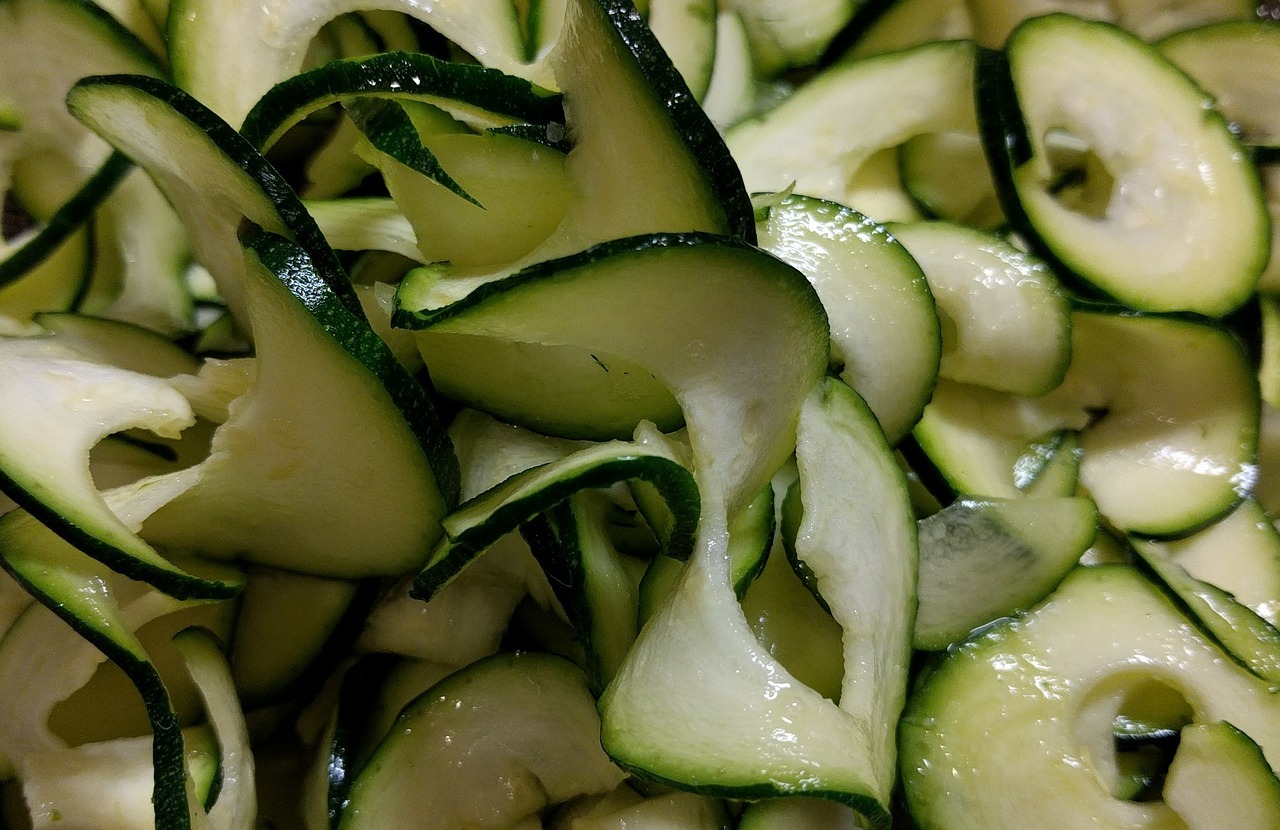 Also, if you don't have much in the way of fresh veggies or squash to use, you can mix in what you have with regular pasta to stretch it out and provide some texture. Remember, we're here to give you ideas. Go with what you have and what you enjoy, using our recipes as guidance and to spark some ideas of your own. Here's our version using the ingredients we have available.
Ingredients
1 large zucchini, julienned into long thin strips for veggie noodles
1/2 onion, cut in slices (you can use scallions, shallots, onions or any color) If you don't have fresh onions you can use 1 teaspoon dried minced onion or 1/2 teaspoon onion powder
1 clove garlic, minced (if you don't have fresh garlic, you can use 1/4 teaspoon dried, minced or powder instead)
1/2 lemon, juice and grated peel (you can use any fresh citrus you like or 1 Tablespoon prepared citrus juice concentrate)
1 Tablespoon butter, unsalted
1 Tablespoon extra virgin olive oil
1/4 cup shredded Parmesan cheese
Fresh Italian parsley to garnish (or dried parsley, basil, or oregano)
Directions
1. Use mandolin, peeler, spiralizer, or knife to cut zucchini into thin strips and place in a colander to drain excess liquid, if any.
2. Place butter and olive oil into skillet and heat over medium until melted and sizzling.
3. Add lemon juice, stir in onions and cook to soften.
4. Put minced garlic in and stir to heat for 1 minute.
5. Add veggie strips and stir to coat. Let cook until veggie noodles are soft and cooked through.
6. Place vegetable noodles in a bowl and sprinkle with grated Parmesan cheese and grated lemon peel.
7. Toss and then place on serving plates.
8. Garnish with fresh Italian parsley or dried herbs. Serve immediately.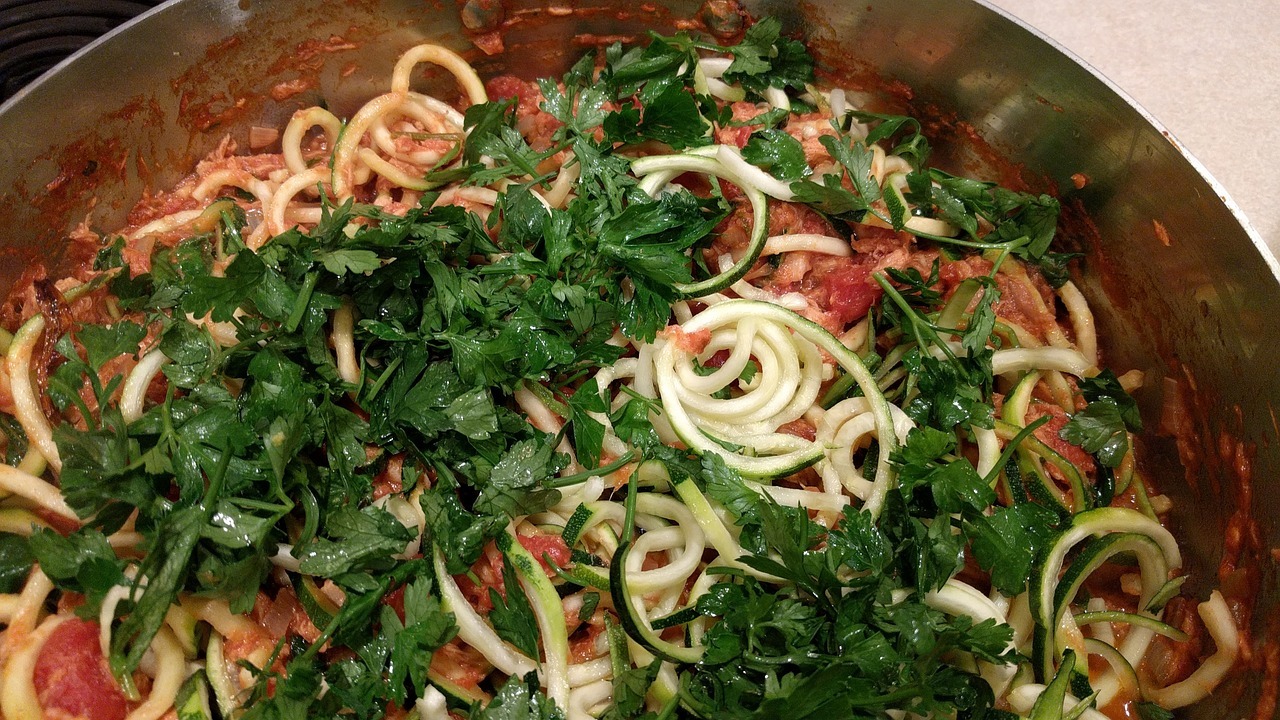 This zucchini spaghetti can become butternut fettuccini, carrot linguine, or any other vegetable noodle.  You can use your imagination to make a delicious tomato-based sauce or creamy lime sauce. You can even use them cold and sprinkle with fruit or raw veggies and a hard-boiled egg. Add some roasted chicken or shrimp. The choice is up to you. Serve with a little garlic toast if you like. Best of all, it can all be done with a little planning in around 15 minutes or less.
We hope you enjoy some veggie noodles. Join our Facebook Group and share your own vegetable noodle ideas.
And follow us on Facebook to see our Pantry Cooking video of this recipe and others as we continue on this journey.
                                             Pin to your Pantry Cooking board on Pinterest