We had the opportunity to "visit" Tempe, Arizona on a virtual press trip, a journey from Wisconsin to Arizona via Zoom. Welcome to a new way to travel. We've certainly taken advantage of the many virtual travel tours during our time in quarantine. We hadn't been on a guided tour virtually of a place we'd yet to visit, so when the ladies of Wanderful organized a virtual press tour of Tempe, Arizona we jumped at the chance to join in on the fun.
The good news? You can also enjoy a virtual trip to this fun destination. TempeTourism.com has plenty of virtual tours, videos, and 360° views to experience Tempe for yourself from the comfort of your living or wherever you are.
What's happening in Tempe, Arizona?
To get us started the folks from Tempe Tourism sent us some goodies to get us into the Tempe vibe. Some beer from Four Peaks Brewery, a Tempe travel mug and beach towel, sunglasses, and cute travel socks from the Canopy by Hilton came to us by mail. They also sent a Visitor's Guide so that we could start to learn exactly what Tempe, Arizona had to offer.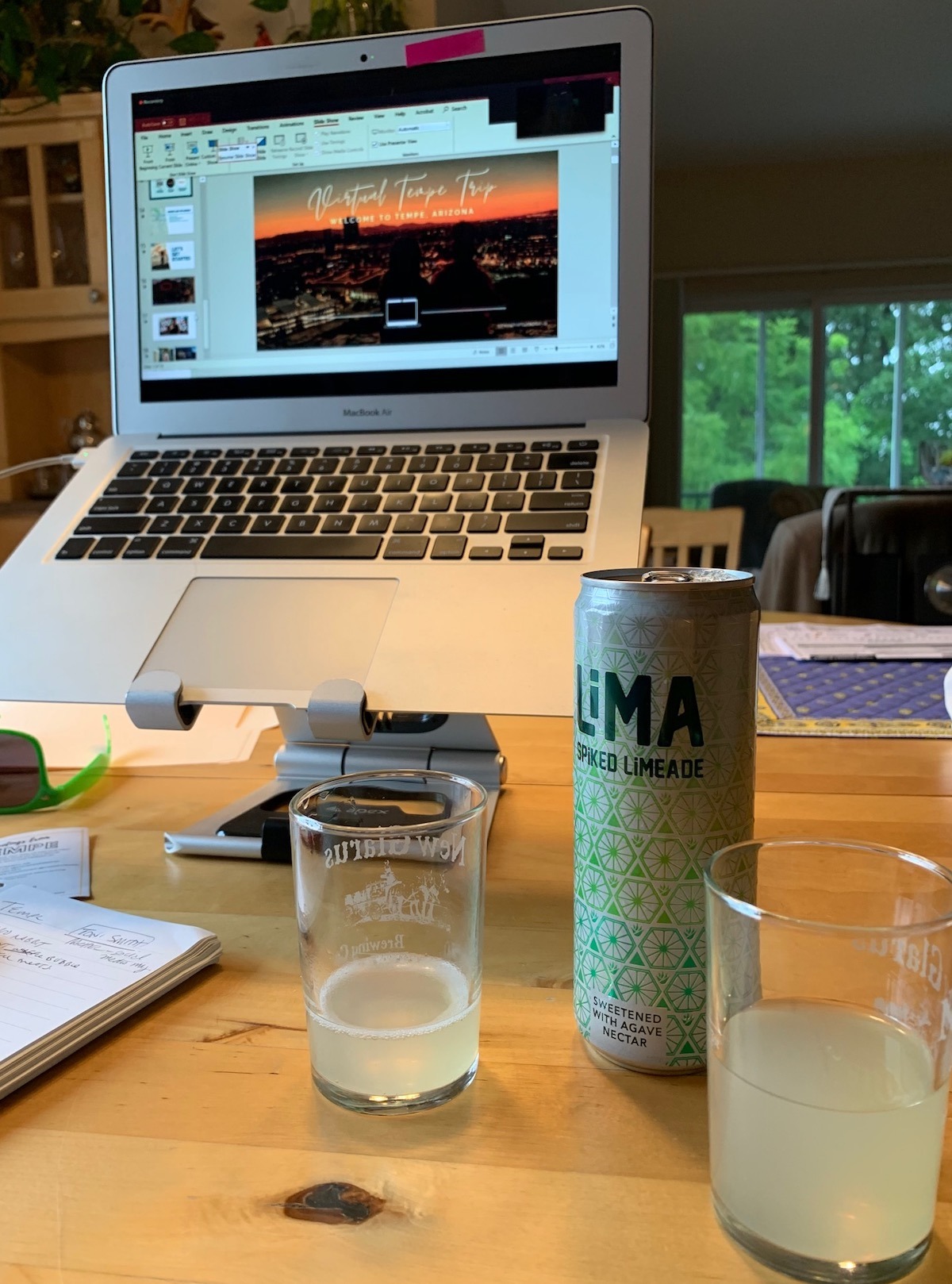 Let's Visit Tempe, Arizona!
We joined our Zoom call right on time and were happy to see the smiling faces of the Tempe Tourism team as well as the other happy travel writers that were along for the tour.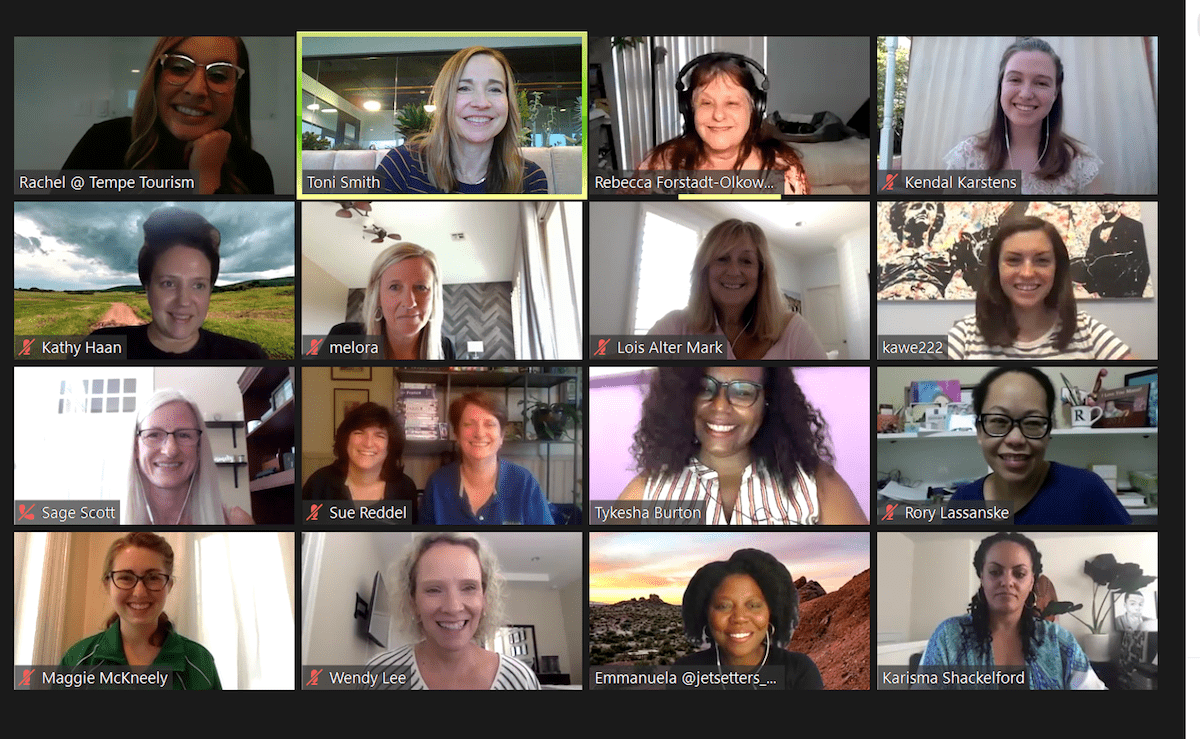 We started with a video welcome. It's going to sound a wee bit dorky but we were all getting excited to learn about Tempe.
Our next stop was Four Peaks Brewing Company who are well-known for its delicious Scottish-style amber ale Kilt Lifter, which was one of the samples they kindly sent along. They also have a light version of this popular brew called Gilt Lifter, which we found just as delightful. We were lucky to have Zach Fowle from Four Peaks virtually walk us through the brewery and the restaurant. There's plenty of outdoor seating complete with those fancy misters to keep you cool in the Arizona heat.
They have lots of award-winning beers to choose from and the menu is loaded with tasty burgers, flatbreads, tacos, and many other tasty dishes. Full disclosure: we actually ate here five years ago while attending a conference in Phoenix. We couldn't resist driving over to try the beer, and once there, we simply had to eat. We enjoyed ourselves thoroughly in person so can attest to the excellence of this spot.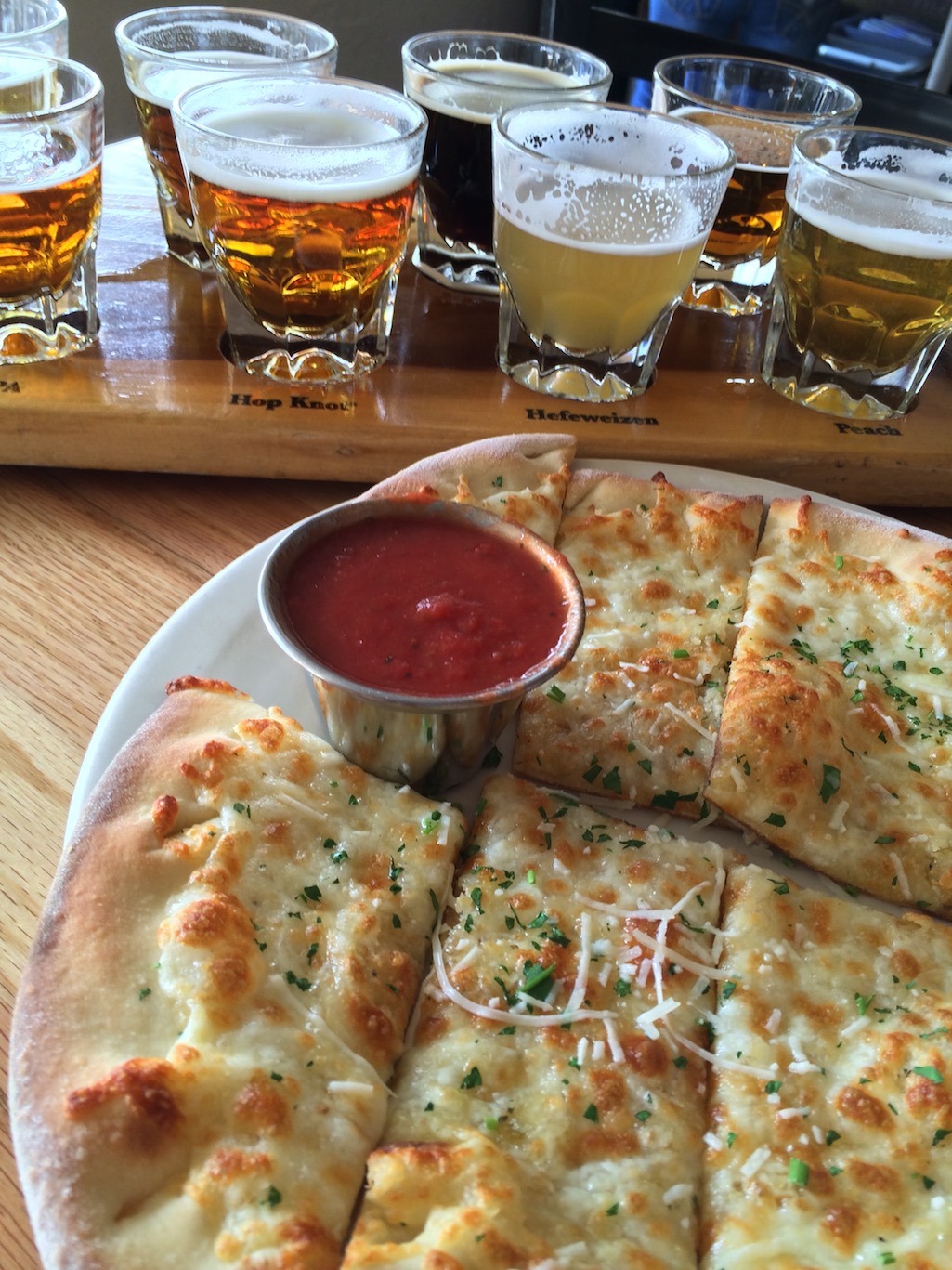 We took a few sips of the Lima Spiked Limeade in our sampler during the tour to tell you about something new. If you like a refreshingly tart citrus beverage with a kick, you'll love Lima.
Our next stop was a visit to the Canopy by Hilton. Now we haven't stayed at a Canopy yet but after taking a quick video tour we can't wait to try one. The Alibi, a full-service pool and bar on the rooftop with a gorgeous terrace, already makes us want to drop in and hang out for a while.
Many folks don't like to stay at the "big chain" hotels when traveling. We get that. We too, love to immerse ourselves in the local culture when we travel. The main focus of Canopy by Hilton is to fill the hotel with local character, flavors, and people. The design of each Canopy by Hilton has the fabric of its local destination woven into the tapestry of the hotel. You will feel and see the vibe of Tempe throughout, from the art and design to the welcome treat that comes from a local vendor in the neighborhood.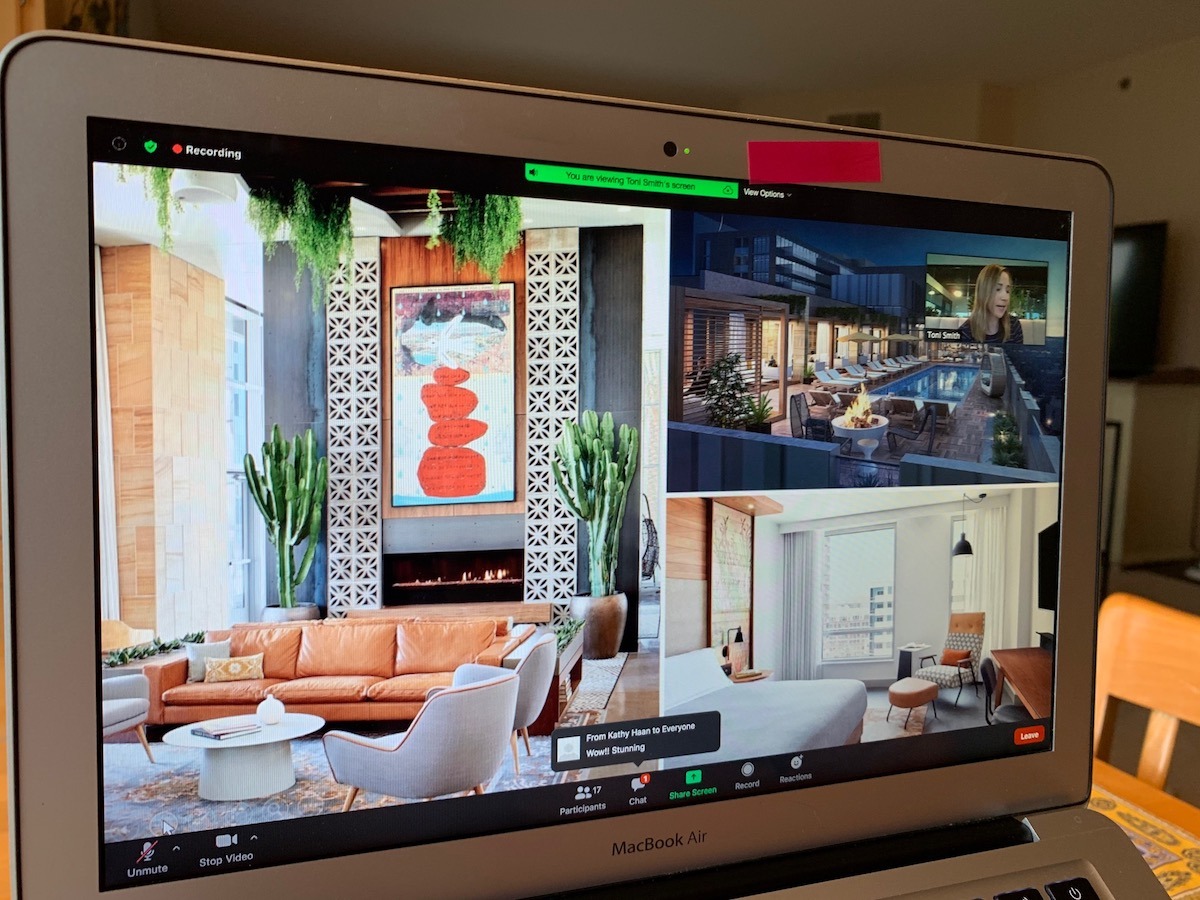 As if that weren't enough, they offer you a sampling of the area's tasty wines, craft beers, and signature cocktails every night. While we were taking our virtual tour, Chef Ken Arneson taunted us with a tasty- looking flatbread he was whipping up in the kitchen of the Alter Ego restaurant on the ground floor. The globally-inspired spot looks so relaxing, like a beautiful oasis of refreshment. We hope we get to check out the innovative cuisine and hand-crafted cocktails very soon.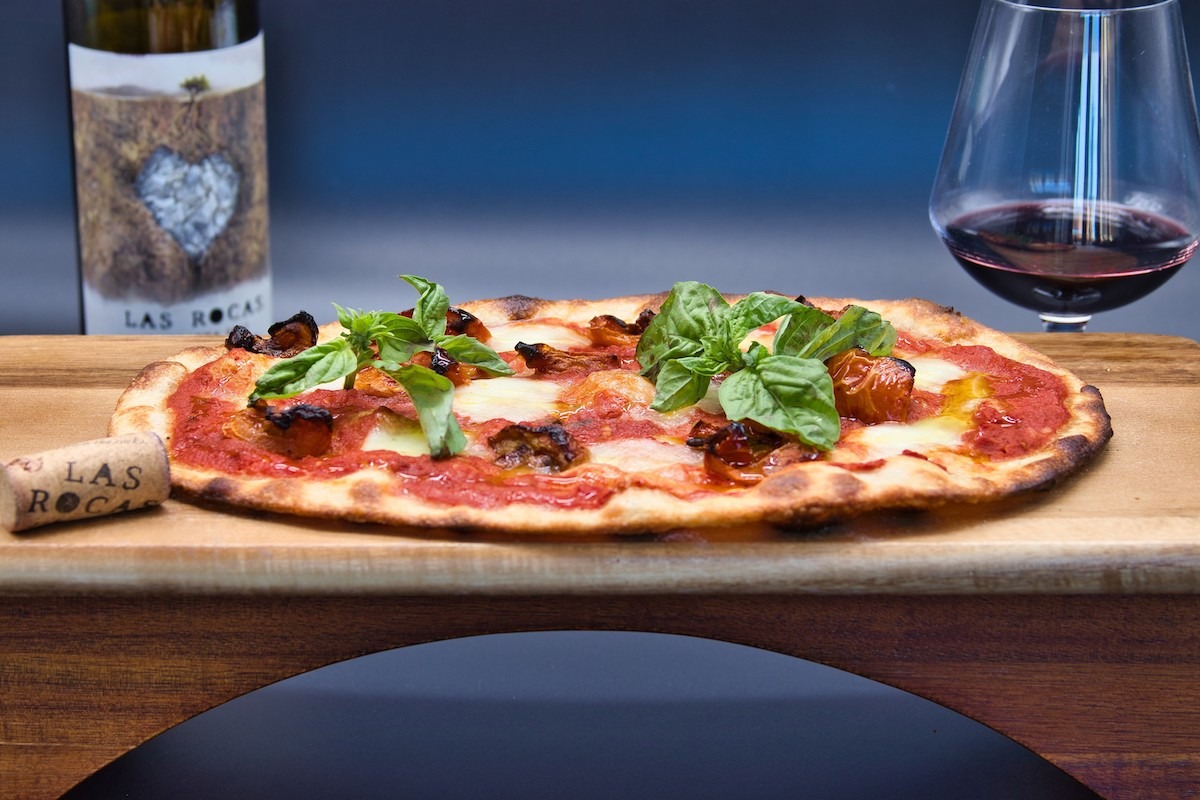 Arts, Museums, and Galleries
Our next stop was a mini-interview with Jayarr, a Tempe artist. When Jayarr describes himself as an "extreme extrovert" he's not kidding. His exuberance and love of his art came through loud and clear on our Zoom call. You can find his colorful creations all around Tempe with inspiring messages like "You Are Amazing" and "Only Human."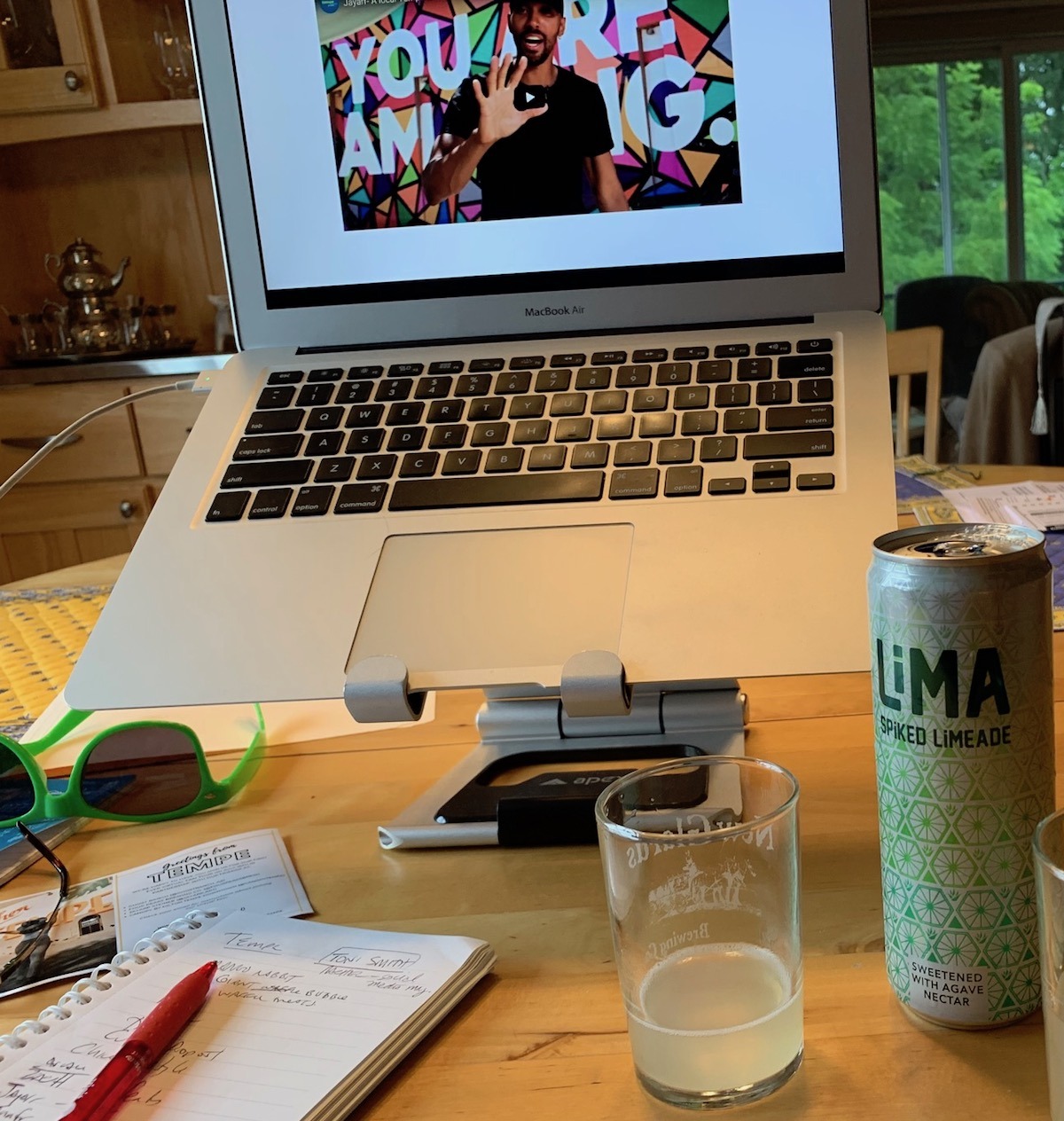 Jayarr's uplifting messages are just one part of the art scene in Tempe. You'll find a wide variety of museums and galleries to quench your thirst for artistry.  Check out the ASU Art Museum YouTube Channel and catch a performance at the museum. There are fun and educational art-making activities to keep the little ones busy and learning too. I might try my hand with the Origami Pencil Holder project this weekend. Looks like fun!
The Arizona Heritage Center and Historical Society have many activities to try online. Try some of their puzzles or games to test your skill. And take a look at the Tempe Center for the Arts for a series of free online performances to enjoy.
You may have a rainy day at home but that doesn't mean you can't still enjoy a virtual visit to the Gallery at Tempe Center for the Arts (TCA). They have lots of past exhibits and activities to keep you busy.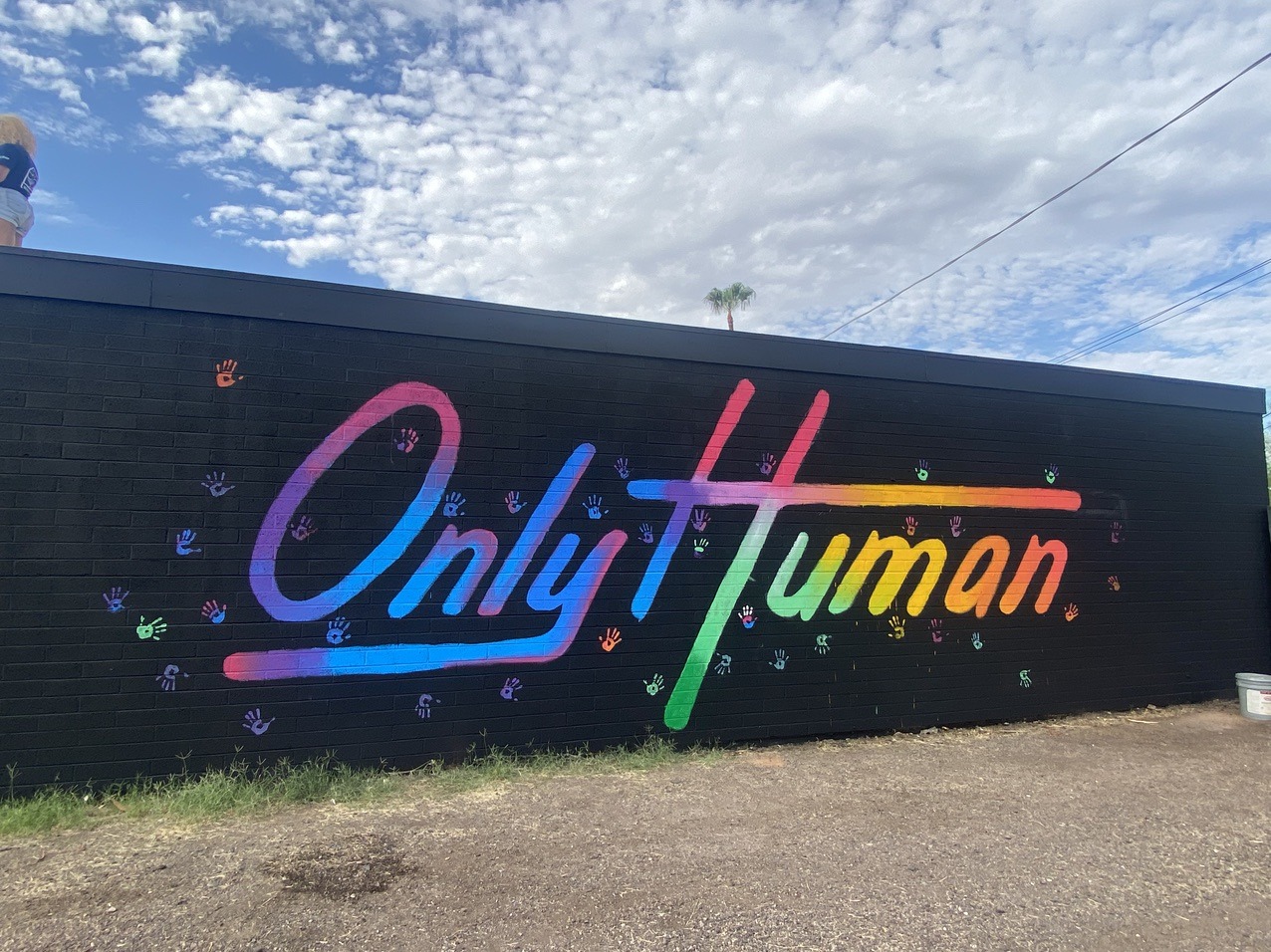 Did we mention Tempe's welcoming attitude? We noticed that in all their communications they are sure to include and support a diverse community. One of the first things we ask ourselves when considering a destination is: is it safe for us and everyone else who travels there? Pandemic aside, Tempe is a town that welcomes you no matter who you are, the color of your skin, or who you love. That's important to us.
Getting Outside in Tempe, Arizona
Ready to get outside? You know we love going out into nature and it should be no surprise that Tempe has plenty of nature to enjoy.  If you like biking, hiking, kayaking, and generally experiencing the wonders of nature Tempe has plenty of activities and lots of places to explore outside.
Now is a great time to explore the nearby Phoenix Zoo by taking a Digital Safari. It's full of videos and games that include all the animals you love.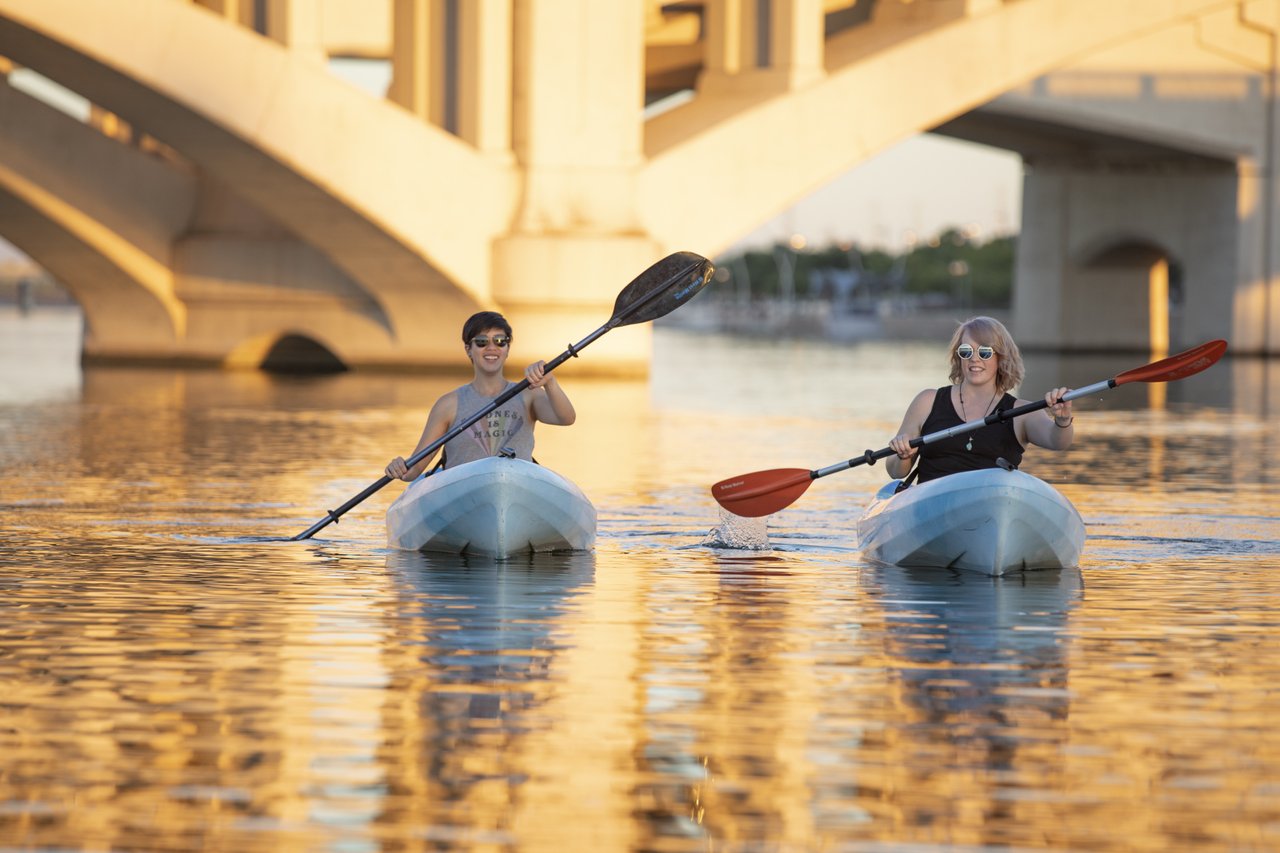 You can also explore Tempe Town Lake and Tempe Beach Park. We can't wait to see the over 80 birds that call this place their home.
Another must-see is the Desert Botanical Garden.  It's a wonderful place to spend the day surrounded by all the beautiful desert plants and flowers.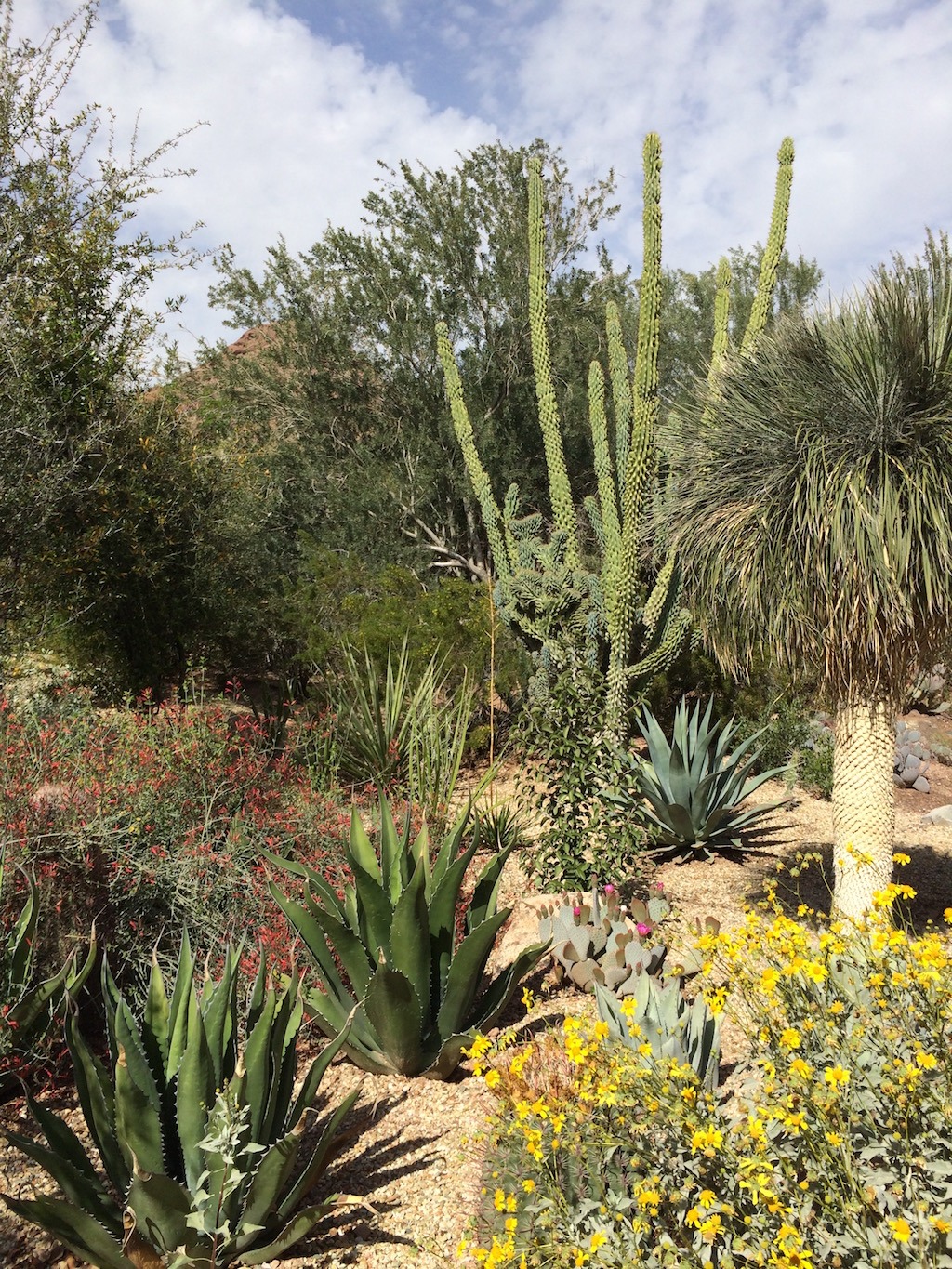 Globally Inspired Foods
While we didn't get to taste any of the food from Tempe we can tell you that there are lots of restaurants and flavors from around the globe. While you're sure to find a good share of southwestern fare you can also find Ethiopian, Irish, Italian, Mexican, Indian, Korean, Thai, Greek, Mediterranean, and more!.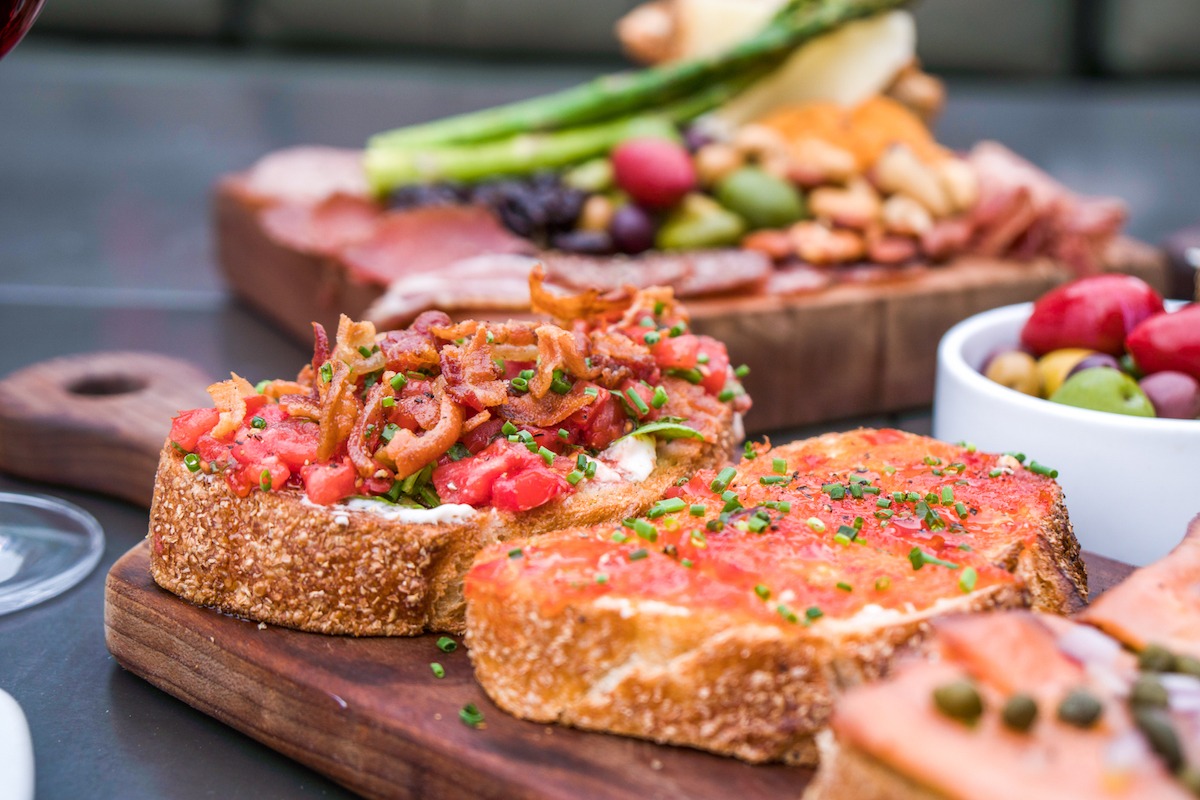 We asked for some of the local favorites and the list grew quickly. Clearly, there are a lot of tasty restaurants, pubs, breweries, and distilleries in Tempe. We'd love to check out the sweet treats and giant bubble waffles at Mango Rabbit. We'd have to go to Spinato's for pizza. This Chicago native will be the judge of their "The Chicago" pizza. It is square cut so I know they're definitely seeing the Windy City way. We also hear we shouldn't miss Ghost Ranch,  Crepe Bar, and Top of the Rock, just for starters.
Want to see more of the impressive food choices in Tempe, Arizona? Check out this short YouTube playlist of food videos that will give you a taste of Tempe. You might want to have a snack before you start. These videos will make you downright hangry!
Wait, There's More
In just an hour's time, we learned so much about this fun college town in Arizona. We loved discovering a new spot we can't wait to explore. We can imagine visiting and tasting our way through its unique restaurants and trying all the local breweries. Then we'd go hiking or kayaking around the area to explore all the wonderful nature spots. Most importantly, we want to feel that warm reception we experienced on our virtual tour. We know we'll be welcomed with open arms and many recommendations for all the fun things to see, do, and eat. We can't wait to meet everyone someday soon.
If you're like us and looking for ideas on where to travel when the time comes that you're ready, we hope you check out all the virtual tours Tempe Tourism has on their website. Watch this 360-degree photo tour of Tempe for a good a real feel of what to expect when you visit.
If you are road-tripping and adding Tempe to your southwestern itinerary be sure to check in with the local attractions, restaurants, and shops for their latest hours of operation.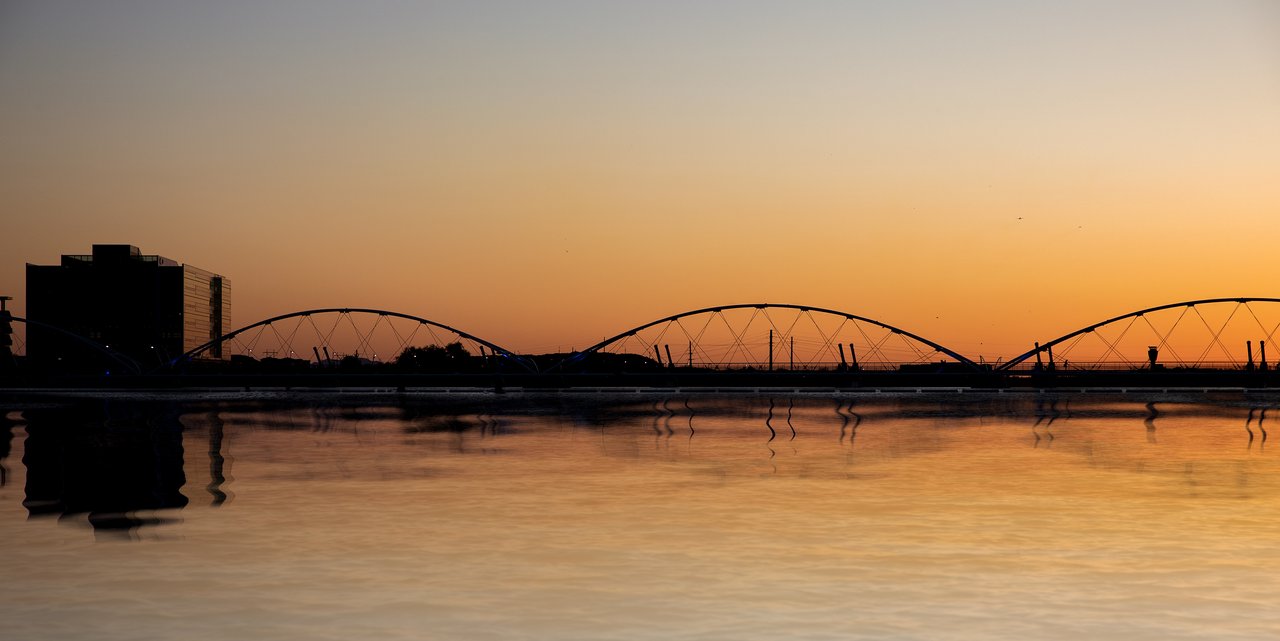 Pin it to your Travel Boards on Pinterest