It's that time again. Time for us to gather around the table with family and friends and eat the tasty treats that go along with our Thanksgiving dinner. I have to confess that as someone who likes cooking for large groups, I love preparing all kinds of "once a year" (or maybe two or three times a year for some of the more versatile dishes) dishes that everyone looks forward to around this time. It's a time to be thankful for all the wonderful people in my life, their health, and happiness, that the entire process of cooking a meal for them to celebrate how grateful we all are is pure joy for me. Creating my easy Thanksgiving recipes for all to enjoy, is my way of saying, I love you!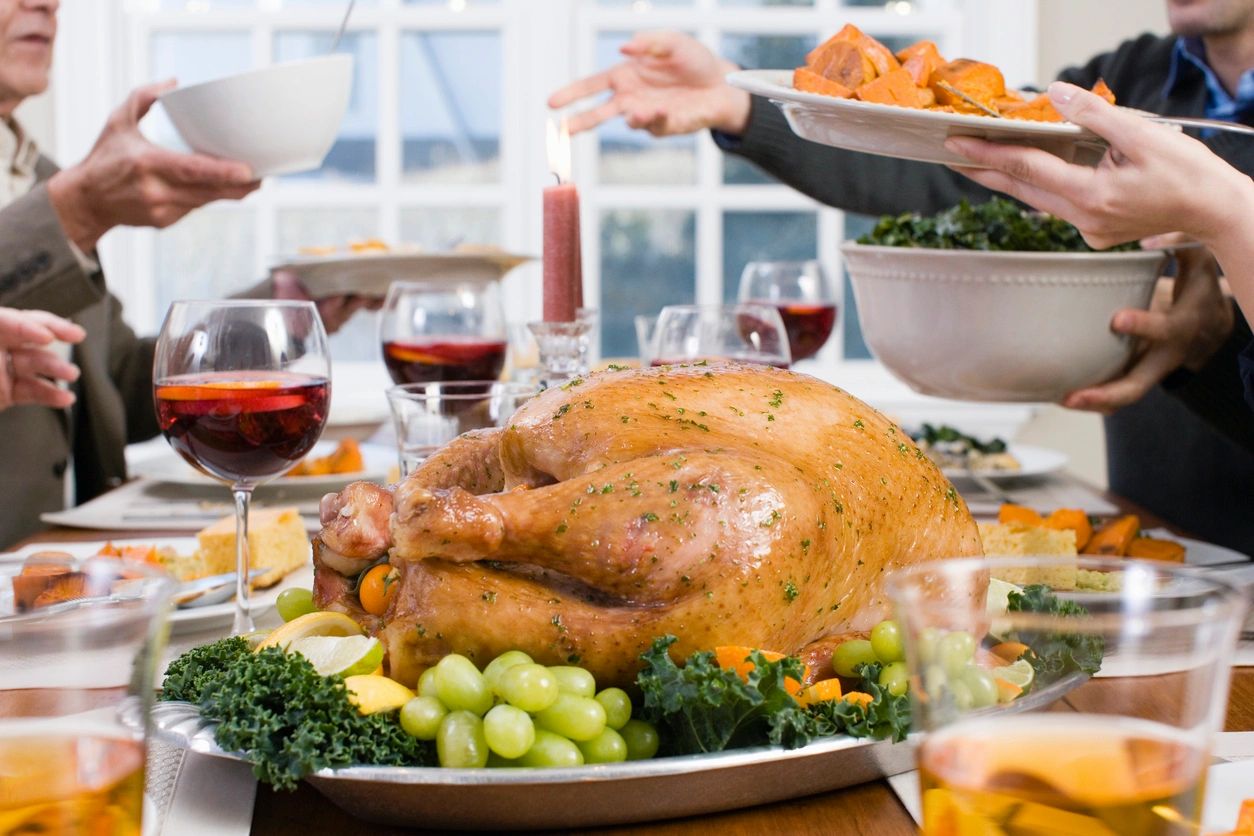 Easy Thanksgiving Recipes 
For those who like a traditional feast, undoubtedly the centerpiece of the feast is the turkey and stuffing. Well, I've made many kinds of turkey, from butter-herb roasted to marmalade glazed, with wine or with lemon, and a whole lot of stuffing that's been served with those birds. But the one that always gets raves and I come back to time and again is a deliciously different twist on tradition, Diana's Awesome Maple Roast Turkey recipe with Maple Pan Gravy and Savory Apple Stuffing. It's an easy traditional turkey recipe. It's even better than it sounds, and you'll want to make plenty for leftovers too. That's what we'll be enjoying at my house this year and, if you like, here are the recipes so you can enjoy it at your house too.
 

Diana's Awesome Maple Roast Turkey
Ingredients:
 
1 – 12 to 14-pound turkey (of course, you can adjust everything to suit the size of your bird)
3 Tablespoons of butter or margarine
2 Tablespoons pure maple syrup
1 – 13 1/4 ounce can low sodium chicken broth salt and fresh ground pepper to taste.
Maple Pan Gravy, recipe below

Directions:
1. Heat oven to 325 degrees F. Remove giblets and neck from turkey; set aside for other use if you choose. Rinse turkey under cold running water; drain well and pat thoroughly dry with paper towels. Set aside and make Savory Apple Stuffing, recipe below.
2. Sprinkle salt and pepper inside neck and body cavities of turkey. Stuff cavities lightly with Savory Apple Stuffing. Close with skewers and string. Tie legs together; tuck wings underbody. Place turkey, breast side up on a rack in an open roasting pan.
3. In a small saucepan over low heat, melt margarine or butter; stir in maple syrup. Brush syrup/butter mixture over turkey and spread evenly.
4. Roast turkey for 1 hour. Baste with all of the chicken broth. Roast 2 1/2 hours longer, basting pan with juices every 30 minutes until breast skin is crisp and golden and juices run clear when the thigh is pierced with a fork. A meat thermometer inserted into the meaty part of the thigh should register 180 to 185 degrees F.


Maple Pan Gravy
Ingredients:
 
Pan drippings reserved from Maple Roast Turkey
1 to 2 13 1/4 ounce cans low sodium chicken broth
2 Tablespoons all-purpose flour1/4 cup maple syrup
3 Tablespoons apple cider vinegar
Salt and pepper to taste
Directions:
 
1. Scrape turkey roasting pan to loosen brown bits; tilt the pan and pour off drippings into a large clear measuring cup. Skim off 2 Tablespoons of fat from drippings and place in 2-quart saucepan. Skim off and discard the remaining fat. Add enough chicken broth to drippings to make 3 cups and set aside.
2. Set saucepan with fat over medium heat. Stir in flour slowly until blended and whisk until smooth. Cook and stir 1 minute. Add reserved drippings mixture gradually, stirring. Bring to boil, stirring occasionally. cook 1 minute stirring occasionally until thickened.
3. Remove from heat; stir in maple syrup, vinegar, salt, and pepper to taste.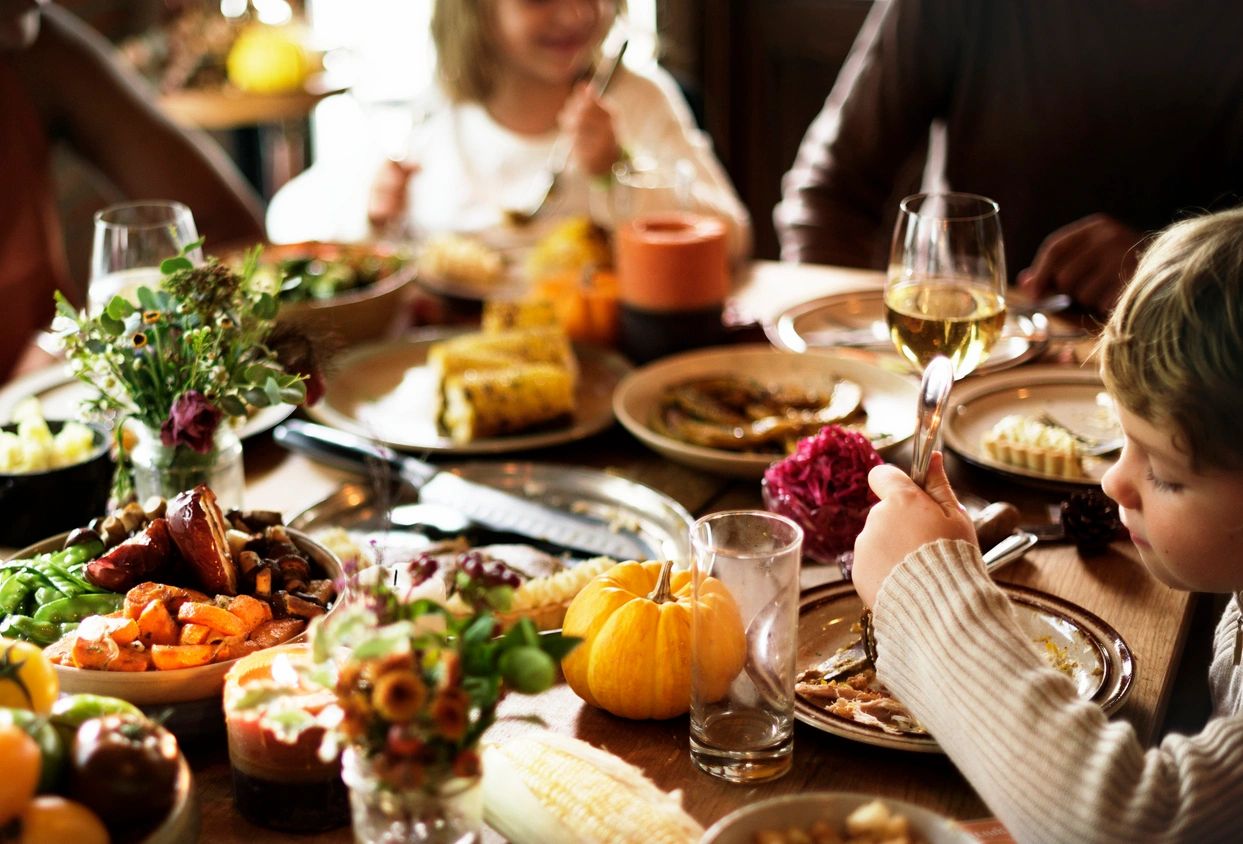 Savory Apple Stuffing
This easy Thanksgiving stuffing recipe receives raves no matter when we serve it. You can add various dried fruits and/or nuts as you like (we especially like the addition of golden raisins, dried cranberries, chestnuts, pine nuts, and dried apricots). You could easily add sausage if you'd like to. Here's the basic recipe that you can add to your heart's content.
 
 
Ingredients:
 
1//2 cup margarine or butter medium onions, chopped
2 cups 4 large ribs celery, chopped
2 cups 2 medium sweet red cooking apples such as Rome Beauty, cored and chopped
2 cups 2 medium tart green cooking apples, such as Granny Smith, cored and chopped
2 cups 2 8 oz. packages of herb-flavored stuffing mix
1 cup chopped fresh parsley
1/4 teaspoon salt1 teaspoon freshly ground black pepper
2 1/2 cups apple cider
Directions:
 
1. In 12-inch skillet over medium-high heat, melt margarine; add onions, celery, and apples; cook 4 to5 minutes, stirring frequently until softened.
2. Remove from heat; stir in stuffing mix, parsley, salt, and pepper. Add cider, stirring just to moisten.
Makes about 14 cups.
 
I hope these easy Thanksgiving dishes bring as much joy to you as they have to me over the years. Enjoy and have a wonderful Thanksgiving – from my kitchen to yours.
If you're looking for a winning recipe for leftover turkey be sure to check out my turkey tetrazzini post it's one of Sue's favorites.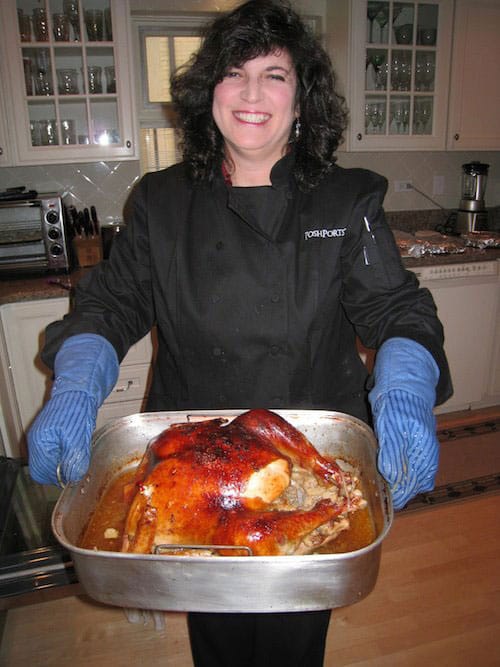 Pin it!!