Perfecting the Vienna Picnic
One of the most beautiful cities in Europe, Vienna provides many wonderful options during the sunny months of summer for perfecting the Vienna picnic.
Some hotels will provide you with a basket freshly prepared and ready to go for your perfect Vienna picnic. There are  also plenty of places you can purchase all the goodies you desire. Or, you can hit the market and put your own feast together. However it comes to be, a basket, bag, box or backpack full of delicious treats can be the perfect way to combine eating, people-watching, and exploring in Austria's capital city.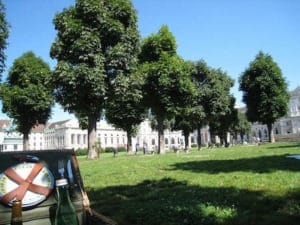 There are many parks and gardens around Vienna to use as a lunch spot. When perfecting your Vienna picnic, you'll want to decide where you'd like to sit and relax for your meal and where you'd like to go before and after the meal. Be sure that, whatever your plans, if you'll have a basket or box to take with you that you account for where you will keep it when you're through. Many of the museums and attractions will hold onto it for you while you're there.
Vienna Hofburg is an extensive palatial complex with grounds, horse stables, the Sisi Museum, imperial apartments and more. There are lovely spots where you can take your Vienna picnic with you and enjoy all the people-watching and sun-sitting you can take.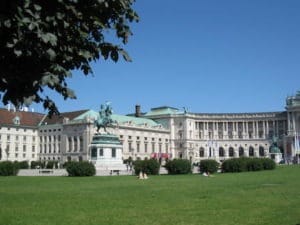 The Viennese Prater provides another great venue to picnic.  You can find peaceful lawns, take a little water trip in a pedal boat or take a nice long walk. If you crave some other activities, then you will also find a planetarium, giant Ferris wheel and other activities as well. Pretty much something for everyone.
If you stay at the luxurious Sofitel Vienna Stephansdom  they can provide you with an incredible picnic basket ready just for you. With sandwiches, sides, fruit, wine and water, with all the plates and utensils you would need, it makes picnicking in the park a breeze.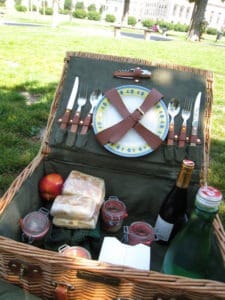 If you're on your own, the delicatessen at Zum Schwarzen Kameel can put together an incredible Vienna picnic basket for you to enjoy, with classic tastes such as schnitzel and strudel to elegant bites of lobster and foie gras.
The Naschmarkt is a popular market for locals as well as visitors, located near the city center. There are food stalls, restaurants and even a flea market on (on Saturdays). Be sure that you have your Vienna picnic plans all set – or you might just spend longer at the market than you intend!
Be sure to enjoy some of the wonderful wines from Vienna, the wine capital of Austria!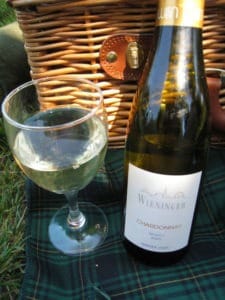 THE QUICK BITE: Vienna is a wonderful place to build or buy a picnic basket and enjoy the scenery, people-watching, great food and wine.