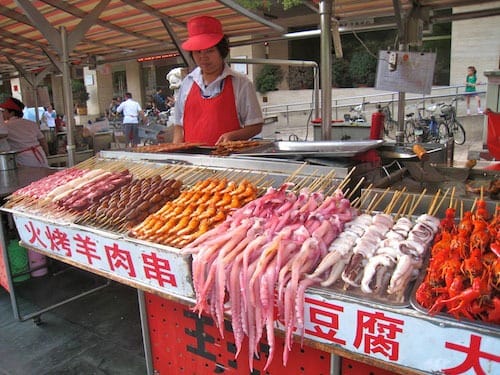 Donghuamen Night Market is definitely a must-not miss stop when visiting Beijing. Located conveniently in the northern part of Wangfujing in Beijing the vendors line up a display their unusual wares. Everything from snake, water beetles, starfish, centipedes, scorpions, crickets and even sheep's penis can by purchased and fried up in a wok right before your eyes. You simply can't imagine all the different "food" items that appear on a stick.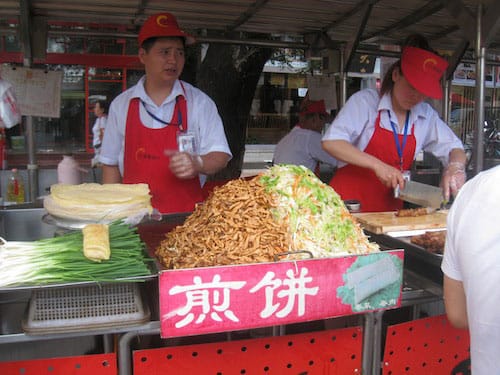 For those who are a bit on the timid side there's plenty of rice, fried rice, chicken, dumpling, spring rolls and other more typical Asian fare. We noticed that these items were purchased with great regularity. Perhaps the other more intriguing items make for a good view, lots of tourist photos and fun discussions around dinner tables both in China and around the world. But when it comes to actual purchases and consumption, we think you're more likely to find these delicious filled pancakes in the hands of hungry passersby than a scorpion on a stick.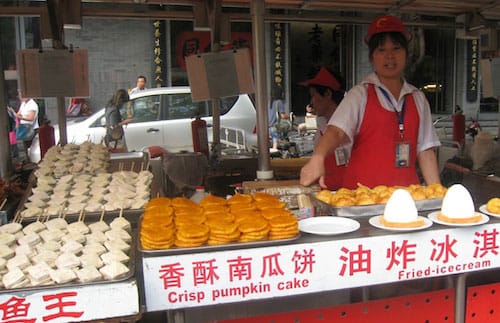 If you have a sweet tooth there are a lot of tasty sweets from which to choose.  Candied fruits, fried pumpkin cakes, fried ice cream and plenty of fresh fruit are all over the market. Don't let the scary stuff fool you. It's fun, but not necessary to enjoy Donghuamen Night Market. It will definitely be an experience you won't soon forget. Be sure to bring your camera.
THE QUICK BITE:  Don't forget to take your camera and your spirit of adventure! You won't be alone in your quest to document your food trophies at the Donghuamen Night Market.