Gemista means "filled with" in Greek. It generally represents a whole host of stuffed vegetables like peppers, tomatoes, zucchini, eggplant, and others. Gemista is one of our favorite bell pepper recipes. But we also love to make other stuffed vegetables.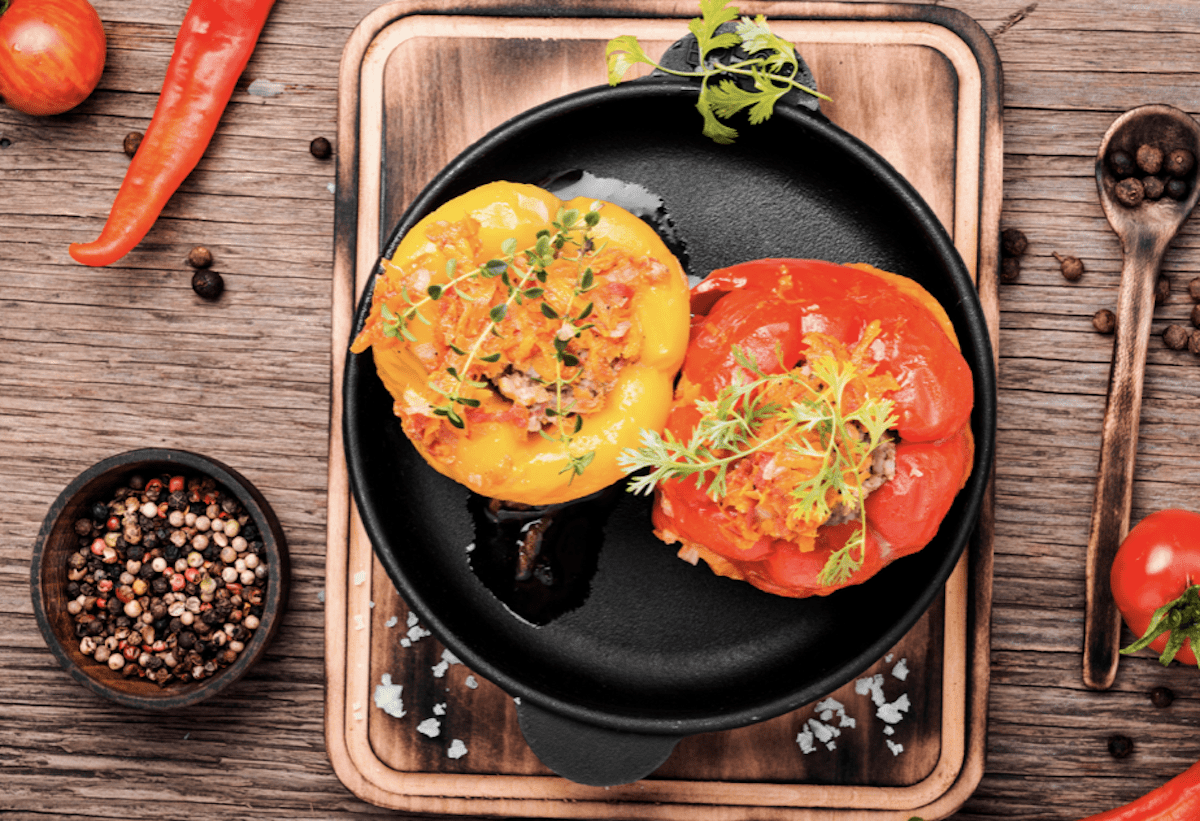 Best Stuffed Peppers
Healthy stuffed peppers are great tasting and easy to make. You can make Greek stuffed peppers or Italian stuffed peppers by simply shifting the spices and cheese a little. Vegetarian stuffed peppers or vegan stuffed peppers are super easy. You can choose the stuffing of your choice.
Fill As You Like
Rice, quinoa, barley, couscous, orzo, breadcrumbs or other grains or small pasta make a great stuffing. Add some veggies for healthy stuffed peppers.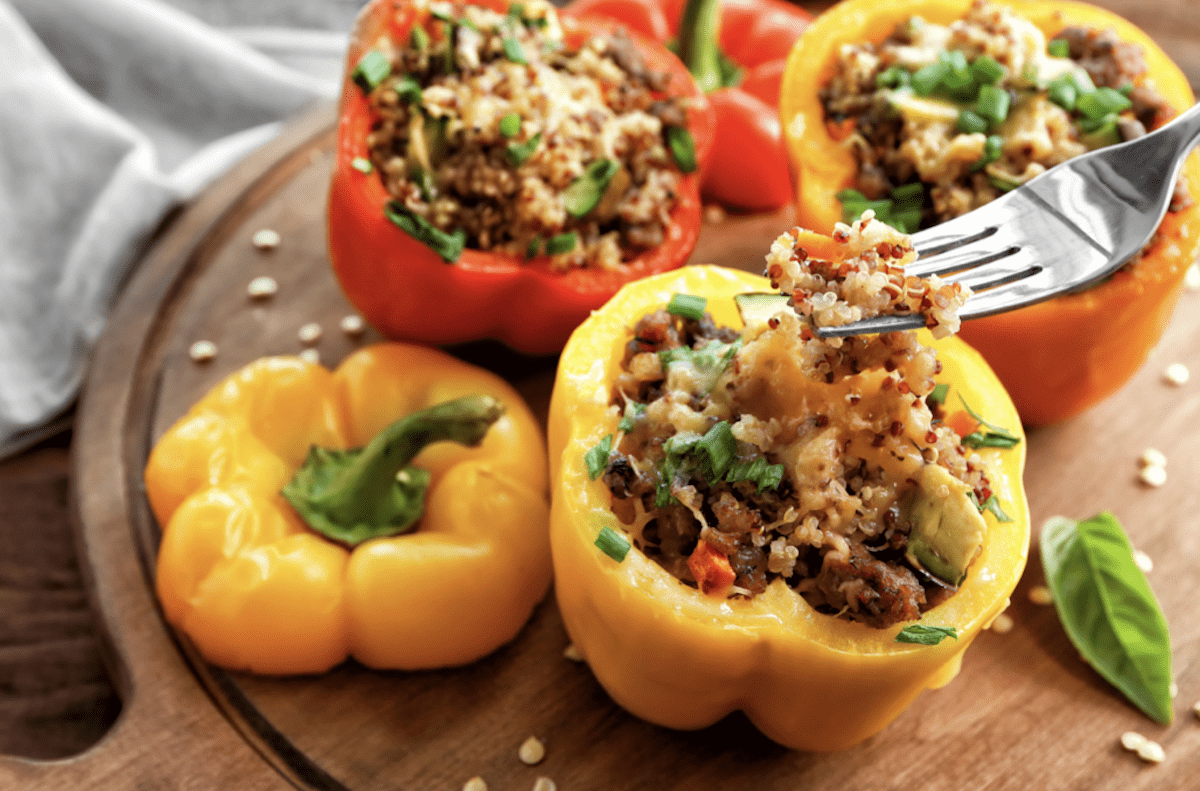 Make ground turkey stuffed peppers or add any ground meat you like for the best stuffed peppers that fill you up at any meal.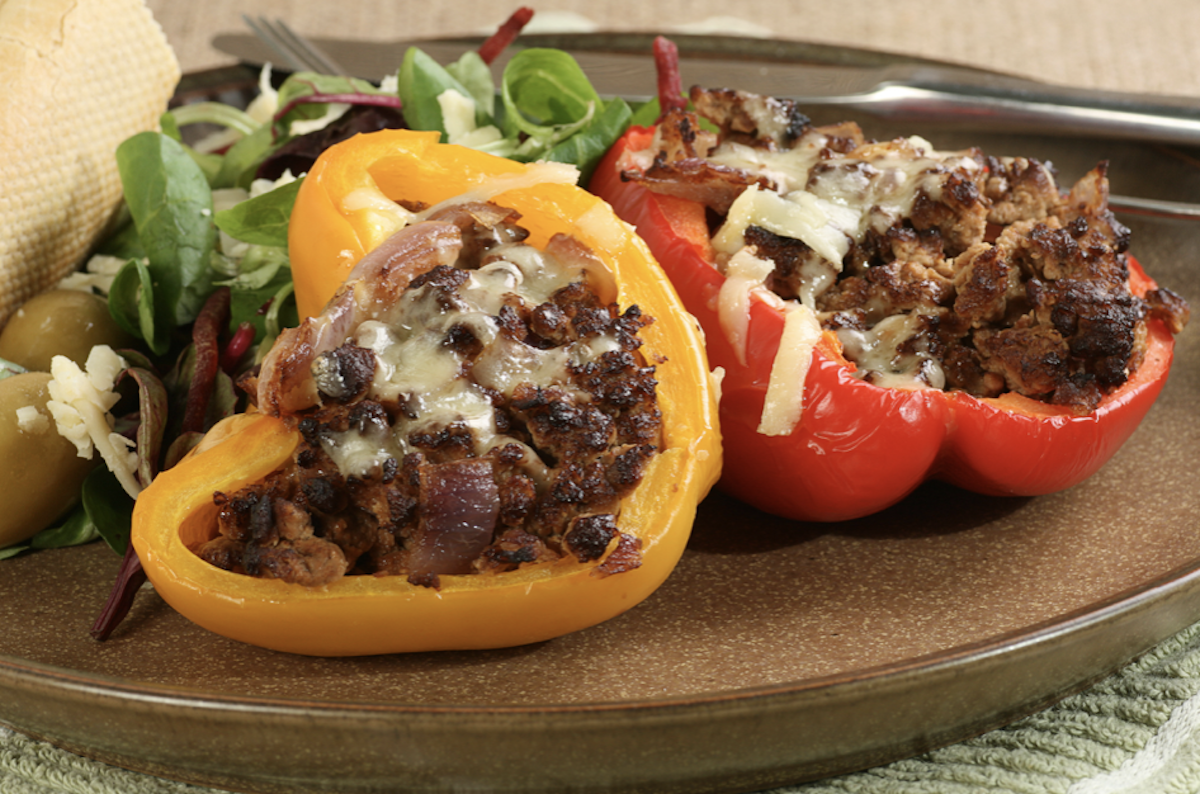 Use Your Favorite  Stuffable Vegetables
If you don't feel like peppers, you can make other stuffed vegetables. Greek stuffed tomatoes are a favorite. But you can use eggplants, zucchini, or other vegetables just as well.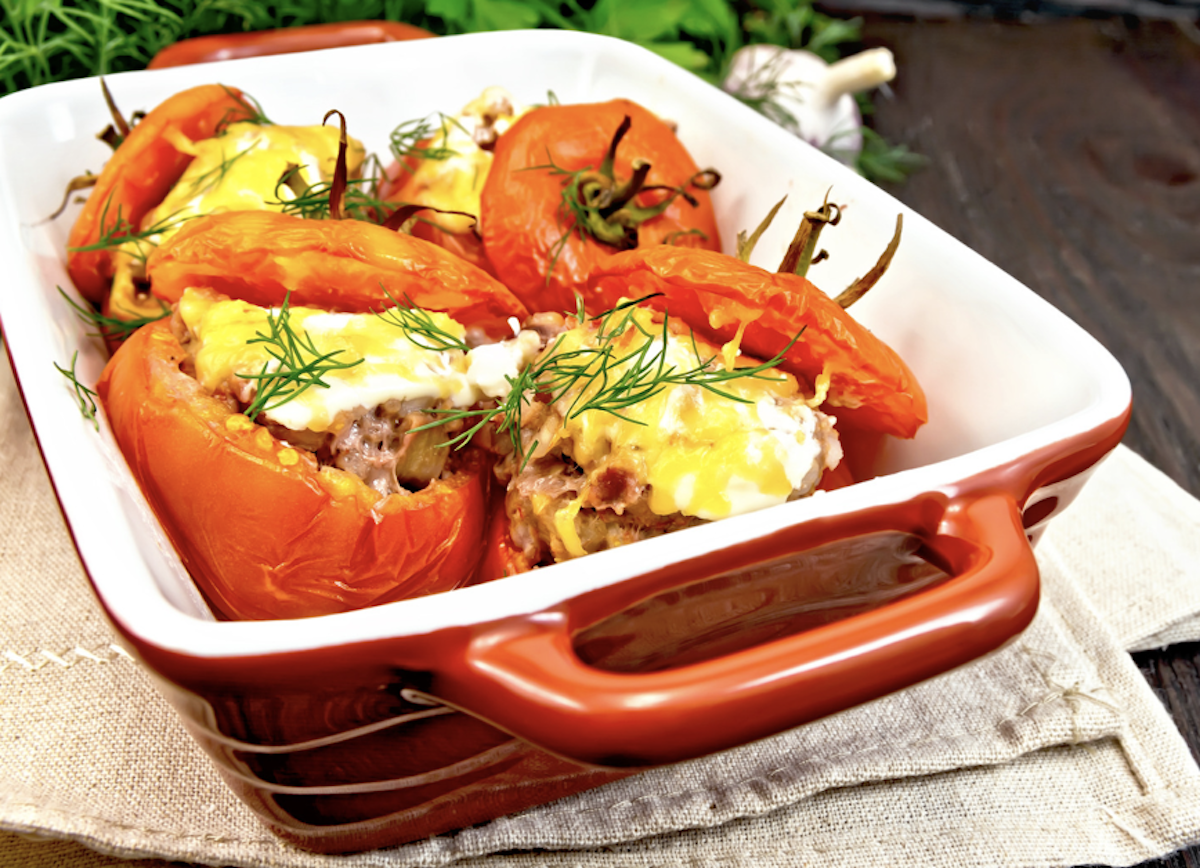 To stuff the vegetables, you can either slice in half or take off the top. Either way, you want to create some space for the stuffing.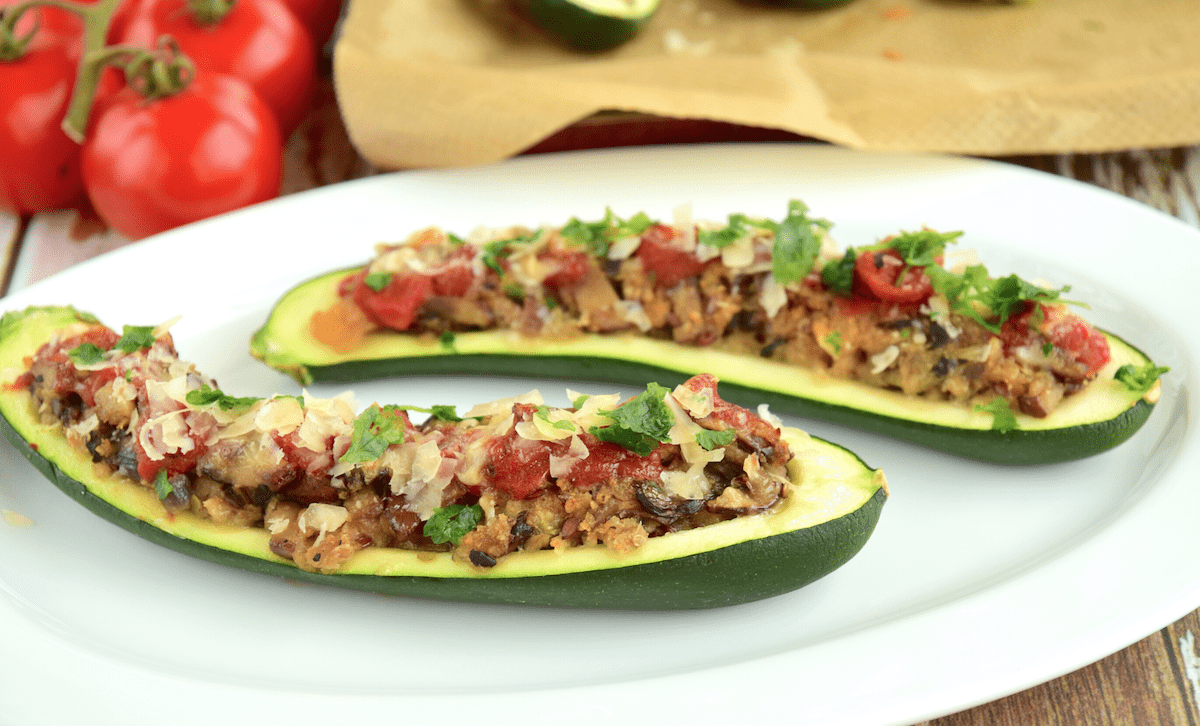 Some people like their stuffed vegetables plain. Others like to sprinkle with buttered breadcrumbs and some cheese.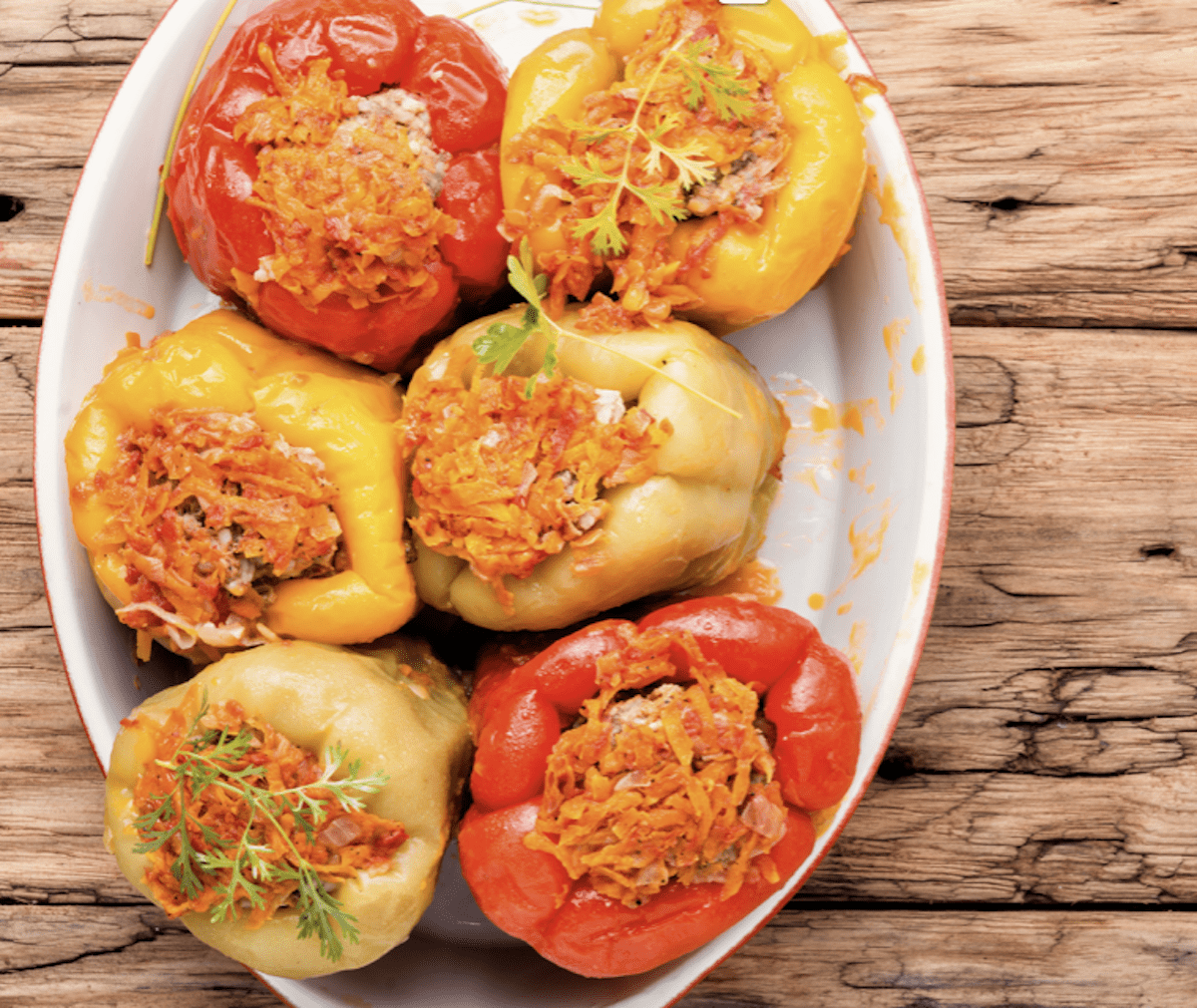 Gemista In The Oven
We like to roast our Gemista in the oven. We use a water bath to create some steam and allow the stuffing to get nice and set. You can do this whether you want vegetarian stuffed peppers, vegan stuffed peppers or ground turkey stuffed peppers or any stuffed vegetables.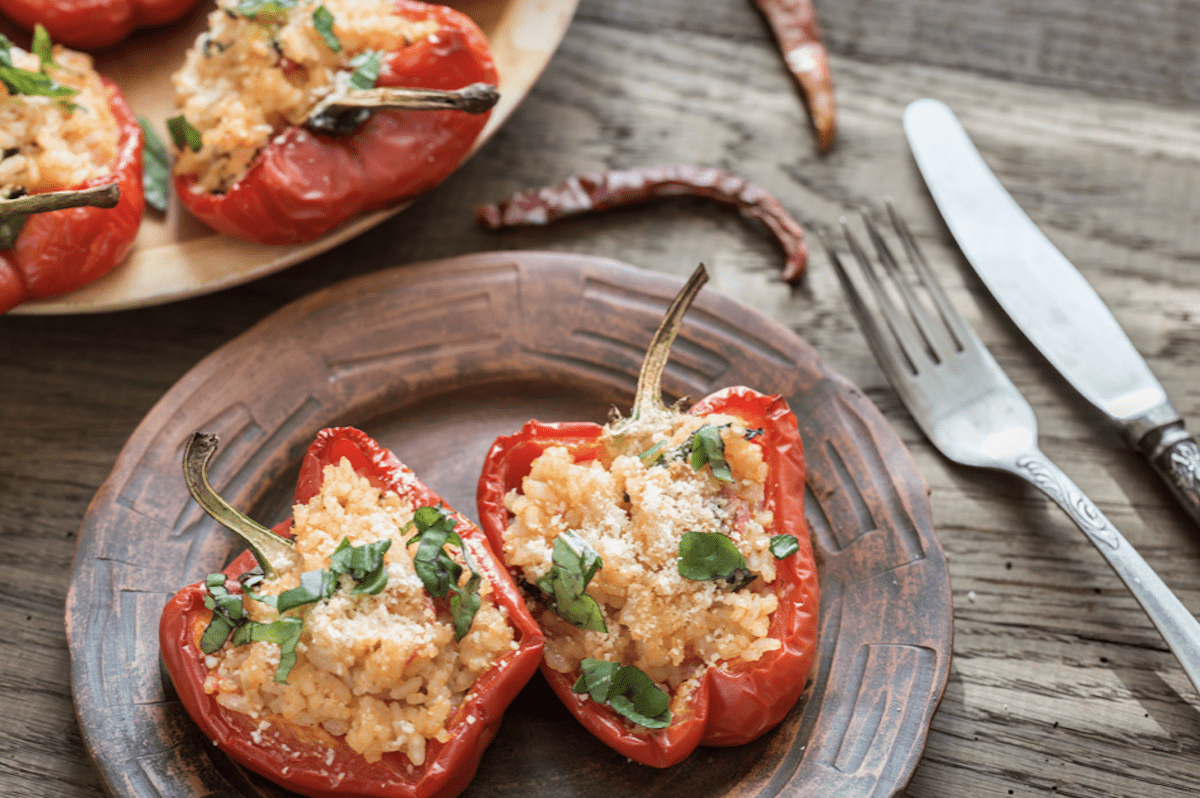 Bell Pepper Recipes
It's fun to create the best stuffed peppers using whatever ingredients you have on hand. Sometimes we add a little tomato sauce and basil to a mixture of ground turkey and orzo for delicious Italian stuffed peppers.
Other times we add rice, kalamata olives, and feta cheese to create Greek stuffed peppers. You can use the same combination to make Greek stuffed tomatoes.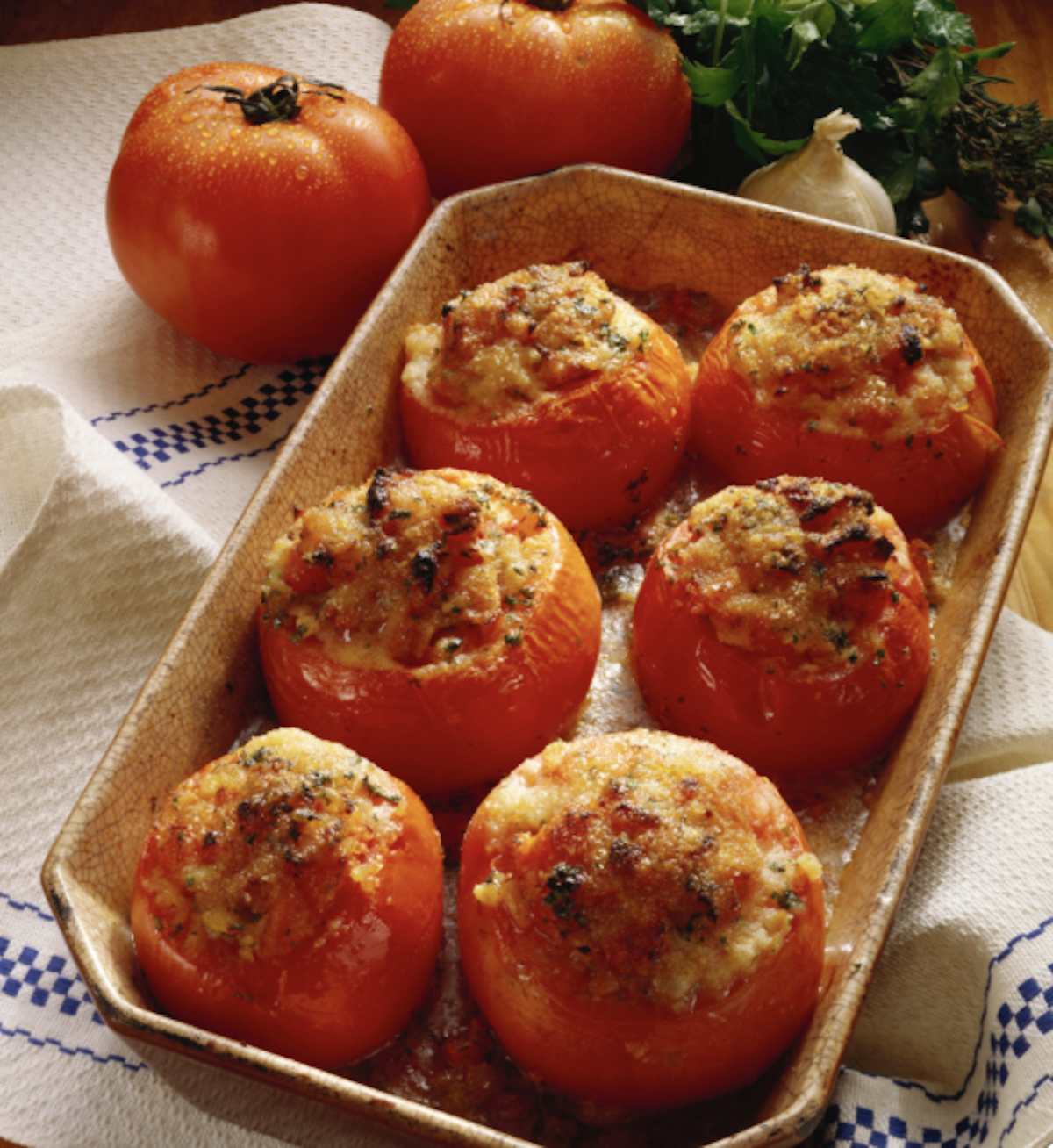 Stuffed Peppers & Vegetables
However you make your Gemista, it's fun to make a meal that incorporates veggies in a healthy way. Here's our take on this classic Mediterranean dish, but feel free to add some twists of your own.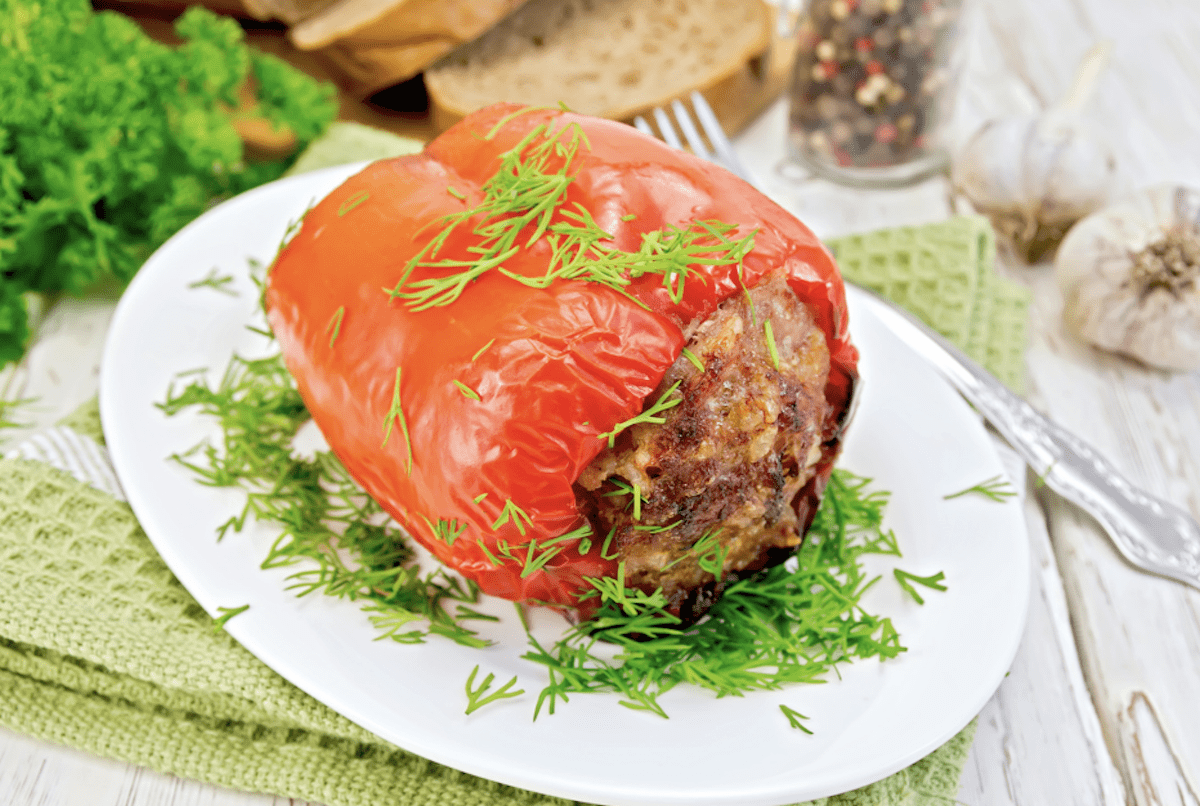 Gemista Stuffed Vegetables Recipe
We'll show you how to make this recipe for two vegetables, but you can make as many as you like.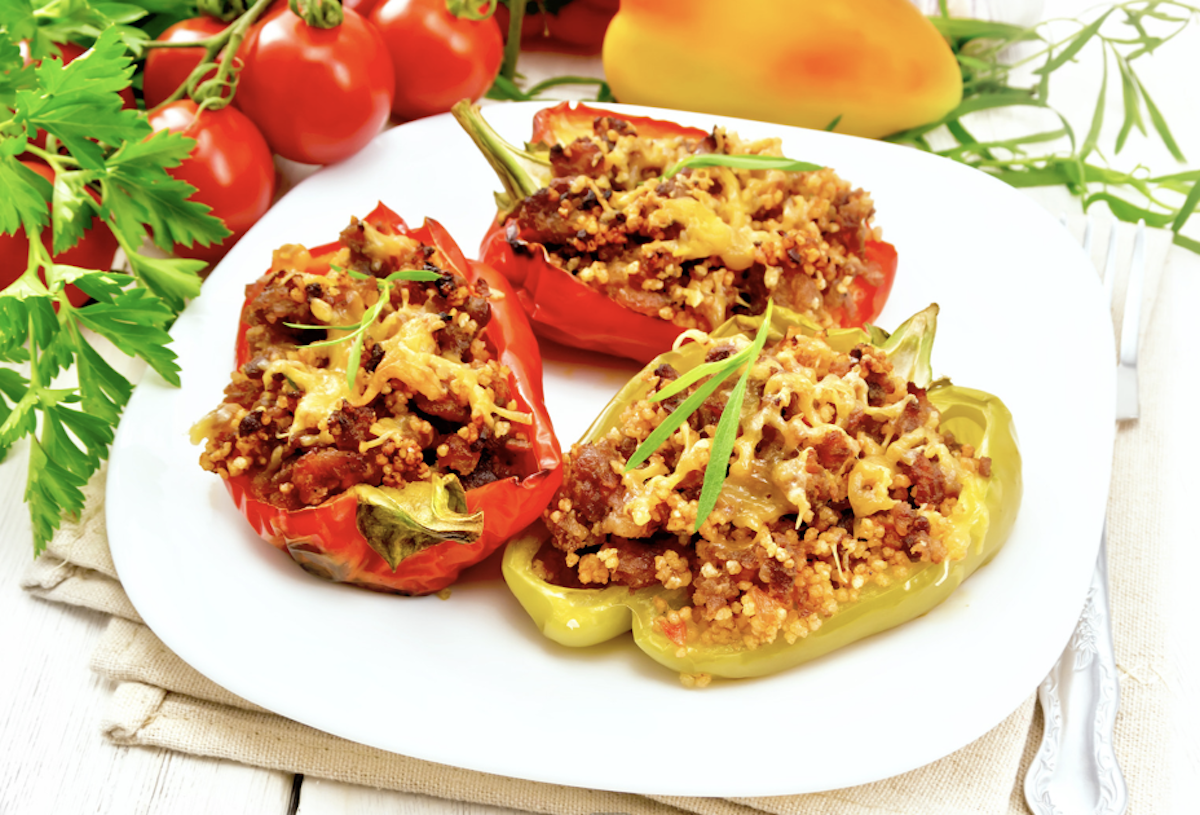 Ingredients
2 large vegetables for stuffing, choose from bell peppers, tomatoes, zucchini, eggplant, and others
1/2 to 1 cup cooked grain or small pasta like couscous or orzo (1 cup if making vegetarian stuffed peppers, 1/2 if using meat too)
1/2 onion, chopped
2 cloves garlic, minced
1 Tablespoon dry parsley
1/2 to 1 cup ground turkey, beef, pork or other ground meat (1/2 if using grain too)
1 teaspoon dried oregano (for Greek) or basil (for Italian)
1/2 cup other shredded or small diced vegetables, if desired. This can include zucchini, eggplant, potatoes, carrots, etc.
1 teaspoon tomato paste (can use sauce if you don't have paste)
3 Tablespoons Extra Virgin Olive Oil
Breadcrumbs and/or shredded cheese to top, optional
Salt and Pepper to taste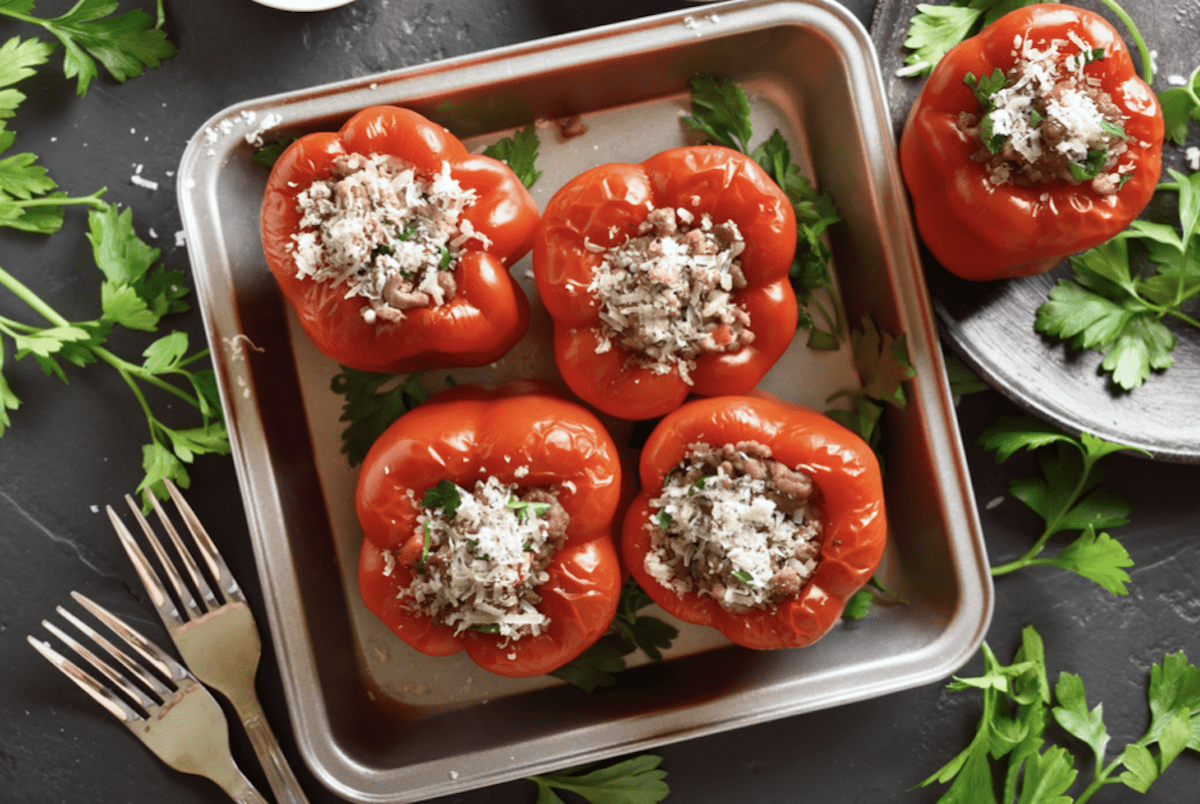 Directions
Preheat oven to 400 degrees F.
Slice vegetable in half or take off the top to make a "cap" and scoop out inner pulp to make room for stuffing.
Make grain or pasta according to the directions on the box. You can also use prepared stuffing mix for vegetarian stuffed peppers or to add to meat.
Heat the olive oil in a skillet and add chopped onions. Cook until soft, about 3-4 minutes.
Add garlic and cook for 1 minute until fragrant.
Put any shredded or diced veggies you want to include in the pan and stir until soft.
Add ground meat to the pan and cook until brown (if using meat).
Add tomato sauce or puree.
Incorporate cooked grain or pasta into the meat mixture. If not using meat, just add to onions and vegetables.
Fill hollowed vegetables with stuffing. Top with breadcrumbs and/or cheese if you like.
Add about 1/2 inch of water to baking dish.
Set stuffed vegetables in a baking dish. If you have "caps" place those on top.
Place baking dish in the oven and cook for 45 minutes or until vegetables are soft and top of stuffing is crisp.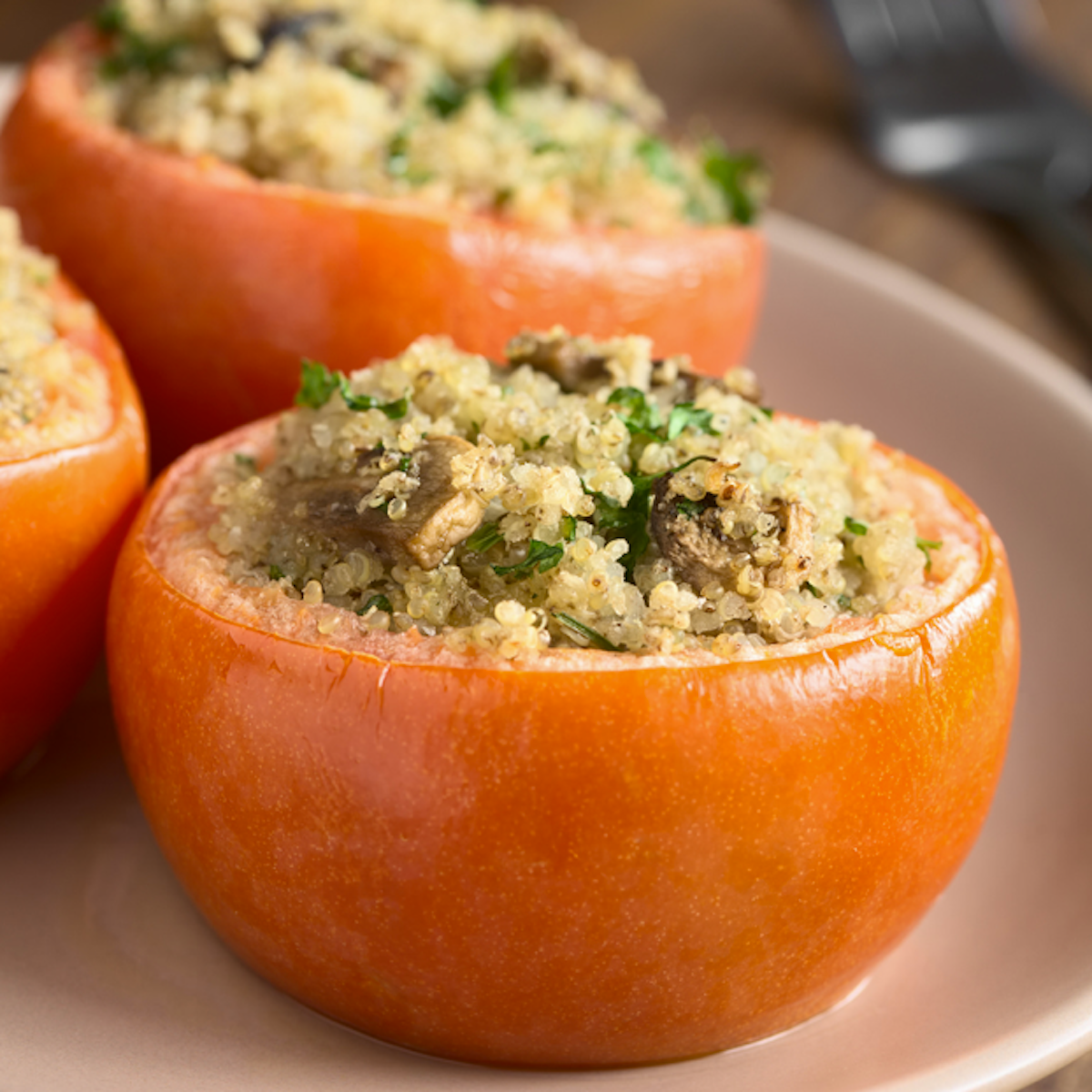 If you're looking for other easy and healthy recipes check out our Stale Bread Panzanella and Veggie Noodles Like Zucchini Spaghetti.
Pin to your favorite recipe board on Pinterest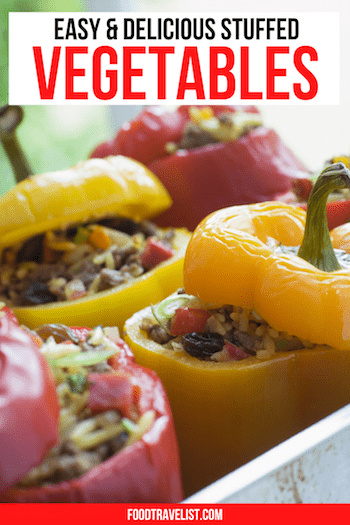 .