Once in a while, you discover a really special food that captures your heart and your imagination. For some of us, grilled halloumi cheese is one of those special taste treats.
Halloumi is a firm cheese that comes from the island of Cyprus in the Mediterranean. It's traditionally made from a mixture of goat and sheep milk but can also be found made from cow's milk today.
Its unique texture when cool could be described as rubbery. In fact, in many homes familiar with Halloumi, it often gets the nickname "squeaky cheese" because it kind of squeaks in your mouth when you bite down on it in cool form.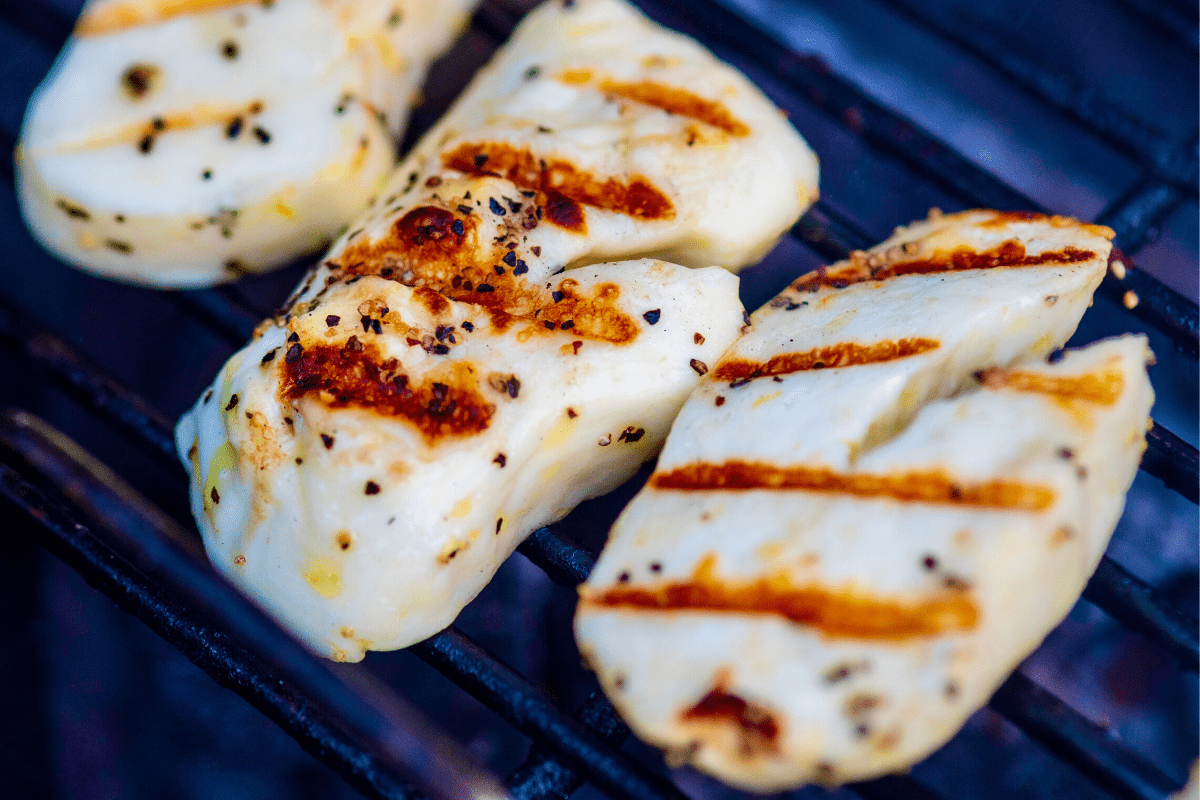 But like that great outfit that easily goes from daywear to party wear with just a little attention to detail, Halloumi transforms itself into a chewy, briny, crusty delight when pan-fried in olive oil or cooked on a grill. Its high melting point makes it easy to achieve a crust on the outside, while the inside gets deliciously soft.
While originating in Cyprus during the Medieval Byzantine period (AD 395-1191), Halloumi can now be found throughout the Middle East and is exported to many places around the world.
While the chill is hitting the air in many parts of the world, Halloumi packs a powerful protein punch and when combined with some greens and veggies, as in this easy salad recipe, provides a healthful but satisfying meal. Great for vegetarians and omnivores alike.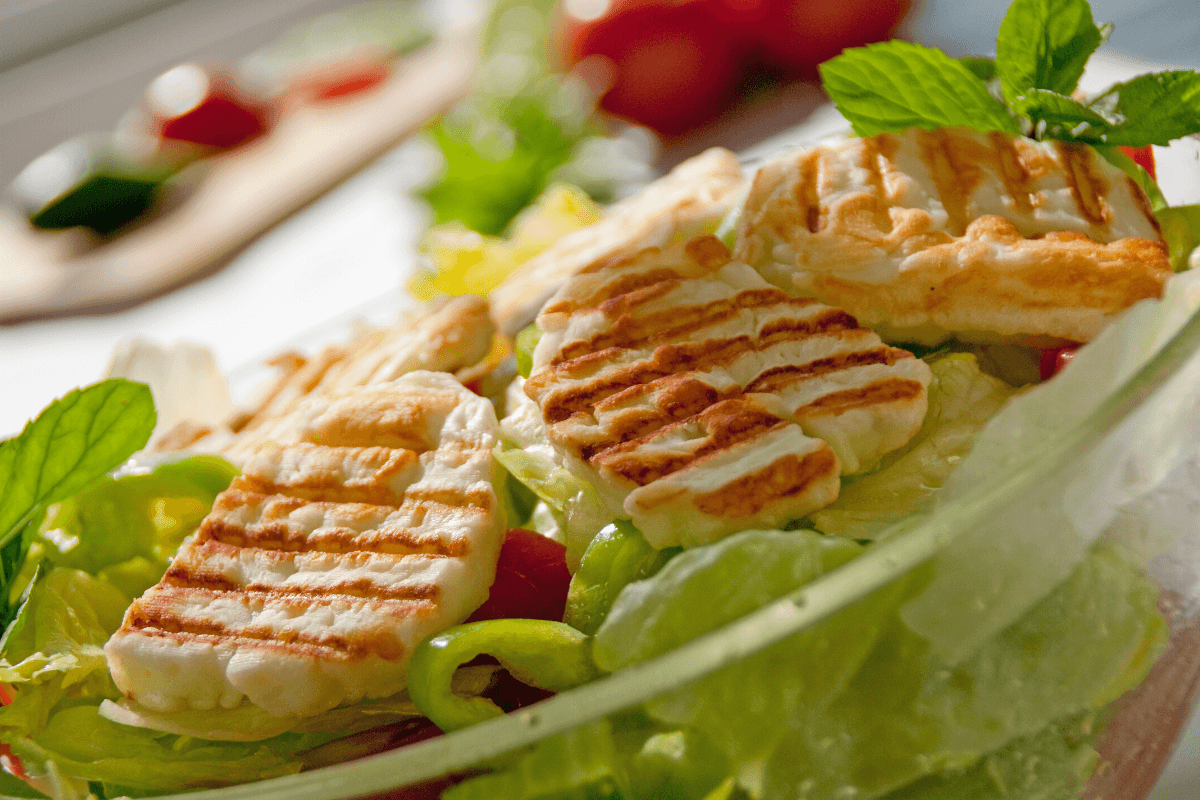 Grilled Halloumi Salad
Halloumi is a delicious cheese that makes a wonderful topping for any salad.
Ingredients
Halloumi Cheese

(Sliced into 1/2 inch thick slices)

Olive Oil

(For brushing and drizzling)

Lettuce and Salad Greens

Vegetables

(Tomatoes, Carrots, Cucumber whatever you prefer.)

Lemons

(For squezing)

Warm pita bread
Instructions 
1. Remove Halloumi from the package and cut it into thick slices, approximately 1/2 inch thick.

2. Prepare plates or bowls with mixed salad greens and vegetables to form a bed for the cheese.

3. Heat the grill pan or indoor or outdoor grill on medium heat.

4. Lightly brush the Halloumi slices with olive oil on both sides.

5. Place pieces of cheese on a hot grill pan or grill and cook on the first side until the cheese begins to soften and the outer side forms a crispy crust, about 2 minutes. Then flip the cheese and grill the other side. Do not overcook- just get the outside crispy.

6. Immediately place the grilled Halloumi on top of the salad beds and squeeze 1/2 fresh lemon over the grilled cheese and salad then sprinkle with olive oil.
Notes
Serve with warm pita bread for a healthy and hearty meal.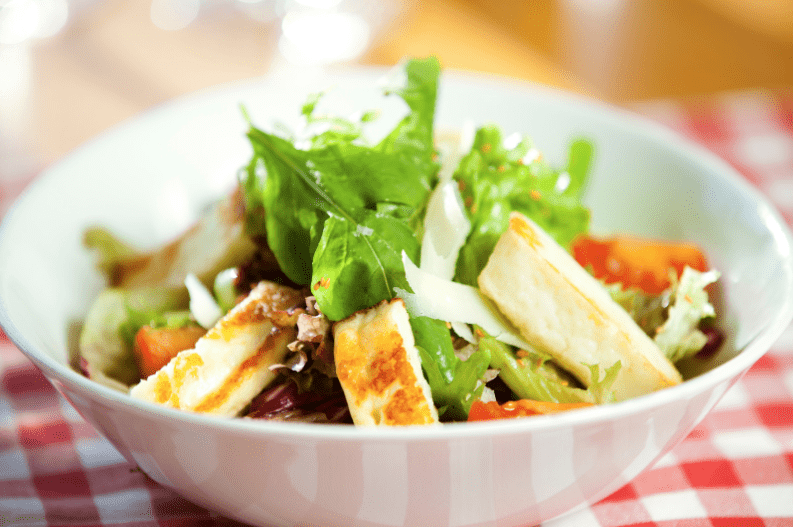 Once you've tried grilled halloumi cheese you'll want to try it in as many ways as possible. Why not add it to your grilling skewers?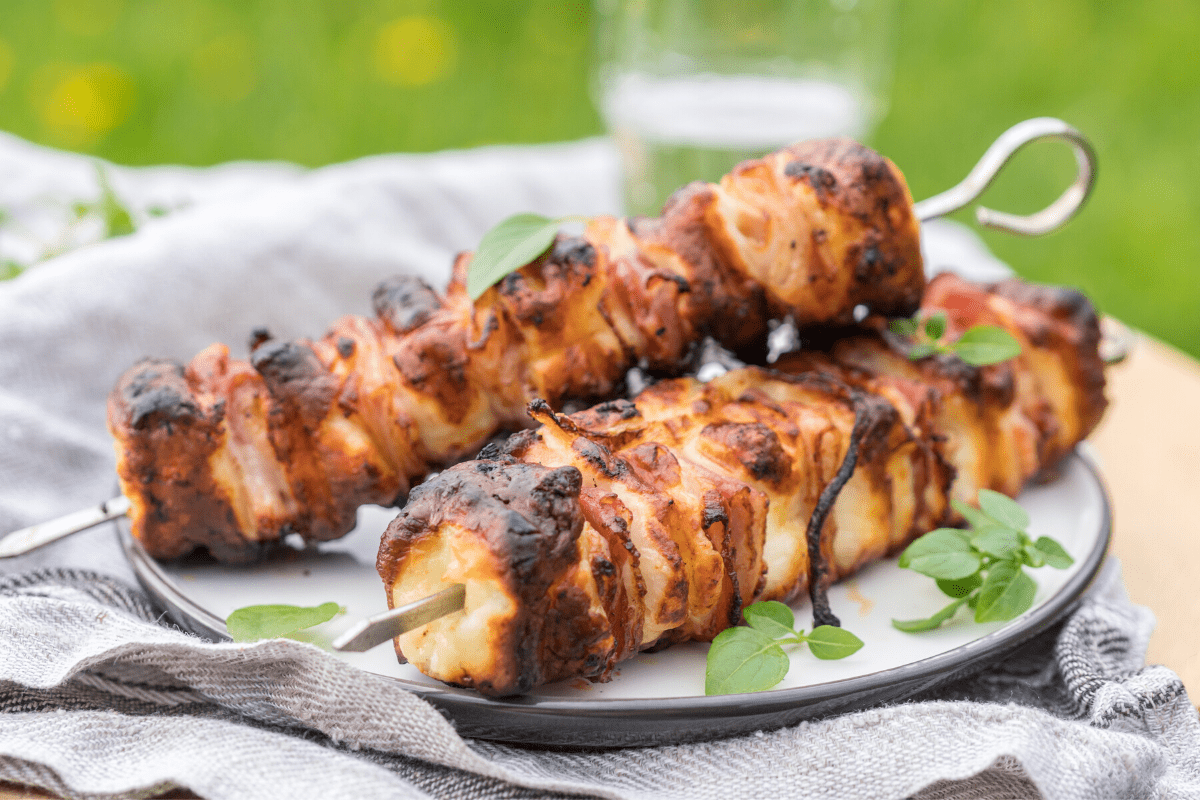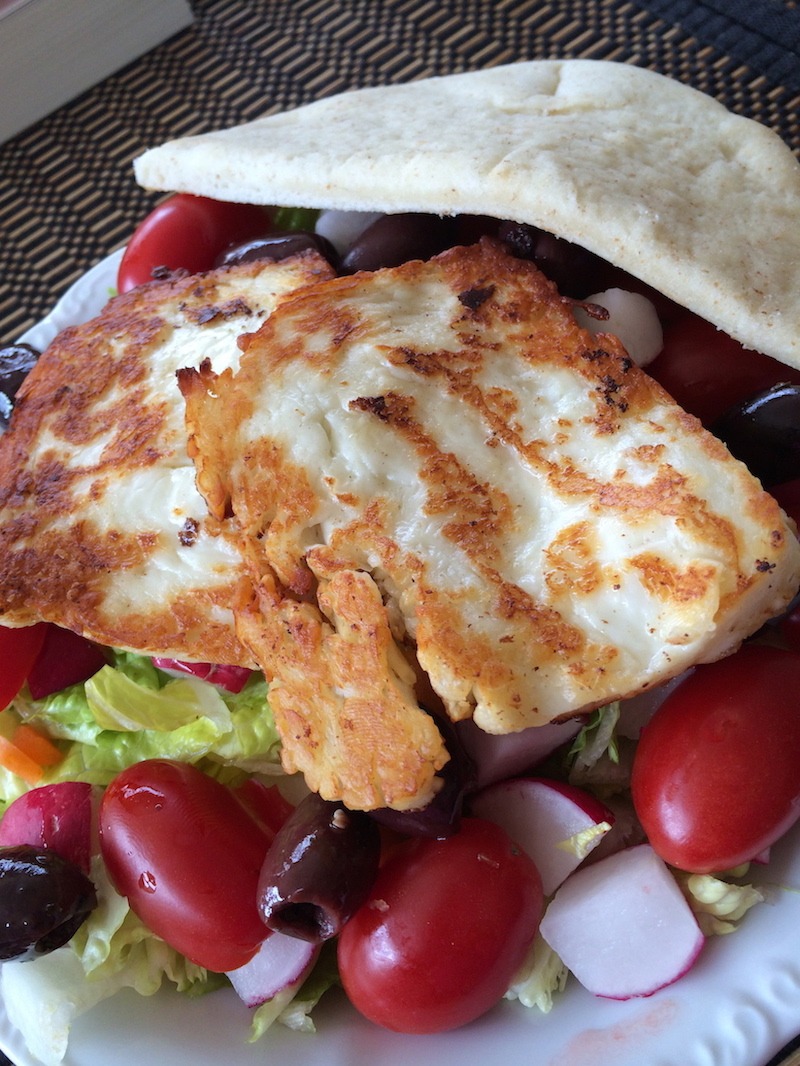 Or make some delicious halloumi burgers? Your recipes are only limited to your imagination. How about some fried halloumi?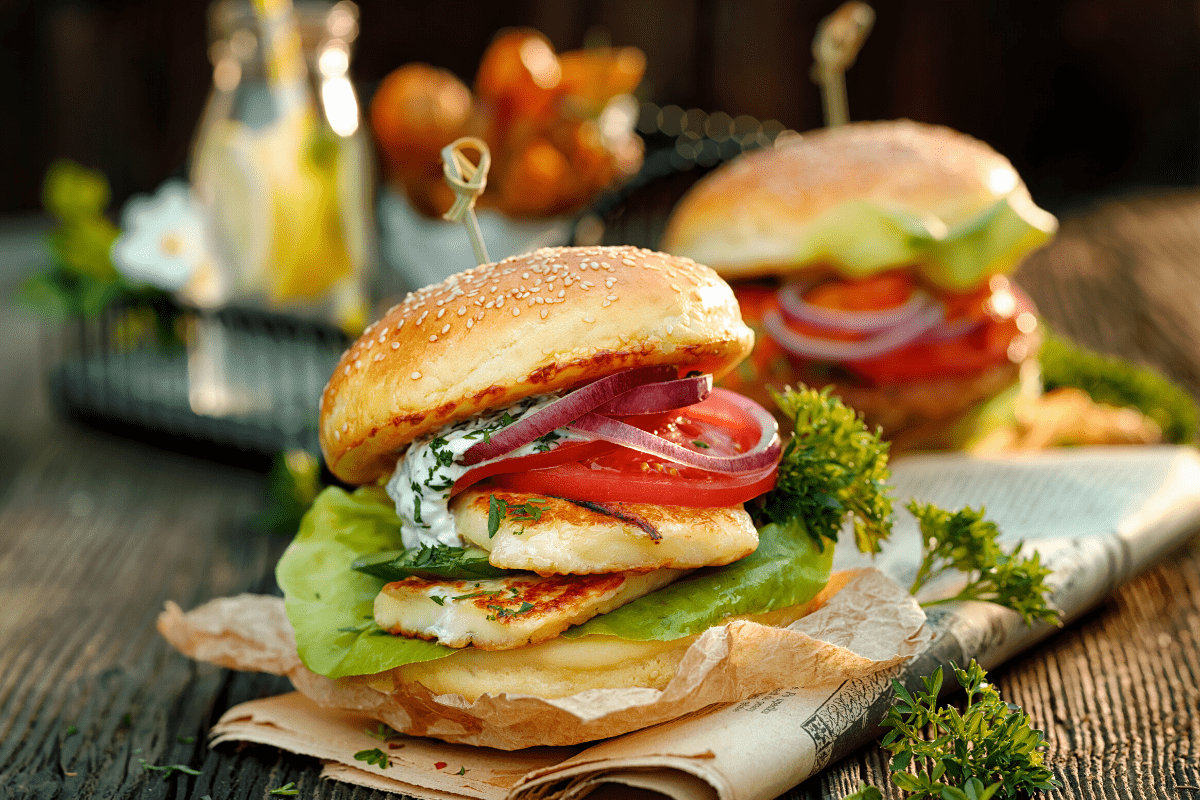 You can even make halloumi fries!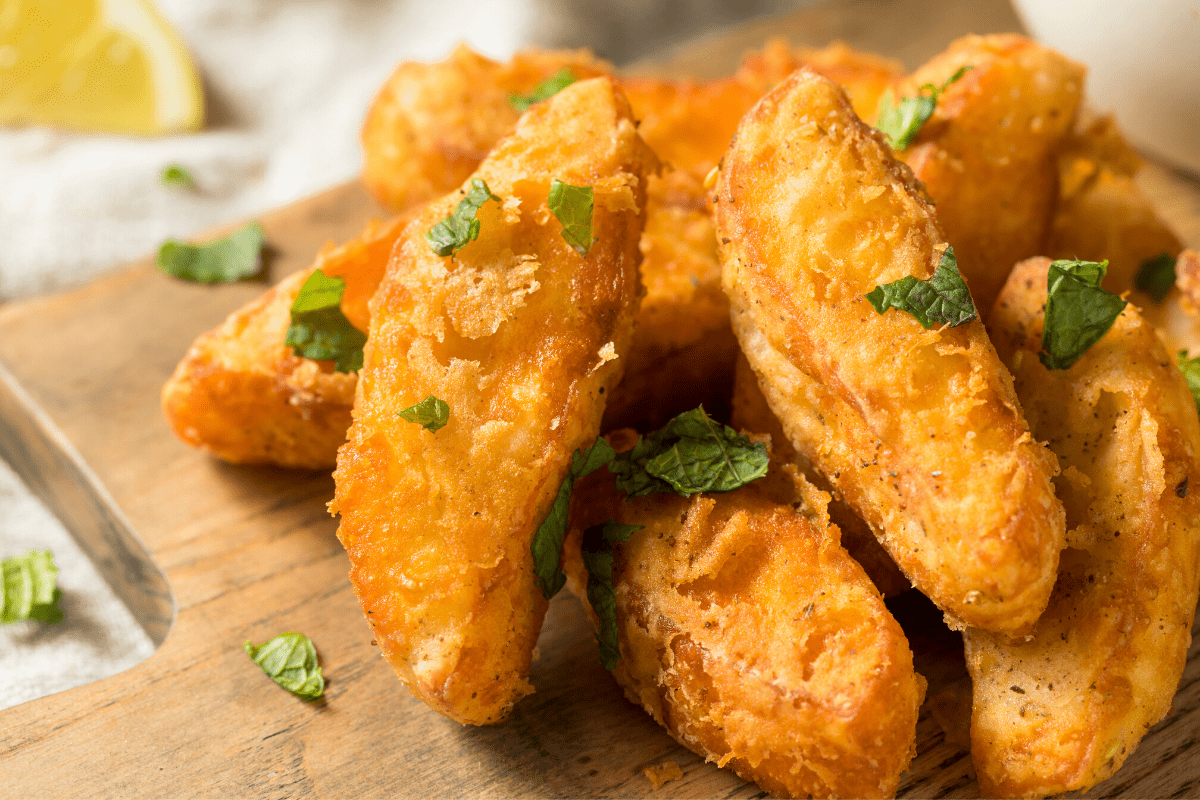 Most large grocers do carry halloumi if yours doesn't you can always order online or check out your local Middle Eastern or Mediterranean stores.
THE QUICK BITE: Halloumi cheese from Cyprus is a special ingredient that makes a wonderful Mediterranean meal that's light yet hearty.
Pin it!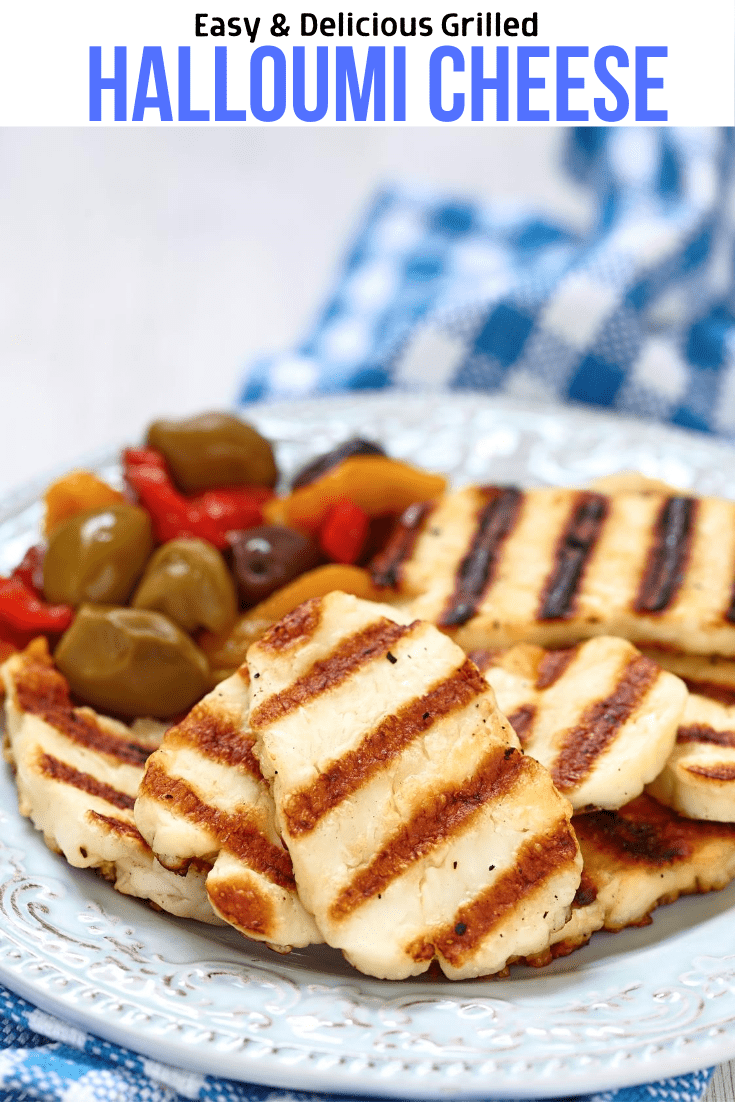 [/responsivevoice]