Shakshuka has many variations depending upon where it is made.  Our interpretation likely comes with a history from North Africa. It includes tomatoes but no meat. An earlier version from the Ottoman Empire generally contained meat but no tomatoes. These days we most closely identify the dish with Israel and the Middle East where Jewish immigrants introduced it. Mexico's huevos rancheros and Italy's eggs in purgatory take a similar approach to the tasty combination of eggs and a tomato-laden sauce. Of course, spices and additional ingredients give each Shakshuka recipe its own special flair.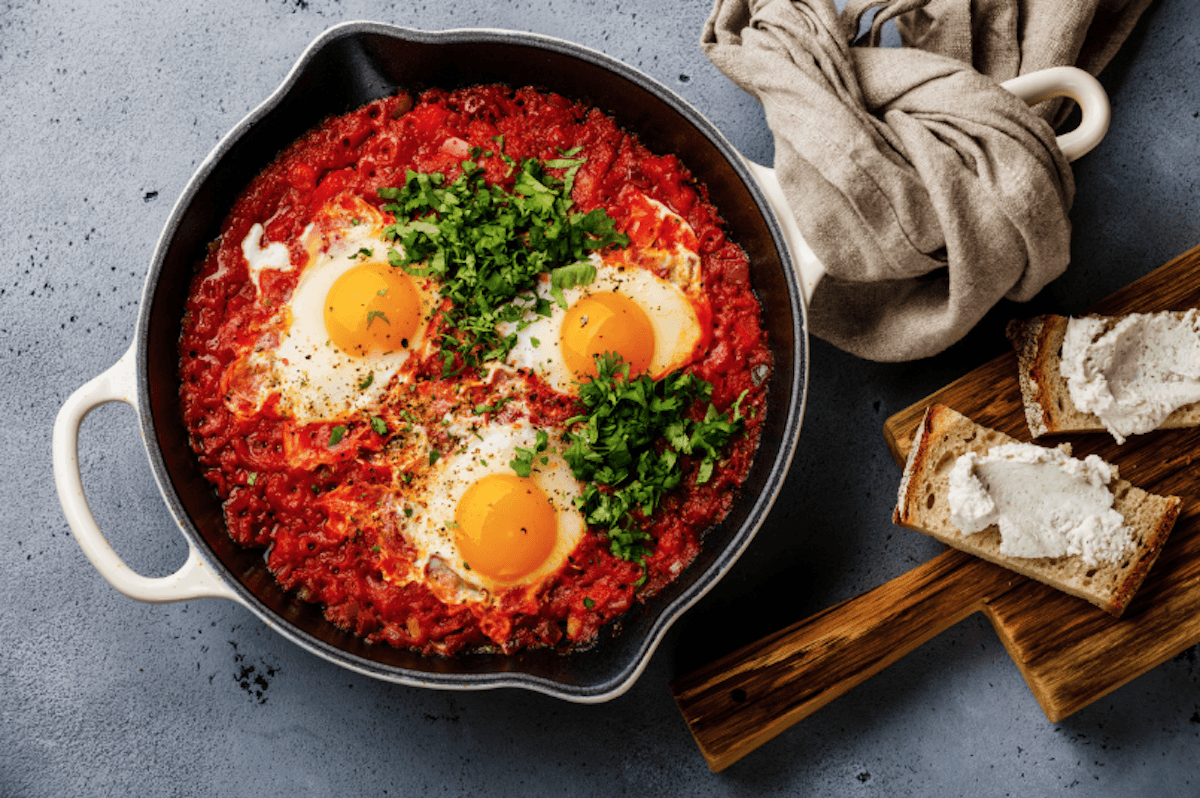 Our Shakshuka Recipe
Our easy shakshuka recipe is adapted from one given to us by our friend Susana Darwin, a filmmaker who kept us warm with it in Chicago before relocating to sunny Florida. Thanks, Susana! We've made a few tweaks to it to make it our own. This is a common approach to the colorful, tasty dish. It also makes it great for pantry cooking because you can easily use what you have on hand.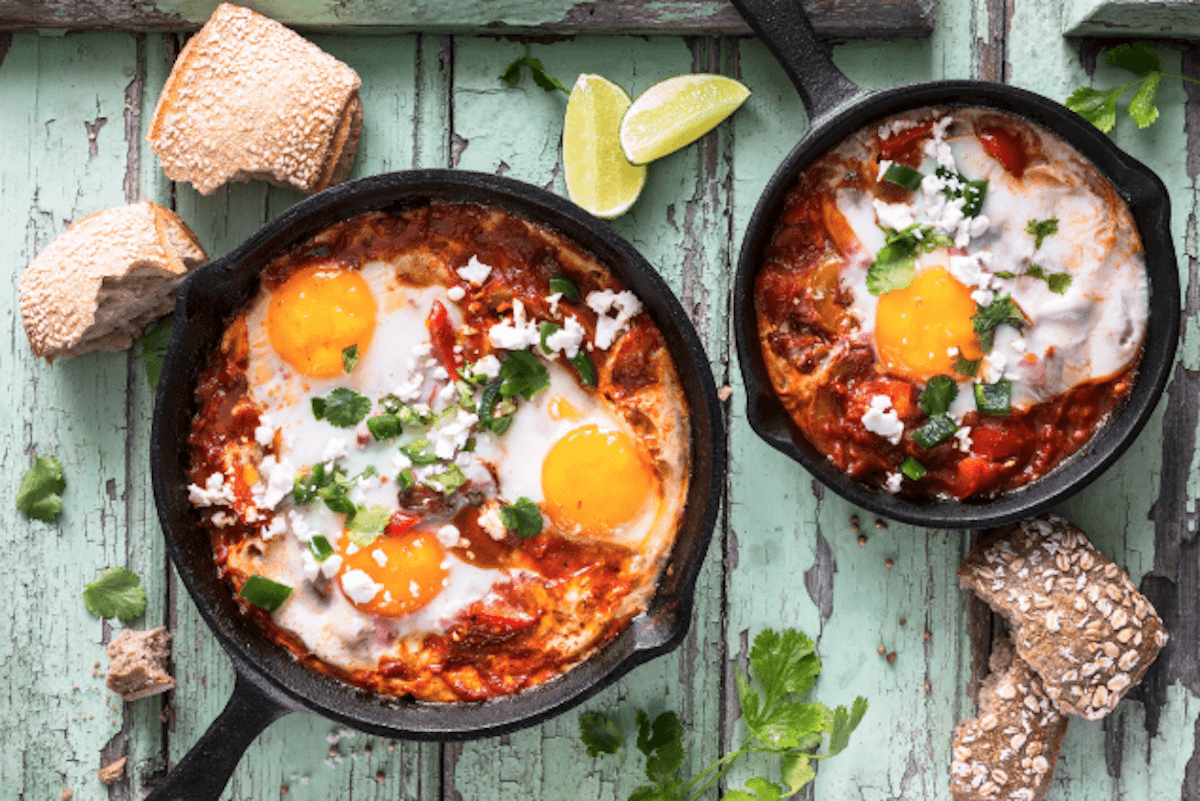 Our shakshuka uses a sweet and savory combination of flavors. We feature green olives, onions, raisins, and chickpeas. If you don't like or have any of those ingredients, feel free to omit or substitute. Look for what you have among your pantry items or change to suit your taste. It's a flexible dish that you can tailor as you like. In fact, we encourage you to do so.
Shakshuka Anytime
The other great think about our easy shakshuka recipe is that you can eat it at any time. While we often think of egg dishes as a breakfast food, people eat shakshuka any time of day. It's loaded with nutritious ingredients, fiber, and protein. Whenever you want something tasty that will fill you up, shakshuka can fit the bill. Give our shakshuka recipe a try and let us know what you change and how you like it!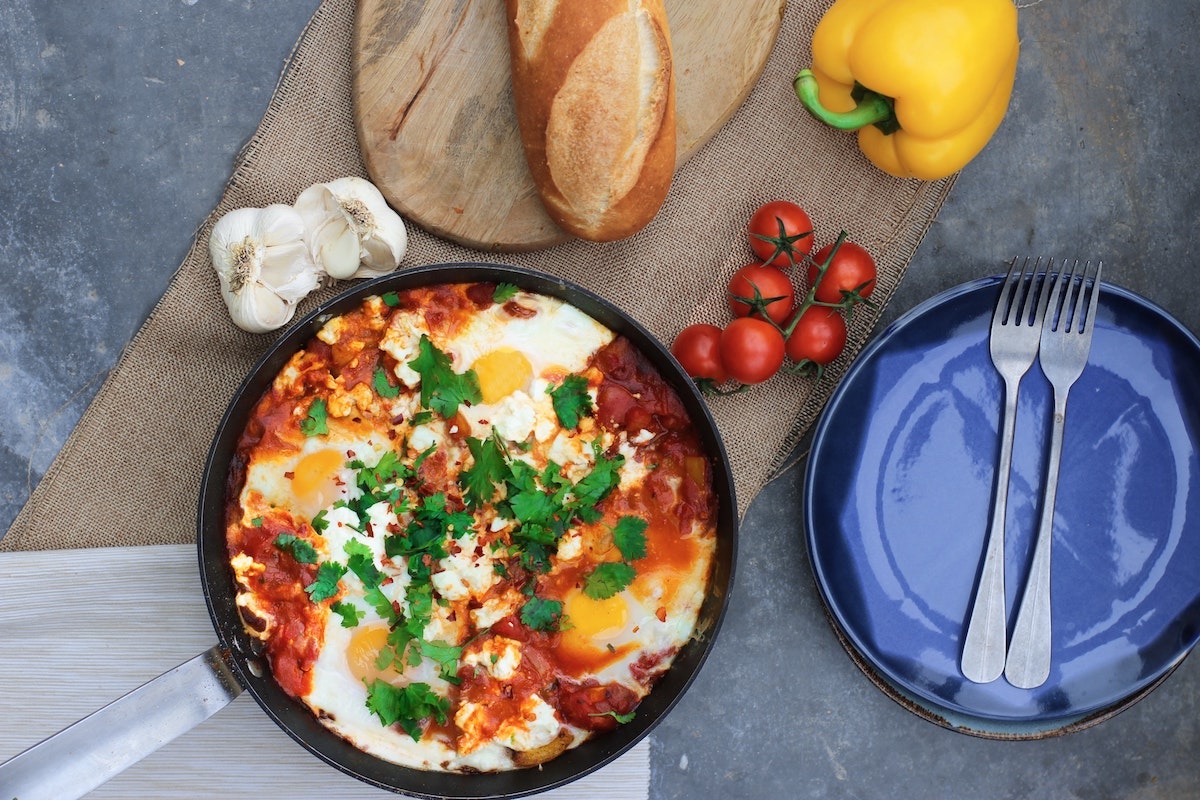 Easy Shakshuka Recipe
Here's our take on the deliciously tomato and egg dish shakshuka. If you don't have some of the ingredients or want to use something else, just go ahead. We don't like things with too much heat, so we skip the peppers and hot sauce. But we'll include them in the shakshuka recipe here so if you like them you can add them to your heart's content. Also, we generally cook for two but this recipe will work for four. If you want to make it for two like us, just cut the recipe in half.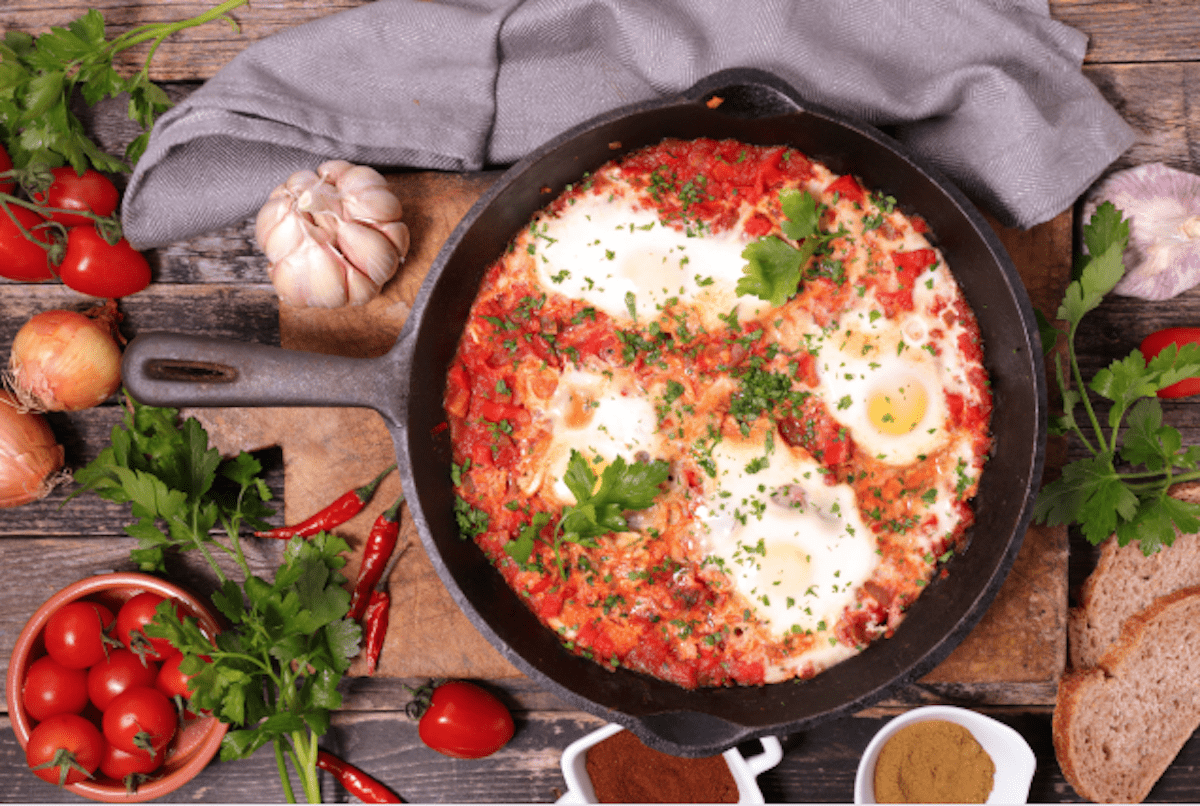 Ingredients
1 red bell pepper, chopped
2 stalks of celery, chopped
1 large onion, diced
1 Tablespoon extra virgin olive oil
A 28-ounce can of crushed or petite diced tomatoes
1 15-ounce can chickpeas (garbanzo beans) or 1 1/2 cups dried, soaked, and cooked chickpeas
1/2 cup of raisins, golden raisins, or sultanas
1/2 cup chopped green olives
6 to 8 whole eggs
This easy shakshuka recipe is a very flexible, so adjust the seasonings to your preferred taste1-2 cloves garlic minced, or 1/2 teaspoon garlic powder
Harissa, sriracha, or your favorite hot sauce, to taste
Salt and pepper to taste
Toast to serve with if you like
Fresh chopped Italian parsley or other herbs to garnish

Directions
Place olive oil in the pan to coat.
Add onion, pepper, and celery and cook until tender.
Drain the juice from the crushed or petite diced tomatoes, but save the juice in case you want to add it back in later.
Bring the pan to a low simmer.
Add the chickpeas, raisins and green olives.
Add garlic, salt, and pepper to taste.
If desired, add harissa, sriracha, or hot sauce to taste.
Stir ingredients well and simmer slightly until the liquid absorbs a little. If there is too little liquid, add back in some of the reserved tomato juice.
Make small wells evenly around the shakshuka tomato sauce and crack an egg into each well.
Cover the pan and simmer until the whites of the eggs are no longer clear.
Scoop a portion of shakshuka tomato sauce out with an egg and place it on serving plate or bowl.
Garnish with parsley or other herbs. Serve with toast if you like.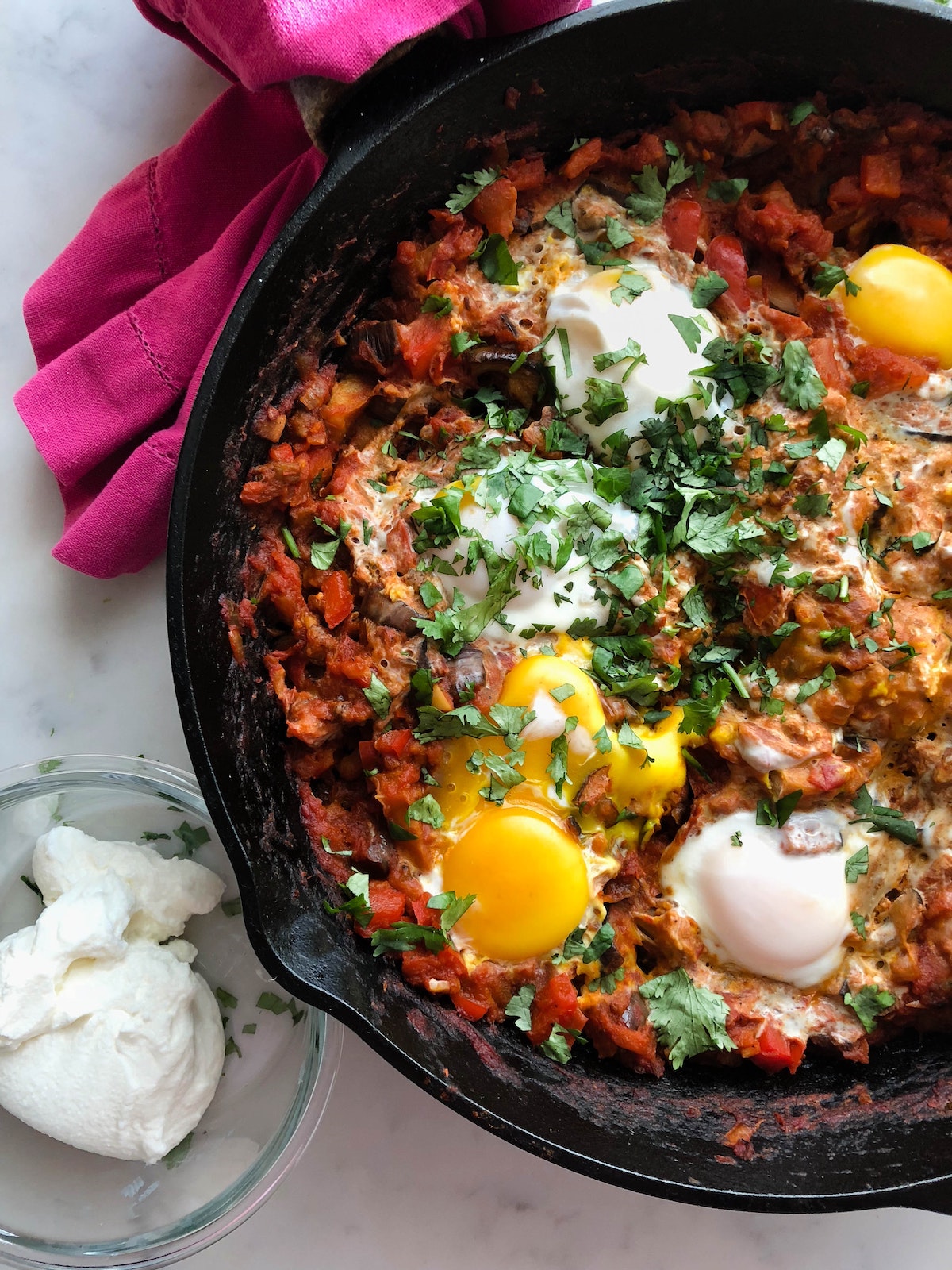 Shakshuka Variations
As we mentioned, our easy shakshuka recipe takes its roots from the Middle East. You can vary the spicing to create a shakshuka recipe that is deliciously your own. Even if you just want to eat shakshuka a lot and like to mix it up, here are a few spicing variations you can try to keep things interesting.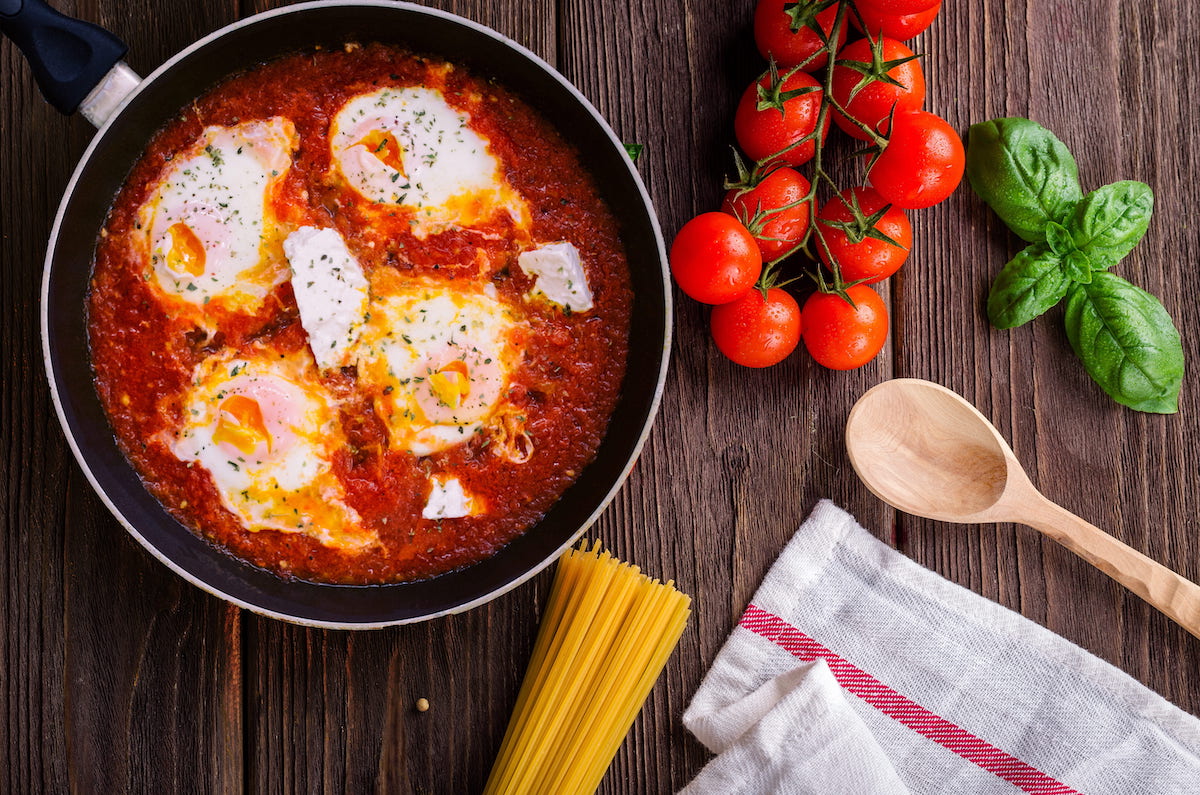 Italy – Garlic, basil, oregano, marjoram, thyme, and Italian parsley.
Spain – Garlic, paprika, onion, saffron, parsley, pepper.
Creole – Onion, oregano, thyme, cayenne, pepper, paprika, garlic.
Mexico – Chili powder, onion, cumin, oregano, cayenne, coriander or cilantro
Greece – Oregano, mint, thyme, onion, basil, marjoram, garlic
Morocco – Ginger, nutmeg, allspice, pepper, mace, cardamom, cinnamon, turmeric, saffron
India – Cumin, coriander, cardamom, pepper, cinnamon, cloves, nutmeg, dried chili flakes
France – (Herbs de Provence) lavender, basil, oregano, fennel, dill, rosemary, thyme, bay leaf,  sage
These are just a few suggestions. Get creative and make up your own. Enjoy!
                                          Pin To Your Favorite Recipe Board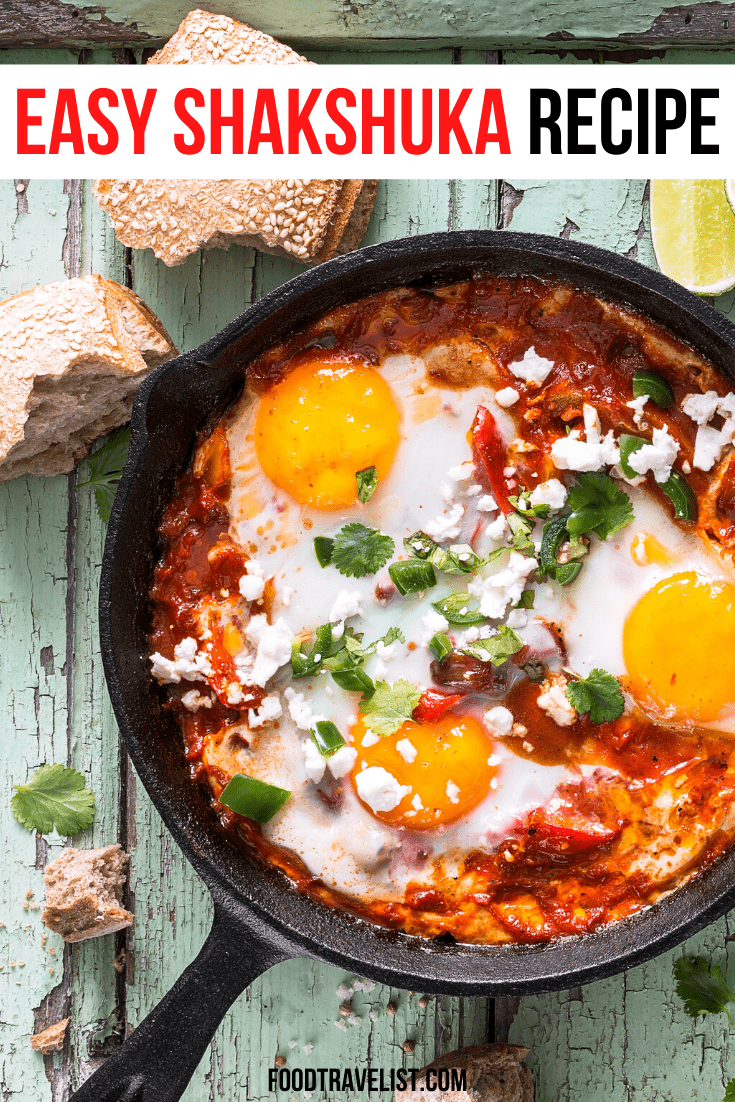 .