Most culinary travelers who visit Portugal land in Lisbon. While this capital city is busy, vibrant, and diverse, many visitors don't realize all the easy and delicious day trips from Lisbon that can be added to their journey.
Honestly, you shouldn't leave Portugal without checking out these fine foodie must-taste destinations near Lisbon. Each is worth the trip.
Culinary Day Trips From Lisbon 
1 – Historic Évora
Évora Located in the Alentejo region, Évora is loaded with history and delicious flavors. This is also a remarkable wine-growing region. Here you will be treated to hearty dishes and long meals where you'll savor every bite with wine pairings that will surprise you.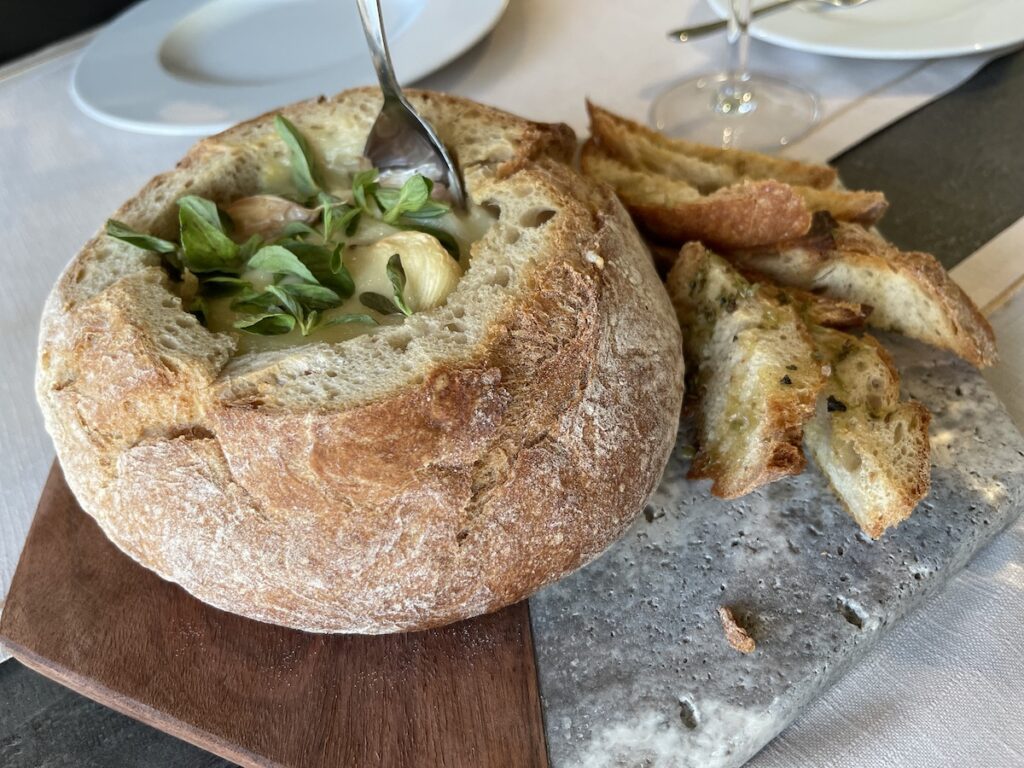 In one day, you can:
Take in Roman temple ruins and aqueducts.
Experience the hauntingly memorable Chapel of Bones.
Stroll through the lovely Jardim Publico de Évora.
Relax with a Portuguese coffee and pastry in Praça do Giraldo. 
For phenomenal eats, go to places like Botequim da Mouraria for lunch and O Templo Restaurante for dinner. These superb local restaurants serve recipes handed down from mothers and grandmothers. 
Be sure to try the porco preto, or black pork, a regional specialty made from black pigs that feast on acorns. It adds an incomparable layer of umami to the flavor of the pork. Cheese lovers will also want to try the delicious Évora cheese melted with cloves of garlic and served inside a loaf of Alentejo bread. When dining at these cozy spots, you'll feel like you're eating in the proprietors' homes. Reservations are a must to avoid disappointment. 
Travel time from Lisbon to is about 1-1/2 to 2 hours by car, train, or bus.
2 – Setúbal By The Sea
If you're an art lover, you won't want to miss Setúbal, Portugal. You'll find intriguing sculptures, murals, and tiled walls simply walking the streets. Art and artists are celebrated throughout Portugal. And this city across the Tagus River from Lisbon is a place many artists call home. A wander through the winding streets reveals local artists, galleries, and shops.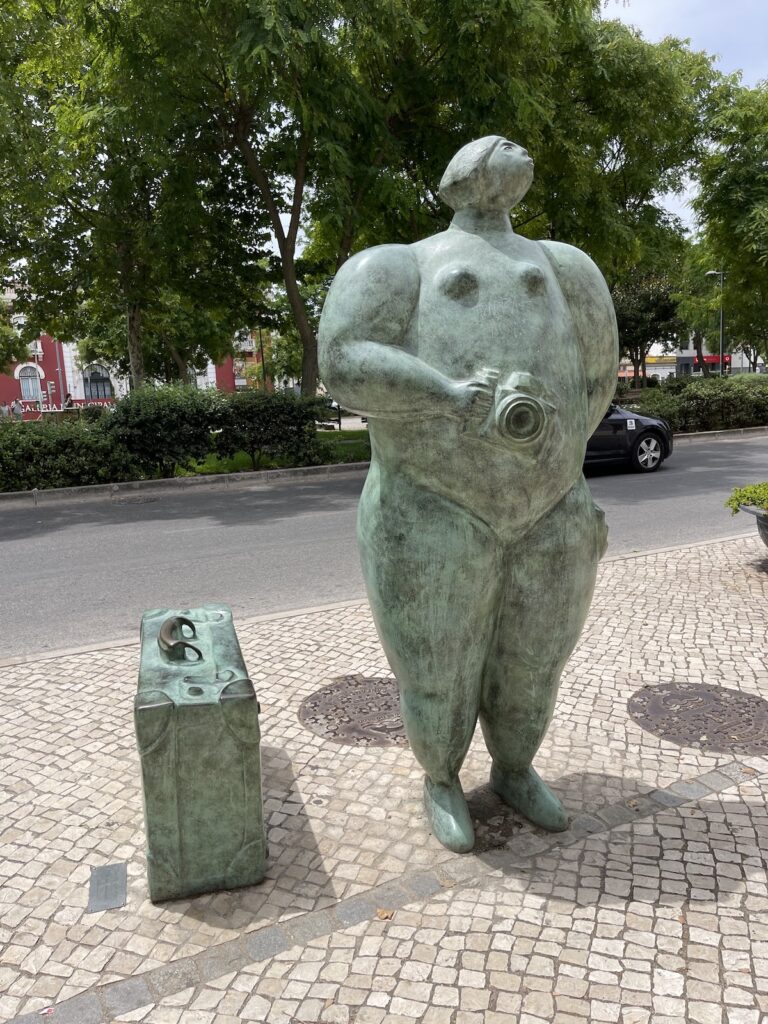 For the best view in town head up to Forte de São Felipe. The café at the top is the perfect place to enjoy the surroundings and sip a glass of the sweet local muscatel wine.
Setúbal is along the coastline, so expect plenty of fresh seafood to enjoy. The dish not to miss here is choco frito or fried cuttlefish, a cousin to the squid. It's served in all the Portuguese restaurants and is so cherished that there are even comical statues honoring it.  
Travel time from Lisbon to Setubal is typically about 45-55 minutes by train or bus.
3 – The Palaces of Sintra
Sintra is one of the most popular day trips from Lisbon. The famous multi-colored Pena Palace, Quinta da Regalaria with its mysterious spiral Templar initiation wells, and the UNESCO World Heritage Site Moorish Castle are all worth a visit for history lovers and architecture buffs, too.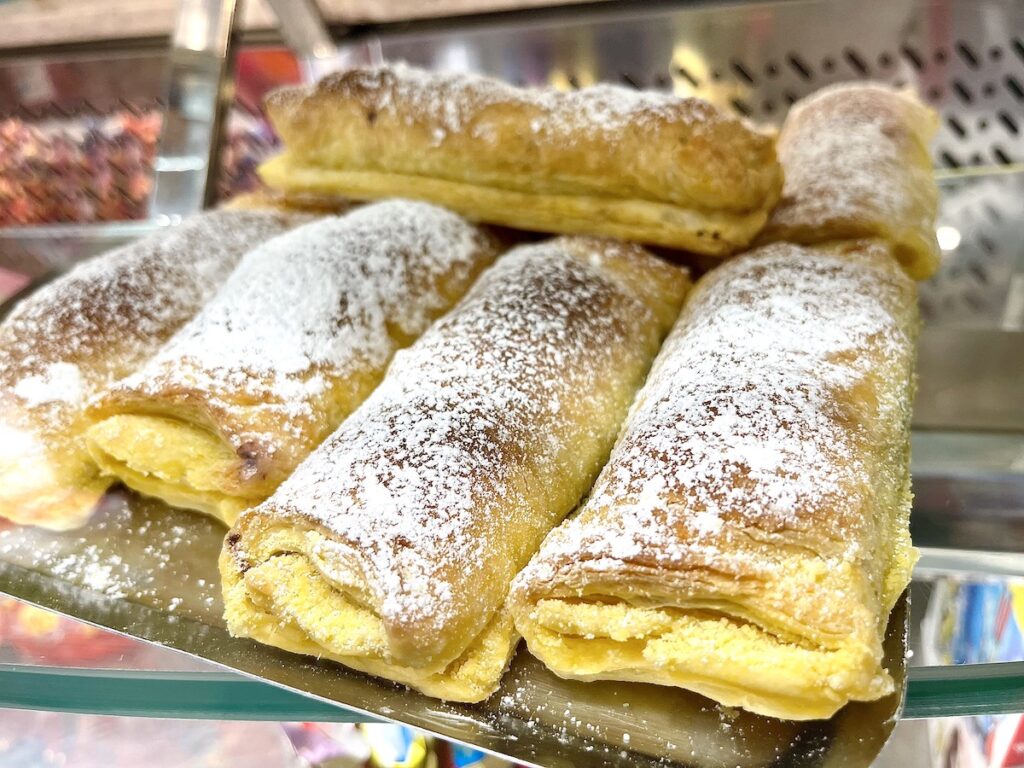 We love walking along the narrow streets in the charming old town, checking out the local crafts shops and, of course, the local bakeries. Every town in Portugal has its own unique pastries, and Sintra is no exception. You can't leave without trying the bite-size cheesecakes called queijadas or the travesseiros, flakey pillows filled with light almond cream and dusted with sugar. With all the walking you'll be doing, don't worry about the calories. Go ahead and try both!
Travel time from Lisbon to Sintra is an easy 30-minute car ride. Trains and buses are available but typically take 1-1/2 to 2 hours, depending on the schedule.
4 – Fishing Village of Nazaré
Nazaré is located on Portugal's popular Silver Coast. Once a small fishing village, it is now known for some of the largest waves in the world, created in large part by the Nazaré canyon. Be warned that usually the best surfing and waves are in winter. In summer, you can enjoy the breathtaking views and waterfront activities.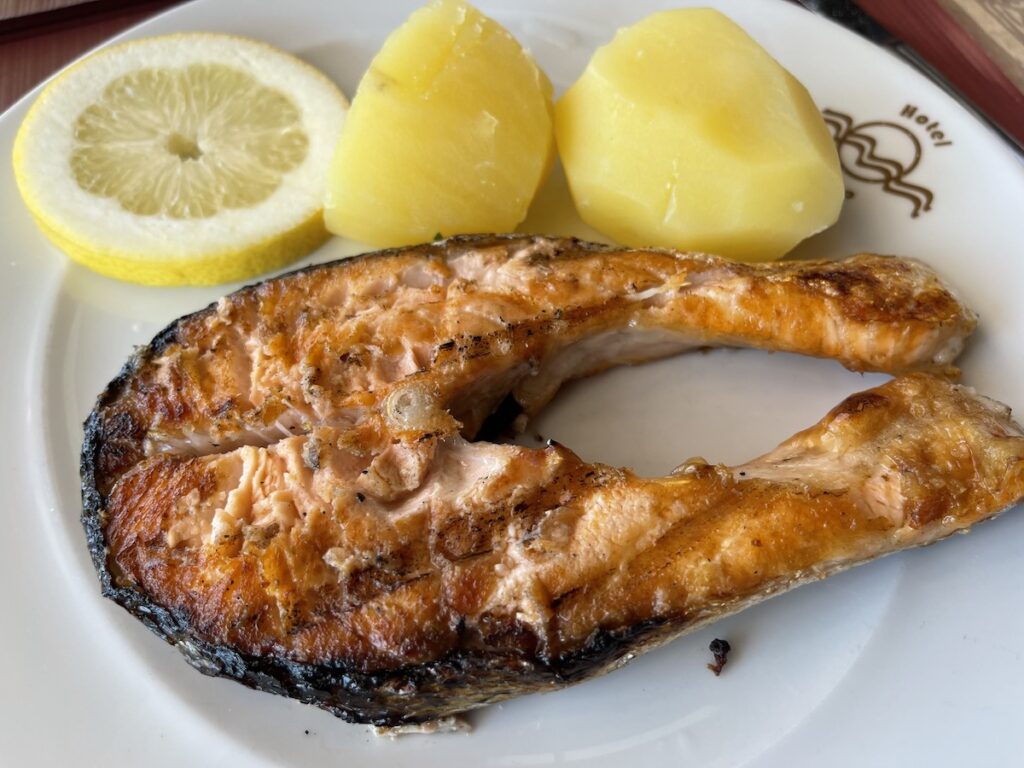 Of course, seafood is abundant, and many restaurants line the beachfront. The scents wafting in the air tempt passersby to come in and eat. One spot we enjoyed was the Adega Oceano. But, before stopping to eat, be sure to walk along and see the fishermen's wives drying out octopus and other seafood to sell at the market.
Visit the historic Santuário de Nossa Senhora da Nazaré. Outside this 14th-century church, local women dressed in traditional colorful clothing sell candy, dried fruits, and nuts to visitors.
Travel time from Lisbon to Nazaré is about 1-1/2 hours by car.  Traveling by bus or train can take anywhere between 2 hours and 20 minutes to 2 hours and 40 minutes.
5 – Beach Break at Praia Grande
Praia Grande, the longest beach along the Sintra coastline, draws surfers, swimmers, sunbathers, and anyone who enjoys a day by the sea. But, because it's a bit away from it all or maybe because it's so big, this beach never feels overcrowded. Surfboards, wetsuits, and beach chairs are all available for rental.
Coming here is the perfect day trip if you want to get out of the city and into nature. Whether you just sit and enjoy the water view or take one of the many hiking paths, you'll see a different side of Portugal.
Hotel Arribas, on the beach, features Europe's largest saltwater pool. When the surf is high, the waves crash right into the pool. Day passes allow you to enjoy the pool and take advantage of the hotel restaurants and bars. At Arribas Terrace, the elegant Portuguese-inspired lists a wide variety of fresh seafood, meats, and vegetarian dishes. Or head to the Arribas Caffé for a casual light meal, snack, or drink. Both the view and the food are spectacular.
Travel time from Lisbon to Praia Grande by car is just under one hour. There's also a historic tram or bus ride from nearby Sintra. 
6 – Walled City of Óbidos
You feel yourself stepping back in time when you walk through the gates of Óbidos. This medieval town is a UNESCO Creative City of Literature, so writers and readers will feel right at home. You will encounter libraries and bookstores everywhere in Óbidos – inside bars, restaurants, grocery stores, pharmacies, shops, and just about any place where there's room for a shelf.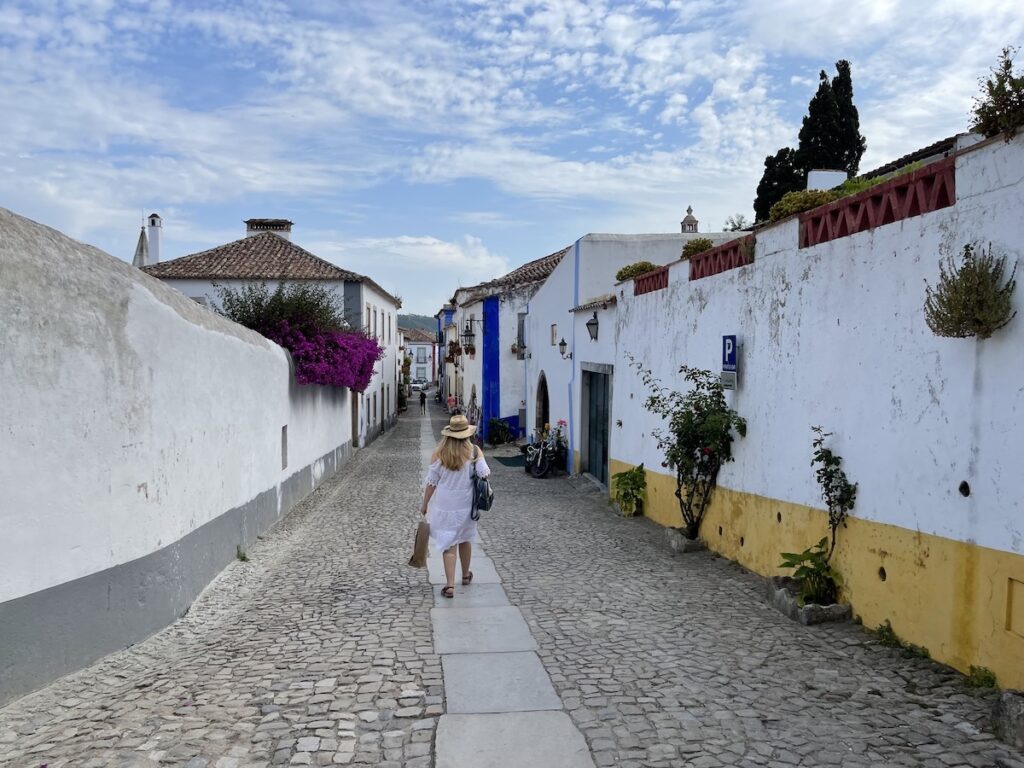 More adventurous visitors can walk along the tops of the city's walls for exceptional panoramic views. Walking through the tiny winding streets is also a lovely way to take in the town. Here, you'll find unique hand-crafted items made in Portugal and most made in Óbidos.
Do not leave Óbidos without sampling a glass (or two) of the cherry liqueur Ginja de Óbidos. Our favorite place to stop for a sip of this lovely drink is Bar Iban Errick Rex. While you're there, order a chouriço sausage. It will be lit and flaming until done right at your table, making a fun, tasty, and memorable snack.
Travel time from Lisbon to Óbidos is an easy 1-1/2 hour bus ride or one hour drive by car.
7  – The Ultimate Beach Town Cascais
Our list would not be complete without including our hometown, Cascais. The beaches in Cascais excel at welcoming visitors. If you're looking for a town that is mostly flat, without too many steps or hills to climb, this is your place. Downtown Cascais can easily be explored by foot.
Trek the paradão, a pedestrian walkway along the ocean, and stroll aside the Atlantic Ocean. The many cafés and restaurants along the way will tempt you to sit and watch the waves all day. Once you get into the historic center of town you'll find many shops, and more restaurants to keep you busy.
If you're a history or museum fan, go to the Citadel, the Cultural Center (there's a wonderful spot there for lunch, too), or the Paula Rego Museum. Everything is close by and easy to get to. Check out the relaxing and beautiful Parque Marechal Carmona. Peacocks, chickens, ducks, and geese wander around the park, which offers many places to sit and just enjoy the perfect weather. A lovely little pond near the small café is great for unwinding and watching small turtles bathe in the sun.
As you can imagine, we have plenty of recommendations for places to eat in Cascais. For authentic Portuguese food just off the main street, try Flecha Azul. The food is delicious, and they have plenty of choices for everyone.
Travel time from Lisbon to Cascais is a 30-minute car ride. You can also easily take the 45-minute Linha da Cascais train ride from Cais do Sodre in Lisbon. 
What makes Lisbon day trips appealing to any traveler? 
Tour operators offer packages with day trips from Lisbon that conveniently depart from many hotels.
Local buses and trains are also clean and very affordable.
Pro Tips:
Always wear comfortable and sturdy shoes when exploring Portugal. The calçada tiles used for the lovely sidewalks throughout the country make for uneven and slippery walking. Mind your step and save yourself an unwanted "trip."
When taking day trips from Lisbon, check the weather before venturing out. Depending on your destination, the weather may be much cooler or hotter.
Also, Portugal is often windy, especially near the coastal areas, so layer clothing and bring a light jacket or wrap.
Allow extra time when using public transportation. Although the trains and buses are reliable, sometimes unexpected strikes or delays happen. We recommend starting out early in the morning to avoid disappointments and to minimize wait times.
Pin It For Later