Modern Food In Ancient Greece
Greece has an amazing culinary heritage. Ancient recipes mingle with modern methods in Athens food today. If you want to taste the real deal, you'll want to eat where the locals eat. Lucky for you, we had a chance to live like locals during our visit to Athens. We'll share our secrets for an easy, memorable, delicious vacation in one of the most interesting and tasty cities in the world.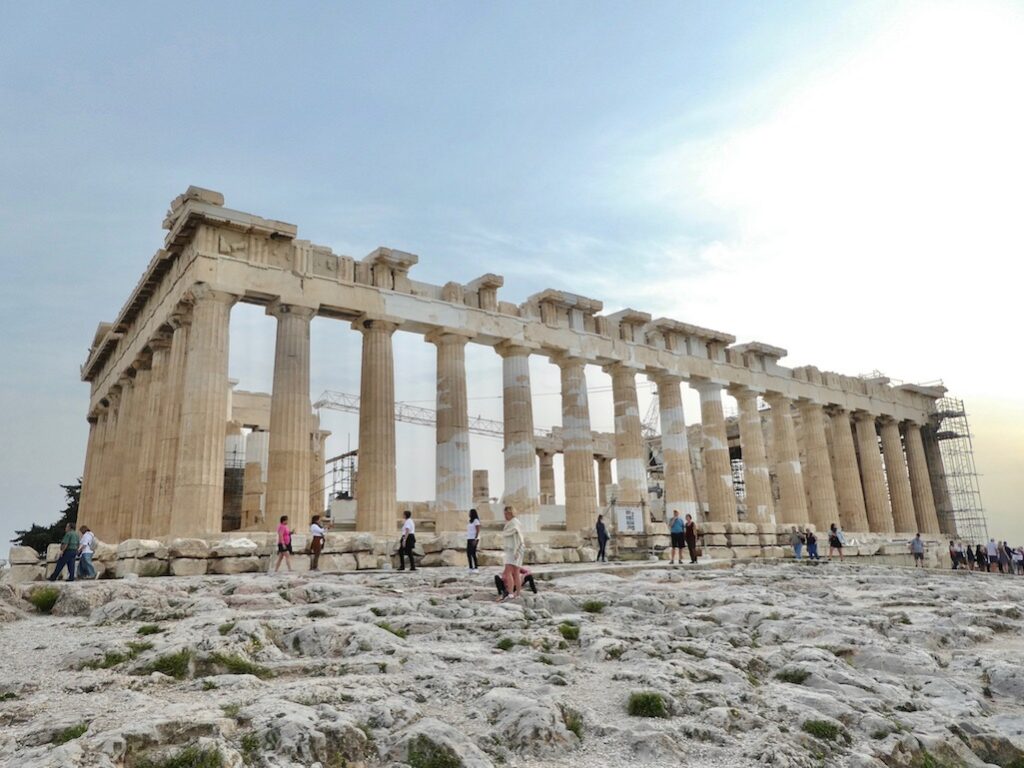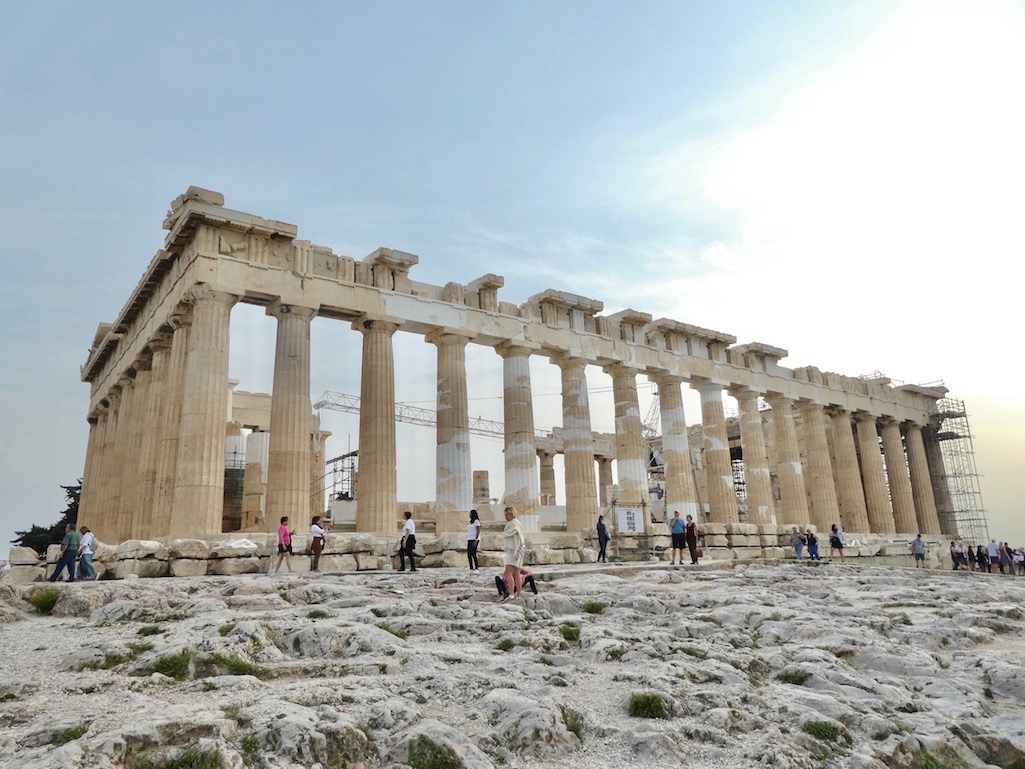 Stay Where The Locals Live
While we love to experience local hotels and resorts when we travel, we suggest something even better in Athens. Rent an apartment in a real neighborhood, close to everything and miles away from the tourist crowds. Not only will you have a fantastic place to stay, but you will also save a lot of cash, especially if you are traveling with family or friends.
Living In Everyday Luxury
We stayed at the First Luxury Duplex Penthouse apartment in the Pagrati neighborhood of Athens. It's less than 1 mile from the Acropolis and close to farmers markets, restaurants, bakeries, nightlife and the major sites you want to see. This 3 bedroom, 2 bath, 5-star home features all the comforts you would expect – and many that you'd never dream of. The unpretentious but stylish neighborhood charmed us as we wandered around to check things out.
The penthouse is decked out with everything you need – everything. It has sheets and towels, hair driers and toiletries. The gourmet kitchen is stocked with pots, pans, dishes, coffeemaker, teapot, dishwasher, spices, utensils and more. There's a television, wifi and even a washer and dryer. You have lots of room inside and out. This 3 level property easily sleeps 8 and has an outdoor veranda on two levels plus a rooftop terrace with an Acropolis view. Simply stunning.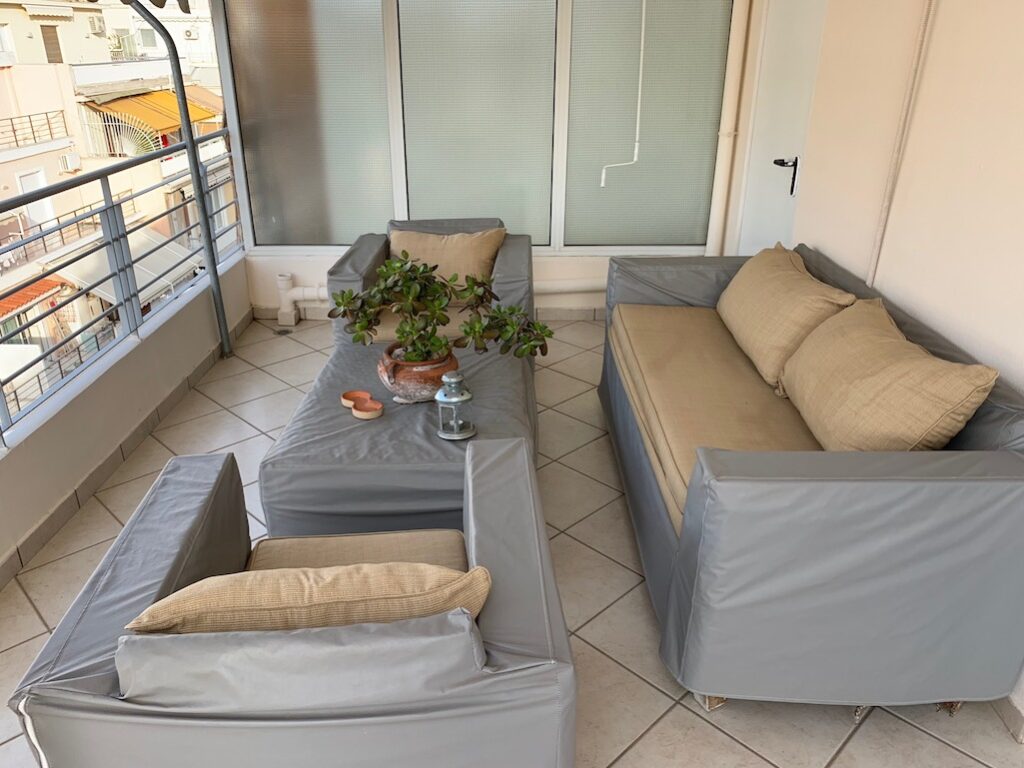 Live Like A Local
Though you are surrounded by American comfort, this hidden gem will make you feel like a local as soon as you walk through the posh marble entrance. Because parking in Athens is at a premium the nearby streets are lined with cars almost all of the time. If you get a car (you really don't need one in Athens) look for a spot during the day when many folks are at work and you'll have a better chance to get one nearby. Uber does not operate here but Athens taxis are easy to find and prices are inexpensive, rarely more than a few Euros for rides around the city. You can also download the popular Beat app to reserve a taxi in advance.
Best Food In Athens, Greece
Food is the way to our hearts, always. So we were thrilled to be greeted with a huge basket of local goodies sitting on the kitchen table when we arrived. Greek chocolates, honey packets, candies, a can of gigantes (a Greek bean specialty) and even bottles of wine and a loaf of fresh bread urged us to let the good times begin. There's nothing quite like lounging on the veranda of your Athens penthouse apartment drinking a glass of wine and soaking up the scene.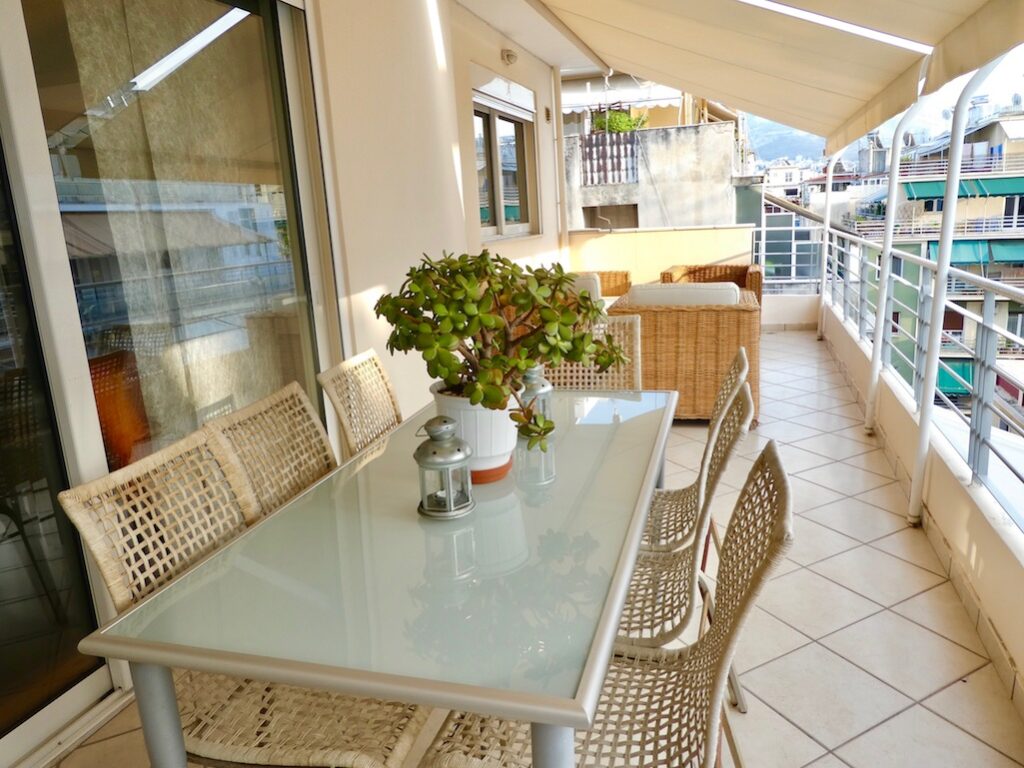 As if that weren't enough, our hosts, Basil and Carole of Real Greece, created a notebook with their very own special recommendations for dining, shopping, sightseeing, entertaining and more. Their warmth and love for the neighborhood came shining through. If truth be told, we already regretted that we were not going to be staying for a much longer visit. They literally did think of everything about everything we wanted to know and had it waiting for us.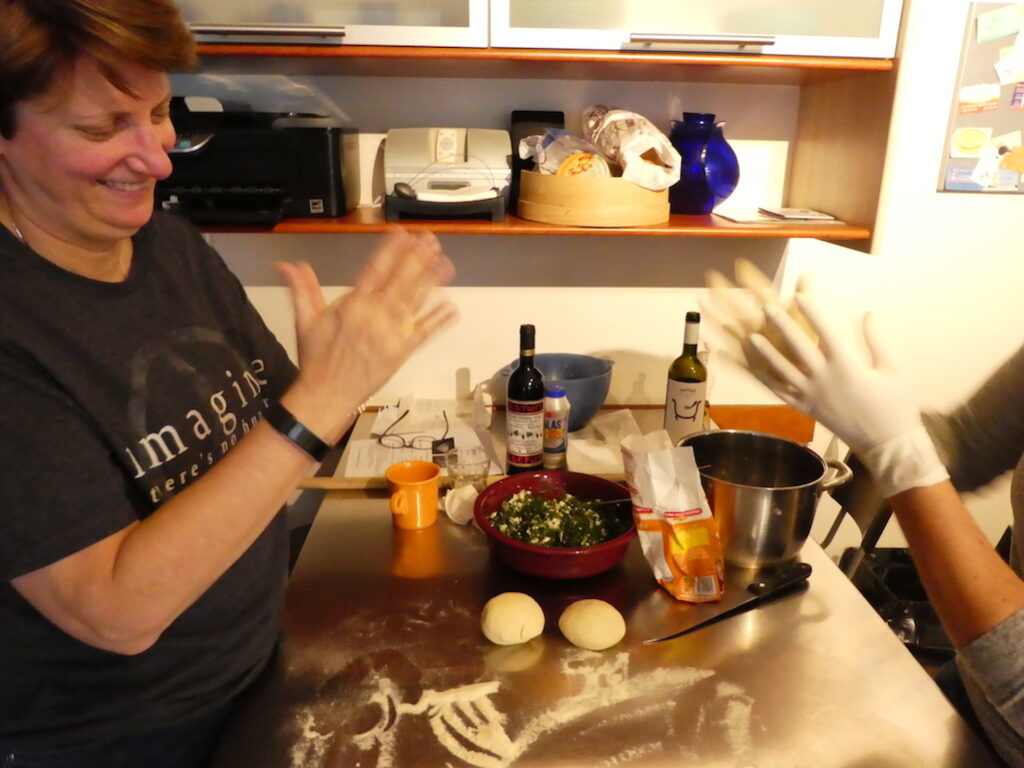 One of the best things about Real Greece is that Basil and Carole are real people whose love for Athens and all of Greece is infectious. And, if you want to see, taste and experience the most authentic Athens food, and even learn to make some yourself, you'll want to take advantage of their many culinary tours and cooking classes. They are simply fantastic.
Food Tours In Athens, Greece
We took their "Taste of Greece Foodie Walking Feast." We walked through the streets of Athens with our funny and knowledgeable guide Nadia, a lawyer from Moldova who fell in love with Greece and decided to stay for good. We visited a large central market with fresh everything from lamb and beef to cheese and fish. Next came several shops selling Greek wine (the local stuff actually comes in plastic liter bottles), spices, sausage and cheese, olives and more. After taste testing the olives, we couldn't leave without some. They vacuum pack them right there so you can easily take them home in your luggage.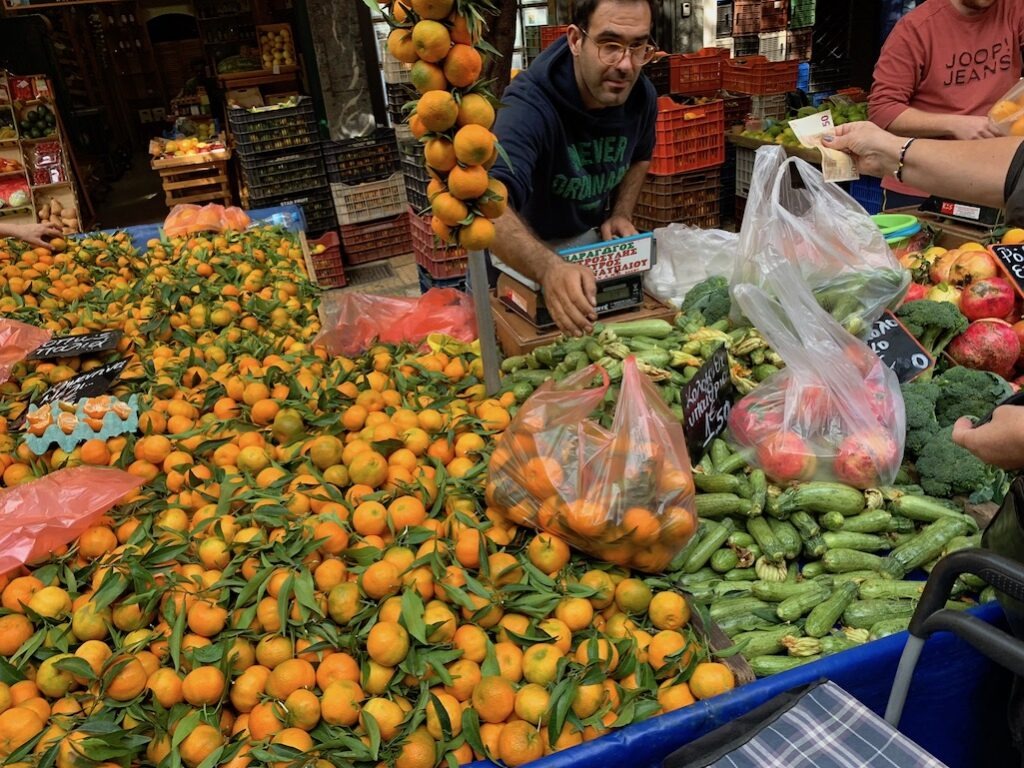 A unique method of making coffee features the brass pot heating in hot sand. While waiting for ours, we enjoyed traditional spoon sweets, fruits and sometimes vegetables preserved in syrup. We continued walking through the winding central Athens streets and stopped to enjoy a skillful display of stretching phyllo (you know, those super thin sheets of dough used in spinach pies and baklava) ever so thin. Our reward was tasting the unique savory and sweet "bougatsa," flaky phyllo wrapped around ground meat or sweet custard.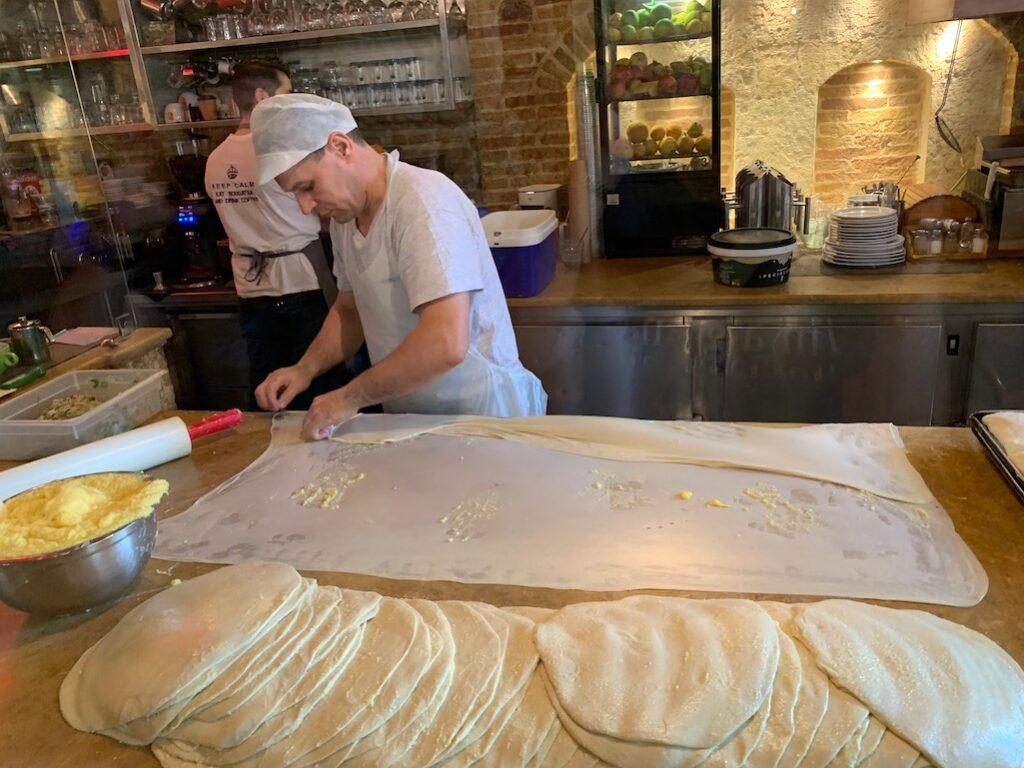 Time For An Authentic Greek Lunch
That really got our appetites up, so we ate lunch at Eleni's, a hidden "koutouki" (joint) full of locals where we stuffed ourselves silly with many plates of deliciousness. Athens food comes in many styles, including our favorite meze, small plates that let you taste a lot of different items a few nibbles at a time. Our tiny table was loaded with veggies and dips and roasted meats. We watched our dining neighbors gobble down their food too, so we know we weren't alone in our delight. After eating, we had to satisfy our sweet teeth by finishing with a little something sweet. Logically we stopped at a spot that makes fresh loukoumades (sweet fried dough puffs) by hand. They came in a big serving and Nadia told us that sharing them was not the norm. People usually eat an entire order alone.
After all that eating we needed to walk off some of those calories. Famous Monastiraki square awaited us. We wandered through its huge and lively flea market. If we had more time, we would have loved to explore many other shops, restaurants and bars that populate this fun and historic area. The tour was like taking a stroll through a Greek food menu. And we loved every bite.
Creating Traditional Greek Food Recipes
Real Greece knows that Food Travelists also enjoy learning to cook specialties of the local cuisine. We got the opportunity to do just that right in our apartment. Our private Mediterranean cooking class with Nadia kept us laughing and eating all night long as we prepared a multi-course feast of authentic Greek food.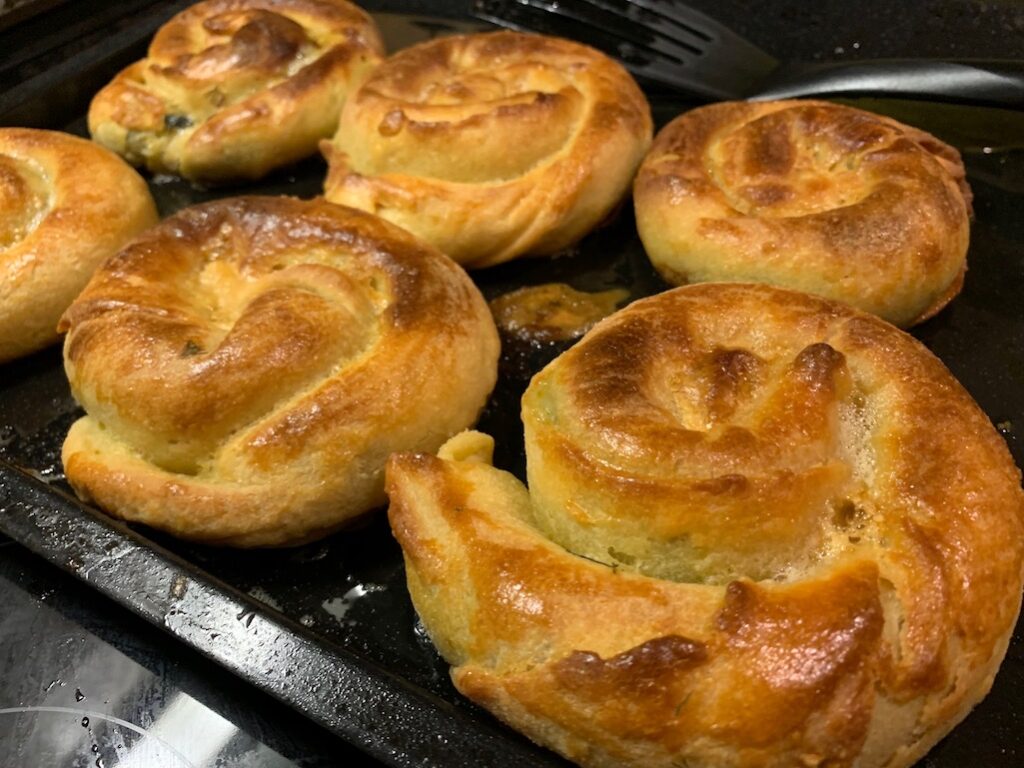 While we were doing our tour, Basil had a "kleftiko" (parchment paper wrapped herbed meat) cooking in the oven very slowly. For starters, we made a spicy feta cheese spread, yogurt, garlic and cucumber dip, and a spiral spinach and feta pie. We used the knowledge we gained watching the pastry chef opening the phyllo dough to try it out ourselves – with hilarious yet surprisingly tasty results.
No meal is complete without a Greek salad so we made one of those as well with fresh tomatoes, cucumbers and feta cheese from the market. Nadia showed us her super-secret method for making an irresistible orange cake. We poured the wine and relaxed on the veranda, enjoying our meal and our new friends. As a special treat, Real Greece made a personalized menu with all the recipes for us to take home. We can't wait to try them out when we have company over to visit.
A Family Visit and A Farmers Market Stroll
As you may know, I'm a bit "Greekish." My Heinz 57 approach to my ethnic identity includes relatives that are Greek. As it would happen two of my cousins were in Athens at the time we visited. We spent our first evening there enjoying a beautiful meal and hospitality provided by cousin Lucy, a tour director, at her stunning penthouse apartment in the Palaio Faliro coastal district of Athens. We enjoyed gorgeous views, Lucy's delicious cooking, and meeting some of her travel friends and colleagues as well as her precious pussycats. The evening was most memorable.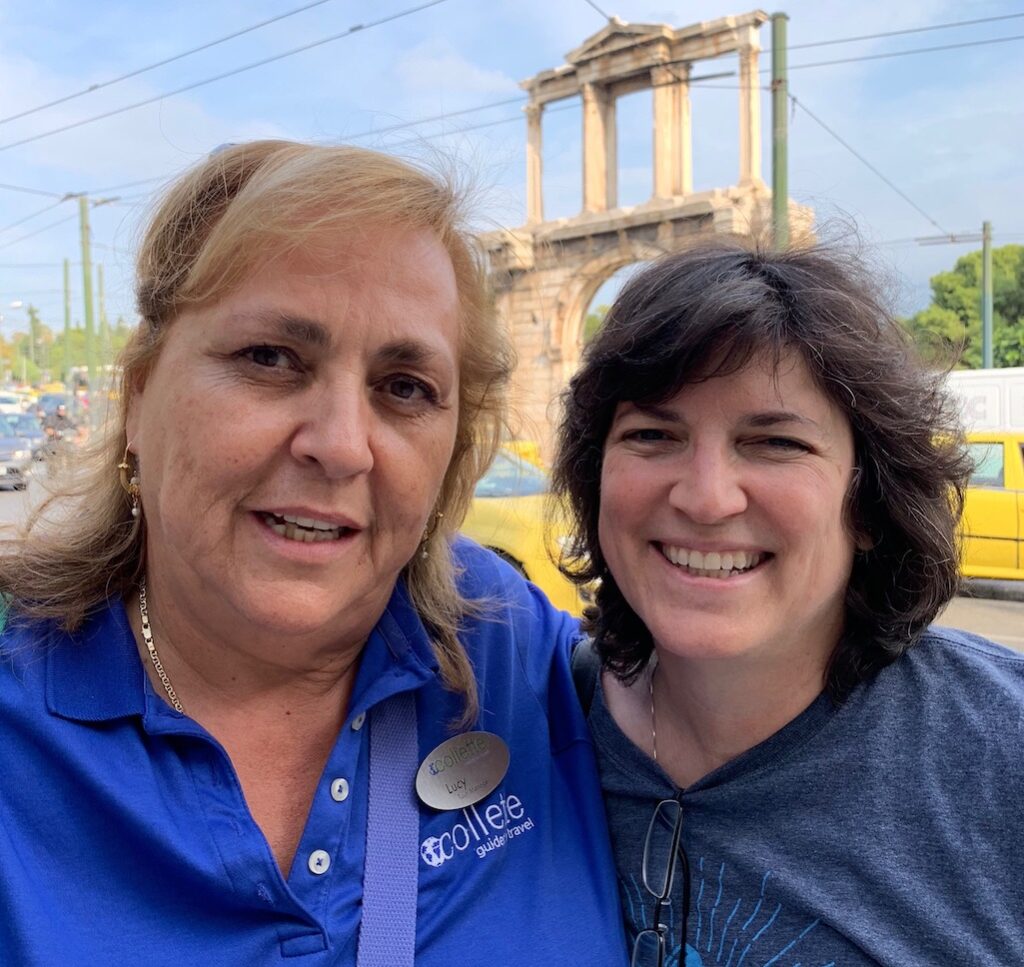 Connecting with Family in Greece
It just so happened that my cousin Ares, who lives primarily in Berlin, was coming for a visit to Athens at the same time. He joined us on the veranda for a piece of the orange cake we made. Then Basil and Nadia came to pick us up and we all took a stroll to the neighborhood farmers' market. Basil and Ares compared notes on Greek food facts about various forms of horta (greens) and other local veggies. Sue and I were captivated by the array of fresh fruits, nuts and olives. We were lucky to find a vendor who had some of the best pistachios in the world from the island of Aegina, about 40 minutes' boat ride from Athens. We bought two kilos and hoarded them immediately. These unique treats are naturally pink and without salt. Perfect for a healthy snack anytime.
Ares had a meeting to attend so we said goodbye and headed back to the apartment to enjoy a little downtime on the veranda with a few of the snacks we had bought along the way. It was a wonderful afternoon and made us feel like we were really a part of the local scene.
Athens Art and Architecture
While we spent a lot of our time eating our way through Athens food, we also made sure to visit some of the most historic and significant sites in this amazing city. Real Greece also offers sightseeing tours, and we visited the Acropolis and the Acropolis Museum with a private guide. Our guide Maria is an architectural archaeologist and provided us with so much insight and information about every detail of these important sites. We asked many questions and she was more than happy to answer them. The Acropolis gets very busy but we were lucky that we were there a bit off season and in the afternoon so the crowds were not too large, though it was still certainly busy. Even so, the views were spectacular.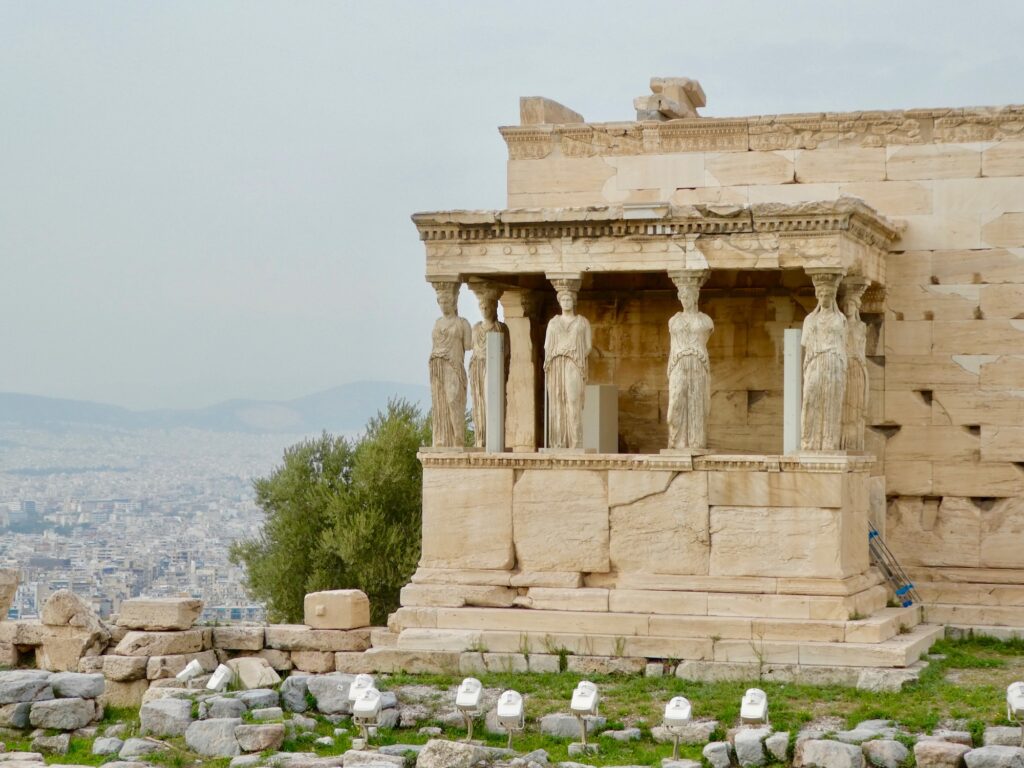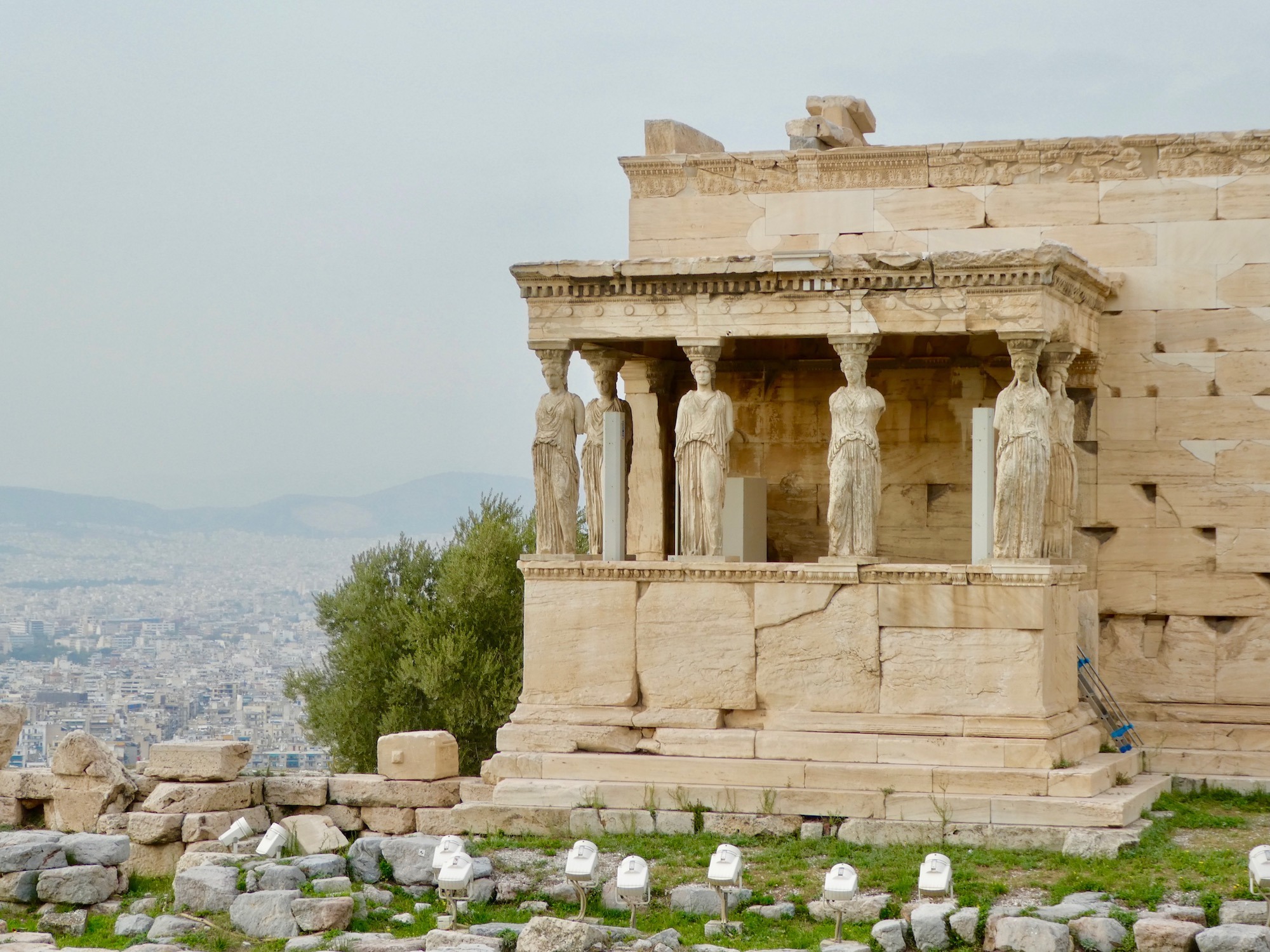 The Acropolis Museum is also a must-see. It displays actual parts of the Parthenon as well as parts that have been manufactured to "fill in the blanks." The history of ancient Greece is fascinating and the museum does a terrific job of displaying so many artifacts in context. While you could visit and stroll through it on your own, we were glad to have Maria really give us much deeper understanding of the people and society in the cradle of civilization.
It's hard not to get emotional going through these ancient sites where you can literally see the development of humanity through art, philosophy, architecture, politics and much more.
Best Places To Eat in Athens, Greece
Pagrati is a lively neighborhood with so much going on you could spend your whole visit just exploring nearby and have more than your fill of authentic experiences. Basil was intent on showing us one of his favorite barbecue joints, literally just down the street from the apartment. We are always ready to try the local cuisine, so happily followed him there.
The main street nearby is lined with many restaurants, bakeries, cafes and shops. The spot Basil had in mind for us was a small local hangout packed with people eating spit roasted meats, including gyros and souvlaki, which we know. They also had a couple of local specialties. Kokoretsi is lamb or goat intestines wrapped around seasoned offal and roasted on the spit.  We gave it a try, but Basil enjoyed most of it himself. There were also lamb heads on the spit which the locals happily devoured.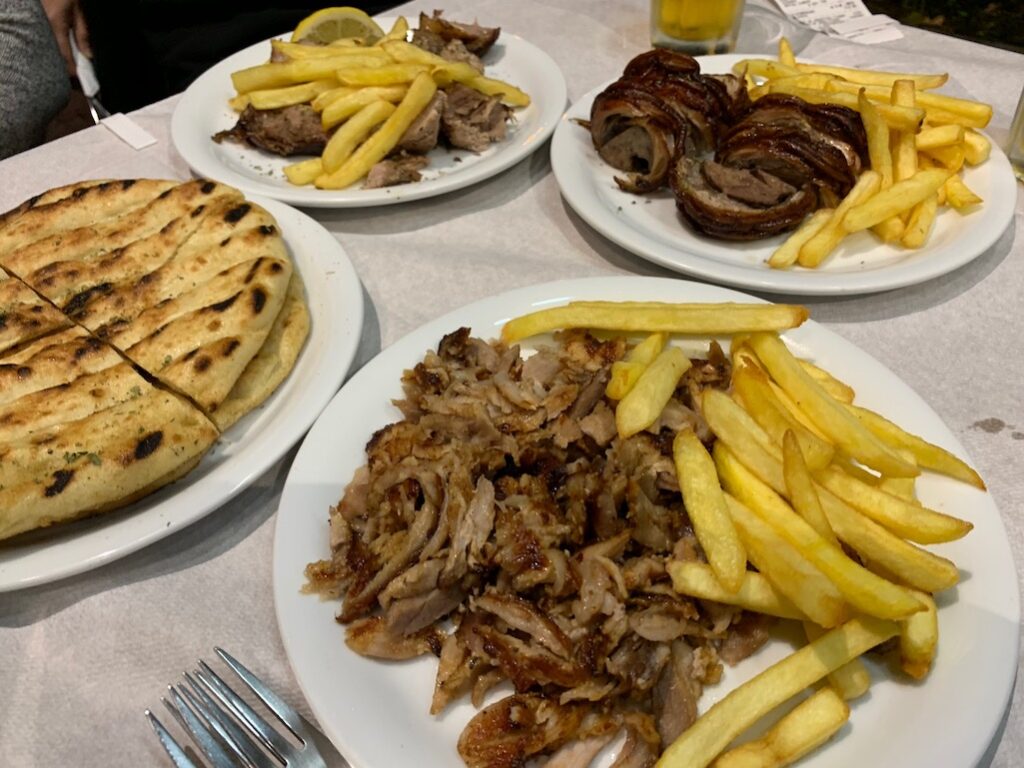 There are plenty of tavernas and restaurants offering all kinds of dishes. We went to another hidden gem known for its spectacular fish dishes. There we tasted flavorful salads, shrimp, horta, a special seafood medley and a specialty of the house, fresh stuffed sardines. Sue fell in love with the seafood medley and asked the owner for the recipe – which he gladly provided. The hospitality and joy shared among the locals is infectious. We practically danced home, which was a good way to work off all that food.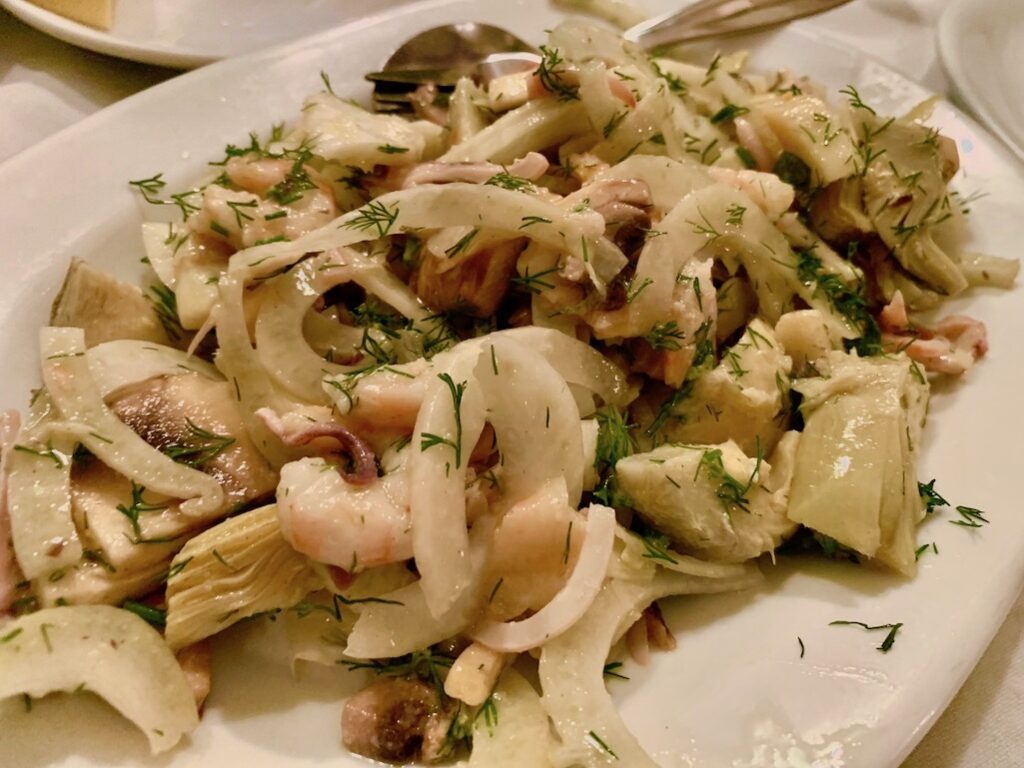 While we didn't make it out to the nightclubs, there are plenty of places to party the night away. You can dance or listen to live music, share small plates or desserts, or quaff some wine and cocktails at lots of spots that stay open late. We'll just have to get back for the late night fun next time!
Athens Has So Much To Offer
This article barely scratches the surface of all that Athens has to offer. Explore street art and graffiti, taste the many wines of Greece, listen to live music, discover the history, learn to Greek dance, take a bike ride through the city streets and so much more. You can even take some interesting side trips just for the day or longer if you like. Sail or take a cruise to nearby islands. Take a train ride up to the hills for fantastic views. Visit the many museums and the ruins of an ancient civilization that make Athens a city like none other.
In Athens You can see the past and the present come together in one of the most stimulating and diverse metropolitan areas of the world. And whether you want to figure it out on your own or have some help from knowledgeable experts like those at RealGreece.com who can save you time and ensure a wonderful visit, now is definitely the time to visit Greece and get a taste of authentic delicious Athens food that will leave you wanting more.