9 Reasons You'll Want To Visit Cascais In Portugal
Cascais Portugal is one of the most beautiful seaside towns in the world. Along the gorgeous coastline about 30 minutes west of Lisbon makes it perfect for a  change of pace when visiting the urban center. Whether you want to lay on a beach, shop till you drop, dive into art, history, culture, or ice cream, Cascais offers plenty to keep you busy. Here's a look at our 9 reasons Cascais in Portugal is tops on our list.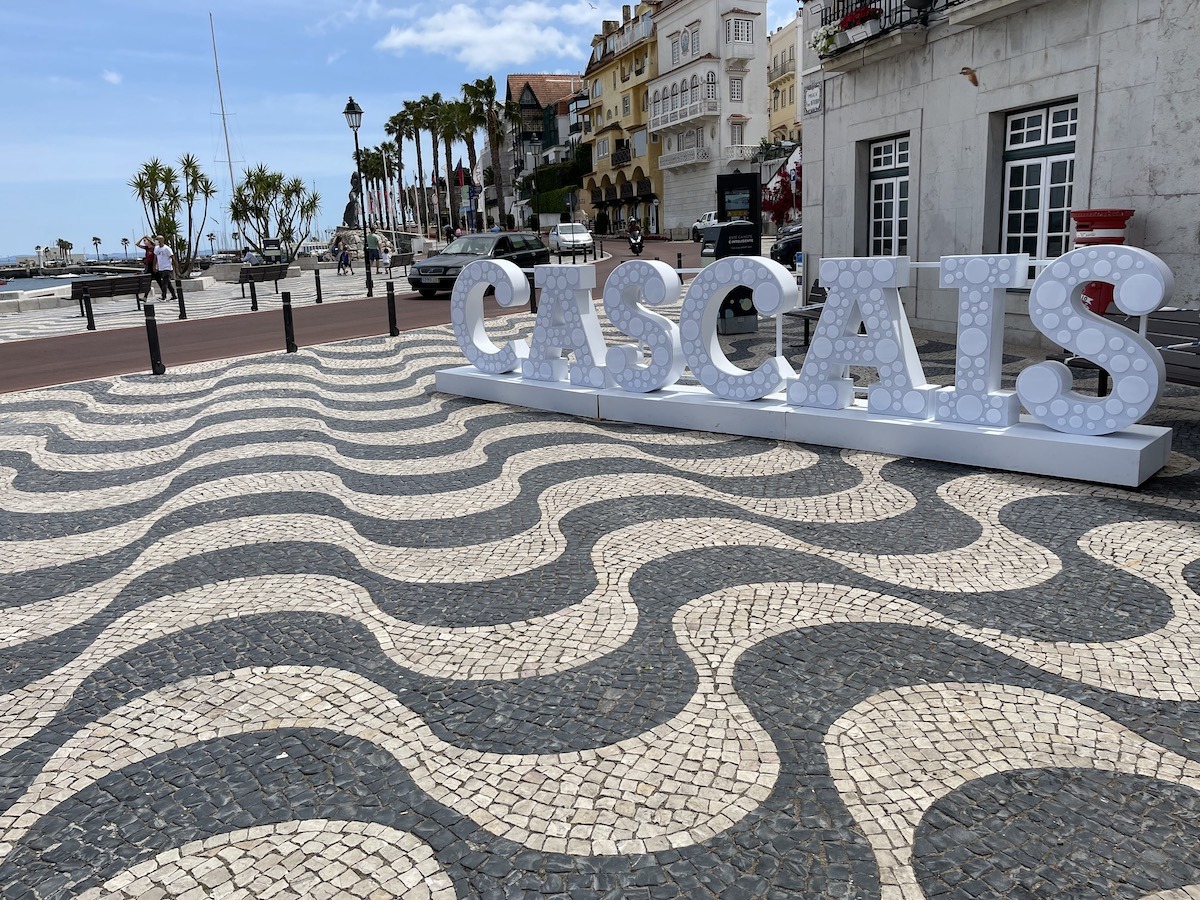 Is Cascais Worth Visiting?
Before we taunt you with all the reasons you should visit Cascais you might be wondering if you should even venture down the coast of Portugal to Cascais at all. This article should help you decide that yes, yes you should. We are absolutely biased because we live here but don't think that we are sugar coating anything. Cascais is lovely – in fact, every person, every single one that we've encouraged to come and spend some time here ends up falling in love with this seaside village.
1. Weather In Cascais
If you like the temperatures to hang around in the 60s and 70s with bright warming sun and cool blowing breezes, you'll love Cascais. We know it can get rainy in the winter. That's better than Midwestern snow! The interesting thing is that the sun feels bright and warmer than expected if you are walking around in it. And if it feels too toasty, just step in the shade for an instant drop that cools you down. Even so, there's nothing like a Cascais summer day. While bigger cities like Lisbon and areas further south like the Algarve get way too hot for our liking, Cascais has a mild-moderate temperature that feels pretty darn good almost all of the time.
PRO TIP: always have an extra layer with you. A light sweater or scarf usually do just the trick.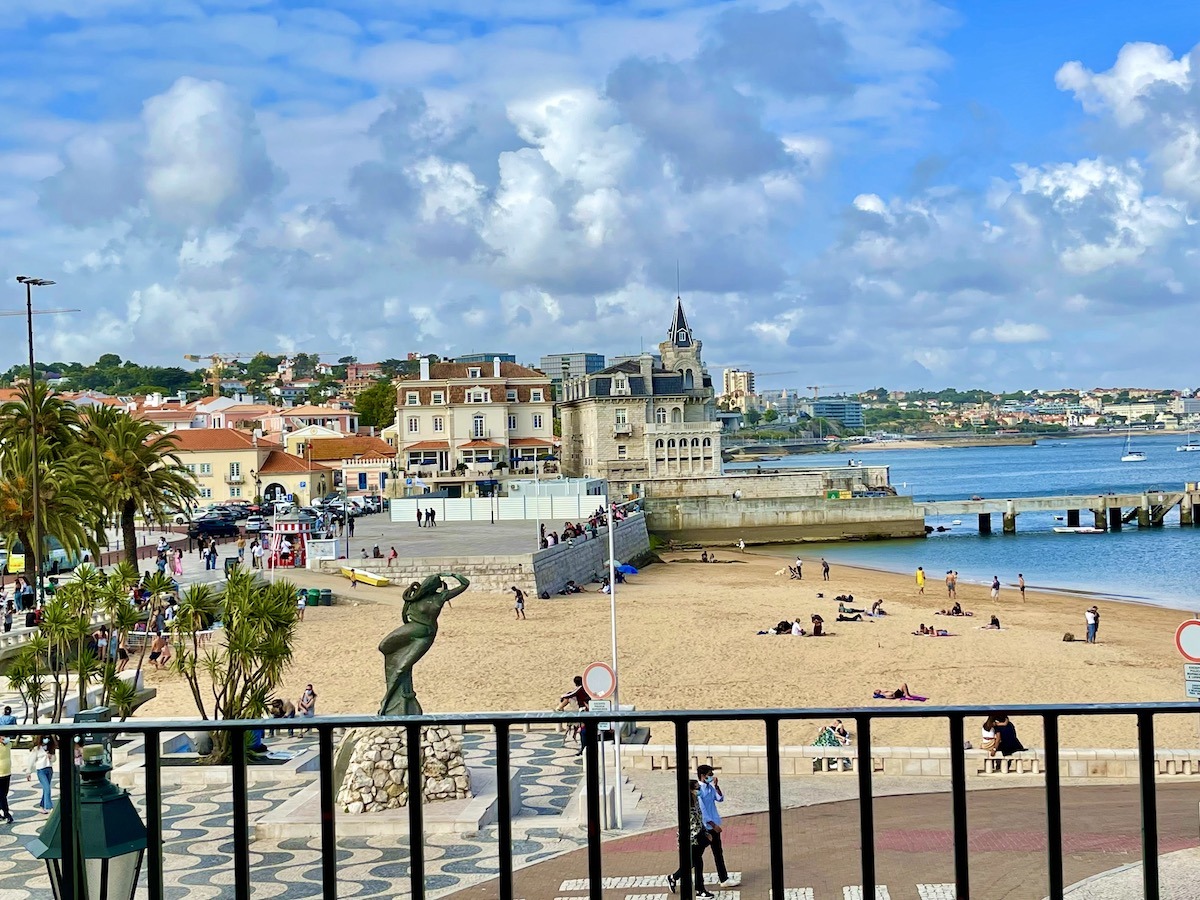 One thing to know is that there's a lot of wind in Cascais. Situated between the mountains and the sea, the gusts can be quite strong. The wind in the hilly parts above the beach are known to be the "pai do vento," or father of the wind because of its blustery nature. We personally find it refreshing and the winds vary greatly based on the other weather activity. But if you like to sail, parasail, or do any sport enhanced by a good breeze, then Cascais will make your activity a dream.
2. Beaches In Cascais
Portugal has a lot of coastline. More than 500 miles on the mainland alone. And there are many different views about which beaches are the prettiest. But there is certainly no doubt that Cascais beaches are up near the top. Praia da Ribeira, Praia da Rainha, and Praia da Conceição are the town's own beaches.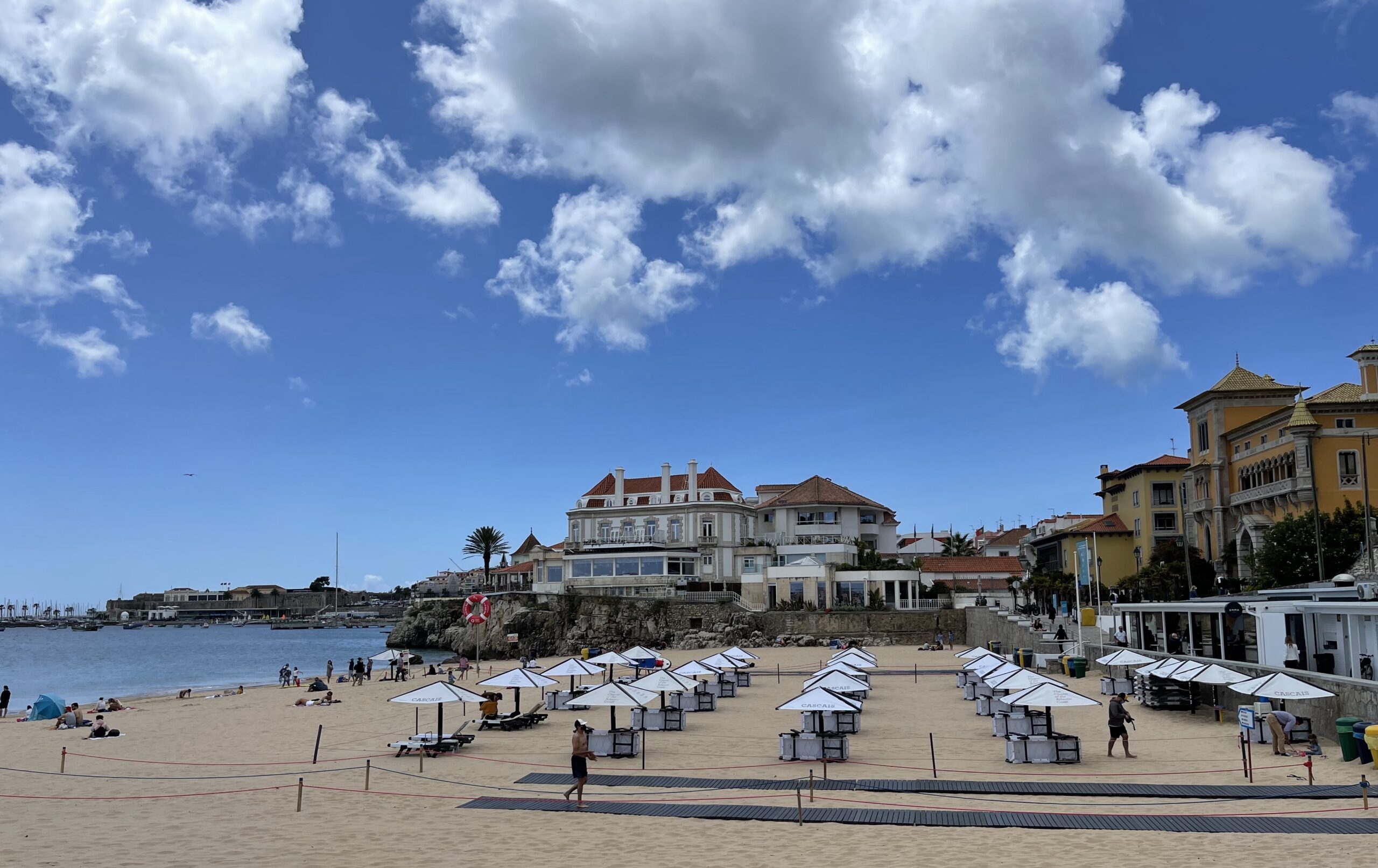 Praia da Ribeira is the closest to the center of town. It's an easy walk from the train station to the sand. It's a popular beach with plenty of action. You can see the boats in the marina or sun on the sand. For something a little more secluded, Praia da Rainha is perfect. It's a small beach tucked away by the harbor. Praia da Conceição is another popular option with lots of amenities. Enjoy beach lounges, umbrellas, places to get a bite or a drink, and lots of water activities. Cascais beaches are beautiful whether you want to go down to the beach, dip your toes in the water and lie on the sand or just watch the waves from a comfortable bench nearby.
3. Cascais Restaurants
It's no secret that the food in Portugal is absolutely amazing. Cascais is doubly blessed when it comes to dining options. Close to the sea, there is an abundance of fresh fish and seafood available. Fresh fish, shrimp, octopus, clams, and more are often prepared simply and with favorite local preparations. Cascais restaurants also serve some hyper-local specialties of the area like the santiaguiños, tiny slipper lobsters found only in the region. Some restaurants like Marisco na Praça Mercado let you see what items they have fresh that day and mix and match your perfect meal. Codfish is a national favorite served a thousand different ways while octopus is often enjoyed "à lagreiro" style with garlic, olive oil, and potatoes or in a salad.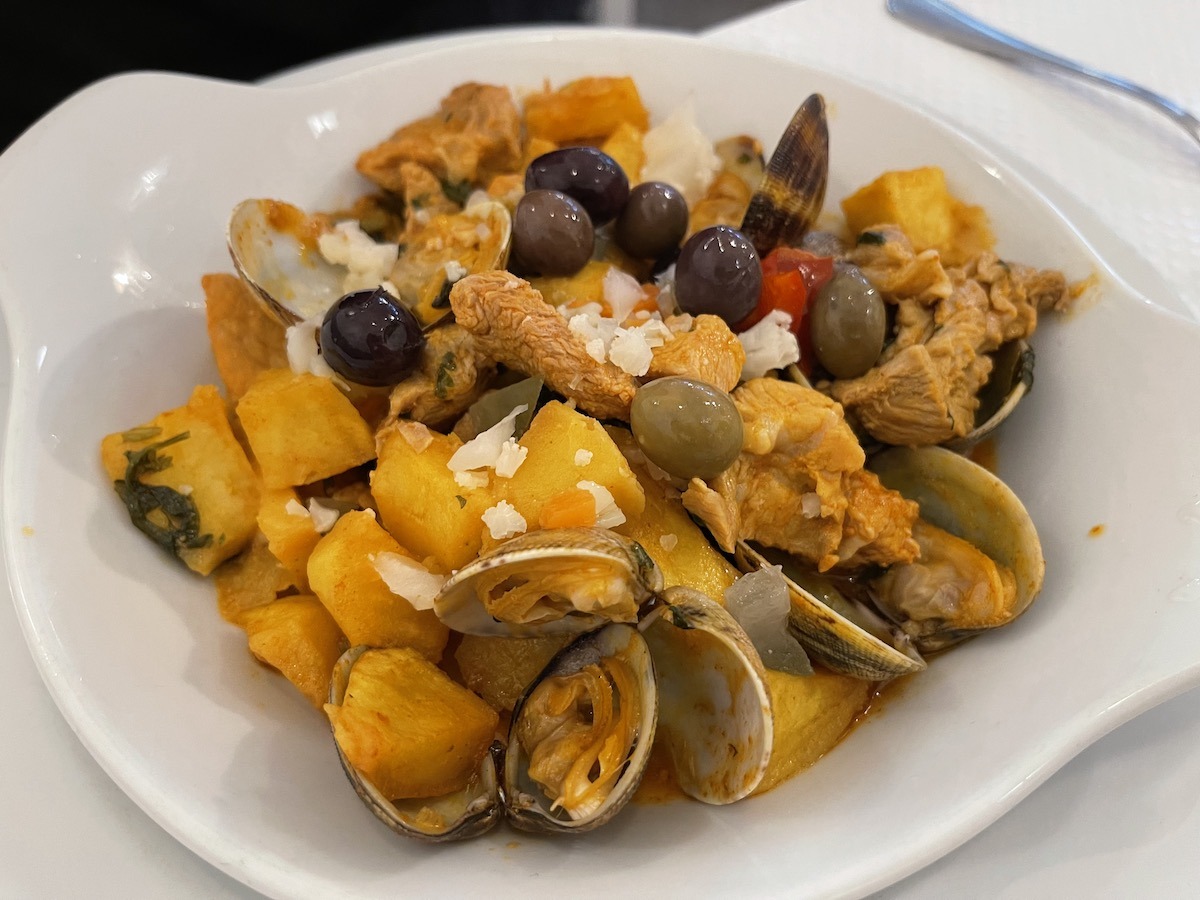 Vegetarians and meat-eaters will find plenty to love in Cascais too. Pork is abundant in forms from sausages to cutlets to one of our favorite dishes, carne de porco à Alentejana. Though associated with the south, it's available everywhere, highly addictive, and we just can't get enough. Cascais restaurants run the gamut. Tascas are those small local spots that we like the most. A few of our favorites are Flecha Azul, and Manjar da Vila. If you crave other flavors, don't worry. Sushi lovers will find lots of options in Cascais. We found great pizza at Pizzeria Il Siciliano and delicious burgers at Hamburgueria do Bairro. And for a spectacular vegetarian meal, we loved the food, fresh juices, and outdoor dining at Cafe Galeria House of Wonders. Whatever you crave, you won't go hungry in Cascais.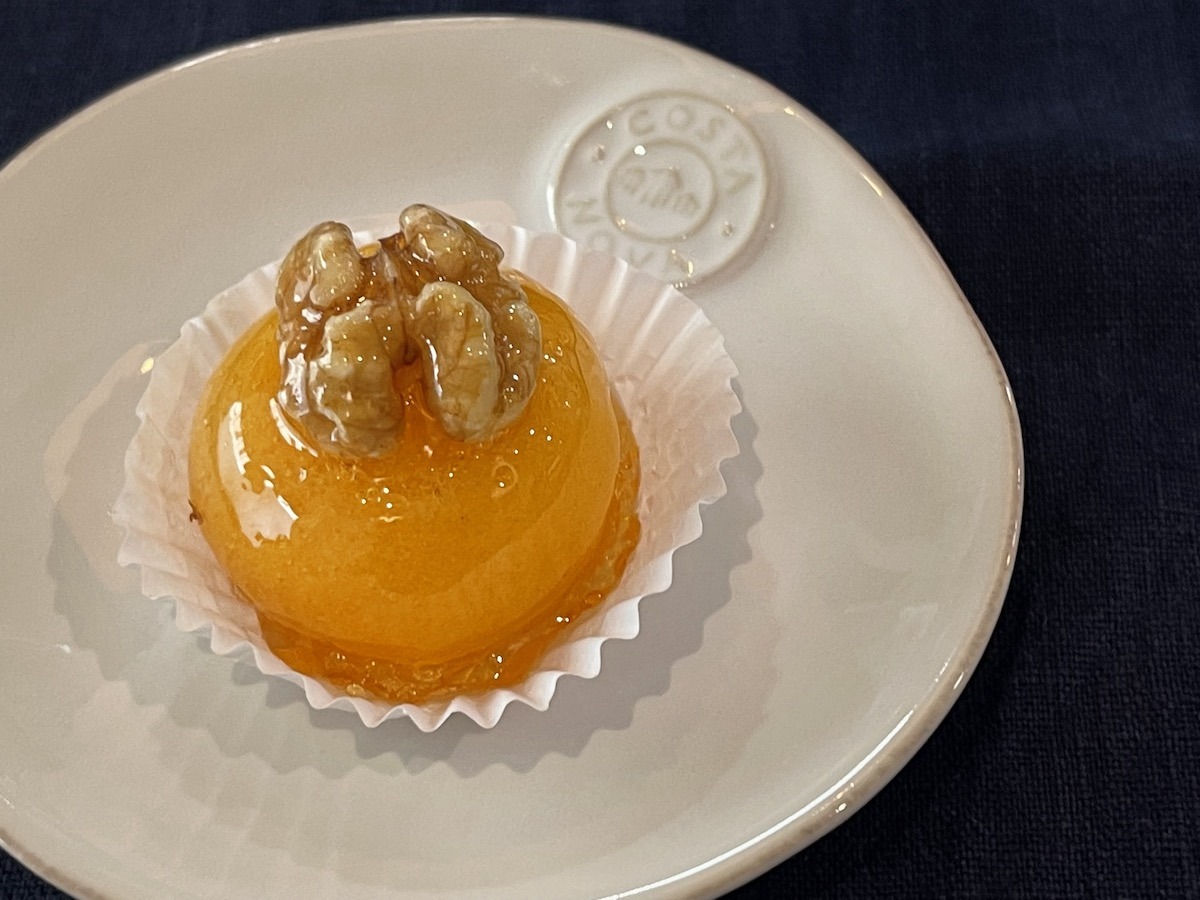 We'd be remiss if we didn't mention a few sweet stops in Cascais. There are plenty of places to get the ever-present pastel de nata and all the other Portuguese sweets. When in Cascais be sure to try the "nozes" or "nuts" at Bijou de Cascais which feature sugar and egg yolks like many Portuguese pastries but it has a glazed covering that is crunchy and topped with a nut and sand-like melt-in-your-mouth cookies "areias" at Sacolinha.
4. Shopping In Cascais
Local boutiques are abundant in Cascais Portugal. You'll find little shops with knick-knacks and touristy souvenirs alongside shops with Portuguese-made clothing, tableware, soaps, bath products, and of course, many items made from famous Portuguese cork. But there are also some big-name shops strewn around the central district, especially when looking for jewelry and high-ticket items. Cascais even has a see-through Porsche studio made of glass right next to the marina!
Shopping Malls
For those who like to jump into the thick of it with a huge mall and tons of stores, CascaiShopping is the ticket. Technically up the hill in the adjoining town of Alcabideche, it's worth a trip if shopping is your jam. There is a combination of local stores and global brands covering just about everything. Jewelry, clothing, housewares, toys, books, tech stuff, and more are all there. And, to make sure you don't perish from hunger, don't forget to eat. Two different food court areas serve local and international flavors.
If like us, you enjoy exploring grocery stores, you might find yourself getting lost in the huge Continente hypermarket, which could provide hours of shopping pleasure all on its own. Cascais Villa is a smaller shopping center right in the middle of town. An interesting feature of this mall is its unique wavelike appearance from the outside. It makes an easy stop to pick something up on your way to or from the train.
Mercado Da Vila
If you love farmers' markets and flea markets, then you will love the Mercado da Vila. There are permanent storefronts housing florists, butchers, bakeries, and more. And there are some restaurants where you can get a lovely bite such as Local Cascais with great fresh food. But on Saturdays, the farmers market comes and all the freshest fruits, vegetables, eggs, bread, and other local delights will fill your senses. They also have a huge fish market. Locals and visitors alike ooh and ahh over all the goodies in the market. We usually bring two bags with us because no matter how little we think we want, we end up buying more.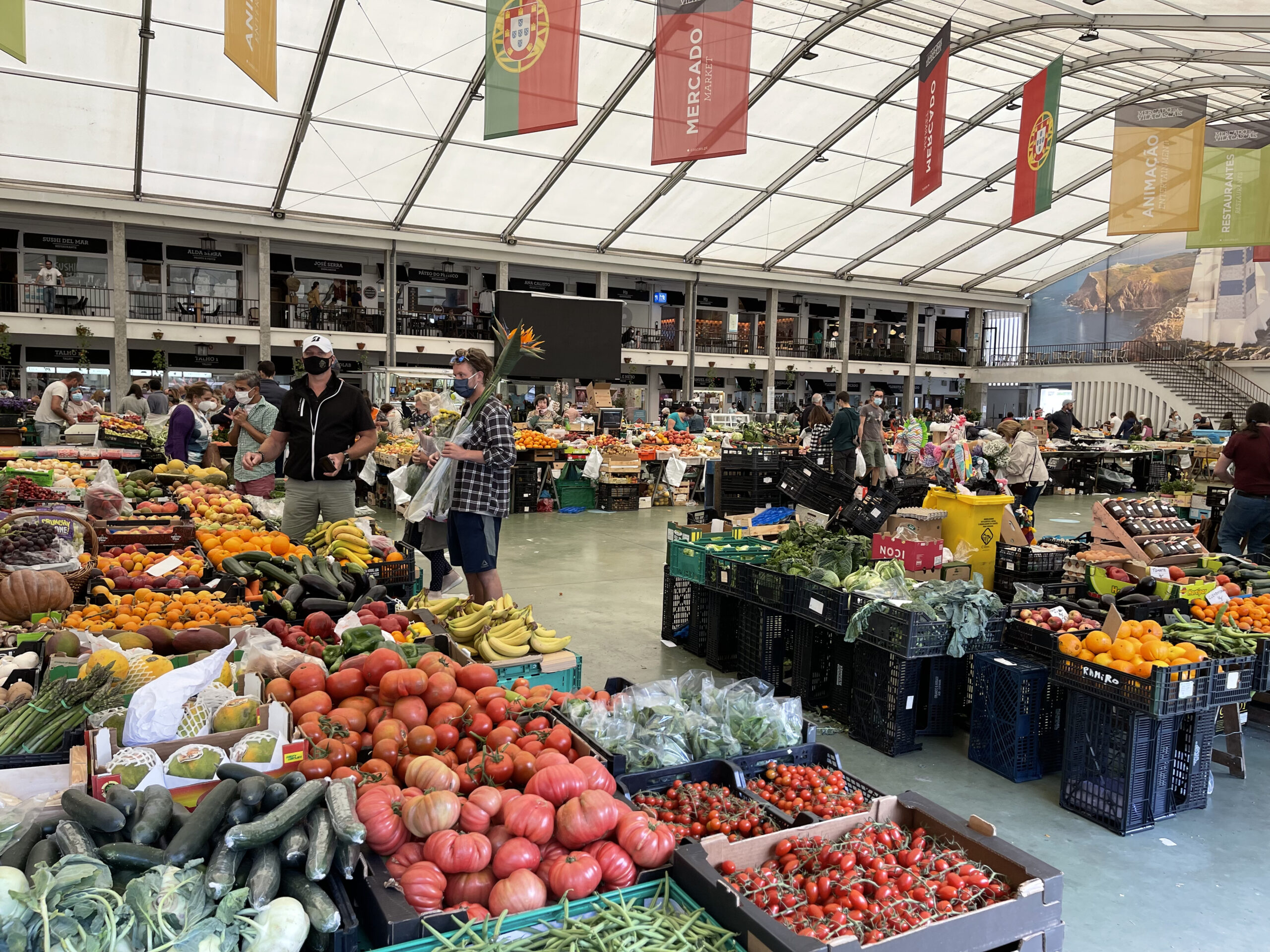 On Wednesdays, there's a special treat. The flea market happens on the back lot of the Mercado da Vila grounds. There you'll find all kinds of non-food items. Clothing, kitchen tools, electronics, bedding, music, garden supplies, and lots of other items are there for the haggling. Although prices are usually so good, you probably won't need to haggle if you don't want to. We purchased a king-sized sheet for 5 Euros and a summer blanket for 15. At that price, we didn't even think to ask for a discount!
Cascais FoodLab
One other thing we just wanted to mention is the Cascais FoodLab which is located in the Mercado da Vila. This spot is a treasure trove of culinary creativity. We were privileged to visit for a Carcavelos wine-tasting experience. Not only did we learn about this amazing fortified wine (one of Thomas Jefferson's favorites) but we also had the chance to taste Portuguese cheeses, charcuterie, bread, honey, jams, and more.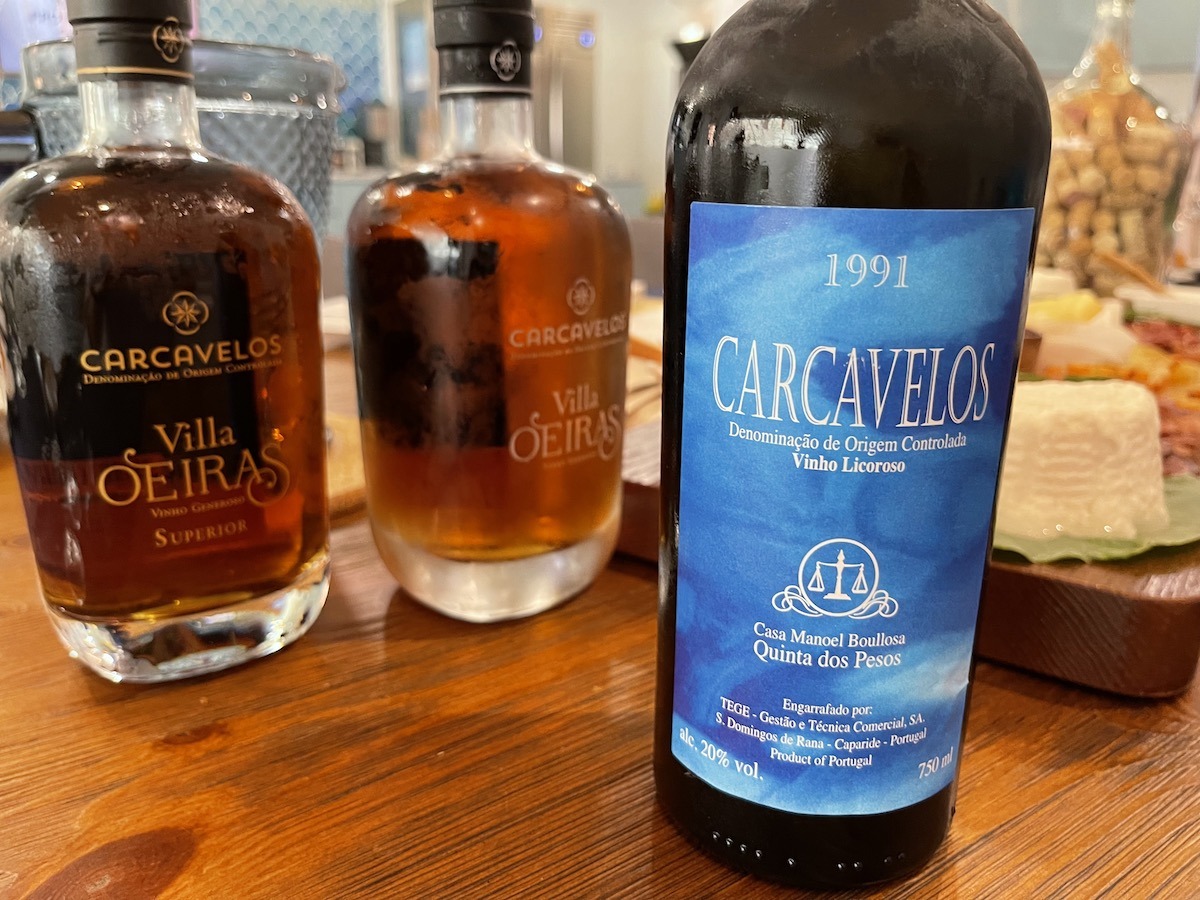 The FoodLab is a sort of think tank, educational institution, gastronomy experience, and historical preservation project all rolled into one. You can check out what events may be happening during your visit. Past events have included workshops around macarons, photography and photo editing, risotto,  and traditional pastries.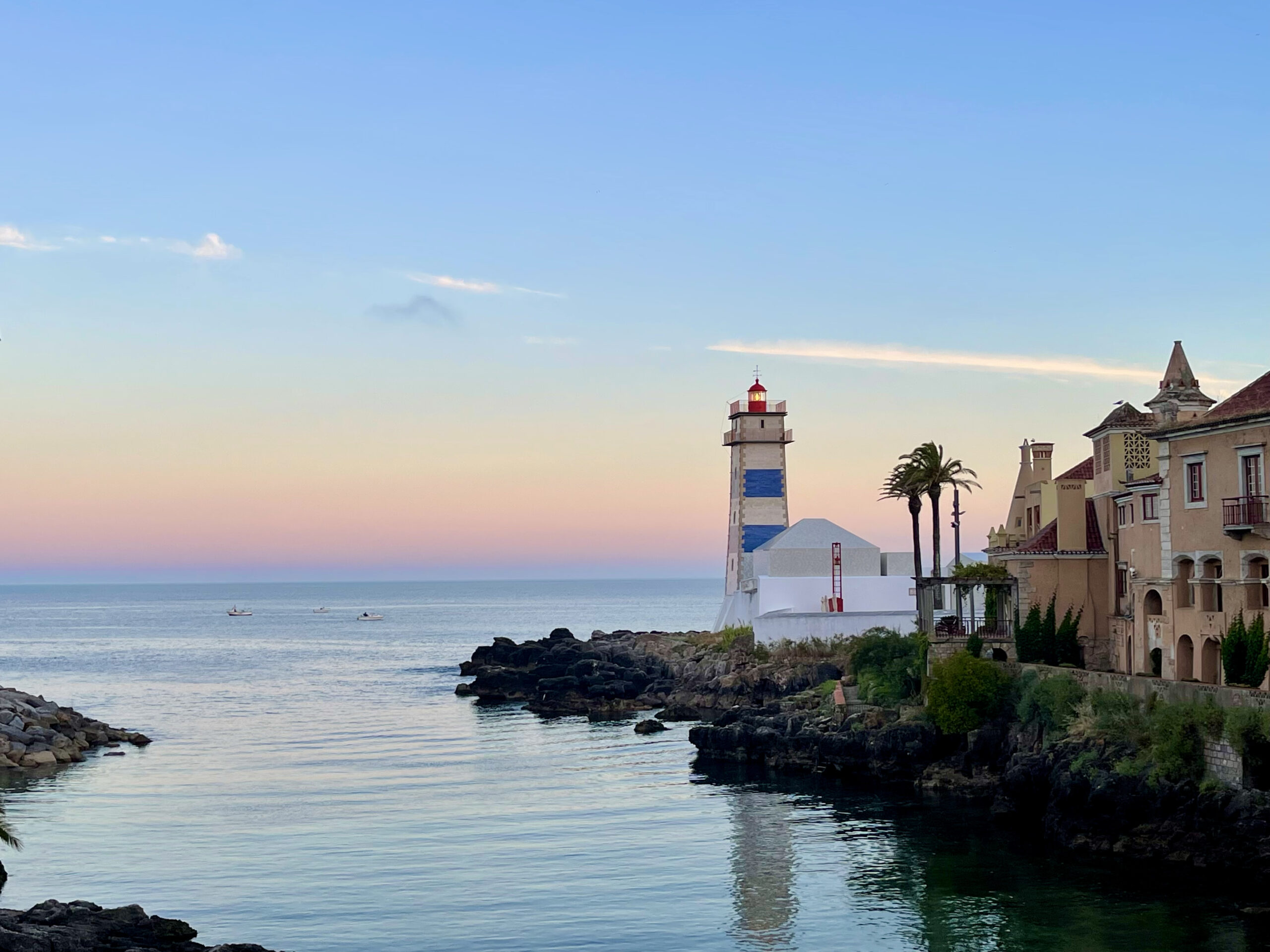 5.  Santa Marta Lighthouse And Museum
If you want to see some interesting historical attractions, Cascais also has some wonderful options. We loved visiting the Farol de Santa Marta, a lighthouse and museum that provides a unique addition to many scenic photos of Cascais. The lighthouse's distinctive white and blue stripes make it a visible symbol on the rocky part of the Cascais coast.  Originally built in 1868 on the site of a historic fort, the lighthouse was renovated in 2006 into a museum. Inside, you can see some amazing lenses, tools, and equipment. These were important to the use and maintenance of the navigation and warning towers. If you're feeling like a view, you can walk up the spiral staircase nearly 120 feet in the tower and look out at the top for an incredible view of Cascais Portugal.
6. Casa Da Guia
One of our favorite things about Cascais Portugal is that it has so many great places to explore. Casa Da Guia Cascais is a unique attraction that combines a historic mansion, beautiful views, restaurants and snack shops, entertainment, and boutique stores all in one area. There are plenty of options for dining with a view. Try the upscale Grelhas for a glass of wine and petiscos, like the tasty pica-pau, which gets its name from the woodpecker because you just keep picking at the tasty pieces of meat and veggies. Enjoy the lovely view all the while.
For a tasty and eclectic menu, visit LOVit.  Sushi Cascais style is very popular here and elsewhere. They also have great burgers, salads, sandwiches, and more. The casual setting is perfect for relaxing in the open air. Our friends that live nearby eat there every week. There are plenty of spots to just sit and chill, enjoy some music, and a cocktail or snack. You can try a few of them and see the area from different views.
The historic mansion itself was restored and its bright mustard color serves as an icon of the area. You can explore some lovely boutique stores that are housed in the building including our favorite, the Gourmet Emporium with some specialty food products and an exotic tea collection. Other shops in and around the casa sell clothing, accessories, artwork, and designer jewelry. And if you're sweet tooth is aching, don't forget to stop for a delicious gelato at Fabio Lupi before you head home for a nap.
7.  Parque Marechal Carmona
We love a good park and Cascais has plenty of green space all around. But the one that is our favorite is Parque Marechal Carmona. Not only does it have all the green space and play areas you would expect, but it has much, much more. A large pond is home to many ducks, geese, and turtles. There's a little cafe at the back of it as well. And not only do we love the watery pond area, but all around it are our favorite residents of the park – all kinds of birds. Yes, we avid bird watchers managed to find a bird haven in the middle of Cascais Portugal.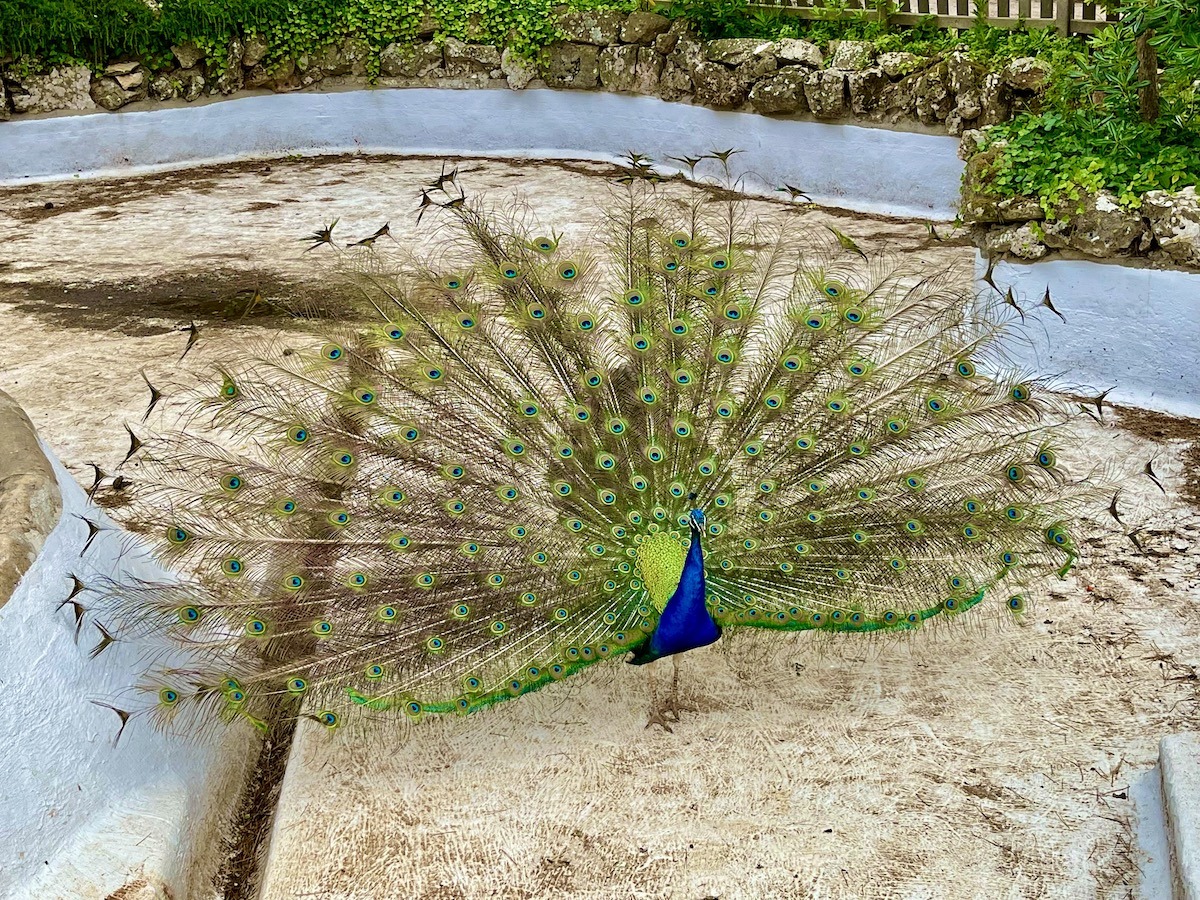 Birds Of Different Feathers
Chickens and roosters have made it their home, evidenced by this summer's large number of chicks running around with their moms and dads. Don't worry, there were some ducklings and goslings too. Parrots fly around in the trees sometimes. And pigeons mingle with ducks and chickens as though they are cousins at a family picnic. Well, perhaps they are. But beyond those small birds, we have to admit that like many others, we were smitten by the peacocks that also call the park their home. Not only do they have beautiful plumes, but they have bossy behavior that lets you know you are on their turf and they may or may not let you come back. One fine fellow gave us the full view of his fantastic tail feathers, of which he is obviously quite proud!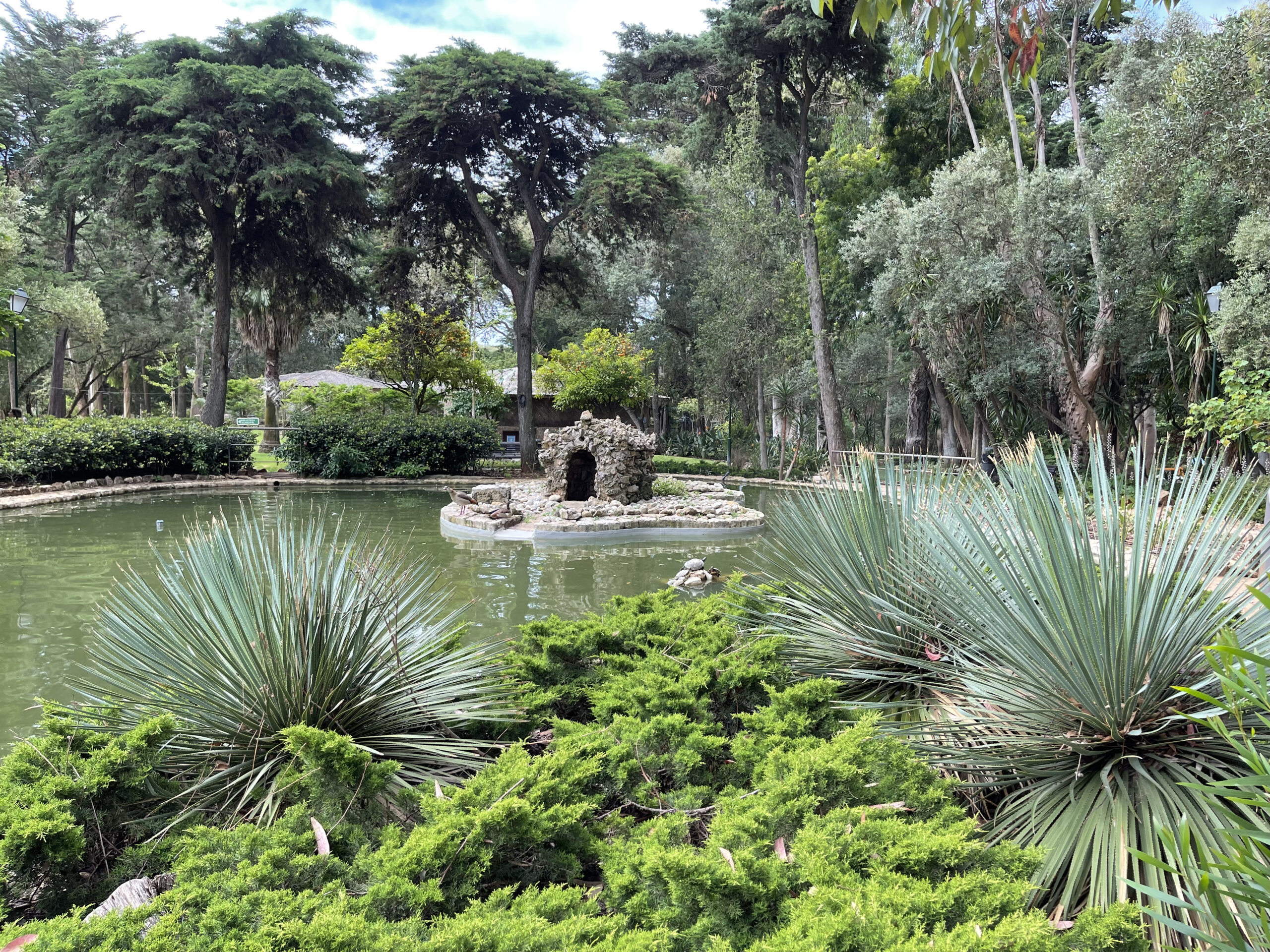 Diverse Beauty
Beyond the birds, the park has extensive gardens with flowers and plants, trees, and lawns. There are sculptures and children's play areas. Don't be surprised to find a small group doing yoga or tai chi on one of the quiet lawn areas or sunbathers out on the larger lawns. We participate in a monthly lunch gathering with other ladies who live in the area. There are picnic tables perfectly set up for a small group to enjoy a little time together surrounded by trees. The idea that we can have a peaceful walk through a lovely forest within minutes of the ocean is one of our favorite things about lovely Cascais Portugal.
8. Cascais Hotels
Cascais has lots of variety when it comes to places to stay. There are lots of short-term rentals available as well as hotels and resorts. The short-term rental market is quite active so much will depend upon where you want to be located and what your budget is. There are plenty of rentals located in the historic city center, some near the beaches, and others further up the coast. As a small town, most of Cascais is well within reach whether by walking by taxi or ridesharing. The one thing to be aware of is that, like most of the country, Cascais in Portugal has flat areas and hilly areas. If you want to be a little off the beaten path, going just 10 minutes up a hill will give you much more of a local neighborhood feel and a lower price.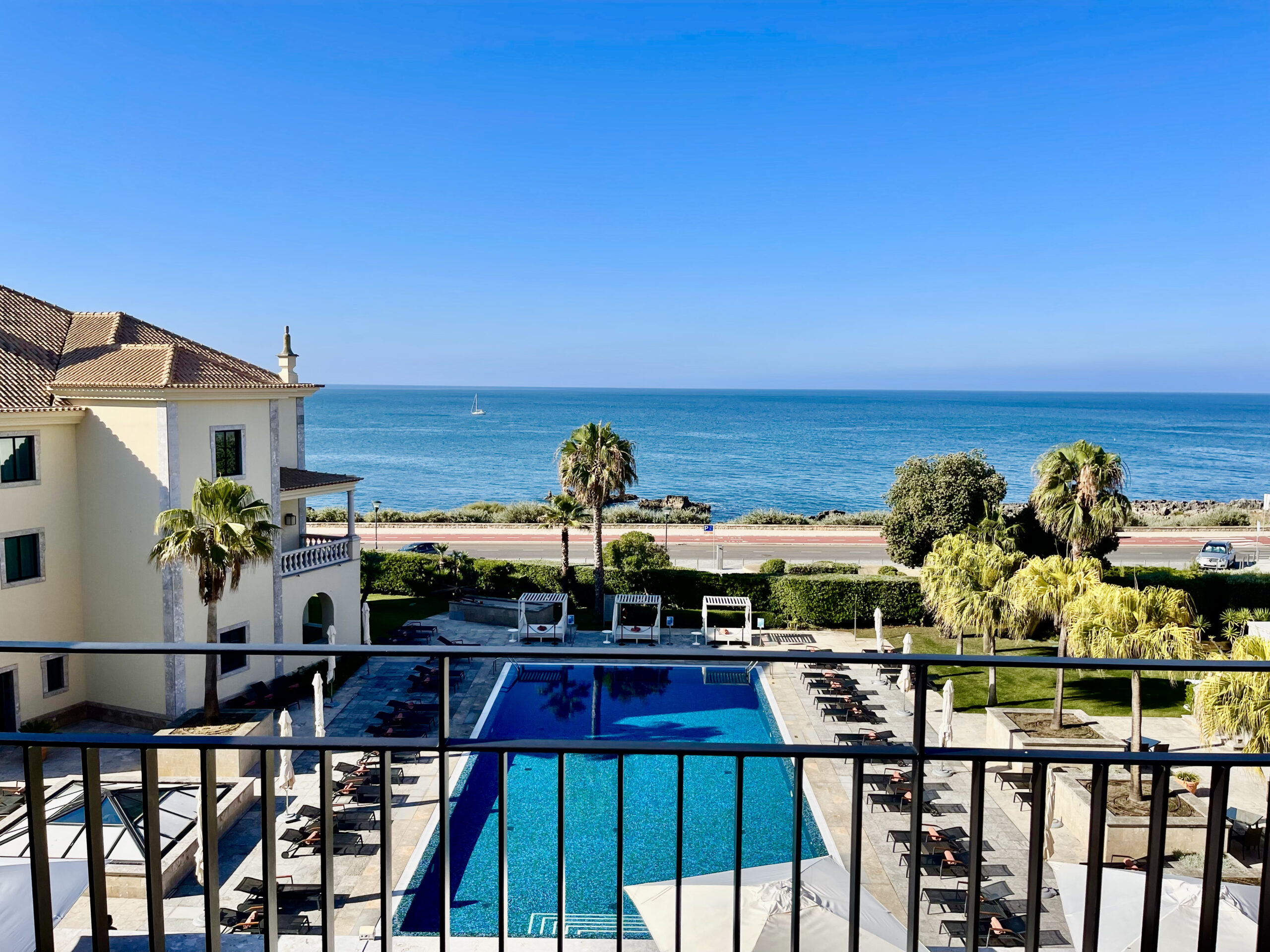 Grande Real Itália Hotel & Spa
Hotels also have a wide range. We had the chance to stay at one of the most beautiful luxury resorts in Cascais, the gorgeous Grande Real Itália Hotel & Spa. It's one of those places that makes you feel decadently indulgent, in a totally good way. The rooms and suites are spacious, clean, and elegant. We had a room with a beautiful balcony that overlooked the pool. Beyond the pool was the Atlantic coastline. Yeah, that's what Cascais Portugal is like. View after view.
The hotel has all the amenities you could want including a restaurant and gorgeous bar and lounge where you can get nibbles and drinks. There's also a spa that offers treatments that capitalize on the therapeutic values of the sea. While its plum location faces the shore, it's actually backed up against a neighborhood so you can walk beside the sea or scope out where the locals go on the inside. It's also located very close to one of our favorite attractions in Cascais Portugal which is next.
Is It Better To Stay in Lisbon or Cascais?
As always, that depends. If you like the hustle and bustle of city life you'll love staying in Lisbon and enjoying every moment. If you're the travel of traveler that likes to visit the city but get away and relax in a less crowded and slower-paced town, Cascais will be right up your alley. They both have their strengths and challenges. They are both on the water and full of activities, historic sites, and plenty of good food.
9. Boca Do Inferno
We love natural attractions and one of our favorite spots in Cascais to see the power of nature is Boca do Inferno. While the name literally means Mouth of Hell, we think it's more like a little bit of heaven to watch the waves weave through the remnants of a cave that was carved out of the rocks rising out of the sea. One can only imagine the constant crashing ocean activity that created this unique natural archway over the centuries. Various viewing plateaus make it easy to see and the continual movement of the surf in and around the rocky cavern is mesmerizing. One time when were visiting, we saw a brave fisherman actually perched on the rocks above the Boca do Inferno braving the elements to get a prize catch. It was a stunning and unforgettable sight that reminded us again of the adventurous spirit the Portuguese people have, even today.
Around the Area
There is a small permanent marketplace of local merchants and several eateries nearby. Mar do Inferno gets consistently high marks for its fresh fish, but it's a bit of a splurge for dinner. If you're on a budget stop by for a glass of wine, some tasty snacks, and the spectacular view.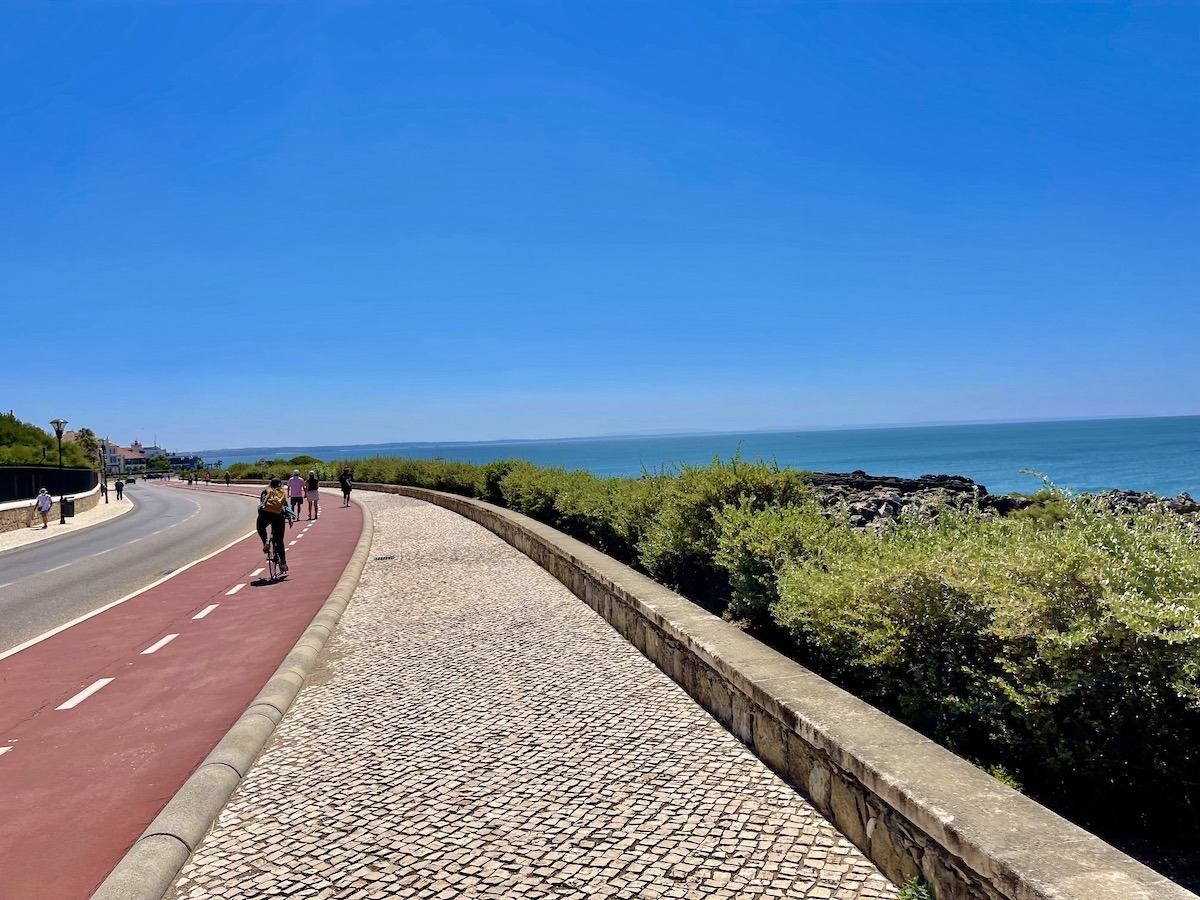 If you love to experience a destination on foot you can walk a great distance along the coast from beyond the Boca do Inferno into the center of Cascais. If you want to keep walking, you can head over to the Paredão, a 3km long pedestrian promenade from Cascais to São João do Estoril along the shore. There are cafés and stops along the way if you feel the need to replenish.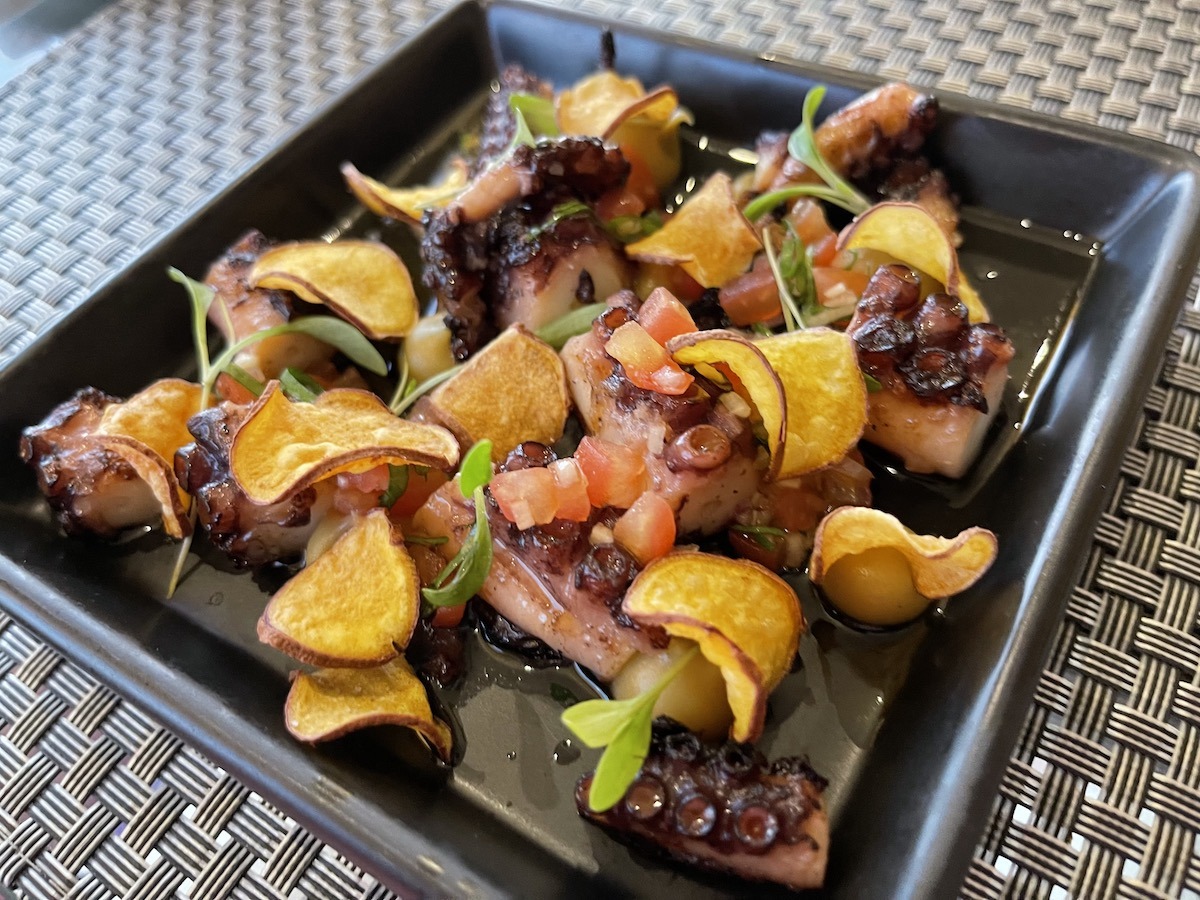 If you're up for an even longer walk or bike ride you can start in Cascais and go all the way to Guincho Beach. It's about a six-mile trek from downtown Cascais. The one-starred Michelin restaurant Fortaleza do Guincho is located there. If you're looking for something very special, treat yourself to lunch or sunset snacks at the Spot Fortaleza Guincho for the same great food and service in a more casual setting. We highly recommend the octopus salad or prego sandwich.
Is Cascais Portugal Expensive?
Like most resort towns Cascais has its pricey restaurants and fancy five-star hotels. They are all lovely and you will absolutely get your money's worth and be spoiled by the gracious staff and magnificent views. If you do your homework, visit in the shoulder season and eat off the main strip you will find the cost of food and goods to be very similar to the rest of Portugal. Eat at the tascas run by the locals, order the plate of the day, the house wine (which never disappoints in Portugal) and you'll save yourself a lot of cash and yet still have a full meal and a full stomach.
Picnics in the park or on the beach make for another great way to enjoy the tastes of Cascais and save some money. Stop in the Mercada do Vila and pick fresh fruit, veggies, wine, and bread and you'll be all set.
Real estate in Cascais is more expensive. If you're looking to move here and rent or buy a home you can find something more reasonable but it will take time and patience.
PRO TIP
For a great trip from Cascais to Lisbon or vice-versa with towns in between, you can take the Linha de Cascais train all the way along the coast. Stops include wonderful other towns to visit such as Estoril with its casino famous as inspiring James Bond's Casino Royale and Carcavelos with its delicious fortified wine and long sandy beach.
After moving to Portugal, starting and settling into a new life, we know there are many reasons to visit Cascais in Portugal. From fabulous food to gorgeous views, we have found much to love in this amazing seaside town. But we thought we'd share just a few of our favorites to spark your interest. Once you experience this wonderful place yourself, you're certain to find many more reasons of your own.
We would like to thank VisitCascais for assisting us as we learn more about this place we now call home. We were hosted at Grande Real Villa Italia Hotel and Spa and the Carcavelos Wine Tasting. All suggestions and endorsements are solely personal. We only recommend what we personally like and experience. 
Pin It For Later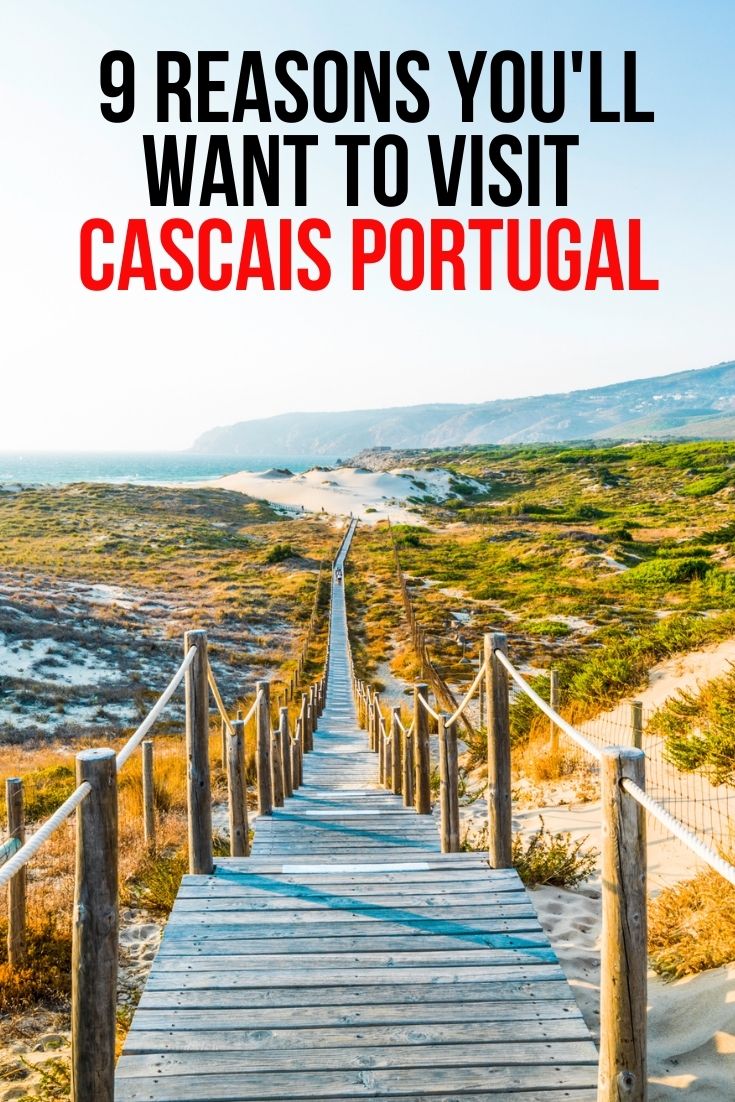 .