Life In Portugal: The First Thirty Days
We moved to Portugal. Just writing those words still makes me cock my head and say, "We did what?" I have to say that some days I'm sitting here at my desk in Cascais, Portugal looking out the window at the foothills of Sintra and have to pinch myself. Is this a dream? Nope. It's real.
It's been thirty days and life in Portugal is what we dreamed it would be. Great food, wonderful people, fantastic weather, and full of surprises, too.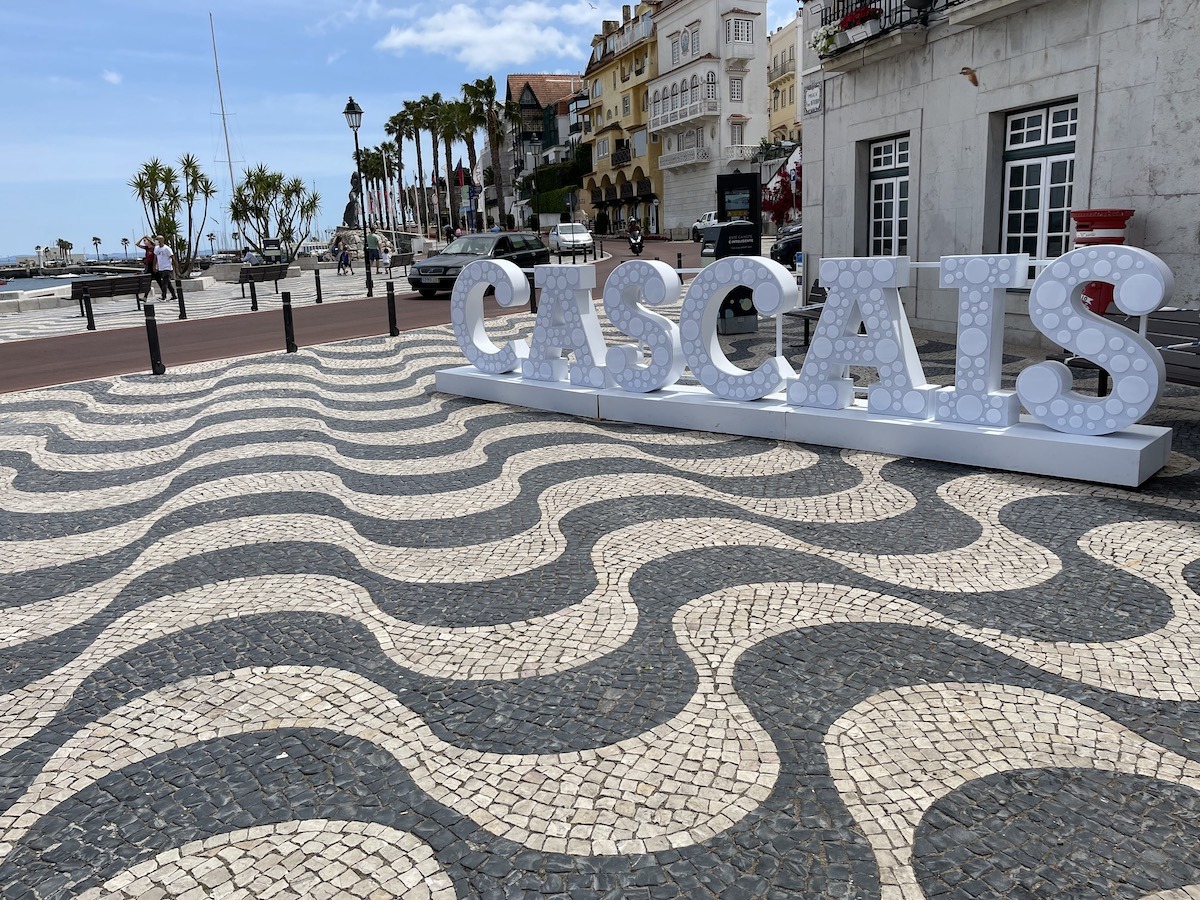 It's Been A Month? 
When we arrived in Lisbon just about a month ago. There had been much planning and so many logistics to work out. Just making sure that our two cats arrived safe and sound was enough to make your head spin. But we made it. We had to have our photo taken by the lovely Portuguese man who had agreed to pick us up with his vehicle that would hold us, the cats, 8 large suitcases (you know the ones that you look at when you're at the airport and wonder, who packs suitcases that big, yep, those), two very full carry-on bags, and two over-stuffed backpacks. It proves that we all arrived safe and sound. In the Facebook groups that anyone who is moving to Portugal belongs to, these photos provide hope that it's possible for those going through the same arduous process.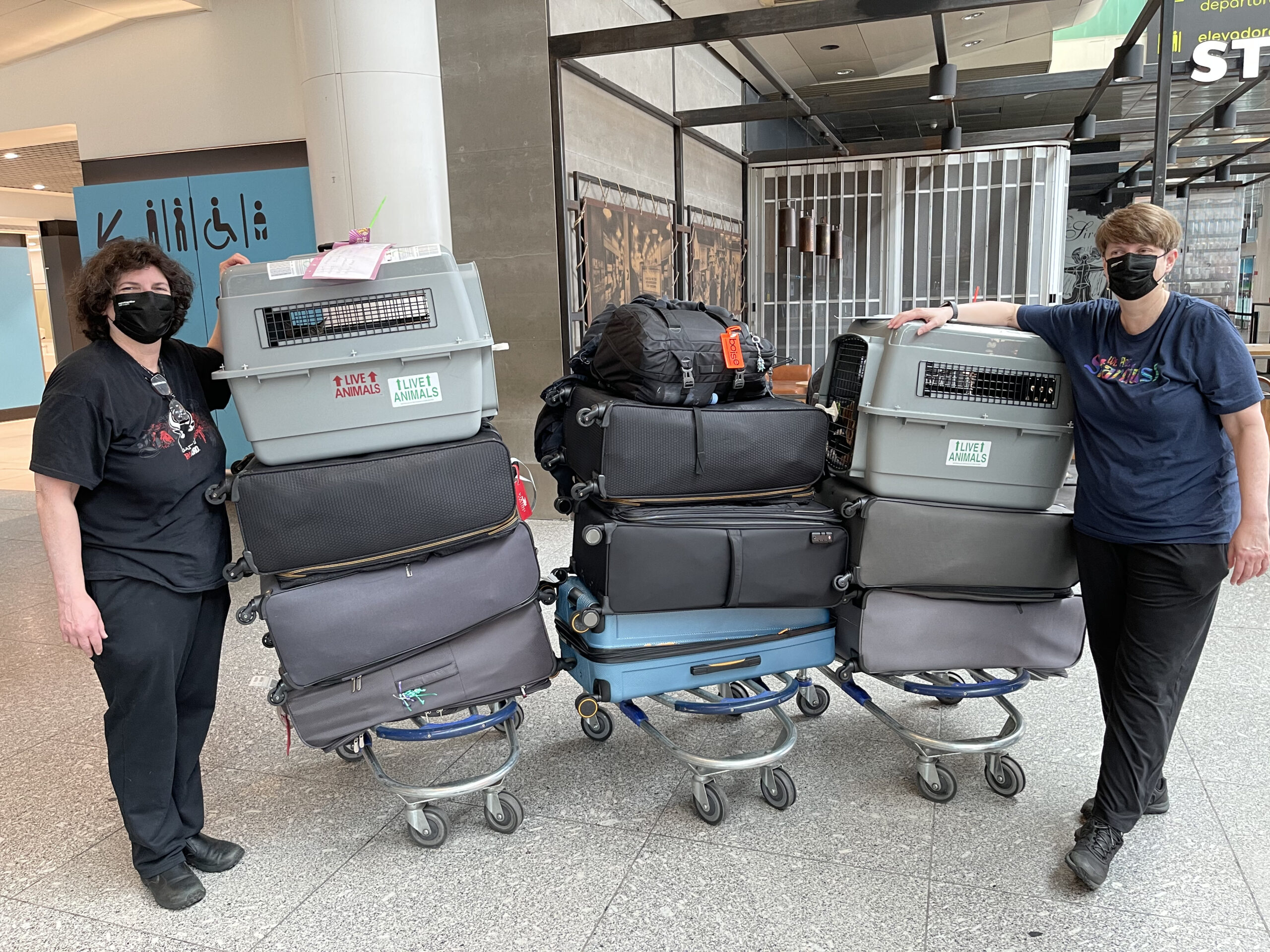 We're Here
We arrived in Lisbon in the late morning so we had plenty of time to settle in and go to the nearby grocery store to get a few things we needed (cat litter) and food to eat. We brought plenty of snacks because we were warned that the day we arrived was a Sunday and a holiday. There are LOTS of holidays in Portugal. We thought nothing would be open. Turns out that it was Sunday and a holiday but our neighborhood Pingo Doce grocery was open. Seems like it's always open. It reminds me of a small Jewel (midwest folks), Ralphs (west coast folks), or Publix (Southern friends) with a little bit of everything. Even a walk-up counter that has freshly made bakery (that changes all day long), and prepared foods that are actually really good (see photo below).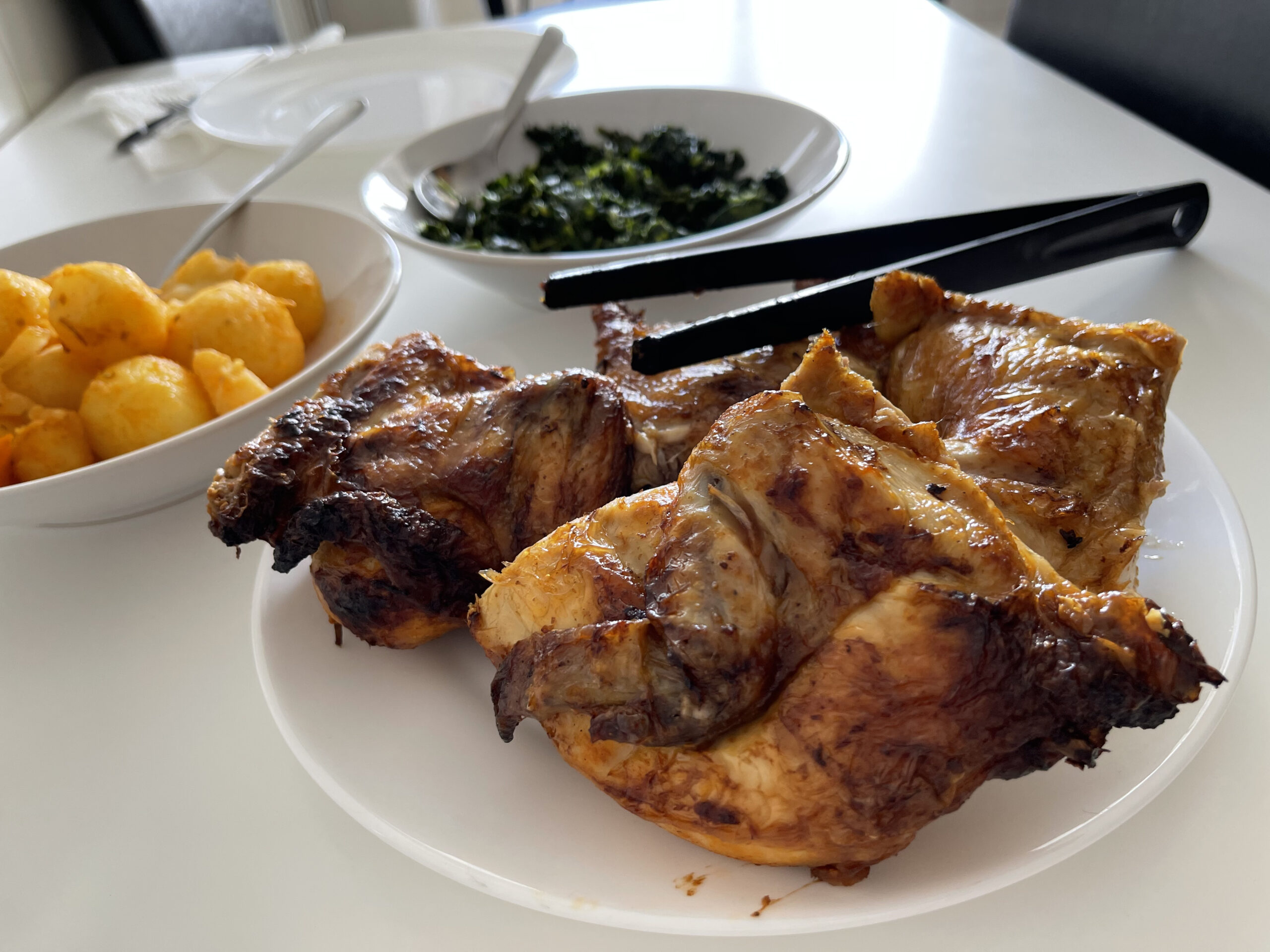 We started our adventure with a grilled chicken (these are everywhere here in Portugal – and they are good) like the ones you get from Jewel or Costco, but lightly seasoned and not overly salty. And it was 4 euros. One of the joys of living in Portugal is that the cost of living is about 26% less than living in the United States.
They typically cook their chickens the spatchcock style. It's laid flat on the grill. I'm guessing because it cooks faster and more evenly. Everyone has a slightly different spice mix and you can always add the local piri-piri chili pepper sauce if you like your food with more heat. We got some lovely sides of roasted potatoes and sautéed spinach. We rounded out our first dinner at home with some pastéis de nata to celebrate our arrival. Our rental agent left us a bottle of Vinho Verde and a bag of cat treats so we were all good to settle in for the evening.
The Sun Also Rises in Cascais
In the morning, we began the game of which suitcase is that in? As organized as I am we moved things around so many times in those last couple of days before we left it was anyone's guess. One tip I can give you if you ever attempt a move like this – get rid of as much as you can. You won't need it, really. But…make a list of things you will need especially when you first get there that will make your life easier. Like simple kitchen gadgets and toiletries. 
We had all of those things packed but as the clock ran down on our time to leave Wisconsin we found ourselves adding last-minute items to every bag. We used this rechargeable luggage scale multiple times a day. We'd stick "one more thing" in a bag throughout the day and threw off the whole game. 
Downsize and then Downsize Again
We are shipping about 30 boxes of personal items and about 20 boxes of artwork via a shipper that will be here in a few more weeks. This was the stuff we couldn't part with or need. I wish we had thought a little bit harder about what was going in those boxes. We could have used a few of those things now but so it goes. 
I also had instant regret when we arrived at our 1,000 sq. ft. apartment thinking, "Where are we going to put all those boxes?" This kept me up for several nights contemplating how to arrange them. I finally gave up and we decided that we'll be making cat trees and cat play areas out of them. The cats will love climbing up and having higher vantage points especially Amelia who's our high flyer.
Our plan was to stay in this Cascais apartment for 6-months (you need a lease to get your temporary residency on the D7 visa here in Portugal). Get here and start to explore the other areas we love in Portugal for our next home. We hope to find a larger apartment, villa, or house to rent with some outdoor space. Stay tuned on that. 
Paperwork, Paperwork, Paperwork
The first week was full of paperwork to handle, meetings, and figuring out how to get around. We opted not to rent a car these first few months because we're close to public transportation. Lisbon is easily accessible by train. Walking in new places is our favorite because we feel like this is the best way to really figure out your neighborhood and start to blend in with the locals. So far, this is working out just fine.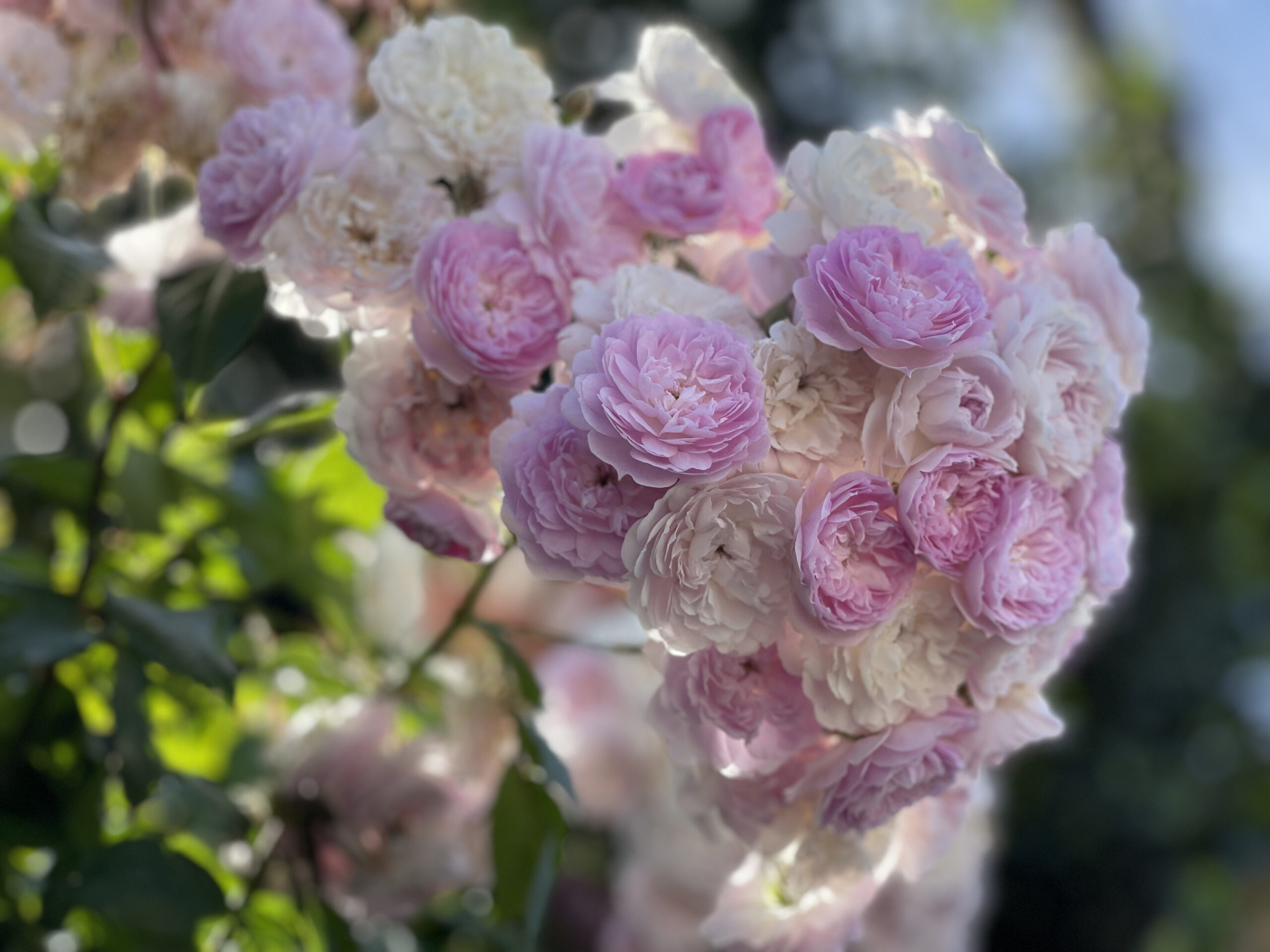 We typically walk to downtown Cascais, it takes about 20 minutes or so but we can take an UBER which gets us there in 5 minutes and it's usually 2.50 euros. It's a downhill walk into town so we typically take an UBER back if we've been doing a lot of exploring or carrying a lot of bags.
People say that the bureaucracy here is slow and frustrating. For us, it hasn't been. Everything has pretty much gone as planned except for a few quirky things that we simply didn't know about. Like you need to get your Portuguese phone number before your Portuguese bank account can be verified. In retrospect, it makes sense because they have to send you a text. Most Portuguese businesses simply don't pick up or interact with U.S. numbers (or any international numbers). It is one of those things that you just have to accept and move on. No sense in wondering why. It's just life in Portugal.
Portuguese Way Of Life
It's hard to believe all the things we have done, seen, and eaten in the short time we've been here. For other writers following along, on some days it feels like a really over-scheduled press trip. Some days are more relaxing and some days we're just working all day at home as we typically do.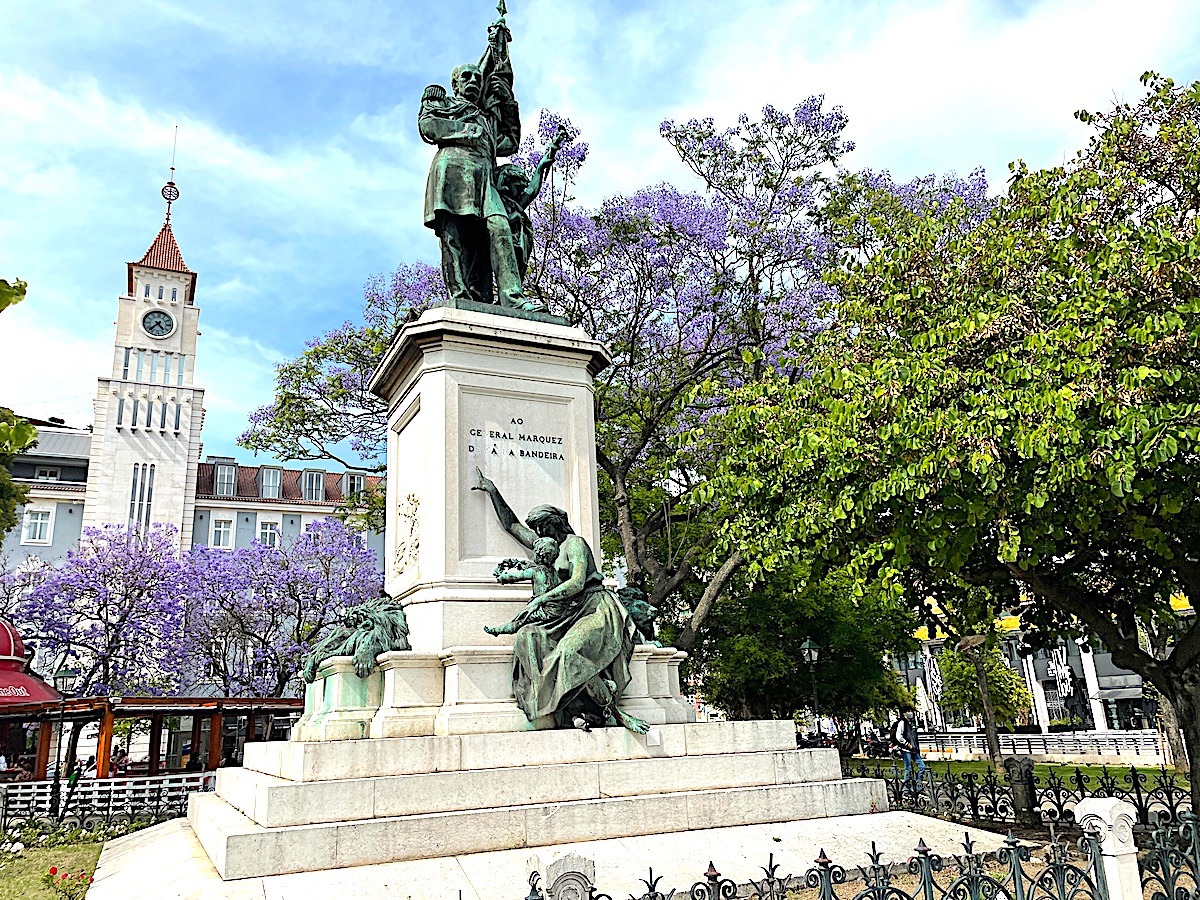 We're still having a challenging time with the language but we learn more every day. Google Translate and other apps help make it a lot easier. The Portuguese are friendly and patient people. We were trying to get some fresh orange juice at the super-large grocer Continente. It was a self-serve machine that just wasn't spitting out any juice. A worker behind the counter started saying press that, press that. Which Diana was. Four Portuguese-speaking customers came dashing over to help. They were simultaneously cursing the machine (I think) and trying to make it work. Turns out an orange was stuck. We moved it and oj came squirting out filling our bottle. We all laughed and shared our obrigadas (thank you's). By the way that was the best and sweetest orange juice I've ever had.
We stumble our way through but are always sure to say thank you, hello (olá), good day (bom dia), good afternoon (boa tarde), good night (boa noite) and that really goes a long way. Fortunately, many people speak English here in Cascais and in Lisbon. That is not always the case when you get to small towns and villages so we'll keep working on that.
Is Portugal A Good Place To Live?
You Just Won't Believe How Good The Food Is In Portugal
Let's talk more about the food. You know we're obsessed with food and Portugal takes its food really seriously. There's food for the gourmet and food for us every day folks too. We've gone to many markets and continue to be impressed by all the fresh foods. Every fruit and veggie is colorful and flavorful. I'm currently in love with the apricots. Eating seasonally is definitely the way to go. Those foods are deliciously ripe and affordable. You do need to buy small quantities unless you're planning on eating everything right away. Since there are no preservatives, things spoil quickly. Shopping is done nearly every day here which is fun but a different way of life.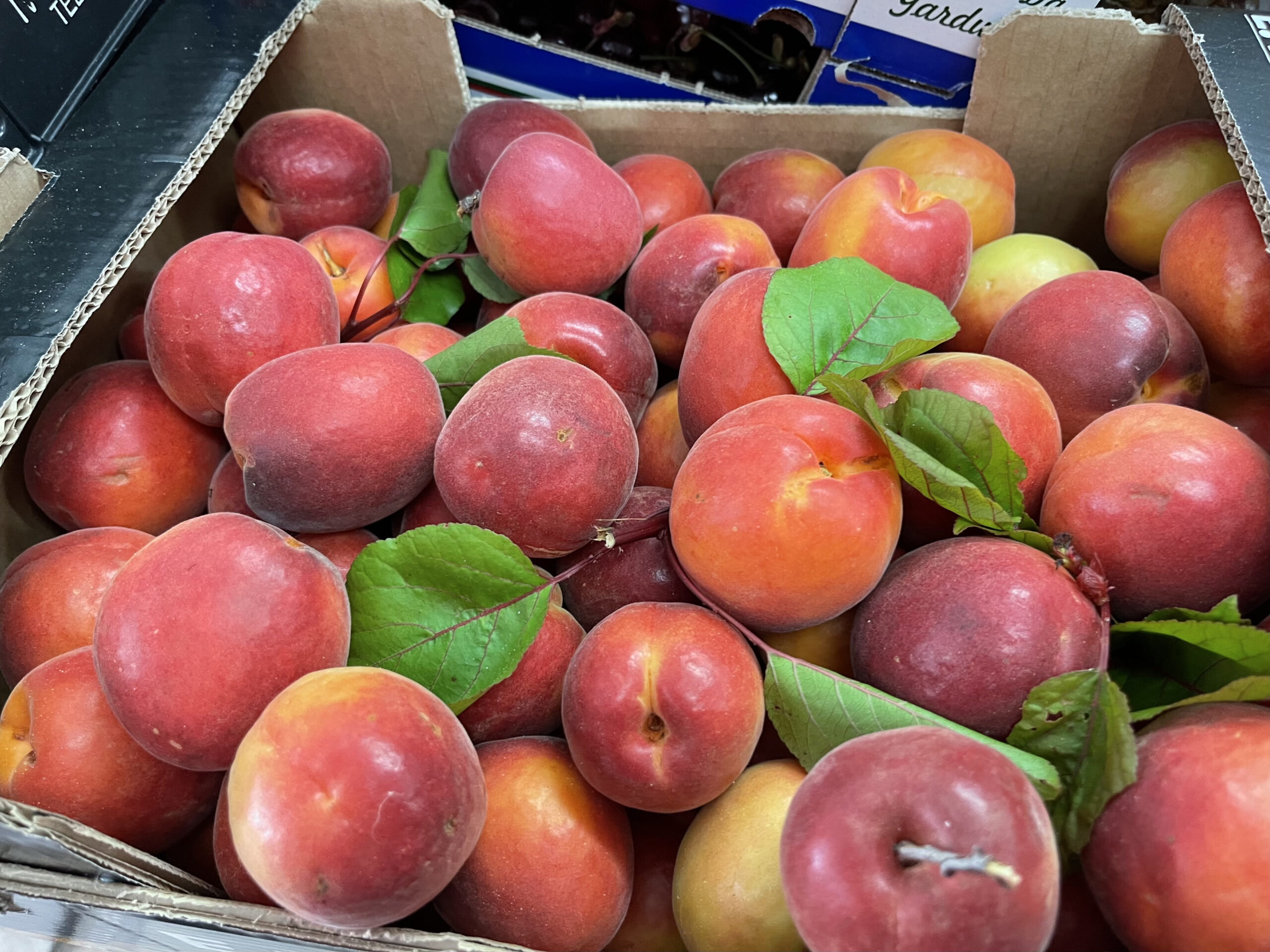 Did We Mention Seafood?
I've been particularly spoiled trying all the seafood we come across. I love octopus and have had it more times than I can count already. I've had fresh fish almost every day. We discovered that a restaurant in the main downtown market Marisco Na Praça has all its seafood on display. You pick what you want and tell them how you want it prepared. We had these tiny slipper lobsters from Cascais that were sweet and delicious.  And a pitcher of sangria made with Portuguese sparkling wine – Espumante. It was loaded with fresh raspberries, blackberries, blueberries, peaches, currants, mint, and cinnamon sticks.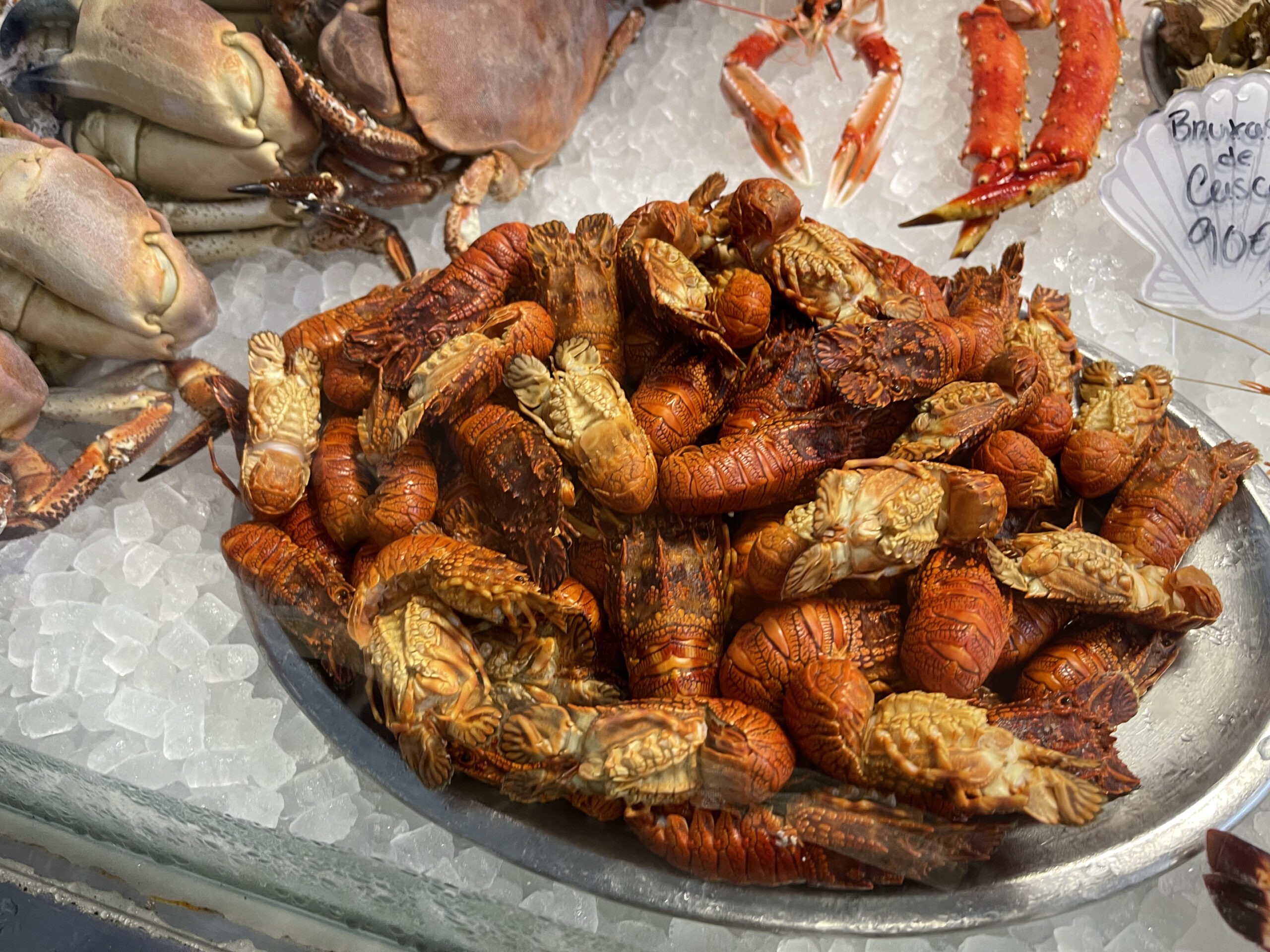 We learned that after a meal of rich seafood a tradition is to sop up that butter and wine you drank with a beef sandwich called a Prego. Sound strange? Have you ever stopped at White Castle and had a slider or two after a night of drinking? Yep, it's not that odd. The sandwich they served was a thin slice of beef tenderloin grilled with onions, garlic, and butter on the traditional Portuguese roll. It was eyes-roll back in your head good. The tender beef with the garlic and butter was indeed the perfect ending to that meal.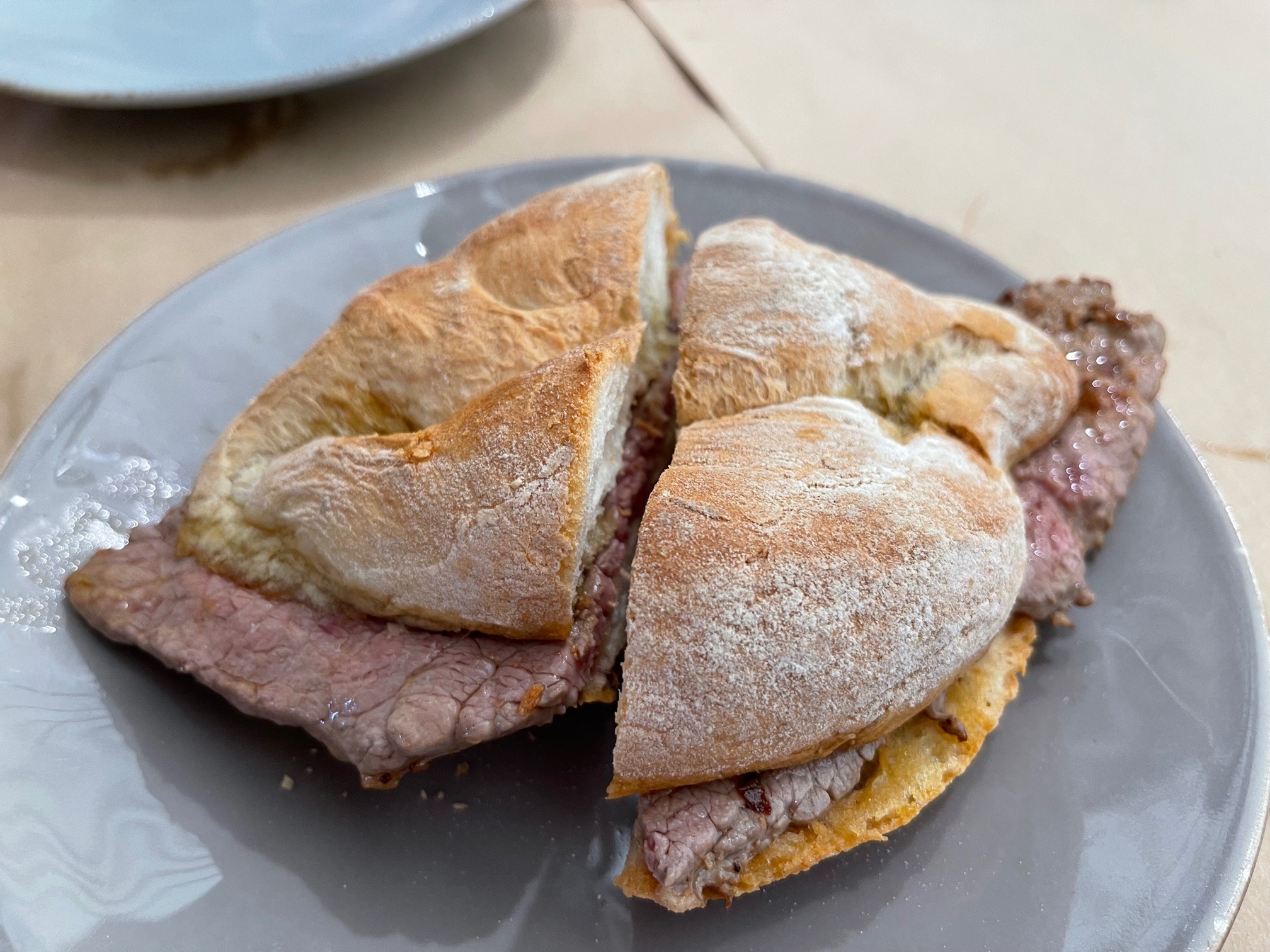 We Love Being Near The Water
We walked to Boca do Inferno, or Devil's Mouth, an ocean cave where the waves splash up creating quite a show, on a gorgeous Saturday afternoon. Enjoying the oceanfront stroll we learned sunscreen is not optional here and will be applying it religiously in the future. We just love walking along the water and seeing the ocean sparkling in the sun.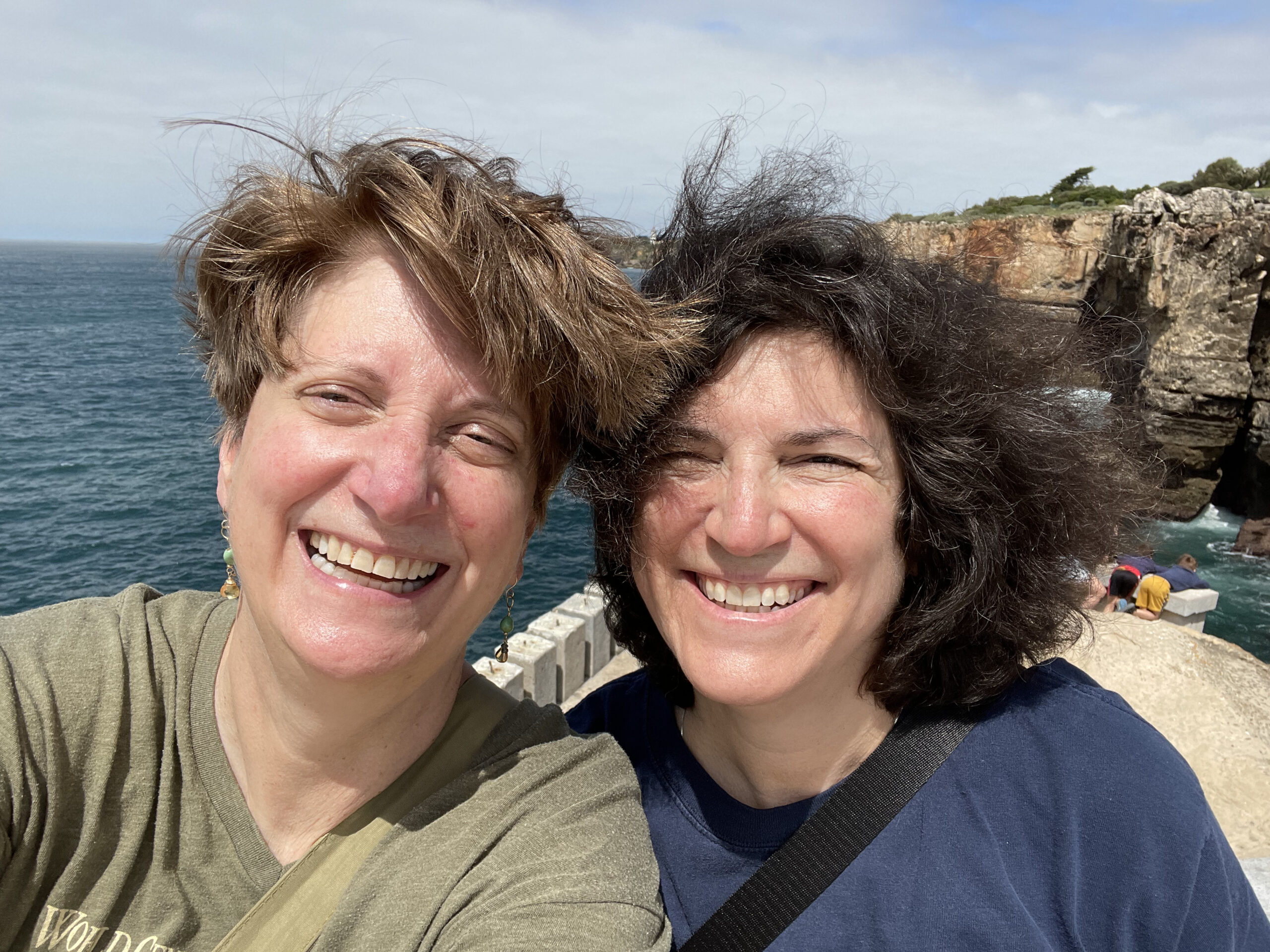 Every time we walk into town we make it a point to go to the water's edge. We never want to take for granted the fact that we live so close to the beach and the ocean. Even if we just stop and look at it for a few minutes it's now a thing we must do. Every. Time. Life in Portugal for us means slowing down and enjoying life more. 
Getting Out with Friends and the Rest of the World
We've met new friends for dinner, lunch, and drinks which makes us happy to meet kindred spirits here in Portugal. And we look forward to meeting more friends and getting together again with everyone soon. Restaurants here are open and typically not very full – yet.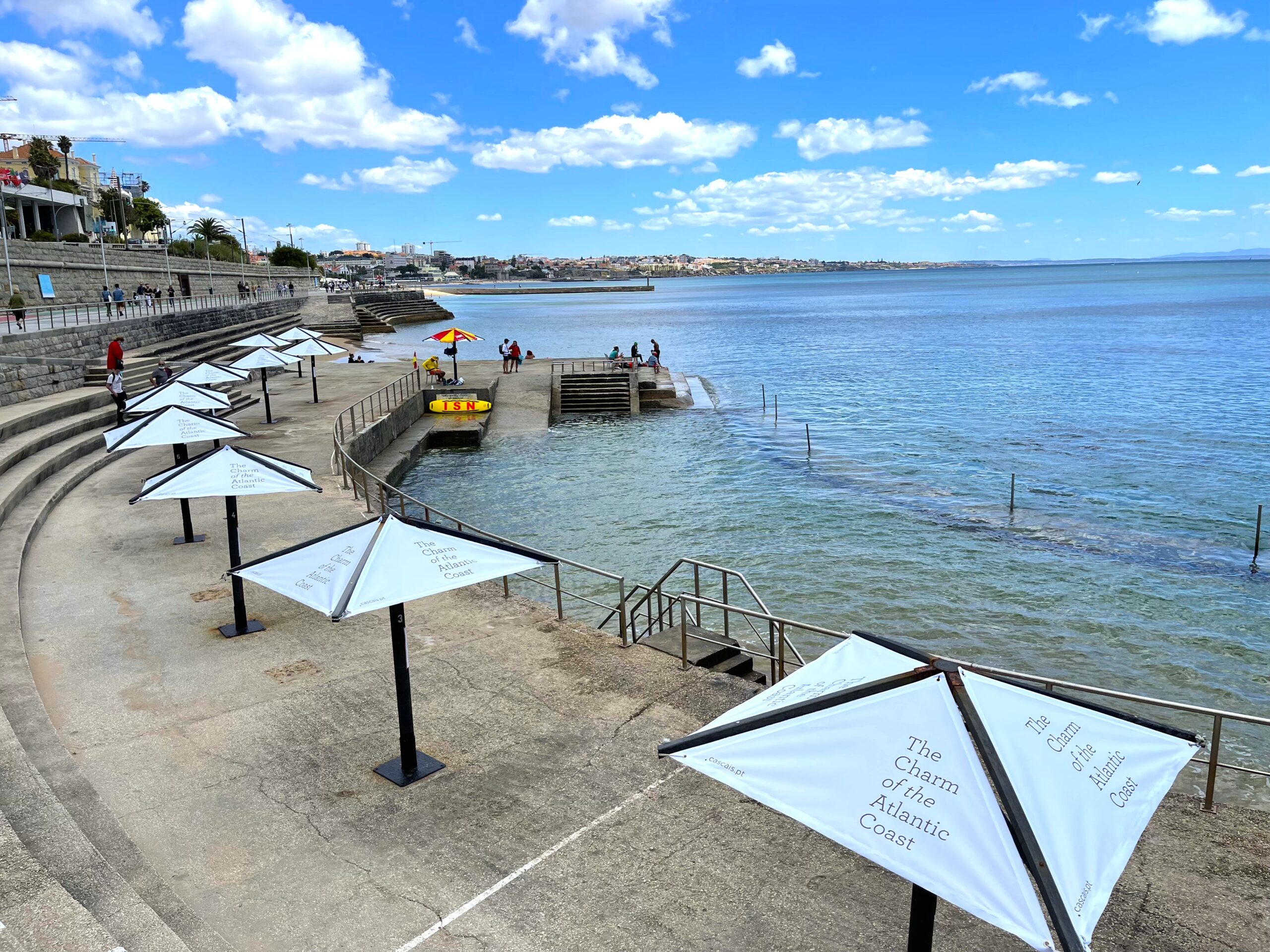 Everyone is good about wearing their masks and social distancing. Most small shops still only allow a few people in the store at a time. Although the locals want the tourists to return many also worry that another COVID surge might return.
School's Out For Summer
I finished up the spring semester and thanked my students for their hard work and dedication for another great school year. I have the summer off this semester and will enjoy exploring Portugal and hopefully spending more time drawing and painting. Inspiration is certainly all around me. The Portuguese culture celebrates art, music, and literature everywhere. There are many bookstores and art supplies stores to explore and buy from here. Plenty of art in the gardens and on the streets to admire as well.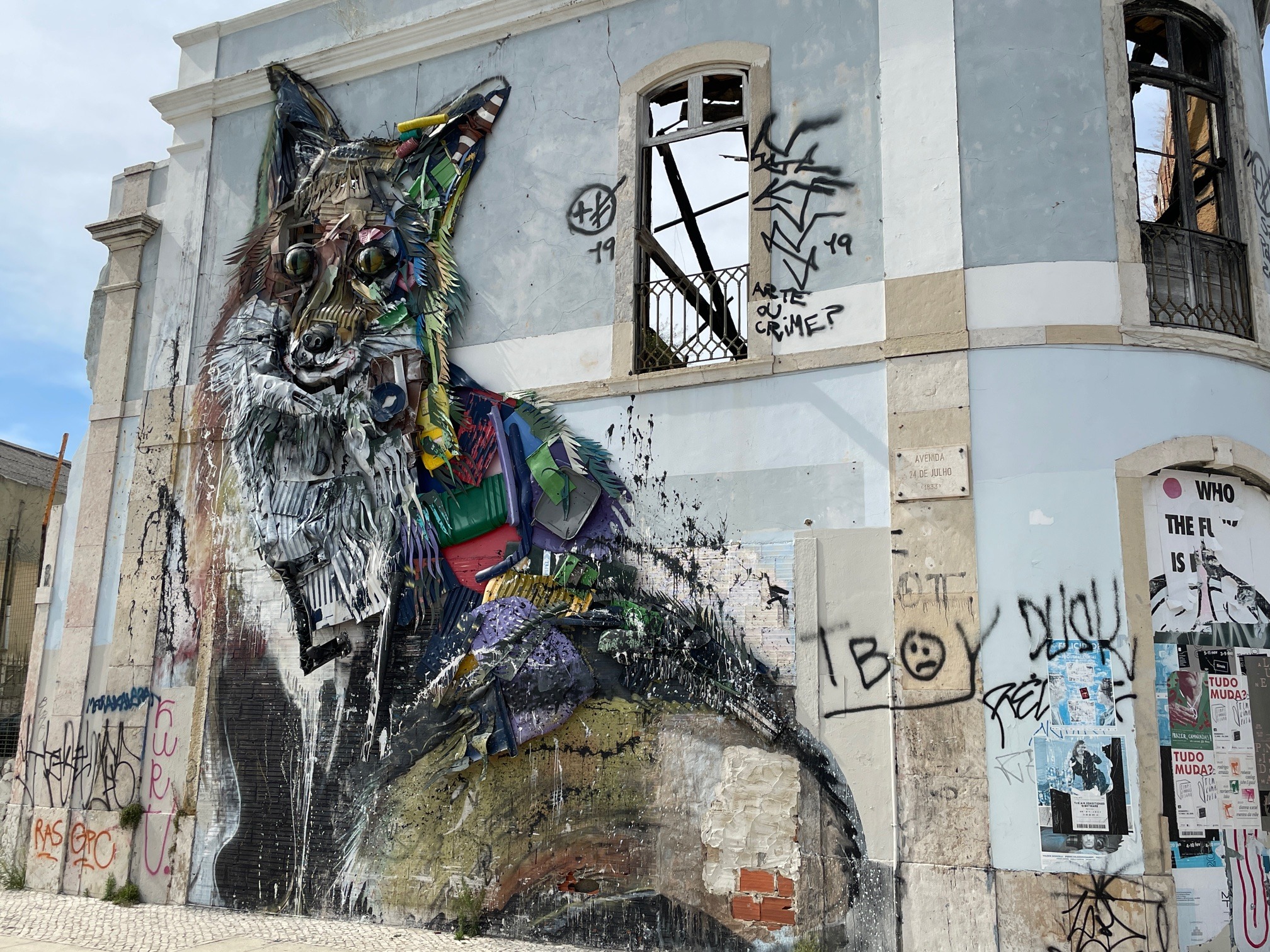 What About COVID?
Many people have asked us how things are going with COVID here in Portugal. The good news is that Portugal locked down hard after having a very high spike in cases and overcrowded hospitals after the Christmas holidays. They didn't want that to happen again. Some rules are still in effect and many people wear masks and stay socially distanced. Every business has a hand sanitizer dispenser and a sign asking you to use it before you enter. Smaller stores only allow a few customers in at a time. You'll see the lines in front of stores all around town. The larger stores have no limit on customers.
Portugal reopened to visitors from the UK on May 17th, 2021 so more and more people arrive every day.  This past weekend the beaches were starting to fill up and more people were in the restaurants and shops, too. It's likely that soon Americans will be traveling to more countries in Europe. If you are planning to travel sooner than later be sure to do your research to avoid disappointment. Not all hotels and attractions will be up and running and rules and regulations vary from place to place and can change quickly. 
Pro Tip: If you're a fan of using Google Maps and Google Translate, like we are,  sign up to get the The Keyword newsletter. It will send you all the latest updates that will make your life easier.
UPDATE MAY 2022: Portugal is pretty much open for business. There are still COVID restrictions like wearing masks on public transportation and in large crowds but otherwise, most things are operating pretty normally. Be sure to check with your airlines and the U.S. Portuguese embassy for the latest news.
We Moved To Portugal! 
We're still smiling and we're still glad we made the move. Every day we open our eyes and think, "What will we learn today?" Most days we laugh at ourselves and just keep on going. Every day things get a little easier and we understand more and more. Some days we get a little overloaded and take time out to pet and play with the cats. It's an instant mood booster and they love it.
We're going to be writing all about the process of moving to Portugal and important things to keep in mind so stay tuned for more on that front. If you're thinking of visiting Portugal in the hopes of one day moving here or planning to retire to Portugal, we'd love to hear from you and know your questions.
In the meantime, thanks to everyone who has been following along on our adventure. We're just getting started! 
Pin It For Later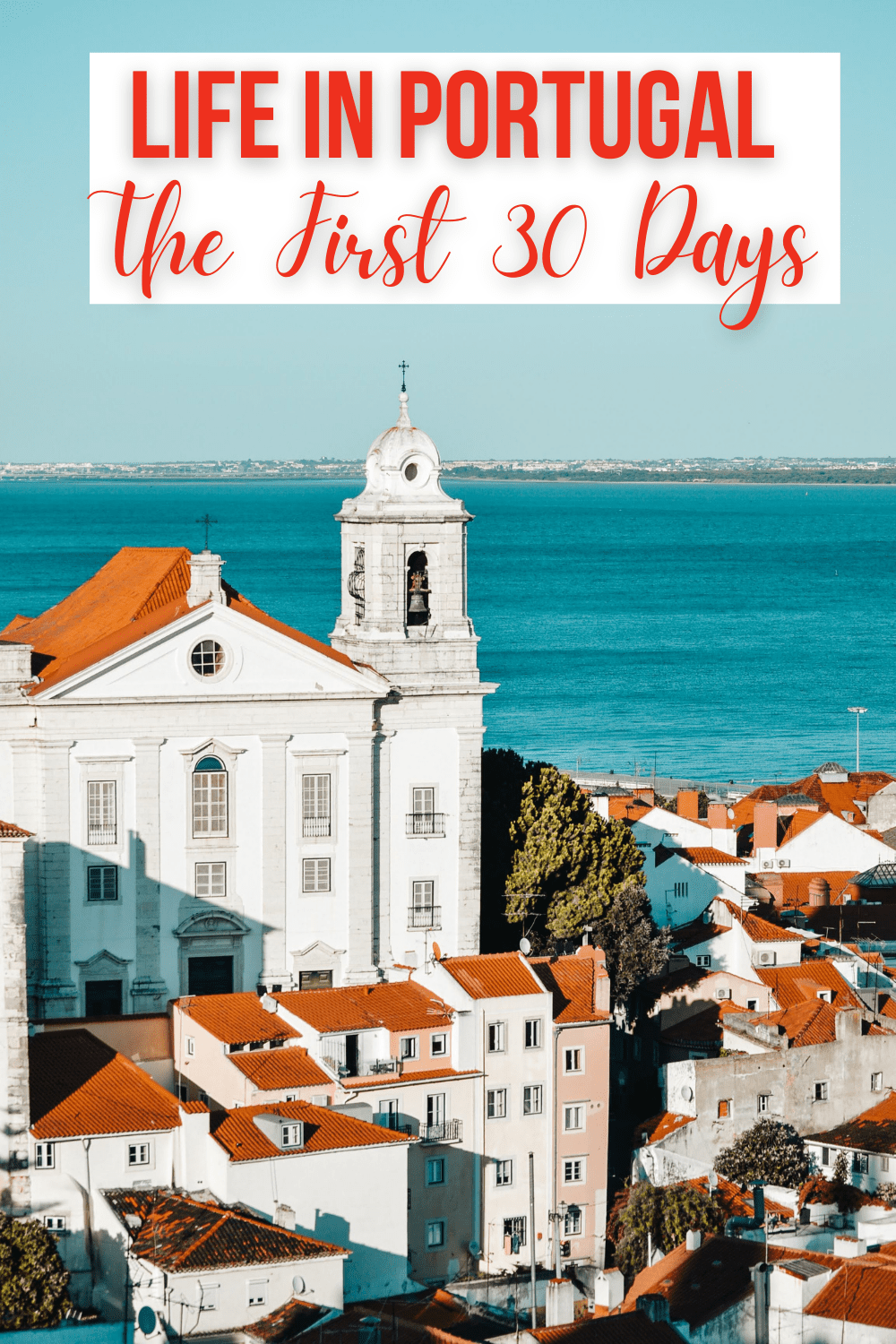 .