Tantalizing Tastes in the Beautiful Center of Portugal
I wrote this post after my media trip with Turismo de Portugal. My trip was hosted, but all suggestions and endorsements are solely personal. I only recommend what I personally like and experience. 
Portugal has been on my list to visit for years. I've heard from so many friends that I would just love Portugal food and that I needed to get there. I almost couldn't contain my excitement when I received an invitation to visit. To add to the sheer joy I was going to the center of Portugal a part of the country many folks I knew had not yet explored. I was ready for the adventure.
I'll be doing multiple articles about this beautiful region of Portugal but I wanted to start with the tastiest part – the food! Come along as I share just some of the tastes of Portuguese foods you can expect in this truly amazing part of Portugal.
Where?
You may be familiar with Lisbon, Porto or the Algarve region in Portugal. If you venture just a short 90-minute drive you'll find yourself in the beautiful center of Portugal. When we first arrived I was surprised by the abundance of trees bursting with citrus fruit.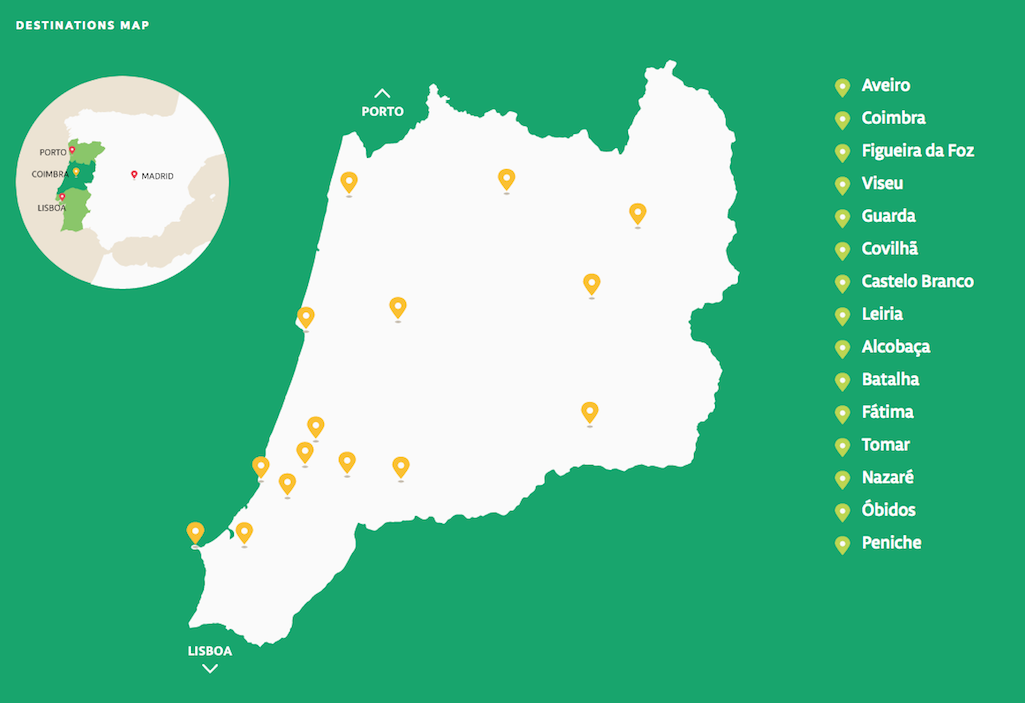 The rich fertile soil in the region makes it perfect for growing so many fruits and vegetables. As we drove through the area we saw many vineyards and farms.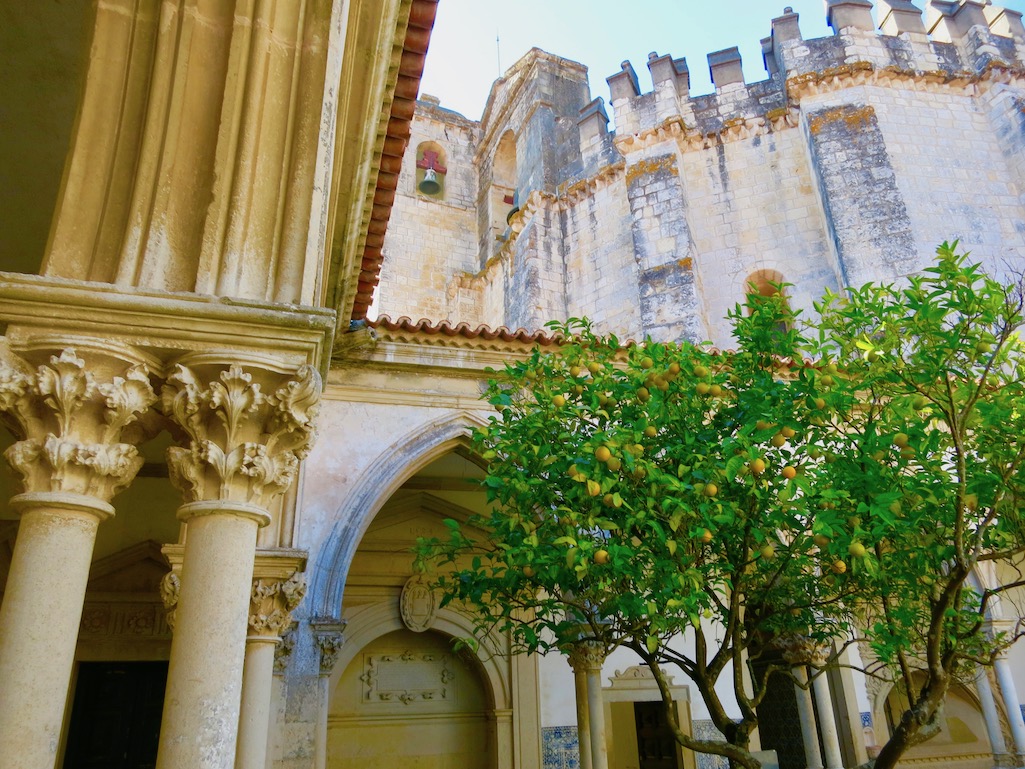 Couple this agricultural area with the proximity to the coast and you have found a food lover's dream come true. Fresh vegetables, fruits, and seafood truly make a culinary trifecta. This first post will introduce you to some of the wonderful food you can expect to find in the center of Portugal.
Seafood Lovers Paradise
If you like any kind of seafood you will be in heaven while in Portugal. Whether you're trying the iconic salted cod they are well known for or the delicious dried octopus you will not be disappointed. From fine dining at the historic castle, Pausado do Castelo in Óbidos to watching the fishermen's wives hawk the day's catch on the beaches you will have so many choices it will make your head spin.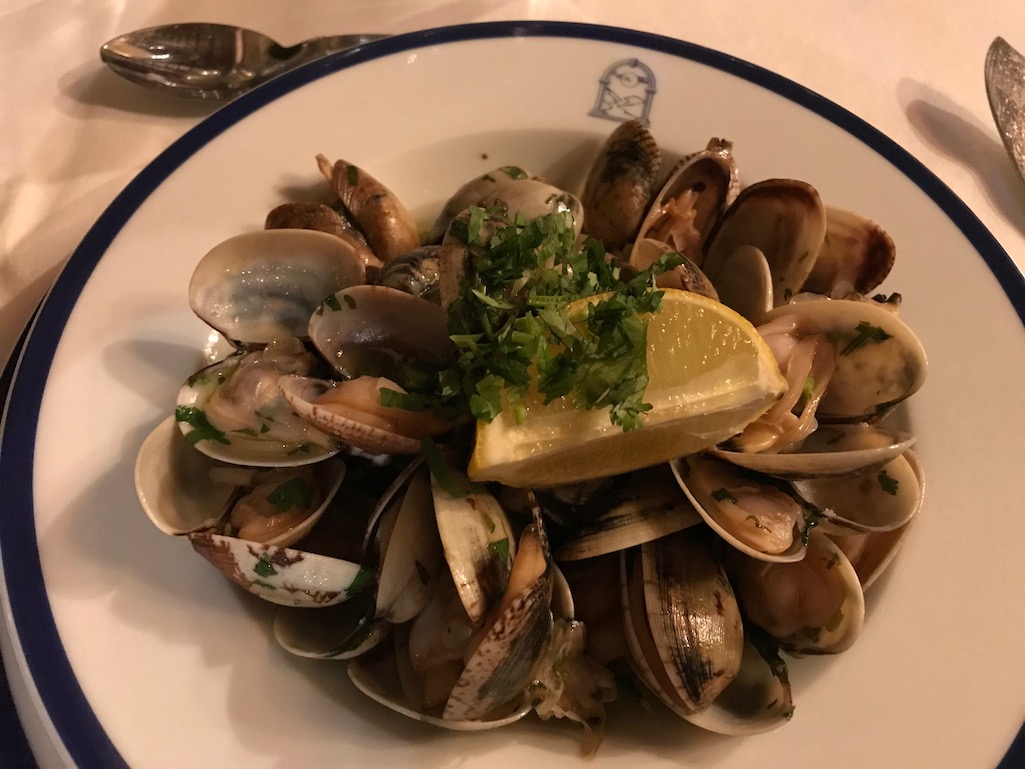 We ate freshly caught clams at the Pausado do Castelo in Óbidos. They came from the Óbidos Lagoon outside of town that very same day. The restaurant prepared them "Bolhao Pato" style, in olive oil with generous portions of fresh garlic, white wine, lemon, cilantro, salt, and pepper.  The clams were small tender and nearly melted in my mouth. Served as a hearty appetizer and even knowing I still had a full meal ahead I couldn't help but eat everyone. Bolhao Pato was a 19th-century Portuguese poet who didn't invent this dish but apparently ate it often and helped spread the word to make it one of the favorite national dishes. The dish was named in his honor.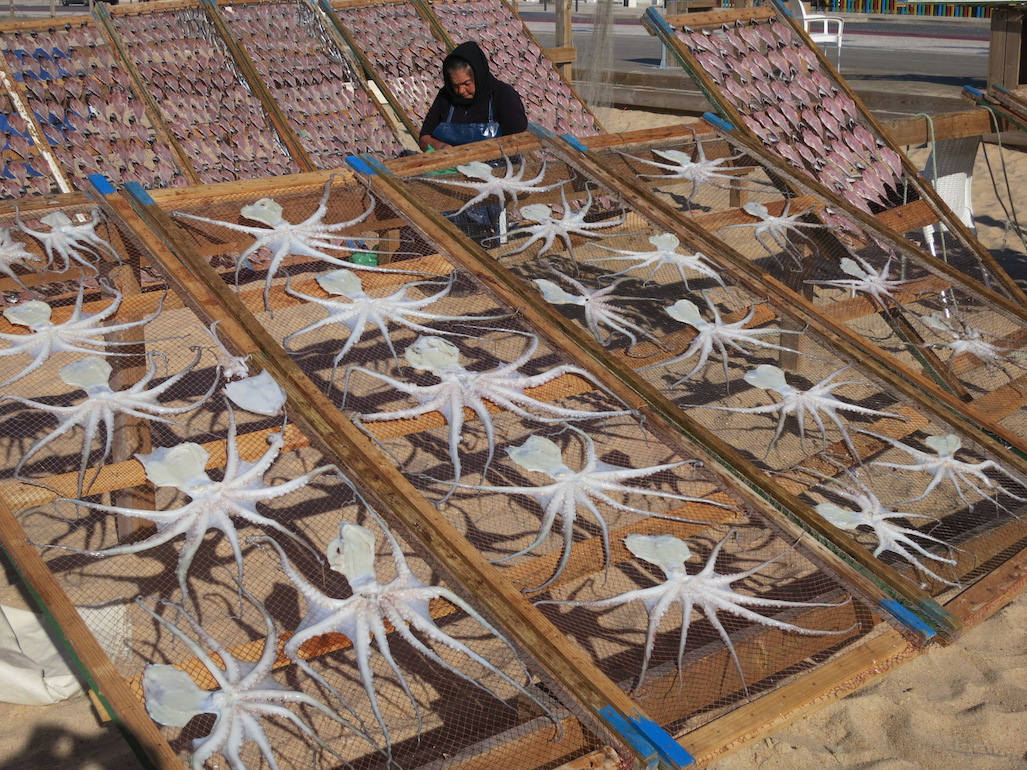 Fishing Villages
As we strolled along the beach in the fishing village of Nazare you could find the ladies cleaning the seafood and placing it all on large drying racks. The fish is ready for purchase later in the day for those who are anxious or the next day when it is completely dried. The locals season and reheat the fish on a grill and it is scrumptious. You can find similar preparation for lunch at many restaurants located right across the street from the beach. Let's just say the fish just don't get any fresher. Bacalhau or cod is served in many different ways and a very important part of Portugal cuisine. The mild fish is just perfect to use in so many dishes. In fact, it's said that there are more than 1,000 recipes!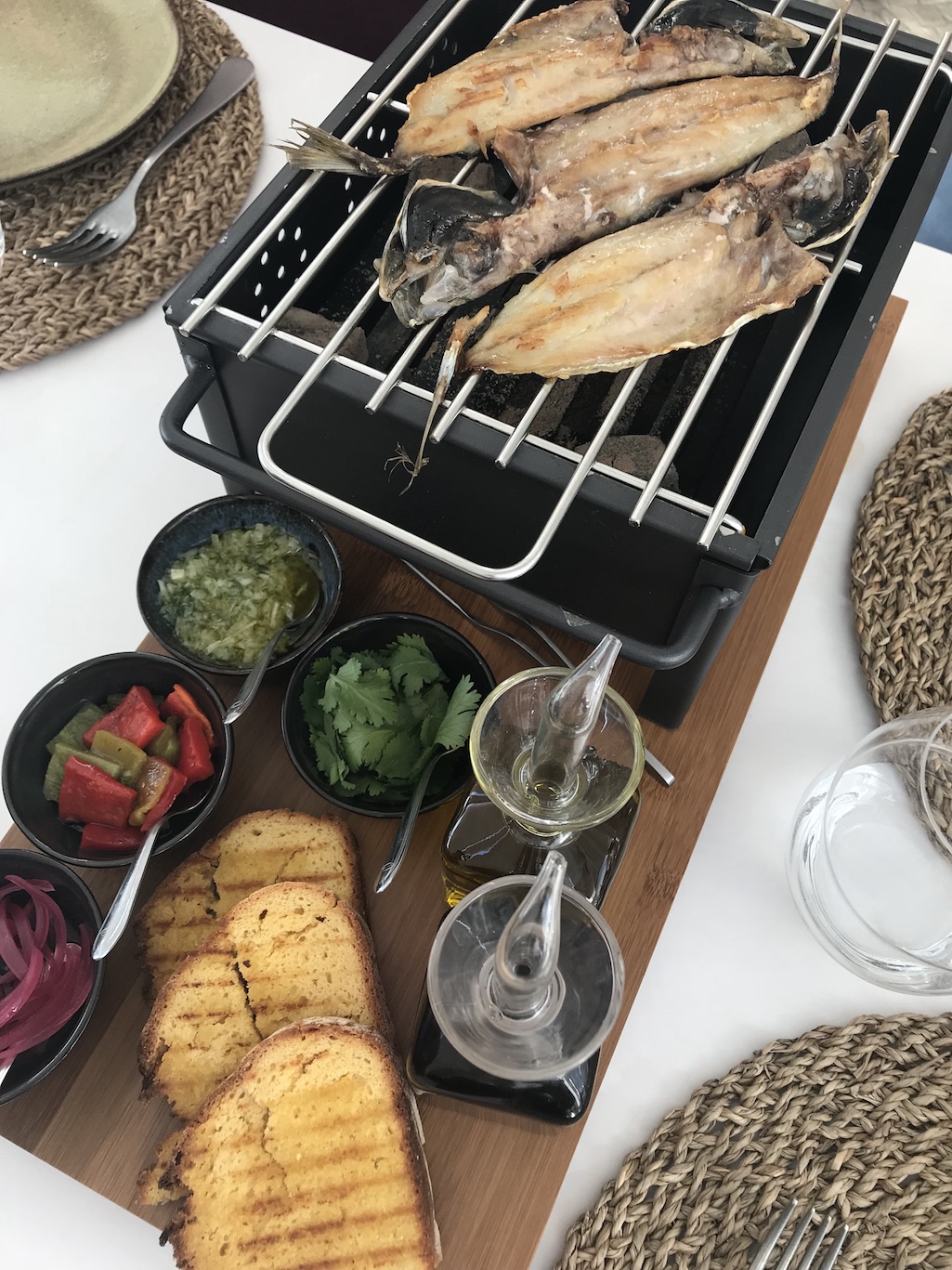 The cod dish seen below was sauteed and topped with onion and peppers on a bed of greens at The Literary Man Hotel in Obidos, Portugal.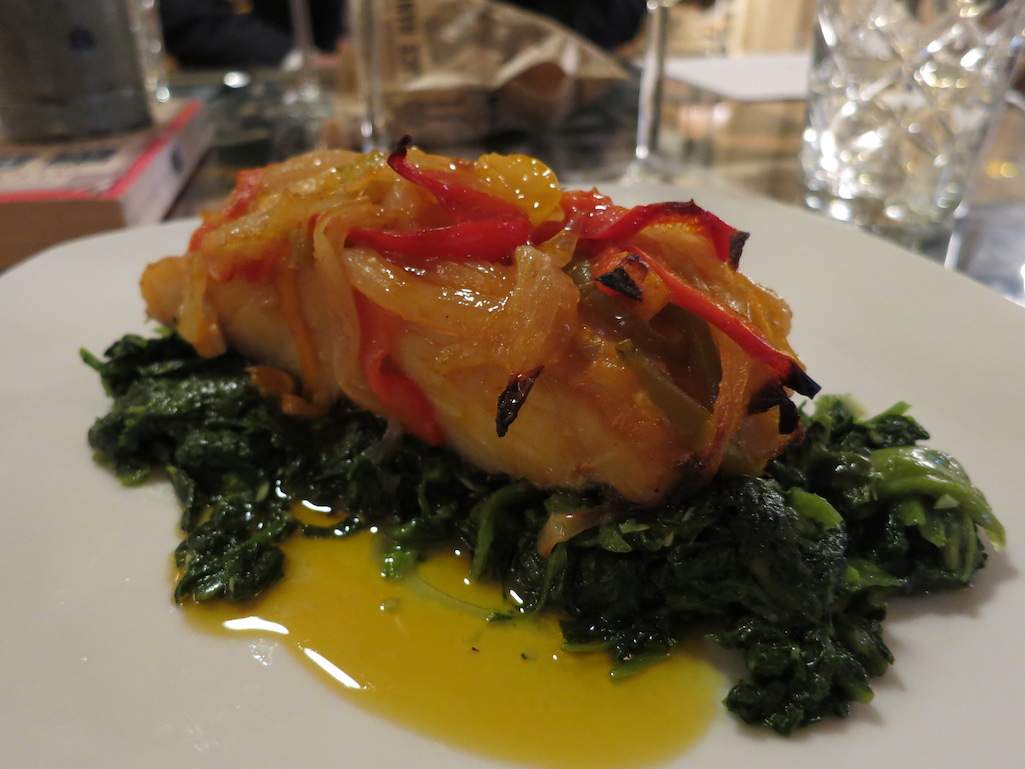 I've had tuna prepared in many different ways around the world. But this tuna steak at the Pousado do Castelo in Óbidos was a game-changer. I would have sworn this was a pork cutlet. It was rich, meaty, and totally satisfying.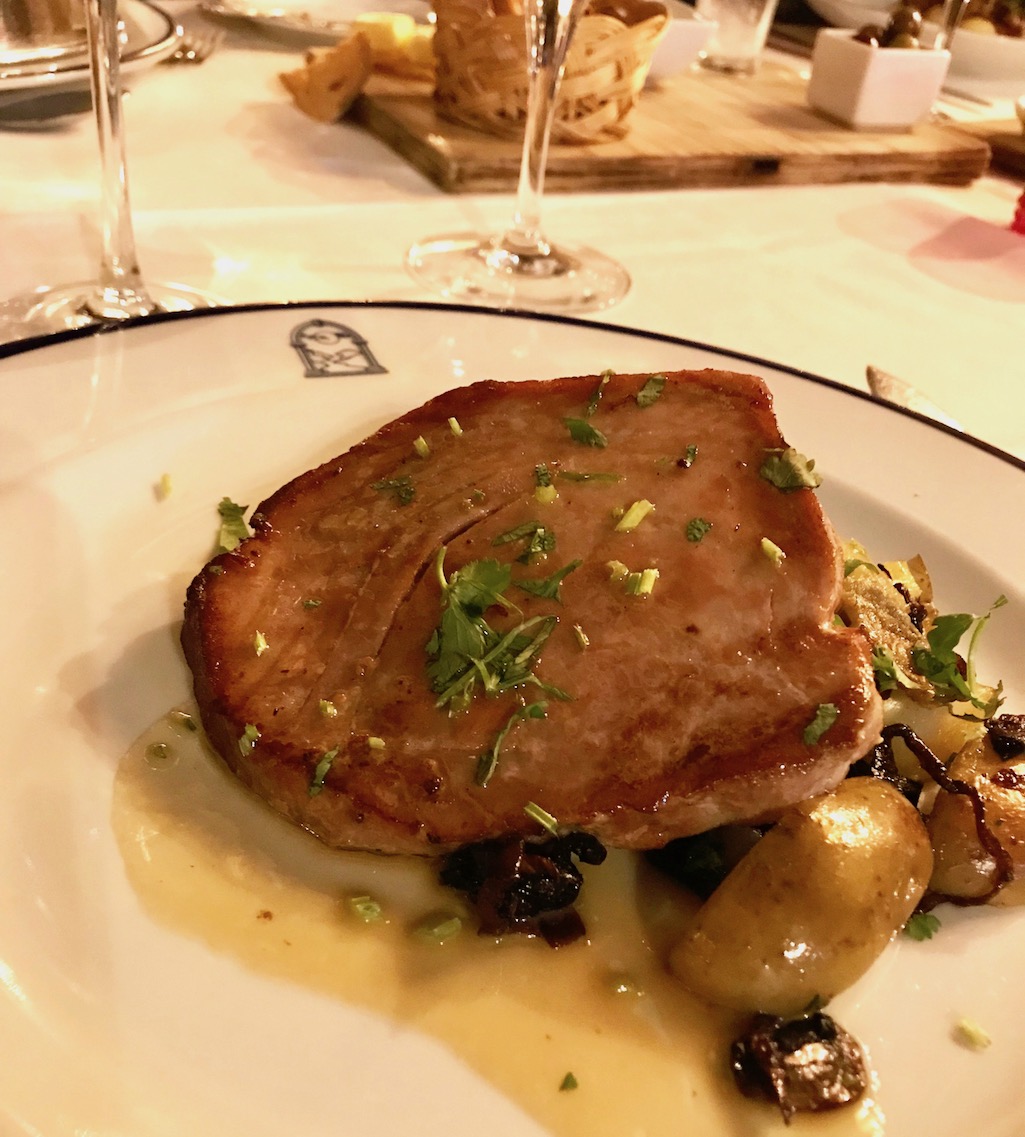 One Fish, Two Fish
Sardines are another fish you'll see when talking about Portugal food. One of my favorite dishes had sardines loaded with sautéed onions, garlic and dried sardine shavings on Portuguese bread drizzled with olive oil. The bread in Portugal is also something that is different and delectable. This particular bread was a corn-based bread with just a hint of sweetness. It paired perfectly with the sardines and onions.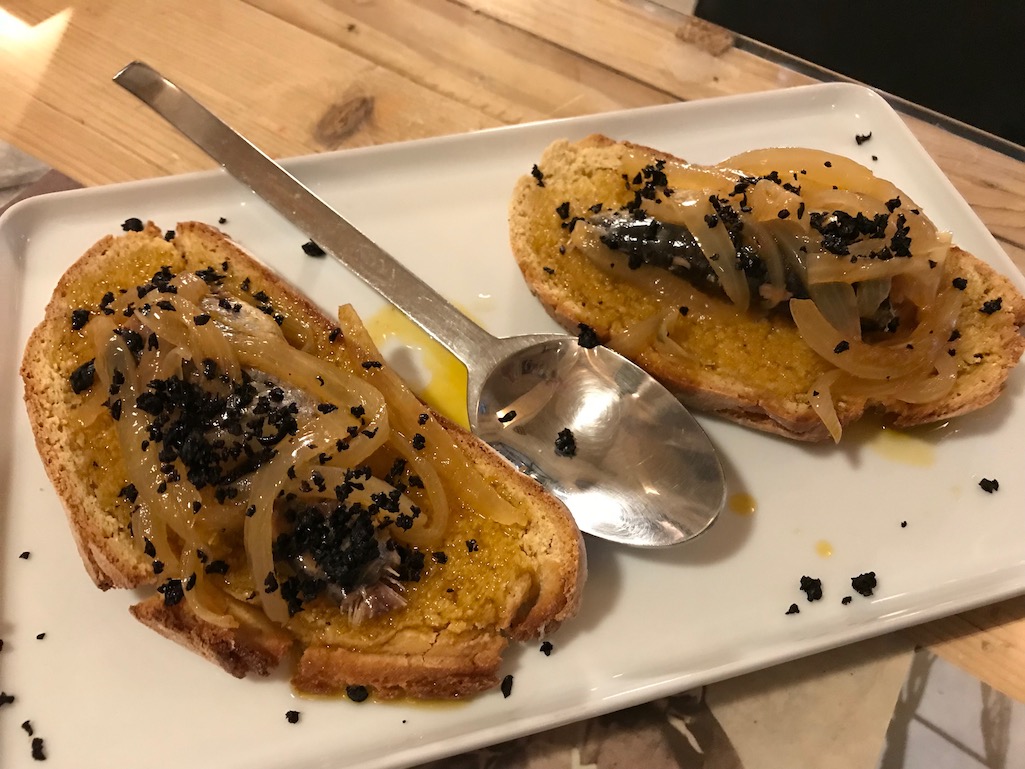 Cod fritters are another popular appetizer and Portuguese traditional food. They come lightly battered and fried stuffed with a spread of cod. Almost every restaurant serves them in a variety of shapes, sizes and with different types of fish spreads inside. This was light and crispy, not greasy at all. Delicious!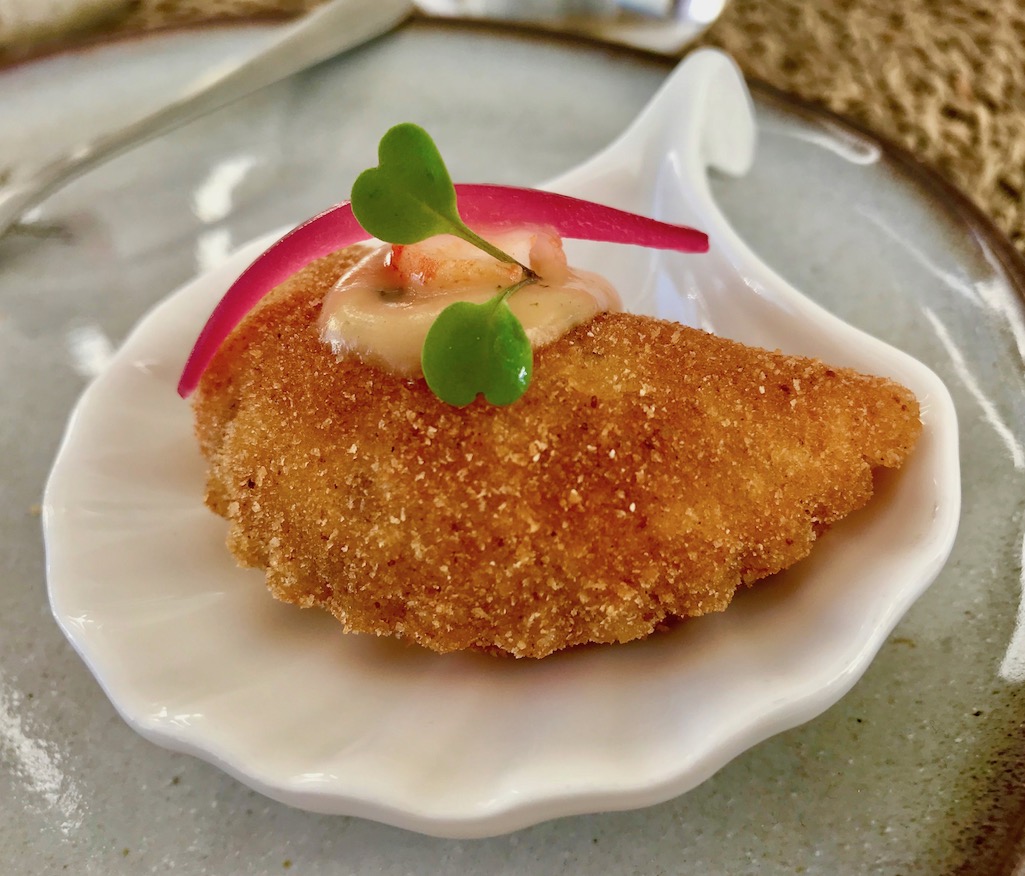 Shellfish is also abundant. We had crab with other starters before going to the USA vs. Portugal soccer game. Unlike fans in the United States, the Portuguese go out before the game to have snacks and drinks. They take "football" very seriously and concentrate on the game instead of the food at the game. This is a tradition that we might want to consider adopting. This crab appetizer at Cervejaria Lis Bar in Leiria was filled with a crab dip. Perfect for dipping that wonderful bread.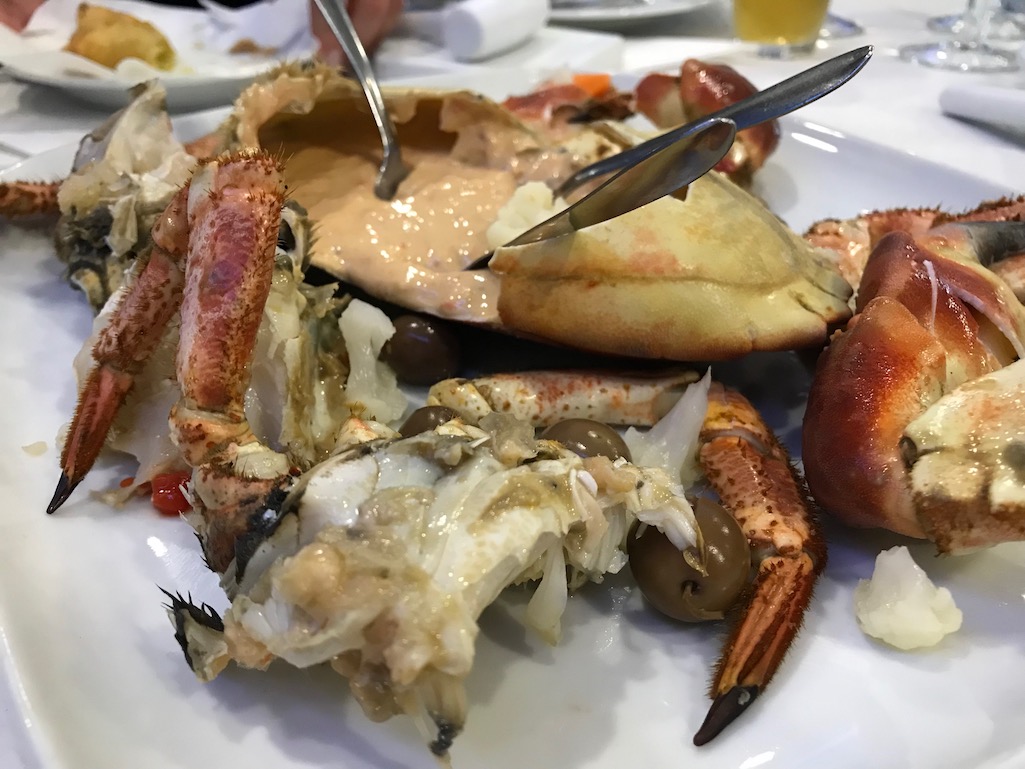 On The Lighter Side
Like many in Mediterranean cultures, the Portuguese like to snack and socialize. It's a wonderful way to relax, not eat too much and have a leisurely conversation. Frankly, most of these dishes are pretty darn healthful. You can expect lots of vegetables, fish, and foods prepared in olive oil. If you're a meat-eater don't despair. Pork and sausages are found on most menus. Beef and poultry are not as plentiful but can be found.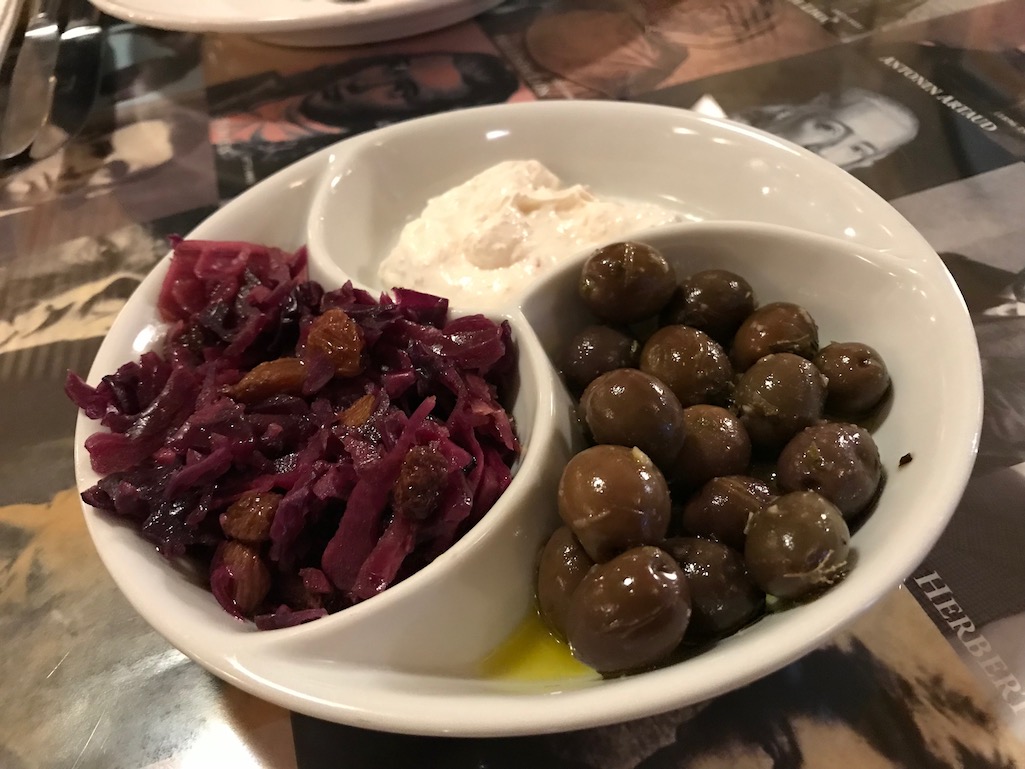 Every meal typically starts with bread, olive oil, and olives. From there you can order other small plates prior to your meal. Eggs with meats like ham or chorizo, or tuna are very popular. On our visit to Casa de Ratas, we tried many appetizers like the blood sausage, sautéed liver, sautéed mushrooms, and eggs with chorizo.  This is a small but storied spot that's great for having a few drinks and some delicious food. I'll fill you in on more about how this place got its name in my next article. Stay tuned, it's a doozy!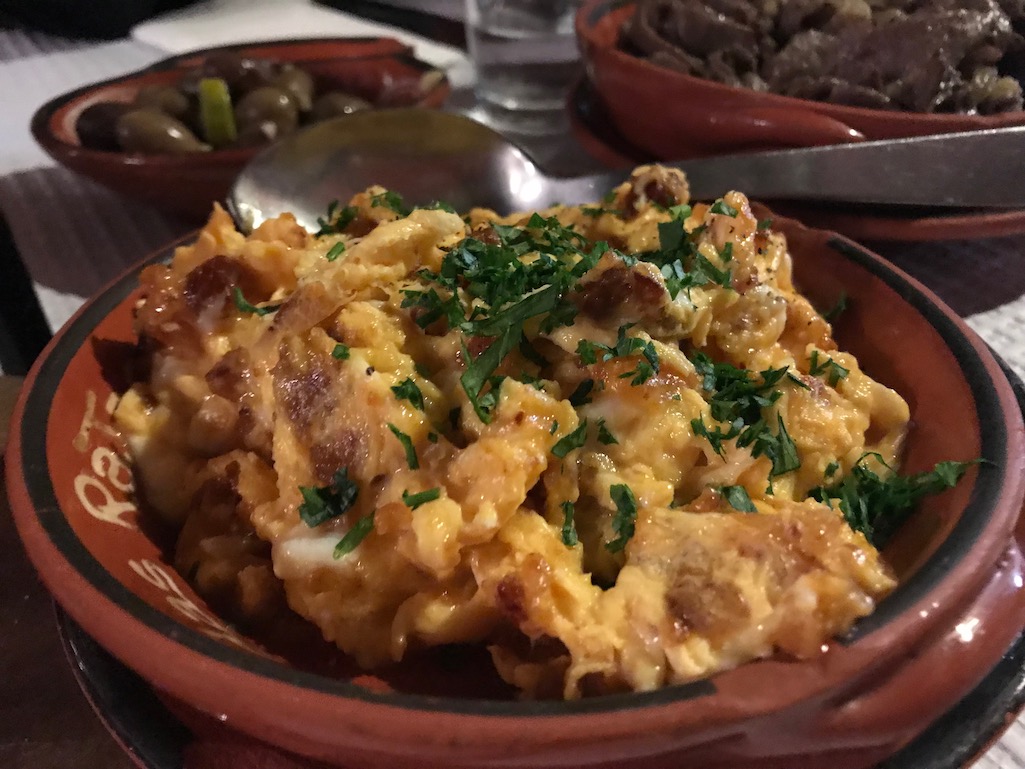 The dish below, pica-pau, is known as a "picking" dish because it's placed on the table and everyone just picks at it. The yummy combination of olives, vegetables, and meat in a type of mild stew is great while sipping a beer or wine.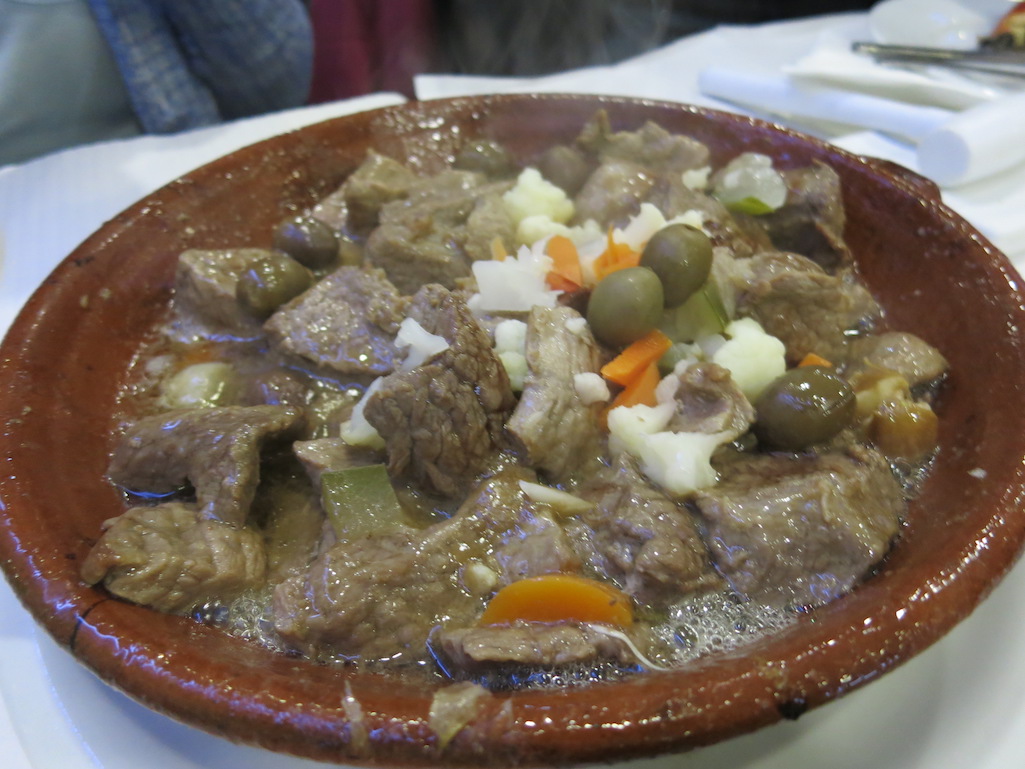 Platters of meats and cheese like this one at the Luz Houses in Fátima are quite popular too. Portugal has some amazing cheeses in both hard and soft varieties. They are usually pretty mild in flavor and always delicious.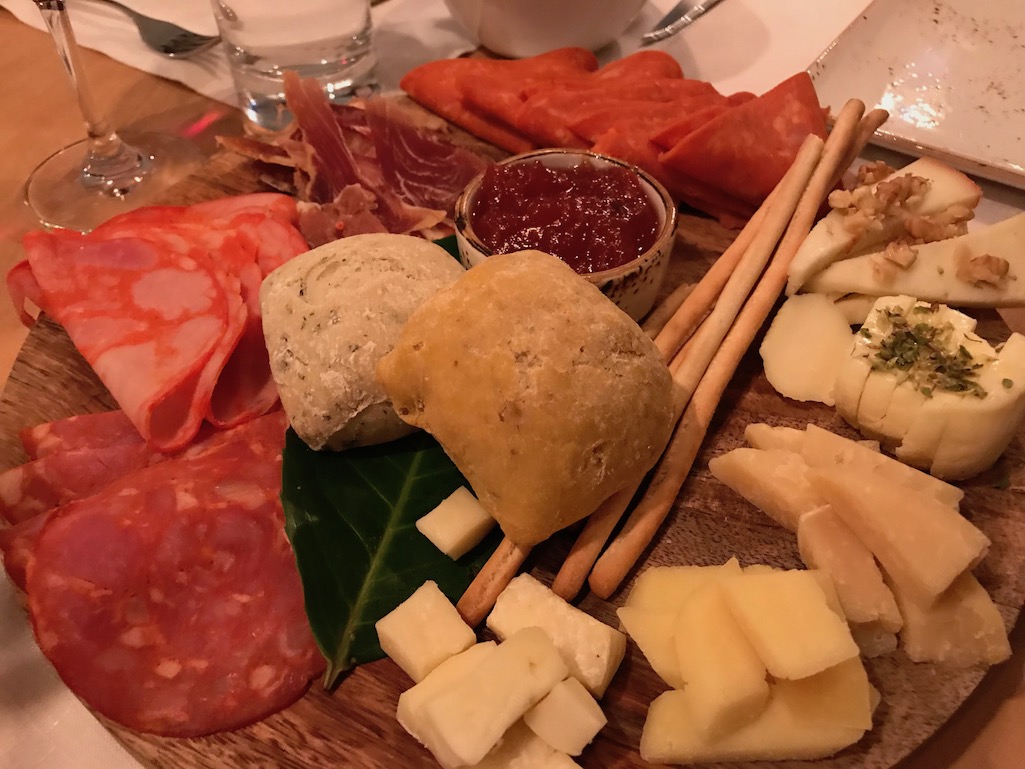 More Bread
As I mentioned before Portuguese bread is dangerously delicious. Thank goodness there are so many places to walk to in Portugal. You will want to eat the entire basket – but don't. Save room so you don't miss any of the other incredible food to follow. Garlic bread, my nemesis, shows up on a lot of tables in Portugal. This particular bread below at the Luz Houses in the city of Fátima got the best of me. Toasted fresh bread with slices of garlic and olive oil. It just kept calling my name. And, it still does.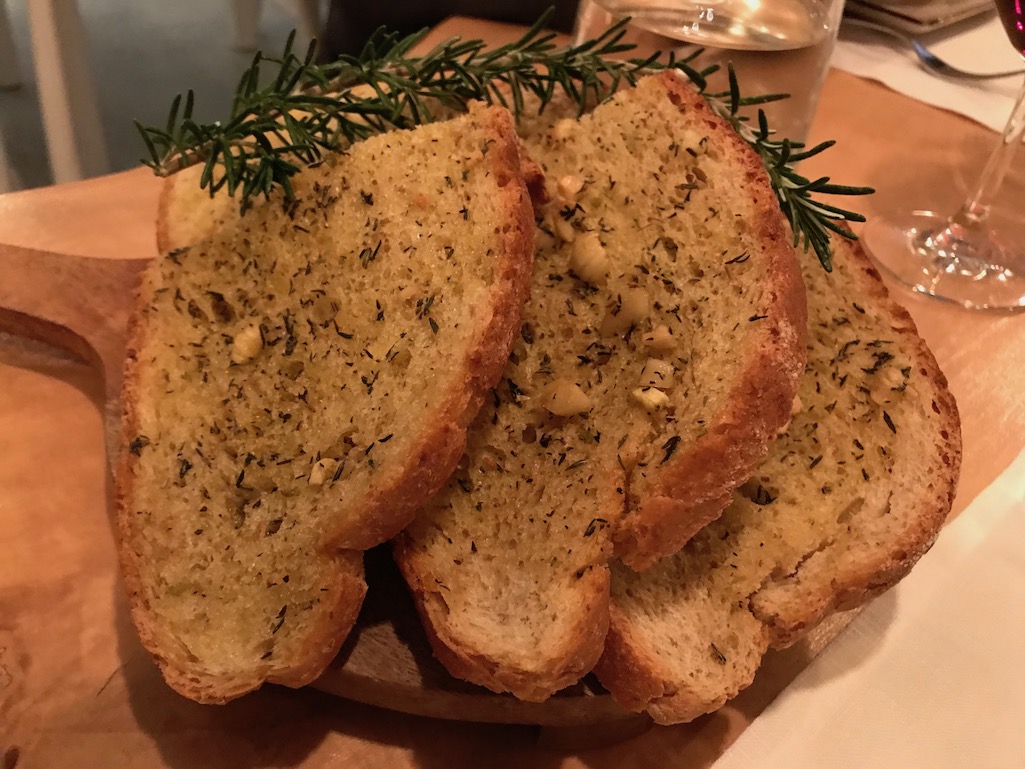 Meaty Choices Too
Everybody knows that I'm a huge burger fan. I had the chance to try a "Barrosã" burger at Restaurante O Convite in the Dom Gonçalo Hotel & Spa in Fátima. Barrosã beef is a specific cattle breed from Portugal that has the protected geographical status of DOP (Denominação de Origem Protegida) from the European Commission. Let's just say this was no ordinary burger.
Another meat specialty you will need to try is the black pork or "porco preto."  You may also see "pata negra" on menus in Portugal. This fabulous delicacy is one of my favorites. I discovered it on the menu at Restaurant Nau dos Corvos and knew I had to try a bite. This free-roaming, well cared for pigs eat acorns just like their cousins in Spain. This makes for some of the tastiest pork on the planet.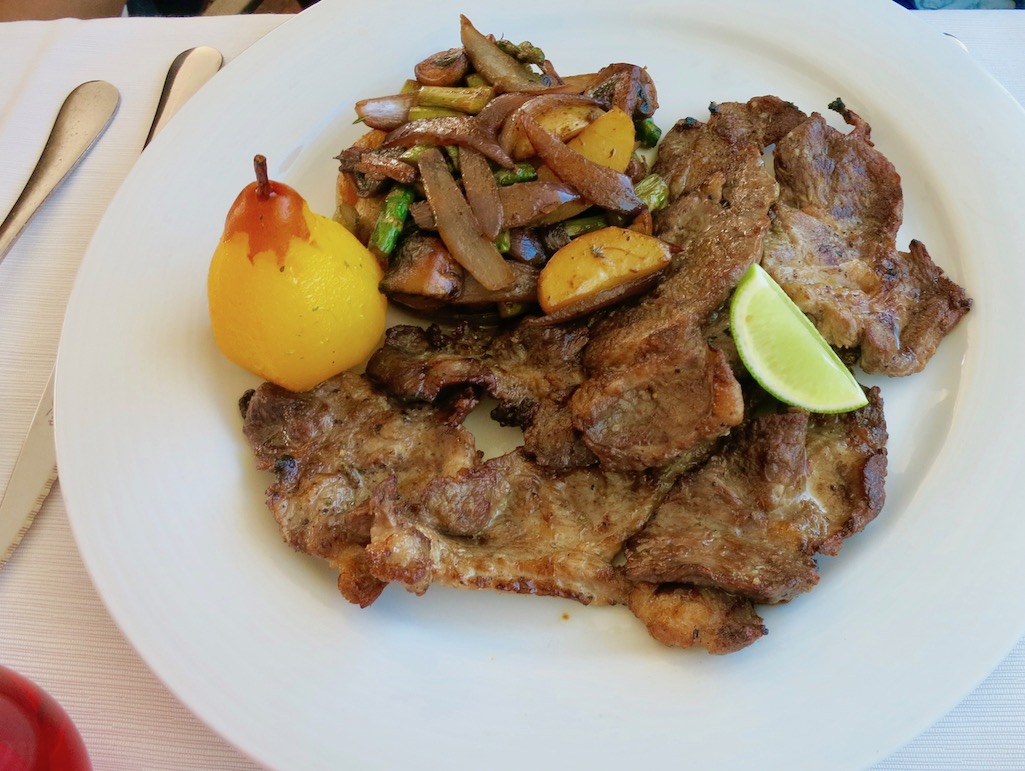 Sweets Galore
The Portuguese love their sweets. And Portugal desserts are abundant and everywhere, there seems to be a bakery on every corner. And that thrills us! One ubiquitous specialty you can't miss is the pastel de nata or egg tart. Every town has its own rendition, you'll want to be sure to try them all and do your own comparison.
When in the center of Portugal visit Alcobaco home of the UNESCO World Heritage site the Monastery of Alcobaca. After taking the time to tour the Monastery walk across the street to Pastelaria Alcoa for the best pastel de nata in town. They have another location in Lisbon as well.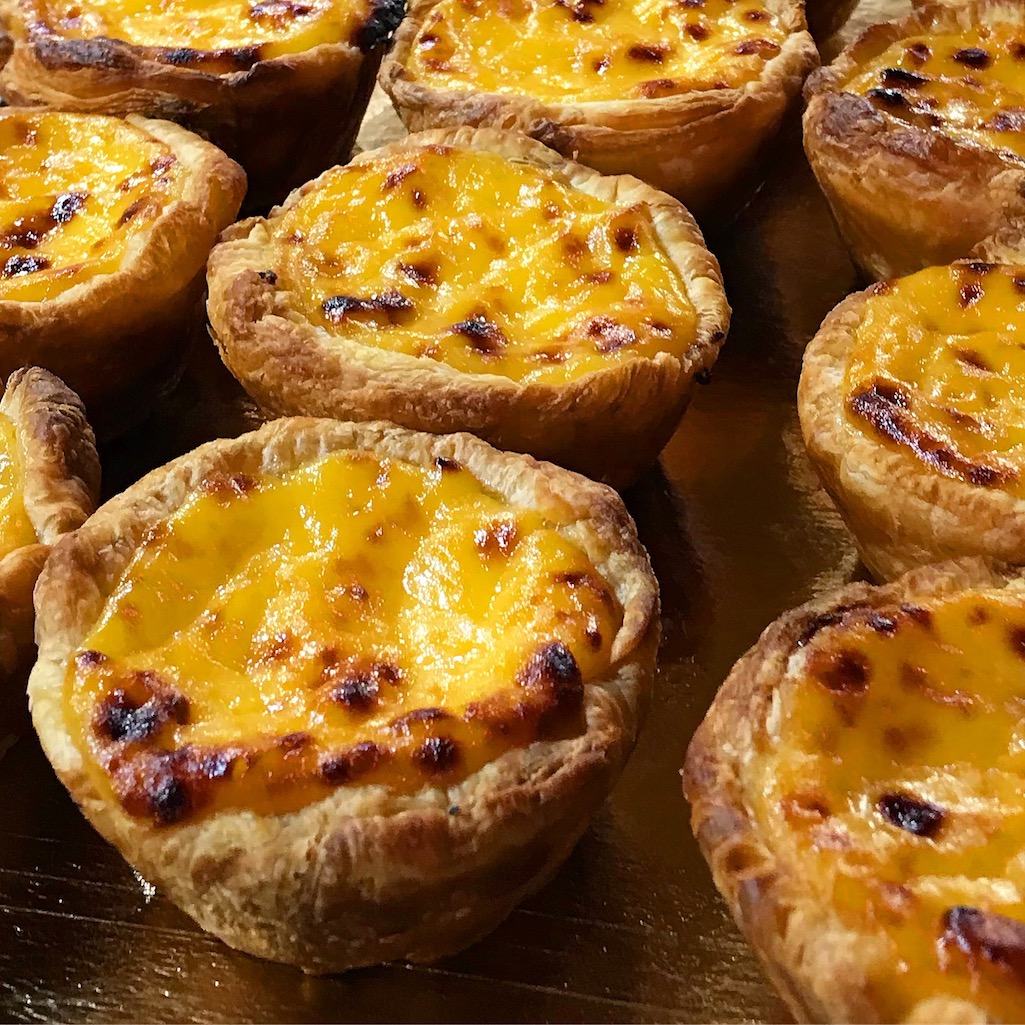 Cakes are often available on the breakfast spreads that you see at restaurants and hotels. Citrus flavors are typical. The sweet orange cake is moist and perfect along with your morning tea or coffee. The choices at the Cooking and Nature Emotional Hotel in Alvados included sweet cakes and savory ones too. The variety and quality are wonderful.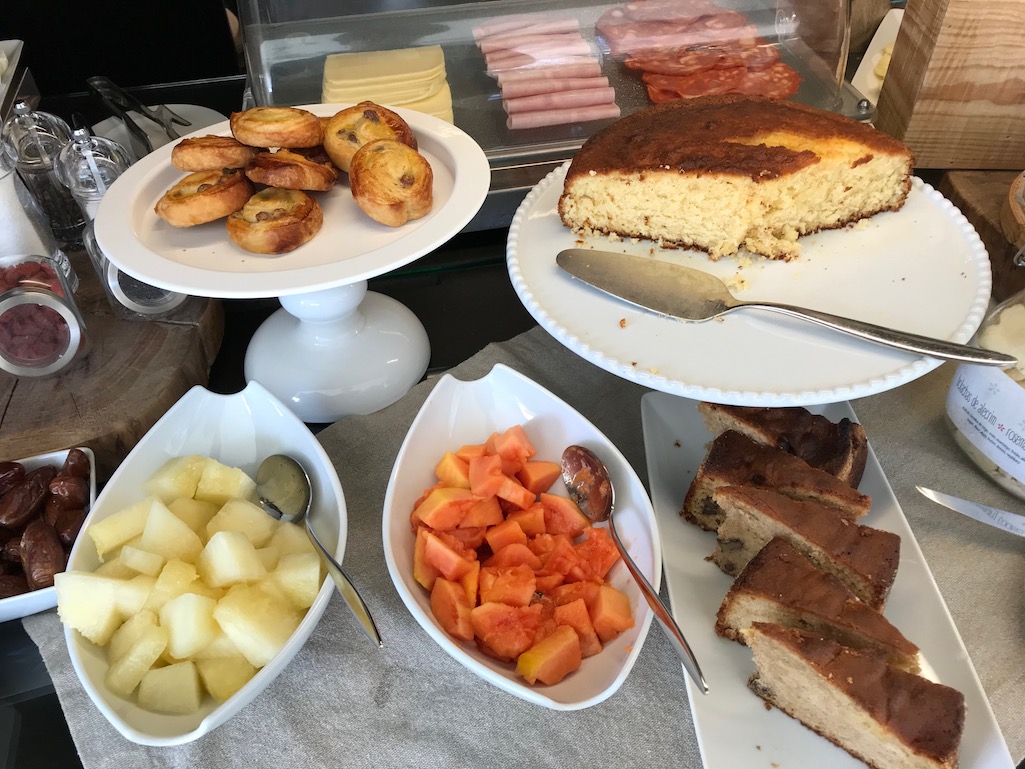 This apple tart in Peniche was the perfect finish to our lunch, especially when paired with a magnificent seaside view.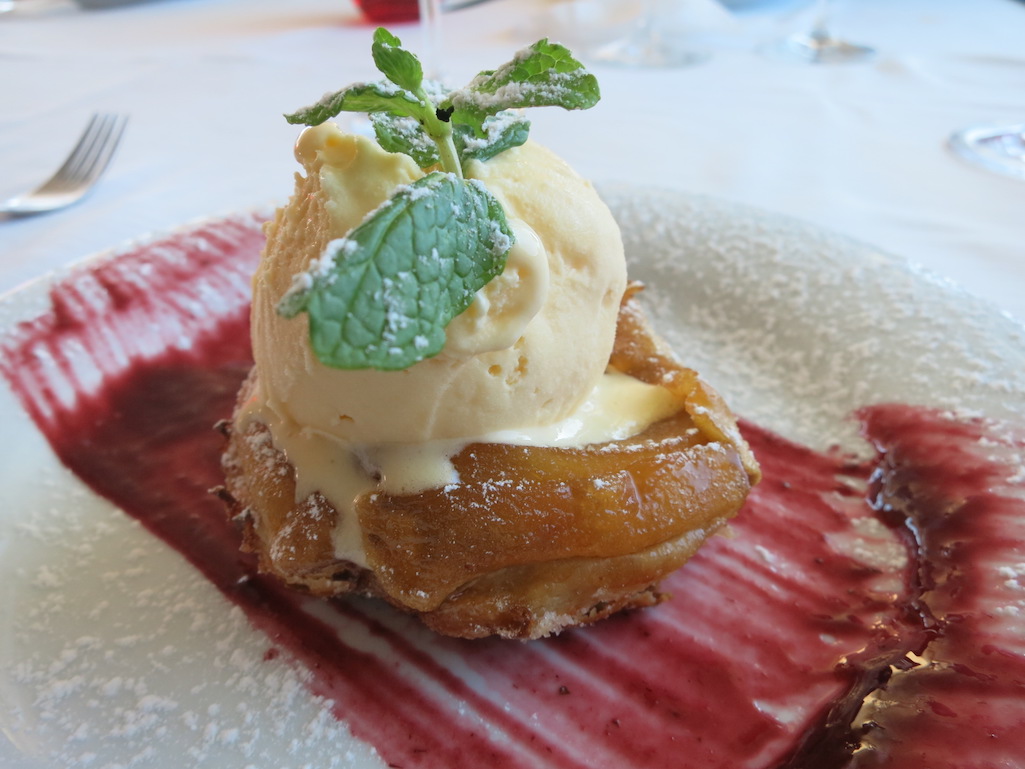 More To Explore in Portugal Food
This is just the beginning of my explorations in the center of Portugal food. In the upcoming weeks, I'll be providing more in-depth coverage of the hotels, restaurants, beaches, and attractions I experienced while in Portugal.
There are A LOT more food, spirits, and sights to show you.
Trying to capture everything in one post is simply impossible. I hope you'll come back and savor the experience with me.
For more information on visiting Portugal check out centerofportugal.com.
Our guide and one-man encyclopedia of facts on Portugal was José Santos of Madomis Tours. I highly recommend him and his company. They did a terrific job from start to finish.
Pin for your Center of Portugal Food Travel Planning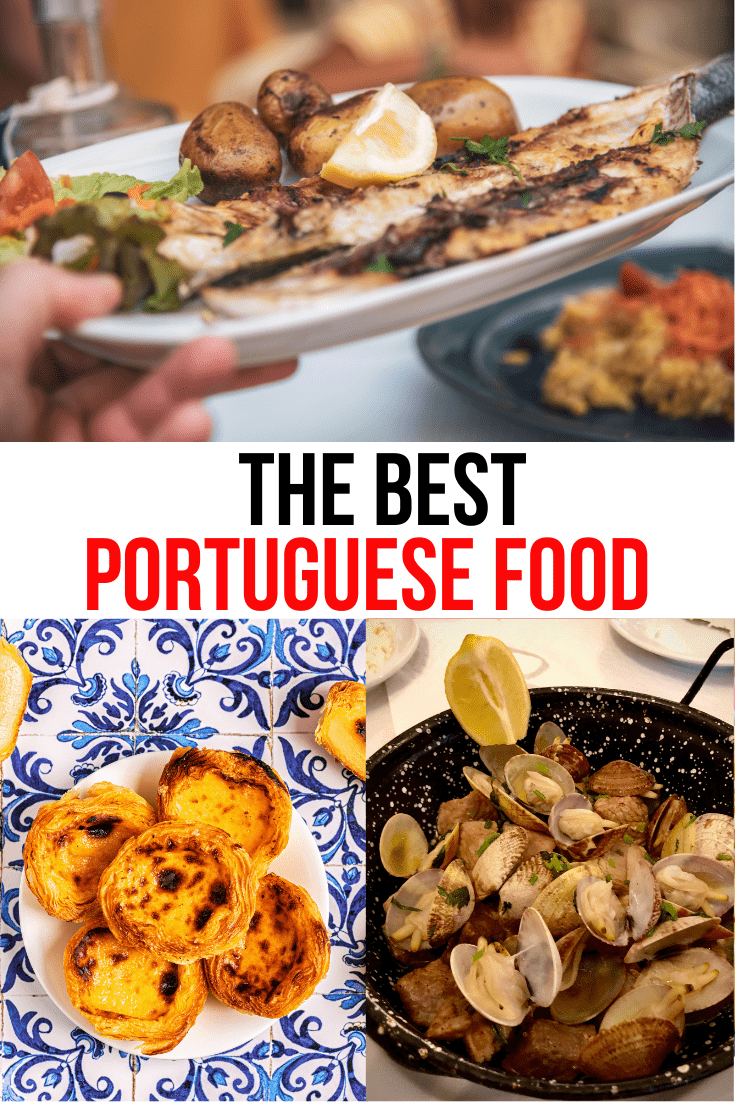 .