Everything To Do, See & Eat In Beautiful Madison Wisconsin
Some towns are just plain good eating towns. And we're here to tell you that marvelous Madison, Wisconsin is a good eating town.
Disclaimer: We were guests of the Edgewater and Visit Madison. We were not financially compensated for this post and all opinions are our own.
If you've been to the Midwest United States, you probably know about the many delights awaiting Food Travelists in Chicago. It's the mecca of good eats, great chefs, and innovative restaurants. But did you know that the largest farmers' market in the U.S. is actually about 3 hours away, in Madison, Wisconsin? Well, neither did we. But that's not all we discovered in Madison. Here are a few of the fabulous finds we encountered when visiting this "lake-city-lake" destination.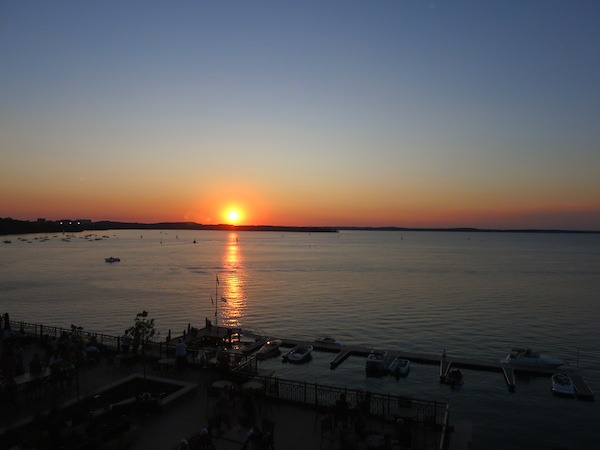 What's An Isthmus?
Madison is actually on an isthmus. What's an isthmus, you might ask? Well, an isthmus is a narrow strip of land with a body of water on either side that connects to a larger area of land. In this case, two lakes – Lake Mendota and Lake Monona surround Madison. Making it a great place to visit if you love to see water out your window. In fact, for our visit, we stayed at the Edgewater, a hotel that has rooms literally overlooking a lovely lake scene – something we enjoyed waking up to in the morning.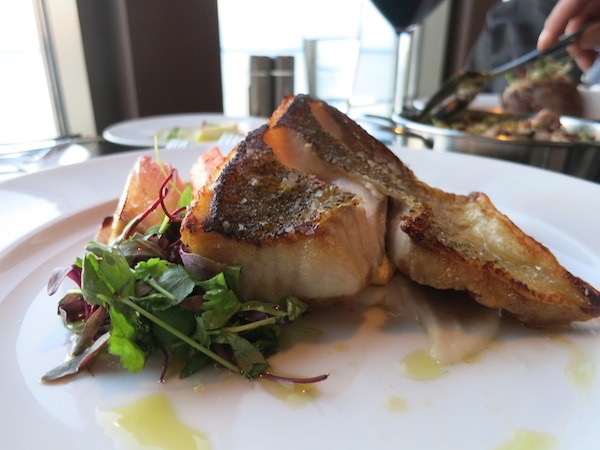 Dinner with A View
The Edgewater has several dining options right on the premises. The Icehouse is on the Plaza, an open public space with great views of the water. It serves come-as-you-are food like pizza and snacks for those who are looking to grab and go along their way. In the winter, the Plaza offers ice skating as well. The Boathouse is a casual option, offering burgers, brats, craft beers, and the classic Wisconsin fish fry. There's also the Café if you're looking for a coffee or pastry in the morning or afternoon.
The Statehouse is the signature restaurant at the Edgewater, serving modern American fare, elegant cocktails, and extensive options of wine and Wisconsin craft beers. Our dinner was delicious and relaxing. We had the opportunity to try some local Walleye Pike, prepared with fresh vegetables. And, we had an exquisite filet mignon served perfectly cooked. One of the many highlights of our meal was a side of Brussel sprouts with pancetta that also included bits of chestnuts soaked in champagne vinegar. We couldn't get enough of this dish, artfully prepared by Sous Chef Ben Wells.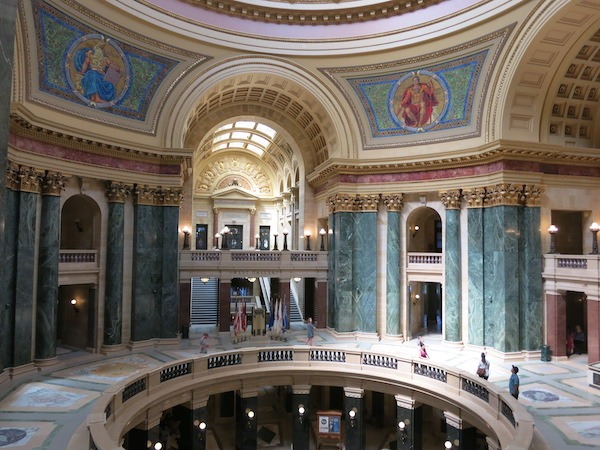 This is Bucky Badger Territory
There's a lot to see and do in Madison. Being a university town (University of Wisconsin, Madison) it has the energetic feel of young people and academics mixing and mingling and debating the future of the nation. Madison is also the capital of the State of Wisconsin, making it a hive of political activity, which you can also feel buzzing around you. The capitol building, a beautiful white dome that meets all of your preconceived notions of what a capitol building should look like, is visible from just about everywhere – it's the Eiffel Tower of the city. And the inside is full of grandeur and mosaics.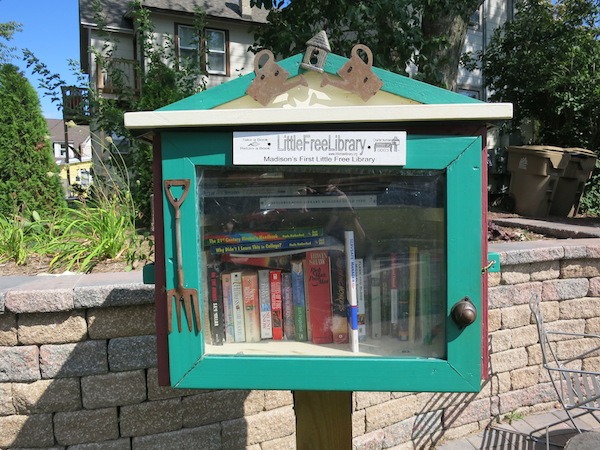 So with all of those eager minds and power brokers around, it makes sense that Madison has an absolutely marvelous dining scene. There are restaurants to please just about every palate from farm-to-table to burgers to ethnic eats of just about every sort and fine dining too Madison is feast ready for whatever you like.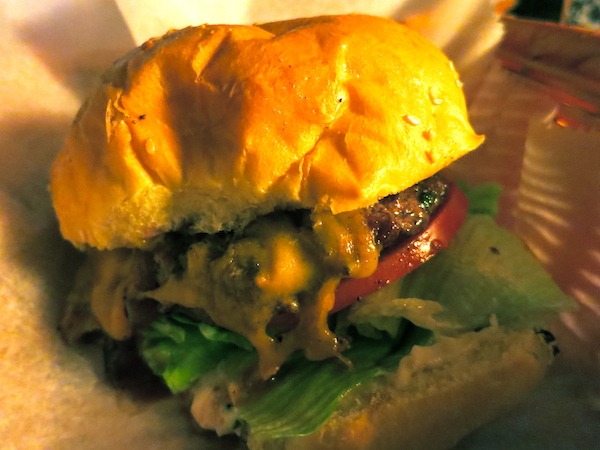 An Eclectic Selection of Restaurants in Madison
Dotty Dumpling's Dowry is a place with a funny name and a funny decor, that includes large-scale model airplanes hanging from the ceiling. It also has some of the best hamburgers we've ever tried. Juicy, flavorful, messy, and full of incredibly delicious burgerness, Dotty's has some unique offerings that satisfied us completely. The homemade English garlic sauce, cheddar cheese, and grilled onions perfected the Runnelstone Burger, while the "build your own" option let us have it our way just as we like, with more than enough options to suit any mood.
Medium rare was the order of the day, and we just kept the napkins coming. Scrumptious sides included crunchy deep-fried pickle chips and mushrooms. They have so many good choices from mac-n-cheese wedges, chili cheese fries, and onion rings to fried Wisconsin cheese curds. Or if you can't decide – a sample basket with several options. No wonder Dotty's is called World Hamburger Headquarters!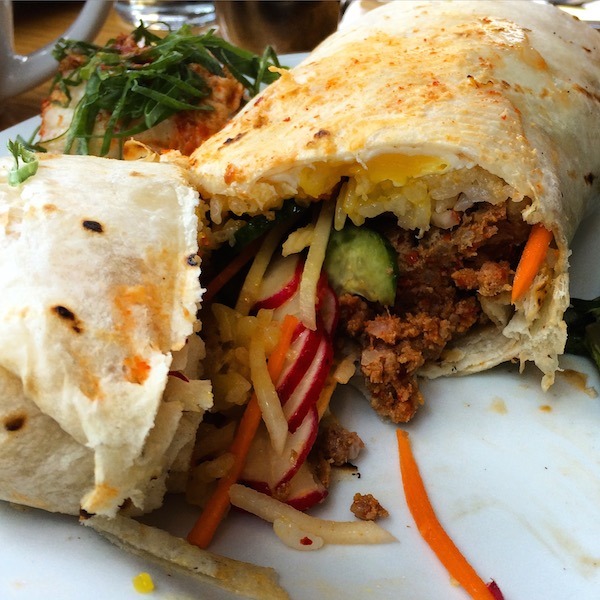 Graze was inspired by the New York gastropub scene but has taken the approach of supporting grass-fed animals and rotational grazing. The brunch menu inspired us to try a variety of offerings from James Beard award winner Chef Tory Miler, who infuses global tastes into a highly creative and tasty menu. We tried the unique Bibimbap burrito, filled with delicious sweet-spicy ground pork, crispy rice, fried egg, vegetables, and a spicy gochujang in a flour tortilla.
The Breakfast Sandwich with fried egg, summer sausage, Sassy Cow American cheese, avocado, and tomato on a toasted English muffin was stellar. Of course, we just couldn't resist a taste of freshly made Beignets served with a delicious house-made jam. Delicious berry lemonade completed a wonderful meal perfect for enjoying the morning with a smile and a walk in the fresh air.  Chef Tory's other restaurant L'Etoile is also another fine Madison restaurant.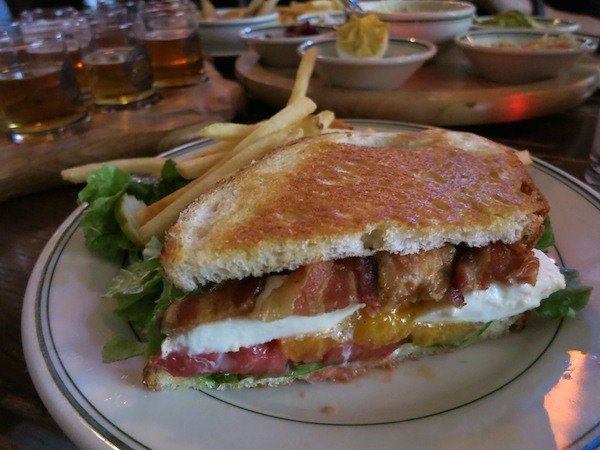 Try An Old Fashioned
At The Old Fashioned, where Wisconsin is king, we had a fun supper-club-inspired lazy susan with an array of pickled veggies, potato salad, and coleslaw. But the star of the show was an incredible BLT featuring the season's delight: heirloom tomatoes. We were absolutely floored by the deliciousness of these fresh tomatoes which helped us appreciate one of Madison's most well-known features, the Dane County Farmers' Market. The many local craft beer options were terrific, and we especially loved their very own dark and delicious Old Fashioned House Brew. If you love Old Fashions be sure to try one of the many on their menu – you won't be disappointed.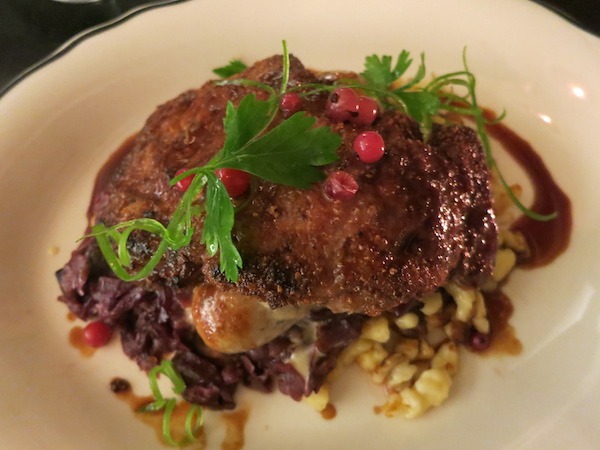 The Heritage Tavern is also a must-visit. Owner and Executive Chef Daniel Fox has a passion for pigs and raises heritage breeds at Fox Heritage Farms, including chef favorites Hampshire-Yorkshire, Mangalitas, Swabian Hall, Red Wattle, and Tamworth-Hereford. It was tough deciding what to order. We shared the pork schnitzel & boudin blanc, prepared with bacon braised red cabbage, sour cream spaetzle, and pickled currants.   Let's just say the dishwashers didn't need to do much cleaning on that plate.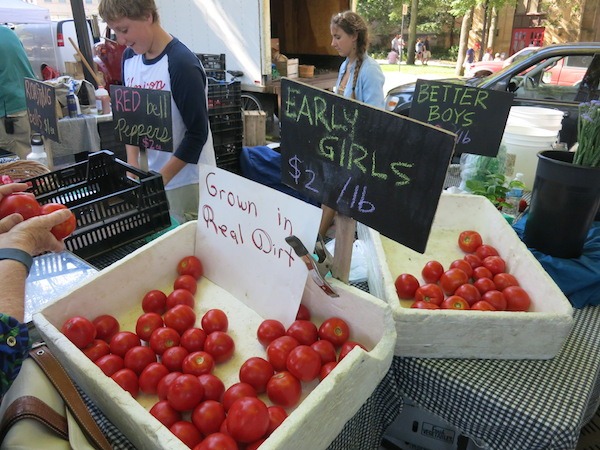 Largest Farmers Market in the U.S.
One of the most impressive features of Madison is the Dane County Farmers' Market, one that has no equal in the U.S. More than 250 vendors of agricultural products – from fruits and veggies to honey and maple syrup – vie for your attention at this incredible marketplace that goes around the entire 4 corners of capitol square.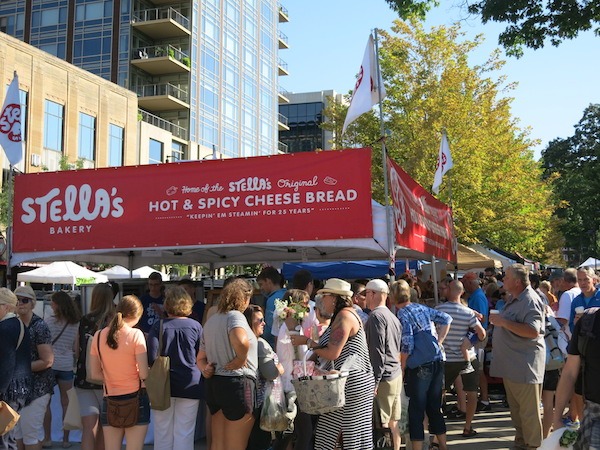 There are cultural influences from the Hmong people living there, a strong population bringing hard-to-find items like ginger and lemon grass not usually associated with Wisconsin. This is a "Producer-Only" farmers market. All the items for sale are produced by the members who are selling them. There are meats, flowers, cheese, bakery products, herbs, and plants in abundance.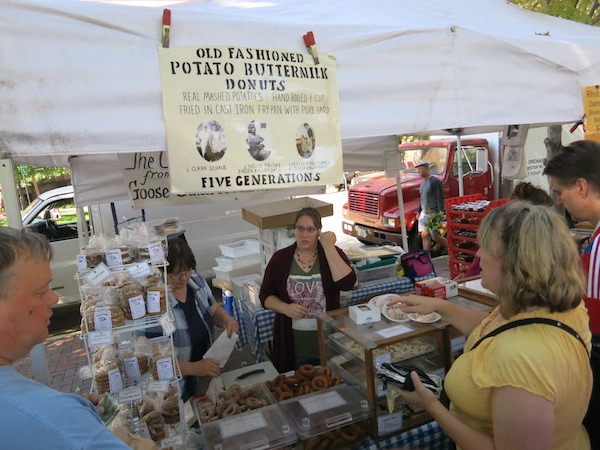 The market is so impressive that you really do need to take your time there. Vendors are more than willing to chat with you and talk about their offerings. It's clear that those who shop there regularly have their favorites whom they visit regularly. The variety of products is truly impressive. As we mentioned before, the heirloom tomatoes are just one of the many highlights.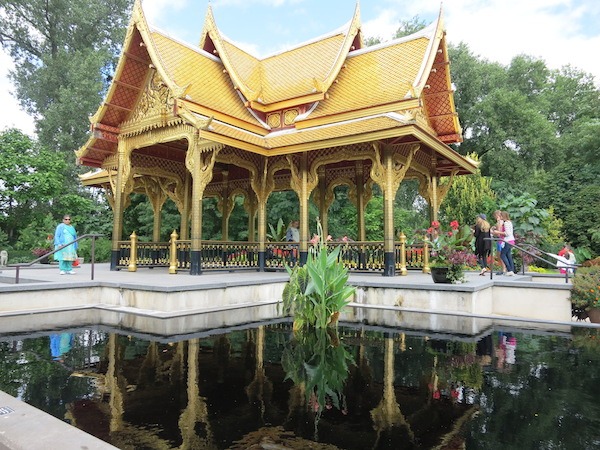 A wonderful place to walk off all those calories is at the Olbrich Botanical Gardens where not only can you stroll through 16 acres of beautiful outdoor gardens, including the Thai Pavilion given to Olbrich by the Thai government. It is a perfect place to relax and enjoy the beautiful gardens, sculptures and fountains around the park.
What is Madison Known For?
The same thing the rest of Wisconsin is known for – dairy products. After all, you're in America's Dairyland. When there's dairy there's plenty of cheese and ice cream. Both of these are available everywhere in Madison.
We are huge ice cream fans so we did our research and tried them all. If you're downtown stop at the Babcock Dairy Store on the UW campus. This is our favorite. You can also find it at a few restaurants and specialty stores in town. They've been making this delicious recipe for ice cream (and other dairy products) since 1951. Don't miss this spot!
Check out family-owned and operated Sassy Cow Creamery (they have a terrific dairy tour that our niece just loved!). Michael's Frozen Custard, we love these guys, have the frozen custard but their shakes, and burgers are really top-notch, too.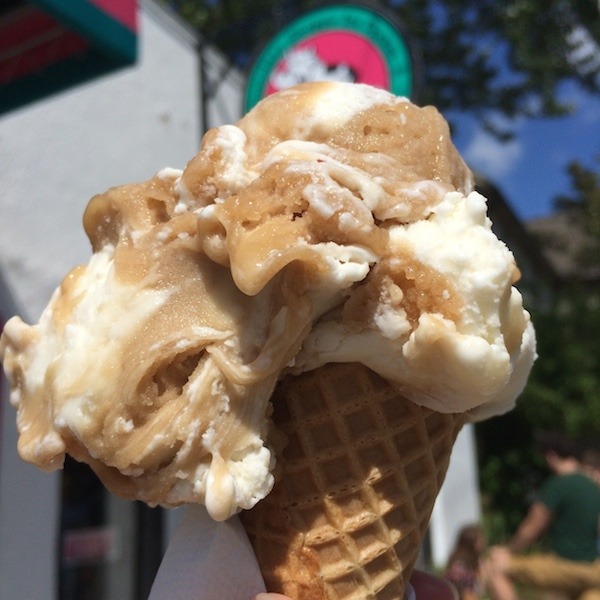 Another must-try is the family-owned Chocolate Shoppe Ice Cream Co. There were so many delicious options. They have more than 100 flavors. We had a hard time choosing, but in the name of research, we did. We had to try the Root Beer Float, old-fashioned vanilla ice cream swirled with chilled root beer Italian ice, and the This $&@! Just Got Serious (TM) with smooth salted caramel ice cream brimming with rich sea salt fudge and salted cashews, one of their best sellers. The names alone make you want to try all their flavors, from Exhausted Parent with bourbon-spiked espresso ice cream swirled with bittersweet chocolate chunks to Fat Elvis with sweet banana ice cream all shook up with a salty peanut butter ripple and rich liquid chocolate chips and Heaps of Love with Oreos, brownies, cookie dough, caramel ripple, pecans and chocolate ripple packed into vanilla ice cream. We think it will take us a few more visits before we can choose a favorite! The good news is that there are several locations too in the Madison, Wisconsin zip code.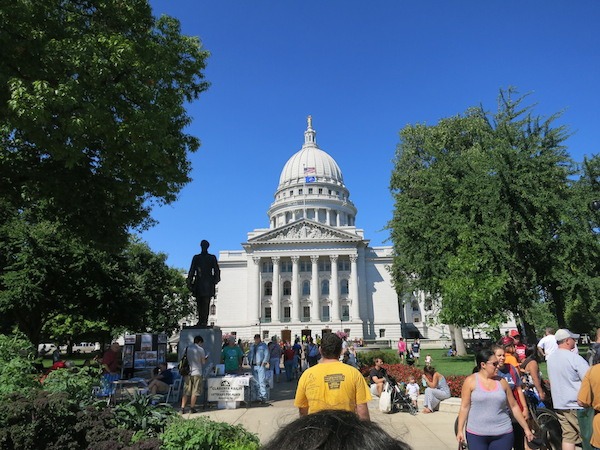 Things To Do In Madison Wisconsin
Madison is a food-lover's paradise. Great restaurants and agriculture are part of the culture and abundantly appear in the tastiest of ways. There are a lot of beautiful places to walk and explore, from markets to gardens to waterside terraces. Take some time to experience marvelous Madison. You're sure to make some wonderful discoveries of your own.
Pin It For Later