Beijing was on our agenda for another business trip. My mother overheard us talking about when we would be traveling there and let out a little sigh. "I always wanted to visit China," she said. "Ever since I was a little girl. My teacher read us The Story About Ping, the little duckling on the Yangtze River, and I from then on I wanted to go."
Although my mother and I have talked about a great many things, I never knew about this dream of hers. "Do you have a passport?" I asked. "No, but I can get one," she said. "Good. Then do it." "Okay." And that was just about all there was to it. Mom was going with us to China.
It Starts With A Passport
Now, to understand how monumental this decision was, you have to know a few things about my mom. She was 80 years old (or young, depending upon your viewpoint). A diabetic that has to take insulin shots, Mom also has a bum knee and a benign brain tumor. She's had a couple of minor strokes but still gets around pretty well, if slowly. She's got a few other physical conditions, some unique to her and some simply the result of living a full life. As she likes to say, "I'm in great shape for the shape, I'm in." And, she hates flying. None of this entered into our conversation.
As a first step, Mom had to renew her passport. She had to prove various name changes had through voluminous records and documentation. Despite starting somewhat early, getting a passport required intensive persistence, patience mixed with indignation and above all, dogged determination. An understanding postal worker managed to provide some relief to the frustration of dealing with endless bureaucracy. It never ceases to amaze me how difficult it can be to get something as mundane as renewing a passport done requires weeks and even months of slashing a path through impenetrable administrative nonsense.
Nonetheless, she managed to get her passport in order. Next was the flight. As I mentioned, Mom hates flying. She would not get onto a plane alone. So Sue went ahead first to attend to her business meetings and I flew from Chicago to Los Angeles to pick Mom. Together we'd fly to China. 13 hours. Wow.
Flying Without White Knuckles
I have to say that although there was a slight kerfuffle about some unwanted fish at dinner (meal options for diabetic diets were slightly limited), Mom was a trooper. The China Airlines staff put Mom's insulin in their refrigerator, eliminating one major concern right away. Though it's never easy to sleep on a plane, especially if you have any sort of back or hip or knee issues, Mom was able to relax enough to minimize some of the stress of flying. Honestly, if she had much stress about it, she didn't share it with me.
Peninsula Beijing is Shangri-La
Finally, after the long flight, we made it to Beijing. We had decided to splurge on an upscale hotel, knowing that Mom would require a little special attention, if not a lot. We opted for the gorgeous and exceptionally hospitable Peninsula Beijing. The hotel is perfectly located near WangfuJing, a main walking and shopping district. We splurged on club level suite, providing Mom (and us) with a quiet place to stop in during the day for tea, snacks and pampering. The extra attention was absolutely worth every penny. When we arrived, we went directly to the special "Club Level" reception. Greeted by name, with smiles and soft voices, I knew that we were all in very capable hands.
One of the challenges of traveling with family of any sort is managing expectations. It can be tough to accommodate the desires of one traveling family member without stomping on the desires of another. For adult family members traveling together, it can require great restraint to prevent the desire to kill one another after spending almost every waking moment together when that is not at all your everyday experience any longer.
Fortunately, we had plenty of opportunities to enjoy the many amazing experiences that Beijing has to offer, culinary, cultural, historic and modern alike. We started our day as early as possible. The Peninsula has a huge breakfast selection, including both Asian and Western options. With a good beginning at the hotel, we pushed ourselves to see and do as much as possible. We took breaks when we needed, making them fun and energizing. Mom shared her amazement at how different modern China is from her vision when she was young.
Seeing The Sights of Beijing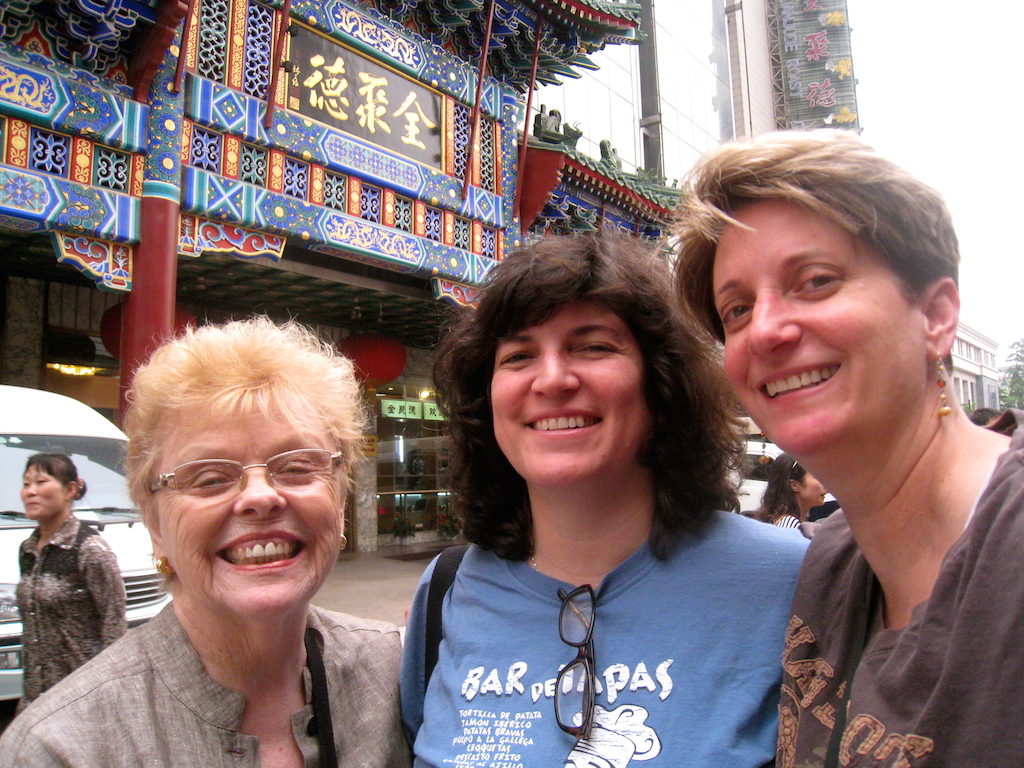 Beijing is certainly a place of wonder. Delightful Chinese architecture, brightly colored and beautifully adorned greeted us at every turn. Squawking vendors sell everything from hot chestnuts to starfish on a stick. The number of people on bicycles is even greater than those driving in cars. We visited iconic spots such as the Forbidden City, Tienanmen Square and Temple of Heaven. We paced ourselves, taking photos and allowing Mom to soak up the past as well as the present. Seeing her awe was just as exciting as experiencing my own.
Hotpot Anyone?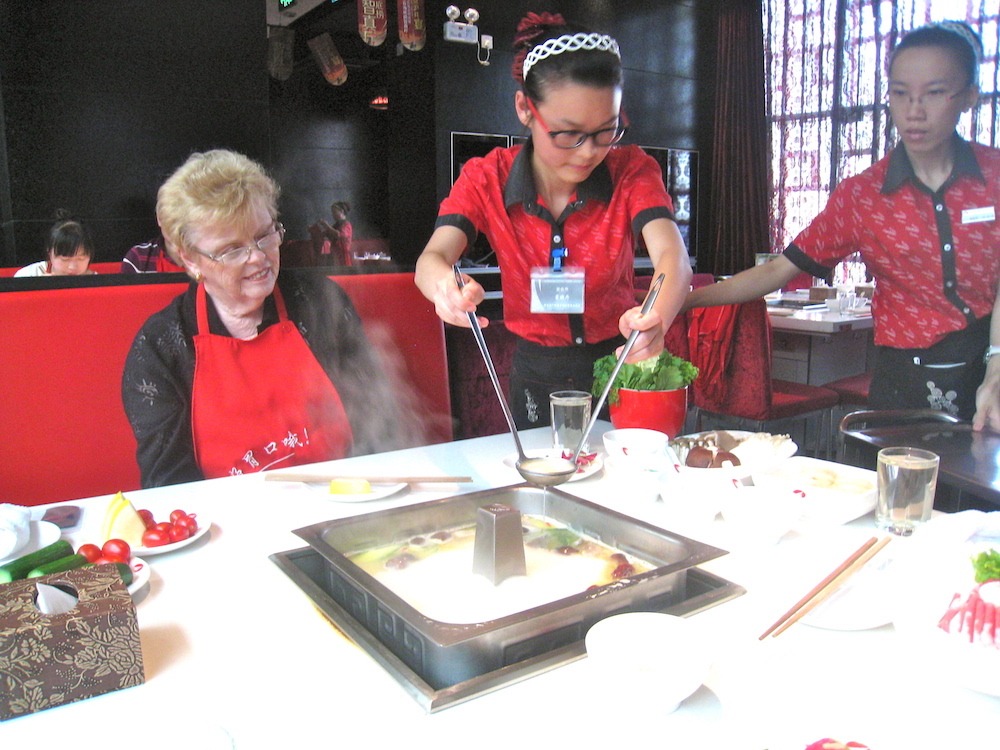 Because of Mom's dietary concerns, we opted to focus on the amazing fresh foods available all over Beijing. Knowing that she enjoys a social experience, we decided to try our first hotpot. The helpful and patient servers provided bibs and some general instruction. We ordered some fresh veggies and meats, which our servers brought out on platters. We learned that you put whatever you want to eat into the hot soup in the middle of the table. You can mix and match your choice of sauces to accent the food however you like, whether spicy, sweet, salty or sour, or, more than likely, some combination of these.
For The Love Of Lotus Roots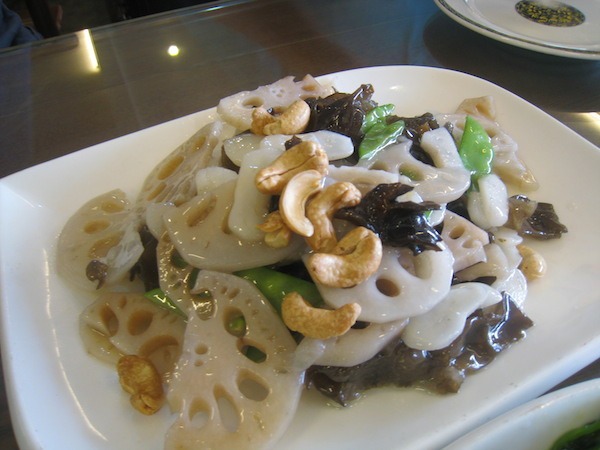 We discovered, mostly through trial and error, that lotus roots are delicious. Mom loved them so much that we made lotus roots a staple of our meals, no matter where we were eating. In addition to the hotpot, we had them on sizzling platters, mixed in with prepared dishes and all on their own. Fortunately, lotus roots are fairly ubiquitous around Beijing, so we easily included them in most whatever we ate.
The Beijing Duck Experience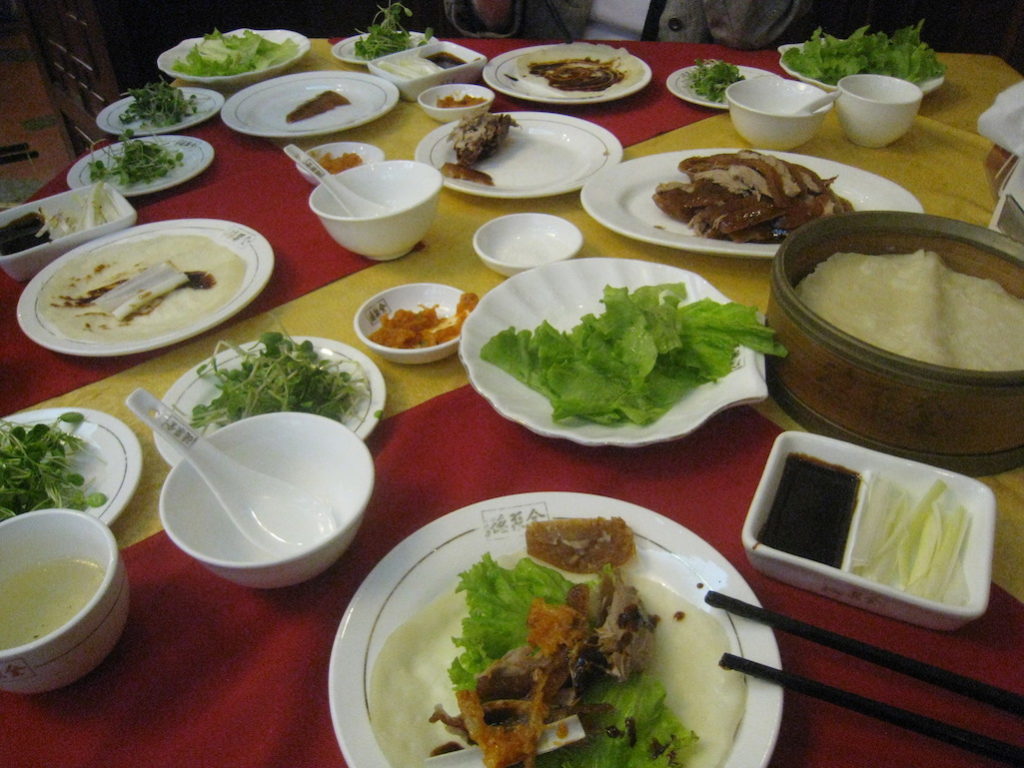 To honestly call ourselves Food Travelists, we needed to try a proper meal of crispy duck prepared the Beijing way. Formerly known as "Peking Duck," this delicacy is an important culinary and cultural experience. Huge multi-level restaurants specialize in the proper preparation and presentation of this unique and theatrical dish. Our servers expertly carved the duck while wearing surgical masks and gloves. They covered our table with small plates of condiments and ingredients, which we were to combine according to our own tastes. We were almost embarrassed by not the number of plates on our table, but the number of them that were empty when we were done. Almost.
The Great Wall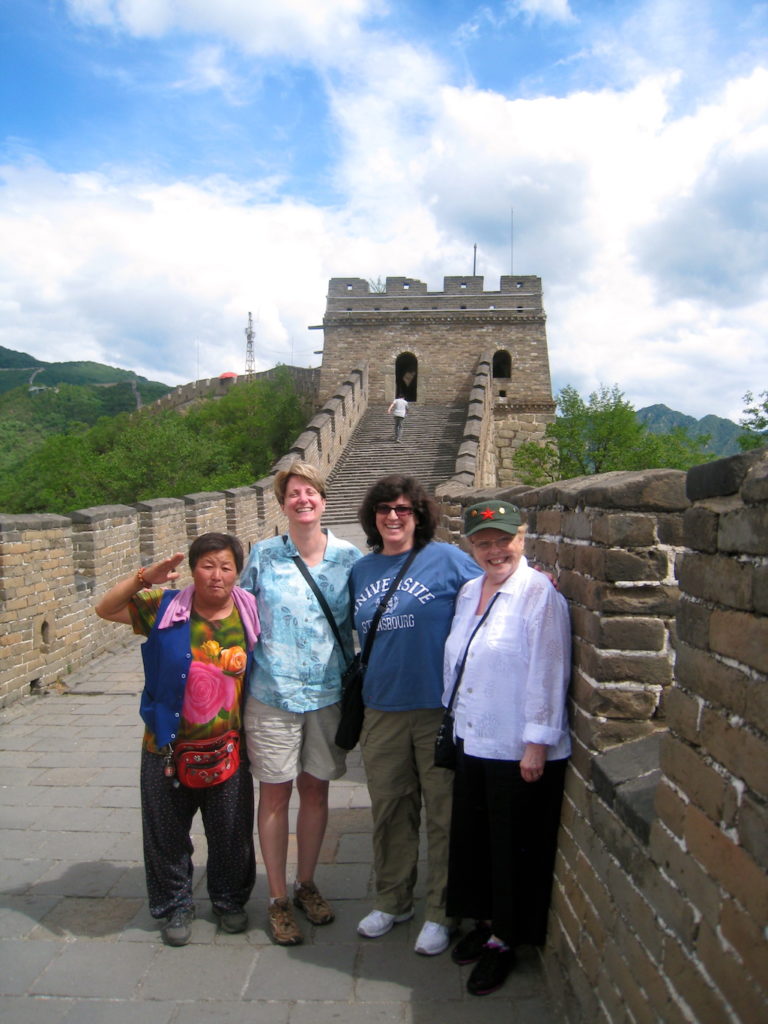 Of course, Mom's trip to China would not be complete without a visit to the Great Wall. We learned in our research that although the Badaling portion of the wall is closest to Beijing, the Mutianyu section is only about 10 kilometers further away. More importantly for us, a cable car can transport visitors up the wall to take in the glorious view without having to take the steep climb all the way. This sealed the deal for us.
The Jade Factory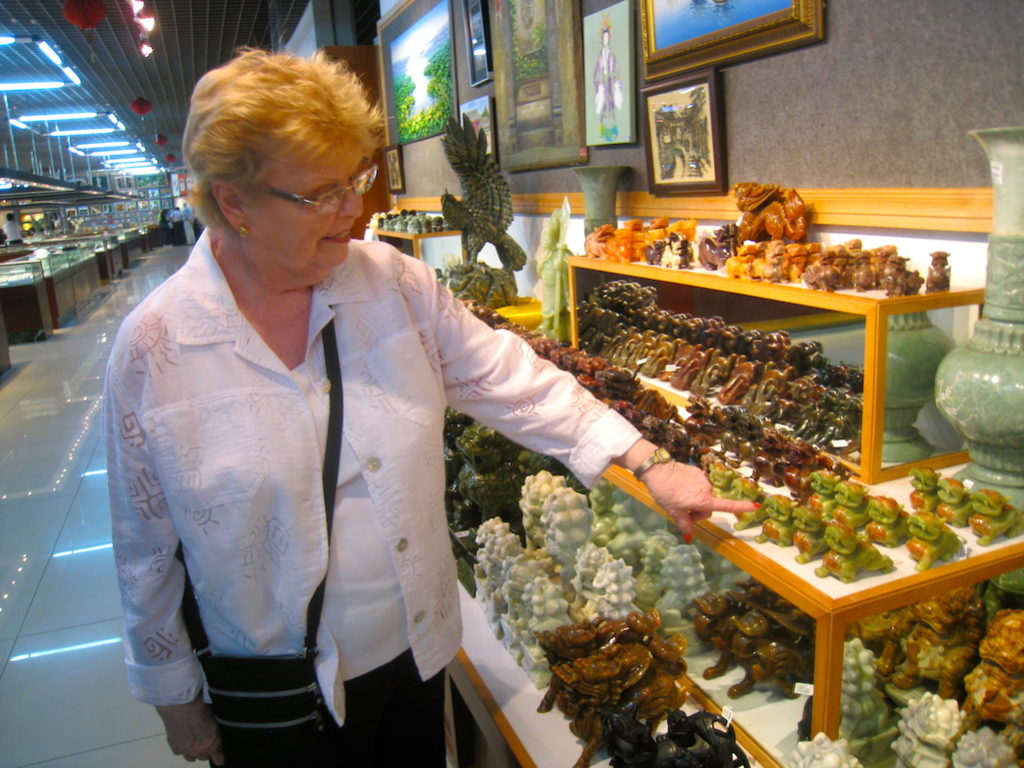 We hired a guide who took us to one of the seemingly obligatory stops at
"The Jade Factory." This is one of those attractions that makes us cringe as it's essentially a sales pitch for who-knows-what stuff that is likely overpriced and of negligible quality. Fortunately, Mom is a good shopper and a good sport, so we all had a laugh as she pointed out her favorite corny offerings as they lined the extensive shelves. In short order, we were on our way again.
The guide and helpers at the wall ensured that Mom was comfortable on her ride up the mountain. We did our best to express our gratitude all along the way. She was all smiles when we met with a lady vendor on the wall, who gleefully put a communist hat on my very capitalist mother. The surprising delight Mom took in finding a "comrade" at the wall was priceless and unforgettable. So, too, was her contentment at looking out over the wall into the land she had dreamed about seeing for her whole life. I think it was a moment I too will cherish forever.
Truly Local Eats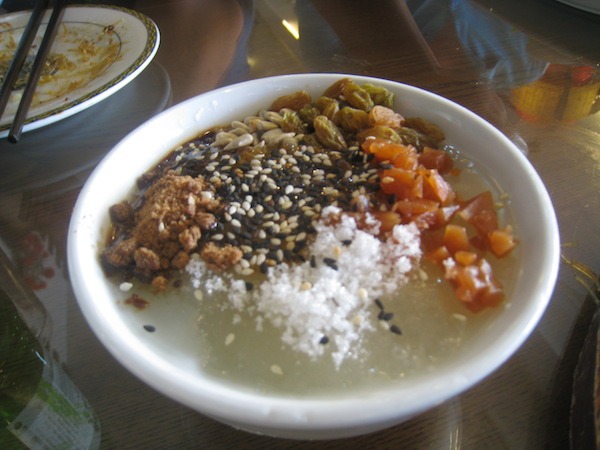 After our visit to the Great Wall, we asked our guide to take us someplace to eat where the tourists wouldn't go but where he himself would go with his family. He was a bit surprised but happy to meet the challenge by driving into a rustic area surrounded by greenery and slightly away from the main road. Surrounded by locals, we felt quite at home. We told our guide the food experience we were seeking, adding, of course, that lotus roots must be included. He ordered perfectly and we enjoyed several dishes with vegetables, seafood, poultry and some congee with fruit for dessert.
Stuffed and happy, we rode back toward Beijing and noted all of the beautiful chestnut trees that populated the area. Apparently. chestnuts are an important crop and are consumed all over China. When we arrived back at the hotel, we had a lovely rest in the Club Lounge, with a bit of jasmine tea. Quite civilized, as we like to say.
Tea Is Its Own Language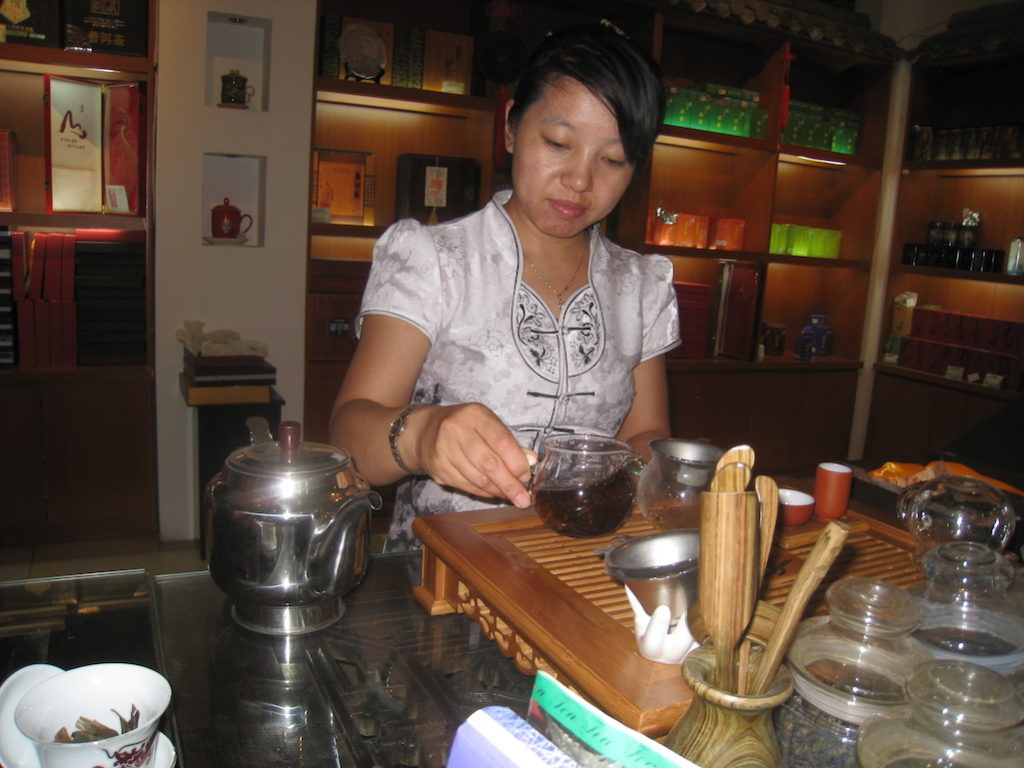 We visited the Hutongs, back alleys of the neighborhoods full of shops and homes. We watched a man carve a pineapple into a beautiful work of art.(He didn't want his picture taken, but imagine a pineapple carved into a spiral and that's about what it looked like). And we visited several tea shops. Sue and my mom, both avid tea drinkers, miraculously carried on extensive exchanges with the tea people. This, despite the fact that the tea people spoke absolutely no English while Sue and Mom spoke no Chinese. Apparently, I discovered, tea lovers have their own unique language which transcends such limited boundaries.
In the end, we managed our way home with memories to cherish of what my Mom continues to call her "Trip of a Lifetime." If there's anything that travel has taught me, it's how transformative an experience it can be.
For me, our family trip to Beijing was not just another exploration of a wonderful country. It enabled me to connect with my mom in a way that I never had before – as a whole person.
She had this dream of going to China for more than seven decades. I can't imagine what it was like for her to finally see this land. But I can enjoy the stories she still tells about it. About lotus roots and little jade lions. Jasmine tea and views from The Great Wall. The Forbidden City and Tiananmen Square. But most of all, I know that whatever dreams she may have given up along the way, this was not one of them. So for me too, it was the trip of a lifetime.
Check this short video with the highlights of our trip with Mom.
Pin It to Your Family Travel Board on Pinterest